There's Plenty of Drinking Water on Mars
The trick to producing water for astronauts is to figure out how best to extract it from the soil and atmosphere.
Stephen Petranek
Stephen Petranek's career of over 40 years in the publishing world is marked by numerous prizes and awards for excellent writing on science, nature, technology, politics, economics and more. He has been editor-in-chief of The Miami Herald's prestigious Sunday magazine, Tropic, as well covering a wide range of topics for Time Inc.'s Life magazine. His presentation, 10 Ways the World Could End, is one of the most original and most watched TED talks of all time. He is now the editor of Breakthrough Technology Alert, for which he finds the investment opportunities that create true value and move the human race forward. His new book is titled How We'll Live on Mars.
25 September, 2015
Stephen Petranek: There is a lot of water on Mars and there once was a lot of surface, flowing water. You don't see it because most of it is mixed with the soil, which we call regolith on Mars. So the Martian soil can be anywhere from as little as 1 percent in some very dry, deserty like areas to as much as 60 percent water. So one strategy for getting water when you're on Mars is to break up the regolith, which would take something like a jackhammer because it's very cold; it's very frozen. If you can imagine making a frozen brick or a chunk of ice that's mostly soil and maybe half water and half soil that's what you would be dealing with. So you need to break this up, put it in an oven. As it heats up, it turns to steam. You run it through a distillation tube and you have pure drinking water that comes out the other end. There is a much easier way to get water on Mars. In this country, we have developed industrial dehumidifiers. And they're very simple machines that simply blow the air in a room or a building across a mineral called zeolite. Zeolite is very common on Earth; it's very common on Mars. And zeolite is kind of like a sponge. It absorbs water like crazy. Takes the humidity right out of the air. Then you squeeze it and out comes the water. And scientists working for NASA at the University of Washington as long ago as in the late 1990s developed a machine called WAVAR that very efficiently sucks water out of the Martian atmosphere. So water is not nearly as significant a problem than it appears to be. We also know from orbiters around Mars and right now there are five satellites orbiting Mars. We know from photographs that these orbiters have taken and geological studies that they've done that there is frozen ice on the surface of Mars. Now there's tons of it at the poles. Some of it is overladen with frozen — or mixed with frozen carbon dioxide. But in many craters on Mars, there apparently are sheets of frozen water. So if early astronauts or early voyagers to Mars were to land near one of those sheets of ice in a crater they would have all the water they need.
Stephen Petranek, author of How We'll Live on Mars, details several of the methods a future team of colonists could employ in order to amass a drinking water supply on Mars. There's plenty of water on the planet; the trick is extracting it from the soil and atmosphere. It's a relief that producing water won't be a major nuisance for the eventual Mars astronauts -- that whole "unlivable barren wasteland" is a whole other story.
Big ideas.
Once a week.
Subscribe to our weekly newsletter.
The research also raises an intriguing question: Can we get around the Heisenberg uncertainty principle?
Credit: Aalto University.
Surprising Science
New experiments with vibrating drums push the boundaries of quantum mechanics.
Two teams of physicists create quantum entanglement in larger systems.
Critics question whether the study gets around the famous Heisenberg uncertainty principle.
Recently published research pushes the boundaries of key concepts in quantum mechanics. Studies from two different teams used tiny drums to show that quantum entanglement, an effect generally linked to subatomic particles, can also be applied to much larger macroscopic systems. One of the teams also claims to have found a way to evade the Heisenberg uncertainty principle.
One question that the scientists were hoping to answer pertained to whether larger systems can exhibit quantum entanglement in the same way as microscopic ones. Quantum mechanics proposes that two objects can become "entangled," whereby the properties of one object, such as position or velocity, can become connected to those of the other.
An experiment performed at the U.S. National Institute of Standards and Technology in Boulder, Colorado, led by physicist Shlomi Kotler and his colleagues, showed that a pair of vibrating aluminum membranes, each about 10 micrometers long, can be made to vibrate in sync, in such a way that they can be described to be quantum entangled. Kotler's team amplified the signal from their devices to "see" the entanglement much more clearly. Measuring their position and velocities returned the same numbers, indicating that they were indeed entangled.
Tiny aluminium membranes used by Kotler's team.Credit: Florent Lecoq and Shlomi Kotler/NIST
Evading the Heisenberg uncertainty principle?

Another experiment with quantum drums — each one-fifth the width of a human hair — by a team led by Prof. Mika Sillanpää at Aalto University in Finland, attempted to find what happens in the area between quantum and non-quantum behavior. Like the other researchers, they also achieved quantum entanglement for larger objects, but they also made a fascinating inquiry into getting around the Heisenberg uncertainty principle.
The team's theoretical model was developed by Dr. Matt Woolley of the University of New South Wales. Photons in the microwave frequency were employed to create a synchronized vibrating pattern as well as to gauge the positions of the drums. The scientists managed to make the drums vibrate in opposite phases to each other, achieving "collective quantum motion."
The study's lead author, Dr. Laure Mercier de Lepinay, said: "In this situation, the quantum uncertainty of the drums' motion is canceled if the two drums are treated as one quantum-mechanical entity."
This effect allowed the team to measure both the positions and the momentum of the virtual drumheads at the same time. "One of the drums responds to all the forces of the other drum in the opposing way, kind of with a negative mass," Sillanpää explained.
Theoretically, this should not be possible under the Heisenberg uncertainty principle, one of the most well-known tenets of quantum mechanics. Proposed in the 1920s by Werner Heisenberg, the principle generally says that when dealing with the quantum world, where particles also act like waves, there's an inherent uncertainty in measuring both the position and the momentum of a particle at the same time. The more precisely you measure one variable, the more uncertainty in the measurement of the other. In other words, it is not possible to simultaneously pinpoint the exact values of the particle's position and momentum.
Quantum skepticism
Big Think contributor astrophysicist Adam Frank, known for the 13.8 podcast, called this "a really fascinating paper as it shows that it's possible to make larger entangled systems which behave like a single quantum object. But because we're looking at a single quantum object, the measurement doesn't really seem to me to be 'getting around' the uncertainty principle, as we know that in entangled systems an observation of one part constrains the behavior of other parts."
Ethan Siegel, also an astrophysicist, commented, "The main achievement of this latest work is that they have created a macroscopic system where two components are successfully quantum mechanically entangled across large length scales and with large masses. But there is no fundamental evasion of the Heisenberg uncertainty principle here; each individual component is exactly as uncertain as the rules of quantum physics predicts. While it's important to explore the relationship between quantum entanglement and the different components of the systems, including what happens when you treat both components together as a single system, nothing that's been demonstrated in this research negates Heisenberg's most important contribution to physics."
The papers, published in the journal
Science
, could help create new generations of ultra-sensitive measuring devices and quantum computers.
As bad as this sounds, a new essay suggests that we live in a surprisingly egalitarian age.
Getty Open Content
Politics & Current Affairs
A new essay depicts 700 years of economic inequality in Europe.
The only stretch of time more egalitarian than today was the period between 1350 to approximately the year 1700.
Data suggest that, without intervention, inequality does not decrease on its own.
Economic inequality is a constant topic. No matter the cycle — boom or bust — somebody is making a lot of money, and the question of fairness is never far behind.
A recently published essay in the Journal of Economic Literature by Professor Guido Alfani adds an intriguing perspective to the discussion by showing the evolution of income inequality in Europe over the last several hundred years. As it turns out, we currently live in a comparatively egalitarian epoch.
Seven centuries of economic history
Figure 8 from Guido Alfani, Journal of Economic Literature, 2021.
This graph shows the amount of wealth controlled by the top ten percent in certain parts of Europe over the last seven hundred years. Archival documentation similar to — and often of a similar quality as — modern economic data allows researchers to get a glimpse of what economic conditions were like centuries ago. Sources like property tax records and documents listing the rental value of homes can be used to determine how much a person's estate was worth. (While these methods leave out those without property, the data is not particularly distorted.)
The first part of the line, shown in black, represents work by Prof. Alfani and represents the average inequality level of the Sabaudian State in Northern Italy, The Florentine State, The Kingdom of Naples, and the Republic of Venice. The latter part, in gray, is based on the work of French economist Thomas Piketty and represents an average of inequality in France, the United Kingdom, and Sweden during that time period.
Despite the shift in location, the level of inequality and rate of increase are very similar between the two data sets.
Apocalyptic events cause decreases in inequality
Note that there are two substantial declines in inequality. Both are tied to truly apocalyptic events. The first is the Black Death, the common name for the bubonic plague pandemic in the 14th century, which killed off anywhere between 30 and 50 percent of Europe. The second, at the dawn of the 20th century, was the result of World War I and the many major events in its aftermath.
The 20th century as a whole was a time of tremendous economic change, and the periods not featuring major wars are notable for having large experiments in distributive economic policies, particularly in the countries Piketty considers.
The slight stall in the rise of inequality during the 17th century is the result of the Thirty Years' War, a terrible religious conflict that ravaged Europe and left eight million people dead, and of major plagues that affected South Europe. However, the recurrent outbreaks of the plague after the Black Death no longer had much effect on inequality. This was due to a number of factors, not the least of which was the adaptation of European institutions to handle pandemics without causing such a shift in wealth.
In 2010, the last year covered by the essay, inequality levels were similar to those of 1340, with 66 percent of the wealth of society being held by the top ten percent. Also, inequality levels were continuing to rise, and the trends have not ended since. As Prof. Alfani explained in an email to BigThink:
"During the decade preceding the Covid pandemic, economic inequality has shown a slow tendency towards further inequality growth. The Great Recession that began in 2008 possibly contributed to slow down inequality growth, especially in Europe, but it did not stop it. However, the expectation is that Covid-19 will tend to increase inequality and poverty. This, because it tends to create a relatively greater economic damage to those having unstable occupations, or who need physical strength to work (think of the effects of the so-called "long-Covid," which can prove physically invalidating for a long time). Additionally, and thankfully, Covid is not lethal enough to force major leveling dynamics upon society."
Can only disasters change inequality?
That is the subject of some debate. While inequality can occur in any economy, even one that doesn't grow all that much, some things appear to make it more likely to rise or fall.
Thomas Piketty suggested that the cause of changes in inequality levels is the difference in the rate of return on capital and the overall growth rate of the economy. Since the return on capital is typically higher than the overall growth rate, this means that those who have capital to invest tend to get richer faster than everybody else.
While this does explain a great deal of the graph after 1800, his model fails to explain why inequality fell after the Black Death. Indeed, since the plague destroyed human capital and left material goods alone, we would expect the ratio of wealth over income to increase and for inequality to rise. His model can provide explanations for the decline in inequality in the decades after the pandemic, however- it is possible that the abundance of capital could have lowered returns over a longer time span.
The catastrophe theory put forth by Walter Scheidel suggests that the only force strong enough to wrest economic power from those who have it is a world-shattering event like the Black Death, the fall of the Roman Empire, or World War I. While each event changed the world in a different way, they all had a tremendous leveling effect on society.
But not even this explains everything in the above graph. Pandemics subsequent to the Black Death had little effect on inequality, and inequality continued to fall for decades after World War II ended. Prof. Alfani suggests that we remember the importance of human agency through institutional change. He attributes much of the post-WWII decline in inequality to "the redistributive policies and the development of the welfare states from the 1950s to the early 1970s."
What does this mean for us now?
As Professor Alfani put it in his email:
"[H]istory does not necessarily teach us whether we should consider the current trend toward growth in economic inequality as an undesirable outcome or a problem per se (although I personally believe that there is some ground to argue for that). Nor does it teach us that high inequality is destiny. What it does teach us, is that if we do not act, we have no reason whatsoever to expect that inequality will, one day, decline on its own. History also offers abundant evidence that past trends in inequality have been deeply influenced by our collective decisions, as they shaped the institutional framework across time. So, it is really up to us to decide whether we want to live in a more, or a less unequal society."
A team of archaeologists has discovered 3,200-year-old cheese after analyzing artifacts found in an ancient Egyptian tomb. It could be the oldest known cheese sample in the world.
The broken jar in which the white mass of cheese was found. (Photo: University of Catania and Cairo University)
Culture & Religion
A team of archaeologists has discovered 3,200-year-old cheese after analyzing artifacts found in an ancient Egyptian tomb. It could be the oldest known cheese sample in the world.
The tomb that held the cheese lies in the desert sands south of Cairo. It was first discovered in the 19th century by treasure hunters, who eventually lost the knowledge of its location, leaving the Saharan sands to once again conceal the tomb.
"Since 1885 the tomb has been covered in sand and no-one knew about it," Professor Ola el-Aguizy of Cairo University told the BBC. "It is important because this tomb was the lost tomb."
In 2010, a team of archaeologists rediscovered the tomb, which belonged to Ptahmes, a mayor and military chief of staff of the Egyptian city of Memphis in the 13th century B.C. In the tomb, the team found a jar containing a "solidified whitish mass," among other artifacts.
"The archaeologists suspected [the mass] was food, according to the conservation method and the position of the finding inside the tomb, but we discovered it was cheese after the first tests," Enrico Greco, the lead author of the paper and a research assistant at Peking University in Beijing, told the The New York Times.
To find out what the substance was, the team had to develop a novel way to analyze the proteins and identify the peptide markers in the samples. They first dissolved parts of the substance and then used mass spectrometry and chromatography to analyze its proteins.
Despite more than 3,000 years spent in the desert, the researchers were able to identify hundreds of peptides (chains of amino acids) in the sample. They found some that were associated with milk from goat, sheep and, interestingly, the African buffalo, a species not usually kept as a domestic animal in modern Africa, as Gizmodo reports.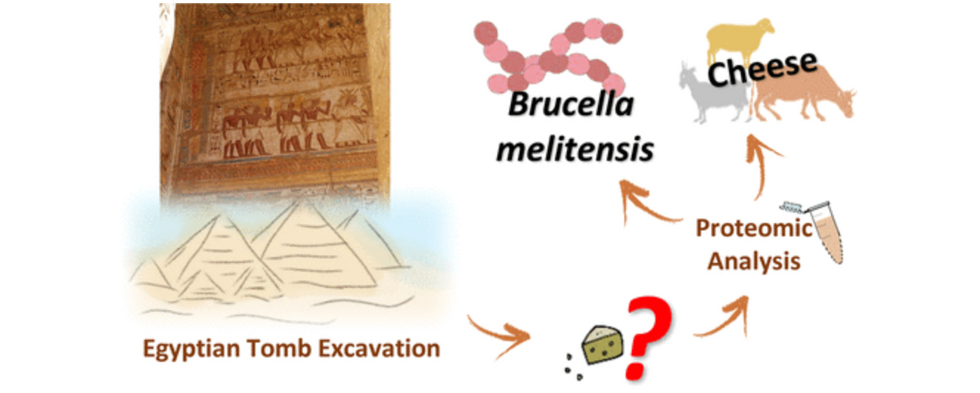 Those results suggested that the substance was cheese, specifically one that was probably similar in consistency to chevre but with a "really, really acidy" taste, as Dr. Paul Kindstedt, a professor at the University of Vermont who studies the chemistry and history of cheese, told the The New York Times.
"It would be high in moisture; it would be spreadable," he said. "It would not last long; it would spoil very quickly."
The researchers also found traces of the bacterium Brucella melitensis, which causes brucellosis, a debilitating disease that can cause endocarditis, arthritis, chronic fatigue, malaise, muscle pain and other conditions. It's a disease usually contracted by consuming raw dairy products.
"The most common way to be infected [with Brucella melitensis] is by eating or drinking unpasteurized/raw dairy products. When sheep, goats, cows, or camels are infected, their milk becomes contaminated with the bacteria," the U.S. Centers for Disease Control wrote on its website. "If the milk from infected animals is not pasteurized, the infection will be transmitted to people who consume the milk and/or cheese products."
Dr. Kindstedt said one reason the study is significant is for its novel use of proteomic analysis, which is the systematic identification and quantification of the complete complement of proteins (the proteome) of a biological system.
"As I say to my students every year when I get to Egypt, someone has to go ahead and analyze these residues with modern capabilities," he told the The New York Times. "This is a logical next step and I think you're going to see a lot more of this."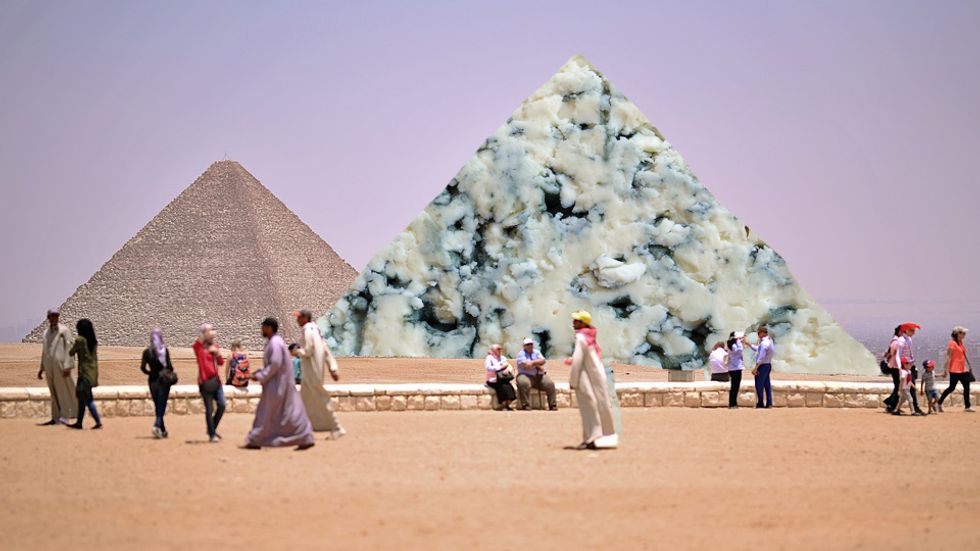 'The Great Pyramid of Chee-za'. An artist's interpretation of a very ripe, slightly deadly Egyptian tomb cheese. (Credit: Creative commons/Big Think)
However, Dr. Kindstedt did offer a bit of caution on the conclusions the researchers drew from the findings.
"The authors of this new study did some nice work," he told Gizmodo in a statement. "But in my view, on multiple grounds (I suspect in their zeal to be "the first"), they inferred considerably beyond what their data is capable of supporting within reasonable certainty, and almost certainly they are not the first to have found solid cheese residues in Egyptian tombs, just the first to apply proteomic analyses (which is worthy achievement on its own)."
Our love-hate relationship with browser tabs drives all of us crazy. There is a solution.
Technology & Innovation
A new study suggests that tabs can cause people to be flustered as they try to keep track of every website.
The reason is that tabs are unable to properly organize information.
The researchers are plugging a browser extension that aims to fix the problem.
A lot of ideas that people had about the internet in the 1990s have fallen by the wayside as technology and our usage patterns evolved. Long gone are things like GeoCities, BowieNet, and the belief that letting anybody post whatever they are thinking whenever they want is a fundamentally good idea with no societal repercussions.
While these ideas have been abandoned and the tools that made them possible often replaced by new and improved ones, not every outdated part of our internet experience is gone. A new study by a team at Carnegie Mellon makes the case that the use of tabs in a web browser is one of these outdated concepts that we would do well to get rid of.
How many tabs do you have open right now?
We didn't always have tabs. Introduced in the early 2000s, tabs are now included on all major web browsers, and most users have had access to them for a little over a decade. They've been pretty much the same since they came out, despite the ever changing nature of the internet. So, in this new study, researchers interviewed and surveyed 113 people on their use of — and feelings toward — the ubiquitous tabs.
Most people use tabs for the short-term storage of information, particularly if it's information that is needed again soon. Some keep tabs that they know they'll never get around to reading. Others used them as a sort of external memory bank. One participant described this action to the researchers:
"It's like a manifestation of everything that's on my mind right now. Or the things that should be on my mind right now... So right now, in this browser window, I have a web project that I'm working on. I don't have time to work on it right now, but I know I need to work on it. So it's sitting there reminding me that I need to work on it."
You suffer from tab overload

Unfortunately, trying to use tabs this way can cause a number of problems. A quarter of the interview subjects reported having caused a computer or browser to crash because they had too many tabs open. Others reported feeling flustered by having so many tabs open — a situation called "tab overload" — or feeling ashamed that they appeared disorganized by having so many tabs up at once. More than half of participants reported having problems like this at least two or three times a week.
However, people can become emotionally invested in the tabs. One participant explained, "[E]ven when I'm not using those tabs, I don't want to close them. Maybe it's because it took efforts [sic] to open those tabs and organize them in that way."
So, we have a tool that inefficiently saves web pages that we might visit again while simultaneously reducing our productivity, increasing our anxiety, and crashing our machines. And yet we feel oddly attached to them.
Either the system is crazy or we are.
Skeema: The anti-tab revolution

The researchers concluded that at least part of the problem is caused by tabs not being an ideal way of organizing the work we now do online. They propose a new model that better compartmentalizes tabs by task and subtask, reflects users' mental models, and helps manage the users' attention on what is important right now rather than what might be important later.
To that end, the team also created Skeema, an extension for Google Chrome, that treats tabs as tasks and offers a variety of ways to organize them. Users of an early version reported having fewer tabs and windows open at one time and were better able to manage the information they contained.
Tabs were an improvement over having multiple windows open at the same time, but they may have outlived their usefulness. While it might take a paradigm shift to fully replace the concept, the study suggests that taking a different approach to tabs might be worth trying.
And now, excuse me, while I close some of the 87 tabs I currently have open.