Inhale, Exhale, Now Let's Discuss Mandatory National Service in the U.S.
Author and documentarian Sebastian Junger reframes post-traumatic stress disorder (PTSD) and raises the question of mandatory national service for Americans.
Sebastian Junger
Sebastian Junger is the #1 New York Times Bestselling author of THE PERFECT STORM, FIRE, A DEATH IN BELMONT, WAR and TRIBE. As an award-winning journalist, a contributing editor to Vanity Fair and a special correspondent at ABC News, he has covered major international news stories around the world, and has received both a National Magazine Award and a Peabody Award. Junger is also a documentary filmmaker whose debut film "Restrepo", a feature-length documentary (co-directed with Tim Hetherington), was nominated for an Academy Award and won the Grand Jury Prize at Sundance.
06 July, 2016
Sebastian Junger: All of the archeological and anthropological evidence from prehistory and current day hunter-gatherer societies shows that we've thought to live in small groups of 40-50 people, maybe 100-150 people. Those were the typical living sizes based on encampments that have been found and of course people living in those conditions today. The size of our brain seems to be correlated to groups of about that size when compared to other primate species. Clearly we live in a modern society and we organize ourselves in much larger groups. But our wiring, our evolutionary wiring seems to be backdated to a period of time some tens of thousands of years ago when we lived an existence of hunter-gatherers in a very harsh environment.
Our evolutionary design has a lot of implications for how we live in modern society and of course for how we conduct warfare. A platoon is around 40 or 50 soldiers not by coincidence. That's around the size of a typical hunter-gatherer group in our evolutionary past. One of the things that soldiers find when they're deployed in combat or even at a rear base is that they very naturally fall into a kind of communal existence with their platoon mates. They're sleeping shoulder to shoulder. They're eating meals together, doing missions and patrols together. They're doing everything together. You're never out of sight of another person. And you basically live for the group. There's no individual survival outside of group survival in our evolutionary past and often in combat as well. Because we're wired for that, because we evolved for that it feels very, very good when you experience that. And I've experienced it as a civilian reporter in a platoon. It feels instantly right. The only analogy I can think of is holding a baby in your arms for the first time. I just feels like oh my god, this is exactly what I'm supposed to be doing. This is right. And that kind of communal existence feels deeply correct and natural in the same way. And so when soldiers come back from deployment often they miss the war but what they really miss I believe is that communal connection. Not so much the combat and the killing of course – they're not psychopaths, they're just like the rest of us. But they do miss that communal connection because modern society is pretty much gone. And they don't really notice that until they return to it.
One thing that interested me in researching my book Tribe was the high rates of PTSD, post-traumatic stress disorder, in the U.S. military. And estimates vary but they range as high as around 20 percent and much higher percentages than that claiming disability from it. In the Israeli military by contrast the rate is as low as one percent. PTSD is a hard thing to measure. That's why there's some variability. But it's as low as one percent. It's way lower than in the U.S. And I wanted to know why. They are roughly equivalent militaries, modern societies. What is the difference? And Israeli psychologists that I spoke with pointed to a couple of things. One was that the wars that Israel has fought in the last couple of generations have been like right on their doorstep. The Yom Kippur War of 1973 saw Israeli soldiers fighting literally on the outskirts of their own villages, fighting an invading army. And the psychological damage that comes from fighting in that kind of circumstances is greatly lessened as compared to traveling thousands and thousands of miles to fight a war that doesn't seem to bear any relation to your home, to your country. It's a distant affair that maybe doesn't seem necessary sometimes.
The other difference between Israel and America is that Israel has mandatory military service. Roughly half of Israeli citizens serve in the military. So if you're a soldier and you saw combat in Lebanon or whatever when you come home you're coming home to a community where an enormous number of people were also in the military. So there really isn't a transition from military to civilian life. It's all blended. There's a lot of civilian life in the military experience and vice versa. So that transition is easier and as a result the psychological consequences are diminished.
So the question is during a very fractured time in American society the gap between rich and poor is widening. We often live in racially segregated communities. There's a really ugly vitriolic content to political discourse these days. There are politicians talking with real contempt about their president, segments of the population. When you have a country that's in such a state of disrepair what can you do to bring it together? One possibility is mandatory national service with a military option. Personally I think it's immoral to force someone to fight a war they don't believe in. But mandatory national service would not just mean actually during war time. It would be continual. And it would allow young people to contribute to us all, contribute to this country without having to carry a gun. You could do it in many other positive ways and I think it would do enormous good not just for the young people themselves but also for this country as a whole.
This country doesn't require anything of its citizens. And when you don't have to invest in something you don't value it. One of the advantages of mandatory national service is that it enforces an investment of a year or two by a young person in the collective good of this country. And when you do that you create value.
It takes all the races, all the social classes, everything, all the educational levels and it puts them in a big pot and stirs them up together and gives everyone the experience of investing in the collective good. The downside of course is that we're in a very sort of anti-government state of mind right now in this country. And that there might be objections to it. One of the reasons we might be in an anti-government state of mind is precisely because no one in this country is required to spend any time at all contributing to the collective good. It's a self- fulfilling prophecy. It's a feedback loop. How do you break that feedback loop? Well you break it by changing the law. It will take courageous politicians who are willing to buck a national sentiment to do something good for the country. I think at some point politicians have to put their country before their careers and simply vote for what's right in the long term.
The idea of cities may not be new, but they aren't how things were always done. Back when people hunted and gathered from landmass to landmass, people lived in small groups of about 50 to maybe 150 members, according to Sebastian Junger, American journalist, author and documentarian.
---
It was very natural for humans to settle into these smaller groups. Human brains are wired to create small tribes, and our capacity hasn't evolved for the large cities many of us tend to live in now. So it's no coincidence that the army isn't just one large sea of soldiers, it's divided into smaller platoons averaging about 40 to 50 men. This number was a natural choice as it felt comfortable, satisfying the old hunting-gathering needs that still tick inside modern-day humans.
Platoons abide by the old wiring in human brains, which allows soldier to quickly, neatly, and naturally fall into a "communal existence," as Junger says. Platoons do almost everything together, from fighting, to sleeping, to eating.
This is what many of soldiers miss when they come back from war. They don't miss the violence and life or death situations, but the community that being in a platoon creates.
One thing Junger focuses on in his latest book Tribe is the incidence of Post-Traumatic Stress Disorder. PTSD is very hard to measure, meaning it's hard to precisely quantify how many soldiers have it and how many don't. But for an interesting and telling comparison, the rate of PTSD in the Israeli military that is roughly 1%. In the American military, it's closer to 20%. Even with all variables considered, that's a huge difference.
Junger sought the explanations for these figures and among them were two key factors. Most of the Israeli wars are fought close to home, including the Yom Kippur war, where many soldiers could walk home from the battles. And unlike in the United States, Israel's mandatory service law means that when young soldiers come home to their cities, more than half of the population understands what they've been through, because their neighbors, parents, and friends from school have all been in the service. American soldiers come home to a society that generally can't relate - their experience leaves them isolated.
While he believes it's unethical to make people fight in any war, Junger is an advocate for mandatory national service in the US, with non-military options. There are many ways to contribute to society that don't involve taking up arms. And perhaps with a higher rate of shared experience and many more small tribes of people who come together for a year or two, from all races, classes and walks of life, it could build a stronger country and bridge the immense divides within American society.
Sebastian Junger's book is Tribe.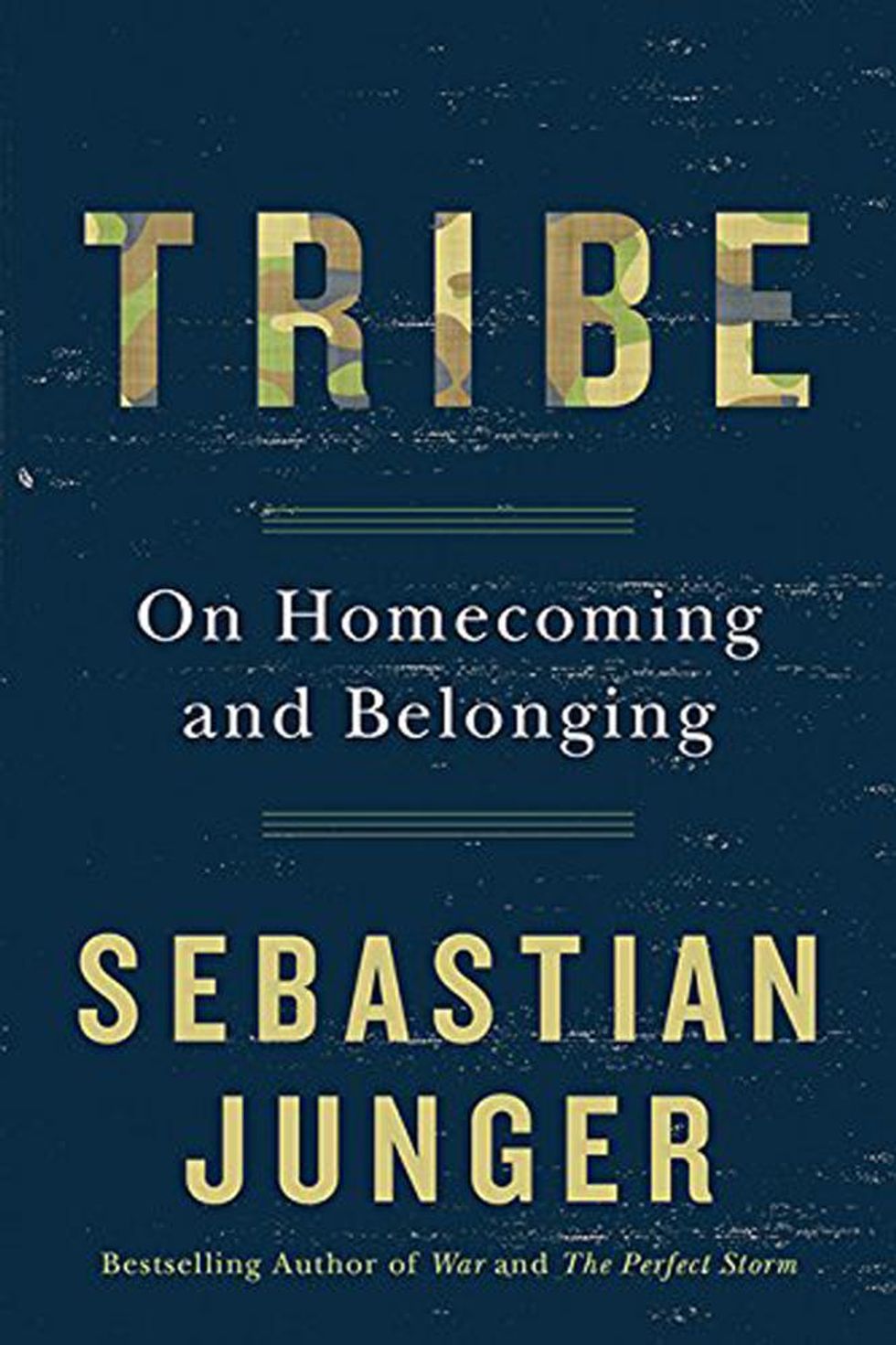 Big ideas.
Once a week.
Subscribe to our weekly newsletter.
We are likely to see the first humans walk on Mars this decade.
NASA
Technology & Innovation
Space agencies have successfully sent three spacecraft to Mars this year.
The independent missions occurred at around the same time because Earth and Mars were particularly close to each other last summer, providing an opportune time to launch.
SpaceX says it hopes to send a crewed mission to Mars by 2026, while the U.S. and China aim to land humans on the planet in the 2030s.
Spacecraft from three of the world's space agencies reached Mars this year.
In February, the United Arab Emirates' Hope space probe entered the Martian orbit, where it is studying the planet's weather cycles. That same month, NASA's Perseverance rover touched down on Mars, where it will soon begin collecting rock samples that could contain signs of ancient life. And in May, China successfully landed its Zhurong rover on the Martian surface, becoming the second nation to ever do so.
All three missions launched in the summer of 2020. The timing was no coincidence: once every two years, Earth and Mars come especially close together because their orbits are "at opposition," which is when the Earth-Mars distance is smallest during the 780-day synodic period. It is an opportune window to send spacecraft to Mars.
The handful of spacecraft currently exploring the Martian surface and atmosphere are scheduled to conduct their experiments for periods ranging from months to years. Some even plan to collect materials to return to Earth. For example, NASA's Perseverance will store its rock samples in protective tubes and leave them behind for a smaller "fetch rover" to pick up on a future mission.
Photo of Martian surface taken by the Perseverance roverNASA/JPL-Caltech
If all goes well, an Airbus spacecraft dubbed the Earth Return Orbiter (ERO) will carry the samples back to Earth in 2031. It would be the first time a space mission has returned Martian matter to Earth. But before the decade's end, space agencies have some other missions that aim to study the Red Planet.

Europe & Russia
NASA is not the only space agency aiming to find evidence of life on the Red Planet. In 2023, Roscosmos and the European Space Agency plan to land their Rosalind Franklin rover on the Martian surface, where it will drill into rock and analyze soil composition for signs of past — or possibly present — alien life.
The joint mission is part of a long-term Mars project that began in 2016. This second phase was initially planned for 2020, but due in part to the COVID-19 pandemic, the space agencies decided to postpone the launch to 2022.
"We want to make ourselves 100% sure of a successful mission. We cannot allow ourselves any margin of error. More verification activities will ensure a safe trip and the best scientific results on Mars," said ESA Director General Jan Wörner.
Japan
In 2022, the Japanese Aerospace Exploration Agency (JAXA) plans to send to Mars its TEREX lander, which will "precisely measure the amount of water molecules and oxygen molecules, and search for water resources and the possibility of life on Mars," JAXA wrote.
TEREX-1National Institution of Information and Communications Technology
In 2024, JAXA also plans to launch a uniquely bold interplanetary mission that will involve sending a probe to orbit Mars, landing on the Martian moon Phobos, collecting surface samples, and then returning those samples to Earth in 2029. JAXA says the mission has two main objectives: (1) to investigate whether the Martian moons are captured asteroids or fragments that coalesced after a giant impact with Mars; and (2) to clarify the mechanisms controlling the surface evolution of the Martian moons and Mars.

China
Following the successful landing of its Zhurong rover this year, China released a roadmap of its plans for additional Mars voyages. The first is an uncrewed mission scheduled for 2030, with crewed missions planned for 2033, 2035, 2037, and 2041. As the International Space Station project is coming to a close, China is in the process of building its own space station; earlier this year it launched into orbit the first part of its station, which will take 10 more missions to assemble.
SpaceX
Elon Musk's California-based aerospace company has its sights on two Mars voyages: a cargo-only mission in 2022 and a human mission by 2026. The crewed mission would involve building a propellant depot and preparing a site for future crewed flights. Getting to Mars will first require an orbital test of SpaceX's Starship rocket, which the company hopes to conduct this year.
Regarding the long-term future of humans on the Red planet, Musk once told Ars Technica:
"I'll probably be long dead before Mars becomes self-sustaining. But I'd like to at least be around to see a bunch of ships land on Mars."
India
In 2014, the Indian Space Research Organization executed its first interplanetary trip with its Mars Orbiter Mission. It marked the first time an Asian nation reached Martian orbit and also the first time a nation successfully reached the Red planet on its maiden voyage. India has plans for a follow-up Mars Orbiter Mission 2, but it remains unclear when that will occur and what the mission will entail.
In February, the chief of the Indian Space Research Organisation said the nation would only launch a Mars mission after Chandrayaan-3, India's upcoming mission to the Moon, which is expected to launch in 2022.
A new episode of "Your Brain on Money" illuminates the strange world of consumer behavior and explores how brands can wreak havoc on our ability to make rational decisions.
popular
Effective branding can not only change how you feel about a company, it can actually change how your brain is wired.
Our new series "Your Brain on Money," created in partnership with Million Stories, recently explored the surprising ways brands can affect our behavior.
Brands aren't going away. But you can make smarter decisions by slowing down and asking yourself why you're making a particular purchase.
How Apple and Nike have branded your brain | Your Brain on Money | Big Think youtu.be
Brands can manipulate our brains in surprisingly profound ways. They can change how we conceptualize ourselves and how we broadcast our identities out to the social world. They can make us feel emotions that have nothing to do with the functions of their products. And they can even sort us into tribes.
To grasp the power of brands, look to Apple. In the 1990s, the company was struggling to compete with Microsoft over the personal computer market. Despite flirting with bankruptcy in the mid-1990s, Apple turned itself around to eventually become the most valuable company in the world.
That early-stage success wasn't due to superior products.
"People talk about technology, but Apple was a marketing company," John Sculley, a former Apple marketing executive, told The Guardian in 1997. "It was the marketing company of the decade."
So, how exactly does branding make people willing to wait hours in line to buy a $1,000 smartphone, or pay exorbitant prices for a pair of sneakers?
Branding and the brain

For more than a century, brands have capitalized on the fact that effective marketing is much more than simply touting the merits of a product. Some ads have nothing to do with the product at all. In 1871, for example, Pearl Tobacco started advertising their cigarettes through branded posters and trading cards that featured exposed women, a trend that continues to this day.
It's crude, sure. But research shows that it's also remarkably effective, even on monkeys. Why? The answer seems to center on how our brains pay special attention to information from the social world.
"In theory, ads that associate sex or status with specific brands or products activate the brain mechanisms that prioritize social information, and turning on this switch may bias us toward the product," wrote neuroscience professor Michael Platt for Scientific American.
Brands can burrow themselves deep into our subconscious. Through ad campaigns, brands can form a web of associations and memories in our brains. When these connections are robust and positive, it can change our behavior, nudging us to make "no-brainer" purchases when we encounter the brand at the store.
Nike storeThamKC
It's a marketing principle that's related to the work of Daniel Kahneman, a psychologist and economist who won the 2002 Nobel Memorial Prize in Economic Sciences. In his book "Thinking Fast and Slow", Kahneman separates thinking into two broad categories, or systems:

System 1 is fast and automatic, requiring little effort or voluntary control.
System 2 is slow and requires subjective deliberation and logic.
Brands that tap into "system 1" are likely to dominate the competition. After all, it's far easier for us as consumers to automatically reach for a familiar brand than it is to analyze all of the available information and make an informed choice. Still, the most successful brands can have an even deeper impact on our psychology, one that causes us to conceptualize them as something like a family member.
A peculiar relationship with brands
Apple has one of the most loyal customer bases in the world, with its brand loyalty hitting an all-time high earlier this year, according to a SellCell survey of more than 5,000 U.S.-based smartphone users.
Qualitatively, how does that loyalty compare to Samsung users? To find out, Platt and his team conducted a study in which functional magnetic resonance imaging scanned the brains of Samsung and Apple users as they viewed positive, negative, and neutral news about each company. The results revealed stark differences between the two groups, as Platt wrote in "The Leader's Brain":
"Apple users showed empathy for their own brand: The reward-related areas of the brain were activated by good news about Apple, and the pain and negative feeling parts of the brain were activated by bad news. They were neutral about any kind of Samsung news. This is exactly what we see when people empathize with other people—particularly their family and friends—but don't feel the joy and pain of people they don't know."
Meanwhile, Samsung users didn't show any significant pain- or pleasure-related brain activity when they saw good or bad news about the company.
"Interestingly, though, the pain areas were activated by good news about Apple, and the reward areas were activated by bad news about the rival company—some serious schadenfreude, or "reverse empathy," Platt wrote.
The results suggest a fundamental difference between the brands: Apple has formed strong emotional and social connections with consumers, Samsung has not.
Brands and the self
Does having a strong connection with a brand justify paying higher prices for their products? Maybe. You could have a strong connection with Apple or Nike and simultaneously think the quality of their products justifies the price.
But beyond product quality lies identity. People have long used objects and clothing to express themselves and signal their affiliation with groups. From prehistoric seashell jewelry to Air Jordans, the things people wear and associate with signal a lot of information about how they conceptualize themselves.
Since the 1950s, researchers have examined the relationship between self-image and brand preferences. This body of research has generally found that consumers tend to prefer brands whose products fit well with their self-image, a concept known as self-image congruity.
By choosing brands that don't disrupt their self-image, consumers are able not only to express themselves personally, but also broadcast a specific version of themselves into the social world. That might sound self-involved. But on the other hand, humans are social creatures who use information from the social world to make decisions, so it's virtually impossible for us not to make inferences about people based on how they present themselves.
Americus Reed II, a marketing professor at the University of Pennsylvania, told Big Think:
"When I make choices about different brands, I'm choosing to create an identity. When I put that shirt on, when I put that shirt on — those jeans, that hat — someone is going to form an impression about what I'm about. So, if I'm choosing Nike over Under Armour, I'm choosing a kind of different way to express affiliation with sport. The Nike thing is about performance. The Under Armour thing is about the underdog. I have to choose which of these different conceptual pathways is most consistent with where I am in my life."
Making smarter decisions
Brands may have some power over us when we're facing a purchasing decision. So, considering brands aren't going away, what can we do to make better choices? The best strategy might be to slow down and try to avoid making "automatic" purchasing decisions that are characteristic of Kahneman's fast "system 1" mode of thinking.
"I think it's important to always pause and think a little bit about, "Okay, why am I buying this product?" Platt said.
As for getting out of the brand game altogether? Good luck.
"I've heard lots of people push back and say, "I'm not into brands,"" Reed II said. "I take a very different view. In some senses, they're not doing anything different than what someone who affiliates with a brand is doing. They have a brand. It's just an anti-brand brand."
Geologists discover a rhythm to major geologic events.
Surprising Science
It appears that Earth has a geologic "pulse," with clusters of major events occurring every 27.5 million years.
Working with the most accurate dating methods available, the authors of the study constructed a new history of the last 260 million years.
Exactly why these cycles occur remains unknown, but there are some interesting theories.
Our hearts beat at a resting rate of 60 to 100 beats per minute. Lots of other things pulse, too. The colors we see and the pitches we hear, for example, are due to the different wave frequencies ("pulses") of light and sound waves.
Now, a study in the journal Geoscience Frontiers finds that Earth itself has a pulse, with one "beat" every 27.5 million years. That's the rate at which major geological events have been occurring as far back as geologists can tell.
A planetary calendar has 10 dates in red
Credit: Jagoush / Adobe Stock
According to lead author and geologist Michael Rampino of New York University's Department of Biology, "Many geologists believe that geological events are random over time. But our study provides statistical evidence for a common cycle, suggesting that these geologic events are correlated and not random."

The new study is not the first time that there's been a suggestion of a planetary geologic cycle, but it's only with recent refinements in radioisotopic dating techniques that there's evidence supporting the theory. The authors of the study collected the latest, best dating for 89 known geologic events over the last 260 million years:
29 sea level fluctuations
12 marine extinctions
9 land-based extinctions
10 periods of low ocean oxygenation
13 gigantic flood basalt volcanic eruptions
8 changes in the rate of seafloor spread
8 times there were global pulsations in interplate magmatism
The dates provided the scientists a new timetable of Earth's geologic history.
Tick, tick, boom
Credit: New York University
Putting all the events together, the scientists performed a series of statistical analyses that revealed that events tend to cluster around 10 different dates, with peak activity occurring every 27.5 million years. Between the ten busy periods, the number of events dropped sharply, approaching zero.

Perhaps the most fascinating question that remains unanswered for now is exactly why this is happening. The authors of the study suggest two possibilities:
"The correlations and cyclicity seen in the geologic episodes may be entirely a function of global internal Earth dynamics affecting global tectonics and climate, but similar cycles in the Earth's orbit in the Solar System and in the Galaxy might be pacing these events. Whatever the origins of these cyclical episodes, their occurrences support the case for a largely periodic, coordinated, and intermittently catastrophic geologic record, which is quite different from the views held by most geologists."
Assuming the researchers' calculations are at least roughly correct — the authors note that different statistical formulas may result in further refinement of their conclusions — there's no need to worry that we're about to be thumped by another planetary heartbeat. The last occurred some seven million years ago, meaning the next won't happen for about another 20 million years.
Powerful branding can not only change how you feel about a company, it can actually change how your brain is wired.
Sponsored by Singleton
Powerful branding can not only change how you feel about a company, it can actually change how your brain is wired.
"We love to think of ourselves as rational. That's not how it works," says UPenn professor Americus Reed II about our habits (both conscious and subconscious) of paying more for items based primarily on the brand name. Effective marketing causes the consumer to link brands like Apple and Nike with their own identity, and that strong attachment goes deeper than receipts.
Using MRI, professor and neuroscientist Michael Platt and his team were able to see this at play. When reacting to good or bad news about the brand, Samsung users didn't have positive or negative brain responses, yet they did have "reverse empathy" for bad news about Apple. Meanwhile, Apple users showed a "brain empathy response for Apple that was exactly what you'd see in the way you would respond to somebody in your family."