Robert Cialdini Explains Social Psychology
Robert Cialdini
Dr. Robert Cialdini has spent his entire career researching the science of influence earning him an international reputation as an expert in the fields of persuasion, compliance, and negotiation. His books including, Influence: Science & Practice, are the result of decades of peer-reviewed research on why people comply with requests.Influence has sold over 3 million copies, is a New York Times Bestseller and has been published in over 30 languages.
Because of the world-wide recognition of Dr. Cialdini's cutting edge scientific research and his ethical business and policy applications, he is frequently regarded as the "Godfather of influence." Dr. Cialdini received his Ph.D from the University of North Carolina and postdoctoral training from Columbia University. He has held Visiting Scholar Appointments at Ohio State University, the University of California, the Annenberg School of Communications, and the Graduate School of Business of Stanford University. Currently, Dr Cialdini is Regents' Professor Emeritus of Psychology and Marketing at Arizona State University. Dr. Cialdini is CEO and President of INFLUENCE AT WORK; focusing on ethical influence training, corporate keynote programs, and the CMCT (Cialdini Method Certified Trainer) program. Dr. Cialdini's clients include such organizations as Google, Microsoft, Cisco Systems, Bayer, Coca Cola, KPMG, AstraZeneca, Ericsson, Kodak, Merrill Lynch, Nationwide Insurance, Pfizer, AAA, Northern Trust, IBM, Prudential, The Mayo Clinic, GlaxoSmithKline, Harvard University – Kennedy School, The Weather Channel, the United States Department of Justice, and NATO.
14 February, 2009
Question: What work in social psychology has influenced what you do?Robert Cialdini: My interest has always been in the influence process; how it is that people can be spurred to say yes to a request, even one that they might not be interested in in its merits.
The way I got into it is actually something more personal. I've always been a sucker, always been a patsy for the pitches of salespeople or fundraisers who've come to my door. So I've wound up in unwanted possession of tickets to the sanitation workers' ball and magazine subscriptions that I didn't really want, and I always wondered, How could that be? I didn't want these things, yet I wound up purchasing them. There must be a psychology to the presentation that's separate from the merits of the thing.
So I began to study the influence process systematically, first in my role as a behavioral scientist. But then, taking a broader look, I actually infiltrated the training programs of as many influence professions that I could get access to. I tried to learn how to sell automobiles from a lot, vacuum cleaners door-to-door, portrait photography over the phone. I was the guy from Mills. I was that guy.
I didn't stop there; I also looked at what the fundraisers were doing to get us to say yes, what advertising copywriters were doing, what lobbyists were doing. Even recruiters: armed service recruiters, corporate recruiters, I even studied what cult recruiters do to get us to say yes.
And through it all, I looked for those commonalities, which were the things that were being used in common, in parallel across all of the people who were interested in getting us to say yes to their requests.
Question: Who were the pioneers of your field?Robert Cialdini: Certainly you always stand on the shoulders of giants. And, for example, Stanley Milgram, who did the famous Milgram Obedience Research, who showed how people would respond to the directives of an authority figure to deliver nearly fatal levels of shock to an innocent other person, simply because they were commanded to do it by someone in a white coat carrying a clipboard and professing to be a scientist, professing to be someone who was an authority in the lab situation where they were working. And people, very many of them, indeed 65%, were willing to deliver all the available shocks that were there in the situation for them to use, simply because they were directed to do so.
That's a very powerful psychological phenomenon.
Other people, for example, Leon Festinger who studied something called Cognitive Dissonance Theory. The desire of people to be consistent with what they've already said and done, even if it doesn't make sense in the larger sense, but in that particular situation. In order for them to be consistent with what they've already said or done in public, they will do what seems to be irrational things.
Philip Zimbardo, who did the famous Stanford prison experiment in which he showed how putting Stanford undergraduates in the role of prisoner or guard caused them, just by virtue of the situation, to start taking on the characteristics and the behaviors of those problematic situations that we find in our prisons: prisoners ganging up on one another, guards abusing the prisoners, and so on. This sort of thing emerged just because the situation was there, not because of the kind of people who were there. You can put anybody in those situations and you get what surfaces to be very alarming.
They reenacted it.
It can't be done with real subjects any longer because it was so devastating to a lot of the people who participated.
They saw themselves being pawns and being willing to deliver nearly deadly levels of electric shock to someone, simply because they were commanded to do so by somebody who they didn't know. That left some of these people sufficiently in doubt of their own self-confidence and ethics that it can't be done anymore. The American Psychological Association won't allow that kind of research to be done.
Recorded: Sep 15, 2008.
Robert Cialdini talks about Social Psychology and what has influenced his work.
Malcolm Gladwell teaches "Get over yourself and get to work" for Big Think Edge.
Big Think Edge
Learn to recognize failure and know the big difference between panicking and choking.

At Big Think Edge, Malcolm Gladwell teaches how to check your inner critic and get clear on what failure is.

Subscribe to Big Think Edge before we launch on March 30 to get 20% off monthly and annual memberships.
It turns out, that tattoo ink can travel throughout your body and settle in lymph nodes.
17th August 1973: An American tattoo artist working on a client's shoulder. (Photo by F. Roy Kemp/BIPs/Getty Images)
popular
In the slightly macabre experiment to find out where tattoo ink travels to in the body, French and German researchers recently used synchrotron X-ray fluorescence in four "inked" human cadavers — as well as one without. The results of their 2017 study? Some of the tattoo ink apparently settled in lymph nodes.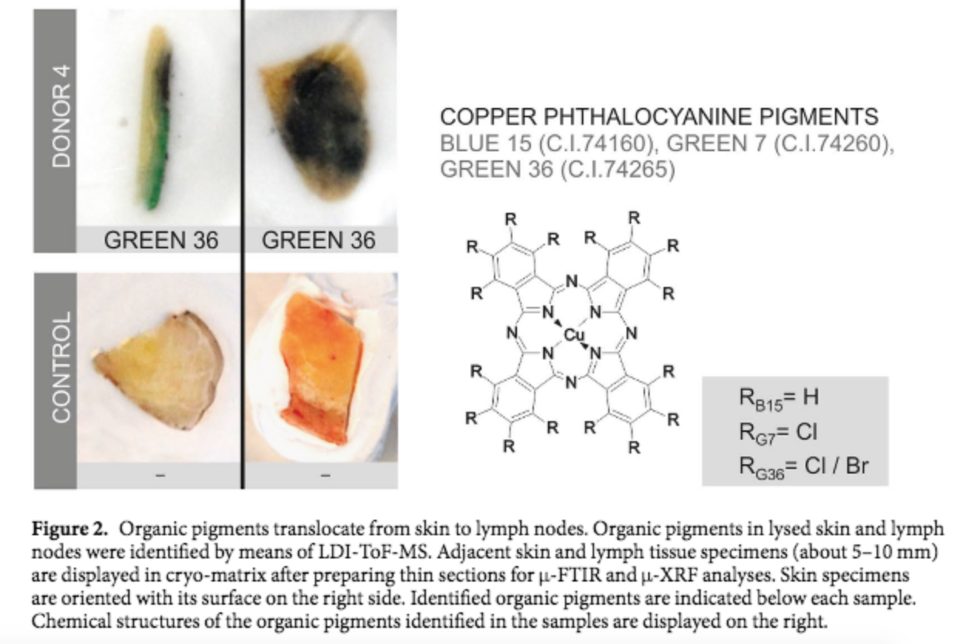 Image from the study.
As the authors explain in the study — they hail from Ludwig Maximilian University of Munich, the European Synchrotron Radiation Facility, and the German Federal Institute for Risk Assessment — it would have been unethical to test this on live animals since those creatures would not be able to give permission to be tattooed.
Because of the prevalence of tattoos these days, the researchers wanted to find out if the ink could be harmful in some way.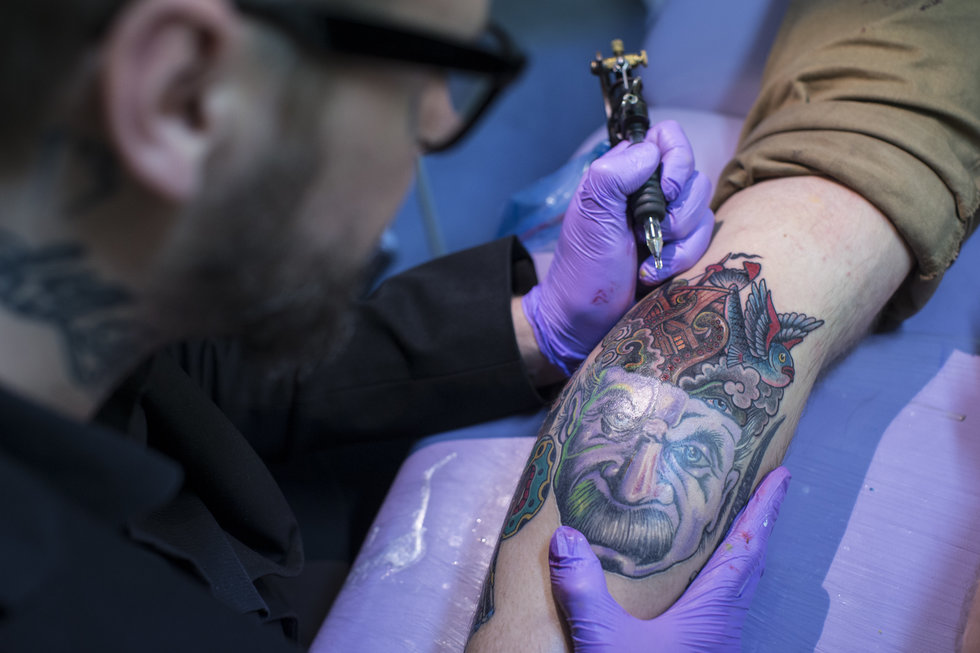 "The increasing prevalence of tattoos provoked safety concerns with respect to particle distribution and effects inside the human body," they write.
It works like this: Since lymph nodes filter lymph, which is the fluid that carries white blood cells throughout the body in an effort to fight infections that are encountered, that is where some of the ink particles collect.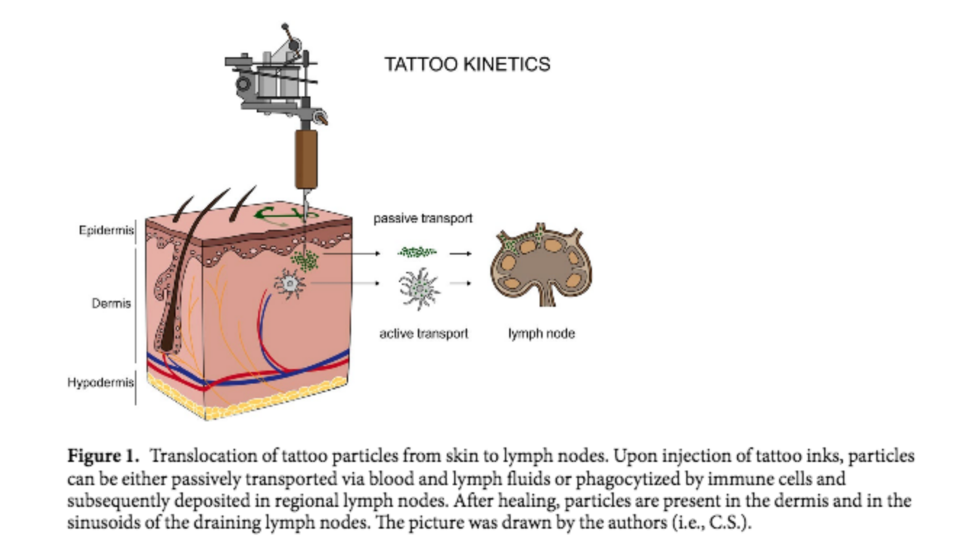 Image by authors of the study.
Titanium dioxide appears to be the thing that travels. It's a white tattoo ink pigment that's mixed with other colors all the time to control shades.
The study's authors will keep working on this in the meantime.
"In future experiments we will also look into the pigment and heavy metal burden of other, more distant internal organs and tissues in order to track any possible bio-distribution of tattoo ink ingredients throughout the body. The outcome of these investigations not only will be helpful in the assessment of the health risks associated with tattooing but also in the judgment of other exposures such as, e.g., the entrance of TiO2 nanoparticles present in cosmetics at the site of damaged skin."
It's one of the most consistent patterns in the unviverse. What causes it?
Videos
Spinning discs are everywhere – just look at our solar system, the rings of Saturn, and all the spiral galaxies in the universe.
Spinning discs are the result of two things: The force of gravity and a phenomenon in physics called the conservation of angular momentum.
Gravity brings matter together; the closer the matter gets, the more it accelerates – much like an ice skater who spins faster and faster the closer their arms get to their body. Then, this spinning cloud collapses due to up and down and diagonal collisions that cancel each other out until the only motion they have in common is the spin – and voila: A flat disc.
Big think's weekly newsletter.
Get smarter faster from the comfort of your inbox.
See our newsletter privacy policy
here
Most Popular
Most Recent
Big think's weekly newsletter.
Get smarter faster from the comfort of your inbox.
See our newsletter privacy policy
here
© Copyright 2007-2018 & BIG THINK, BIG THINK EDGE,
SMARTER FASTER trademarks owned by The Big Think, Inc. All rights reserved.