Corporal Punishment and Infantilism: Why Haven't US Schools Changed Since the 1850s?
Nikhil Goyal examines the flawed US school system, bringing to light a lack of democracy, still-legal corporal punishment, and neglect by the media and presidential candidates.
Nikhil Goyal
Nikhil Goyal is the author of Schools on Trial: How Freedom and Creativity Can Fix Our Educational Malpractice (Doubleday/Random House, 2016). Goyal has appeared on MSNBC and FOX and written for the New York Times, MSNBC, The Nation, and other publications. He has also had speaking engagements with the Clinton Global Initiative University, Google, Stanford, University of Cambridge, SXSW, LEGO Foundation, among others. In 2012, Goyal was named one of the "World Changers" for Dell #Inspire 100. In 2013, he was named to the Forbes 30 Under 30 list. He is also a recipient of the 2013 Freedom Flame Award. Goyal serves on the board of The National Center for Fair & Open Testing (FairTest). He lives in New York.
30 June, 2016
Nikhil Goyal: I found it really quite odd that in the 2016 presidential election there's been very little talk about K-12 education even though there are over 50 million people in our society that are affected by the decisions made by policymakers regarding public education. And I think what happens, what we've seen especially in the media in the past couple of years there has been a massive discussion around issues in education. I wish that the presidential candidates would address these concerns. And there's been issues around charter schools and standardized testing and teachers unions and pay for performance. There are documentaries such as Waiting for Superman, The Race to Nowhere, The War on Kids. And so there has been quite a bit of discussion around education but I argue that some of the discussion has not been as authentic and rich as it could be. What the media journalist often frame the conversation around education is charter schools versus against charger schools. Pay for performance against pay for performance. Are you for standardized testing or are you against standardized testing. And I obviously believe those are important issues and they need to be talked about and debated. But there is a more important issue I think that is above all these kind of issues all together which is the American education system and the structures and the anti-democratic nature of this system.
And I think we have not talked about the teaching and learning practices of American schools. Why is it that 18 year olds who are about to go to college have to ask permission to use the bathroom for example? Why is it that corporal punishment is legal in 19 states in this country? Why is it that children have very few freedoms and rights in school? There was a study done by Robert Epstein, a psychologist and another psychologist who found that schoolchildren are put under two times as many restrictions as inmates imprisoned. So they have very few freedoms and autonomy in schools and nobody's talking about this. Nobody's addressing these concerns on a national scale. And so I think obviously we need to talk about standardized testing and charter schools and the like. But we also need to address the learning and teaching practices of modern schools. And why is it that schools have largely remained the same ever since their inception in the 1850s? So those questions I think need to be posed to our policymakers and I wish people like Bernie Sanders and Hillary Clinton as well as the republican candidates – I mean Donald Trump has talked a little bit about issues around common core. But even on the democratic side I think there has been an astonishing lack of discussion and an agenda around K-12 education and I strongly urge the presidential candidates to discuss this issue.
Because you have millions of people who are affected by these decisions and I think the media has to do a better job enforcing this conversation onto the national stage. Oftentimes education journalists have very little experience in education or very little experience actually reporting on the schools themselves. Education is just kind of like one of those other beats and I argue that if you want to become an education journalist, if you want to report on education issues you just can't go to that beat from the transportation beat or the national security beat. You have to do a lot of research and understanding of the history of public education, the structures that we have in place, policies. You just can't go into this without having a strong idea of how the system was created and the purposes of it. And I find that most education journalists, one of the reasons why there has been such a poor quality of education journalism in the past couple of years and decades is because the education journalists have not had experience in schools, talking to students and teachers and they don't have any idea of the history of the system.
So I mean one of the things I wanted to show in my book Schools on Trial was that I wanted to elevate the voices of the students and the teachers and the parents to show that their perspectives are basically not considered by policymakers, that they need to be part of this conversation. And the most important stakeholders which are the students and the teachers need to be part of this discussion and listened to very seriously because their concerns are legitimate and need to be put into action.
I think one of the reasons why there is such a binary kind of position of the way we look at education and charter schools versus public schools, standardized testing versus no standardized testing is because a lot of education journalists don't have the context of what are these issues like. I mean the issues around standardized testing and, for example, charter schools are – I mean they're not new. I mean these battles have been happening for decades. And if you want to take the issue of charter schools for example. I have somebody who is a supporter of some charter schools but have critiqued the charter school movement all together. And if you actually looked at the history of charter schools the original purpose of charter schools was to create publicly funded schools that were going to be innovative and given flexibility in terms of their standards and curriculum and testing. And if you don't know that history, if you don't actually have looked at where the system was created you can't understand why the movement has been designed the way it has, structure has been operating today. And I think charter schools is an excellent example because you can't – I think oftentimes the media kind of paints it with a broad brush.
I think there's a lot of major problems with charters schools. The corporatization of charter schools. I mean for example Success Academy and allegations of child abuse and other concerns. But there are charter schools, for example, like High Tech High in San Diego, a project based learning innovative school that happens to just be a charter school. And so it is not a black and white kind of situation. It's much more nuanced and the media oftentimes kind of pits one group against the other when I think a lot of people who support public education, who support many of my ideas would support charter schools if they actually were founded and wedded to the beliefs that we want to see for all schools all together.
This has been a rollercoaster of an election year, and it's not even over. From Hillary Clinton's tweets demanding Donald Trump delete his account, the 1000 Bernie supporters that sat on CNN's doorstep with #OccupyCNN trending (which CNN refused to cover), and pretty much everything Donald Trump has said going viral, it's been a busy year for the presidential candidates.
---
While there are many issues that they have covered in debates and interviews, one issue that hasn't been squeezed dry is education. In fact, it's hardly been touched. There's been a lot of talk about the Mexico-America wall being built, the Orlando shooting with a military-grade weapon, and immigration rights. But the issues of standardized testing, bettering our science classes, and charter schools hasn't been discussed quite so thoroughly. These are not unimportant issues, they affect 50 million Americans, and if you consider education as a building block, in the broader scope of things it affects the future world of all Americans.
Education is important. Having our children's minds cultivated to the best of each kid's ability is the key to ensuring that the next generation can do better, build smarter, create more. But no one is talking about it.
Filmmaking has led to some awareness. As mentioned by Nikhil Goyal, the author of Schools on Trial, a few documentaries like Waiting for Superman, The Race to Nowhere, and The War on Kids has led to more open discussion about the problems with schools and modern education. It brought the tough issues to the forefront of many parents' minds, however momentarily. But the problems are still rampant. Just this past April, Shana Perez filmed her own five-year-old son screaming and wailing as he tried to escape being paddled by a school official for truancy, and she was shocked at the rampant violence. Somehow, corporal punishment is still legal in 19 US states.
Nikhil Goyal's book is Schools on Trial: How Freedom and Creativity Can Fix Our Educational Malpractice.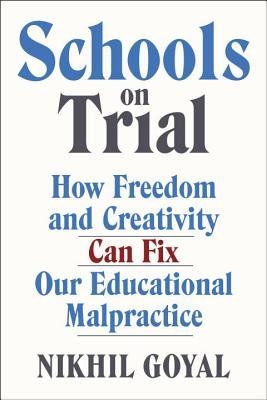 Goyal argues that education journalism doesn't often capture the full story, usually content to pit one kind of school against the other. With broad brushstrokes like this, not enough is really learned about the deeper systemic issues, and the students' stories are left untold. The students know why standardized testing doesn't work for them, and they're the ones who can describe why corporal punishment doesn't teach them. Instead of pitting charter schools versus public schools, Goyal believes journalists need to undertake more in-depth research about the problems in the US education system to fully understand and report on it. The education system hasn't changed since the 1850s, frozen in time while progress has marched forth in most other societal arenas. Why is that? These are delicate subjects that need to be handled with thoughtful and studious journalistic reporting. With some hope, the presidential candidates will discuss this much needed topic with as much care as it deserves.
An ordained Lama in a Tibetan Buddhist lineage, Lama Rod grew up a queer, black male within the black Christian church in the American south. Navigating all of these intersecting, evolving identities has led him to a life's work based on compassion for self and others.
Think Again Podcasts
"What I'm interested in is deep, systematic change. What I understand now is that real change doesn't happen until change on the inside begins to happen."
"Masculinity is not inherently toxic. Patriarchy is toxic. We have to let that energy go so we can stop forcing other people to do emotional labor for us."
We were gaining three IQ points per decade for many, many years. Now, that's going backward. Could this explain some of our choices lately?
The Flynn effect appears to be in retrograde. (Credit: Shutterstock/Big Think)
popular
There's a new study out of Norway that indicates our—well, technically, their—IQs are shrinking, to the tune of about seven IQ points per generation.
Here's why generalists triumph over specialists in the new era of innovation.
Videos
Since the explosion of the knowledge economy in the 1990s, generalist inventors have been making larger and more important contributions than specialists.
One theory is that the rise of rapid communication technologies allowed the information created by specialists to be rapidly disseminated, meaning generalists can combine information across disciplines to invent something new.
Here, David Epstein explains how Nintendo's Game Boy was a case of "lateral thinking with withered technology." He also relays the findings of a fascinating study that found the common factor of success among comic book authors.
Big think's weekly newsletter.
Get smarter faster from the comfort of your inbox.
See our newsletter privacy policy
here
Most Popular
Most Recent
Big think's weekly newsletter.
Get smarter faster from the comfort of your inbox.
See our newsletter privacy policy
here
© Copyright 2007-2019 & BIG THINK, BIG THINK EDGE,
SMARTER FASTER trademarks owned by The Big Think, Inc. All rights reserved.