Global Population Boom: Are People the Problem, the Solution, or Both?
In his lecture, Professor Joel Cohen teaches you how demography can provide answers to the life or death questions caused by the world's swelling population and dwindling resources.
Joel Cohen
Joel E. Cohen is a mathematical biologist and Professor of Populations at Rockefeller and Columbia Universities. His research deals with the demography, ecology, epidemiology and social organization of human and non-human populations and with mathematical concepts useful in these fields. The author of 14 books, he has been honored with numerous awards, including the Sheps Award from the Population Association of America, the Distinguished Statistical Ecologist Award, the Tyler Prize for Environmental Achievement in 1999 and the Mayor's Award for Excellence in Science and Technology from the Mayor of the City of New York, Michael R. Bloomberg in 2002. Professor Cohen has been elected to the National Academy of Sciences, the American Academy of Arts and Sciences and the American Philosophical Society. He lives in New York.
02 April, 2015
My name is Joel Cohen
I'm Professor of Populations at the Rockefeller University and at Columbia University in New York City.
My background is partially in public health and partially in applied mathematics.
Why should you consider taking a course in demography in college?

You will be growing up in the generation where the baby boomers are going into retirement and dying. You will face problems in the aging of the population that have never been faced before.

You will hear more and more about migration into the United States and in some cases, out, into Europe and out between rural areas and cities.

You need to understand as a citizen and as a tax payer and as a voter what's really behind the arguments.

INTRODUCTION TO PROBLEMS IN DEMOGRAPHY

I want to tell you about the past, present and future of the human population. So let's start with a few problems. Right now, a billion people are chronically hungry. That means they wake up hungry, they're hungry all day and they go to sleep hungry. A billion people are living in slums, not the same billion people, but there is some overlap. Living in slums means they don't have tenure in their homes, they don't have infrastructure to take the garbage away, they don't have secure water supplies to drink.
Nearly a billion people are illiterate. Try to imagine your life being illiterate. You can't read the labels on the bottles in the supermarket, if you can get to a supermarket. Two-thirds of those people who are illiterate are women and about 200 to 215 million women don't have access to the contraceptives they want so that they can control their own fertility.
This is not only a problem in developing countries; about half of all pregnancies are unintended. So those are examples of population problems.
DEMOGRAPHY AS A TOOL FOR SOLUTIONS
Demography gives you the tools to address and to understand these problems. It's the study of populations of humans and non-human species that includes viruses like influenza, the bacteria in your gut, plants that you eat, animals that you enjoy or that provide your domestic animals. And it includes non-living objects like light bulbs, and taxi cabs and buildings because these are also populations. And it includes the study of these populations in the past, present and future using quantitative data and mathematical models as tools of analysis.
I see demography as a central subject related to economics, to human wellbeing as in material terms; related to the environment, to the wellbeing of the other species with which we share the planet; and the wellbeing and culture which affects our values and how we interact with one another.
WORLD POPULATION: THE PAST
The key fact you need to remember, is that since the inventions of agriculture between 6,000 and 14,000 years ago, the population of the earth, the human population, has grown 1,000 fold from approximately seven million to nearly seven billion this year. Put three zeroes on the end of seven million, you get seven billion.
Over the same interval, the earth has not gotten any bigger. The continents haven't expanded 1,000 fold or at all. The oceans are the same size as they were before. The atmosphere is the same size as it was before. So the question that concerns a lot of people and me is whether the impacts that seven billion people or more in the future will have on the earth will endanger, will threaten our own well being and the well being of other species on the earth. We know that humans have already caused the extinction of many species. The question is, is that going to come back and bite us, and if so, in what ways?
Demography provides us with a reliable way to imagine and to reimagine the future. So let's get down to some nitty-gritty details here. About 2,000 years ago, there were roughly a quarter of a billion people on the planet. Today, there are almost seven billion. More than six-seventh of the growth since the beginning of humans 50,000 years ago has occurred in the last 200 years.
To go from a quarter of a billion to half a billion took 16 centuries. So we reached about half a billion humans about 1600, more or less. The population of the earth, the human population, if it were growing exponentially would go from a quarter billion to half in 16 centuries and from half to one in another 16 centuries.
What actually happened was that the human population of the earth reached a billion around 1800. Why? Because of food stuffs that came from the New World to the old; notably potato and corn or maize. And because many of the people who were overcrowded in Europe went to America where there were fertile and unoccupied lands to use. So the East/West exchange, the Columbian exchange across the Atlantic liberated population growth in the European sector, there was a similar development in Japan, an acceleration of population growth around the same time.
In 1800, the Industrial Revolution began and the population doubled from one billion to two billion by 1930, 1927, we don't know exactly. Why don't we know exactly? Because we didn't have censuses that covered the whole world at that time. So it's a retrospective guess.
So our doubling times went from 1,600 years to 200 years, 1600 to 1800, to 130 years, 1800 to 1930. The next doubling from two billion to four billion took only 44 years, 1974.

So for the last 2,000 years at least, except for the Black Death in the 14th century, the population growth rate was going up, up, up, up and around 1965, it began to decline.
So in absolute terms and in percentage terms, the number of people we are adding to the planet has begun to slow.
FERTILITY IS THE KEY TO UNDERSTANDING HUMAN POPULATION

Since 1950, humans have made the swiftest, voluntary change in reproduction in human history. Around 1950 the average number of children per woman, per lifetime was very close to five. Today, the average number of children per woman is about 2.5 or 2.6. In other words, billions of people have changed their reproductive behavior to lower the number of children born in a lifetime from five to two-and-a-half, but not everywhere.
In Sub-Saharan Africa, the decline has been much less. From perhaps 6.6 children to 5.1 over the half… the second half of the 21st century. To understand the consequences of this fall to two-and-a-half children per woman, you need to know what is meant by replacement level fertility.
So I am going to introduce that by telling you about the theory of bathtubs. A regular bathtub with no stopper. So two things happen with a bathtub with no stopper. Water comes in and water goes out. And you can see intuitively that if the amount of water coming in per minute exceeds the amount of water going out per minute, the level of water in the bathtub is going to go up, and if the amount of water come in per minute is less than the amount being drained out, the level in the bathtub is going to go down. So the amount of water coming in that just matches the amount going out keeps the level of the bathtub steady. Okay? That's replacement level bathtub water.

Now, water coming in corresponds to births to the earth. And water going out corresponds to death. And the level of the bathtub corresponds to the total population size. So, if the number of births just matches the number of deaths, the population stays steady and that's the replacement level of fertility.

Now, you're asking yourself, what is the replacement level of fertility? The answer is, it's about 2.1 children per woman.
There has been an amazing transformation in the distribution of fertility across the world.

In 2003, this was not in any newspaper anywhere, but it was a very important event. In 2003, half of all the women in the world were having replacement level or less. And now more than half of humanity lives in a country at or below replacement level fertility. It's the first time in human history that this has happened. And it's important. But you remember that the total fertility rate, the average number of children per woman is at 2.5, not 2.1. And that's because on this curve, the green curve, the folks with high fertility are further to the right of the red line than most of the folks with low fertility are to the left. So the average is skewed to the right. So we still have a growing population. But this change is continuing and how fast it continues is something that you as voters, as potential scientists, as citizens will influence by what you choose to do about the 215 million women who have an unmet need for contraception.
So much for the past, let's go on to the present. This is a population pyramid. It is one of the basic descriptive tools of demography and you should understand what it is. Let's start with the left side of the picture.
The horizontal axis, the width of the bar tells you how many people there are and the vertical axis correspondence to age group. So the lowest bar is for people aged zero to four with males on the left and females on the right. The next bar is people age five to nine. The top bar is 95 to 100. And what you see is that in the rich countries, there are about as many people aged, let's say zero to four as there are aged 85 or 90, but it's basically a slender column.
Now compare it with the age pyramid for the poor countries. The base of the pyramid is enormous compared to the number of elderly. So there are many more workers to support the elderly, per elderly person. The width of the bar, again is the number of people, so in the ranges from five to 14 of five to 19, that's the school age population. It means that the challenge of educating those children is much greater in the developing countries than it is in the rich countries because those bars keep getting wider as the developing countries pump in more children at the bottom of the pyramid and the age groups move up with time as they get older. And so the larger school age population is followed 10 years later by a much larger military age population.
So if you look at the age groups 19 to 30 or 15 to 30, whatever the legal ages or illegal ages are for fighting, you can see that the potential military force in the developing countries vastly exceeds that in the rich countries. It doesn't mean it's military power for them, it means they can afford a military engagement in a way that the human resources of the rich countries make very difficult, increasingly difficult.
So where is the growth going? The demographic growth is happening in the countries that can least afford to deal with the additional population.
What's the average income? The reason we call a rich country as rich is that their average income is about $32,000 a year per person and in the poor countries it is about $5,000 a year.
What fraction of people are living on less than $2.00 a day? Nobody lives on less than $2.00 a day in the rich countries and 51 percent, just about half in the poor countries. In other words, about 3.5 billion people on our planet are living on $2.00 a day or less.
So you might ask yourself, if things are so bad there how is it that their population is growing so rapidly? And the fact is that the difference in death rates is much smaller than the difference in fertility rates. So even though a higher fraction of children die before they reproduce, the average number of children that people have when they do reproduce in the poor countries more than compensates for the increase in the death rate. So that's why we have rapid population growth at the same time that we have high fertility, high mortality because we had even higher fertility.
The global economic inequality means that the most rapid demographic growth is associated with the people who have the least means to take care of the children that are born and the people with the greatest need for reproductive healthcare and services have the least means to afford it.
It's an important general question, How does the rich world benefit from the prosperity and development of the poor world? There are lots of different answers you can give. One is, purely economic. Richer people in China and Africa will buy more American music CD's and more movies and more software and more high tech engines from General Electric and more products because they have more means to buy. So that's one kind of an answer.
A second is public health. There are millions of flights in both directions from the poor countries to the rich countries every year. And the microbes don't know about passports. And they cross from Bombay or Mumbai to New York just a fast as they go from New York to Mumbai. And when there are outbreaks of drug resistant tuberculosis, those can travel around the world and they pose a danger to me and to you guys. So we have an interest in the health and well being. A direct, personal interest in the health and well-being of people in poor countries.
So now we've talked about the demographic past, and the demographic present. And next we're gonna talk about the demographic future.
Woody Allen said, "Eternity is very long, especially near the end." So, we're not going to talk about eternity. We are only going to talk about the near term future. How much of the future is relevant to you? Well, according to the United States Life Tables, published by the National Center for Health Statistic. An 18-year-old in the United States in the year 2011 has a 91 percent chance of surviving to 2050, 91 percent. Based on survival rates in 2006. If you behave wisely and if economic and medial progress continues, you have at least that good a chance of making it to 2050. So we're going to talk about the world from now to 2050.
I can say with confidence that four things will happen over the next 40 years or so. The world's population will get bigger. It will grow more slowly. It will be older in the sense that the fraction of older people will increase dramatically and it will be more urban. And I'm going to go through each of those four to explain some of the details.
What we don't know too much about is what will be the future of migration, the future of household structures, and the future of families. We have some ideas about that, but that's relatively less certain.
THE FUTURE OF THE WORLD'S POPULATION : BIGGER
This graph shows four different curves of the history and future population out to 2050. At the top, the curve shows the anticipated population if fertility remains at the level it is today and there's no further decline in fertility. That's called the Constant Fertility Assumption. And it shows that the world would go to about 11 billion people by 2050. However, if fertility drops as it has dropped in the past, the medium projection of the U.N. Population Division is that population would rise to about 9.1 billion by 2050. So that's a difference of two billion. In other words, we're counting on a continuing decline in fertility to lower the population size by about two billion by 2050.

What we do between now and 2050 will have a huge impact on how difficult it is to feed, house, shelter, educate, and provide health for the billions of people on the planet in 2050. It will affect an enormous range of human problems.
It's possible that population growth would end before 2100 depending on the choices we make now. What choices am I talking about? Choices like, educating women, providing credit to women in countries where women are not now allowed to have credit. Providing reproductive healthcare so that women are not forced as they are in some countries to have children when they don't want to. Raising the age of marriage so that 12-year-olds, 13-year-olds and 14-year-olds aren't put into marriage. There's a lot of things we can do to raise people, including even women, raise people's control over their own lives. And we should be doing those things.

I am not trying to persuade people not to have children. I think that is nuts, but I am trying to persuade people to have children that they can take care of and do well for and to focus on quality of children rather than numbers. And, I view demography rather broadly so I think you also need to know how your body works, how contraception works, what's more reliable, what's less reliable, what are the factors that affect contraception and how to take care of your own reproductive health and to help your children take care of their reproductive health and your friends and your family.
THE FUTURE OF THE WORLD'S POPULATION : SLOWER GROWTH
So the first fact about the future is that the population is going to get bigger and the second fact is that the population is going to grow more slowly depending… the slowing will depend on what we do now.
By 2050 in the medium projection from the United Nations Population Division, the world will be growing by 31 million people a year.
What's it doing now? It's growing by 76 million people a year.
In the poor countries, the population will be growing by 32 million a year while in the rich countries; the population will actually be declining
by a million people a year. Already today in 2011, population is declining in more than 50 countries. Not well-known.
What's happening here is a shift in childbearing desires and action from quantity to quality as people urbanize, as people get educated, as wealth improves, people are making greater investments in a smaller number of children.
THE FUTURE OF THE WORLD'S POPULATION : OLDER
So we've talked about population size, growth rate, slowing. The next is aging.

So by 2050, there will be about three times as many elderly as children. This is the first time in human history that the elder population has outnumbered the young population.
So what? Well, aging affects energy demand. So even if you are interested in the environment, you need to know about the age structure of populations. Older householders spend, at least in the United States, India and China, the three countries where it's been studied in detail, spend more than younger households measured by the age of the head on utilities services and healthcare. Utilities are the most energy intensive part of the household budget. That's not the only reason to care. The rise in the fraction of elderly poses an increasing challenge to a relatively reduced number of workers. And it's possible that the well-being of elderly people could improve, if they're educated or could get worse if they are warehoused in old people's homes.
We know for example, that people who are educated in their youth have much lower disability when they get older. And in fact, disability rates at any given age in the United States have been dropping by about one-and-a-half percent per year for the last 25 years. So there are far fewer disabled elderly now than there used to be. That's the meaning of 60 is the new 40, 50 is the new 30. People are healthier at older ages. That's the result of investment in education in youth. So, there are policy implications for a rising aged population, we better invest in educating people when young.
THE FUTURE OF THE WORLD'S POPULATION : URBAN
And the last of the four topics is cities. And I'm going to give you a very simplified and boiled down demographic history of the first half of the 21st century. In 2000, you could divide the world into two equal parts; half rural and half urban, about three billion rural and three billion urban. In 2050 the rural population will still be at three billion and the urban population will have doubled from three billion to six billion. That's a simplified history. All of those additional three billion urban people will be in poor countries.
The equivalent of a city of one million will have to be built every five days from now to 2050 and all of them in poor countries.

So what's the consequence? What is this massive shift towards urbanization mean?
If we under invest in cities, we can go from a billion people living in slums today to four billion people living in slums. And if we invest in the cities, if the real estate companies realize the opportunities, the incredible demand that people have to live in decent housing, we could reduce the size of the slums. So, I cannot give you a deterministic picture. I can tell you what would be awful. We could have infectious diseases rampant. We could have warfare in the cities. We could have disorder, but that's not necessary.
We could have clean water supplies; we could have security for people in their houses. That doesn't get as much news attention, but the point I want to make is, we have choices about the future of cities and many things about urbanization are positive. And I want to tell you a few of the things that are positive. Not because they're automatic, but because they are positive in fact and because we can enhance the positive.
Compared to rural areas, urban areas have lower fertility rates. Why? I'm a woman on the farm. You might not think so, but I am… okay. I'm a woman on the farm. The more children I have, the more help I can have in collecting the water, collecting the fire wood and tending to the goats and sheep. As soon as I move into a city, those children convert from an asset to a liability. I have to buy them clothing. I have to send them to school. There are school fees, the apartment is too small. The incentives completely shift direction. Urbanization makes people want to have fewer children.
Cities also have higher usage of modern contraception and lower unmet needs for contraception. Why? I am a woman; you might not know it… I don't have to walk 15 miles to the nearest health center and be exposed to the inspection of my husband's friends when I go in for contraception. No. When I'm in the city, I just go around the corner and it's anonymous. So, urbanization brings many features of liberation as well as changing the incentives.
Cities concentrate economic productivity. Eighty percent of the world's gross domestic product is produced in cities, although there are only 50 percent of the world's people in cities. Cities generate cultural assets, educational resources, public health resources, medical care and they can promote energy efficiency.
Let me give you an example. This graph shows the passenger transport, carbon dioxide per person. The denser the city, the lower the amount of carbon dioxide per person. New York City is reported, according to the Mayor's office, to have less than one-third the carbon dioxide emissions per person of the U.S. average. People take the subway, people ride the bus.
Cities also have hazards. Many cities are built along coastlines. Coastlines are where the continental plates of the oceans collide with the continents. That means they are prone to earthquakes. We just had the big example in Japan, but it's true all around the world. The Ring of Fire around the Pacific Ocean coincides with where the cities are because cities are coastal. A lot of the world's urban people live near the coastline and that's where the subduction zones are in California. So cities are vulnerable to rising sea level, to coastal storms, cities concentrate people so they're vulnerable to infectious diseases, water supply attacks, and cities are excellent targets for military and terrorist attacks, as we know in New York City and many other cities.
It used to be, battles were fought on battlegrounds. No more. They're fought in cities. And that will increasingly be the case as cities concentrate assets.
This is New York City as it is now. The red zone will be underwater if the water level rises by one meter on the average. One meter is probably more than we'll have in the next 50 years, but could easily happen by the end of this century at current rates. Now, a six meter rise would happen if the Greenland and Antarctic ice masses melted. Six meters is about 20 feet. And that would be a catastrophe in many respects including for me, there's a little place over here in New Jersey which is my favorite nudist colony. And it would be completely underwater. So that would be a terrible thing to happen.
Urban growth could affect the food supply. Right now, cities occupy three percent of the land surface of the earth. The land, the arable land, the land where we can grow food well is about 10 or 11 percent of the land surface of the earth. It's not surprising that many cities are smack in the middle of the best arable land because that was where a food surplus could be easily produced without having to ship the food. Now, if cities are going to double, we have another choice. Do we double the area from three percent to six percent and eat up our arable land, literally or do we double the density and keep the areas of the cities constant at three percent. This is a choice for the future and it depends on zoning and culture and real estate developers and economics and choices that we make as citizens.
CONCLUSION - FOOD: THE WORLD IS RUNNING OUT OF RESOURCES TO SUPPORT ITS GROWING POPULATION
How do we address the problems that we have.
There are three kinds of solutions that people have put forward; bigger pie, fewer forks, better manners. The bigger pie people say we should use technology to increase production. The fewer forks people say, we should use contraception to reduce population growth and we should consume less material products. And the better manners people say, we should eliminate violence, inequities between men and women, inequities between rich and poor, inequities between young and old. We should eliminate rational subsidies and just make things work more efficiently. Get rid of corruption.
We need all of those and I took a few years to try to figure out what's my best way to support those three strategies, all of them. And I came to the conclusion that the best response would be to educate all children, boys and girls, well for 10 to 12 years, high quality, primary and secondary education. I realized there is no chance of educating people if their brains haven't been fed adequately, in utero and after birth, especially for the first three years.

So I am now moving around to working on the problem of getting food, adequate, good food, to pregnant women, lactating women, and infants up to the age of three because there are many countries where by the time a child gets to school, it's too late the brain has lost its capacity to learn.
It comes back to my ecological interests in food. You can't educate without a brain that works.
So now we're talking about food. I started this conversation saying that there are a billion hungry people, chronically hungry. I want to come back to this. We depend on other species. Here is a list of what other species provide to humans. And I'm going to read the list because it's important. Food for people, feed for our domestic animals, fuel, biofuel for example, and wood to burn, biomass. And in many countries people burn dung. The waste products of animals. That's an important source of fuel. Fiber, so we depend on trees for many paper and other products. Fascination, we love to go to the zoo and see animals. We love to see wildlife. When people go out in nature, they're thrilled if they see a deer or some other kind of wildlife. In fact, in Central Park, the German tourists are thrilled to see squirrels. We find animals fascinating. Pharmaceuticals, most of our drugs are natural products tuned up to serve human needs. Animals provide transport, they carry people places. They provide traction, they pull plows, they pull carts. Other species provide symbioses. I've talked about the animals, not the animals, the bacteria that live in our guts. And they provide infection. They can cause disease.
So the question I want to address now is can we grow enough food to bring us to 2050 without catastrophe? These are data from the Food and Agricultural Organization in Rome. They are estimates of the number of people in the world who are chronically under nourished day after day. The current estimate is about 925 million people. That's nearly a billion and it is higher than the number has been in the last 40 years. Ninety-eight percent of these people live in poor countries. Not only poor countries. Here is something that shocked me and I hope it will shock you. At some point during 2009, 17.4 million U.S. households, one household in seven in the United States, lacked enough money and other resources to provide food for all members of the household.
The current level of food insecurity in the United States is higher than it has been since the USDA started collecting the statistics by sample surveys in 1995. We are at an all time high of hunger in this country.
So the question you should be asking yourself is, well aren't we growing enough food? What's the problem?
We've got seven billion people and there are a billion of them hungry. The answer is, less than half of the grain that we grow goes into people's mouths. Divide the world's grain into six equal pieces. One piece we use to make biofuels, starches, for seed and other industrial uses; plastics. Two-sixths, we feed to our domestic animals of the rich people, those who have the means to afford those animals and meet products. Less than half, the other three-sixths goes directly into human mouths. We could be feeding 11 billion, but we only feed half of that amount, 5 ½ billion into human mouths.
We put machines and animals in line before people who don't have money to express demand in markets. Hunger does not fit into our economic theories. It's economically invisible because people who are very poor, remember, half a billion are only living on $2.00 a day or less. People who are very poor can't enter the market and plunk down their cash and say, "I want that." They are invisible economically. So my hunger does not affect your costs for grain. This is a problem with our economics. And it's a reflection of our values.

CONCLUSION - WHAT'S THE SOLUTION?
So, here's Joel's formula for how to solve the world's problems.
Well, population; let's go at it with all hammer and tongs. Eliminate all unintended pregnancies and educate all children to give people control over their bodies and over their own lives.
Economics, open credits and markets to small farmers. A majority of the world's farmers are women. They are the ones out in the field actually doing the work. Eliminate perverse subsidies in rich countries make it very difficult for poor farmers to enter markets because they lower the price in artificial ways. And let's raise the incomes of the poor.
Environment. Use the best farm lands for farms and internalize the external costs of agriculture. Get rid of the pollution and use chemicals in a way that doesn't damage the environment.
And fourth, promote healthy diets and value adequate nutrition for every person. I would add one other thing under this culture question and that is, we need to fund more research in agricultural productivity for the crops that matter in poor countries. Not only for the industrial craps that fund our biofuel habit, but for the crops that provide food to the poor.
CONCLUSION - SUMMATION

When you walk away from this conversation, I hope that you'll remember that population interacts with economics, the environment and culture so that you immunize yourself against people who will try to sell you an overly simple bill of goods. And there are a lot of people. There are people who say, "Demography is destiny," and all we have to do is get a contraceptive in every pot and we'll solve the world's problems. That's wrong.
And there are people who say all we have to do is get the market right. Let the market take care of all the prices. In my view, that is equally wrong and much more dangerous. There are people who say, "It's only a matter of law and getting the laws right." Yeah, but it's also a matter of technology and contraception and economics. And there are people who say, "Forget about the people, let's just save the environment." I don't believe that because I'm a human being and I value other human beings. We've got to get all of these things working together and the environment can be on the side of human well being because poor rural people depend directly on the environment for their sustenance. If they want to have a sustainable sustenance, they have to have a sustainable environment.

Demography makes it possible to imagine and to re-imagine the future.
I'd encourage any freshman, sophomore, junior, senior, adult, high school student—I'm not age prejudiced—anybody who wants to do three things to consider demography. It's not the only field that offers these attractions but it does offer them in spades. It's really very attractive. First of all, demography gives you tools and analytical perspectives to understand better the world around you. That's understanding.

Secondly, it gives you equipment to solve problems mentally. It's mentally exciting; you really have to use your noggin, and if you've got one use it or lose it. So it's use it. And third, it is the means to intervene more wisely and more effectively in the real world to improve the wellbeing, not only of yourself—important as that may be—but of people around you and of other species with whom we share the planet.

So it prepares you to go out and do something that's worth doing for a larger good than only yourself. So there's an old saying, "If I am not for myself who will be; but if I am only for myself what am I; and if not now, when"? So now is the time. Pull up your pants and get to work.

Thank you.
Professor Joel Cohen first asks and answers the question, "How did humans grow from small populations on the African savannah to almost seven billion people?" After holding steady for thousands of years, the world population exploded after 1800, more than tripling in 200 years. And while the rate of population growth is slowing down, Cohen shows how high birth rates in poor countries are turning societies on their head and leading to explosive problems in the future. Can we prevent an outcome where rich western countries are in permanent population decline while cities in Africa, South America, and Asia swell into massively overcrowded slums with no access to education, healthcare, or hope? Cohen applies demography to this pressing question with fascinating results.
Big ideas.
Once a week.
Subscribe to our weekly newsletter.
A Harvard professor's study discovers the worst year to be alive.
Credit: Pieter Bruegel the Elder. (Museo del Prado).
Politics & Current Affairs
Harvard professor Michael McCormick argues the worst year to be alive was 536 AD.
The year was terrible due to cataclysmic eruptions that blocked out the sun and the spread of the plague.
536 ushered in the coldest decade in thousands of years and started a century of economic devastation.
The past year has been nothing but the worst in the lives of many people around the globe. A rampaging pandemic, dangerous political instability, weather catastrophes, and a profound change in lifestyle that most have never experienced or imagined.
But was it the worst year ever?
Nope. Not even close. In the eyes of the historian and archaeologist Michael McCormick, the absolute "worst year to be alive" was 536.
Why was 536 so bad? You could certainly argue that 1918, the last year of World War I when the Spanish Flu killed up to 100 million people around the world, was a terrible year by all accounts. 1349 could also be considered on this morbid list as the year when the Black Death wiped out half of Europe, with up to 20 million dead from the plague. Most of the years of World War II could probably lay claim to the "worst year" title as well. But 536 was in a category of its own, argues the historian.
It all began with an eruption...
According to McCormick, Professor of Medieval History at Harvard University, 536 was the precursor year to one of the worst periods of human history. It featured a volcanic eruption early in the year that took place in Iceland, as established by a study of a Swiss glacier carried out by McCormick and the glaciologist Paul Mayewski from the Climate Change Institute of The University of Maine (UM) in Orono.
The ash spewed out by the volcano likely led to a fog that brought an 18-month-long stretch of daytime darkness across Europe, the Middle East, and portions of Asia. As wrote the Byzantine historian Procopius, "For the sun gave forth its light without brightness, like the moon, during the whole year." He also recounted that it looked like the sun was always in eclipse.
Cassiodorus, a Roman politician of that time, wrote that the sun had a "bluish" color, the moon had no luster, and "seasons seem to be all jumbled up together." What's even creepier, he described, "We marvel to see no shadows of our bodies at noon."
...that led to famine...
The dark days also brought a period of coldness, with summer temperatures falling by 1.5° C. to 2.5° C. This started the coldest decade in the past 2300 years, reports Science, leading to the devastation of crops and worldwide hunger.
...and the fall of an empire
In 541, the bubonic plague added considerably to the world's misery. Spreading from the Roman port of Pelusium in Egypt, the so-called Plague of Justinian caused the deaths of up to one half of the population of the eastern Roman Empire. This, in turn, sped up its eventual collapse, writes McCormick.
Between the environmental cataclysms, with massive volcanic eruptions also in 540 and 547, and the devastation brought on by the plague, Europe was in for an economic downturn for nearly all of the next century, until 640 when silver mining gave it a boost.
Was that the worst time in history?
Of course, the absolute worst time in history depends on who you were and where you lived.
Native Americans can easily point to 1520, when smallpox, brought over by the Spanish, killed millions of indigenous people. By 1600, up to 90 percent of the population of the Americas (about 55 million people) was wiped out by various European pathogens.
Like all things, the grisly title of "worst year ever" comes down to historical perspective.
A newly discovered coronavirus — but not the one that causes COVID-19 — has made some dogs very sick.
Surprising Science
A different coronavirus outbreak in late 2019 made many dogs in the UK very ill.
The strangeness of the disease led veterinarians to send questionnaires to their peers and pet owners.
The findings point toward the need for better systems to identify disease outbreaks in animals.
A recent study suggests that a mysterious disease plaguing dogs in the UK is caused by a novel coronavirus. This virus, which coincidentally appeared in late 2019 and began to concern veterinarians in early 2020, is not related to the virus which causes COVID-19, but can make your four-legged friend feel quite ill.
Novel coronavirus in dogs
The term "coronavirus" doesn't refer to a single disease, but a family of viruses (more formally, Coronaviridae) that share a shape similar to a crown (hence the name, "corona"). They infect many different kinds of animals and cause various diseases from COVID-19 and SARS to the common cold.
This new coronavirus, a variant of canine enteric coronavirus, was first noticed in January 2020 when a veterinarian in the United Kingdom treated "an unusually high number" of dogs with severe vomiting and other gastrointestinal issues at his office. Concerned about this spike in doggy indigestion, they reached out to other veterinarians to see if they were reporting a similar outbreak.
Online questionnaires were sent out to more than a thousand vets and pet owners to map the outbreak and collect information on which animals were being affected. Analysis of this data showed that nearly all of the cases involved vomiting and a loss of appetite, and half of them also involved diarrhea. Most of the cases took place in south and northwest England, though a large outbreak also occurred in and around the Scottish city of Edinburgh.
The data also suggested that male dogs in contact with other dogs were most likely to be infected, hinting at "either transmission between dogs or a common environmental source." The dogs recovered in more than 99 percent of cases.
Hoping to move beyond the questionnaire, the authors also turned to records to piece together what happened.
While public health data for animals is less frequently gathered than it is for humans, electronic records of pet admissions to veterinarian offices and pet insurance payouts do exist. The researchers accessed these records and found that the number of dogs recorded with stomach problems rose between December 2019 and March 2020, with nearly double the number of expected cases occurring during that time. There was also a concomitant rise in prescriptions for drugs to treat those conditions.
A later comparison of samples from dogs that were sick and healthy control dogs confirmed the presence of the novel coronavirus in the ill dogs. All of this was later compiled into a study that was recently published in Emerging Infectious Diseases, which is produced by the CDC.
Should I be concerned?
This coronavirus only affects dogs, and the researchers didn't find anything to suggest that humans could become infected.
However, the scale of the outbreak and the lack of tools immediately available to determine what was happening led the researchers to suggest that better organization is needed. Many of the authors are involved in creating a disease surveillance system for dogs, known as SAVSNet-Agile.
The authors also mention that "previous CeCoV [canine enteric coronavirus] seasonality suggests further outbreaks may occur." Thanks to this study, your local vet might be a little more prepared for it next time.
Unfortunately, humanity will never see it coming.
A computer image of a Higgs interaction. By Lucas Taylor / CERN, CC BY-SA 3.0, Wikipedia Commons.
Technology & Innovation
It sounds like a plot from a comic book or a sci-fi film, a theory that got a boost when one of the greatest discoveries in physics in the modern era, the discovery of the "God particle,"or the Higgs boson, the missing piece in the Standard Model of particle physics. In the preface to his book Starmus, Stephen Hawking warns that the Higgs Boson field could collapse, resulting in a chain reaction that would take in the whole universe with it.  
Theoretical physicist Joseph Lykken says it would probably take billions of years before we reach that point. Lykken hails from the Fermi National Accelerator Laboratory in Batavia, Illinois. If it did happen though, you wouldn't know it. One instant you are here, the next, you and everything else is swallowed up by an enormous vacuum bubble, traveling at light speed in every direction. Humanity would never see it coming.
Peter Higgs and colleagues first theorized the existence of the Higgs boson in 1964. The Large Hadron Collider (LHC) at CERN in Geneva, Switzerland finally discovered it in 2012. With this missing piece found, three of the four fundamental forces of nature become complete. The particle's measured value is 126 billion electron volts. That's 126 times a proton's mass. This is just enough to maintain a state teetering near the edge of stability.
Everything in the universe contains a certain amount of energy. Even so, everything also adheres to the principle of stability. All substances want to become stable. To do that, one must contain as little energy as it can. When something has a high energy level, it is unstable, and moves to rid itself of excess energy, in order to achieve stability.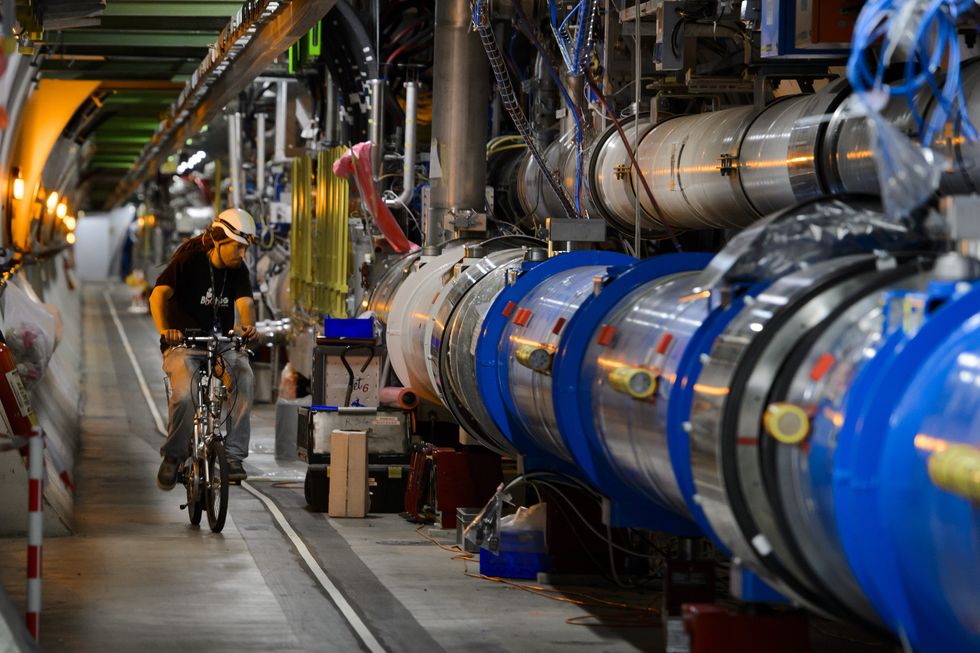 Part of the Large Hadron Collider (LHC) at CERN, where the Higgs boson was discovered.
Quantum fields imbue particles with various properties. They also want to move to a low energy state, here called a vacuum state. The Higgs Field may be the exception. It lends particles' mass. Rather than being a vacuum, the Higgs Field contains potential energy it cannot rid itself of, making it a false vacuum and by nature unstable. This instability could spark off, if the field was able to absorb more energy. A certain point it could absorb no more, teeter over the brink and end everything in existence.
The Higgs Field is maintaining a low energy state at the moment. But some believe it is slowly transitioning to a high energy state. When it does, it will kick off what is known as "vacuum decay." In Hawking's book, once the Higgs Field becomes metastable, the vacuum decay bubble will emerge. Being at a high energy state, it will quickly move to consume everything at a low energy state, or everything else around it. The vacuum bubble moves along destroying atoms, turning everything it encounters into hydrogen.
Prof. Lykken believes it will take billions of years. "There's no principle that we know of that would put us right on the edge," he said. University of Southern Denmark physicists strengthened the vacuum decay theory in a study published in the journal High Energy Physics. They found however that vacuum decay could occur at any moment.
Even so, there may be outside forces associated with the Higgs Field that influence it in unknown ways. Dark matter for example, that mysterious substance that could comprise up to 27% of the universe, may interact with the Higgs Field. Recently however, a team of prominent physicists brought into doubt whether or not dark matter actually exists. Another theory called "supersymmetry," states that every particle has its opposite. This helps keep the universe stable. Could the Higgs boson have a twin? Would that particle keep it from vacuum decay? No one is sure.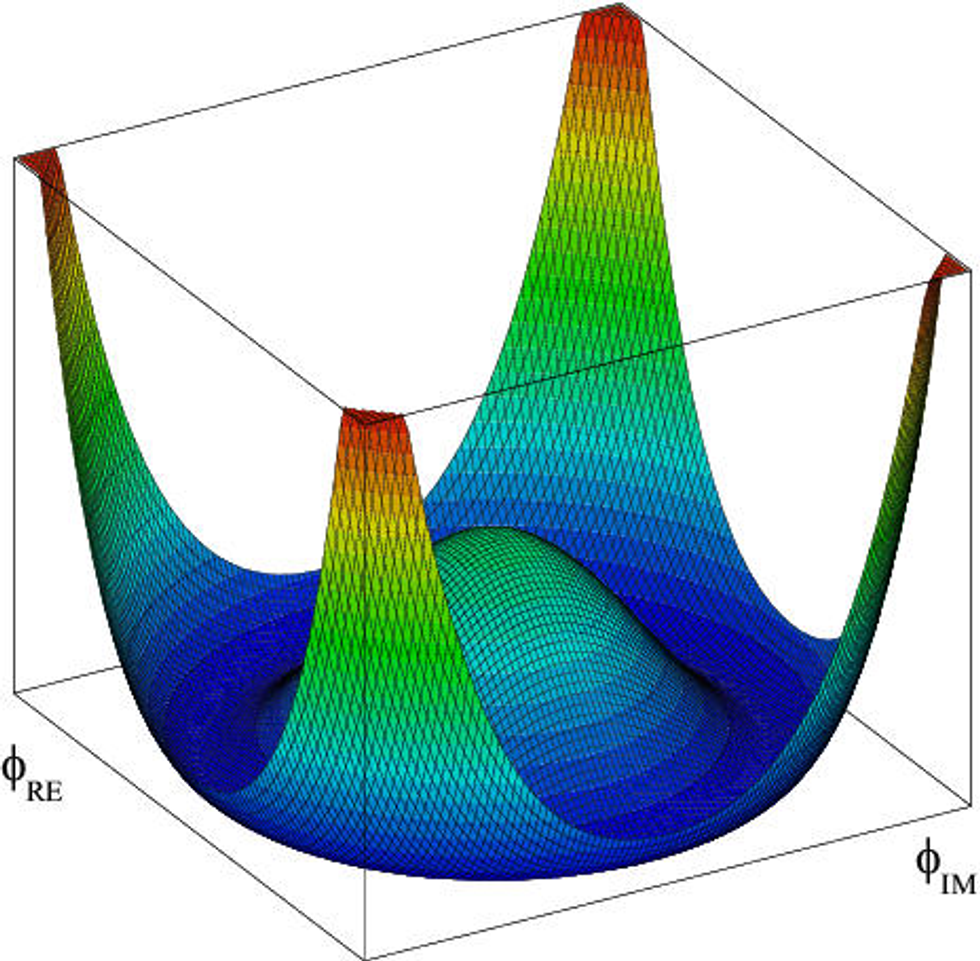 A representation of the Higgs Field. by Gonis from es, CC BY-SA 3.0, Wikipedia Commons. 
It is believed that when vacuum decay eventually takes place, what will be left is a superheated, hard, and extremely dense sphere. Some astrophysicists believe the universe, just before the Big Bang, may have looked like this. The Higgs Field is thought to have emerged shortly after the Big Bang. So it may be the driving force which deletes the universe and forces it to start over again.
This isn't the only conceptualization which predicts the destruction of everything everywhere. Another is the Big Crunch theory. This is the opposite of the Big Bang. With the first, a collection of super dense material exploded, heaving everything out in all directions. With the Big Crunch, it's thought that material eventually stops moving at some point, and begins traveling in the opposite direction, coming back together again.
So even if we are able to escape the planet and become an intergalactic species before the sun engulfs the earth, the universe itself may collapse. The only way to ensure longevity is if the multiverse actually exists, and we can become a multi-universal species. Whether it is the Big Crunch of Vacuum Decay that gets us, it's interesting to think that perhaps after that dense, hot state, it could in theory explode again, causing a second Big Bang.
If true, how many times has the cycle occurred? And does history repeat itself exactly, or is a totally new universe born? It is of course important to remember that this is all in the realm of theoretical physics. The universe may hide as of yet a treasure trove of unknown particles which could change these predictions and speculations completely.
To learn more about vacuum decay click here: 
And is anyone protecting children's data?
Technology & Innovation
The market for smart toys is rapidly expanding and could grow to $18 billion by 2023.
Smart toys can help with learning but pose risks if they are not designed to protect children's data and safety.
Many companies are developing smart toys ethically and responsibly, with makers of AI-powered smart toys encouraged to apply to the Smart Toy Awards.
Imagine a child born this year who will be surrounded by technology at every phase of her childhood. When she is three years old, Sophie's parents buy her a smart doll that uses facial recognition and artificial intelligence (AI) to watch, listen to, and learn from her.
Like many children, Sophie will come to love this toy. And like previous generations of children with a favorite doll or teddy bear, she will carry it around with her, talk with it, and sleep with it beside her for many years.
If the smart doll is designed responsibly, this toy could be her best friend; if not, it will be a surveillance tool that records her every move and word spoken in its presence by her, her friends, and even her parents.
Smart toys use AI to learn about the child user and personalize the play or learning experience for them. They can learn a child's favourite colour, song, and learn to recognize that child and other familiar people in that child's life. While this may sound futuristic, there are many smart toys that already provide these capabilities. The market for these toys is rapidly expanding and will grow to $18 billion by 2023.
To address this urgent use of AI, the World Economic Forum recently launched the Smart Toy Awards to recognize ethically and responsibly designed AI-powered toys that create an innovative and healthy play experience for children.
Smart toys provide enormous promise for children. They can customize learning based on data they gather about children; they can teach computer programming skills to children; and they can help children with disabilities develop cognitive, motor, and social skills.
But at the same time, smart toys provide large potential risks if they are not designed to protect children's data, safety, and cybersecurity.
A cautionary tale
The example of Sophie's smart doll is not far-fetched. In 2017, My Friend Cayla – an early smart toy that used facial and voice recognition – was declared an illegal surveillance tool in many countries.
If the Cayla doll was connected to a phone, data was sent to the manufacturer and a third-party company for processing and storage. And anyone with the My Friend Cayla app on their phone within 30 feet of a toy could access the toy and listen to the child user.
Germany issued a "kill order" for the doll and required parents to destroy it "with a hammer." Today, the only surviving Cayla dolls in Germany reside in the Spy Museum in Berlin.
The risks posed by smart toys
Sophie applies to college when she is 18 years old. If her smart doll had collected data on her from the age of 3 to 9, the company who built the toy could know her better than her parents. Without adequate data protections, the company could also sell this data to the colleges to which she is applying or other third parties.
After college, Sophie applies to a job. If the employer bought data gathered on Sophie as a child, they could learn about her strengths and weaknesses. What if Sophie bullied her younger sister, yelled at her parents, or refused to do her homework as a child? All these actions conducted in the privacy of the family's home could be known by the company and sold to third parties who could use this information to discriminate against Sophie. The family's life is no longer private.
Today, data is gold but gathering data on children is inherently problematic. As a company gathers data about children through Sophie's doll, they may have a responsibility to act or intervene. Imagine that Sophie tells her doll about suicidal thoughts and self-harm. Should the company be required to alert the parents and call 911?
The more data that a smart toy gathers the more complex scenarios smart toy companies will likely face. Every company designing a smart toy with the capabilities to gather this information must consider these worst-case scenarios as they develop toys to protect the safety of the child user and those around them.
Developing responsible and ethical smart toys
Despite these significant risks, ethical and responsible smart toys are being developed. The Smart Toy Awards have developed four key governance criteria for companies developing AI-powered toys: data privacy and cybersecurity; accessibility and transparency; age appropriateness; and healthy play.
Sophie's smart doll illustrates the importance of strong data privacy and clearly communicating to adults buying the toy what the smart doll does and how it operates. This must be communicated in the Terms of Service in language understandable by non-technologically literate audiences. At minimum, Smart Toys should meet COPPA requirements in the US and GDPR in the EU.
Parents and guardians should understand with whom children's data is being shared and for what purpose. Companies should empower parents, guardians, and children to make their own decisions about how children's data is being used. And companies should not sell children's data to third parties.
Data privacy is a foundation for ethical and responsible smart toys, but they must also be designed to be accessible, transparent, age appropriate, and promote healthy play and children's mental health.
The future of childhood
Sophie's doll doesn't necessarily pose concern for her and her parents, and data collected on her won't hinder her future if the data is carefully protected. In the EU, GDPR provides the right to be forgotten, and a similar policy could allow children like Sophie to request that all data collected on them as children by their smart toys be deleted when they turn 18 years old, so they would have a fresh start as they begin adulthood.
Sophie and all children should have a fair shot at childhood, education, careers, and life. The data collected on them as children should not be used to discriminate against them in the future.
Smart toys like Sophie's doll can play a pivotal role in childhoods, catalyzing creativity and critical thinking skills. Many companies are developing smart toys with careful consideration for ethics and responsibility. We urge companies to adopt our governance criteria as they're designing and developing smart toys.
Childhood is a sacred time and parents will do everything they can to protect their children's experiences. This won't be possible unless stakeholders work together across the private, public, and nonprofit sectors to develop ethical, responsible, and innovative smart toys that protect and foster the essence of childhood.
Reprinted with permission of the World Economic Forum. Read the original article.