First Love Is Always Unrequited
Stephen Fry
Comedian, actor and writer Stephen Fry was born in 1957 in London and brought up in Norfolk. He attended Queen's College Cambridge from 1979, joining the Cambridge Footlights Dramatic Club where he met Hugh Laurie, with whom he forged a highly successful writing partnership. His first play, Latin! or Tobacco and Boys, written for Footlights, won a Fringe First at Edinburgh Festival in 1980. He wrote again for theatre in 1984 when he rewrote Noel Gay's musical Me and My Girl (1990). This was nominated for a Tony Award in 1987.
He has written for television and screen, and as a newspaper columnist – for the Literary Review, Daily Telegraph and The Listener. Stephen Fry's four novels are The Liar (1991), The Hippopotamus (1994), Making History (1996) and The Stars' Tennis Balls (2000). He has also published a collection of work entitled Paperweight (1992); Moab is My Washpot (1997) - an autobiography; and Rescuing the Spectacled Bear: A Peruvian Journey (2002) – his diary of the making of a documentary on the plight of the spectacled bears of Peru.
His book, Stephen Fry's Incomplete History of Classical Music (2004), written with Tim Lihoreau, is based on his award-winning series on Classic FM and is an irreverent romp through the history of classical music. The Ode Less Travelled - a book about poetry - was published in 2005. His latest book is Stephen Fry in America (Harper Collins 2008).
15 December, 2009
Question: Who was your first love?
Stephen Fry: Who was my first love? Well I shan't give you his name because that's unkind, and he is married and has children and I wouldn't want to embarrass his children, but I've given him various names in novels and in books. Like a lot of first loves, certainly first loves for sensitive people such as I was then, I guess I have what I have is called the primary writer's arrogance of assuming that my experiences are common to everyone else's experiences, sometimes it is true, mostly one hopes it's true and therefore that's what one likes in a writer. You think oh, I feel that too. Just occasionally you might express a feeling and everyone goes, "What?" Then it's very embarrassing, but I'm assuming that most people their first love when they're teenaged that unbelievable hole that opens up inside them of longing and yearning, of pain, of joy, that huge great bundle of toxic emotions and allied to beauty and opening out into nature and to glory and suddenly connecting you with every love poet and every love song ever written, that that explosion in my head and heart will never be matched. You can never hope to recapture the first fine careless rapture as the poet put it, but it stays with you like a good acid trip. You know, you get a little flashback every now and again. It will never leave you and it teaches you to look at things differently and to feel things differently. It educates your soul if you like, and all first love is unrequited ultimately because it's so huge. It's such an act of giving and it requires so much back that it can never be given back and in that you wouldn't necessarily want to give them back. It's just like a… It is like an atom bomb. It is like… It's all the energy of who you are and who you want to be and what you love and what you hope to be explodes, and it is impossible for a single human being to offer that back to you in a mutual way. It would be like matter meeting antimatter.
It's sort of almost important that what you do is worship and yearn and long, but so that was to me of course the single most important thing in my life and occasionally I get dreams and I'm back there again and I'm still as trembly as ever I was and I get… because I've written about it I get emails and Twitters, whatever, from people in, you know, in adolescence who are going through the same thing and say, "Oh, I read your book and it was the same for me and it is the same for me and he'll never look at me, she'll never look at me." "What can I do?" "I'll make a fool of myself." "Should I write them a poem?" And, "What if they reject me?" And, "oh my God." And I read that and … You know these vast sagas, these romantic sagas that are played out in every school, in every village and every town and every country in the world. It's going on. It's all this massive emotional energy just spreading outwards and some of it is… and totally unhappily, so the only thing that saddens me is that the, I suppose the default community attitude of kids is to suppress it and to smother it and to pretend it isn't there and to be ashamed of it, not because it's transgressive or because it's gay necessarily. It's just as, just as, just as problematical if it's straight. It's nothing to do with that, but because the school yard attitude is that you don't talk about these things. There is no… You know you feel all this emotion, but the language for it is forbidden really. You just don't do it, unless I think girls are probably better at it and maybe the online community helps with it. Chat rooms and things you can express yourself, but generally speaking boys of fifteen, sixteen are much more interested in sport or even if they're not more interested in sport and their soul is yearning they're not going to say it, and if only they could it would be good.
Question: What is your advice for someone looking for real love?
Stephen Fry: I suppose ask whether you're looking to be loved or to love or whether you really do, because I think, you know, the risk of using the parallel of the slightly vulgar or carnal parallel of the gay community, as it is amusingly called. Why don't straight people have a community? Why don't you say, so what's the view in the straight community of dot, dot, dot?
Anyway, you know there is this thing of tops and bottoms, which I find completely ridiculous and nonsensical. But anyway, the idea of passive and active is an obvious thing we can sort of grasp the point of, and I think that emotionally more important there is an equivalent of that. There are… It may be there are some fifty-fifty people in the world who want to give love and receive love in equal measure, but most of the problem I see amongst friends and I've experienced amongst myself is when people haven't accommodated the inequality that they want, they haven't understood that their partner wants to give more love and receive less or they haven't understood that their partner wants to receive more, but sort of give less. You know what I mean? And as long as they fit in what they, you know, then it's wonderful, but I think people talk about one love, but there is the need to love and the need to be loved are not the same thing and I suppose that's… and it's working that out is part of growing up.
Question: What makes love last?
Stephen Fry: What makes love last? I wish I knew. It can get ill and it gets better again. I suppose I mean, you know, awful things, that cliché is that you've got to work at it and communication, laughter. Laughter is deeply important. Realizing that flaws are to be loved rather than to be ignored or denied, that once you admire and if you love someone enough you actually love their flaws, I suppose, and you hope they love your flaws, but I couldn't claim that I have a secret as to what makes it last. Hope is another thing that makes it last.
Recorded on December 8, 2009
The "unbelievable hole" of yearning and longing that it creates can never be returned.
Malcolm Gladwell teaches "Get over yourself and get to work" for Big Think Edge.
Big Think Edge
Learn to recognize failure and know the big difference between panicking and choking.

At Big Think Edge, Malcolm Gladwell teaches how to check your inner critic and get clear on what failure is.

Subscribe to Big Think Edge before we launch on March 30 to get 20% off monthly and annual memberships.
It turns out, that tattoo ink can travel throughout your body and settle in lymph nodes.
17th August 1973: An American tattoo artist working on a client's shoulder. (Photo by F. Roy Kemp/BIPs/Getty Images)
popular
In the slightly macabre experiment to find out where tattoo ink travels to in the body, French and German researchers recently used synchrotron X-ray fluorescence in four "inked" human cadavers — as well as one without. The results of their 2017 study? Some of the tattoo ink apparently settled in lymph nodes.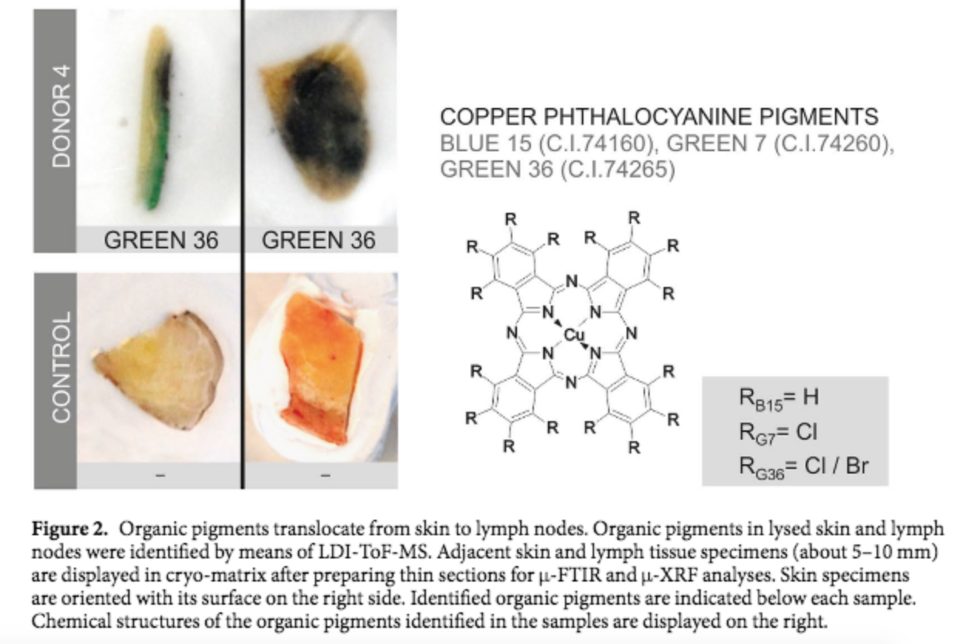 Image from the study.
As the authors explain in the study — they hail from Ludwig Maximilian University of Munich, the European Synchrotron Radiation Facility, and the German Federal Institute for Risk Assessment — it would have been unethical to test this on live animals since those creatures would not be able to give permission to be tattooed.
Because of the prevalence of tattoos these days, the researchers wanted to find out if the ink could be harmful in some way.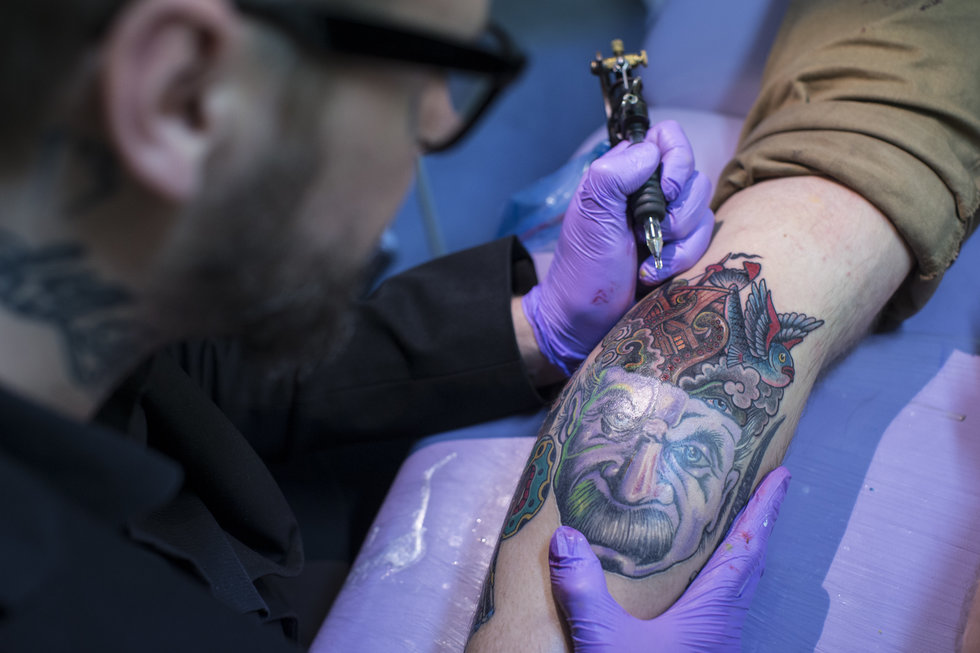 "The increasing prevalence of tattoos provoked safety concerns with respect to particle distribution and effects inside the human body," they write.
It works like this: Since lymph nodes filter lymph, which is the fluid that carries white blood cells throughout the body in an effort to fight infections that are encountered, that is where some of the ink particles collect.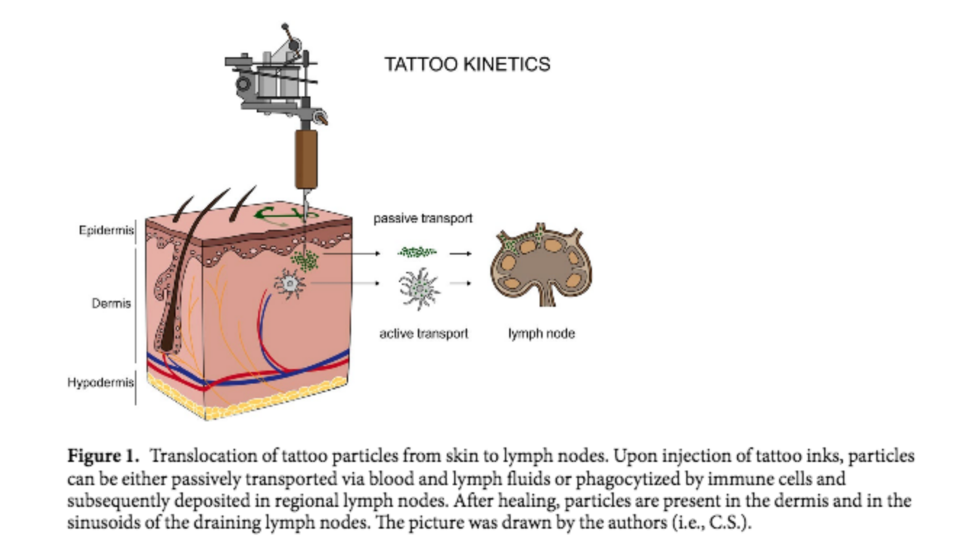 Image by authors of the study.
Titanium dioxide appears to be the thing that travels. It's a white tattoo ink pigment that's mixed with other colors all the time to control shades.
The study's authors will keep working on this in the meantime.
"In future experiments we will also look into the pigment and heavy metal burden of other, more distant internal organs and tissues in order to track any possible bio-distribution of tattoo ink ingredients throughout the body. The outcome of these investigations not only will be helpful in the assessment of the health risks associated with tattooing but also in the judgment of other exposures such as, e.g., the entrance of TiO2 nanoparticles present in cosmetics at the site of damaged skin."
It's one of the most consistent patterns in the unviverse. What causes it?
Videos
Spinning discs are everywhere – just look at our solar system, the rings of Saturn, and all the spiral galaxies in the universe.
Spinning discs are the result of two things: The force of gravity and a phenomenon in physics called the conservation of angular momentum.
Gravity brings matter together; the closer the matter gets, the more it accelerates – much like an ice skater who spins faster and faster the closer their arms get to their body. Then, this spinning cloud collapses due to up and down and diagonal collisions that cancel each other out until the only motion they have in common is the spin – and voila: A flat disc.
Big think's weekly newsletter.
Get smarter faster from the comfort of your inbox.
See our newsletter privacy policy
here
Most Popular
Most Recent
Big think's weekly newsletter.
Get smarter faster from the comfort of your inbox.
See our newsletter privacy policy
here
© Copyright 2007-2018 & BIG THINK, BIG THINK EDGE,
SMARTER FASTER trademarks owned by The Big Think, Inc. All rights reserved.