Motivation Escapes Us When We Don't Understand Its Machinery
It turns out there's quite a bit of cognitive dissonance impairing our understanding of motivation and happiness. Duke University's Professor Dan Ariely fills in the gaps.
Dan Ariely
Dan Ariely is the James B Duke Professor of Psychology and Behavioral Economics at Duke University. He is the founder of The Center for Advanced Hindsight and co-founder of BEworks, which helps business leaders apply scientific thinking to their marketing and operational challenges. His books include Predictably Irrational and The Upside of Irrationality, both of which became New York Times best-sellers. as well as The Honest Truth about Dishonesty and his latest, Irrationally Yours.
Ariely publishes widely in the leading scholarly journals in economics, psychology, and business. His work has been featured in a variety of media including The New York Times, Wall Street Journal, Washington Post, Boston Globe, Business 2.0, Scientific American, Science and CNN.
01 December, 2016
Dan Ariely: So when we think about what motivates people maybe the first thing we think about is what we think motivates people and what don't we understand motivates people. And maybe the first misunderstanding is about the pleasure principle. So we have this idea of we have the right to pursue happiness and we're trying to be happy and that's really what we're pursuing – happiness. But think about it. What gives you happiness in a way that is observable? Maybe sitting on the beach drinking a mojito or maybe sitting on the sofa watching a sitcom. But if you do almost anything that is useful, meaningful, that you take pride of it's not the same things. But imagine you have a whole life of sitting on the beach drinking mojitos. How happy would that life be? So the first I think mistake is that we pursue momentary happiness rather than longer term happiness. So we do the things that will make us laugh out loud today kind of. Not always laugh out loud but kind of like that. And we don't do the things that are difficult and complex and challenging but give us a very different sense of happiness. Think about something like running a marathon. You don't see anybody happy. Like if you came as an alien and you image peoples' brains and you looked at their facial expressions as they're running a marathon you would say somebody's punishing them.
Like they are paying for something terrible they've done and this is how they're paying their debt to society. But it is kind of miserable but it's also meaningful and create a sense of achievement in someone. So we're pursuing momentary pleasure rather than truly understanding the depth of what happiness is or what meaning is. And then the second thing is that we're trying to figure out how we externally motivate people and we have usually a very simple equation that says motivation equals money. And if you're not working hard enough or doing something and they're just not paying you enough or not giving you a bonus in the right way then we just jigger around bonuses and payment and we say oh, let's change the payment this way and change the payment this way and give is slightly big bonuses here and slightly big bonuses there and we'll create point systems for evaluation and all kind of things. The beauty of human nature is that lots of things motivate us. A sense of accomplishment and achievement, our title, our connection to work, our connection to people at work, competing with other people. All of those things motivate us. So we write a motivation equation we would write motivation equals yes, money is important but so is achievement, sense of progress, competition, dah, dah, dah, dah.
And the question is how do we use all of them to create motivation. And in physics people look for the perpetual motion machine. How do we get energy from nothing, right, and continue growing. In motivation there is something like that so imagine two businesses. In one of them the business doesn't care about motivation. In one of them they care deeply. In the first business people are miserable and the business is miserable and they're not making lots of money. In the second one people could be happier, management could be happier and they could be much more productive and efficient. Everybody wins when we invest in deep motivation.
One of the first experiments we did on the question of meaning. It wasn't like big meaning, it was little meaning. And here is what we did. We got people to come to the lab and we say would you like to build a bionical and we'll pay you three dollars for this bionical. And people built their bionical. We took it, we put it under the desk and we say would you like to build another one for two dollars and seventy cents? If the say yes we gave them the next one. And then the next one for thirty cents less and less and less diminishing wage until they decide stop, no more. And we told all of those people that when they finished the task we'll take all the bionical, we'll break them into pieces and prepare them for the next participant. That was what we call the meaningful condition. It's not really meaningful but it is meaningful compared to the next condition. In the next condition which we internally called the sisyphic condition it started the same way. We said to people would you like to build a bionical for three dollars and they started doing it. When they finished we took it from them. We kept it on the desk and then we said would you like to build another one for two seventy. If they said yes they started building the second bionical but as they were building the second bionical we took the pieces apart from the first bionical.
So we destroyed it in front of their eyes. And then we put it back in the box and then we said would you like to build a third one for thirty cents less. And if they said yes we gave them back the first one that they assembled and we broke. And this way we continued back and forth. And we called this the sisyphic condition because if you remember Sisyphus from the mythology he was sentenced to push a rock up the hill and he almost got to the top and the rock would roll back and he had to do the same hill. And the idea was that if there were different hills, right, if you were just going over different hills maybe he would feel some progress. But having to do the same hill over and over was the depth of demoralizing of people. And what happened? Kind of a couple of interesting things. The first one is that people stopped much faster in the sisyphic condition. The second one is we asked people how much they enjoyed Legos in general. And we wanted to see whether there's a correlation between how much they enjoyed Legos and how much they persisted in this task. And what we saw was that in the meaningful condition there was a correlation. People who loved Legos did more bionicals. People who didn't like Legos internally didn't like so much. In the sisyphic condition the correlation was zero which means that we kind of sucked away the joy of assembling Legos.
Because you see the people who love Legos did not do any more than the people who didn't. Somehow the joy of it just went away. The other interesting insight from this study is we did another version of this experiment in which people did not engage in building bionicals but we did this in business school and we asked the students to predict how other people would behave in those two environments. So we said okay, you have an environment with more meaning and an environment with less meaning. How many bionicals will people build differently in those two environments? And we paid people for the accuracy of their predictions. What happened? People predicted that the difference will be in the meaningful condition people would build more. But they predicted it would be only one bionical more. So we understand that meaning matters but we think it matters very little. In fact, it matters a lot. People built almost four more bionicals. So there was a big gap and people don't understand how meaning is important. And if you think about it as a manager actually as anybody, if you're trying to motivate people. It could be a school teacher, it could be a parent, whatever it is if you're trying to motivate people you have to understand how big is meaning. And if you think that meaning has a very small effect you would not invest much in it. Only if you understand how big and important it is you will invest in it.
Motivation is a mysterious mechanism. It exists within all of us, but lays dormant unless unlocked. The 'how' is the difficult part, something business and individuals struggle with to varying degrees. Behavioral economist Dan Ariely has found that there's a dissonance between what we think motivates people and what actually does. The most simple formula for motivation, and the one we reach for the most often, is that money = motivation. Luxury rewards are a powerful idea, but are they really what drive us?
---
The postcard of happiness for many people is being sprawled out on a beach chair with a mojito in hand. However this is momentary happiness, and in reality if we took a survey of what really brings us happiness for many people the answer would be something surprisingly laborious. Why do we run marathons, build furniture, paint pictures, make music, climb ever larger and more perilous cliff faces? These things are difficult and intense; they're not fun, per se. They're no mojito by the beach. This is the difference between momentary happiness versus long-term happiness. It will differ for each of us, but ask yourself the question of what would really make you happy and you may find some confirmation there.
Ariely thinks our most common mistake in motivation is deferring instantly to money rather than considering the value of meaning and accomplishment. "We don't do the things that are difficult and complex and challenging but give us a very different sense of happiness," he says.
Ariely goes on to explain a motivational experiment that was conducted in two parts (watch above for the full explanation). The second part unveiled some particularly interesting insights. It seems we understand that meaning matters for people in any pursuit, but we underestimate (by about four-fold, in this experiment) exactly how much it matters. Managers, teachers, parents would all fare much better if they realized the importance of meaning, and invested in it.
Ariely's newest book is Payoff: The Hidden Logic That Shapes Our Motivations.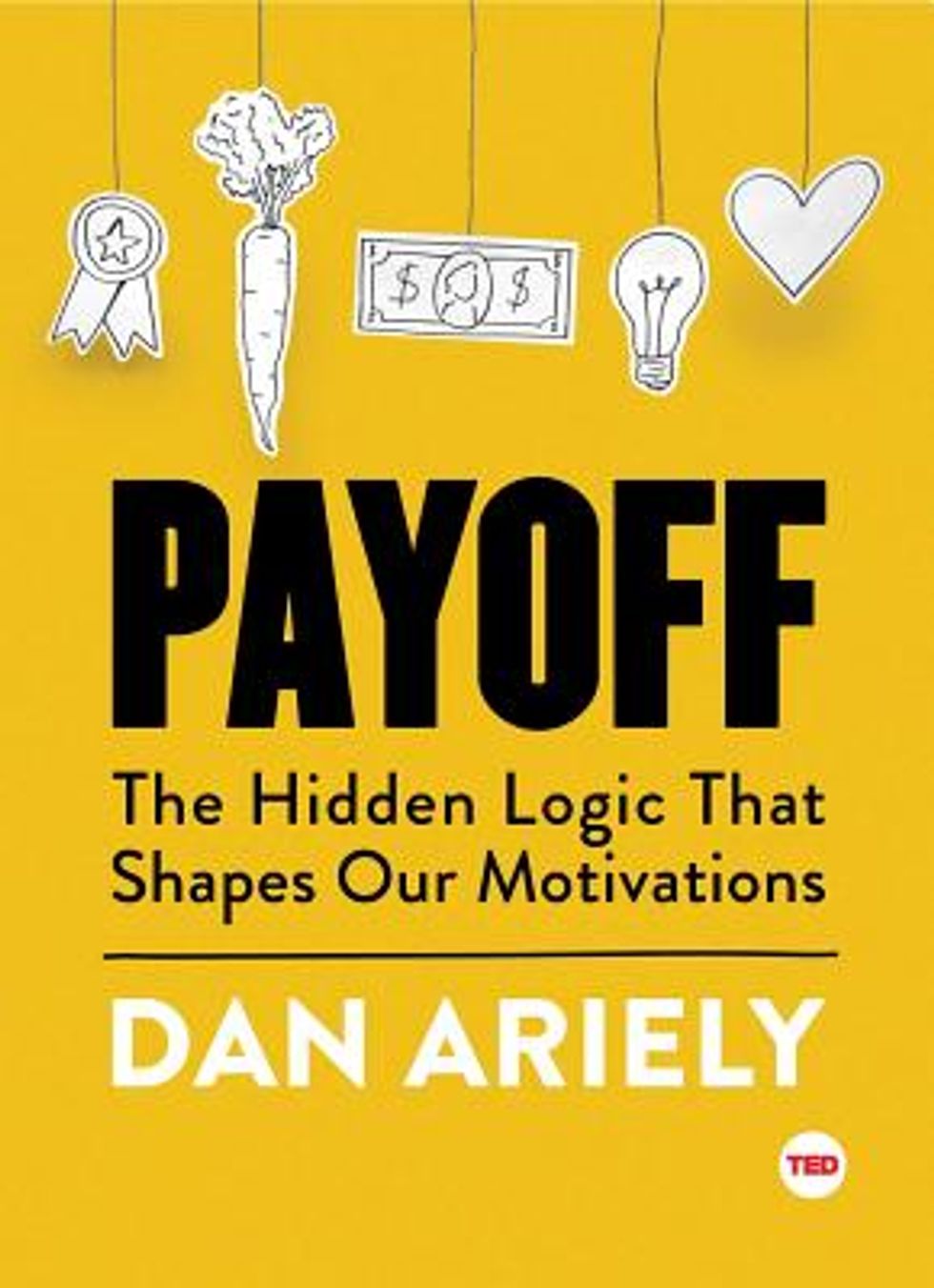 Big ideas.
Once a week.
Subscribe to our weekly newsletter.
When Olympic athletes perform dazzling feats of athletic prowess, they are using the same principles of physics that gave birth to stars and planets.
Credit: sportpoint via Adobe Stock
13-8
Much of the beauty of gymnastics comes from the physics principle called the conservation of angular momentum.
Conservation of angular momentum tells us that when a spinning object changes how its matter is distributed, it changes its rate of spin.
Conservation of angular momentum links the formation of planets in star-forming clouds to the beauty of a gymnast's spinning dismount from the uneven bars.
It is that time again when we watch in awe as Olympic athletes perform dazzling feats of athletic prowess. But as we stare in rapt attention at the speed, grace, and strength they exhibit, it is also a good time to pay attention to how they embody, literally, fundamental principles that shape the entire universe. Yes, I'm talking about physics. On our screens, these athletes are giving us lessons in the principles that giants like Isaac Newton struggled mightily to articulate.
Naturally, there are many Olympic events from which we could learn some basic principles of physics. Swimming shows us hydrodynamic drag. Boxing teaches us about force and impulse. (Ouch!) But today, we will focus on gymnastics and the cosmic importance of the conservation of angular momentum.
The conservation of angular momentum
Much of the beauty of gymnastics comes from the spins and flips athletes perform as they launch themselves into the air from the vault or uneven bars. These are all examples of rotations — and so much of the structure and history of the universe, from planets to galaxies, comes down to the physics of rotating objects. And so much of the physics of rotating objects comes down to the conservation of angular momentum.
Let's start with the conservation of regular or "linear" momentum. Momentum is the product of mass and velocity. Way back in the age of Galileo and Newton, physicists came to understand that in the interactions between bodies, the sum of their momentums had to be conserved (which really means "does not change"). This is a familiar idea to anyone who has played billiards: when a moving pool ball strikes a stationary one, the first ball stops while the second scoots away. The total momentum of the system (the mass times velocity of both balls taken together) is conserved, leaving the originally moving ball unmoving and the originally stationary ball carrying all the system's momentum.
Credit: Sergey Nivens and Victoria VIAR PRO via Adobe Stock
Rotating objects also obey a conservation law, but now it is not just the mass of an object that matters. The distribution of mass — that is, where the mass is located relative to the center of the rotation — is also a factor. Conservation of angular momentum tells us that if a spinning object is not subject to any forces, then any changes in how its matter is distributed must lead to a change in its rate of spin. Comparing the conservation of angular momentum to the conservation of linear momentum, the "distribution of mass" is analogous to mass, and the "rate of spin" is analogous to velocity.

There are many places in cosmic physics where this conservation of angular momentum is key. My favorite example is the formation of stars. Every star begins its life as a giant cloud of slowly spinning interstellar gas. The clouds are usually supported against their own gravitational weight by gas pressure, but sometimes a small nudge from, say, a passing supernova blast wave will force the cloud to begin gravitational collapse. As the cloud begins to shrink, the conservation of angular momentum forces the spin rate of material in the cloud to speed up. As material is falling inward, it also rotates around the cloud's center at ever higher rates. Eventually, some of that gas is going so fast that a balance between the gravity of the newly forming star and what is called centrifugal force is achieved. That stuff then stops moving inward and goes into orbit around the young star, forming a disk, some material of which eventually becomes planets. So, the conservation of angular momentum is, literally, why we have planets in the universe!
Gymnastics, a cosmic sport
How does this appear in gymnastics? When athletes hurl themselves into the air to perform a flip, the only force acting on them is gravity. But since gravity only affects their "center of mass," it cannot apply forces in a way that changes the athlete's spin. But the gymnasts can do that for themselves by using the conservation of angular momentum.
By changing how their mass is arranged, gymnasts can change how fast they spin. You can see this in the dismount phase of the uneven bar competitions. When a gymnast comes off the bars and performs a flip by tucking their legs inward, they can quickly increase their rotation rate in midair. The sudden dramatic increase in the speed of their flip is what makes us gasp in astonishment. It is both scary and a beautiful testament to the athletes' ability to intuitively control the physics of their bodies. And it is also the exact same physics that controls the birth of planets.
"As above so below," goes the old saying. You should keep that in mind as you watch the glory that is the Olympics. That is because it is not just athletes that have this intuitive understanding of physics. We all have it, and we use it every day, from walking down the stairs to swinging a hammer. So, it is no exaggeration to claim that the first place we came to understand the deepest principles of physics was not in contemplating the heavens but moving through the world in our own earthbound flesh.
How the British obsession with tea triggered wars, led to bizarre espionage, and changed the world — many times.
Credit
: Content Pixie via Unsplash
Culture & Religion
Today, tea is the single most popular drink worldwide, with a global market that outstrips all the nearest rivals combined.
The British Empire went to war over tea, ultimately losing its American colonies and twice beating the Chinese in the "Opium Wars."
The British desire to secure homegrown tea resulted in their sending botanist Robert Fortune on a Hollywood-worthy mission to secure Chinese tea plants and steal horticultural secrets.
After water, tea is the most common drink in the world. It is more popular than coffee, soft drinks, and alcohol combined. 84 percent of Brits enjoy a daily "cuppa," but this is a mere bagatelle against the Turks, who drink on average three to four cups every day. The tea industry is worth $200 billion worldwide and is set to grow by half by 2025.
Tea is such a huge part of many cultures, that it even has origin myths. For instance, one involves the Buddha waking up after falling asleep during his meditation. Disgusted at his lack of self-discipline, he cut off his eyelids and threw them to the ground. These lids then grew into tea plants to help future meditators stay awake.
Tea really matters to a lot of people. And, it mattered so much to the British and their empire that it directed their entire foreign policy. It also inspired one of the most incredible and ridiculous tales of 19th century espionage.
A spot of tea
When the European powers of the 16th century first traded with, then militarily colonized, various East Asian nations, it was impossible not to come across tea. Since the 9th century, the Tang Dynasty of China had already popularized tea across the region. Tea was already firmly entrenched when the Portuguese became the first Europeans to sample it (in 1557), followed by the Dutch, who first shipped a batch back to mainland Europe.
Britain was relatively late to the tea party, not arriving until well into the 17th century. In fact, in Samuel Pepys' 1660 diaries, he makes reference to "a cup of tee (a China drink) of which I had never drunk before." It was only after King Charles II's Portuguese wife popularized it at court that tea became a fashionable societal drink.
After the Brits got going, there was no stopping them. Tea became a huge business. However, since tea was monopolized by the East India Company and the government imposed a whopping 120 percent tax on it, an army of smuggler gangs opened back channels to get tea to the poorer masses. Eventually, in 1784, Prime Minister William Pitt the Younger got wise to the popular cry for tea. To stamp out the black market, he slashed the tax on the leaf to just 12.5 percent. From then on, tea became the everyman's drink — marketed as medicinal, invigorating, and tasty.
A cup, a cup, my kingdom for a cup!
Tea became so important to the British that it even sparked wars across the empire.
Most famously, when the British imposed a three pennies per pound tax on all tea the East India Company exported to America, it led to the outraged destruction of an entire ship's tea cargo. The "Boston Tea Party" was the first major defiant act of the American colonies and led ultimately to ham-fisted and insensitive countermeasures from the London government. These, in turn, sparked the U.S. War of Independence.
Less well known is how Britain went to war with China over tea. Twice.
Credit: Ingo Doerrie via Unsplash
Back then, tea was only being grown and exported from China to British India and then around the empire. As such, it led to a massive trade imbalance, where the largely self-sufficient China only wanted British silver in return for their famous and delicious homegrown tea leaves. This sort of economic policy, known as mercantilism, made Britain really mad.

In retaliation, Britain grew opium and flooded China with the drug. When China (quite understandably) objected to this, Britain sent in the gunboats. The subsequent "Opium Wars" were only ever going to go one way, and when China sued for peace, they were lumped with $20 million worth of reparations — and had to cede Hong Kong to Britain (which only returned in 1997).
The tea spy: on her majesty's secret service
But even these wars did not resolve the trade deficit with China. The attempts to make tea in British India resulted in insipid rubbish, and the British needed the good stuff. So, they turned to a Scottish botanist named Robert Fortune, whose mission was simple: cross the border into China, integrate himself amongst Chinese tea farmers, and smuggle out both their expertise and preferably their tea plants.
Fortune accepted the mission, even though he could not speak a word of Chinese and had barely left his native Britain. (A forefather of 007 he was not.) But not one to let these details get in the way, he shaved his hair, plaited a pigtail that resembled those worn by the Chinese, and then set off on his adventure.
And what an adventure it was. He came under attack by bandits and brigands, his ship was bombarded by pirates, and he had to endure fever, tropical storms, and typhoons. In spite of all this, Fortune not only managed to learn Chinese and travel around the forbidden City of Suzhou and its surrounding tea-farming land, but he also integrated himself into secluded peasant communities. When the skeptical tea farmers challenged Fortune on why he was so tall, he fooled them by claiming that he was a very important state official — all of whom were tall, apparently.
An Indian speciali-tea
Amazingly, Fortune had good fortune and got away with it. Over the course of his three-year mission, he secreted out several shipments of new tea plants to Britain as well as the art of bonsai (previously, a closely held secret). Most of the smuggled tea leaves died from mold and moisture in transit, but Fortune persisted, and eventually the British began to cultivate their own tea plants using Chinese tea farming techniques in their colonial Indian soils.
It was not long until an Indian variant, almost indistinguishable from the stolen Chinese one, began to dominate the market, not least for Britain's huge and growing empire. Within 20 years of Fortune's remarkable mission, the East India Company had more than fifty contractors pumping out tea worldwide.
Today, things have reverted back. China now produces not only substantially more than India (in second place) but more than the top ten countries combined. In total, 40 percent of the world's tea comes from China. But it was British tea — and Robert Fortune's incredible and unlikely mission — which catalyzed the huge global market. Without this overly confident Scottish plant-lover, the world's love of tea might look very different.
"You dream about these kinds of moments when you're a kid," said lead paleontologist David Schmidt.
Surprising Science
The triceratops skull was first discovered in 2019, but was excavated over the summer of 2020.
It was discovered in the South Dakota Badlands, an area where the Triceratops roamed some 66 million years ago.
Studying dinosaurs helps scientists better understand the evolution of all life on Earth.
Before it fueled Woodstock and the Summer of Love, LSD was brought to America to make spying easier.
Politics & Current Affairs
The CIA's Project MK-Ultra was designed to investigate the potential of drugs for intelligence operations.
LSD was thought to be a truth serum and was used on unwitting citizens.
The full extent of the CIA's unethical human experiments may never be known.
LSD has a long, storied history in America. It is most famously associated with the counterculture of the 1960s, but modern medical science has brought it (and other psychedelics like DMT and psilocybin) into the mainstream as possible therapeutic agents for the treatment of mental illness and addiction.
A slightly less well-known story is when the CIA tried to employ LSD as a tool in spycraft and tested its applications on unwitting Americans and Canadians.
MK-Ultra
The specter of international communism made America paranoid during the 1950s. Communist infiltration was thought to be lurking behind every corner, and the USSR was considered capable of just about anything in its goal of achieving worldwide dominance. It is within this milieu that one can understand why, when faced with instances of soldiers in the Korean War defecting to the North or denouncing war crimes that didn't happen, the U.S. government suddenly became convinced that the commies had developed some form of mind control.
The CIA thought it imperative that similar capacities be achieved by the U.S. If the Reds did not actually have that ability, all the better. So a project dubbed MK-Ultra was started in 1953 with the goal of finding a drug that could be used as a truth serum and a tool of mind control. Many drugs were tested, not just LSD, often on people without their knowledge or consent.
The head of the program, Sidney Gottlieb, thought LSD may be the wonder-drug he was looking for. So, he had the U.S. buy the entire global supply of LSD, at the time only produced by the Swiss company Sandoz, for a cool $240,000. The massive stockpile was immediately put to use.
The CIA set up front organizations to finance research of the drug at a number of universities, including Stanford and MIT, to see how typical test subjects would react to the drug in a clinical setting without making the CIA's interest in the drug known.

Less ethically and less voluntarily, some prisoners in the American penal system were given the drug daily for months on end. The CIA even drugged its own employees, hoping to learn what would happen if an intelligence asset was slipped a drug they knew nothing about. This resulted in at least one death.
And it only got stranger, less voluntary, and more illegal after that.
Operation Midnight Climax (yes, it was really called that)
In one of the more bizarre "experiments" during the project, the CIA had prostitutes in New York and San Francisco bring their clients back to a safehouse where they would be slipped LSD. After the conclusion of business, the prostitutes would ask questions of their clients, who would be tripping, in an attempt to determine how much LSD was required to get men talking. All of this was observed through a one-way glass by CIA operatives with no scientific backgrounds who drank martinis by the pitcher.
The use of the drug in interrogations also was investigated at safehouses in Europe and East Asia. Suspected foreign intelligence assets were given massive doses of LSD before interrogation to cause emotional trauma "at levels that can only be called torture," according to Raffi Khatchadourian. Some subjects were told that their bad trips would never end if they did not talk. Related tests were done to see if an LSD trip would make lies show up more clearly on a polygraph test. The results were inconclusive.
A similar program was going on inside the U.S. Army as well. The Edgewood Arsenal human experiments examined the use of several drugs, including LSD, in warfare and information gathering. As with the CIA, army officers drugged random soldiers to observe their reactions. While plans were drawn up to use the drug on captured Vietcong to aid in interrogations (which would have been a war crime), they were not enacted for reasons unknown.
Other ideas on how to use the powerful psychedelic included drugging foreign leaders the U.S. did not like before they had to give a speech or chair an important meeting. The hope was that the drug would cause erratic behavior, which would then lead to a decline in their popularity or to poor decision-making. Gottlieb even devised a plan to spray a radio station from which Fidel Castro was scheduled to give an address with aerosolized LSD in the hope of achieving similar ends. The plan was never carried out.
The spy who drugged me
In what may be one of the great understatements of the 20th century, the CIA concluded that LSD was too "unpredictable" in its results to be the single super-drug they sought. However, the CIA still thought LSD had its place in spycraft.
For his part, Gottlieb considered the project a failure and concluded that no possible combination of drugs or psychiatric interventions could accomplish the program's goals. He went on to work on other CIA projects and retired in 1973 after he destroyed most of the already spotty records of the program. In retirement, he helped lepers in India, raised goats, and constructed one of the first solar powered homes in the state of Virginia.
However, that was hardly the end of things. Gottlieb forgot to burn the financial records, and in the mid-1970s, the Church Committee of the U.S. Senate investigated the program, though the lack of data meant that very few of the people who were drugged without their consent were ever compensated, and a great deal about the program (and others like it) remain unknown.
Notable recorded and voluntary test subjects of MK-Ultra who were given LSD included the poet Alan Ginsburg, writer Ken Kesey (author of One Flew Over the Cuckoo's Nest), and Grateful Dead lyricist Robert Hunter. All three would later tout the benefits of psychedelics and the broader drug culture in the years that followed their involvement with the program.
Their activities, as well as those of other LSD advocates in the 1960s, would undermine the very vision of American society that the CIA was trying to protect in the first place — using a tool the CIA itself provided. The irony of this was not lost on Beatle John Lennon, who mused, "We must always remember to thank the CIA and the Army for LSD. That's what people forget… They invented LSD to control people and what they did was give us freedom."
While the level of "freedom" LSD provides is debatable, the story of how the counterculture first got a taste of the stuff demonstrates even that freedom comes at a price.