How to spot high-conflict people before it's too late
Got drama in your life? Here's how to recognize the high-conflict personality instigating it and avoid playing into their hands.
Bill Eddy
Bill Eddy is the co-founder and president of the High Conflict Institute, a company devoted to helping individuals and organizations deal with high-conflict people. Eddy is a Certified Family Law Specialist and Senior Family Mediator at the National Conflict Resolution Center in San Diego. He is also a Licensed Clinical Social worker with twelve years' experience providing therapy to children, adults, couples and families in psychiatric hospitals and outpatient clinics.
17 April, 2018
Bill Eddy: What's interesting is high-conflict personalities seem to—we've really boiled it down to four key characteristics. The first and maybe the most stunning is a preoccupation with blaming other people. It's really, "It's all your fault,"—and you may have experienced this—"and it's not at all my fault". That's zero. "My part of the problem is zero." And that's how high-conflict people talk. And they'll say, "Don't you get it? It's all your fault."
The second is a lot of all-or-nothing thinking. "Of course it's all your fault, but my way or the highway." Solutions to problems are: "There's all-good people and there's all-bad people." So they have this kind of all-or-nothing perspective.
A third is often, but not always, unmanaged emotions. And you may see that; people that just start yelling or just start crying or just storm out of a room—that kind of behavior we're seeing, but it's emotions that they're not managing.
And the fourth is extremes of behavior.
And one thing I talk about in the book 'Five Types of People' is this 90 percent rule, that 90 percent of people don't do some of the things that high-conflict people do. So if you see some shocking behavior and then the person makes an excuse for it, that's often the tip of the iceberg.
So it's preoccupation with blaming others, all-or-nothing thinking, unmanaged emotions, and extreme behaviors. That seems to be the pattern for high-conflict personalities. People that have those we call high-conflict people. But, by the way, don't tell them that you think that—that'll blow up in your face.
So target of blame seems to be why these folks can become so difficult. If you're the target of blame your life may be ruined by one of these folks, and that's what people need to become aware of. So the target of blame—each of these five high-conflict personalities tends to zero in generally on one person. It could change over time but they see that person as the cause of all their problems. And so they want to control that person or eliminate that person or destroy or humiliate that person. It's a fixation on one person, and all of their life problems they emotionally focus on that person. So you don't want to be one of those folks.
How to avoid being a target of blame? First of all, if you see warning signs of this behavior don't get too close to such a person. You may be a friend, but don't be the closest friend. You may be a co-worker, but don't be the closest co-worker. Because what seems to happen is the people they get really close to are the ones that are most at-risk of becoming their targets of blame.
But it could be anybody. They tend to target intimate others and people in authority. So this could be boyfriends, girlfriends, husbands, wives, parents, children, co-workers, neighbors they get close to. It also could be police, it could be a government agency or government official, it could be their boss, it could be the company owner. So they tend to focus on intimate others and/or people in authority.
Now the way to avoid becoming a target of blame is not getting too close to them but also not engaging in conflict with them. They often invite conflict, like they'll say outrageous things and you may feel like you've got to persuade them that they're wrong, and that's what I call a "forget about it". Just forget about it. You're not going to change their mind. If they're a difficult person, a high-conflict person, this is who they are, and you may not really even exist for them. So if you argue with them they're not going to change. So save yourself the trouble.
But when people challenge them is often when they turn against you, and they see you in their all-or-nothing eyes as "all bad". And so you don't want to have that kind of relationship.
So if you're in a personal relationship, family relationship, neighbor, co-worker, et cetera, you can manage relationships with these folks, but usually at an arm's length, and don't make it too confrontational. Don't say they have a high-conflict personality. Don't argue with them or try to convince them. Don't try to give them insight into themselves. You can just say, "Oh well, that's interesting. Hey, I've got to go now." Something like that.
Here's a fast fact about high-conflict people: life is better when you avoid them. Bill Eddy, mediation expert and president of the High Conflict Institute, describes them not only as difficult but also potentially dangerous. So how can we avoid becoming a target in their path of destruction? First, you have to be able to recognize them, says Eddy. They tend to share these four key characteristics: a preoccupation with blaming others, all-or-nothing thinking, unmanaged emotions, and extreme behaviors. Once you know what you're dealing with—a textbook high-conflict personality—you can take measures to manage this relationship, whether it's at home, at work, or beyond. Eddy shares his matter-of-fact methods for withdrawing from these people or, if that's not an option, for how to resist their conflict lures and disengage from the drama. Bill Eddy is the author of 5 Types of People Who Can Ruin Your Life: Identifying and Dealing with Narcissists, Sociopaths, and Other High-Conflict Personalities
---
.
Malcolm Gladwell teaches "Get over yourself and get to work" for Big Think Edge.
Big Think Edge
Learn to recognize failure and know the big difference between panicking and choking.

At Big Think Edge, Malcolm Gladwell teaches how to check your inner critic and get clear on what failure is.

Subscribe to Big Think Edge before we launch on March 30 to get 20% off monthly and annual memberships.
It turns out, that tattoo ink can travel throughout your body and settle in lymph nodes.
17th August 1973: An American tattoo artist working on a client's shoulder. (Photo by F. Roy Kemp/BIPs/Getty Images)
popular
In the slightly macabre experiment to find out where tattoo ink travels to in the body, French and German researchers recently used synchrotron X-ray fluorescence in four "inked" human cadavers — as well as one without. The results of their 2017 study? Some of the tattoo ink apparently settled in lymph nodes.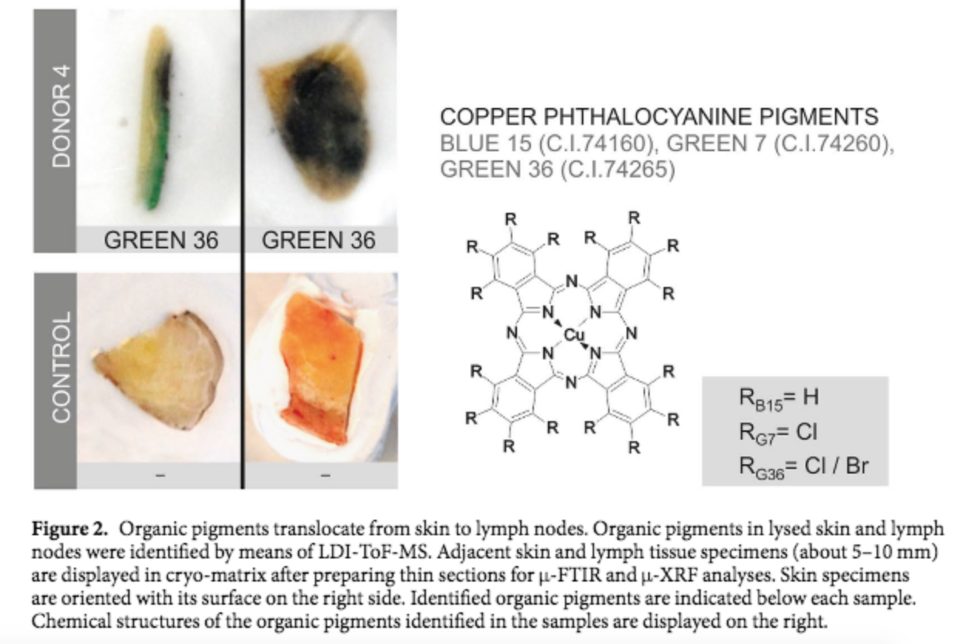 Image from the study.
As the authors explain in the study — they hail from Ludwig Maximilian University of Munich, the European Synchrotron Radiation Facility, and the German Federal Institute for Risk Assessment — it would have been unethical to test this on live animals since those creatures would not be able to give permission to be tattooed.
Because of the prevalence of tattoos these days, the researchers wanted to find out if the ink could be harmful in some way.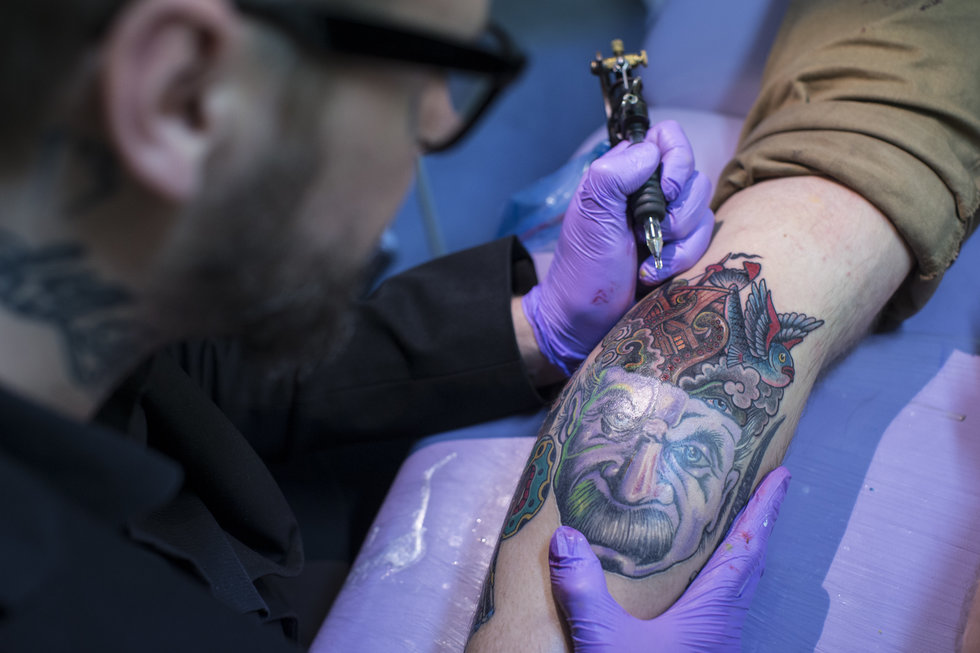 "The increasing prevalence of tattoos provoked safety concerns with respect to particle distribution and effects inside the human body," they write.
It works like this: Since lymph nodes filter lymph, which is the fluid that carries white blood cells throughout the body in an effort to fight infections that are encountered, that is where some of the ink particles collect.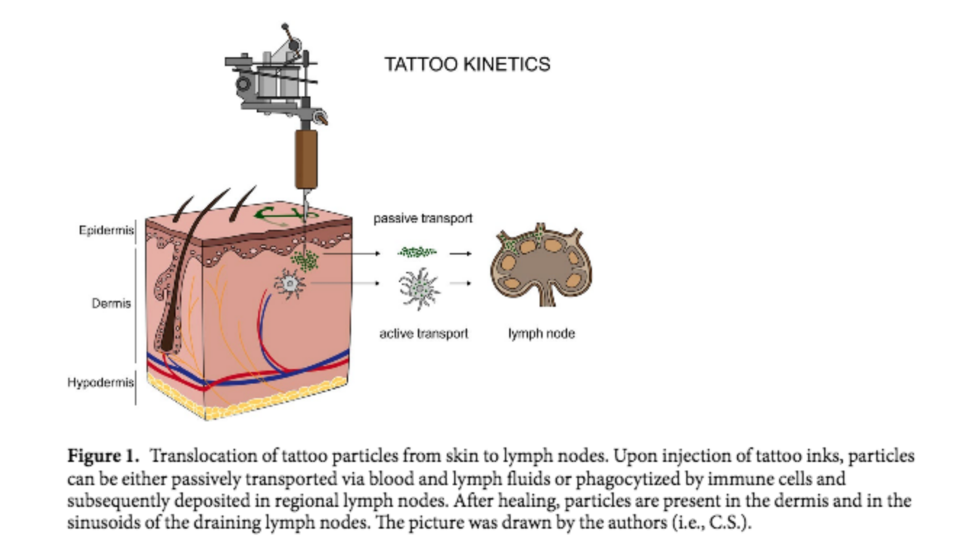 Image by authors of the study.
Titanium dioxide appears to be the thing that travels. It's a white tattoo ink pigment that's mixed with other colors all the time to control shades.
The study's authors will keep working on this in the meantime.
"In future experiments we will also look into the pigment and heavy metal burden of other, more distant internal organs and tissues in order to track any possible bio-distribution of tattoo ink ingredients throughout the body. The outcome of these investigations not only will be helpful in the assessment of the health risks associated with tattooing but also in the judgment of other exposures such as, e.g., the entrance of TiO2 nanoparticles present in cosmetics at the site of damaged skin."
It's one of the most consistent patterns in the unviverse. What causes it?
Videos
Spinning discs are everywhere – just look at our solar system, the rings of Saturn, and all the spiral galaxies in the universe.
Spinning discs are the result of two things: The force of gravity and a phenomenon in physics called the conservation of angular momentum.
Gravity brings matter together; the closer the matter gets, the more it accelerates – much like an ice skater who spins faster and faster the closer their arms get to their body. Then, this spinning cloud collapses due to up and down and diagonal collisions that cancel each other out until the only motion they have in common is the spin – and voila: A flat disc.
Big think's weekly newsletter.
Get smarter faster from the comfort of your inbox.
See our newsletter privacy policy
here
Most Popular
Most Recent
Big think's weekly newsletter.
Get smarter faster from the comfort of your inbox.
See our newsletter privacy policy
here
© Copyright 2007-2018 & BIG THINK, BIG THINK EDGE,
SMARTER FASTER trademarks owned by The Big Think, Inc. All rights reserved.