The Science of Learning: How to Harness Your Brain's Neural Networks
Having trouble learning? Take a break and your brain will process the information. You'll learn better and faster.
Barbara Oakley
Barbara Oakley, PhD, is a professor of engineering at Oakland University in Rochester, Michigan, and Ramón y Cajal Distinguished Scholar of Global Digital Learning at McMaster University. Her research involves bioengineering with an emphasis on neuroscience and cognitive psychology. Alongside legendary neuroscientist Terrence Sejnowski, Dr. Oakley teaches two massive open online courses (MOOCs), 'Learning How to Learn,' the world's most popular course, and 'Mindshift,' the companion course to her most recent book of the same title.
11 June, 2017
BARBARA OAKLEY: A very important idea that people are often unaware of is the fact that we have two completely different ways of seeing the world, two different neural networks we access when we're perceiving things.
So what this means is when we first sit down to learn something—for example, we're going to study math. You sit down and you focus on it. So you focus and you're activating task-positive networks. And then what happens is you're working away and then you start to get frustrated. You can't figure out what's going on. What's happening is you're focusing and you're using one small area of your brain to analyze the material. But it isn't the right circuit to actually understand and comprehend the material. So you get frustrated. You finally give up, and then when you give up and get your attention off it it turns out that you activate a completely different type of or set of neural circuits. That's the default mode network and the related neural circuits. So what happens is you stop thinking about it, you relax, you go off for a walk, you take a shower. You're doing something different. And in the background this default mode network is doing some sort of neural processing on the side. And then what happens is you come back and voila, suddenly the information makes sense. And, in fact, it can suddenly seem so easy that you can't figure out why you didn't understand it before. So learning often involves going back and forth between these two different neural modes – focus mode and what I often call diffuse mode which involves **** resting states. You can only be in one mode at the same time
So you might wonder, is there a certain task that is more appropriate for focus mode or diffuse mode? The reality is that learning involves going back and forth between these two modes. You often have to focus at first in order to sort of load that information into your brain and then you do something different, get your attention off it and that's when that background processing occurs. And this happens no matter what you're learning. Whether you're learning something in math and science, you're learning a new language, learning music, a dance. Even learning to back up a car. And think about it this way. Here's a very important related idea and that is that when you're learning something new you want to create a well practiced neural pattern that you can easily draw to mind when you need it. So this is called a neural chunk and chunking theory is incredibly important in learning. So, for example, if you are trying to learn to back up a car when you first begin it's crazy, right. You're looking all around. Do you look in this mirror or this mirror or do you look behind you? What do you do? It's this crazy set of information. But after you've practiced a while you develop this very nice sort of pattern that's well practiced. So all you have to do is think I'm going to back up a car. Instantly that pattern comes to mind and you're able to back up a car. Not only are you doing that but you're maybe talking to friends, listening to the radio. It's that well practiced neural chunk that makes it seem easy. So it's important in any kind of learning to create these well practiced patterns. And the bigger the library of these patterns, the more well practiced sort of deeper and broader they are as neural patterns in your mind, the more expertise you have in that topic.
And chunking was first sort of thought of or explored by Nobel Prize Winner [Herbert] Simon who found that, if you're a chess master, that the higher you're ranking in chess, the more patterns of chess you have memorized. So you could access more and more patterns of chess.
So research began developing and what they found was that the better your expertise at anything, the more solid neural patterns, what I call neural chunks you have. So, for example, if you might know how to do mathematics very well. Well you've got certain patterns related to multiplication and you've practiced quite a bit with them. And so you can pull them instantly to mind. And likewise, division. And then you go higher so you've got calculus. You've got the concept of the limit. You've got integrals, derivatives. And you practice with each one of those enough so that it is almost like backing up a car. All you have to do is think oh, I've got to take this derivative and boom, off you go. You're taking your derivative and it seems very easy to you. So a challenge that we've had is for a long time, particularly in mathematics education, it was felt that if you practiced too much that it would kill your creativity.
And that's actually not true. You want to do the right kind of practice where you're interleaving and doing one technique and then trying that with another technique. You don't want to just be doing the same thing over and over again. But practicing by – here's a good way to practice developing a chunk. Let's say that you've got a homework assignment. You've got this homework problem and it's a really difficult homework problem. So what you tend to do, well you do it and you turn it in. That is the equivalent of you have just sung a song one time and thinking that you know how to sing that song beautifully in front of an audience. Well, it doesn't work that way.
A good thing to do when you're learning something that's difficult is find key, in math, key problems and then see if you can work it cold. If you can't, take a peek at whatever hints you need to be able to finish working it. Then maybe a little later try working it again cold without looking at the answer. And maybe you go further. The next day try it again. Go a little further and practice it. What you're trying to do is to develop the same patterns that you would develop if you practice singing a song a number of times.
And if you do this with key problems in math, or if you're learning a language key conjugation patterns, for example—Then those patterns become automatic.
So, for example, with your problem after several days of practice you find you've worked it out enough times by pencil that when you just look at the problem you can step through all the solution steps in your mind. You've created a valuable chunk. And so then when it comes test time and you've got maybe five, ten of these key problems – so you can just look at them and know what you're supposed to be doing.
Suddenly when you're taking that test you can pull this chunk up and connect it with this chunk and solve new problems you haven't seen before and it's a really, really powerful technique is to realize that all learning involves getting these neural chunks together.
Cramming for a test and having a hard time understanding something? Might be best to go away and come back after a while. Your brain is constantly fluctuating between a "learning" mode and an "understanding" mode. When you're sitting there reading (and re-reading!) a textbook, unable to make sense of it, your brain is actually learning. It just takes the decompressing part of your brain for it to all be unpacked. It's called the neural chunk theory and you can learn to utilize it to your advantage by learning how to study differently; small bursts of inactivity and breaks can really make a big difference in how to memorize seemingly difficult information by combining bigger and bigger "chunks" of information until you understand the big picture. It's fascinating stuff.
Barbara Oakley's most recent book is Mindshift
Break Through Obstacles to Learning and Discover Your Hidden Potential
---
.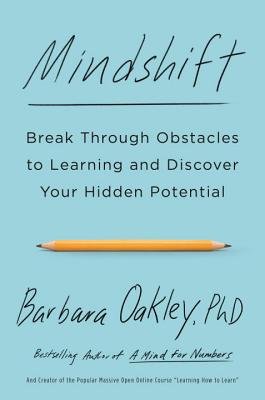 We all know sleeping with your ex is a bad idea, or is it?
Shutterstock
Sex & Relationships
In the first study of its kind, researchers have found sex with an ex didn't prevent people from getting over their relationship.
Instead of feeling worse about their breakup after a hookup, the new singles who attempted sexual contact with their ex reported feeling better afterwards.
The findings suggest that not every piece of relationship advice is to be taken at face value.
Want a happy, satisfying relationship? Psychologists say the best way is to learn to take a joke.
Sex & Relationships
New research looks at how partners' attitudes toward humor affects the overall quality of a relationship.
Out of the three basic types of people, people who love to be laughed at made for better partners.
Fine-tuning your sense of humor might be the secret to a healthy, happy, and committed relationship.
Tiny and efficient, these biodegradable single cells show promise as a way to target hard-to-reach cancers.
Credit: O. Yasa et al./Adv. Mater.
Surprising Science
Scientists in Germany have found a potential improvement on the idea of bacteria delivering medicine.
This kind of microtargeting could be useful in cancer treatments.
The microswimmers are biodegradable and easy to produce.
Metin Sitti and colleagues at the Max Planck Institute in Germany recently demonstrated that tiny drugs could be attached to individual algae cells and that those algae cells could then be directed through body-like fluid by a magnetic field.
The results were recently published in Advanced Materials, and the paper as a whole offers up a striking portrait of precision and usefulness, perhaps loosely comparable in overall quality to recent work done by The Yale Quantum Institute. It begins by noting that medicine has been attached to bacteria cells before, but bacteria can multiply and end up causing more harm than good.
A potential solution to the problem seems to have been found in an algal cell: the intended object of delivery is given a different electrical charge than the algal cell, which helps attach the object to the cell. The movement of the algae was then tested in 2D and 3D. (The study calls this cell a 'microswimmer.') It would later be found that "3D mean swimming speed of the algal microswimmers increased more than twofold compared to their 2D mean swimming speed." The study continues —
More interestingly, 3D mean swimming speed of the algal microswimmers in the presence of a uniform magnetic field in the x-direction was approximately threefolds higher than their 2D mean swimming speed.
After the 2D and 3D speed of the algal was examined, it was then tested in something made to approximate human fluid, including what they call 'human tubal fluid' (think of the fallopian tubes), plasma, and blood. They then moved to test the compatibility of the microswimmer with cervical cancer cells, ovarian cancer cells, and healthy cells. They found that the microswimmer didn't follow the path of bacteria cells and create something toxic.
The next logical steps from the study include testing this inside a living organism in order to assess the safety of the procedure. Potential future research could include examining how effective this method of drug delivery could be in targeting "diseases in deep body locations," as in, the reproductive and gastrointestinal tracts.
Big think's weekly newsletter.
Get smarter faster from the comfort of your inbox.
See our newsletter privacy policy
here
Most Popular
Most Recent
Big think's weekly newsletter.
Get smarter faster from the comfort of your inbox.
See our newsletter privacy policy
here
© Copyright 2007-2018 & BIG THINK, BIG THINK EDGE,
SMARTER FASTER trademarks owned by The Big Think, Inc. All rights reserved.