3 great untruths to stop telling kids—and ourselves
These psychological principles can make you more resilient.
Jonathan Haidt
Jonathan Haidt is the Thomas Cooley Professor of Ethical Leadership at New York University's Stern School of Business. He is the author of The Righteous Mind and The Happiness Hypothesis.
27 October, 2018
JONATHAN HAIDT: So my first book, 'The Happiness Hypothesis', was a collection of ten insights from sages around the world that were psychological truths, and one of them is: What doesn't kill you makes you stronger. That gets at the idea, the psychological principle, of anti-fragility. It's a wonderful term. It's actually a clunky, ugly term, but it was made up by Nassim Taleb because we don't have a word for this in the English language, which is that there's some systems that get stronger if they get pushed around, knocked around.

So a wine glass is fragile; if you knock it over it breaks; nothing good happens. A plastic cup is resilient; if a kid throws it off the table it doesn't break, but nothing good happens.

But there are some things that have to get thrown off the table. There are some systems that have to get pushed around, and Taleb wrote this book 'Antifragile' or antifragility because things like the banking system had to be tested or it gets fragile and collapses. Bones have to be tested, used, or they get weak; if you were to fly to Mars your bones would get weak. The immune system, if you protect kids from bacteria, if you keep them in a sterile environment you're damaging their immune system. The immune system has to face challenges in order to learn.

It turns out kids are anti-fragile and when we protect children from unpleasantness, from conflicts, from insults, from teasing, from exclusion, we're preventing their social psychology, we're preventing their social abilities, we're preventing their strength from developing. The subtitle of our book is 'How Good Intentions and Bad Ideas are Setting Up a Generation for a Failure'—by over-protecting our children we are setting them up to be weak, to be more easily damaged, to be more easily discouraged.

The next untruth is "Always trust your feelings". It may sound wise, it may sound romantic, but wise people around the world have noticed that we don't react to the world as it actually is, we react to the constructions, the perceptions. Epictetus said, "It is not things themselves that disturb us, but our interpretations of things." This is the basis of cognitive behavioral therapy.

Aaron Beck, a psychiatrist in the 1960s, noticed that depressed and anxious people have a way of constructing these beliefs that, "I'm bad, the future is bad, the world is a bad place," and they're mutually reinforcing. And this is the way the world feels to them, and if you can improve their thinking and break up those beliefs, they're released from the depression. What we've begun seeing on campus is that students are encouraged to follow their feelings; if they feel offended by something then they have been attacked. They're supposed to not question those feelings. But part of wisdom is the ability to say, "Now, wait a second, are there other ways to look at this?"

These are crucial skills for critical thinking, these are crucial skills for mental health, and we need to be teaching young people at all stages to question their first interpretations, look for evidence, and improve the way they interpret the world.

The third great untruth, my favorite, the worst and most dangerous and darkest of all is that life is a battle between good people and evil people. If you think about it for a moment, who are we? What is our species? We evolved in small-scale societies that were locked in struggle with other small-scale societies. Human nature is really, really finely tailored for intergroup conflict, for tribal warfare. This is the way our ancestors lived for a long time. Now that we've transcended it we're so desperate for it we've invented team sports, fraternities. We love these sorts of competitions. Our brains are made for it.

Now, it can be fun or it can get dark and it can lead to racism, all kinds of forms of bigotry. If we're creating multiethnic environments on campuses and in most of our organizations we're struggling to increase diversity, what you should obviously be doing is turning down the tribal sentiments, is emphasizing what we have in common. But on some college campuses and in some high schools we see forms of education, forms of training that teach students to make more and more distinctions, to see more and more binary dimensions between people where the people who are high are bad, the people who are low are good. The more we encourage people to see the people around them as good versus evil, the harder it's going to be to create an inclusive, diverse environment.

The bottom line is that there are some very basic important psychological principles. If we're going to raise kids and educate them and bring them through schools and universities, we should get our institutions in line with these principles. They are: Children are anti-fragile, we are all prone to motivated reasoning and the confirmation bias, and we're all prone to tribalism and black and white thinking. We need to be educating kids so that they do less of this stuff. If we want to raise a generation of kids who can deal with diversity of all kinds, who can go out into a world that's physically actually quite safe and yet full of offensive content, we need to get our educational practices in line with these three psychological principles, not with these three great untruths.
Popular platitudes can squash your critical thinking, argues moral psychologist Jonathan Haidt.
Always trust your feelings? The world is a battle between good and evil? These popular pieces of conventional wisdom are merely myths—ones that can set us up for failure.
"When we protect children from unpleasantness, from conflicts, from insults, from teasing, from exclusion, we're preventing their social psychology, we're preventing their social abilities, we're preventing their strength from developing," says Haidt.
He highlights three great untruths and explains the psychological principles that debunk them. Unlearning a few token ideas can make us more resilient and help us grow, rather than break, in the face of adversity.
From Your Site Articles
Related Articles Around the Web
Big ideas.
Once a week.
Subscribe to our weekly newsletter.
A Harvard professor's study discovers the worst year to be alive.
Credit: Pieter Bruegel the Elder. (Museo del Prado).
Politics & Current Affairs
Harvard professor Michael McCormick argues the worst year to be alive was 536 AD.
The year was terrible due to cataclysmic eruptions that blocked out the sun and the spread of the plague.
536 ushered in the coldest decade in thousands of years and started a century of economic devastation.
The past year has been nothing but the worst in the lives of many people around the globe. A rampaging pandemic, dangerous political instability, weather catastrophes, and a profound change in lifestyle that most have never experienced or imagined.
But was it the worst year ever?
Nope. Not even close. In the eyes of the historian and archaeologist Michael McCormick, the absolute "worst year to be alive" was 536.
Why was 536 so bad? You could certainly argue that 1918, the last year of World War I when the Spanish Flu killed up to 100 million people around the world, was a terrible year by all accounts. 1349 could also be considered on this morbid list as the year when the Black Death wiped out half of Europe, with up to 20 million dead from the plague. Most of the years of World War II could probably lay claim to the "worst year" title as well. But 536 was in a category of its own, argues the historian.
It all began with an eruption...
According to McCormick, Professor of Medieval History at Harvard University, 536 was the precursor year to one of the worst periods of human history. It featured a volcanic eruption early in the year that took place in Iceland, as established by a study of a Swiss glacier carried out by McCormick and the glaciologist Paul Mayewski from the Climate Change Institute of The University of Maine (UM) in Orono.
The ash spewed out by the volcano likely led to a fog that brought an 18-month-long stretch of daytime darkness across Europe, the Middle East, and portions of Asia. As wrote the Byzantine historian Procopius, "For the sun gave forth its light without brightness, like the moon, during the whole year." He also recounted that it looked like the sun was always in eclipse.
Cassiodorus, a Roman politician of that time, wrote that the sun had a "bluish" color, the moon had no luster, and "seasons seem to be all jumbled up together." What's even creepier, he described, "We marvel to see no shadows of our bodies at noon."
...that led to famine...
The dark days also brought a period of coldness, with summer temperatures falling by 1.5° C. to 2.5° C. This started the coldest decade in the past 2300 years, reports Science, leading to the devastation of crops and worldwide hunger.
...and the fall of an empire
In 541, the bubonic plague added considerably to the world's misery. Spreading from the Roman port of Pelusium in Egypt, the so-called Plague of Justinian caused the deaths of up to one half of the population of the eastern Roman Empire. This, in turn, sped up its eventual collapse, writes McCormick.
Between the environmental cataclysms, with massive volcanic eruptions also in 540 and 547, and the devastation brought on by the plague, Europe was in for an economic downturn for nearly all of the next century, until 640 when silver mining gave it a boost.
Was that the worst time in history?
Of course, the absolute worst time in history depends on who you were and where you lived.
Native Americans can easily point to 1520, when smallpox, brought over by the Spanish, killed millions of indigenous people. By 1600, up to 90 percent of the population of the Americas (about 55 million people) was wiped out by various European pathogens.
Like all things, the grisly title of "worst year ever" comes down to historical perspective.
A newly discovered coronavirus — but not the one that causes COVID-19 — has made some dogs very sick.
Surprising Science
A different coronavirus outbreak in late 2019 made many dogs in the UK very ill.
The strangeness of the disease led veterinarians to send questionnaires to their peers and pet owners.
The findings point toward the need for better systems to identify disease outbreaks in animals.
A recent study suggests that a mysterious disease plaguing dogs in the UK is caused by a novel coronavirus. This virus, which coincidentally appeared in late 2019 and began to concern veterinarians in early 2020, is not related to the virus which causes COVID-19, but can make your four-legged friend feel quite ill.
Novel coronavirus in dogs
The term "coronavirus" doesn't refer to a single disease, but a family of viruses (more formally, Coronaviridae) that share a shape similar to a crown (hence the name, "corona"). They infect many different kinds of animals and cause various diseases from COVID-19 and SARS to the common cold.
This new coronavirus, a variant of canine enteric coronavirus, was first noticed in January 2020 when a veterinarian in the United Kingdom treated "an unusually high number" of dogs with severe vomiting and other gastrointestinal issues at his office. Concerned about this spike in doggy indigestion, they reached out to other veterinarians to see if they were reporting a similar outbreak.
Online questionnaires were sent out to more than a thousand vets and pet owners to map the outbreak and collect information on which animals were being affected. Analysis of this data showed that nearly all of the cases involved vomiting and a loss of appetite, and half of them also involved diarrhea. Most of the cases took place in south and northwest England, though a large outbreak also occurred in and around the Scottish city of Edinburgh.
The data also suggested that male dogs in contact with other dogs were most likely to be infected, hinting at "either transmission between dogs or a common environmental source." The dogs recovered in more than 99 percent of cases.
Hoping to move beyond the questionnaire, the authors also turned to records to piece together what happened.
While public health data for animals is less frequently gathered than it is for humans, electronic records of pet admissions to veterinarian offices and pet insurance payouts do exist. The researchers accessed these records and found that the number of dogs recorded with stomach problems rose between December 2019 and March 2020, with nearly double the number of expected cases occurring during that time. There was also a concomitant rise in prescriptions for drugs to treat those conditions.
A later comparison of samples from dogs that were sick and healthy control dogs confirmed the presence of the novel coronavirus in the ill dogs. All of this was later compiled into a study that was recently published in Emerging Infectious Diseases, which is produced by the CDC.
Should I be concerned?
This coronavirus only affects dogs, and the researchers didn't find anything to suggest that humans could become infected.
However, the scale of the outbreak and the lack of tools immediately available to determine what was happening led the researchers to suggest that better organization is needed. Many of the authors are involved in creating a disease surveillance system for dogs, known as SAVSNet-Agile.
The authors also mention that "previous CeCoV [canine enteric coronavirus] seasonality suggests further outbreaks may occur." Thanks to this study, your local vet might be a little more prepared for it next time.
Unfortunately, humanity will never see it coming.
A computer image of a Higgs interaction. By Lucas Taylor / CERN, CC BY-SA 3.0, Wikipedia Commons.
Technology & Innovation
It sounds like a plot from a comic book or a sci-fi film, a theory that got a boost when one of the greatest discoveries in physics in the modern era, the discovery of the "God particle,"or the Higgs boson, the missing piece in the Standard Model of particle physics. In the preface to his book Starmus, Stephen Hawking warns that the Higgs Boson field could collapse, resulting in a chain reaction that would take in the whole universe with it.  
Theoretical physicist Joseph Lykken says it would probably take billions of years before we reach that point. Lykken hails from the Fermi National Accelerator Laboratory in Batavia, Illinois. If it did happen though, you wouldn't know it. One instant you are here, the next, you and everything else is swallowed up by an enormous vacuum bubble, traveling at light speed in every direction. Humanity would never see it coming.
Peter Higgs and colleagues first theorized the existence of the Higgs boson in 1964. The Large Hadron Collider (LHC) at CERN in Geneva, Switzerland finally discovered it in 2012. With this missing piece found, three of the four fundamental forces of nature become complete. The particle's measured value is 126 billion electron volts. That's 126 times a proton's mass. This is just enough to maintain a state teetering near the edge of stability.
Everything in the universe contains a certain amount of energy. Even so, everything also adheres to the principle of stability. All substances want to become stable. To do that, one must contain as little energy as it can. When something has a high energy level, it is unstable, and moves to rid itself of excess energy, in order to achieve stability.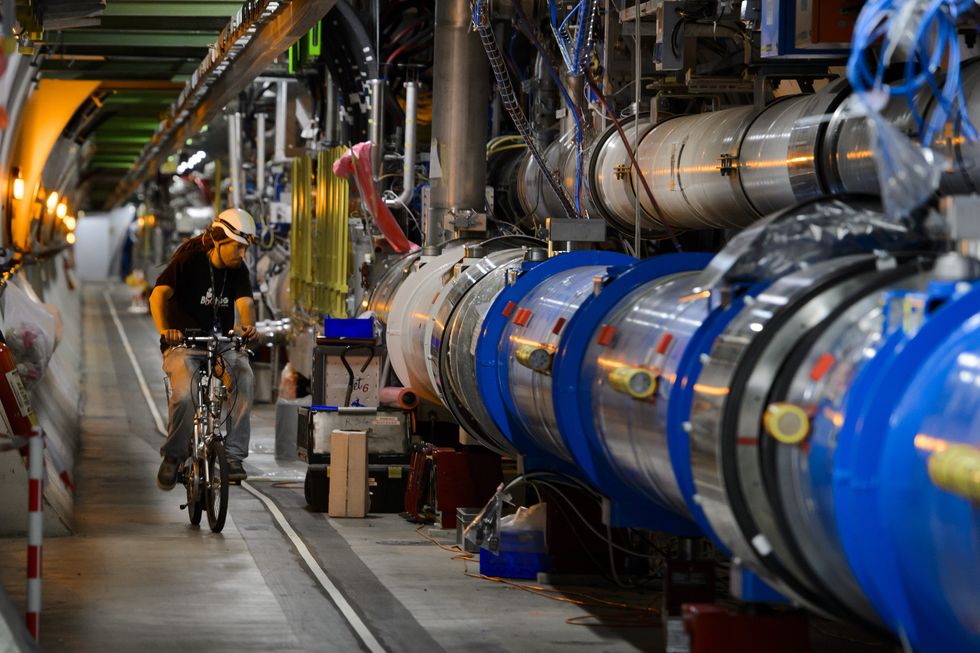 Part of the Large Hadron Collider (LHC) at CERN, where the Higgs boson was discovered.
Quantum fields imbue particles with various properties. They also want to move to a low energy state, here called a vacuum state. The Higgs Field may be the exception. It lends particles' mass. Rather than being a vacuum, the Higgs Field contains potential energy it cannot rid itself of, making it a false vacuum and by nature unstable. This instability could spark off, if the field was able to absorb more energy. A certain point it could absorb no more, teeter over the brink and end everything in existence.
The Higgs Field is maintaining a low energy state at the moment. But some believe it is slowly transitioning to a high energy state. When it does, it will kick off what is known as "vacuum decay." In Hawking's book, once the Higgs Field becomes metastable, the vacuum decay bubble will emerge. Being at a high energy state, it will quickly move to consume everything at a low energy state, or everything else around it. The vacuum bubble moves along destroying atoms, turning everything it encounters into hydrogen.
Prof. Lykken believes it will take billions of years. "There's no principle that we know of that would put us right on the edge," he said. University of Southern Denmark physicists strengthened the vacuum decay theory in a study published in the journal High Energy Physics. They found however that vacuum decay could occur at any moment.
Even so, there may be outside forces associated with the Higgs Field that influence it in unknown ways. Dark matter for example, that mysterious substance that could comprise up to 27% of the universe, may interact with the Higgs Field. Recently however, a team of prominent physicists brought into doubt whether or not dark matter actually exists. Another theory called "supersymmetry," states that every particle has its opposite. This helps keep the universe stable. Could the Higgs boson have a twin? Would that particle keep it from vacuum decay? No one is sure.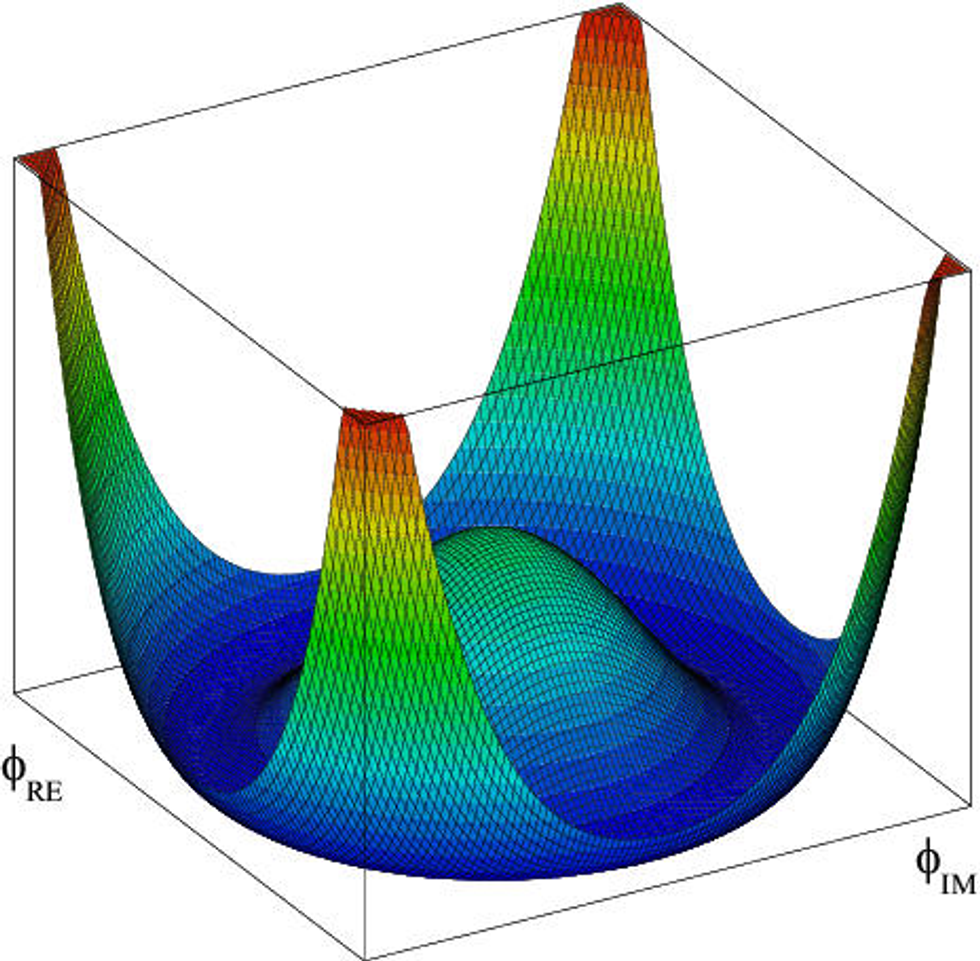 A representation of the Higgs Field. by Gonis from es, CC BY-SA 3.0, Wikipedia Commons. 
It is believed that when vacuum decay eventually takes place, what will be left is a superheated, hard, and extremely dense sphere. Some astrophysicists believe the universe, just before the Big Bang, may have looked like this. The Higgs Field is thought to have emerged shortly after the Big Bang. So it may be the driving force which deletes the universe and forces it to start over again.
This isn't the only conceptualization which predicts the destruction of everything everywhere. Another is the Big Crunch theory. This is the opposite of the Big Bang. With the first, a collection of super dense material exploded, heaving everything out in all directions. With the Big Crunch, it's thought that material eventually stops moving at some point, and begins traveling in the opposite direction, coming back together again.
So even if we are able to escape the planet and become an intergalactic species before the sun engulfs the earth, the universe itself may collapse. The only way to ensure longevity is if the multiverse actually exists, and we can become a multi-universal species. Whether it is the Big Crunch of Vacuum Decay that gets us, it's interesting to think that perhaps after that dense, hot state, it could in theory explode again, causing a second Big Bang.
If true, how many times has the cycle occurred? And does history repeat itself exactly, or is a totally new universe born? It is of course important to remember that this is all in the realm of theoretical physics. The universe may hide as of yet a treasure trove of unknown particles which could change these predictions and speculations completely.
To learn more about vacuum decay click here: 
And is anyone protecting children's data?
Technology & Innovation
The market for smart toys is rapidly expanding and could grow to $18 billion by 2023.
Smart toys can help with learning but pose risks if they are not designed to protect children's data and safety.
Many companies are developing smart toys ethically and responsibly, with makers of AI-powered smart toys encouraged to apply to the Smart Toy Awards.
Imagine a child born this year who will be surrounded by technology at every phase of her childhood. When she is three years old, Sophie's parents buy her a smart doll that uses facial recognition and artificial intelligence (AI) to watch, listen to, and learn from her.
Like many children, Sophie will come to love this toy. And like previous generations of children with a favorite doll or teddy bear, she will carry it around with her, talk with it, and sleep with it beside her for many years.
If the smart doll is designed responsibly, this toy could be her best friend; if not, it will be a surveillance tool that records her every move and word spoken in its presence by her, her friends, and even her parents.
Smart toys use AI to learn about the child user and personalize the play or learning experience for them. They can learn a child's favourite colour, song, and learn to recognize that child and other familiar people in that child's life. While this may sound futuristic, there are many smart toys that already provide these capabilities. The market for these toys is rapidly expanding and will grow to $18 billion by 2023.
To address this urgent use of AI, the World Economic Forum recently launched the Smart Toy Awards to recognize ethically and responsibly designed AI-powered toys that create an innovative and healthy play experience for children.
Smart toys provide enormous promise for children. They can customize learning based on data they gather about children; they can teach computer programming skills to children; and they can help children with disabilities develop cognitive, motor, and social skills.
But at the same time, smart toys provide large potential risks if they are not designed to protect children's data, safety, and cybersecurity.
A cautionary tale
The example of Sophie's smart doll is not far-fetched. In 2017, My Friend Cayla – an early smart toy that used facial and voice recognition – was declared an illegal surveillance tool in many countries.
If the Cayla doll was connected to a phone, data was sent to the manufacturer and a third-party company for processing and storage. And anyone with the My Friend Cayla app on their phone within 30 feet of a toy could access the toy and listen to the child user.
Germany issued a "kill order" for the doll and required parents to destroy it "with a hammer." Today, the only surviving Cayla dolls in Germany reside in the Spy Museum in Berlin.
The risks posed by smart toys
Sophie applies to college when she is 18 years old. If her smart doll had collected data on her from the age of 3 to 9, the company who built the toy could know her better than her parents. Without adequate data protections, the company could also sell this data to the colleges to which she is applying or other third parties.
After college, Sophie applies to a job. If the employer bought data gathered on Sophie as a child, they could learn about her strengths and weaknesses. What if Sophie bullied her younger sister, yelled at her parents, or refused to do her homework as a child? All these actions conducted in the privacy of the family's home could be known by the company and sold to third parties who could use this information to discriminate against Sophie. The family's life is no longer private.
Today, data is gold but gathering data on children is inherently problematic. As a company gathers data about children through Sophie's doll, they may have a responsibility to act or intervene. Imagine that Sophie tells her doll about suicidal thoughts and self-harm. Should the company be required to alert the parents and call 911?
The more data that a smart toy gathers the more complex scenarios smart toy companies will likely face. Every company designing a smart toy with the capabilities to gather this information must consider these worst-case scenarios as they develop toys to protect the safety of the child user and those around them.
Developing responsible and ethical smart toys
Despite these significant risks, ethical and responsible smart toys are being developed. The Smart Toy Awards have developed four key governance criteria for companies developing AI-powered toys: data privacy and cybersecurity; accessibility and transparency; age appropriateness; and healthy play.
Sophie's smart doll illustrates the importance of strong data privacy and clearly communicating to adults buying the toy what the smart doll does and how it operates. This must be communicated in the Terms of Service in language understandable by non-technologically literate audiences. At minimum, Smart Toys should meet COPPA requirements in the US and GDPR in the EU.
Parents and guardians should understand with whom children's data is being shared and for what purpose. Companies should empower parents, guardians, and children to make their own decisions about how children's data is being used. And companies should not sell children's data to third parties.
Data privacy is a foundation for ethical and responsible smart toys, but they must also be designed to be accessible, transparent, age appropriate, and promote healthy play and children's mental health.
The future of childhood
Sophie's doll doesn't necessarily pose concern for her and her parents, and data collected on her won't hinder her future if the data is carefully protected. In the EU, GDPR provides the right to be forgotten, and a similar policy could allow children like Sophie to request that all data collected on them as children by their smart toys be deleted when they turn 18 years old, so they would have a fresh start as they begin adulthood.
Sophie and all children should have a fair shot at childhood, education, careers, and life. The data collected on them as children should not be used to discriminate against them in the future.
Smart toys like Sophie's doll can play a pivotal role in childhoods, catalyzing creativity and critical thinking skills. Many companies are developing smart toys with careful consideration for ethics and responsibility. We urge companies to adopt our governance criteria as they're designing and developing smart toys.
Childhood is a sacred time and parents will do everything they can to protect their children's experiences. This won't be possible unless stakeholders work together across the private, public, and nonprofit sectors to develop ethical, responsible, and innovative smart toys that protect and foster the essence of childhood.
Reprinted with permission of the World Economic Forum. Read the original article.