Extroverts Prefer Plains, Introverts Like Mountains
There's a very curious link between topography and personality.
19 August, 2015
People who live in mountainous U.S. states are more introverted than their fellow Americans in the flatter states. That curious link between topography and personality is proposed by a recent article in the Journal of Research in Personality.
---
The article, titled "Personality and Geography: Introverts Prefer Mountains," contains a fascinating graph, linking elevation difference to large-scale personality data from all 50 states and D.C.
States on the left of the graph are flatter than states on the right; states at the bottom have relatively more introverts than states at the top of the graph. Alaska, by far the most mountainous state, is among the most introverted — only preceded by Maryland and New Hampshire (which are, however, much less incidented). North Dakota, America's most extroverted state, is also one of its flatter ones. Extroversion runners-up Wisconsin and D.C. are almost pancake-flat too.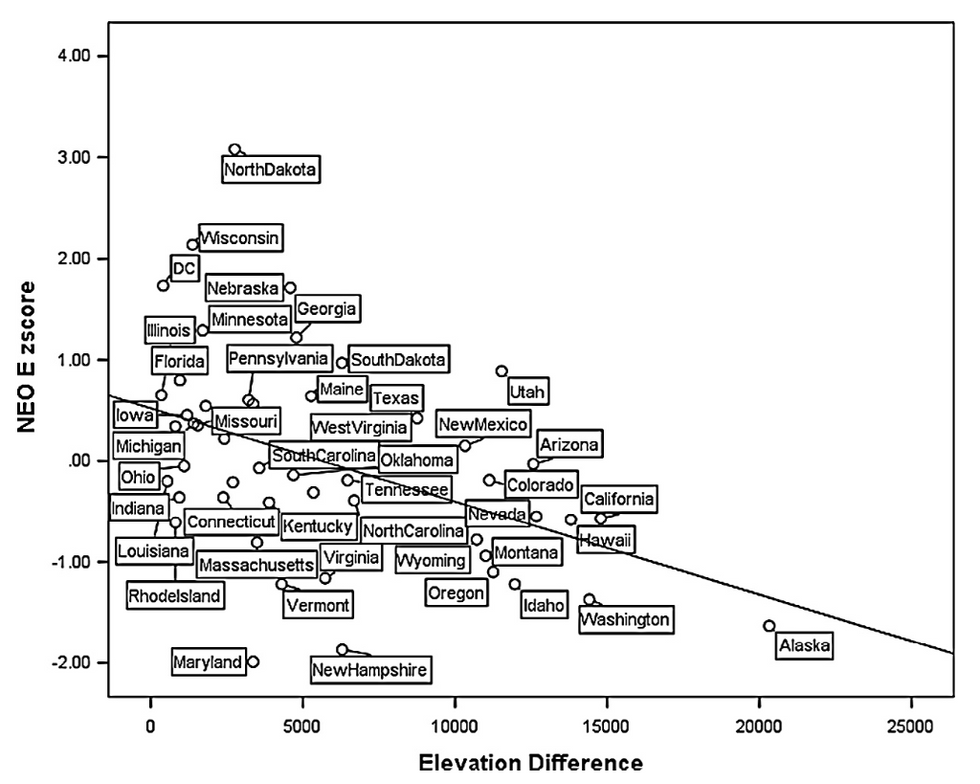 The graph does not explain whether people become introverted in a mountain state, or flat-state introverts have a tendency to head for the hilly parts of the country. The old nature versus nurture debate, in other words. But in a very strange context.
Full article here in the Journal of Research in Personality. Many thanks to Mark Feldman, who saw it mentioned here on The Washington Post's Wonkblog.
Strange Maps #732
Got a strange map? Let me know at strangemaps@gmail.com.
Young people could even end up less anxiety-ridden, thanks to newfound confidence
Photos: Courtesy of Let Grow
Sponsored by Charles Koch Foundation
The coronavirus pandemic may have a silver lining: It shows how insanely resourceful kids really are.
Let Grow, a non-profit promoting independence as a critical part of childhood, ran an "Independence Challenge" essay contest for kids. Here are a few of the amazing essays that came in.
Download Let Grow's free Independence Kit with ideas for kids.
Researchers in Mexico discover the longest underwater cave system in the world that's full of invaluable artifacts.
Researchers discover a massive ceremonial structure of the ancient Mayans using lasers.
Credit: Takeshi Inomata
Surprising Science
Archaeologists use laser-based aerial surveys to discover the oldest and largest Mayan structure ever found.
The 3,000-year-old complex in the Mexican state of Tabasco was likely used as a ceremonial center.
Researchers think the site showed a communal society rather than one based on worshipping elites.
Technique may enable speedy, on-demand design of softer, safer neural devices.
Dan Kitwood/Getty Images
Surprising Science
The brain is one of our most vulnerable organs, as soft as the softest tofu. Brain implants, on the other hand, are typically made from metal and other rigid materials that over time can cause inflammation and the buildup of scar tissue.
Big Think LIVE
Join two-time NBA champion Shane Battier live at 1 pm ET this Monday.
Scroll down to load more…