Extroverts Prefer Plains, Introverts Like Mountains
There's a very curious link between topography and personality.
19 August, 2015
People who live in mountainous U.S. states are more introverted than their fellow Americans in the flatter states. That curious link between topography and personality is proposed by a recent article in the Journal of Research in Personality.
---
The article, titled "Personality and Geography: Introverts Prefer Mountains," contains a fascinating graph, linking elevation difference to large-scale personality data from all 50 states and D.C.
States on the left of the graph are flatter than states on the right; states at the bottom have relatively more introverts than states at the top of the graph. Alaska, by far the most mountainous state, is among the most introverted — only preceded by Maryland and New Hampshire (which are, however, much less incidented). North Dakota, America's most extroverted state, is also one of its flatter ones. Extroversion runners-up Wisconsin and D.C. are almost pancake-flat too.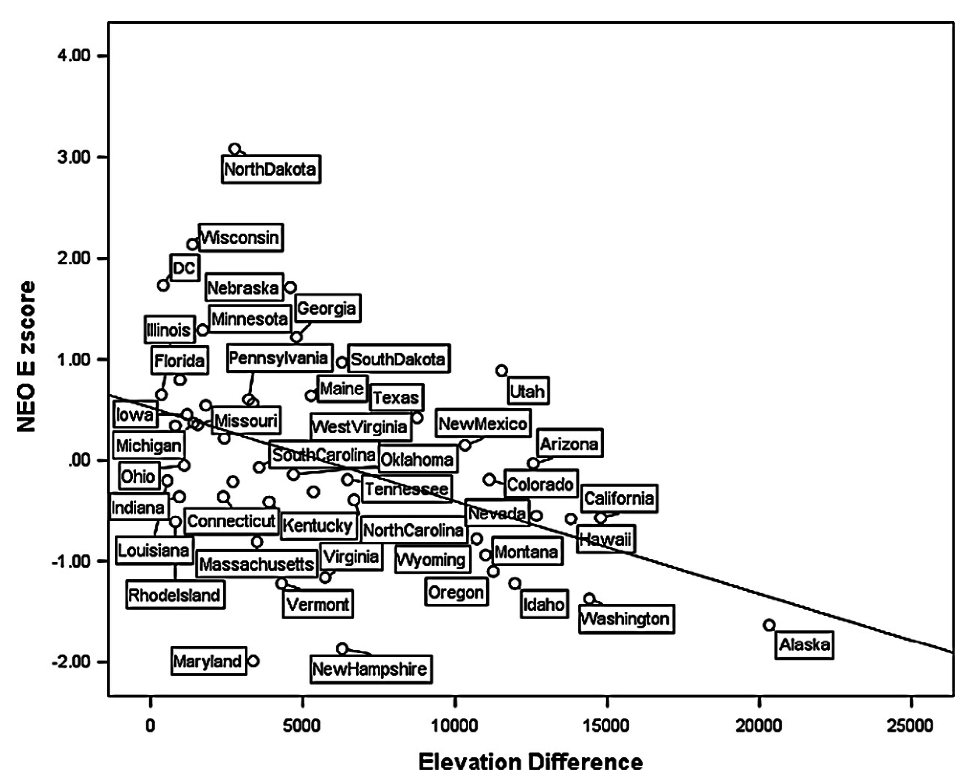 The graph does not explain whether people become introverted in a mountain state, or flat-state introverts have a tendency to head for the hilly parts of the country. The old nature versus nurture debate, in other words. But in a very strange context.
Full article here in the Journal of Research in Personality. Many thanks to Mark Feldman, who saw it mentioned here on The Washington Post's Wonkblog.
Strange Maps #732
Got a strange map? Let me know at strangemaps@gmail.com.
Former president of the ACLU Nadine Strossen discusses whether our society should always defend free speech rights, even for groups who would oppose such rights.
Sponsored by Charles Koch Foundation
Former ACLU president Nadine Strossen understands that protecting free speech rights isn't always a straightforward proposition.
In this video, Strossen describes the reasoning behind why the ACLU defended the free speech rights of neo-Nazis in Skokie, Illinois, 1977.
The opinions expressed in this video do not necessarily reflect the views of the Charles Koch Foundation, which encourages the expression of diverse viewpoints within a culture of civil discourse and mutual respect.
A new paradigm for machine vision has just been demonstrated.
Technology & Innovation
Scientists have invented a way for a sheet of glass to perform neural computing.
The glass uses light patterns to identify images without a computer or power.
It's image recognition at the speed of light.
A consortium of scientists and engineers have proposed that the U.S. and Mexico build a series of guarded solar, wind, natural gas and desalination facilities along the entirety of the border.
Credit: Purdue University photo/Jorge Castillo Quiñones
Politics & Current Affairs
The proposal was recently presented to several U.S. members of Congress.
The plan still calls for border security, considering all of the facilities along the border would be guarded and connected by physical barriers.
It's undoubtedly an expensive and complicated proposal, but the team argues that border regions are ideal spots for wind and solar energy, and that they could use the jobs and fresh water the energy park would create.
"A monkey has been able to control a computer with its brain," Musk said, referring to tests of the device.
Neuralink
Technology & Innovation
Neuralink seeks to build a brain-machine interface that would connect human brains with computers.
No tests have been performed in humans, but the company hopes to obtain FDA approval and begin human trials in 2020.
Musk said the technology essentially provides humans the option of "merging with AI."