Frack, Baby, Frack? What You Need to Know About Hydraulic Fracturing
Will the natural gas boom revitalize the U.S. economy and provide us energy for 100 years?
09 July, 2012
There is plenty that we still don't know about hydraulic fracturing, or fracking, a method that has been used to greatly increase natural gas production in the U.S. and around the world. Here's what we do know. Fracking involves pumping a mixture of water, sand and chemicals deep into underground shale formations. The rock layer is then shattered, creating fissures through which methane gas and toxic chemicals are released, potentially contaminating groundwater supplies. 
---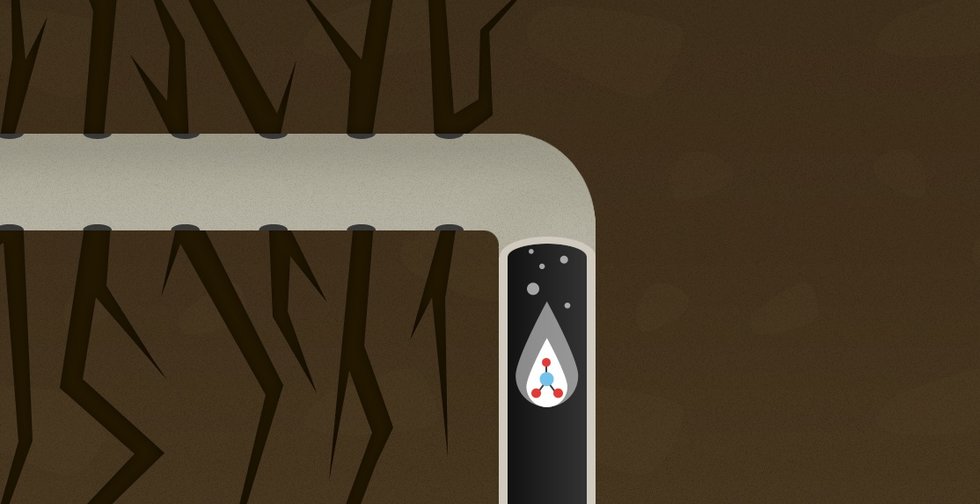 To better understand the process of fracking (and its potential dangers), you can check out this website, which is not only informative, but beautifully designed to scroll through on your iPad. 
To Frack or not to Frack
Depending on who you speak to, fracking is either America's solution for energy independence, or an environmental catastrophe of enormous scale in the making.
Let's start with the proponents. 
The U.S. is entering a golden age of gas in which the country will not only meet its own energy demand, but could also become a major exporter. That's what the gas industry has been saying for some time, and its 100 years of gas meme was taken up by President Obama in his 2012 State of the Union Address:
We have a supply of natural gas that can last America nearly one hundred years, and my Administration will take every possible action to safely develop this energy. Experts believe this will support more than 600,000 jobs by the end of the decade.
This claim has been contested, as some of the country's gas reserves are classified as "proved," others are "probable" while still others are "speculative." And yet, the abundance of natural gas has caused prices to fall by 80 percent in the last four years in the U.S. Compared to coal and other fossil fuels, the burning of natural gas (methane) releases 40 percent less carbon dioxide as well as fewer other harmful chemicals into the atmosphere. 
That all adds up to a pretty good argument for natural gas to play a leading role in the transition to a low-carbon economy. Natural gas is "abundant, cleaner burning and affordable." Sounds like a win-win-win. Frack, baby, frack!
However, not everyone is convinced that natural gas is the climate change solution that its boosters claim it to be. Furthermore, while the gas industry contends that fracking is safe, environmentalists have raised concerns about groundwater contamination, air pollution, the unsafe disposal of drilling wastewater and the degradation of rural landscapes. What makes this debate more complicated is that regulations are wildly different state-by-state. Furthermore, most states lack the resources to conduct rigorous reviews, while the industry has disclosed very little information about the chemicals that are used in fracking.
So the jury is clearly still out. And yet, new studies on fracking have been slowly seeping out, such as one this week published in the Proceedings of the National Academy of Sciences that presented evidence that fracking -- which occurs thousands of feet below the surface -- can still pollute shallow aquifers. 
What's the Big Idea?

As the natural gas boom promises to fundamentally reshape our energy portfolio, we need to have a firm grasp on how this energy source could impact our health, our environment, and our bottom line.
In the video below, Fred Krupp, President of the Environmental Defense Fund and co-author of the 2008 bestseller Earth: The Sequel, walks us through the major concerns about fracking. Krupp was a member of Energy Secretary Chu's task force on natural gas, and he offers advice for policy makers, forward-looking companies, savvy consumers and concerned citizens -- all of whom have a strong stake in this issue.
Watch the video here:
Lumina Foundation is partnering with Big Think to unearth the next large-scale, rapid innovation in post-high school education. Enter the competition here!
Good science is sometimes trumped by the craving for a "big splash."
Videos
Scientists strive to earn credit from their peers, for grants from federal agencies, and so a lot of the decisions that they make are strategic in nature. They're encouraged to publish exciting new findings that demonstrate some new phenomenon that we have never seen before.
This professional pressure can affect their decision-making — to get acclaim they may actually make science worse. That is, a scientist might commit fraud if he thinks he can get away with it or a scientist might rush a result out of the door even though it hasn't been completely verified in order to beat the competition.
On top of the acclaim of their peers, scientists — with the increasing popularity of science journalism — are starting to be rewarded for doing things that the public is interested in. The good side of this is that the research is more likely to have a public impact, rather than be esoteric. The bad side? To make a "big splash" a scientist may push a study or article that doesn't exemplify good science.
Moans, groans, and gripes release stress hormones in the brain.
popular
Could you give up complaining for a whole month? That's the crux of this interesting piece by Jessica Hullinger over at Fast Company. Hullinger explores the reasons why humans are so predisposed to griping and why, despite these predispositions, we should all try to complain less. As for no complaining for a month, that was the goal for people enrolled in the Complaint Restraint project.
Participants sought to go the entirety of February without so much as a moan, groan, or bellyache.
Two space agencies plan missions to deflect an asteroid.
ESA's Hera mission above asteroid 65803 Didymos. Credit: ESA/ScienceOffice.org
Surprising Science
NASA and the European Space Agency (ESA) are working together on missions to a binary asteroid system.
The DART and Hera missions will attempt to deflect and study the asteroid Didymoon.
A planetary defense system is important in preventing large-scale catastrophes.
Big think's weekly newsletter.
Get smarter faster from the comfort of your inbox.
See our newsletter privacy policy
here
Most Popular
Most Recent
Big think's weekly newsletter.
Get smarter faster from the comfort of your inbox.
See our newsletter privacy policy
here
© Copyright 2007-2018 & BIG THINK, BIG THINK EDGE,
SMARTER FASTER trademarks owned by The Big Think, Inc. All rights reserved.