Frack, Baby, Frack? What You Need to Know About Hydraulic Fracturing
Will the natural gas boom revitalize the U.S. economy and provide us energy for 100 years?
09 July, 2012
There is plenty that we still don't know about hydraulic fracturing, or fracking, a method that has been used to greatly increase natural gas production in the U.S. and around the world. Here's what we do know. Fracking involves pumping a mixture of water, sand and chemicals deep into underground shale formations. The rock layer is then shattered, creating fissures through which methane gas and toxic chemicals are released, potentially contaminating groundwater supplies. 
---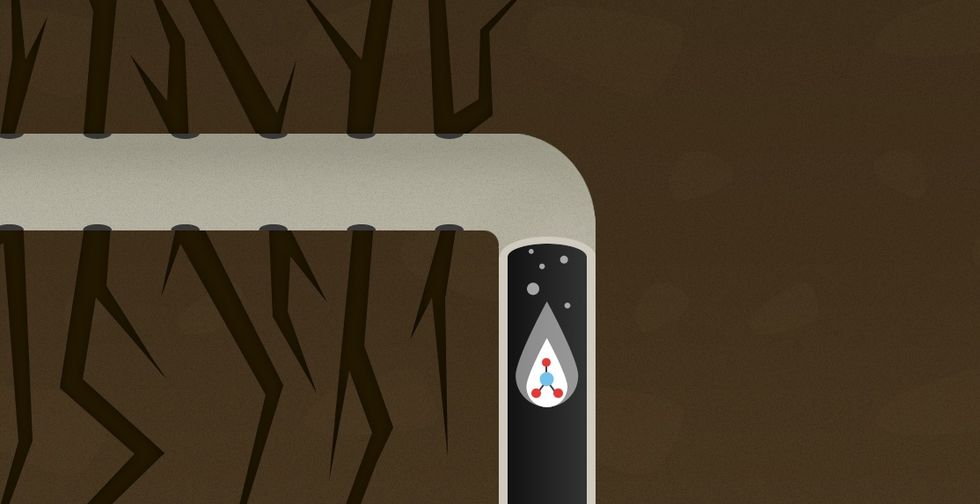 To better understand the process of fracking (and its potential dangers), you can check out this website, which is not only informative, but beautifully designed to scroll through on your iPad. 
To Frack or not to Frack
Depending on who you speak to, fracking is either America's solution for energy independence, or an environmental catastrophe of enormous scale in the making.
Let's start with the proponents. 
The U.S. is entering a golden age of gas in which the country will not only meet its own energy demand, but could also become a major exporter. That's what the gas industry has been saying for some time, and its 100 years of gas meme was taken up by President Obama in his 2012 State of the Union Address:
We have a supply of natural gas that can last America nearly one hundred years, and my Administration will take every possible action to safely develop this energy. Experts believe this will support more than 600,000 jobs by the end of the decade.
This claim has been contested, as some of the country's gas reserves are classified as "proved," others are "probable" while still others are "speculative." And yet, the abundance of natural gas has caused prices to fall by 80 percent in the last four years in the U.S. Compared to coal and other fossil fuels, the burning of natural gas (methane) releases 40 percent less carbon dioxide as well as fewer other harmful chemicals into the atmosphere. 
That all adds up to a pretty good argument for natural gas to play a leading role in the transition to a low-carbon economy. Natural gas is "abundant, cleaner burning and affordable." Sounds like a win-win-win. Frack, baby, frack!
However, not everyone is convinced that natural gas is the climate change solution that its boosters claim it to be. Furthermore, while the gas industry contends that fracking is safe, environmentalists have raised concerns about groundwater contamination, air pollution, the unsafe disposal of drilling wastewater and the degradation of rural landscapes. What makes this debate more complicated is that regulations are wildly different state-by-state. Furthermore, most states lack the resources to conduct rigorous reviews, while the industry has disclosed very little information about the chemicals that are used in fracking.
So the jury is clearly still out. And yet, new studies on fracking have been slowly seeping out, such as one this week published in the Proceedings of the National Academy of Sciences that presented evidence that fracking -- which occurs thousands of feet below the surface -- can still pollute shallow aquifers. 
What's the Big Idea?

As the natural gas boom promises to fundamentally reshape our energy portfolio, we need to have a firm grasp on how this energy source could impact our health, our environment, and our bottom line.
In the video below, Fred Krupp, President of the Environmental Defense Fund and co-author of the 2008 bestseller Earth: The Sequel, walks us through the major concerns about fracking. Krupp was a member of Energy Secretary Chu's task force on natural gas, and he offers advice for policy makers, forward-looking companies, savvy consumers and concerned citizens -- all of whom have a strong stake in this issue.
Watch the video here:
Who is to blame for the U.S.'s dismal college graduation rate? "Radical" educator Dennis Littky has a hunch.
Sponsored by Charles Koch Foundation
COVID-19 has magnified the challenges that underserved communities face with regard to higher education, such as widening social inequality and sky-high tuition.
At College Unbound, where I am president, we get to know students individually to understand what motivates them, so they can build a curriculum based on goals they want to achieve.
My teaching mantra: Everything is permitted during COVID-19. Everything is permitted during COVID-19. Everything is permitted during COVID-19.
Meteorologists propose a stunning new explanation for the mysterious events in the Bermuda Triangle.
Surprising Science
One of life's great mysteries, the Bermuda Triangle might have finally found an explanation. This strange region, that lies in the North Atlantic Ocean between Bermuda, Miami and San Juan, Puerto Rico, has been the presumed cause of dozens and dozens of mind-boggling disappearances of ships and planes.
Did you know that shifting to a positive perspective on aging can add 7.5 years to your life? Or that there is a provable U-curve of happiness that shows people get happier after age 50?
Sweden tops the ranking for the third year in a row.
AXEL SCHMIDT/DDP/AFP via Getty Images
Technology & Innovation
What does COVID-19 mean for the energy transition? While lockdowns have caused a temporary fall in CO2 emissions, the pandemic risks derailing recent progress in addressing the world's energy challenges.
Culture & Religion
Neo's superhuman powers were only inside of The Matrix. The outside world offered a different reality.
Scroll down to load more…