Big ideas.
Once a week.
Subscribe to our weekly newsletter.
The Kalhoni Experiment
Another bead of sweat breaks through Zafar's collar. He twists his neck, irritated. One morning cool enough for a suit is too much to ask from clay-oven Karachi, even for this day.
"Mr. Khan, welcome. Please follow me." The white man's collar is crisp, dry.
08 March, 2012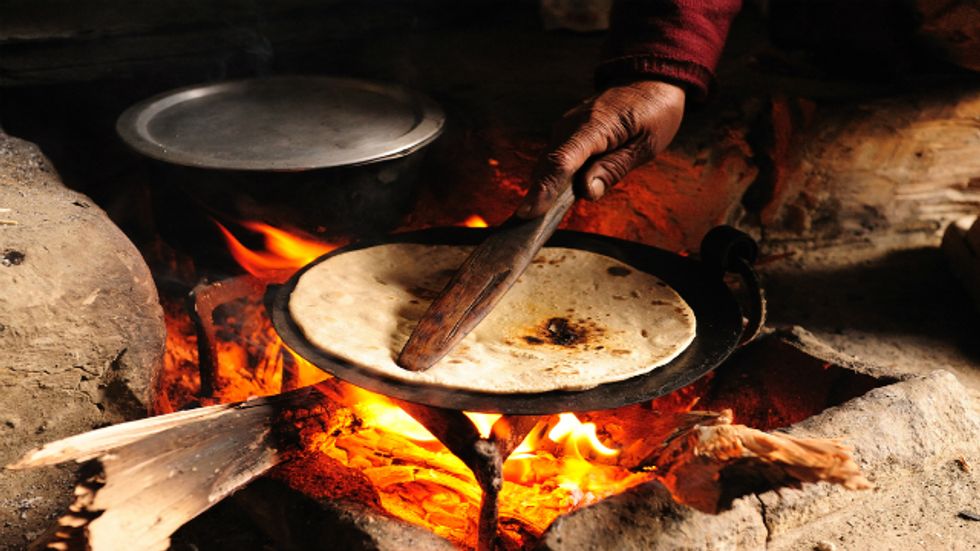 Another bead of sweat breaks through Zafar's collar. He twists his neck, irritated. One morning cool enough for a suit is too much to ask from clay-oven Karachi, even for this day.
---
"Mr. Khan, welcome. Please follow me." The white man's collar is crisp, dry.
Zafar could be floating through the corridors, his gait is so light. He's struggled years for this moment; his friends, already alien to him, would do anything to exchange places. They all want to escape this country going nowhere at meteoric speed. As for Zafar, once he's proven himself at this multinational, he'll be transferred to a distant metropolis already familiar from his dreams: clean sidewalks, majestic women, chill breeze against wool.
"This is your office, Mr. Khan. Welcome again to the Agric-Chem Labs family."
Zafar crosses the room, exhilaration pulsing through his veins, coming to stand at the window. Far below: the daily traffic snarl, children begging at car windows, a peanut seller winding his perilous way between garish trucks and buses. But up here, the peace of telephones and low voices. The hum of air conditioning.
***
"Excellent presentation, Khan."
Zafar glows, shaking hands all around. He's done very well; fewer than six months and
already his boss is hinting at a promotion, first step to that transfer abroad. "Go home, Khan. Celebrate!" The boss, on his way out, slaps his back.
It is late, but Zafar usually works later than anyone else. Tonight, he might try to leave soon, pick up some takeout for his sisters. Dutifully, he takes his notes to the shredder room first. But they won't fit through the feeder; the blades emit a dull groan. Sighing, he switches off the power and pries off the top. He finds the problem: a paperclip left attached to a sheaf of pages. Zafar extricates the paper and starts the machine's power-up sequence. One of the rescued pages is still whole, and he scans it while he waits. He's not concentrating much on the chemical jargon, but recognizes the name of a town: "Post-trial, the residents of Kalhoni are optimistic about their futures."
Zafar blinks and re-reads the line. Futures? Optimism? He remembers Kalhoni, a small town a couple hours away, which he passed through once on a college trip. A place as infected with malaise as the rest of the country: floods collapsing homes, disease rotting crops, young men dying across the border, old women raising their empty palms to the heavens. That was years ago; now, everything is only worse.
More carefully, he reads what he soon realizes is the last page of a longer report, concluded thus:
"We have shown that the Fu-Fd compound was successful when tested in Kalhoni and can be rolled out nationwide as part of 'Operation Hearts and Minds' in two years."
The following morning, Zafar alights at Kalhoni's deserted train station. He flags a tonga and instructs the driver to take him to the bazaar; every town this size has one. Bracing himself against the jolting clip of the horse, he wonders again why he's here. A new formula, probably for fertilizer, hardly sinister. So what is he looking for?
He makes small talk with the tonga driver and learns that life is, indeed, improving in Kalhoni, but intangibly. Fewer people get sick. Children sleep better. Zafar reaches the bazaar with mounting embarrassment; he's always derided his relatives for their baseless conspiracy theories and now, he's pursuing one himself.
As he pays for the ride, one last question, remembered from the report, occurs to Zafar: "And how do you feel about the future?"
The driver relaxes visibly. "After a long time, I can finally see tomorrow. Tomorrow is possible."
Startled, Zafar explores the alleys of the bazaar, identical to so many others. He does notice the fullness of the street children's faces, but their clothes are shabby. They follow him, jeering and begging by turns, from store to store. And when asked about the future, they, like the adults, chant: "Tomorrow is possible."
Finally, shaken and weary, Zafar stops at a chai shop for lunch. But the boy pauses before taking his order. "Why do you ask questions? Who are you?"
Zafar peers warily at the boy, then mutters, half to himself: "Something's not right. What changed here?"
"I can tell you that." The boy is flippant; the knowledge unimportant to him. "The food's different, all over town, since a year, maybe more. I take orders. I know about food. No one gets sick from food any more. It even tastes better." He shrugs. "Good food makes people happy. That's all."
But Zafar knows this isn't the whole truth. The people eating around him are pleased, pensive, fierce, contemptuous--a cacophony of typical emotions. They aren't all happy. But he knows these people are the same, and not typical, in one emotion. Each will say, with conviction: tomorrow is possible.
The boy thrusts a plate at him, and only then, staring at the charred chapati, the letters from last night swim into focus for Zafar. Not a chemical formula, Fu-Fd. An abbreviaton, instead, that explains Kalhoni's subtle transformation. No reporter, no outsider, would notice this shift in attitude. Who, in this bleakest of countries, thinks to ask anyone of the future?
Zafar dredges a piece of chapati through his dal. This chai shop boy will not pick up a gun and head north as soon as he can grow a patchy beard. The men eating here will not mortgage everything they own for a ticket to Dubai. No resident of Kalhoni will sacrifice friends, abandon sisters, for the chance to escape to a snowy white clime.
Zafar raises the morsel to his lips, hand steady. He chews slow and licks his fingers. The boy was right. It tastes better.
Inventions with revolutionary potential made by a mysterious aerospace engineer for the U.S. Navy come to light.
Credit: Getty Images
Surprising Science
U.S. Navy holds patents for enigmatic inventions by aerospace engineer Dr. Salvatore Pais.
Pais came up with technology that can "engineer" reality, devising an ultrafast craft, a fusion reactor, and more.
While mostly theoretical at this point, the inventions could transform energy, space, and military sectors.
The U.S. Navy controls patents for some futuristic and outlandish technologies, some of which, dubbed "the UFO patents," came to light recently. Of particular note are inventions by the somewhat mysterious Dr. Salvatore Cezar Pais, whose tech claims to be able to "engineer reality." His slate of highly-ambitious, borderline sci-fi designs meant for use by the U.S. government range from gravitational wave generators and compact fusion reactors to next-gen hybrid aerospace-underwater crafts with revolutionary propulsion systems, and beyond.
Of course, the existence of patents does not mean these technologies have actually been created, but there is evidence that some demonstrations of operability have been successfully carried out. As investigated and reported by The War Zone, a possible reason why some of the patents may have been taken on by the Navy is that the Chinese military may also be developing similar advanced gadgets.
Among Dr. Pais's patents are designs, approved in 2018, for an aerospace-underwater craft of incredible speed and maneuverability. This cone-shaped vehicle can potentially fly just as well anywhere it may be, whether air, water or space, without leaving any heat signatures. It can achieve this by creating a quantum vacuum around itself with a very dense polarized energy field. This vacuum would allow it to repel any molecule the craft comes in contact with, no matter the medium. Manipulating "quantum field fluctuations in the local vacuum energy state," would help reduce the craft's inertia. The polarized vacuum would dramatically decrease any elemental resistance and lead to "extreme speeds," claims the paper.
Not only that, if the vacuum-creating technology can be engineered, we'd also be able to "engineer the fabric of our reality at the most fundamental level," states the patent. This would lead to major advancements in aerospace propulsion and generating power. Not to mention other reality-changing outcomes that come to mind.
Among Pais's other patents are inventions that stem from similar thinking, outlining pieces of technology necessary to make his creations come to fruition. His paper presented in 2019, titled "Room Temperature Superconducting System for Use on a Hybrid Aerospace Undersea Craft," proposes a system that can achieve superconductivity at room temperatures. This would become "a highly disruptive technology, capable of a total paradigm change in Science and Technology," conveys Pais.
High frequency gravitational wave generator.
Credit: Dr. Salvatore Pais
Another invention devised by Pais is an electromagnetic field generator that could generate "an impenetrable defensive shield to sea and land as well as space-based military and civilian assets." This shield could protect from threats like anti-ship ballistic missiles, cruise missiles that evade radar, coronal mass ejections, military satellites, and even asteroids.
Dr. Pais's ideas center around the phenomenon he dubbed "The Pais Effect". He referred to it in his writings as the "controlled motion of electrically charged matter (from solid to plasma) via accelerated spin and/or accelerated vibration under rapid (yet smooth) acceleration-deceleration-acceleration transients." In less jargon-heavy terms, Pais claims to have figured out how to spin electromagnetic fields in order to contain a fusion reaction – an accomplishment that would lead to a tremendous change in power consumption and an abundance of energy.
According to his bio in a recently published paper on a new Plasma Compression Fusion Device, which could transform energy production, Dr. Pais is a mechanical and aerospace engineer working at the Naval Air Warfare Center Aircraft Division (NAWCAD), which is headquartered in Patuxent River, Maryland. Holding a Ph.D. from Case Western Reserve University in Cleveland, Ohio, Pais was a NASA Research Fellow and worked with Northrop Grumman Aerospace Systems. His current Department of Defense work involves his "advanced knowledge of theory, analysis, and modern experimental and computational methods in aerodynamics, along with an understanding of air-vehicle and missile design, especially in the domain of hypersonic power plant and vehicle design." He also has expert knowledge of electrooptics, emerging quantum technologies (laser power generation in particular), high-energy electromagnetic field generation, and the "breakthrough field of room temperature superconductivity, as related to advanced field propulsion."
Suffice it to say, with such a list of research credentials that would make Nikola Tesla proud, Dr. Pais seems well-positioned to carry out groundbreaking work.
A craft using an inertial mass reduction device.
Credit: Salvatore Pais
The patents won't necessarily lead to these technologies ever seeing the light of day. The research has its share of detractors and nonbelievers among other scientists, who think the amount of energy required for the fields described by Pais and his ideas on electromagnetic propulsions are well beyond the scope of current tech and are nearly impossible. Yet investigators at The War Zone found comments from Navy officials that indicate the inventions are being looked at seriously enough, and some tests are taking place.
If you'd like to read through Pais's patents yourself, check them out here.
Laser Augmented Turbojet Propulsion System
Credit: Dr. Salvatore Pais
The symbol for love is the heart, but the brain may be more accurate.
Videos
How love makes us feel can only be defined on an individual basis, but what it does to the body, specifically the brain, is now less abstract thanks to science.
One of the problems with early-stage attraction, according to anthropologist Helen Fisher, is that it activates parts of the brain that are linked to drive, craving, obsession, and motivation, while other regions that deal with decision-making shut down.
Dr. Fisher, professor Ted Fischer, and psychiatrist Gail Saltz explain the different types of love, explore the neuroscience of love and attraction, and share tips for sustaining relationships that are healthy and mutually beneficial.
A new study suggests that reports of the impending infertility of the human male are greatly exaggerated.
Sex & Relationships
A new review of a famous study on declining sperm counts finds several flaws.
The old report makes unfounded assumptions, has faulty data, and tends toward panic.
The new report does not rule out that sperm counts are going down, only that this could be quite normal.
Several years ago, a meta-analysis of studies on human fertility came out warning us about the declining sperm counts of Western men. It was widely shared, and its findings were featured on the covers of popular magazines. Indeed, its findings were alarming: a nearly 60 percent decline in sperm per milliliter since 1973 with no end in sight. It was only a matter of time, the authors argued, until men were firing blanks, literally.
Well… never mind.
It turns out that the impending demise of humanity was greatly exaggerated. As the predicted infertility wave crashed upon us, there was neither a great rush of men to fertility clinics nor a sudden dearth of new babies. The only discussions about population decline focus on urbanization and the fact that people choose not to have kids rather than not being able to have them.
Now, a new analysis of the 2017 study says that lower sperm counts is nothing to be surprised by. Published in Human Fertility, its authors point to flaws in the original paper's data and interpretation. They suggest a better and smarter reanalysis.
Counting tiny things is difficult
The original 2017 report analyzed 185 studies on 43,000 men and their reproductive health. Its findings were clear: "a significant decline in sperm counts… between 1973 and 2011, driven by a 50-60 percent decline among men unselected by fertility from North America, Europe, Australia and New Zealand."
However, the new analysis points out flaws in the data. As many as a third of the men in the studies were of unknown age, an important factor in reproductive health. In 45 percent of cases, the year of the sample collection was unknown- a big detail to miss in a study measuring change over time. The quality controls and conditions for sample collection and analysis vary widely from study to study, which likely influenced the measured sperm counts in the samples.
Another study from 2013 also points out that the methods for determining sperm count were only standardized in the 1980s, which occurred after some of the data points were collected for the original study. It is entirely possible that the early studies gave inaccurately high sperm counts.
This is not to say that the 2017 paper is entirely useless; it had a much more rigorous methodology than previous studies on the subject, which also claimed to identify a decline in sperm counts. However, the original study had more problems.
Garbage in, garbage out
Predictable as always, the media went crazy. Discussions of the decline of masculinity took off, both in mainstream and less-than-reputable forums; concerns about the imagined feminizing traits of soy products continued to increase; and the authors of the original study were called upon to discuss the findings themselves in a number of articles.
However, as this new review points out, some of the findings of that meta-analysis are debatable at best. For example, the 2017 report suggests that "declining mean [sperm count] implies that an increasing proportion of men have sperm counts below any given threshold for sub-fertility or infertility," despite little empirical evidence that this is the case.
The WHO offers a large range for what it considers to be a healthy sperm count, from 15 to 250 million sperm per milliliter. The benefits to fertility above a count of 40 million are seen as minimal, and the original study found a mean sperm concentration of 47 million sperm per milliliter.
Healthy sperm, healthy man?
The claim that sperm count is evidence of larger health problems is also scrutinized in this new article. While it is true that many major health problems can impact reproductive health, there is little evidence that it is the "canary in the coal mine" for overall well-being. A number of studies suggest that any relation between lifestyle choices and this part of reproductive health is limited at best.
Lastly, ideas that environmental factors could be at play have been debunked since 2017. While the original paper considered the idea that pollutants, especially from plastics, could be at fault, it is now known that this kind of pollution is worse in the parts of the world that the original paper observed higher sperm counts in (i.e., non-Western nations).
There never was a male fertility crisis
The authors of the new review do not deny that some measurements are showing lower sperm counts, but they do question the claim that this is catastrophic or part of a larger pathological issue. They propose a new interpretation of the data. Dubbed the "Sperm Count Biovariability hypothesis," it is summarized as:
"Sperm count varies within a wide range, much of which can be considered non-pathological and species-typical. Above a critical threshold, more is not necessarily an indicator of better health or higher probability of fertility relative to less. Sperm count varies across bodies, ecologies, and time periods. Knowledge about the relationship between individual and population sperm count and life-historical and ecological factors is critical to interpreting trends in average sperm counts and their relationships to human health and fertility."
Still, the authors note that lower sperm counts "could decline due to negative environmental exposures, or that this may carry implications for men's health and fertility."
However, they disagree that the decline in absolute sperm count is necessarily a bad sign for men's health and fertility. We aren't at civilization ending catastrophe just yet.
Scroll down to load more…