Big ideas.
Once a week.
Subscribe to our weekly newsletter.
Braingasm: How Porn "Shuts Down" Women's Brains
What really goes on in a brain-on-porn? A recent study conducted at the University of Groningen Medical Center came to a surprising conclusion.
11 May, 2012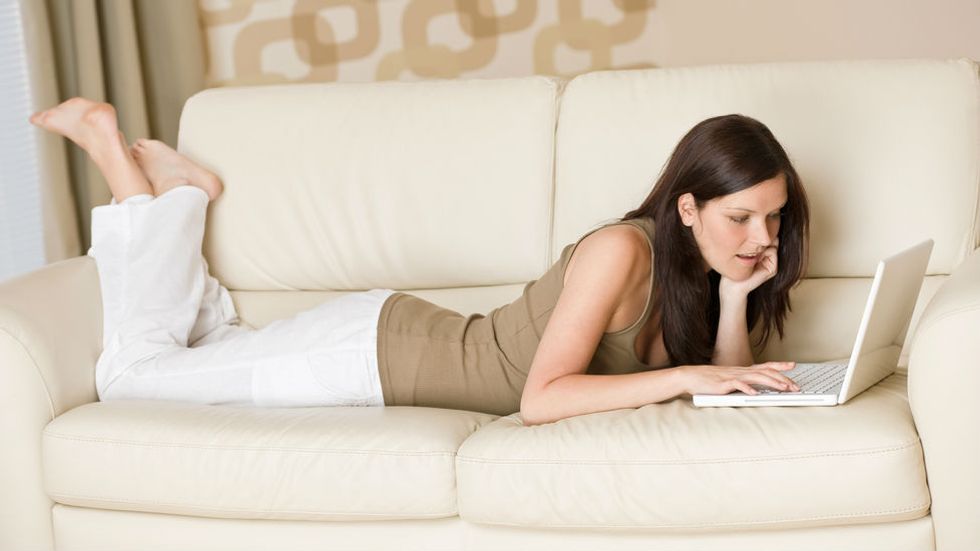 What's the Big Idea?
---
"Sex is more exciting on the screen and between the pages than between the sheets," said Andy Warhol. It seems America agrees: adult entertainment is an estimated $10 billion dollar industry in the U.S., though the ethics of capturing and manufacturing sexual desire on screen have been debated for decades. Criticisms abound, ranging in tone and degree of plausibility from you'll go blind! to larger questions of whether watching porn is linked to violent behavior, sexism, or a lack of self-actualization. ("He's just not that into anyone," quipped a New York Magazine article on the supposedly low libido of the Internet generation).
But what really goes on in a brain-on-porn? In a recent study conducted at the University of Groningen Medical Center performed PET scans on the brains of 12 pre-menopausal women, measuring differences in regional cerebral blood flow (rCBF) in the primary visual cortex as the women watched three videos. One video was a documentary on Caribbean marine life, and the other two were "women-friendly" porn films depicting foreplay, manual stimulation, oral sex, and vaginal intercourse.
The researchers found that viewing pornography lead to a decrease in the amount of blood sent to the visual cortex, the part of the brain that processes visual stimuli. This is, of course, the exact opposite of what happens when we watch television or read a blog. Unlike with the blog or the TV show, the brain doesn't take in all of the visual details of a sex scene, and the more explicit the video, the less blood is sent to the visual cortex. (Looks like there's something to the "you'll go blind" threat, afterall.)
The researchers surmised that the blood was diverted to regions of the brain involved in sexual arousal. "You have to realize that the brain wants to spare as much energy as possible, so if some part of the brain is not necessary at a high level of functioning, it immediately goes down," uroneurologist Gert Holstege told LiveScience. 
The conclusions of the study deepen Holstege's claim that humans can either be turned on or afraid, but not both. "If you want to have sex, as a man, you need to produce a safe situation for the woman," he says. If anxiety kills your sex drive, does it follow that orgasms can relieve anxiety? A few studies have hinted that they do, though again, primarily in women. 
What's the Significance?
Just as interesting as the researchers's conclusions are their methods. Why look at the brains of women in particular? Until recently, this was unheard of. As Beverly Whipple -- the scientist known for "discovering" the G-Spot -- told Big Think in 2009, women were not even included in such research until after 1993. 
"Most of the research that was conducted in terms of human sexual responses was conducted in men and findings were extrapolated to women," says Whipple. "We found out that that doesn't work because women are different from men." Whipple and her colleague, psychologist Barry Komisaruk, believe that men and women feel orgasms the same way, but there are some distinctions when it comes to the variety of sexual responses (women have more). For instance, many women have the unique ability to "think off," or climax just by imagining sensory stimulation.
Watch our video interview with Rutgers psychologist Barry Komisaruk on thinking your way to orgasm:
Whipple and Komisaruk have developed a technique to explore this new frontier of brain research: they ask women in an fMRI scanner to look at their own brain activity in real time, with the aim of increasing activity in specific regions of the brain just by thinking about it. The question is, what is the difference between moving a finger and thinking about moving a finger? What is the difference between feeling and movement?
Both the University of Groningen study and the work of Whipple and Komisaruk at Rutgers suggest that the social constraints which once prevented us from seeking insight into women's sexuality are slowly fading, giving way to a new era in which the female brain is regarded as just as profound and interesting to researchers as the male brain has been since the 1950's -- and sex is exciting everywhere: on the screen, between the pages, between the sheets, and in the lab.
Image courtesy of Shutterstock.
A Harvard professor's study discovers the worst year to be alive.
Credit: Pieter Bruegel the Elder. (Museo del Prado).
Politics & Current Affairs
Harvard professor Michael McCormick argues the worst year to be alive was 536 AD.
The year was terrible due to cataclysmic eruptions that blocked out the sun and the spread of the plague.
536 ushered in the coldest decade in thousands of years and started a century of economic devastation.
The past year has been nothing but the worst in the lives of many people around the globe. A rampaging pandemic, dangerous political instability, weather catastrophes, and a profound change in lifestyle that most have never experienced or imagined.
But was it the worst year ever?
Nope. Not even close. In the eyes of the historian and archaeologist Michael McCormick, the absolute "worst year to be alive" was 536.
Why was 536 so bad? You could certainly argue that 1918, the last year of World War I when the Spanish Flu killed up to 100 million people around the world, was a terrible year by all accounts. 1349 could also be considered on this morbid list as the year when the Black Death wiped out half of Europe, with up to 20 million dead from the plague. Most of the years of World War II could probably lay claim to the "worst year" title as well. But 536 was in a category of its own, argues the historian.
It all began with an eruption...
According to McCormick, Professor of Medieval History at Harvard University, 536 was the precursor year to one of the worst periods of human history. It featured a volcanic eruption early in the year that took place in Iceland, as established by a study of a Swiss glacier carried out by McCormick and the glaciologist Paul Mayewski from the Climate Change Institute of The University of Maine (UM) in Orono.
The ash spewed out by the volcano likely led to a fog that brought an 18-month-long stretch of daytime darkness across Europe, the Middle East, and portions of Asia. As wrote the Byzantine historian Procopius, "For the sun gave forth its light without brightness, like the moon, during the whole year." He also recounted that it looked like the sun was always in eclipse.
Cassiodorus, a Roman politician of that time, wrote that the sun had a "bluish" color, the moon had no luster, and "seasons seem to be all jumbled up together." What's even creepier, he described, "We marvel to see no shadows of our bodies at noon."
...that led to famine...
The dark days also brought a period of coldness, with summer temperatures falling by 1.5° C. to 2.5° C. This started the coldest decade in the past 2300 years, reports Science, leading to the devastation of crops and worldwide hunger.
...and the fall of an empire
In 541, the bubonic plague added considerably to the world's misery. Spreading from the Roman port of Pelusium in Egypt, the so-called Plague of Justinian caused the deaths of up to one half of the population of the eastern Roman Empire. This, in turn, sped up its eventual collapse, writes McCormick.
Between the environmental cataclysms, with massive volcanic eruptions also in 540 and 547, and the devastation brought on by the plague, Europe was in for an economic downturn for nearly all of the next century, until 640 when silver mining gave it a boost.
Was that the worst time in history?
Of course, the absolute worst time in history depends on who you were and where you lived.
Native Americans can easily point to 1520, when smallpox, brought over by the Spanish, killed millions of indigenous people. By 1600, up to 90 percent of the population of the Americas (about 55 million people) was wiped out by various European pathogens.
Like all things, the grisly title of "worst year ever" comes down to historical perspective.
Maybe eyes really are windows into the soul — or at least into the brain, as a new study finds.
Credit: Adobe stock / Chris Tefme
Surprising Science
Researchers find a correlation between pupil size and differences in cognitive ability.
The larger the pupil, the higher the intelligence.
The explanation for why this happens lies within the brain, but more research is needed.
What can you tell by looking into someone's eyes? You can spot a glint of humor, signs of tiredness, or maybe that they don't like something or someone.
But outside of assessing an emotional state, a person's eyes may also provide clues about their intelligence, suggests new research. A study carried out at the Georgia Institute of Technology shows that pupil size is "closely related" to differences in intelligence between individuals.
The scientists found that larger pupils may be connected to higher intelligence, as demonstrated by tests that gauged reasoning skills, memory, and attention. In fact, the researchers claim that the relationship of intelligence to pupil size is so pronounced, that it came across their previous two studies as well and can be spotted just with your naked eyes, without any additional scientific instruments. You should be able to tell who scored the highest or the lowest on the cognitive tests just by looking at them, say the researchers.
The pupil-IQ link
The connection was first noticed across memory tasks, looking at pupil dilations as signs of mental effort. The studies involved more than 500 people aged 18 to 35 from the Atlanta area. The subjects' pupil sizes were measured by eye trackers, which use a camera and a computer to capture light reflecting off the pupil and cornea. As the scientists explained in Scientific American, pupil diameters range from two to eight millimeters. To determine average pupil size, they took measurements of the pupils at rest when the participants were staring at a blank screen for a few minutes.
Another part of the experiment involved having the subjects take a series of cognitive tests that evaluated "fluid intelligence" (the ability to reason when confronted with new problems), "working memory capacity" (how well people could remember information over time), and "attention control" (the ability to keep focusing attention even while being distracted). An example of the latter involves a test that attempts to divert a person's focus on a disappearing letter by showing a flickering asterisk on another part of the screen. If a person pays too much attention to the asterisk, they might miss the letter.
The conclusions of the research were that having a larger baseline pupil size was related to greater fluid intelligence, having more attention control, and even greater working memory capacity, although to a smaller extent. In an email exchange with Big Think, author Jason Tsukahara pointed out, "It is important to consider that what we find is a correlation — which should not be confused with causation."
The researchers also found that pupil size seemed to decrease with age. Older people had more constricted pupils but when the scientists standardized for age, the pupil-size-to-intelligence connection still remained.
Why are pupils linked to intelligence?
The connection between pupil size and IQ likely resides within the brain. Pupil size has been previously connected to the locus coeruleus, a part of the brain that's responsible for synthesizing the hormone and neurotransmitter norepinephrine (noradrenaline), which mobilizes the brain and body for action. Activity in the locus coeruleus affects our perception, attention, memory, and learning processes.
As the authors explain, this region of the brain "also helps maintain a healthy organization of brain activity so that distant brain regions can work together to accomplish challenging tasks and goals." Because it is so important, loss of function in the locus coeruleus has been linked to conditions like Alzheimer's disease, Parkinson's, clinical depression, and attention deficit hyperactivity disorder (ADHD).
The researchers hypothesize that people who have larger pupils while in a restful state, like staring at a blank computer screen, have "greater regulation of activity by the locus coeruleus." This leads to better cognitive performance. More research is necessary, however, to truly understand why having larger pupils is related to higher intelligence.
In an email to Big Think, Tsukahara shared, "If I had to speculate, I would say that it is people with greater fluid intelligence that develop larger pupils, but again at this point we only have correlational data."
Do other scientists believe this?
As the scientists point out in the beginning of their paper, their conclusions are controversial and, so far, other researchers haven't been able to duplicate their results. The research team addresses this criticism by explaining that other studies had methodological issues and examined only memory capacity but not fluid intelligence, which is what they measured.
In each of our minds, we draw a demarcation line between beliefs that are reasonable and those that are nonsense. Where do you draw your line?
Politics & Current Affairs
Conspiracy theories exist on a spectrum, from plausible and mainstream to fringe and unpopular.
It's very rare to find someone who only believes in one conspiracy theory. They generally believe in every conspiracy theory that's less extreme than their favorite one.
To some extent, we are all conspiracy theorists.
The following is an excerpt from the book Escaping the Rabbit Hole by Mick West. It is reprinted with permission from the author.
If you want to understand how people fall for conspiracy theories, and if you want to help them, then you have to understand the conspiracy universe. More specifically, you need to know where their favorite theories are on the broader spectrum of conspiracies.
What type of person falls for conspiracy theories? What type of person would think that the World Trade Center was a controlled demolition, or that planes are secretly spraying chemicals to modify the climate, or that nobody died at Sandy Hook, or that the Earth is flat? Are these people crazy? Are they just incredibly gullible? Are they young and impressionable? No, in fact the range of people who believe in conspiracy theories is simply a random slice of the general population.
There's a conspiracy theory for everyone, and hence very few people are immune.
Many dismiss conspiracy theorists as a bunch of crazy people, or a bunch of stupid people, or a bunch of crazy stupid people. Yet in many ways the belief in a conspiracy theory is as American as apple pie, and like apple pie it comes in all kinds of varieties, and all kinds of normal people like to consume it.
My neighbor down the road is a conspiracy theorist. Yet he's also an engineer, retired after a successful career. I've had dinner at his house, and yet he's a believer in chemtrails, and I'm a chemtrail debunker. It's odd; he even told me after a few glasses of wine that he thinks I'm being paid to debunk chemtrails. He thought this because he googled my name and found some pages that said I was a paid shill. Since he's a conspiracy theorist he tends to trust conspiracy sources more than mainstream sources, so he went with that.
I've met all kinds of conspiracy theorists. At a chemtrails convention I attended there was pretty much the full spectrum. There were sensible and intelligent older people who had discovered their conspiracy anything from a few months ago to several decades ago. There were highly eccentric people of all ages, including one old gentleman with a pyramid attached to his bike. There were people who channeled aliens, and there were people who were angry that the alien-channeling people were allowed in. There were young people itching for a revolution. There were well-read intellectuals who thought there was a subtle system of persuasion going on in the evening news, and there were people who genuinely thought they were living in a computer simulation.
There's such a wide spectrum of people who believe in conspiracy theories because the spectrum of conspiracy theories itself is very wide. There's a conspiracy theory for everyone, and hence very few people are immune.
The Mainstream and the Fringe
One unfortunate problem with the term "conspiracy theory" is that it paints with a broad brush. It's tempting to simply divide people up into "conspiracy theorists" and "regular people" — to have tinfoil-hat-wearing paranoids on one side and sensible folk on the other. But the reality is that we are all conspiracy theorists, one way or another. We all know that conspiracies exist; we all suspect people in power of being involved in many kinds of conspiracies, even if it's only something as banal as accepting campaign contributions to vote a certain way on certain types of legislation.
It's also tempting to simply label conspiracy theories as either "mainstream" or "fringe." Journalist Paul Musgrave referenced this dichotomy when he wrote in the Washington Post:
Less than two months into the administration, the danger is no longer that Trump will make conspiracy thinking mainstream. That has already come to pass.
Musgrave obviously does not mean that shape-shifting lizard overlords have become mainstream. Nor does he mean that flat Earth, chemtrails, or even 9/11 truth are mainstream. What he's really talking about is a fairly small shift in a dividing line on the conspiracy spectrum. Most fringe conspiracy theories remain fringe, most mainstream theories remain mainstream. But, Musgrave argues, there's been a shift that's allowed the bottom part of the fringe to enter into the mainstream. Obama being a Kenyan was thought by many to be a silly conspiracy theory, something on the fringe. But if the president of the United States (Trump) keeps bringing it up, then it moves more towards the mainstream.
Both conspiracy theories and conspiracy theorists exist on a spectrum. If we are to communicate effectively with a conspiracy-minded friend we need to get some perspective on the full range of that spectrum, and where our friend's personal blend of theories fit into it.
It's very rare to find someone who only believes in one conspiracy theory. They generally believe in every conspiracy theory that's less extreme than their favorite one.
There are several ways we can classify a conspiracy theory: how scientific is it? How many people believe in it? How plausible is? But one I'm going use is a somewhat subjective measure of how extreme the theory is. I'm going to rank them from 1 to 10, with 1 being entirely mainstream to 10 being the most obscure extreme fringe theory you can fathom.
This extremeness spectrum is not simply a spectrum of reasonableness or scientific plausibility. Being extreme is being on the fringe, and fringe simply denotes the fact that it's an unusual interpretation and is restricted to a small number of people. A belief in religious supernatural occurrences (like miracles) is a scientifically implausible belief, and yet it is not considered particularly fringe.
Let's start with a simple list of actual conspiracy theories. These are ranked by extremeness in their most typical manifestation, but in reality, the following represent topics that can span several points on the scale, or even the entire scale.
Big Pharma: The theory that pharmaceutical companies conspire to maximize profit by selling drugs that people do not actually need
Global Warming Hoax: The theory that climate change is not caused by man-made carbon emissions, and that there's some other motive for claiming this
JFK: The theory that people in addition to Lee Harvey Oswald were involved in the assassination of John F. Kennedy
9/11 Inside Job: The theory that the events of 9/11 were arranged by elements within the US government
Chemtrails: The theory that the trails left behind aircraft are part of a secret spraying program
False Flag Shootings: The theory that shootings like Sandy Hook and Las Vegas either never happened or were arranged by people in power
Moon Landing Hoax: The theory that the Moon landings were faked in a movie studio
UFO Cover-Up: The theory that the US government has contact with aliens or crashed alien crafts and is keeping it secret
Flat Earth: The theory that the Earth is flat, but governments, business, and scientists all pretend it is a globe
Reptile Overlords: The theory that the ruling classes are a race of shape-shifting trans-dimensional reptiles
If your friend subscribes to one of these theories you should not assume they believe in the most extreme version. They could be anywhere within a range. The categories are both rough and complex, and while some are quite narrow and specific, others encapsulate a wide range of variants of the theory that might go nearly all the way from a 1 to a 10. The position on the fringe conspiracy spectrum instead gives us a rough reference point for the center of the extent of the conspiracy belief.
Credit: "Escaping the Rabbit Hole" by Mick West
Figure 3 is an illustration (again, somewhat subjective) of the extents of extremeness of the conspiracy theories listed. For some of them the ranges are quite small. Flat Earth and Reptile Overlords are examples of theories that exist only at the far end of the spectrum. It's simply impossible to have a sensible version of the Flat Earth theory due to the fact that the Earth is actually round.

Similarly, there exist theories at the lower end of the spectrum that are fairly narrow in scope. A plot by pharmaceutical companies to maximize profits is hard (but not impossible) to make into a more extreme version.
Other theories are broader in scope. The 9/11 Inside Job theory is the classic example where the various theories go all the way from "they lowered their guard to allow some attack to happen," to "the planes were holograms; the towers were demolished with nuclear bombs." The chemtrail theory also has a wide range, from "additives to the fuel are making contrails last longer" to "nano-machines are being sprayed to decimate the population."
There's also overlapping relationships between the theories. chemtrails might be spraying poison to help big pharma sell more drugs. JFK might have been killed because he was going to reveal that UFOs were real. Fake shootings might have been arranged to distract people from any of the other theories. The conspiracy theory spectrum is continuous and multi-dimensional.
Don't immediately pigeonhole your friend if they express some skepticism about some aspect of the broader theories. For example, having some doubts about a few pieces from a Moon-landing video does not necessarily mean that they think we never went to the Moon, it could just mean that they think a few bits of the footage were mocked up for propaganda purposes. Likewise, if they say we should question the events of 9/11, it does not necessarily mean that they think the Twin Towers were destroyed with explosives, it could just mean they think elements within the CIA helped the hijackers somehow.
Understanding where your friend is on the conspiracy spectrum is not about which topics he is interested in, it's about where he draws the line.
The Demarcation Line
While conspiracy theorists might individually focus on one particular theory, like 9/11 or chemtrails, it's very rare to find someone who only believes in one conspiracy theory. They generally believe in every conspiracy theory that's less extreme than their favorite one.
In practical terms this means that if someone believes in the chemtrail theory they will also believe that 9/11 was an inside job involving controlled demolition, that Lee Harvey Oswald was just one of several gunmen, and that global warming is a big scam.
The general conspiracy spectrum is complex, with individual theory categories spread out in multiple ways. But for your friend, an individual, they have an internal version of this scale, one that is much less complex. For the individual the conspiracy spectrum breaks down into two sets of beliefs — the reasonable and the ridiculous. Conspiracists, especially those who have been doing it for a while, make increasingly precise distinctions about where they draw the line.
The drawing of such dividing lines is called "demarcation." In philosophy there's a classical problem called the "demarcation problem," which is basically where you draw the line between science and non-science. Conspiracists have a demarcation line on their own personal version of the conspiracy spectrum. On one side of the line there's science and reasonable theories they feel are probably correct. On the other side of the line there's non-science, gibberish, propaganda, lies, and disinformation.
Credit: "Escaping the Rabbit Hole" by Mick West
I have a line of demarcation (probably around 1.5), you have one, your friend has a line. We all draw the line in different places.

Scroll down to load more…