Big ideas.
Once a week.
Subscribe to our weekly newsletter.
How to make love like a caveman
What was prehistoric human sex like? Most of us conjure "the hackneyed image of the caveman, dragging a dazed woman by her hair with one hand, a club in the other." Psychologist Christopher Ryan says this image is mistaken in every detail.
02 September, 2011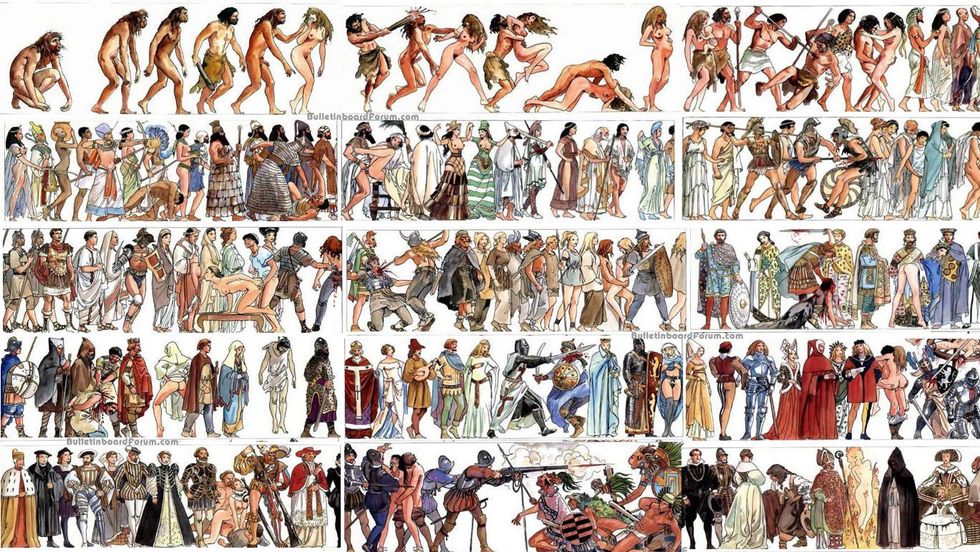 What's the Big Idea?
---
If asked to imagine what prehistoric human sex was like, according to psychologist Christopher Ryan, most of us would conjure "the hackneyed image of the caveman, dragging a dazed woman by her hair with one hand, a club in the other..." Ryan says this image is mistaken in every detail. A much more likely picture of how it went down in prehistoric times was this: a caveman would quietly sit in the corner and watch another caveman have sex with a woman, patiently waiting his turn.
Apparently, prehistoric women were extraordinarily promiscuous, and like our primate ancestors, women are hard-wired to behave like chimps in the bedroom. In his book, Sex at Dawn: The Prehistoric Origin of Modern Sexuality, Ryan offers a biological explanation for why we find monogamy so difficult today. A male is interested in sex with one woman up until the point of orgasm, at which point he will immediately lose interest, fall asleep, or perhaps wonder off to find more action.
In other words, human males are in important ways sexually incompatible with human females, who are capable of multiple orgasms. So what is the evolutionary advantage of this? Take monogamy out of the equation, and the evolutionary logic becomes more evident. A woman can have multiple sexual partners. This may increase her chances of reproducing, and she needs to try it a lot to be successful. Compared to other animals, humans have an incredibly low rate of conception, based on the number of sexual acts we partake in. And so it is well that sex is so much fun for humans, because if that were not the case, we wouldn't have made it this far.
So just what does it mean to make love like a caveman? It means have a lot of sex, partaking in, as Ryan describes it, the "seven million years of primate promiscuity" that our ancestors so heartily embraced as a species. That's a lot of sex.
Watch Christopher Ryan explain the evolution of human sexuality here:
What's the Significance?
According to Ryan, if we took an honest look at our dysfunctional sexual lives today, this is what we would find: we are all victims of a well-intentioned inquisition. American society has responded to this crisis by inventing a 'marital-industrial complex' of couples therapy, "pharmaceutical hard-ons," sex advice columnists, and "creepy father-daughter purity cults." Viagra breaks sales records every year. Pornography worldwide is a $100 billion business. Ryan says we spend all of this money to compensate for a fundamental disconnect we have with our nature.

For instance, why is monogamy so difficult? According to Ryan, we are biologically programmed against it. It was not until the advent of agriculture that man developed a notion of private property, and had reason to feel jealous of a promiscuous mate. Culture invented monogamy, and with it marriage, cheating, and a sense of shame that surrounds our sexual selves. Ryan is anything but a home-wrecker. His book offers no prescriptions for curing our disconnect with nature. What he does recommend, however, is that we lose this sense of shame we have when we feel or act certain ways that contradict our culture, but which are in perfect harmony with our sexual nature.
Follow Daniel Honan on Twitter @DanielHonan
New anthropological research suggests our ancestors enjoyed long slumbers.
Credit: Gorodenkoff / Adobe Stock
Surprising Science
Neanderthal bone fragments discovered in northern Spain mimic hibernating animals like cave bears.
Thousands of bone fragments, dating back 400,000 years, were discovered in this "pit of bones" 30 years ago.
The researchers speculate that this physiological function, if true, could prepare us for extended space travel.
Humans have a terrible sense of time. We think in moments, not eons, which accounts for a number of people that still don't believe in evolutionary theory: we simply can't imagine ourselves any differently than we are today.
Thankfully, scientists and researchers have vast imaginations. Their findings often depend on creative problem-solving. Anthropologists are especially adept at this skill, as their job entails imagining a prehistoric world in which humans and our forebears were very different creatures.
A new paper, published in the journal L'Anthropologie, takes a hard look at ancient bone health and arrives at a surprising conclusion: Neanderthals (and possibly early humans) might have endured long, harsh winters by hibernating.
Adaptability is the key to survival. Certain endotherms evolved the ability to depress their metabolism for months at a time; their body temperature and metabolic rate lowered while their breathing and heart rate dropped to nearly imperceptible levels. This handy technique solved a serious resource management problem, as food supplies were notoriously scarce during the frozen months.
While today the wellness industry eschews fat, it has long had an essential evolutionary function: it keeps us alive during times of food scarcity. As autumn months pass, large mammals become hyperphagic (experiencing intense hunger followed by overeating) and store nutrients in fat deposits; smaller animals bury food nearby for when they need a snack. This strategy is critical as hibernating animals can lose over a quarter of their body weight during winter.
For this paper, Antonis Bartsiokas and Juan-Luis Arsuaga, both in the Department of History and Ethnology at Democritus University of Thrace, scoured through remains of a "pit of bones" in northern Spain. In 1976, archaeologists found a 50-foot shaft leading down into a cave in Atapuerca, where thousands of bone fragments have since been discovered. Dating back 400,000 years—some of the fragments may be as old as 600,000 years—researchers believe the bodies were intentionally buried in this cave.
Evidence of ancient human hibernation / human hibernation for space travel | Dr Antonis Bartsiokas
While the fragments have been well studied in the intervening decades, Arsuaga (who led an early excavation in Atapuerca) and Bartsiokas noticed something odd about the bones: they displayed signs of seasonal variations. These proto-humans appear to have experienced annual bone growth disruption, which is indicative of hibernating species.
In fact, the remains of cave bears were also found in this pit, increasing the likelihood that the burial site was reserved for species that shared common features. This could be the result of a dearth of food for bears and Neanderthals alike. The researchers write that modern northerners don't need to sleep for months at a time; an abundance of fish and reindeer didn't exist in Spain, as they do in the Arctic. They write,
"The aridification of Iberia then could not have provided enough fat-rich food for the people of Sima during the harsh winter—making them resort to cave hibernation."
The notion of hibernating humans is appealing, especially to those in cold climates, but some experts don't want to put the cart before the horse. Large mammals don't engage in textbook hibernation; their deep sleep is known as a "torpor." Even then, the demands of human-sized brains could have been too large for extended periods of slumber.
Still, as we continually discover our animalistic origins to better understand how we evolved, the researchers note the potential value of this research.
"The present work provides an innovative approach to the physiological mechanisms of metabolism in early humans that could help determine the life cycle and physiology of extinct human species."
Bartsiokas speculates that this ancient mechanism could be coopted for space travel in the future. If the notion of hibernating humans sounds far-fetched, the idea has been contemplated for years, as NASA began funding research on this topic in 2014. As the saying goes, everything old is new again.
--
Stay in touch with Derek on Twitter and Facebook. His new book is "Hero's Dose: The Case For Psychedelics in Ritual and Therapy."
A Harvard professor's study discovers the worst year to be alive.
Credit: Pieter Bruegel the Elder. (Museo del Prado).
Politics & Current Affairs
Harvard professor Michael McCormick argues the worst year to be alive was 536 AD.
The year was terrible due to cataclysmic eruptions that blocked out the sun and the spread of the plague.
536 ushered in the coldest decade in thousands of years and started a century of economic devastation.
The past year has been nothing but the worst in the lives of many people around the globe. A rampaging pandemic, dangerous political instability, weather catastrophes, and a profound change in lifestyle that most have never experienced or imagined.
But was it the worst year ever?
Nope. Not even close. In the eyes of the historian and archaeologist Michael McCormick, the absolute "worst year to be alive" was 536.
Why was 536 so bad? You could certainly argue that 1918, the last year of World War I when the Spanish Flu killed up to 100 million people around the world, was a terrible year by all accounts. 1349 could also be considered on this morbid list as the year when the Black Death wiped out half of Europe, with up to 20 million dead from the plague. Most of the years of World War II could probably lay claim to the "worst year" title as well. But 536 was in a category of its own, argues the historian.
It all began with an eruption...
According to McCormick, Professor of Medieval History at Harvard University, 536 was the precursor year to one of the worst periods of human history. It featured a volcanic eruption early in the year that took place in Iceland, as established by a study of a Swiss glacier carried out by McCormick and the glaciologist Paul Mayewski from the Climate Change Institute of The University of Maine (UM) in Orono.
The ash spewed out by the volcano likely led to a fog that brought an 18-month-long stretch of daytime darkness across Europe, the Middle East, and portions of Asia. As wrote the Byzantine historian Procopius, "For the sun gave forth its light without brightness, like the moon, during the whole year." He also recounted that it looked like the sun was always in eclipse.
Cassiodorus, a Roman politician of that time, wrote that the sun had a "bluish" color, the moon had no luster, and "seasons seem to be all jumbled up together." What's even creepier, he described, "We marvel to see no shadows of our bodies at noon."
...that led to famine...
The dark days also brought a period of coldness, with summer temperatures falling by 1.5° C. to 2.5° C. This started the coldest decade in the past 2300 years, reports Science, leading to the devastation of crops and worldwide hunger.
...and the fall of an empire
In 541, the bubonic plague added considerably to the world's misery. Spreading from the Roman port of Pelusium in Egypt, the so-called Plague of Justinian caused the deaths of up to one half of the population of the eastern Roman Empire. This, in turn, sped up its eventual collapse, writes McCormick.
Between the environmental cataclysms, with massive volcanic eruptions also in 540 and 547, and the devastation brought on by the plague, Europe was in for an economic downturn for nearly all of the next century, until 640 when silver mining gave it a boost.
Was that the worst time in history?
Of course, the absolute worst time in history depends on who you were and where you lived.
Native Americans can easily point to 1520, when smallpox, brought over by the Spanish, killed millions of indigenous people. By 1600, up to 90 percent of the population of the Americas (about 55 million people) was wiped out by various European pathogens.
Like all things, the grisly title of "worst year ever" comes down to historical perspective.
A newly discovered coronavirus — but not the one that causes COVID-19 — has made some dogs very sick.
Surprising Science
A different coronavirus outbreak in late 2019 made many dogs in the UK very ill.
The strangeness of the disease led veterinarians to send questionnaires to their peers and pet owners.
The findings point toward the need for better systems to identify disease outbreaks in animals.
A recent study suggests that a mysterious disease plaguing dogs in the UK is caused by a novel coronavirus. This virus, which coincidentally appeared in late 2019 and began to concern veterinarians in early 2020, is not related to the virus which causes COVID-19, but can make your four-legged friend feel quite ill.
Novel coronavirus in dogs
The term "coronavirus" doesn't refer to a single disease, but a family of viruses (more formally, Coronaviridae) that share a shape similar to a crown (hence the name, "corona"). They infect many different kinds of animals and cause various diseases from COVID-19 and SARS to the common cold.
This new coronavirus, a variant of canine enteric coronavirus, was first noticed in January 2020 when a veterinarian in the United Kingdom treated "an unusually high number" of dogs with severe vomiting and other gastrointestinal issues at his office. Concerned about this spike in doggy indigestion, they reached out to other veterinarians to see if they were reporting a similar outbreak.
Online questionnaires were sent out to more than a thousand vets and pet owners to map the outbreak and collect information on which animals were being affected. Analysis of this data showed that nearly all of the cases involved vomiting and a loss of appetite, and half of them also involved diarrhea. Most of the cases took place in south and northwest England, though a large outbreak also occurred in and around the Scottish city of Edinburgh.
The data also suggested that male dogs in contact with other dogs were most likely to be infected, hinting at "either transmission between dogs or a common environmental source." The dogs recovered in more than 99 percent of cases.
Hoping to move beyond the questionnaire, the authors also turned to records to piece together what happened.
While public health data for animals is less frequently gathered than it is for humans, electronic records of pet admissions to veterinarian offices and pet insurance payouts do exist. The researchers accessed these records and found that the number of dogs recorded with stomach problems rose between December 2019 and March 2020, with nearly double the number of expected cases occurring during that time. There was also a concomitant rise in prescriptions for drugs to treat those conditions.
A later comparison of samples from dogs that were sick and healthy control dogs confirmed the presence of the novel coronavirus in the ill dogs. All of this was later compiled into a study that was recently published in Emerging Infectious Diseases, which is produced by the CDC.
Should I be concerned?
This coronavirus only affects dogs, and the researchers didn't find anything to suggest that humans could become infected.
However, the scale of the outbreak and the lack of tools immediately available to determine what was happening led the researchers to suggest that better organization is needed. Many of the authors are involved in creating a disease surveillance system for dogs, known as SAVSNet-Agile.
The authors also mention that "previous CeCoV [canine enteric coronavirus] seasonality suggests further outbreaks may occur." Thanks to this study, your local vet might be a little more prepared for it next time.
Scroll down to load more…