You've got 10 minutes with Einstein. What do you talk about? Black holes? Time travel?
Why not gambling? The Art of War? Contemporary parenting?
Each week, host Jason Gots surprises some of the world's brightest minds with ideas they're not at all prepared to discuss. Join us and special guests Neil Gaiman, Alan Alda, Salman Rushdie, Margaret Atwood, Richard Dawkins, Maria Popova, Mary-Louise Parker, Neil deGrasse Tyson and many more...
27 July, 2017
The Most Dangerous Game – Sheelah Kolhatkar – Think Again - a Big Think Podcast #109
Spontaneous talk on surprise topics. Author and former Wall Street hedge fund analyst Sheelah Kolhatkar on the reality and the dangers of the financial industry today.
Politics & Current Affairs
---
Subscribe on Google Play, Stitcher, or iTunes
Come talk to us on Twitter: @bigthinkagain
Since 2008, Big Think has been sharing big ideas from creative and curious minds. Since 2015, the Think Again podcast has been taking us out of our comfort zone, surprising our guests and Jason Gots, your host, with unexpected conversation starters from Big Think's interview archives.
Sheelah Kolhatkar is a staff writer at the New Yorker  and a former "risk arbitrage analyst" for two hedge funds in New York City. For the New Yorker, Sheelah writes about Wall Street, Silicon Valley, economics and national politics, among other things. Her latest book is the New York Times bestseller Black Edge, about the largest insider trading investigation in history and the transformation of Wall Street and the U.S. economy.
This week's episode is a departure for us – a deep dive into the personalities, culture, and ideas driving the big banks and the hedge funds of Wall Street. Jason and Sheelah talk about what it was like for her as a woman in that male-dominated industry, how hedge funds have reshaped the whole Wall Street landscape and with it, the global economy, and why billionaire investors are almost required to collect Picassos.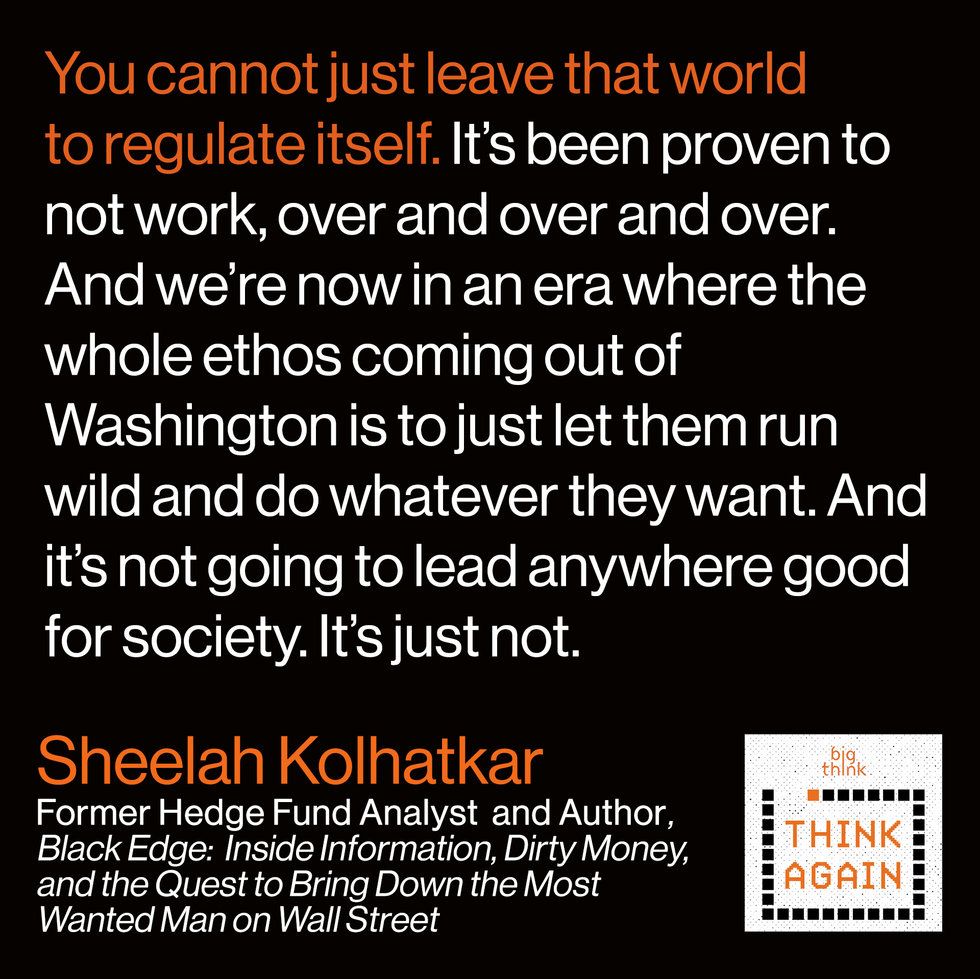 Surprise conversation starter interview clips in this episode:
Neuroscientist Tristan Harris on how companies exploit our brains' vulnerabilities.
About Think Again - A Big Think Podcast: You've got 10 minutes with Einstein. What do you talk about? Black holes? Time travel? Why not gambling? The Art of War? Contemporary parenting? Some of the best conversations happen when we're pushed outside of our comfort zones. Each week on Think Again, we surprise smart people you may have heard of with short clips from Big Think's interview archives on every imaginable subject. These conversations could, and do, go anywhere.
Former president of the ACLU Nadine Strossen discusses whether our society should always defend free speech rights, even for groups who would oppose such rights.
Sponsored by Charles Koch Foundation
Former ACLU president Nadine Strossen understands that protecting free speech rights isn't always a straightforward proposition.
In this video, Strossen describes the reasoning behind why the ACLU defended the free speech rights of neo-Nazis in Skokie, Illinois, 1977.
The opinions expressed in this video do not necessarily reflect the views of the Charles Koch Foundation, which encourages the expression of diverse viewpoints within a culture of civil discourse and mutual respect.
Related Articles
"We live in an age in which there is too much excessive information, less knowledge, and very, very little wisdom." Elif Shafak has faced trial and investigation in her native Turkey for giving voice to the voiceless in her novels. We talk about her book THREE DAUGHTERS OF EVE and the fight for nuance in a world of binaries.
Think Again Podcasts
"To say that there are two stories to the same issue…doesn't mean [they] have the same power. Sometimes one of those stories will be the story that no one hears….that is suppressed and erased and forgotten and pushed to the margins."

"I think faith is way too important to leave it to the religious. Just like politics is way too important to leave it to career politicians. And I've started to believe that technology is way too important to leave it to tech companies and monopolies."
After four years and just over 200 conversations for this podcast, I'm feeling the need for a new kind of politics. One that would champion uncertainty, fragility, emotional vulnerability against the tyranny of opinions that push us one way or another. I used to think that art was sufficient for this purpose. After all, it was books like J.D. Salinger's Franny and Zooey or Dostoevsky's The Brothers Karamazov, bands like the Smiths and the Velvet Underground that gave a much younger me courage to embrace ambiguity as a great teacher.
Art's an open door, but you have to walk through it. And it's the politics and culture around you that shape your ability to do so. We're hurting and hungry for connection. Sick of misunderstanding and violence. I think this is true all over the world. I think it runs so deep it's like an underground river, one whose presence we can only guess at from the contours of the surface earth.
I'm very happy to be talking today with Turkish-born global citizen, novelist and activist Elif Shafak. She's the author of HONOR, THE FLEA PALACE, and THREE DAUGHTERS OF EVE, among many other books. In her writing and public speaking, she's one of the most eloquent voices I know of this new politics that doesn't fit easily on any flag.
Surprise conversation starters in this episode:
"You're all going to die" was one typical comment about the all-woman crew of the sailing ship Maiden, the first of its kind in the Whitbread round-the-world race. 30 years later, its captain Tracy Edwards, MBE reflects on the documentary MAIDEN and an act of will and teamwork that changed the world.
Think Again Podcasts
"My mum always used to say, 'if you don't like the way the world looks, change it.'"
The surprising role King Hussein of Jordan played in championing equality
Women's freedom fight, then and now.
What's the hardest thing you've ever done? The thing everyone said was impossible, that you knew you had to do anyway, and that you doubted a thousand times while it was underway that you'd be able to see through to the end?
There's a good chance you can think of at least one example. And an even better chance it doesn't even come close in monumental, soul-smelting intensity to what Tracy Edwards put herself through back in 1989 to 1990, along with the all-female crew of her racing yacht Maiden. In that year, with the dismissive, derisive, mostly male eyes of the racing world upon them, this 9 member crew proved beyond a doubt that they could sail every bit as skillfully and fearlessly as their male competitors in the Whitbread Round-the-World-yacht-race.
They crossed the southern ocean from Uruguay to Australia, surviving icebergs and deadly waves to win the most difficult leg of the race, then beat their closest rival, move for move, in a tactical sprint to New Zealand. By the time they made it home to England, derision had long given way to admiring awe.
Tracy and her crew did a thing everyone thought was impossible. And in doing so they gave hope to countless others. The documentary film MAIDEN, out from Sony Pictures Classics, captures every leg of their incredible journey, and shows the full cost and rewards of Tracy's single-minded persistence.
Surprise conversation starters in this episode:
When a subculture like drag goes global, it's easy to forget the courage it took, and still takes, for so many people to live on the outside what they know they are on the inside. The maker of WIG and GAGA FIVE FOOT TWO on bravery, authenticity, and the eternal power of youth.
Think Again Podcasts
"For a lot of those kids drag was more punk than punk. Ok, you could shave your head and put on a spike collar… or you could throw on a wig and heels and traipse around Times Square. That was brave. That was radical."
Lady Gaga writes a hook and the whole world suddenly takes notice…I always thought of it as casting a spell. It's the closest thing to actual magic. Because imagine an incantation that you can just repeat for 3 minutes and it can grab the attention of the entire world."
Connect with us
How to listen
You can listen to Think Again right here on site, or select your podcast app: