You've got 10 minutes with Einstein. What do you talk about? Black holes? Time travel?
Why not gambling? The Art of War? Contemporary parenting?
Each week, host Jason Gots surprises some of the world's brightest minds with ideas they're not at all prepared to discuss. Join us and special guests Neil Gaiman, Alan Alda, Salman Rushdie, Margaret Atwood, Richard Dawkins, Maria Popova, Mary-Louise Parker, Neil deGrasse Tyson and many more...
29 March, 2018
Tara Westover – Nothing Final Can Be Known – Think Again - a Big Think Podcast #141
There's got to be a thousand ways to reclaim the past, but for Tara Westover, story was the only one that could contain all of it.
Culture & Religion
What does your education mean to you? What would you be willing to sacrifice for it? 
---
For me and my sister, growing up, it was a given that you'd get "well-educated." You'd get good grades, go to a good college, and most likely graduate, medical, law, or business school.  School was just what you did…ritualized and rote the way religion is in other families. 
For my guest today, Tara Westover, the framework was completely different. In her mountain home in Idaho, school was seen as a threat. It was a government tool for brainwashing people out of faith in God's teachings and into worldly decadence. She went on to become very well-educated by anybody's standards–—studying history at Cambridge University in England and at Harvard. But it came at very high price. Her first book, EDUCATED, is a powerful and beautifully written memoir about family, loyalty to oneself, and the difficult, even impossible choices we sometimes have to make. 
Surprise conversation-starter clips in this episode: 
Chris Hadfield on an astronaut's global perspective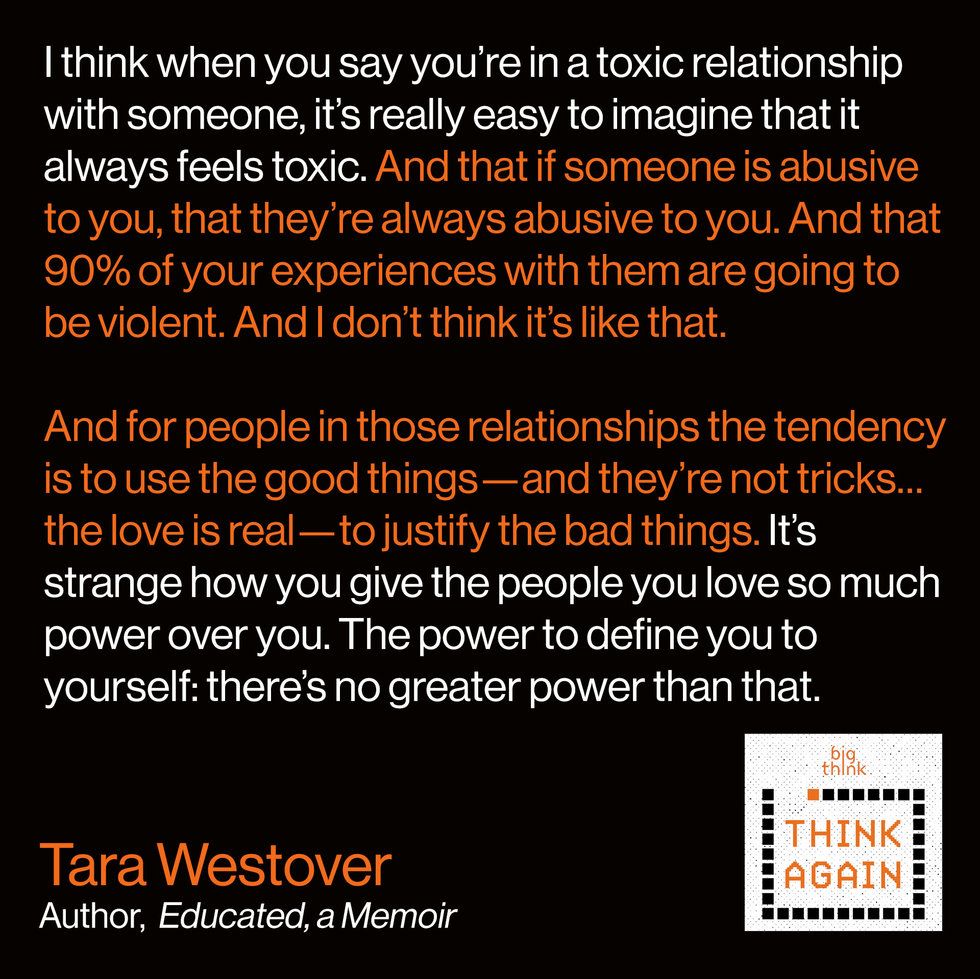 About Think Again - A Big Think Podcast: Since 2008, Big Think has been sharing big ideas from creative and curious minds. Since 2015, the Think Again podcast has been taking us out of our comfort zone, surprising our guests and Jason Gots, your host, with unexpected conversation starters from Big Think's interview archives.
You've got 10 minutes with Einstein. What do you talk about? Black holes? Time travel? Why not gambling? The Art of War? Contemporary parenting? Some of the best conversations happen when we're pushed outside of our comfort zones. Each week on Think Again, we surprise smart people you may have heard of with short clips from Big Think's interview archives on every imaginable subject. These conversations could, and do, go anywhere.

Come talk to us 
on Twitter: @bigthinkagain
Related Articles
How do you write away the personal hole in your heart when that hole was left by a man half the world idolizes? Steve Jobs' daughter, the writer Lisa Brennan-Jobs, on the process and effects of writing her beautiful memoir SMALL FRY.
Brigitte Lacombe
Think Again Podcasts
"If I hadn't gone back with a fine-toothed-comb, a lot of these assumptions I had would have just been the air I breathed into my future."
"There is something like theft in a memoir. If you want to write about yourself you have to write about other people who are unwitting and don't want to be written about…"
Artist, "bird noticer", and concerned citizen of the digital state of the world Jenny Odell looks at many different ways of resisting the attention economy, sinking into the reality of our lives, and finding solidarity and agency with others.
Ryan Meyer
Think Again Podcasts
"Someone is defining the terms already by asking the question. And if you're not attentive, you will accept those terms."
"It's really hard to draw a hard line around an entity in any ecological system. And I think this is a great description of the self, too."
Picking up the thread of a conversation they started two decades ago in Jerusalem, with some help from Lenny Bruce, philosopher Martha Nussbaum, and other influences along the way, host Jason Gots and Williams College professor Jeffrey Israel go deep on private grievances, public life, and where the two overlap.
Connect with us
How to listen
You can listen to Think Again right here on site, or select your podcast app: