You've got 10 minutes with Einstein. What do you talk about? Black holes? Time travel?
Why not gambling? The Art of War? Contemporary parenting?
Each week, host Jason Gots surprises some of the world's brightest minds with ideas they're not at all prepared to discuss. Join us and special guests Neil Gaiman, Alan Alda, Salman Rushdie, Margaret Atwood, Richard Dawkins, Maria Popova, Mary-Louise Parker, Neil deGrasse Tyson and many more...
29 March, 2018
Tara Westover – Nothing Final Can Be Known – Think Again - a Big Think Podcast #141
There's got to be a thousand ways to reclaim the past, but for Tara Westover, story was the only one that could contain all of it.
Culture & Religion
What does your education mean to you? What would you be willing to sacrifice for it? 
---
For me and my sister, growing up, it was a given that you'd get "well-educated." You'd get good grades, go to a good college, and most likely graduate, medical, law, or business school.  School was just what you did…ritualized and rote the way religion is in other families. 
For my guest today, Tara Westover, the framework was completely different. In her mountain home in Idaho, school was seen as a threat. It was a government tool for brainwashing people out of faith in God's teachings and into worldly decadence. She went on to become very well-educated by anybody's standards–—studying history at Cambridge University in England and at Harvard. But it came at very high price. Her first book, EDUCATED, is a powerful and beautifully written memoir about family, loyalty to oneself, and the difficult, even impossible choices we sometimes have to make. 
Surprise conversation-starter clips in this episode: 
Chris Hadfield on an astronaut's global perspective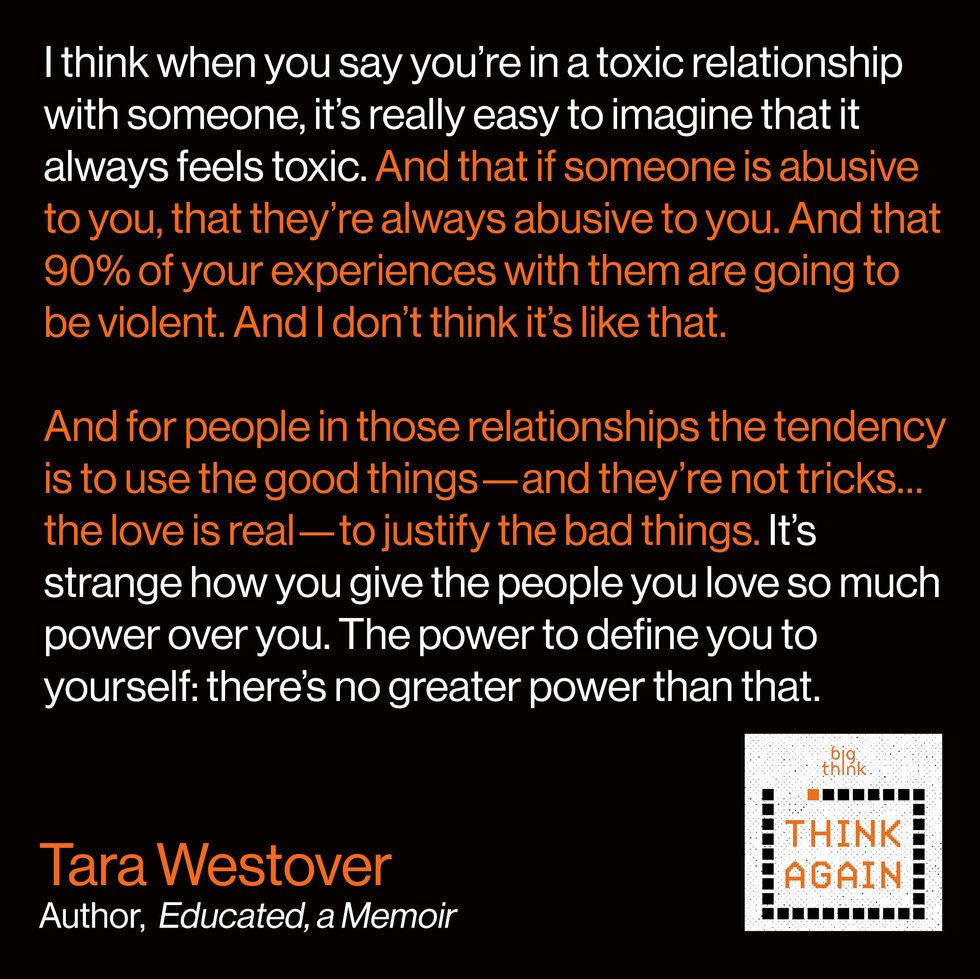 About Think Again - A Big Think Podcast: Since 2008, Big Think has been sharing big ideas from creative and curious minds. Since 2015, the Think Again podcast has been taking us out of our comfort zone, surprising our guests and Jason Gots, your host, with unexpected conversation starters from Big Think's interview archives.
You've got 10 minutes with Einstein. What do you talk about? Black holes? Time travel? Why not gambling? The Art of War? Contemporary parenting? Some of the best conversations happen when we're pushed outside of our comfort zones. Each week on Think Again, we surprise smart people you may have heard of with short clips from Big Think's interview archives on every imaginable subject. These conversations could, and do, go anywhere.

Come talk to us 
on Twitter: @bigthinkagain
As humans, we teach each other. But do we take for granted our freedom to do so?
Sponsored by Charles Koch Foundation
Humans are unique in that we learn socially and actively teach each other lessons of survival.
Freedom of expression allows accumulated knowledge, that which is passed down through generations and across cultures, to flourish within and benefit society.
The opinions expressed in this video do not necessarily reflect the views of the Charles Koch Foundation, which encourages the expression of diverse viewpoints within a culture of civil discourse and mutual respect.
Related Articles
Progress for women can only go so far while men still struggle with ideals of masculinity that teach violence and emotional disconnect. Liz Plank is trying to change the conversation.
Think Again Podcasts
In the past half century or so feminism has had its hands plenty full dealing with the abuse and inequality women suffer at the hands of horribly behaved men and the systems they build. Too full to worry much about what the hell is going on inside those men and why. And there are powerful arguments to be made for the fact that it is not women's responsibility to help men figure out how not to be monsters.
But I've noticed an interesting shift in the discourse lately. In the wake of the MeToo movement (things happen fast these days…that blew up at scale in 2017), some threads of the public conversation have turned toward what my guest today might talk about in terms of the gender ecosystem, the ways that ideas about gender shape our identities and behavior and the fact that those behaviors impact everyone in society for better and worse. Regardless of whose responsibility it is to solve these problems, the question of where masculinity goes from here should matter to everyone.
My guest today is journalist and cultural critic Liz Plank. she was named one of Forbes' 30 under 30, has produced and hosted multiple acclaimed digital series for Vox, and is the author of the new book FOR THE LOVE OF MEN: a new vision of mindful masculinity.
From atomic theory to evolution to utilitarian pragmatism, the ancient Greek philosopher Epicurus was way ahead of his time. In the writings of his school, philosopher Catherine Wilson finds answers to many of our most vexing modern problems.
Fears and discoveries in translating an intimate world to the big screen. How experience helps you deal with people yelling at you. Why 21st century audiences love to be transported to Edwardian England, in spite of all the class hierarchy…
Connect with us
How to listen
You can listen to Think Again right here on site, or select your podcast app: