You've got 10 minutes with Einstein. What do you talk about? Black holes? Time travel?
Why not gambling? The Art of War? Contemporary parenting?
Each week, host Jason Gots surprises some of the world's brightest minds with ideas they're not at all prepared to discuss. Join us and special guests Neil Gaiman, Alan Alda, Salman Rushdie, Margaret Atwood, Richard Dawkins, Maria Popova, Mary-Louise Parker, Neil deGrasse Tyson and many more...
27 October, 2017
David Eagleman – Your Creative Brain – Think Again - a Big Think Podcast #122
Bending, breaking, & blending: How humans remake the world. Neuroscientist David Eagleman on creativity.
Technology & Innovation
---
Subscribe on Google Play, Stitcher, or iTunes
Come talk to us on Twitter: @bigthinkagain
Jason Gots: It's 150,000 years ago. You're a Homo sapiens, hanging out in a really cozy clearing protected from behind by a cliff wall. It's a great spot. Temperate, isolated, pretty safe. Lots of good fruits and tubers nearby. Should you just hang out here forever? Well…you could…but something's nagging at that medial frontal cortex of yours. There's a hill in the distance. What's beyond it? Something different, maybe! Something new and shiny! Maybe today you'll just take a quick look. 
My guest today is neuroscientist David Eagleman. In The Runaway Species, How Human Creativity Remakes the World, David and his co-author Anthony Brandt explore that ancient tension between mastery and curiosity - the known and the unknown. And how the human imagination exploits it to make new things. 
Surprise conversation-starter clips in this episode: 
Isaac Lidsky on how going blind showed one man the light, Michael Slaby on a 30-hour work week.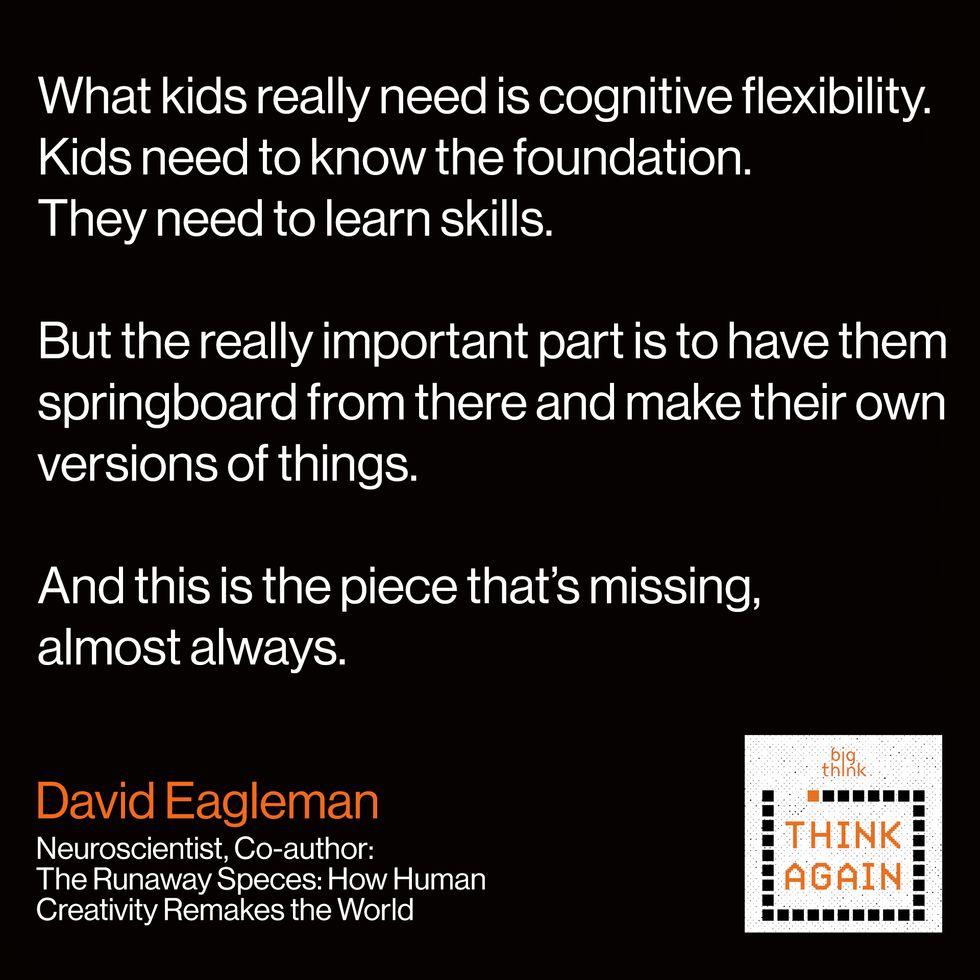 About Think Again - A Big Think Podcast: Since 2008, Big Think has been sharing big ideas from creative and curious minds. Since 2015, the Think Again podcast has been taking us out of our comfort zone, surprising our guests and Jason Gots, your host, with unexpected conversation starters from Big Think's interview archives.
You've got 10 minutes with Einstein. What do you talk about? Black holes? Time travel? Why not gambling? The Art of War? Contemporary parenting? Some of the best conversations happen when we're pushed outside of our comfort zones. Each week on Think Again, we surprise smart people you may have heard of with short clips from Big Think's interview archives on every imaginable subject. These conversations could, and do, go anywhere.
Ready to become a tech wizard? Creation Crate's electronic projects are delivered to your door with everything you need to start building and learning.
Photo: Creation Crate
Sponsored
Creation Crate is a tech subscription box that sends monthly projects, with all the components, right to your door.
Each project in the curriculum teaches new lessons in electronics and C++ programming. The projects get more challenging as you learn.
Working with your hands changes your brain's neurochemistry to reduce stress and increase learning. It's also a great way to prepare kids for a STEM future.
Related Articles
In this episode master teacher Sharon Salzberg considers whether it's ok to teach mindfulness to the armed forces, how practitioners of meditation and mindfulness should balance openness with discipline, and so much more.
The New Yorker-based comedy team on never exercising or going outside, and so much more.
In this first episode of 2020, beloved dharma teacher Joseph Goldstein is back for a conversation about struggle, doubt, and growth on the spiritual path.
Connect with us
How to listen
You can listen to Think Again right here on site, or select your podcast app: