Big ideas.
Once a week.
Subscribe to our weekly newsletter.
How space debris created the world's largest garbage dump
Since 1957, the world's space agencies have been polluting the space above us with countless pieces of junk, threatening our technological infrastructure and ability to venture deeper into space.
17 May, 2021
Space debris is any human-made object that's currently orbiting Earth.
When space debris collides with other space debris, it can create thousands more pieces of junk, a dangerous phenomenon known as the Kessler syndrome.
Radical solutions are being proposed to fix the problem, some of which just might work. (See the video embedded toward the end of the article.)
---
In 1957, the Soviet Union launched a human-made object into orbit for the first time. It marked the dawn of the Space Age. But when Sputnik 1's batteries died and the aluminum satellite began lifelessly orbiting the planet, it marked the end of another era: the billions of years during which space was pristine.
Today, the space above Earth is the world's "largest garbage dump," according to NASA. It's littered with 8,000 tons of human-made junk, called space debris, left by space agencies over the past six decades.
The U.S. now tracks more than 25,000 pieces of space junk. And that's only the debris that ground-based radar technologies can track. The U.S. Space Surveillance Network estimates there could be more than 170 million pieces of space debris currently orbiting Earth, with the majority being tiny fragments smaller than 1 mm.
Space debris: Trashing a planet
Space debris includes all human-made objects, big and small, that are orbiting Earth but no longer serve a useful function. A brief inventory of known space junk includes: a spatula, a glove, a mirror, a bag filled with astronaut tools, spent rocket stages, stray bolts, paint chips, defunct spacecraft, and about 3,000 dead satellites — all of which are orbiting Earth at speeds of roughly 18,000 m.p.h.
By allowing space debris to accumulate unchecked, we could be building a prison that keeps us stranded on Earth for centuries.
Most space junk is floating in low Earth orbit (LEO), the region of space within an altitude of about 100 to 1,200 miles. LEO is also where most of the world's 3,000 satellites operate, powering our telecommunications, GPS technologies, and military operations.
"Millions of pieces of orbital debris exist in low Earth orbit (LEO) — at least 26,000 the size of a softball or larger that could destroy a satellite on impact; over 500,000 the size of a marble big enough to cause damage to spacecraft or satellites; and over 100 million the size of a grain of salt that could puncture a spacesuit," wrote NASA's Office of Inspector General Office of Audits.
If LEO becomes polluted with too much space junk, it could become treacherous for spacecraft, threatening not only our modern technological infrastructure, but also humanity's ability to venture into space at all.
By allowing space debris to accumulate unchecked, we could be building a prison that keeps us stranded on Earth for centuries.
An outsized problem
Space debris of any size poses grave threats to spacecraft. But tiny, untrackable micro-debris presents an especially dreadful problem: A paint fragment chipped off a spacecraft might not seem dangerous, but it careens through space at nearly 10 times the speed of a bullet, packing enough energy to puncture an astronaut's suit, crack a window of the International Space Station, and potentially destroy satellites.
Impacts with space debris are common. During the Space Shuttle era, NASA replaced an average of one to two shuttle windows per mission "due to hypervelocity impacts (HVIs) from space debris." To be sure, some space debris are natural micrometeoroids. But much of it is human-made, like the fragment that struck the starboard payload bay radiator of the STS-115 flight in 2006.
Credit NASA
"The debris penetrated both walls of the honeycomb structure, and the shock wave from the penetration created a crack in the rear surface of the radiator 6.8 mm long," NASA wrote. "Scanning electron microscopy and energy dispersive X-ray detection analysis of residual material around the hole and in the interior of the radiator shows that the impactor was a small fragment of circuit board material."

The European Space Agency notes that any fragment of space debris larger than a centimeter could shatter a spacecraft into pieces.
Impact chip on the ISSCredit ESA
To dodge space junk, the International Space Station (ISS) has to conduct "avoidance maneuvers" a couple times every year. In 2014, for example, flight controllers decided to raise the ISS's altitude by half a mile to avoid collision with part of an old European rocket in its orbital path.

NASA has strict guidelines for how it decides to perform these maneuvers.
"Debris avoidance maneuvers are planned when the probability of collision from a conjunction reaches limits set in the space shuttle and space station flight rules," NASA wrote. "If the probability of collision is greater than 1 in 100,000, a maneuver will be conducted if it will not result in significant impact to mission objectives. If it is greater than 1 in 10,000, a maneuver will be conducted unless it will result in additional risk to the crew."
These precautionary measures are becoming increasingly necessary. In 2020, the ISS had to move three times to avoid potential collisions. One of the latest close-calls came with such little warning that astronauts were instructed to take shelter in the Russian segment of the space station, in order to be closer to their Soyuz MS-16 spacecraft, which serves as an escape pod in case of an emergency.
The Kessler syndrome
The hazards of space debris grow exponentially over time. That's because of a problem that NASA scientist Donald J. Kessler outlined in 1978. The so-called Kessler syndrome states that as space becomes increasingly packed with spacecraft and debris, collisions become more likely. And because each collision would create more debris, it could trigger a chain reaction of collisions — potentially to the point where near-Earth space becomes a shrapnel field through which safe travel is impossible.
A paint fragment chipped off a spacecraft might not seem dangerous, but it careens through space at nearly 10 times the speed of a bullet, packing enough energy to puncture an astronaut's suit, crack a window of the International Space Station, and potentially destroy satellites.
The Kessler syndrome may already be playing out. Perhaps it began with the first known case of a spacecraft being severely damaged by artificial space debris, which occurred in 1996 when the French spy satellite Cerise was struck by a piece of an old European Ariane rocket. The collision tore off a 13-foot segment of the satellite.
The next major space debris incident occurred in 2007 when China conducted an anti-satellite missile test in which the nation destroyed one of its own weather satellites, triggering international criticism and creating more than 3,000 pieces of trackable space debris, most of which was still in orbit ten years after the explosion.
Then, in 2009, an unexpected collision between communications satellites — the active Iridium 33 and the defunct Russian Cosmos-2251 — produced at least 2,000 large fragments of space debris and as many as 200,000 smaller pieces, according to NASA. About half of all space debris currently orbiting Earth came from the Iridium-Cosmos collision and China's missile test.
There's more. Russia's BLITS satellite was spun out of its orbital path in 2013 after being struck by a piece of space debris suspected to have come from China's 2007 missile test; the European Space Agency's Copernicus Sentinel-1A satellite was struck by a tiny particle in 2016; and a window of the ISS was hit by a small fragment that same year.
As nations and private companies plan to send more satellites into orbit, collisions and impacts could soon become more common.
The promise and peril of satellite mega-constellations
Space organizations have recently begun launching satellites into low Earth orbit at an unprecedented pace. The goal is to create "mega-constellations" of satellites that provide high-quality internet access to virtually all parts of the planet.
Internet-providing satellites have existed for years, but they're typically expensive and provide slower service than land-based internet infrastructure. That's mainly because it can take a relatively long time for a signal to travel from the satellite to the user due to the high altitudes at which many of these satellites float above us in geostationary orbit.
China and companies like SpaceX, OneWeb, and Amazon aim to solve this problem by launching thousands of satellites into lower orbits in order to reduce signal latency, or the time it takes for the signal to travel to and from the satellite. But some space experts worry satellite mega-constellations could create more space debris.
"We face entirely new challenges as hundreds of satellites are launched every month now — more than we used to launch in a year," Thomas Schildknecht of the International Astronomical Union said at a European Space Agency conference in April. "The mega-constellations are producing huge risks of collisions. We need more stringent rules for traffic management in space and international mechanisms to ensure enforcement of the rules."
A 2017 study funded by the European Space Agency found that the deployment of satellite mega-constellations into low Earth orbit could increase the number of catastrophic collisions by 50 percent. Still, it remains unclear whether sending more satellites into space will necessarily cause more collisions.
SpaceX, for example, claims that Starlink satellites aren't at significant risk of collision because they're equipped with automated collision-avoidance propulsion systems. However, this system seemed to fail in 2019 when a Starlink satellite had a close call with a European science satellite named Aeolus. The company later said it had fixed the bug.
A batch of 60 Starlink test satellites stacked atop a Falcon 9 rocket.Credit SpaceX
Currently, there are no strict international rules governing the deployment and management of satellite mega-constellations. But there are some international efforts to curb space debris risks.

The most concerted effort is the Inter-Agency Space Debris Coordination Committee (IADC), a forum that comprises 13 of the world's space agencies, including those of the U.S., Russia, China, and Japan. The committee aims "to exchange information on space debris research activities between member space agencies, to facilitate opportunities for cooperation in space debris research, to review the progress of ongoing cooperative activities, and to identify debris mitigation options."
The IADC's Space Debris Mitigation Guidelines list three broad goals:
1. Preventing on-orbit break-ups
2. Removing spacecraft from the densely populated orbit regions when they reach the end of their mission
3. Limiting the objects released during normal operations
But even though the world's space agencies recognize the gravity of the space debris problem, they're reluctant to act because of an incentives-based dilemma.
Space debris: A classic tragedy of the commons
Space debris is everyone's problem, but no one entity is obligated to solve it. It's a tragedy of the commons — an economic scenario in which individuals with access to a shared and scarce resource (space) act in their own best interest (spend the least amount of money). Left unchecked, the shared resource is vulnerable to depletion or corruption.
For example, the U.S. by itself could develop a novel method for removing space debris, which, if successful, would benefit all organizations with assets in space. But the odds of this happening are slim because of a game-theoretical dilemma.
A 2018 study published in Frontiers in Robotics and AI explains:
"[In space debris removal] each stakeholder has an incentive to delay its actions and wait for others to respond. This makes the space debris removal setting an interesting strategic dilemma. As all actors share the same environment, actions by one have a potential immediate and future impact on all others. This gives rise to a social dilemma in which the benefits of individual investment are shared by all while the costs are not. This encourages free-riders, who reap the benefits without paying the costs. However, if all involved parties reason this way, the resulting inaction may prove to be far worse for all involved. This is known in the game theory literature as the tragedy of the commons."
Similar to trying to curb climate change, there's no clear answer on how to best incentivize nations to mitigate space debris. (For what it's worth, the game theoretical model in the 2018 study found that a centralized solution — e.g., one where a single actor makes decisions on mitigating space debris, perhaps on behalf of a multinational coalition — is less costly than a decentralized solution.)
Although space organizations have been slow to act, many have been exploring ways to remove space junk from orbit and prevent new debris from forming.
Cleaning up space debris
Space organizations have proposed and experimented with many ways to remove debris from space. Although the techniques vary, most agree on strategy: get rid of the big stuff first.
That's because collisions involving large objects would create lots of new debris. So, removing big debris first would simultaneously clean up low Earth orbit and slow down the phenomenon of cascading collisions described by the Kessler syndrome.
To clean up low Earth orbit, space organizations have proposed using:
Illustration of Brane Craft Phase II, which would use thin nets to capture space debris.Credit Siegfried Janson via NASA
ClearSpace-1

But perhaps one of the most promising solutions for space debris is the ESA-funded ClearSpace-1 mission. Set to launch in 2025, ClearSpace-1 intends to be the first mission that successfully removes space debris from orbit. The goal is to launch a satellite into orbit and rendezvous with the upper stage of Europe's Vega launcher, which was left in space after a 2013 flight.
Once the satellite meets up with the debris, it will try to capture the junk with a robotic arm and then perform a controlled atmospheric reentry. The task will be challenging, in part because space junk tumbles as it flies above Earth, meaning the satellite will have to match its movements in order to safely capture it.

Freethink recently spoke to the ClearSpace-1 team to get a better understanding of the mission and its challenges.
But not all space debris removal strategies center on technology. A 2020 paper published in PNAS argued that imposing taxes on each satellite in orbit would be the most effective way to clean up space. Called "orbital use fees," the plan would charge space organizations an annual fee of roughly $235,000 per each satellite that's in orbit. The fee would, in theory, incentivize nations and companies to declutter space over time.

The main hurdle of orbital-use fees is getting all of the world's space organizations to agree to such a plan. If they do, it could help eliminate the tragedy of the commons aspect of space debris and potentially quadruple the value of the space industry by 2040.
"The costly buildup of debris and satellites in low-Earth orbit is fundamentally a problem of incentives — satellite operators currently lack the incentives to factor into their launch decisions the collision risks their satellites impose on other operators," the researchers wrote. "Our analysis suggests that correcting these incentives, via an OUF, could have substantial economic benefits to the satellite industry, and failing to do so could have substantial and escalating economic costs."
No matter the solution, cleaning up space debris will be a complex and expensive challenge that requires a coordinated, international effort. If the global community wants to maintain modern technological infrastructure and venture deeper into space, conducting business as usual isn't an option.
"Imagine how dangerous sailing the high seas would be if all the ships ever lost in history were still drifting on top of the water," Jan Wörner, European Space Agency (ESA) director general, said in a statement. "That is the current situation in orbit, and it cannot be allowed to continue."
Ever since we've had the technology, we've looked to the stars in search of alien life. It's assumed that we're looking because we want to find other life in the universe, but what if we're looking to make sure there isn't any?
According to the Great Filter theory, Earth might be one of the only planets with intelligent life. And that's a good thing (NASA, ESA, and the Hubble Heritage Team [STScI/AURA]).
Surprising Science
Here's an equation, and a rather distressing one at that: N = R* × fP × ne × f1 × fi × fc × L. It's the Drake equation, and it describes the number of alien civilizations in our galaxy with whom we might be able to communicate. Its terms correspond to values such as the fraction of stars with planets, the fraction of planets on which life could emerge, the fraction of planets that can support intelligent life, and so on. Using conservative estimates, the minimum result of this equation is 20. There ought to be 20 intelligent alien civilizations in the Milky Way that we can contact and who can contact us. But there aren't any.
The Drake equation is an example of a broader issue in the scientific community—considering the sheer size of the universe and our knowledge that intelligence life has evolved at least once, there should be evidence for alien life. This is generally referred to as the Fermi paradox, after the physicist Enrico Fermi who first examined the contradiction between high probability of alien civilizations and their apparent absence. Fermi summed this up rather succinctly when he asked, "Where is everybody"?
But maybe this was the wrong question. A better question, albeit a more troubling one, might be "What happened to everybody?" Unlike asking where life exists in the universe, there's a clearer potential answer to this question: the Great Filter.
Why the universe is empty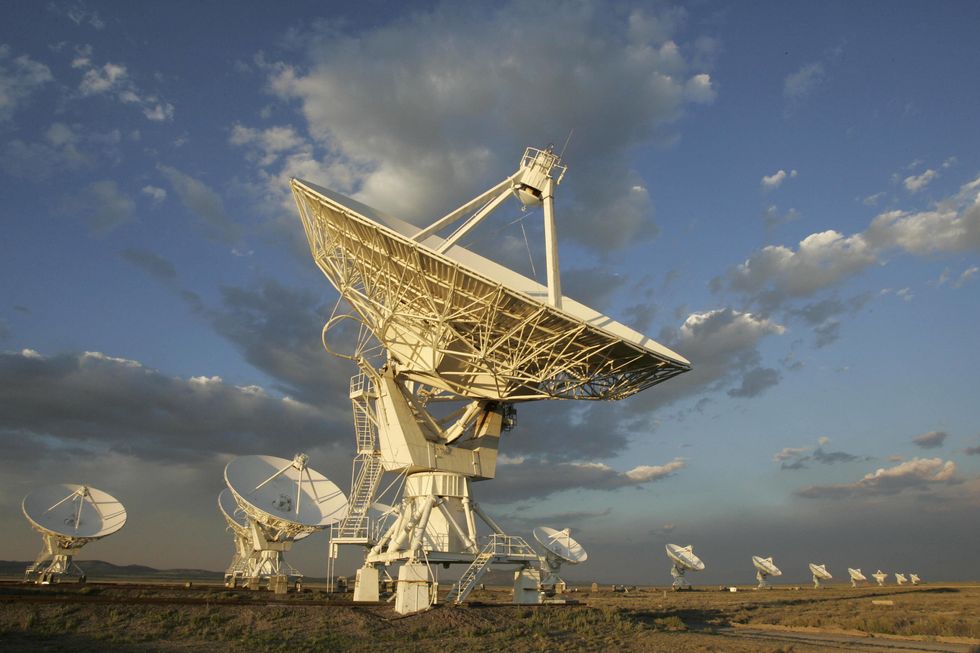 Alien life is likely, but there is none that we can see. Therefore, it could be the case that somewhere along the trajectory of life's development, there is a massive and common challenge that ends alien life before it becomes intelligent enough and widespread enough for us to see—a great filter.
This filter could take many forms. It could be that having a planet in the Goldilocks' zone—the narrow band around a star where it is neither too hot nor too cold for life to exist—and having that planet contain organic molecules capable of accumulating into life is extremely unlikely. We've observed plenty of planets in the Goldilock's zone of different stars (there's estimated to be 40 billion in the Milky Way), but maybe the conditions still aren't right there for life to exist.
The Great Filter could occur at the very earliest stages of life. When you were in high school bio, you might have the refrain drilled into your head "mitochondria are the powerhouse of the cell." I certainly did. However, mitochondria were at one point a separate bacteria living its own existence. At some point on Earth, a single-celled organism tried to eat one of these bacteria, except instead of being digested, the bacterium teamed up with the cell, producing extra energy that enabled the cell to develop in ways leading to higher forms of life. An event like this might be so unlikely that it's only happened once in the Milky Way.
Or, the filter could be the development of large brains, as we have. After all, we live on a planet full of many creatures, and the kind of intelligence humans have has only occurred once. It may be overwhelmingly likely that living creatures on other planets simply don't need to evolve the energy-demanding neural structures necessary for intelligence.
What if the filter is ahead of us?
These possibilities assume that the Great Filter is behind us—that humanity is a lucky species that overcame a hurdle almost all other life fails to pass. This might not be the case, however; life might evolve to our level all the time but get wiped out by some unknowable catastrophe. Discovering nuclear power is a likely event for any advanced society, but it also has the potential to destroy such a society. Utilizing a planet's resources to build an advanced civilization also destroys the planet: the current process of climate change serves as an example. Or, it could be something entirely unknown, a major threat that we can't see and won't see until it's too late.
The bleak, counterintuitive suggestion of the Great Filter is that it would be a bad sign for humanity to find alien life, especially alien life with a degree of technological advancement similar to our own. If our galaxy is truly empty and dead, it becomes more likely that we've already passed through the Great Filter. The galaxy could be empty because all other life failed some challenge that humanity passed.
If we find another alien civilization, but not a cosmos teeming with a variety of alien civilizations, the implication is that the Great Filter lies ahead of us. The galaxy should be full of life, but it is not; one other instance of life would suggest that the many other civilizations that should be there were wiped out by some catastrophe that we and our alien counterparts have yet to face.
Fortunately, we haven't found any life. Although it might be lonely, it means humanity's chances at long-term survival are a bit higher than otherwise.
Cross-disciplinary cooperation is needed to save civilization.
Credit: Public domain
13-8
There is a great disconnect between the sciences and the humanities.
Solutions to most of our real-world problems need both ways of knowing.
Moving beyond the two-culture divide is an essential step to ensure our project of civilization.
For the past five years, I ran the Institute for Cross-Disciplinary Engagement at Dartmouth, an initiative sponsored by the John Templeton Foundation. Our mission has been to find ways to bring scientists and humanists together, often in public venues or — after Covid-19 — online, to discuss questions that transcend the narrow confines of a single discipline.
It turns out that these questions are at the very center of the much needed and urgent conversation about our collective future. While the complexity of the problems we face asks for a multi-cultural integration of different ways of knowing, the tools at hand are scarce and mostly ineffective. We need to rethink and learn how to collaborate productively across disciplinary cultures.
The danger of hyper-specialization
The explosive expansion of knowledge that started in the mid 1800s led to hyper-specialization inside and outside academia. Even within a single discipline, say philosophy or physics, professionals often don't understand one another. As I wrote here before, "This fragmentation of knowledge inside and outside of academia is the hallmark of our times, an amplification of the clash of the Two Cultures that physicist and novelist C.P. Snow admonished his Cambridge colleagues in 1959." The loss is palpable, intellectually and socially. Knowledge is not adept to reductionism. Sure, a specialist will make progress in her chosen field, but the tunnel vision of hyper-specialization creates a loss of context: you do the work not knowing how it fits into the bigger picture or, more alarmingly, how it may impact society.
Many of the existential risks we face today — AI and its impact on the workforce, the dangerous loss of privacy due to data mining and sharing, the threat of cyberwarfare, the threat of biowarfare, the threat of global warming, the threat of nuclear terrorism, the threat to our humanity by the development of genetic engineering — are consequences of the growing ease of access to cutting-edge technologies and the irreversible dependence we all have on our gadgets. Technological innovation is seductive: we want to have the latest "smart" phone, 5k TV, and VR goggles because they are objects of desire and social placement.
Are we ready for the genetic revolution?
When the time comes, and experts believe it is coming sooner than we expect or are prepared for, genetic meddling with the human genome may drive social inequality to an unprecedented level with not just differences in wealth distribution but in what kind of being you become and who retains power. This is the kind of nightmare that Nobel Prize-winning geneticist Jennifer Doudna talked about in a recent Big Think video.
CRISPR 101: Curing Sickle Cell, Growing Organs, Mosquito Makeovers | Jennifer Doudna | Big Think www.youtube.com
At the heart of these advances is the dual-use nature of science, its light and shadow selves. Most technological developments are perceived and sold as spectacular advances that will either alleviate human suffering or bring increasing levels of comfort and accessibility to a growing number of people. Curing diseases is what motivated Doudna and other scientists involved with CRISPR research. But with that also came the potential for altering the genetic makeup of humanity in ways that, again, can be used for good or evil purposes.

This is not a sci-fi movie plot. The main difference between biohacking and nuclear hacking is one of scale. Nuclear technologies require industrial-level infrastructure, which is very costly and demanding. This is why nuclear research and its technological implementation have been mostly relegated to governments. Biohacking can be done in someone's backyard garage with equipment that is not very costly. The Netflix documentary series Unnatural Selection brings this point home in terrifying ways. The essential problem is this: once the genie is out of the bottle, it is virtually impossible to enforce any kind of control. The genie will not be pushed back in.
Cross-disciplinary cooperation is needed to save civilization
What, then, can be done? Such technological challenges go beyond the reach of a single discipline. CRISPR, for example, may be an invention within genetics, but its impact is vast, asking for oversight and ethical safeguards that are far from our current reality. The same with global warming, rampant environmental destruction, and growing levels of air pollution/greenhouse gas emissions that are fast emerging as we crawl into a post-pandemic era. Instead of learning the lessons from our 18 months of seclusion — that we are fragile to nature's powers, that we are co-dependent and globally linked in irreversible ways, that our individual choices affect many more than ourselves — we seem to be bent on decompressing our accumulated urges with impunity.
The experience from our experiment with the Institute for Cross-Disciplinary Engagement has taught us a few lessons that we hope can be extrapolated to the rest of society: (1) that there is huge public interest in this kind of cross-disciplinary conversation between the sciences and the humanities; (2) that there is growing consensus in academia that this conversation is needed and urgent, as similar institutes emerge in other schools; (3) that in order for an open cross-disciplinary exchange to be successful, a common language needs to be established with people talking to each other and not past each other; (4) that university and high school curricula should strive to create more courses where this sort of cross-disciplinary exchange is the norm and not the exception; (5) that this conversation needs to be taken to all sectors of society and not kept within isolated silos of intellectualism.
Moving beyond the two-culture divide is not simply an interesting intellectual exercise; it is, as humanity wrestles with its own indecisions and uncertainties, an essential step to ensure our project of civilization.
New study analyzes gravitational waves to confirm the late Stephen Hawking's black hole area theorem.
Credit: NASA's Goddard Space Flight Center
Surprising Science
A new paper confirms Stephen Hawking's black hole area theorem.
The researchers used gravitational wave data to prove the theorem.
The data came from Caltech and MIT's Advanced Laser Interferometer Gravitational-Wave Observatory.
The late Stephen Hawking's black hole area theorem is correct, a new study shows. Scientists used gravitational waves to prove the famous British physicist's idea, which may lead to uncovering more underlying laws of the universe.
The theorem, elaborated by Hawking in 1971, uses Einstein's theory of general relativity as a springboard to conclude that it is not possible for the surface area of a black hole to become smaller over time. The theorem parallels the second law of thermodynamics that says the entropy (disorder) of a closed system can't decrease over time. Since the entropy of a black hole is proportional to its surface area, both must continue to increase.
As a black hole gobbles up more matter, its mass and surface area grow. But as it grows, it also spins faster, which decreases its surface area. Hawking's theorem maintains that the increase in surface area that comes from the added mass would always be larger than the decrease in surface area because of the added spin.
Will Farr, one of the co-authors of the study that was published in Physical Review Letters, said their finding demonstrates that "black hole areas are something fundamental and important." His colleague Maximiliano Isi agreed in an interview with Live Science: "Black holes have an entropy, and it's proportional to their area. It's not just a funny coincidence, it's a deep fact about the world that they reveal."
The research team based their conclusions on the data from the gravitational waves spotted by Caltech and MIT's Advanced Laser Interferometer Gravitational-Wave Observatory (LIGO) in 2015.
What are gravitational waves?
Gravitational waves are "ripples" in spacetime, predicted by Albert Einstein in 1916, that are created by very violent processes happening in space. Einstein showed that very massive, accelerating space objects like neutron stars or black holes that orbit each other could cause disturbances in spacetime. Like the ripples produced by tossing a rock into a lake, they would bring about "waves" of spacetime that would spread in all directions.
As LIGO shared, "These cosmic ripples would travel at the speed of light, carrying with them information about their origins, as well as clues to the nature of gravity itself."
The gravitational waves discovered by LIGO's 3,000-kilometer-long laser beam, which can detect the smallest distortions in spacetime, were generated 1.3 billion years ago by two giant black holes that were quickly spiraling toward each other.
What Stephen Hawking would have discovered if he lived longer | NASA's Michelle Thaller | Big Think www.youtube.com
Confirming Hawking's black hole area theorem

The researchers separated the signal into two parts, depending on whether it was from before or after the black holes merged. This allowed them to figure out the mass and spin of the original black holes as well as the mass and spin of the merged black hole. With this information, they calculated the surface areas of the black holes before and after the merger.
"As they spin around each other faster and faster, the gravitational waves increase in amplitude more and more until they eventually plunge into each other — making this big burst of waves," Isi elaborated. "What you're left with is a new black hole that's in this excited state, which you can then study by analyzing how it's vibrating. It's like if you ping a bell, the specific pitches and durations it rings with will tell you the structure of that bell, and also what it's made out of."
The surface area of the resulting black holes was larger than the combined area of the original black holes. This conformed to Hawking's area law.
Scroll down to load more…