West delivered an impassioned speech on American industry and transport, even pitching a high-tech plane to Apple.
WASHINGTON, DC - OCTOBER 11: (AFP OUT) (EDITORS NOTE: Retransmission with alternate crop.) U.S. President Donald Trump hugs rapper Kanye West during a meeting in the Oval office of the White House on October 11, 2018 in Washington, DC. (Photo by Oliver Contreras - Pool/Getty Images)
West met with the President to discuss urban revitalization, stop-and-frisk policies, and crime in Chicago, among other topics.
West praised Trump for his work in office so far, and pleaded for the rest of the country to support its leader.
West's support of Trump has long been a source of controversy among his fans and fellow artists.
Kanye West met with President Donald Trump on Thursday for a meeting meant to cover topics surrounding urban revitalization, but West ended up delivering a freestyle rant on everything from North Korea to Superman.
Sporting his red 'Make America Great Again' hat and joined by reporters, Ivanka Trump, Jared Kushner and Hall of Fame running back Jim Brown, West delivered an impassioned and disjointed soliloquy on topics including North Korea, ending stop-and-frisk policies, prison reform, keeping jobs in the U.S., and how wearing a MAGA hat made the rapper feel "like superman."
A wild meeting in the Oval Office
US-PEOPLE-politics-RACE-TRUMP-KANYEUS President Donald Trump meets with rapper Kanye West in the Oval Office of the White House in Washington, DC, October 11, 2018. (Photo by SEBASTIAN SMITH / AFP) (Photo credit should read SEBASTIAN SMITH/AFP/Getty Images)
"There was something about putting this hat on that made me feel like Superman," said West, who recently made headlines for delivering a similarly excited speech during a segment of Saturday Night Live that ultimately wasn't aired. "You made a Superman - that's my favorite superhero - you made a Superman cape for me."
The White House said West's meeting with the president, which also included a luncheon, was focused on topics like urban revitalization, workforce training, African-American unemployment and crime in Chicago. During the press briefing, West denied rumors that he's considering a 2020 presidential run, suggesting he'd only consider it after Trump's tenure.
"Let's stop worrying about the future, all we have is today," West said. "Trump is on his hero's journey right now. He might not have thought he'd have a crazy mother-f***r like me (supporting him)."
West has long drawn criticism from his fans and fellow artists for supporting Trump, an admiration that seems to stem partly from Trump's communication style, as West told a concert crowd in 2016:
"There's nonpolitical methods to speaking that I like, that I feel were very futuristic. And that style, and that method of communication, has proven that it can beat a politically correct way of communication."
In May, West caused some outrage when suggested "400 years" of African American slavery seemed like "a choice." He later apologized. Meanwhile, Trump has remained grateful for West's support.
"He can speak for me any time he wants, he's a smart cookie," said Trump, who seemed at times speechless between West's stream-of-consciousness remarks. "He gets it."
Look at Wall Street in 2008, and the White House right now. Diversity—of people and cognitive perspectives—is crucial for avoiding failure.
We need to rethink our diversity strategy, says Sallie Krawcheck. What we've been trying for the last decade hasn't been working, but what exactly is the problem? Research reveals that diversity is actually worse in meritocracies. Managers—and particularly middle managers, Krawcheck points out—fall into the cognitive trap of hiring people who "remind me of a young me" (i.e. look like them and think like them) instead of more cognitively diverse people who would bring a missing skill set to a team. This is as important now, under the almost all-white male Trump administration, as it was in the 2008 Financial Crash. Wall Street is one of the most homogenous institutions in America, and Krawcheck has no doubt that having a more diverse set of minds in finance would have lessened the severity of the global crash. In addition, risk-taking and the poor decision making that results can be tracked to fluctuations in one hormone: testosterone. Whether it's the housing bubble, America's healthcare, or foreign policy, these are mistakes that affect millions of lives. As a CEO, Krawcheck's approach and advice on diversity is changing. The current strategy has been a failure, but what if companies paid their managers, in part, based on the diversity of their hires? What if we thought of diversity as more important than meritocracy? Sallie Krawcheck is the author of Own It: The Power of Women at Work.
Superfast hyperloop travel gets closer to reality as Elon Musk receives "verbal" government approval for a route linking NYC and Washington.
In news that may finally make us feel like we're living in the future, Elon Musk says he got a "verbal" approval from the government to build an underground Hyperloop between New York and Washington, D.C. A trip that would usually take three hours by train would be only 29 minutes in the 700 mph Hyperloop. The route would also cover Philadelphia and Baltimore. 
The announcement, of course, came as a tweet:
Just received verbal govt approval for The Boring Company to build an underground NY-Phil-Balt-DC Hyperloop. NY-DC in 29 mins.
— Elon Musk (@elonmusk) July 20, 2017
A classic law of Internet debate explains why bringing up Hitler is a terrible idea as White House Press Secretary Sean Spicer found out in a disastrous press conference.
White House Press Secretary Sean Spicer pauses while speaking during a briefing at the White House April 11, 2017 in Washington, DC. (Photo credit: BRENDAN SMIALOWSKI/AFP/Getty Images)
White House Press Secretary Sean Spicer ignited a firestorm of controversy by seemingly questioning whether Hitler used chemical weapons during World War 2. As Spicer was giving a press conference on April 11th and talking about the situation in Syria, he attempted to put the actions of the Syrian President Bashar al-Assad in perspective. Even Hitler, according to Spicer, was not as bad as Assad because he didn't gas his own people.
"We didn't use chemical weapons in World War II. Someone who is despicable as Hitler who didn't even sink to using chemical weapons," said Spicer.
The remarks caused disbelief and condemnation because it's a well-documented fact that Nazis used gas chambers filled with hydrogen cyanide gas in concentration camps to kill millions of people (mostly Jews), including those who were previously German citizens. They also conducted inhuman research, testing mustard gas on prisoners. And in an ironic detail, Nazis were the ones who actually created the sarin gas that was used by Assad in his recent attack on a village. In fact, Hitler is truly one of the worst ever at using gas, even if he didn't use it on a battlefield like Saddam Hussein or Assad. 
Ashley Parker, the White House reporter for the Washington Post, exemplified the reaction of many in the press room to Spicer's comments: 
.@AshleyRParker responding live to the Spicer stuff today pic.twitter.com/RCOG4Z2Crp
— Justin Green (@JGreenDC) April 11, 2017
This is not the outcome you're looking for.
The Death Star. Credit:Lucasfilm
Blowing up the Death Star would cripple the universe's economy.
That's the premise of a new paper out of Washington University. Written by financial engineer Dr. Zachary Feinstein as a way of applying his esoteric knowledge to a popular subject, the paper uses real-world economics to examine the total costs of an enormous setback in the fictional Star Wars universe.
In case you're not up on your Star Wars, here's a recap: a long time ago in a galaxy far, far away, an evil Empire built a moon-size laser called a Death Star to blow up anyone who opposed its rule. A Rebel Alliance stole the plans for the Death Star, shot at a weak spot, and blew it to smithereens. The Emperor did not appreciate his moon-size laser gun being blown up and ordered the construction of a new, better Death Star. The Empire built one -- this time with a separate, hidden shield generator. The rebels found the shield generator, destroyed it, and blew the new Death Star to smithereens, too. The end!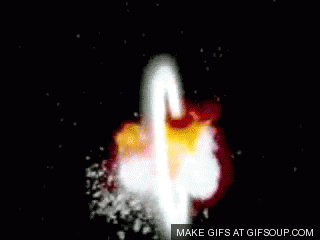 That ending may seem happy, but there's a real cost involved.
First, Feinstein needed to figure out how much the Death Star might cost in the real world. He calculated that by petitioning the White House to build a Death Star of their own. "The chief of the science and space branch at the White House's Office of Management and Budget actually responded to that petition," CBC reports, estimating the cost to build a Death Star at $850,000,000,000,000,000 ($850 quadrillion dollars) -- and that's "just the cost for the steel," Feinstein told CBC. "I took those numbers and found actually instead of $800 quadrillion, it would be $193 quintillion."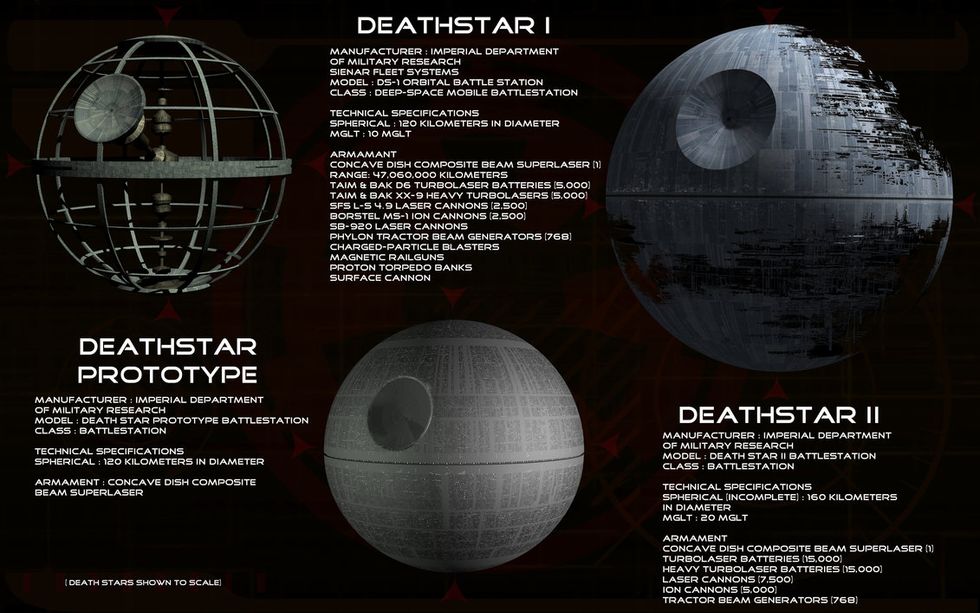 Prototype mockups for both Death Stars. Credit: Unusual Suspex/DeviantArt
Next, Feinstein calculated the percentage of Galactic GDP the Death Star would cost. $193 quintillion is equivalent to "0.21 per cent of GDP per year in the U.S. from 1942 to 1946," Feinstein writes in his paper. "Assuming a galactic economy that's growing at two per cent per year, the gross galactic product [GGP] at the time the first Death Star was built would be $6.09 sextillion."
Blowing up something that expensive would cost "15-20 per cent of the [universe's] economy," Feinstein calculates. He explains in his paper:
Overnight, in my simulations, I would expect a 12.9 per cent drop in the gross galactic product and that number could get up to anywhere up to about a 30 per cent drop, which is greater than the 26.7 per cent that the U.S. felt during the great depression.
That drop would cripple any economy on a good day, but in the economy of Star Wars: A New Hope and Star Wars: Return of the Jedi? "It would have been a complete disaster," Feinstein summarizes for CBC. "It would have been beyond anything that we've ever seen on Earth." Why? Because before those movies and their prequels, there was economic stagnation. "The Intergalactic Banking Clan [IGBC] which is known to be "too big to fail" as it was nationalized following the Clone Wars to avoid a default on its debt," according to the paper. Plus, "there was no economic growth for 25 millennia [prior to A New Hope]," Feinstein told CBC. "[blowing up the Death Star] is going to foment unrest, it's going to create a situation where war is certainly possible, where authoritarianism is certainly possible." Given that the next chronological film in the series Star Wars: The Force Awakens covers the rise of an authoritarianism regime, Feinstein's theory makes sense.
All that said, there's an additional cost that isn't factored in here: the cost for Endor. Remember; Endor was close enough to the Death Star to house its shield generator. If the giant death ball blew up, it would decimate Endor, eradicating its forests in a blast of fire and burning all of its adorably fuzzy Ewoks alive. 11 different physicists calculated that conclusion for Tech Insider. More importantly, that outcome is actually canon in the Star Wars universe. It's known as the "The Endor Holocaust," and YouTuber Matthew Patrick explains it in detail here using data from the University of Pennsylvania:
Credit: Film Theory/YouTube
Thankfully, there might be a silver lining. The cost of building both Death Stars might not actually be as high as Feinstein and the White House thinks, because it wouldn't be made of steel. According to aerospace engineer Rand Simberg, steel is a good material for a battleship but a terrible one for a satellite -- which is what the Death Star actually is. Here's his explanation:
Battleships are built of steel because, given sufficient thickness, it has reasonable (though not impervious) resistance to explosive weapons, such as torpedoes or shells from other battleships, and it is possible to build a ship out of that material that will float in the ocean. But rockets and satellites (a Death Star would be the latter) have never been built from steel, because its strength-to-weight ratio is far too low — a steel rocket, if it could get into orbit at all, would have very poor payload performance, and a steel satellite would be far too heavy to be able to lift affordably.
Simberg adds that the better material would be a carbon exterior, with aluminum or a composite material interior. The cost of those materials are lower because they're more readily -- especially since most of them are readily available in space, which would cut the cost of shipping from Earth down, too. So why didn't the White House come up with that number? "Among the people doing the estimating, only one has any experience in aerospace engineering (and probably none in costing of such projects)."
Ouch.
Still, using the Death Star to illustrate financial engineering principles isn't a bad idea. It makes esoteric material accessible to people who may not otherwise be interested in it. Besides, economics can't explain everything. Nobel Prize-winning economist Paul Krugman tells us why: