They cost about $11 and contain 60mg of THC, the main psychoactive component of marijuana, and 10mg of CBD.
A new observational study will ask 400 women to track their menstrual symptoms over the course of a few months during which they'll administer marijuana suppositories.
Marijuana suppositories are designed to alleviate the pain and stress of periods.
The observational study is described as a "first step," with the ultimate goal being a clinical trial that includes placebos.
Women have long used marijuana to alleviate the pain and stress of periods, though there's only anecdotal evidence showing the remedy actually works. An upcoming study hopes to change that by examining the potential benefits of "weed tampons," more accurately called marijuana suppositories.
What are marijuana suppositories?
Unlike traditional tampons that absorb menstrual blood, marijuana suppositories are designed only to help ease stress and pain from cramps, and therefore are seen as a replacement for conventional over-the-counter medications and narcotics. These suppositories have been on the market for years, though they've only been readily available in states where recreational marijuana is legal.
One suppository seller, California-based marijuana startup Foria Wellness, which also offers cannabis-infused lubricant, sprays and vaporizer pens, sells a vaginal suppository product called Relief. Each suppository costs about $11 and contains 60mg of THC, the main psychoactive component of marijuana, and 10mg of CBD, a non-psychoactive cannabinoid known for its pain-killing properties. The product has "minimal psychoactive effects," according to Foria.
Relief, which can be used alongside a traditional tampon, is made out of cocoa butter and dissolves shortly after insertion.
One customer wrote:
"Extremely easy to insert, I used a tampon applicator. The suppository looks like a mini missle and It smells like cookie dough and cocoa butter. After 20 minutes I begin feeling a lower sensation. It was very nice and relaxing. It relieved some pressure in my lower back, especially while laying on my stomach."
Another wrote:
"I was visiting Colorado and in severe pain when someone suggested that I visit a dispensary and look for these. WOW! Literally saved my life. It was the first time in 7 years the muscles of my pelvis actually relaxed. The cramping after an hour was hardly noticeable and although TMI I was able to eliminate in a less painful way. These need to be LEGAL everywhere as they really are a medical intervention."
The largely positive response to marijuana suppositories like Relief helped inspire one Harvard researcher to pursue a first-of-its-kind study on the unconventional remedy.
An observational study on marijuana suppositories
Staci Gruber, a professor of psychiatry at Harvard Medical School and the director of the Cognitive and Clinical Neuroimaging Core and the Marijuana Investigations for Neuroscientific Discovery program, plans to conduct an observational survey of 400 women who will administer Foria's Relief suppositories over the course of a few months. The women will record their menstrual symptoms in an attempt to see if any correlative patterns emerge among the participants.
"What we're looking to do is take anecdotal information and turn it into data," Gruber told Business Insider, adding that the observational study, which will be funded by Foria and Flow Kana, is a first step and that a clinical trial would be the "holy grail".
However, studying marijuana treatments in clinical trials can be a long and difficult process because marijuana is still considered a Schedule 1 drug by the federal government. And though it'd be easier, from a legal perspective, for companies to sell (or pursue the study of) products containing only CBD (marijuana's non-psychoactive component), Foria CEO Mathew Gerson told Business Insider that the power of his products lies in the interactions between marijuana's multiple active compounds, a phenomenon known as the "entourage effect".
"We now know that the minute you break this plant apart into its component parts, you lose some of the magic," Gerson said. "And that sounds like hippie speak—but this is proven out again and again in study after study that the entourage effect as we understand it is real."
Canada's recreational marijuana industry might not be poised to meet demand in the first year of legal sales, according to some experts.
Image: Pixabay Commons
Canada is set to legalize recreational marijuana on Oct. 17.
Some economists say the industry won't be able to meet demand during the first year, and that prices will rise or supply will run out.
Dispensary owners in Colorado expressed similar anxieties in 2014 when recreational pot was legalized.
Recreational marijuana will be legalized in Canada on Oct. 17, but some say the current supply of legal cannabis won't meet demand during the first year of sales.
"There is not currently enough legal supply of marijuana to actually supply all the recreational demand in Canada," economist Rosalie Wyonch of the C.D. Howe Institute, a public policy think-tank, told the CBC. "We didn't have enough producers far enough ahead from legalization that they'll actually be able to deliver enough product to market by the time legalization happens."
The governmental agency Health Canada estimates annual demand in the country to be 926,000 kilograms, or about 2 million pounds. There's no reliable data on the exact supply of licensed recreational vendors, however the most recent estimates put the nation's supply of medical marijuana at 66,404 kilograms of dried cannabis.
A survey from Statistics Canada showed that about 4.6 million Canadians, or 16 percent of the population, used cannabis in the second quarter of 2018, though the results of any survey that asks respondents to admit to illegal activity are always questionable.
In an email to CBC News, a spokesperson for Health Canada wrote: "Based on current inventory levels and growth in production capacity, the industry is well positioned to supply product as consumers transition to the legal market."
Wyonch said recreational shops won't run out of stock immediately, but there's likely to be some obstacles as the months pass.
"I don't see empty shelves manifesting on the first day probably, and not the first month," she said. "But as the year progresses, what we'll see is either prices in the legal market will have to rise, or we'll actually see the supply shortage."
Colorado dispensaries also feared supply shortage
When Colorado legalized recreational marijuana in 2014, a similar supply-shortage panic hit many recreational marijuana distributors in the state.
"We are definitely going to run out of cannabis. The question is when," said Toni Fox, a dispensary owner who expected her inventory to run out one week after marijuana was legalized.
Other dispensary owners seemed to echo that anxiety. In a 2014 Daily Beast article about Colorado's legalization policy, reporter Valerie Vande Panne wrote that nearly everyone interviewed for the story said "it'll take eight months to a year for the supply side to consistently meet demand."
Some of Colorado's recreational dispensaries did run out of inventory at points in that first year of legalization, but it seems there was no widespread supply shortage in the recreational industry, which earned $313 million in 2014. (Interestingly, sales of medical marijuana outpaced sales of recreational weed during that first year, clocking in at $386 million.)
Smokers who did find their local dispensary to be out of stock could have still purchased pot from two other sources: a medical dispensary or an illegal dealer, both of which will be options for Canadians in the coming months.
A new study investigates if pot smokers outperformed nonsmokers in creativity.
Seth Rogan and James Franco smoking the "apex of joint engineering" in Pineapple Express, Sony Pictures, 2008
Does marijuana boost creativity, or are creative people drawn to marijuana more than others?
A new study published in the journal Consciousness and Cognition suggests the latter: The results showed that pot smokers (sober at the time) outperformed nonsmokers at one of the two tests researchers used to measure creativity, and that the difference in creativity is most likely due to personality traits rather than pot itself. The study worked like this:
Researchers used the Big 5 model of personality to measure the personality traits of 979 undergraduate students. They then asked the group to self-report their own levels of creativity, and also objectively measured creativity among the students using two separate tests.
Two kinds of creative thought processes were measured to assess participants' levels of creativity:
Divergent thinking — a thought process used to generate many possible solutions to a problem, like brainstorming. To measure divergent thinking, participants were asked to complete the Alternate Uses Test, in which they had one minute to generate as many uses for common objects as they could imagine.
Convergent thinking — a thought process that involves judging a finite number of solutions to arrive at one "correct" answer, like a multiple choice test. To measure convergent thinking, participants completed a Remote Associates Test, which "consists of three unrelated stimulus words, which are associated with a solution word." For instance, the solution word for "cottage," "Swiss," and "cake" would be "cheese."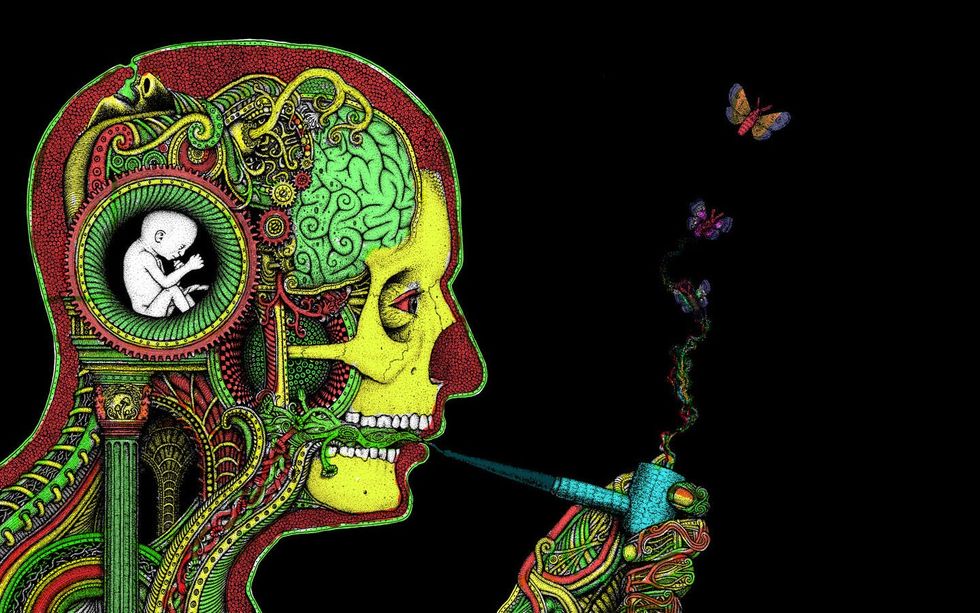 The results showed that, while there was no significant difference between the two groups on the divergent thinking test, cannabis users outperformed non-users on the Remote Associates Test that measured convergent thinking.
What's causing stoners to excel in this dimension of creativity? It's mainly a personality trait called "openness to experience." The researchers suggested:
"While mainstream media has propagated the idea that cannabis expands the mind and enhances creativity, our results show that the link between cannabis and creativity is largely a spurious correlation driven by differences in personality (i.e., openness to experience) that are related to both cannabis use and augmented creativity."
As one of the dimensions in the Big 5 model of personality, openness to experience is characterized by active imagination (fantasy), aesthetic sensitivity, attentiveness to inner feelings, preference for variety, and intellectual curiosity. People high in this trait are also more likely to be liberal, extraverted, and tolerant of diversity.
Ultimately, the results don't necessarily suggest that marijuana use has no effect on creativity.
"The answer isn't black and white," said Dr. Alice Weaver Flaherty, a neurologist at Massachusetts General Hospital and professor at Harvard Medical School who specializes in deep brain stimulation and the brain's relationship with creativity, to Artsy. "Marijuana is a stimulant. And most stimulants, in the short term anyway, boost output of all kinds."
Flaherty argues that the question of whether marijuana use boosts creativity largely depends on the personality of the artist.
"A very anxious creative person may get some benefit from cannabis. In calming them down, it could help their creativity," Flaherty said. "But for someone who's already in the zone, and who's not too anxious to work, it might push them into a place of being too laid back."
Pot in the Creative Process
Looking beyond the scientific literature and into firsthand accounts, many artists claim marijuana plays a key role in their creative process. Alanis Morisette said smoking pot was a great way to get "clarity" and new perspectives when writing songs. Steve Jobs claimed smoking pot made him feel "relaxed and creative." And comedian George Carlin deemed weed a "value-changing" drug that could open up "doors of perception," as Alexxa Gotthardt notes in her article for Artsy.
Gotthardt's article also features an interview with artist Gina Beavers, who proposed something that seems key in this debate about drugs and creativity: Getting high can sometimes be good for the idea-generation part of the creative process, not necessarily the execution of those ideas.
"If I smoke weed and then go to bed, I'll have mild hallucinatory effects as I'm drifting off to sleep and get creative ideas...A few times, I've been mulling over how to solve some issue and weed will give me ideas, but not always ones I go with. I have to wait and look at the solutions in the light of day."
Considering the plethora of mind-altering substances in the world — from Ayahuasca to Budweiser — should we think there's anything special about marijuana when it comes to creativity? Couldn't alcohol help artists be more creative, too?
Possibly. One hypothesis is that, because drugs can lower our inhibitions, they help to silence the self-editor that tends to harshly criticize what we create, allowing us to overcome writer's block or simply the fear of creation.
Jason White, a Nashville-based singer-songwriter who likes to compose songs while drinking a glass of bourbon on his front porch, summed it up like this:
"I'm drinking to stop the noise in my head so I can express what I'm feeling in my heart."
There's an interesting caveat to White's career: Although he was more of a whiskey drinker than a pot smoker, his biggest success in songwriting was influenced by marijuana and not alcohol, as Adam Wernick and Michael May wrote for PRI:
"Years ago, a friend left a marijuana bud on his coffee table. White wasn't a pot smoker, but he popped it into a corncob pipe, lit it up, and in forty minutes wrote a song called Red Ragtop. The song became a huge hit for country singer Tim McGraw."
For some more info, watch this:
A Midwestern university has created a first-of-its-kind program in medicinal plant chemistry that focuses on marijuana.
Sir Billy Connolly received an honorary degree From Strathclyde University. Here's what his honorary degree from NMU might look like. (Photo by Jeff J Mitchell/Getty Images)
Northern Michigan University is offering students the chance to major in a new program called medicinal plant chemistry — marijuana analysis, basically.
The program is the first of its kind at a four-year university in the U.S., according to CBS Detroit. Students will take classes in chemistry, plant biology and business entrepreneurship, and the program will also feature a capstone "research experience" involving "experimental horticulture and instrumental analysis of natural products."
As far as hands-on experience?
"We're not going to be actually growing anything on campus," said Brandon Canfield, associate chemistry professor at Northern Michigan University, to CBS Detroit. "Maybe following the 2018 Michigan election, maybe we'll revisit that depending on the outcome and what ballots are present on that election. But for now, we're not going to be growing any cannabis. We'll be practicing extraction and analysis techniques on other plant systems."
Canfield said the school created the program in response to the growing medical marijuana industry.
"The need for this is so great. You go to some of these cannabis industry conferences and everyone is talking about how they need labs, they need labs," he said. "Or the bigger operations are trying to set up their own labs in house and they need trained analysts. And the skill set required to perform these analysis is perfectly matched with an undergraduate level education."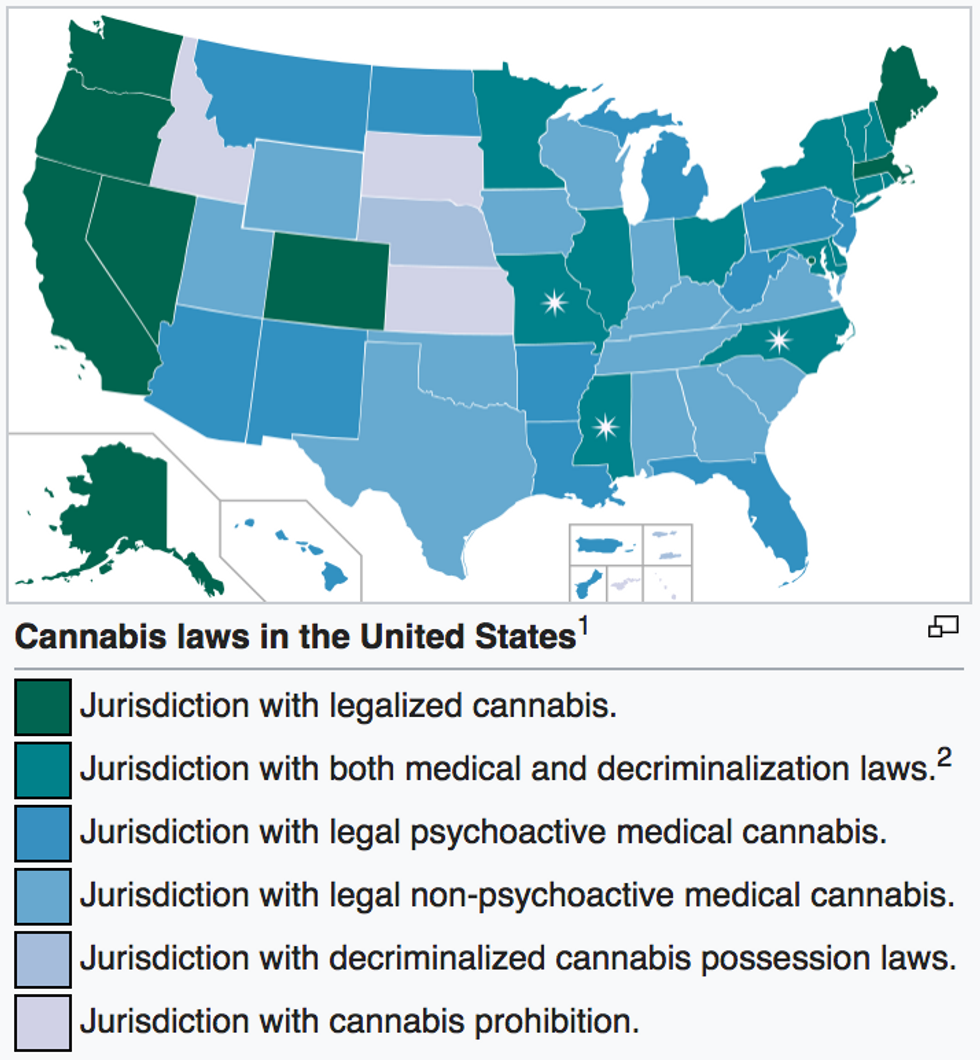 The program will prepare students for careers in either the medical or recreational marijuana industry.
"I predict that the graduates from our program are going to have among the highest immediate job placement of any of our programs," Canfield said. "People are either going to go out and get jobs or they might go out and start their own business in the industry."
The economic data seems to back him up. Marijuana sales boomed by 30 percent in 2016 to $6.7 billion in the U.S. and Canada. It's now fully legal in eight states, which means that 1 in 5 of the total U.S. population lives in a legal adult-use market.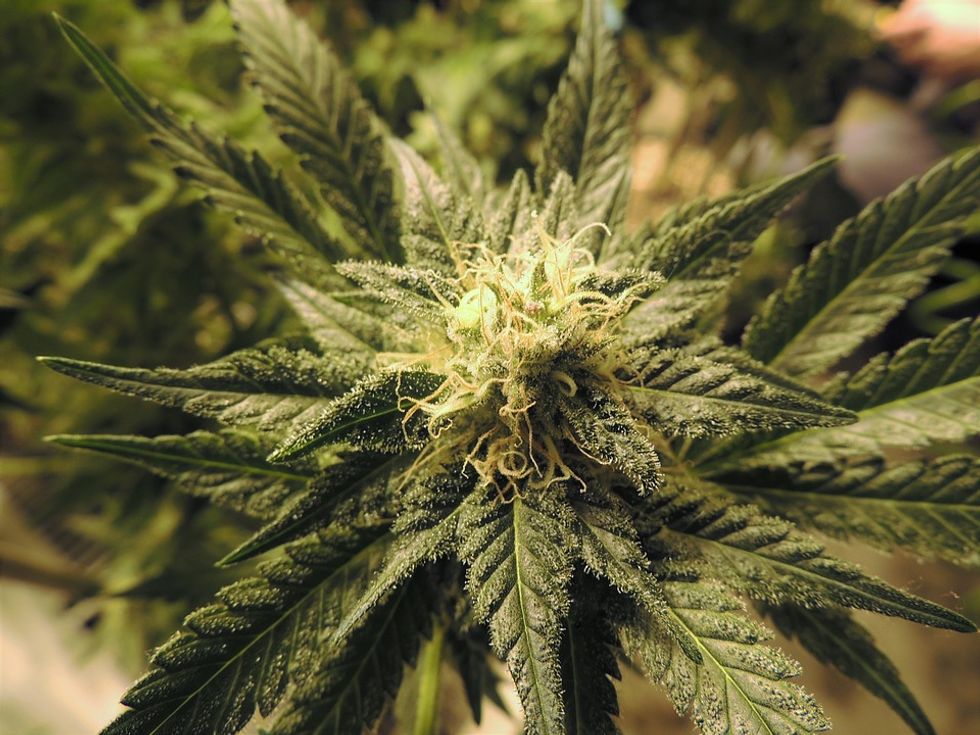 North American marijuana sales are projected to top $20.2 billion by 2021. This kind of industry growth is unprecedented, even compared to the dot-com era, and it's expected to create some 250,000 jobs by 2020, according to a report from New Frontier Data. That's more than the expected jobs in U.S. manufacturing.
But there's another reason it could be especially lucrative to jump into the marijuana business right now, as the Northern Michigan University program website notes:
The historical stigma associated with cannabis is quickly vanishing, and although there is a surge in businesses related to the marijuana economy, there is a major gap in educational opportunities available to prepare people for this field.
In other words, the demand for labor is high while supply is low. It's not too surprising. The industry is still in its infancy and middle America is only just beginning to lower its eyebrows to the idea of marijuana — medicinal and recreational. After all, recreational marijuana is still illegal in most states, including Michigan, which will vote on legalization this November. 
In the meantime, those willing to spend their college tuition preparing for careers in the marijuana industry might profit big on a relatively safe bet.
Personifying certain drugs as evil while calling opioid users "victims" points a glaring spotlight on drug policies that aren't really about public health.
Every 25 seconds in the US, someone is arrested for drug possession. In Manhattan, black people—just 15% of the population—are 11 times more likely to be arrested on drug possession that white people.
For centuries Europeans drank—and for some today, drink—a lot of ale. Numerous accounts of polluted water in the 13th to 18th centuries abound, which apparently forced the citizens of London and Germany to drink plenty of alcohol—one entry from St. Paul's Cathedral allowed for one bola (gallon) per person every day. Others claim that such an amount was unsustainable on the environment, if not the liver. 
Whether or not the English and Germans drank a gallon a day, it is certain that beer was an integral part of daily life, especially in monasteries. While it was common knowledge that a little alcohol elevates the spirits, it certainly was not considered a drug. At least a portion of the water sources really were contaminated. Even if widespread pollution is a myth, who wouldn't want to believe it true if the solution meant breakfast with ale? 
Our beliefs about the substances we ingest have always dictated public attitude toward them. "Drug" is a relative term. Ayahuasca has long been medicine for the soul—advocates call it "grandmother medicine," with the grandfather being peyote. Marijuana's history as a Schedule One substance is much shorter than its common usage in numerous cultures. Substances that alter consciousness are usually deemed sacraments, not sacrilegious. That changed roughly 50 years ago from a policy perspective. 
That attitude changed for the same reason that the idea of building a wall on our Mexican border persists: racism. Carl Hart, who chairs the Department of Psychology at Columbia University, recently stated that the war on drugs is simply a war on race. This is not mere speculation. Last year an interview was published with a former aide to Richard Nixon in which he stated the war on drugs was specifically waged to put down any chance of minority revolt. 
"Drugs" are simply chemical substances with a physiological effect. Sugar is a drug, as is tobacco and caffeine, all of which have detrimental effects when used in excess. A beer a day might not be a bad thing, but a six-pack (or gallon) daily slowly kills you. Since these are socially acceptable and legal, we tend to gloss over their categorization as drugs. We certainly don't have moral directives against these substances, save for certain religious groups, such as Mormons opposing alcohol, tobacco, and caffeine—at least in the form of coffee and tea since no sanctions against soda and chocolate exist. As stated, it's always relative.
The relativity of drugs within groups is one thing. When it affects policy, however, a moral argument is waged against citizens who might not share those morals, and that is a problem. While we are currently undoing five decades of marijuana prohibition Jeff Sessions has recently stated that marijuana is "only slightly less dangerous" than heroin—a provably false claim. Society is waking up from a daze; our attorney general is attempting to keep us in it. 
Sessions, who also champions Nancy Reagan's failed war on drugs—the same racially motivated drug search Nixon, in a lineage kicked off by Harry Anslinger, initiated—is partaking in the same form of verbal gymnastics his forebears used. In his imagination, marijuana is a gateway drug. Reagan went a step further when she personified drugs:
Drugs steal away so much. They take and take. Drugs take away the dream from every child's heart and replace it with a nightmare.
Trade one boogeyman for another, in this case the "other" races in our nation. Hart argues that such language confuses the public. It's not only the drug that is vilified, but the ethnicities most associated with using that drug—an approach that recently hit a roadblock with the opioid epidemic.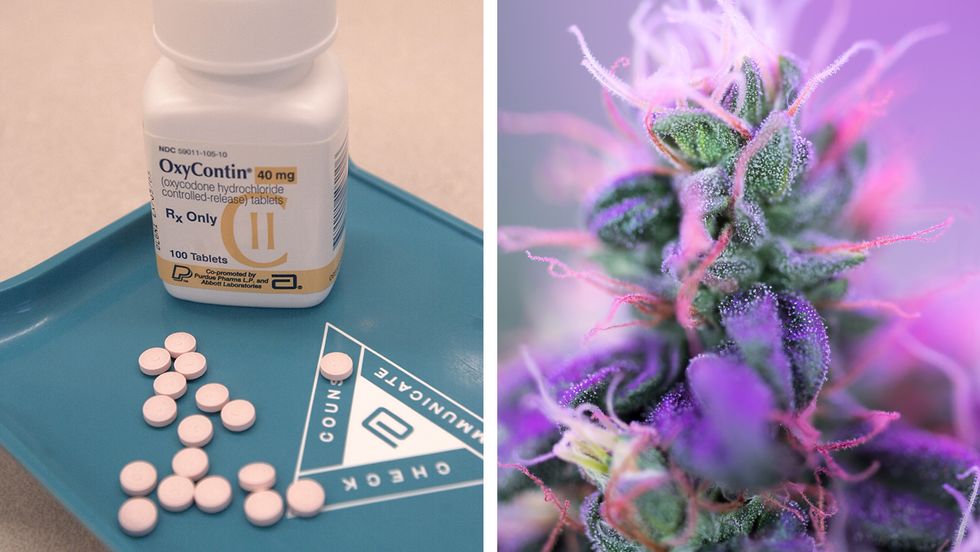 Oxycontin, a commonly prescribed opioid, and a flowering cannabis plant. 
Strangely, we've never had a marijuana epidemic. Yet no substance has been used to incarcerate more Americans. Marijuana is not being and has never been treated as an issue of rehabilitation, as is occurring in communities plagued by opioids. Hart believes this strikes at the heart of the race issue. Discussing other nations with more sensible drug policies, he says:
They do this all around the world, because their first concern is keeping people safe, and not morality. 
Why are morals not being used to combat opioids, especially considering numerous people use marijuana for the very same reason—pain relief? In 2015, 52,000 people died from overdoses; two-thirds of those were associated with opiates such as fentanyl and OxyContin. This has prompted Senator Claire McCaskill to ask pharmaceutical companies to release literature they use to influence doctors to prescribe their drugs. 
As long as drugs like marijuana remain Schedule One and no national legislation addresses legality (as is happening in the states), such a question remains impossible to ask. But it does show the different approach politicians are taking to this particular drug problem. Sessions has never discussed opioids as a gateway drug; he has even called data showing legalized marijuana helps combat opioid addiction "stupid."
As Saralyn Lyons reports in Johns Hopkins University's HUB:
To keep drug policy in America from being hijacked by morality and exaggeration, Hart encouraged a reframing of the conversation: Drug users should "come out of the closet" to change the narrative that users are inherently abusers. "Drug users are me," he said.
Personifying certain drugs as evil while calling opioid users "victims" strikes at the root of this linguistic (and psychological) posturing. Hart suggests a more compassionate approach, not one sponsored only by a "white face," to deal with our actual drug problems—this includes crack cocaine in minority communities, another drug treated as a crime and not a tragedy. This means removing morality from the picture to investigate the real effects of each drug and how we're addressing them. And that means being honest with data.
--
Derek's next book, Whole Motion: Training Your Brain and Body For Optimal Health, will be published on 7/4/17 by Carrel/Skyhorse Publishing. He is based in Los Angeles. Stay in touch on Facebook and Twitter.