Personifying certain drugs as evil while calling opioid users "victims" points a glaring spotlight on drug policies that aren't really about public health.
Every 25 seconds in the US, someone is arrested for drug possession. In Manhattan, black people—just 15% of the population—are 11 times more likely to be arrested on drug possession that white people.
For centuries Europeans drank—and for some today, drink—a lot of ale. Numerous accounts of polluted water in the 13th to 18th centuries abound, which apparently forced the citizens of London and Germany to drink plenty of alcohol—one entry from St. Paul's Cathedral allowed for one bola (gallon) per person every day. Others claim that such an amount was unsustainable on the environment, if not the liver. 
Whether or not the English and Germans drank a gallon a day, it is certain that beer was an integral part of daily life, especially in monasteries. While it was common knowledge that a little alcohol elevates the spirits, it certainly was not considered a drug. At least a portion of the water sources really were contaminated. Even if widespread pollution is a myth, who wouldn't want to believe it true if the solution meant breakfast with ale? 
Our beliefs about the substances we ingest have always dictated public attitude toward them. "Drug" is a relative term. Ayahuasca has long been medicine for the soul—advocates call it "grandmother medicine," with the grandfather being peyote. Marijuana's history as a Schedule One substance is much shorter than its common usage in numerous cultures. Substances that alter consciousness are usually deemed sacraments, not sacrilegious. That changed roughly 50 years ago from a policy perspective. 
That attitude changed for the same reason that the idea of building a wall on our Mexican border persists: racism. Carl Hart, who chairs the Department of Psychology at Columbia University, recently stated that the war on drugs is simply a war on race. This is not mere speculation. Last year an interview was published with a former aide to Richard Nixon in which he stated the war on drugs was specifically waged to put down any chance of minority revolt. 
"Drugs" are simply chemical substances with a physiological effect. Sugar is a drug, as is tobacco and caffeine, all of which have detrimental effects when used in excess. A beer a day might not be a bad thing, but a six-pack (or gallon) daily slowly kills you. Since these are socially acceptable and legal, we tend to gloss over their categorization as drugs. We certainly don't have moral directives against these substances, save for certain religious groups, such as Mormons opposing alcohol, tobacco, and caffeine—at least in the form of coffee and tea since no sanctions against soda and chocolate exist. As stated, it's always relative.
The relativity of drugs within groups is one thing. When it affects policy, however, a moral argument is waged against citizens who might not share those morals, and that is a problem. While we are currently undoing five decades of marijuana prohibition Jeff Sessions has recently stated that marijuana is "only slightly less dangerous" than heroin—a provably false claim. Society is waking up from a daze; our attorney general is attempting to keep us in it. 
Sessions, who also champions Nancy Reagan's failed war on drugs—the same racially motivated drug search Nixon, in a lineage kicked off by Harry Anslinger, initiated—is partaking in the same form of verbal gymnastics his forebears used. In his imagination, marijuana is a gateway drug. Reagan went a step further when she personified drugs:
Drugs steal away so much. They take and take. Drugs take away the dream from every child's heart and replace it with a nightmare.
Trade one boogeyman for another, in this case the "other" races in our nation. Hart argues that such language confuses the public. It's not only the drug that is vilified, but the ethnicities most associated with using that drug—an approach that recently hit a roadblock with the opioid epidemic.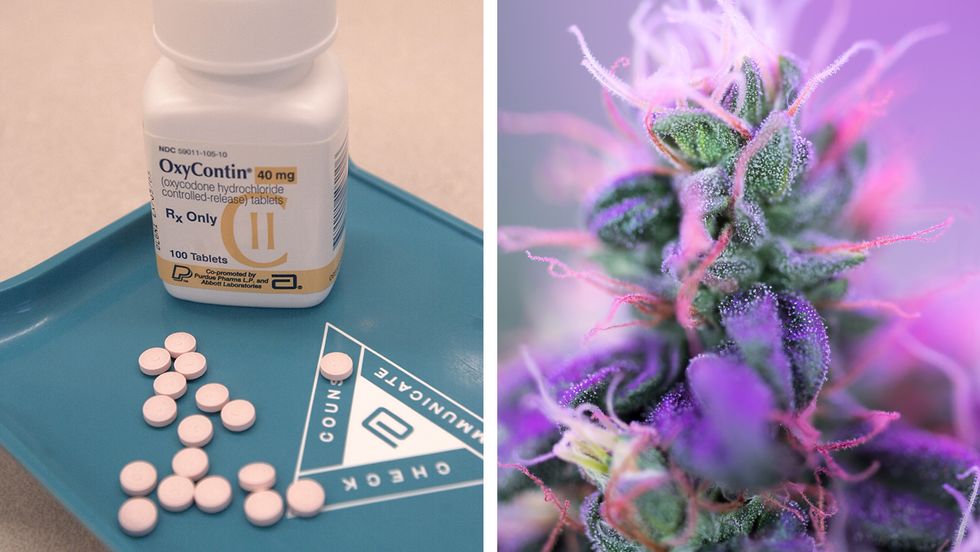 Oxycontin, a commonly prescribed opioid, and a flowering cannabis plant. 
Strangely, we've never had a marijuana epidemic. Yet no substance has been used to incarcerate more Americans. Marijuana is not being and has never been treated as an issue of rehabilitation, as is occurring in communities plagued by opioids. Hart believes this strikes at the heart of the race issue. Discussing other nations with more sensible drug policies, he says:
They do this all around the world, because their first concern is keeping people safe, and not morality. 
Why are morals not being used to combat opioids, especially considering numerous people use marijuana for the very same reason—pain relief? In 2015, 52,000 people died from overdoses; two-thirds of those were associated with opiates such as fentanyl and OxyContin. This has prompted Senator Claire McCaskill to ask pharmaceutical companies to release literature they use to influence doctors to prescribe their drugs. 
As long as drugs like marijuana remain Schedule One and no national legislation addresses legality (as is happening in the states), such a question remains impossible to ask. But it does show the different approach politicians are taking to this particular drug problem. Sessions has never discussed opioids as a gateway drug; he has even called data showing legalized marijuana helps combat opioid addiction "stupid."
As Saralyn Lyons reports in Johns Hopkins University's HUB:
To keep drug policy in America from being hijacked by morality and exaggeration, Hart encouraged a reframing of the conversation: Drug users should "come out of the closet" to change the narrative that users are inherently abusers. "Drug users are me," he said.
Personifying certain drugs as evil while calling opioid users "victims" strikes at the root of this linguistic (and psychological) posturing. Hart suggests a more compassionate approach, not one sponsored only by a "white face," to deal with our actual drug problems—this includes crack cocaine in minority communities, another drug treated as a crime and not a tragedy. This means removing morality from the picture to investigate the real effects of each drug and how we're addressing them. And that means being honest with data.
--
Derek's next book, Whole Motion: Training Your Brain and Body For Optimal Health, will be published on 7/4/17 by Carrel/Skyhorse Publishing. He is based in Los Angeles. Stay in touch on Facebook and Twitter.
A new study in nature reports that LSD minimizes fear recognition and enhances emotional empathy and sociality. Is it time to widely utilize 'trip treatment'?
Image: Flickr / androoouk
Resurgence in psychedelic research is picking up after a 50-year hiatus. With a recent admission that Nixon's war on drugs was really an attempt to quiet minorities and radicals—psychedelics being swept into this mess—few researchers have been bold enough to conduct controlled studies, regardless of how little recreational and ceremonial usage has not waned.
A new study in Nature further explores the therapeutic potential of LSD as a tool for emotional regulation. Forty participants, 29 of whom had no prior experience with LSD, were given a dose of 100 μg or 200 μg (the researchers consider this comparable to a recreational dose) or a placebo. Then they waited seven hours.
Participants were then given a variety of psychological tests, including ones focusing on facial recognition and empathy. The goal was to see how LSD affects cognitive and emotional empathy scores. Interestingly, there was a decrease in cognitive empathy and an increase in emotional empathy, leading the researchers to conclude that LSD has the potential to increase empathy and prosociality by decreasing the ability to recognize negative emotions.
This mechanism might seem strange—a decrease in ability to recognize facial expression is not a beneficial tool. In fact, it's a mark of sociopaths. The decrease in the chart below is statistically significant, though not drastic. The higher the LSD dosage, the more the discrepancy. Interestingly, while all participants recognized anger and happiness, both evolutionary essential emotions to observe, a lower cognitive score yet higher emotional score on sadness is relevant.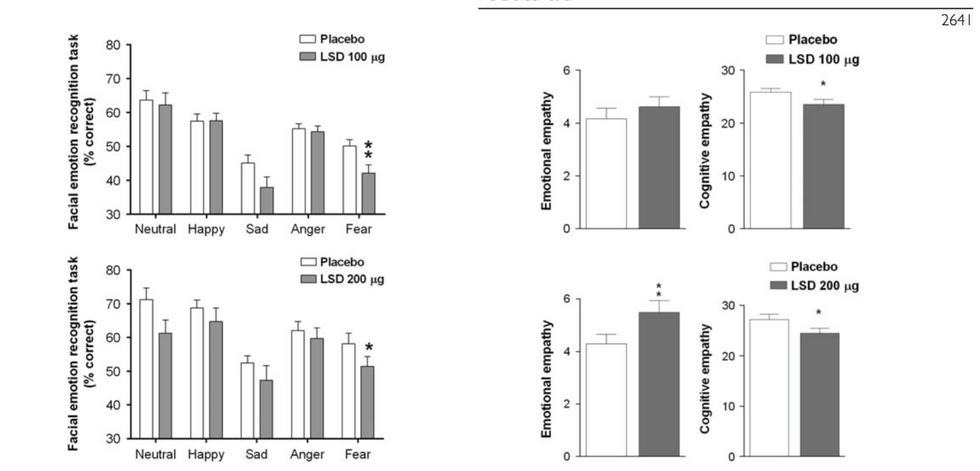 Emotions are generated by our brain's paralimbic structure, evolutionarily the oldest region (also known as the reptilian complex). While the brain's three major regions are always in communication, in general we feel an emotion before the gating system in our prefrontal cortex decides whether or not the stimuli is valid. (People who suffer from OCD, for example, have a faulty gating system.)
There has been an argument that since modern humans lack knowledge of many survival techniques required of our ancestors, such as running from other animals and hunting and gathering, our danger is largely self-created. An emotional response to the lack of variety and challenge in our environment translates into elevated levels of cortisol, keeping our nervous systems on perpetual alert when no actual danger exists.
One of the many avenues this method of living can travel is depression. If LSD helps thwart our ability to cognitively recognize sadness while simultaneously creating more emotional caring, it makes sense that we would both be more social—less constraints and fears when associating with others—and show more concern about the feelings of others, instead of reverting into our own shells.
While not all of the markers in the chart below are statistically significant, it is telling how many emotions are affected by LSD usage.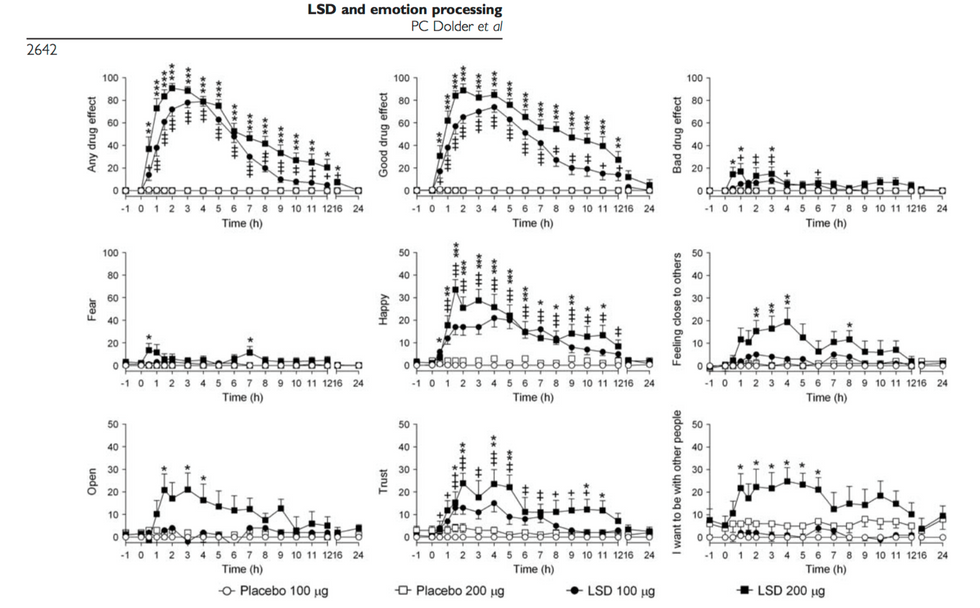 This caused the researchers to conclude:
LSD impaired emotion recognition of negative emotions and enhanced emotional empathy, particularly for positive emotional situations, and had subjective and behaviorally tested prosocial effects. These effects of LSD in healthy participants likely have translational relevance to LSD-assisted psychotherapy in patients and can be expected to reduce the perception of negative emotions and facilitate the therapeutic alliance.
One challenge with psychedelic research involves changing our understanding of how emotions affect cognition. A marker of modernity is emotional suppression, immediately using pharmaceutical intervention when experiencing a range of bodily feelings that might be somatic in origin: aspirin for a headache, opioid for back pain, SSRI for depression and anxiety. While these drugs certainly show benefits in certain individuals, the reflexive prescription trigger many professionals pull without emotional counseling is tragic.
Which is where psychedelics have the potential to intervene. Research in LSD, MDMA, and psychedelics in palliative and hospice care has shown tremendous success. While results can be measured quantitatively, the real effect is qualitative for those facing the end of their lives. Given the emotions involved in such a fate, any substance that might help regulate the response should be considered.
Like many substances, LSD was discovered by accident. Its history isn't always pleasant, though given false accusations of its dangers from Nixon on down, public perception has not exactly been welcoming. We've reached an especially precarious social juncture; tensions are running high on a daily basis. Moving LSD and other psychedelics from the fringe provides one potential source for alleviating part of this tension. At a time when empathy and stronger social skills are required for cultural progress, a trip treatment is just what the doctor ordered. 
--
Derek Beres is working on his new book, Whole Motion: Training Your Brain and Body For Optimal Health (Carrel/Skyhorse, Spring 2017). He is based in Los Angeles. Stay in touch on Facebook and Twitter.
ScienceDebate.org sent 20 fine-tuned questions to the presidential candidates. 3 out of 4 of them responded. Here's where they stand on key science issues.
ScienceDebate.org, a nonprofit that promotes science and technology discourse in the public sphere, came up with 20 questions to ask the leading candidates for U.S. Presidency. The questions were crowdsourced and refined by dozens of scientific organizations. Despite the unpredictable nature of the current elections, aside from the Libertarian Gary Johnson, the candidates actually answered.  
Here is the rundown of where they stand on some of the major science and tech issues:
1. INNOVATION/RESEARCH
Hillary Clinton (D) sees "education, research, and commercialization" as core components of American success and plans to focus on all three as president. She supports universal preschool, debt-free college, training programs, STEM programming in every school. As president, she would work to make sure that research gets appropriate government funding, allowing for "multi-year planning" and "exploration of emerging research areas". She sees the U.S. currently "underinvesting in research". 
To support commercialization, she would open access to government-funded research, develop "collaborative consortia" to help create new industries, and invest in "Make it in America" partnerships to keep manufacturing in the country.
Throughout her life, Clinton has been inspired by the space program and would look to continue American leadership in this field as president, supporting NASA and advancements towards putting humans on Mars.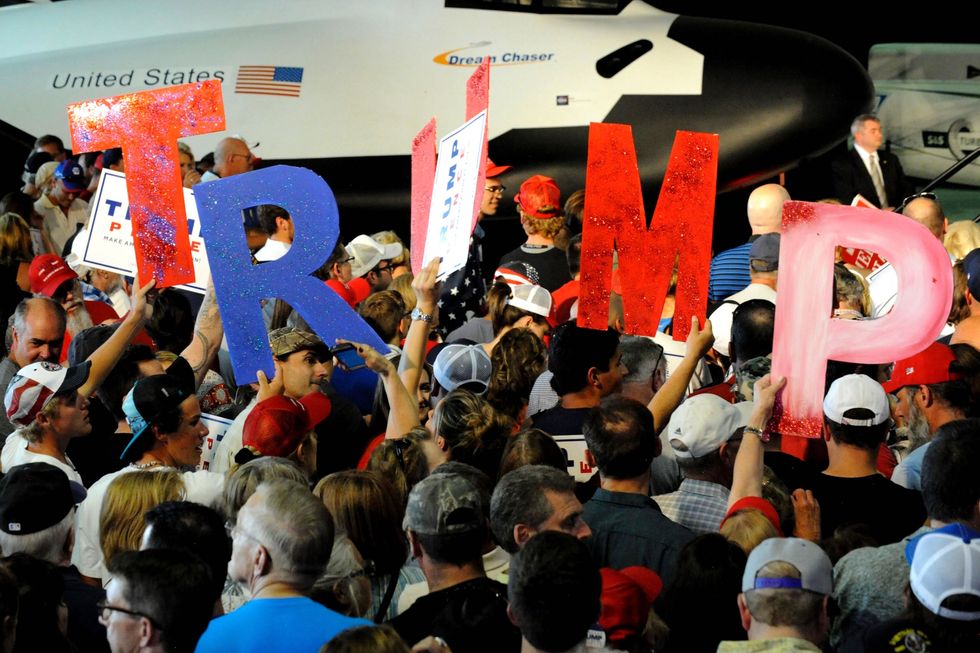 Supporters of Republican President candidate Donald Trump cheer during his address at the Wings Over the Rockies Air & Space Museum in Denver, Colorado on July 29, 2016. (Photo by JASON CONNOLLY/AFP/Getty Images)
Donald Trump (R) is less detailed on this subject (as he is on other subjects) but sees innovation as "one of the great by-products of free market systems". He would reduce impediments for products to enter the market, creating a fair trade environment. He thinks that there is a need to get a grip on spending, but does see the federal government playing a role in encouraging space exploration and investing into research and development across academia.
When asked about long-term research funding in particular, he again pointed to the space program as well as "institutional research," saying it's something we must have. He reiterated his support for space exploration when asked about it directly, recognizing many positive effects of a "vibrant space program". He sees "exploring beyond our own space neighborhood" as a priority.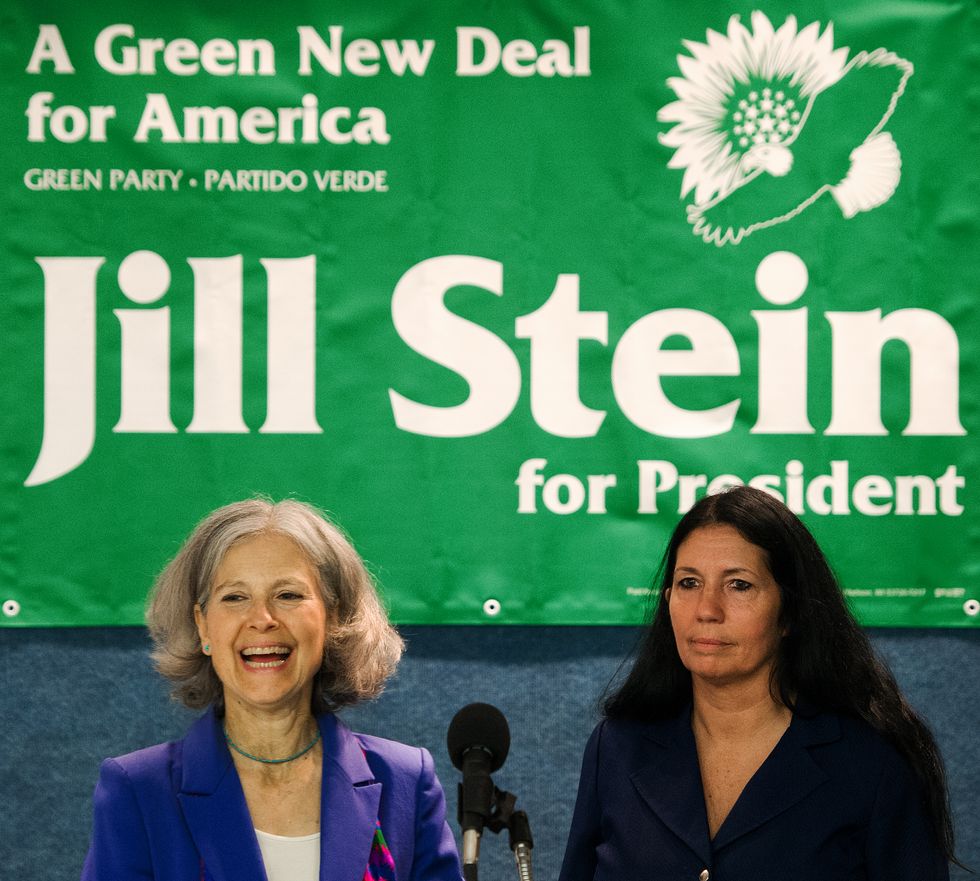 US Green Party presidential candidate Dr. Jill Stein (L) delivers remarks after announcing Cheri Honkala (R) as her US Green Party vice-presidential choice during a press conference July 11, 2012, in Washington, DC. (Photo by PAUL J. RICHARDS/AFP/GettyImages)
Green Party's Jill Stein regards her party's platform as very focused on innovation, with proposals on climate change, free public education from pre-school to university, cancellation of student debt and Medicare for All. She would reduce Pentagon spending and invest freed resources into public R&D.
She sees "a just economy" as the cornerstone of innovation. The greatest challenge facing us, according to Stein, is climate change, and she would look to science and technology to contain greenhouse gases and create "a resilient society" that could adapt to the inevitable climate changes.
She would also take a look at how well some government-funded institutions like the National Science Foundation are functioning, preferring to make science policy more in line with what average people would need and want.
Her views on the space program focus on re-orienting it from military and corporate interests towards helping solving Earth-bound problems like climate change.
2. CLIMATE CHANGE
Hillary Clinton very much believes in climate change and sees it as "an urgent threat" that needs to be addressed. She would look to continue Obama's policies that cut down on pollution by greenhouse gases.
She gets more specific in offering 3 goals that we should achieve within 10 years to make America "the clean energy superpower". The goals feature generating half of the country's electricity from clean sources and installing half a billion solar panels in her first term. She'd also cut energy waste and reduce oil consumption by making vehicles more efficient and the fuels cleaner.
She would also launch a $60 billion Clean Energy Challenge to spread the clean energy practices throughout the country. 
Donald Trump, on the other hand, believes that we don't know everything about "climate change" (an expression he puts in quotation marks, hinting that he doesn't necessarily trust it's real). Instead, he would focus on more concrete problems like clean water, diseases like malaria, and increasing food production to keep up with the world's growing population.
He does mention that we should focus on developing energy sources that would make us less dependent on fossil fuels. In his response about energy policy, he expands that it should be the country's goal to achieve "energy independence". That would include trying solar energy, nuclear power and bio-fuels, with the winner decided by market forces. 
Expectedly, Green Party's Jill Stein makes climate change a central issue, calling it in no uncertain terms "the greatest existential threat that humanity has ever faced". She proposes a number of measures to combat it, including a so-called Green New Deal that would not only curb climate change but revive the economy and make oil-related wars unnecessary.  She would transition the country to 100% clean renewable energy by 2020, creating 20 million jobs. One way to do that would be to build a smart electricity grid that would pool and store energy from various renewable sources. 
Stein is the only candidate to explicitly come out against fracking, offshore drilling, natural gas pipelines and uranium mines. She would halt investment into "fossil fuel infrastructure" and phase out fossil fuel and nuclear power plants, which she considers unsafe and "dirty".  
3. THE INTERNET
Hillary Clinton would make sure the internet remains a place where people could equally and freely exchange knowledge and ideas. She would also invest in cybersecurity, building on President Obama's policies. If cyber-attacked, she promises the U.S. would be "ready with serious political, economic and military responses". 
Donald Trump also talks tough about a potential cyber-attack, saying such a "provocative act" would be met with a proportional response that would ultimately eliminate the threat.
Jill Stein would protect freedom on the internet by opposing the Online Piracy Act, defending net neutrality, and supporting public broadband. As far as cyber-security, she would ban cyberwarfare via an international treaty and look to the U.N to create a new agency for identifying cyber attacks. 
4. MENTAL HEALTH
Hilary Clinton sees this as a very serious issue that affects millions of Americans. She points to her recently released mental health plan, which focuses on measures like early diagnosis and a national initiative for suicide prevention. Among other proposals is prioritizing treatment over jail for non-violent offenders and investing into brain and behavioral research. 
Donald Trump also considers the issue vital, calling it "one of the great unfolding tragedies in America today." He would address it via reforms, investment, and allowing family members more involvement in the care of the mentally ill. 
Jill Stein regards mental health care as a fully-funded part of the single-payer Medicare for All universal health care system that she advocates. She also points out the government's responsibility in addressing PTSD and other conditions suffered by veterans as well as mentally ill prisoners.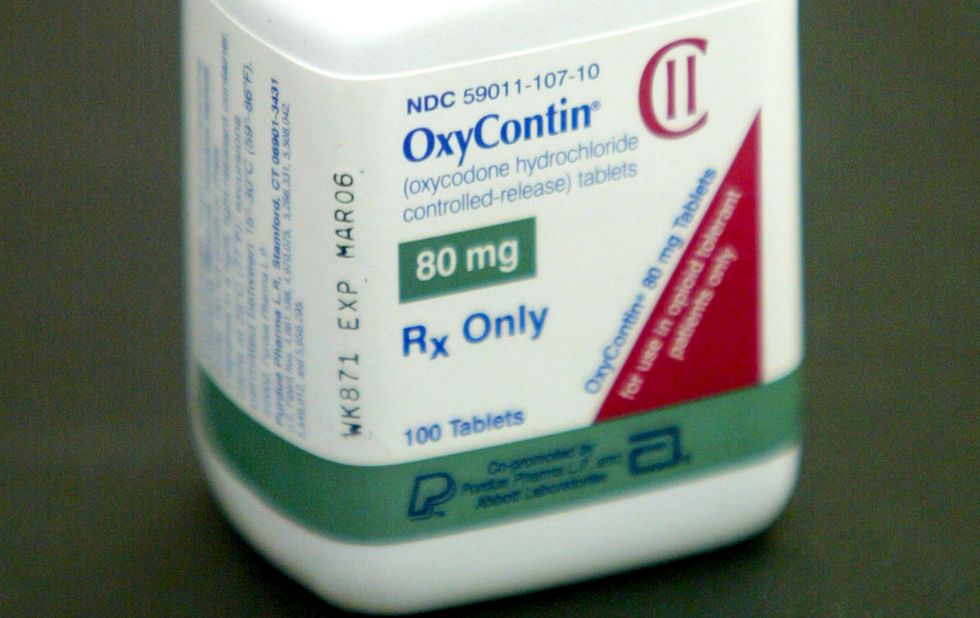 Photo by Joe Raedle/Getty Images
Hillary Clinton recognizes that the country is in the midst of a "quiet epidemic of drug and alcohol addiction," focusing particular attention on 52 million Americans who have misused prescription drugs. She proposes a $10 billion initiative to fight substance abuse. 
Donald Trump views the "inflow of opioids" into America as the issue to tackle. He sees investment into stopping this problem as a way to increase American productivity.
Jill Stein would end "the war on drugs" and use the available funds for research, education and treatment. 
Here's where you can read the full questions and answers by the candidates.