Few know about the trillion dollar crime that stole pay raises while weakening our economy. The "lootocrats" and their courtiers are taking us for a ride.
Illustration by Julia Suits, author of The Extraordinary Catalog of Peculiar Inventions, and The New Yorker cartoonist.
1. A scheme that was till recently a crime now consumes trillions of dollars. That's one of many market maladies Rana Foroohar publicizes in her book Makers and Takers: How Wall Street Destroyed Main Street.
2. Share buybacks were illegal "market manipulation" until 1982. They now divert $0.5-0.8 trillion annually from investments, R&D, wages, etc. A slow "corporate suicide" (over $7 trillion extracted by "lootocrats").
3. Reagan's SEC chief John Shad (an ex-Wall St boss) legalized buybacks. But Clinton-era folks (Robert Rubin, Larry Summers, etc) accelerated the fox-guarding-chickens games.
4. The justification? Chicago School shareholder value maximization theory (aka "The World's Dumbest Idea"). And general free market fundamentalism that presumes markets allocate efficiently.
5. Foroohar counters the Chicago catechism with empirical evidence. And markets-know-best folks must face the many facts Foroohar marshalls to falsify their fig-leaf faith. For instance:
6. Only ~15% of flows to Wall St get to real businesses (the rest on games "not unlike a Ponzi scheme").
7. "Privately owned firms invest more than twice as much… as public firms." And drug companies spend more on shareholder maximization than on R&D.
8. 80% of our CEOs would "pass up making an investment that would fuel a decade's worth of innovation" to hit a quarterly target (foreign firms think in "decades rather than quarters").
9. Walmart did ~$8.3 billion in buybacks in 2016, ~$3,600 per worker. Welfare for Walmart workers cost taxpayers ~$6 billion.
10. Total S&P 500 2016 buybacks = $536 billion ~$22,000 per worker.
11. Any fraction of that recently criminal misuse of money going to workers would benefit us all. They tend to spend more of their gains (generating growth) than the rich (tend to prefer Wall St's Ponzi-ing).
12. Or that $½ trillion could be spent on "real" economy equipment, etc (as it was till 1982).
13. Business schools literally teach "greed is good," which encourages short-term exploitation.
14. Bankers now manipulate commodities markets (Goldman Sachs caused food riots in 22 countries).
15. Always ask—what do business leaders serve? What are they loyal to? What would they not harm?
16. To trust those who aren't loyal to anything beyond their own gain is foolish.
17. Unless business leaders are loyal enough to their companies, customers, employees, communities, nations, to not harm them, the whole market system is at risk (+see Good vs Bad Rich).
18. Buyback shenanigan fixes aren't difficult. Let's reban them. Or mandate X% must go to workers.
19. But deeper business leadership diseases will be harder to cure (e.g. the dysfunctional 3-way dance: greedy executives cherry-pick from backseat-driving reality-denying economists to shape policy-maker ideas).
20. If we don't stop these economy-sapping schemes, the "lootocrats" and their courtiers will continue to take us for a ride.
21. "The 1% grabbed 82% of all wealth created in 2017."
Illustration by Julia Suits, author of The Extraordinary Catalog of Peculiar Inventions, and The New Yorker cartoonist.
Are you more likely to think everything is going well with your finances if the politics of your country's leaders align with yours? One new study says yes. 
Wikicommons
Are you more likely to think everything is going well with your finances if the politics of your country's leaders align with yours?
A study, published in the Journal of Financial Markets, shows that people's optimism towards the stock market and the overall economy is influenced by their party affiliation as well as the political climate in the country.
If a person's preferred party is holding power, people tend to become more optimistic about the economy. Investors put more money into risky bets, showing preference for high-market beta, small-cap and value stocks, say the researchers. Conversely, they'd show less preference for local stocks.
"The political identity of an individual is an important source of her degree of optimism towards the U.S. economy, " write the researchers. "Republicans are less optimistic about the domestic economy when Democrats are in power and, similarly, Democrats grow less optimistic about the economy when Republicans come to power."
Indeed, a recent Economist/YouGov poll shows how true that is. A year ago, with similar unemployment and jobs-added numbers, Republicans saw the economy in a mostly negative light. In a July 2016 poll, 48% of the Republicans said things are going badly with the economy, while only 6% had a mostly positive view. Now, in an August 2017 poll, 42% of the Republicans regarded the economic news mostly positively while only 13% thought the news was negative.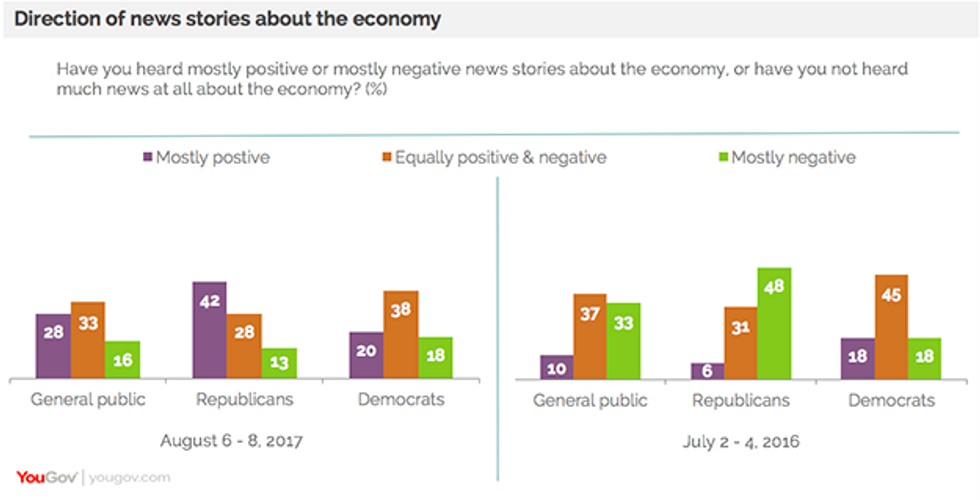 Interestingly, five times as many Republicans (28%) can correctly state the jobless rate today compared to a year ago (when less than 5% knew it). This is the same statistic that was regarded as a "poor" indicator of the economy's health by 49% in 2016. Now, only 17% of the Republicans still don't trust it. Of note is also the fact that less than 20% of Republicans now think joblessness is a problem, while nearly half of the polled thought it was a "very serious" problem last year.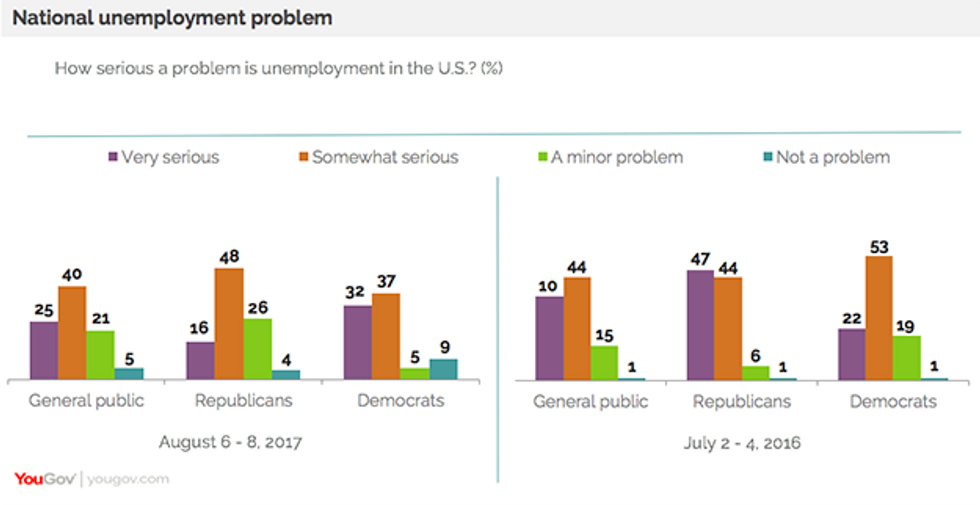 Among the Democrats, a partial reversal is true. Joblessness is now a concern of 10% more Democrats than in 2016.
Why does such a shift of opinion happen? The researchers explain that investors become more optimistic about domestic markets and the economy at large when their party is in power because they are more likely to agree with the economic policies being implemented and feel more confident their party can improve the country's welfare. This kind of change in optimism can influence their perceptions of risk and reward - a fact that affects the decisions they make about investment and how well a portfolio may be performing.
"In particular, because of their increased optimism levels when their own party comes to power, individuals are more likely to believe that financial assets are undervalued and would produce superior future performance," explain the scientists. "Those individuals may also perceive the markets to be less risky and would therefore exhibit a greater willingness to hold riskier portfolios."
The researchers give the example that investors may increase the market exposure of their portfolios if their party is ruling. More specifically, they "may overweight stocks with higher market betas and exhibit a stronger preference for riskier small-cap and value styles."
The study was authored by Yosef Bonaparte from the University of Colorado at Denver, Alok Kumar from the University of Miami and Jeremy K. Page of Brigham Young University.
In future research, the scientists are looking to examine in greater specificity the relationship between politics and individual financial decisions. They conjecture that it may be that Democrats and Republicans have preferences for different kind of stocks, which may have different fortunes based on the political climate. For instance, Democrat-favored stocks may become overpriced due to the optimism of Democratic investors when their party is in control.
You can read the current study here.
Look at Wall Street in 2008, and the White House right now. Diversity—of people and cognitive perspectives—is crucial for avoiding failure.
We need to rethink our diversity strategy, says Sallie Krawcheck. What we've been trying for the last decade hasn't been working, but what exactly is the problem? Research reveals that diversity is actually worse in meritocracies. Managers—and particularly middle managers, Krawcheck points out—fall into the cognitive trap of hiring people who "remind me of a young me" (i.e. look like them and think like them) instead of more cognitively diverse people who would bring a missing skill set to a team. This is as important now, under the almost all-white male Trump administration, as it was in the 2008 Financial Crash. Wall Street is one of the most homogenous institutions in America, and Krawcheck has no doubt that having a more diverse set of minds in finance would have lessened the severity of the global crash. In addition, risk-taking and the poor decision making that results can be tracked to fluctuations in one hormone: testosterone. Whether it's the housing bubble, America's healthcare, or foreign policy, these are mistakes that affect millions of lives. As a CEO, Krawcheck's approach and advice on diversity is changing. The current strategy has been a failure, but what if companies paid their managers, in part, based on the diversity of their hires? What if we thought of diversity as more important than meritocracy? Sallie Krawcheck is the author of Own It: The Power of Women at Work.
Cornel West talks about everyday poets, being the best of the human species, hope, what wokeness really means, and revolution.
Institutions—governmental, religious, financial, even revolution itself—have a way of turning stale and sour. "Thank God for the history of the heretics and the blasphemers. That's my crowd," says Dr. Cornel West. Quoting from some of history and literature's greatest thinkers and doers, West presents a poetic lecture on the role of hope in America's past and its future, and how to make your voice matter.
This video was filmed at the Los Angeles Hope Festival, a collaboration between Big Think and Hope & Optimism, a three-year initiative which supported interdisciplinary academic research into significant questions that remain under-explored. For more from Dr. Cornel West, head to cornelwest.com.
Can't the U.S. be a little more like Scandinavia in its ethos? Fixing inequality in America will take more than economic reform, it will also need a cultural shift.
From a human rights and decency standard, everybody in a society should be able to meet their basic needs, says economist and Columbia professor Jeffrey Sachs – but he questions whether a popular proposal known as Universal Basic Income (UBI) is the way to achieve a better standard of living in the U.S. At its simplest, UBI is an unconditional base salary that is paid to all citizens of a society, no matter their employment status, current wealth, attempts to gain work, and regardless of how they intent to spend it. Sachs sees the value in the idea, but isn't confident in the proposal's no-strings-attached nature – will some people coast for free off the hard work of others? A guaranteed basic income experiment known as 'Mincome' in Canada in the 1970s showed a just a 9% reduction in working hours among two main groups of citizens: new mothers, using their additional income to extend their maternity leaves and spend more time with their infants, and teenage boys who were using that income to stay in school. A new UBI trial is planned for 2017 in Ontario, and many nations await the results.
Sachs prefers a different strategy: social democracy, which requires a cultural reform in the U.S. alongside an economic reform. Sachs holds up the ethos of Northern European countries like the Netherlands, Denmark, Norway, Sweden, and Germany who have publicly financed healthcare and education. Free and equal skills for all, over free and equal money. The more egalitarian spirit operating in these countries would clash dramatically with the Wall Street 'winners and losers' mentality that dominates American economics. "That is what's degrading American society. Not just the technical issues. Not just the rising inequality but this spirit that you're a winner or you're a loser. And if you're a loser get out of the way. That's Ayn Rand talking. It's ugly and we've had enough of it."
Jeffrey Sachs's most recent book is Building the New American Economy: Smart, Fair, and Sustainable.