Over the course of his presidency, Barack Obama issued a total of 276 executive orders. So, what exactly does that mean?
Pres. Obama signs an executive order to close Guantanamo Bay detention center. In his first week as president, Obama signed 5 executive orders. In Trump's first week, he's so far signed 5 orders and 1 notice – but there's really no point in comparing.
Over the course of his presidency, Barack Obama issued a total of 276 executive orders, according to the Federal Register. During his eight-year presidency, Obama was criticized for using the powers of the executive office to circumvent the Constitution and Congress by issuing executive orders—more so than any previous president. However, Pew released a chart showing this simply isn't so. He issued fewer executive orders than President George W. Bush, Bill Clinton, and Ronald Reagan. So, how should we take this information?
It's important to first define what an executive order is and to understand it has a relative in the presidential memorandum. The executive order has the force of law whereas a presidential memorandum is similar in its legal implications. However, a memorandum tends to govern the actions of specific departments under the executive branch. The reach of the president's ability to affect change extend beyond the executive order.
Even the Pew report acknowledges their analysis is somewhat limited:
"This analysis focuses on executive orders alone because of data limitations for other types of executive action. (Presidents are required to count and publish executive orders but are not obligated to release memoranda or proclamations.)"
Presidential memorandums only need be published to the Federal Registrar when the president deems they have "general applicability and legal effect," leaving the president with a lot of leeway.
When it comes to executive orders, by the numbers presidents have been issuing them less and less. Franklin D. Roosevelt was the last president to use them and boy did he – he issued a whopping 3,721 executive orders. However, it's important to consider he was the longest sitting president with four terms and the one who ran the country during WWII. However, gone are the days when over 1,000 executive orders can go through government unchallenged.
Chris Edelson, an assistant professor at American University's School of Government, explained to The Daily Dot:
"A president could issue 1,000 executive orders. As long as they were all based on legitimate statutory or constitutional authority, [the executive orders] would be fine. Another president could issue just one executive order like the one FDR relied on to initiate the internment of Japanese Americans during World War II—which was later supported by Congress but should have been recognized as unconstitutional—and be way out of line. The key issue to me is to determine when unilateral presidential action can be justified—sometimes it can be, sometimes not—whether it is carried out by executive order or not."
But this still doesn't answer our question about memoranda. Back in 2014, USA Today wrote an article which stated Obama issued more presidential memorandums than any other president. The Washington Post published an excellent piece in response to this article, which called into question USA Today's claims and made an interesting point: why do we care about the numbers anyway?
John T. Woolley, co-director of the American Presidency Project at the University of California at Santa Barbara—the organization which provides the data on executive orders—told The Washington Post he doesn't consider this a good use of their data.
Ultimately, he told them, "the counting of memorandums is just about pointless in terms of illustrating what is going on and whether it is controversial." We're trying to play a numbers game, when we really need to be focusing on the substance of these executive orders and memorandums. The Washington Post continues:
[N]ot all executive orders are earth-shattering; some appear banal, such as changing the name of the National Security Council staff and making the day after Christmas a holiday for federal workers. Meanwhile, one of the presidential actions on the Affordable Care Act — the delay in implementing the employer mandate — that led to a lawsuit by House Republicans was accomplished through neither an executive order nor a presidential memorandum; it was just a Treasury Department notice.
Focusing on a tally of executive orders, memoranda, or notices is an irrelevant distraction that can't be compared from one president to another. Like with most things, here quality matters over quantity.
Speaking of quality presidents:
An expansive new study shows that marijuana use by Americans has increased significantly since 2002.
You probably could've guessed this yourself - many more Americans are smoking pot. Such is the conclusion of an expansive new study published in the medical journal Lancet.
Researchers surveyed almost 600,000 U.S. adults (18+) between 2002 and 2014. Marijuana use was defined as using it in the past year. Such use increased from 10.4% (of the surveyed people) in 2002 to 13.3% in 2014.
There was also an increase in the number of people who started to use pot for the first time in the last year, going up from 0.7% in 2002 to 1.1% in 2014. And the amount of people who use weed on a daily basis has also ticked up, from 1.9% to 3.5%. If you extrapolate that to the general population, you get about 8.4 million Americans who are using marijuana today.
Why has this happened? It's not hard to see the reason. Fewer people perceive marijuana as a harmful substance (dropping from 50.4% to 33.3%).  
Interestingly, while marijuana use has increased, the study did not find a general population increase in marijuana-related disorders like drug abuse or addiction. That number remained constant at about 1.5% of the general population, while the prevalence of such disorders among pot users has declined from 15% to 11%. 
So how may Americans in total are using marijuana? The researchers estimated this number by extrapolating the percentages from the survey to the general population. 31.9 million people used pot in 2014 in the United States. That's an increase of ten million people compared to 2002's 21.9 million users. And of course, these are stats up to 2014. It's conceivable the real number is even higher now.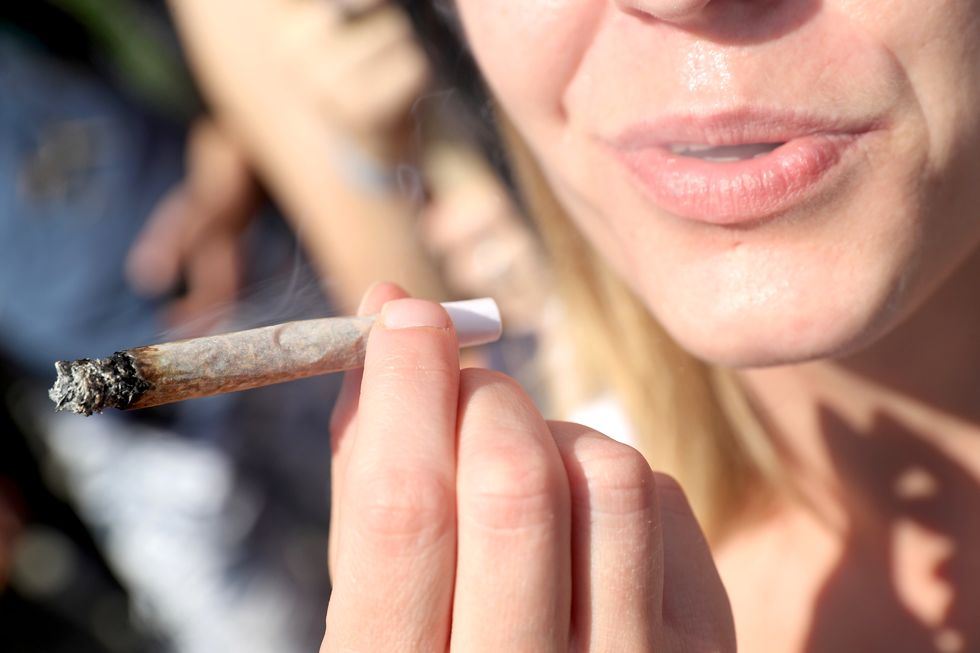 Photo: Getty Images.
The study's author Dr. Wilson M. Compton from the National Institute on Drug Abuse, National Institutes of Health explained the significance of their findings this way:
"Although shifts in perceived risk have historically been important predictors of adolescent marijuana trends, no previous research has examined this relationship in adults. State laws related to marijuana use in the USA have changed considerably over the past 20 years with medical marijuana now legalized in 25 states and the District of Columbia. Additionally, several jurisdictions have legalized non-medical marijuana use."
 "Understanding patterns of marijuana use and dependence, and how these have changed over time is essential for policy makers who continue to consider whether and how to modify laws related to marijuana and for health-care practitioners who care for patients using marijuana. Perceived risk of marijuana use is associated with high frequency of use suggesting the potential value for modifying risk perceptions of marijuana use in adults through effective education and prevention messages."
Groups fighting for marijuana legalization were excited to hear the study's results, noting that the number of disorders stayed unchanged even while use increased.
Mason Tvert, the spokesman for the pro-legalization Marijuana Policy Project, had this to say:
"It really highlights what a lot of people already know to be true. Countless adults consume marijuana responsibly and should not be treated as if they are drug abusers."
Of course, while more studies need to be done, there has been some evidence that cases of marijuana disorders have gone up, and heavy marijuana use has been linked with increased instances of psychosis.
This may yet be simply a correlation and not a causation. Perhaps various psychotic illnesses, including schizophrenia, are not somehow influenced by marijuana, but rather people more prone to such diseases are likelier to smoke it. One reason proposed for the potential increase in marijuana-related disorders is the dramatic rise in the potency of cannabis, with potent strains being more than 15% THC (up from 4% 20 years ago).
The study comes at a crucial time for the marijuana legalization movement, as residents of Arizona, California, Maine, Massachusetts and Nevada will be voting this November whether to allow pot for recreational purposes.
The increased use of smart drugs to boost brain performance is raising many ethical and practical questions.
The 2016 Olympics were generally a positive event, free of major controversies or disasters (#Lochtegate aside). The bigger scandals happened beforehand, with the worst being the exposure of Russia's state-run athlete doping operation. 118 Russians ended up being banned from participating in the Olympics, many of them the best in their sports. The international community took a stand that it doesn't want athletes to use certain chemicals that enhance performance. 
As many regular non-Olympian people turn to chemicals to help their everyday performance, especially those that help brain functions, questions about such "smart drugs" (also known as nootropics) abound.
We are talking about current drugs like Ritalin, Adderall and Modafinil, but also about drugs that have not yet been created. Surely, they will be even stronger and more precise in their effects. 
What's more, while additional studies need to be done, some recent research suggests Modafinil, in particular, is pretty safe to use. It was shown to boost a number of mental skills, including attention, creativity and memory without side effects or potential for addiction. 
Are they fair?
Is it fair that someone can take a drug and suddenly be able to concentrate and remember better and, ultimately, do a superior job compared to a person who didn't or can't take the drug? What if the drugs are only available to a select few who can afford them? What if the drugs can permanently enhance thinking? Will there be a moral imperative to take them, because if you can be a better human, why wouldn't you?
Can you use them at work?
Say you are an office manager. If your ultimate goal is productivity, do you care if your employees are taking these drugs? Maybe you'd even encourage them?
Let's not forget a brain-enhancing drug that's already present in most US offices - coffee. Why is coffee ok, but a stronger, more specifically helpful drug ethically unacceptable? 
People are already taking them
The fact is, no matter how we answer such questions, people are already using the drugs to improve their work performances.
A recent article by Professor Carl Cederström, who specializes in Organization Theory at Stockholm University, points out examples of spreading smart drug use.
There have been reports of Modafinil (aka Provigil) being popular in Silicon Valley, with techies using it to work twenty-hour days.
As investigated by Nature magazine, smart drugs are also popular among gamers in gaming competitions, with organizers now instituting anti-doping measures.
Not to be outdone, the US Army is trying to create super-soldiers who don't sleep via its own research involving Modafinil.
Also, up to 20% of Ivy League college students have tried "smart drugs" to improve their academic performance. Most of them used the drugs to write essays and prep for tests. Interestingly, 33% of the students didn't think it was cheating to use such drugs. Perhaps that number points to how many more students could be taking the drugs.
How many are using nootropics in total? That's hard to tell. Another report by Nature talks of a study where one in five respondents admitted to using brain-boosting drugs. While there are currently no accurate statistics on the use of smart drugs, anecdotal evidence suggests a significant percentage of professionals use them already and many more could in the future, when the drugs are improved. 
For more on how some people use nootropics, check out this video from Sky News: