West delivered an impassioned speech on American industry and transport, even pitching a high-tech plane to Apple.
WASHINGTON, DC - OCTOBER 11: (AFP OUT) (EDITORS NOTE: Retransmission with alternate crop.) U.S. President Donald Trump hugs rapper Kanye West during a meeting in the Oval office of the White House on October 11, 2018 in Washington, DC. (Photo by Oliver Contreras - Pool/Getty Images)
West met with the President to discuss urban revitalization, stop-and-frisk policies, and crime in Chicago, among other topics.
West praised Trump for his work in office so far, and pleaded for the rest of the country to support its leader.
West's support of Trump has long been a source of controversy among his fans and fellow artists.
Kanye West met with President Donald Trump on Thursday for a meeting meant to cover topics surrounding urban revitalization, but West ended up delivering a freestyle rant on everything from North Korea to Superman.
Sporting his red 'Make America Great Again' hat and joined by reporters, Ivanka Trump, Jared Kushner and Hall of Fame running back Jim Brown, West delivered an impassioned and disjointed soliloquy on topics including North Korea, ending stop-and-frisk policies, prison reform, keeping jobs in the U.S., and how wearing a MAGA hat made the rapper feel "like superman."
A wild meeting in the Oval Office
US-PEOPLE-politics-RACE-TRUMP-KANYEUS President Donald Trump meets with rapper Kanye West in the Oval Office of the White House in Washington, DC, October 11, 2018. (Photo by SEBASTIAN SMITH / AFP) (Photo credit should read SEBASTIAN SMITH/AFP/Getty Images)
"There was something about putting this hat on that made me feel like Superman," said West, who recently made headlines for delivering a similarly excited speech during a segment of Saturday Night Live that ultimately wasn't aired. "You made a Superman - that's my favorite superhero - you made a Superman cape for me."
The White House said West's meeting with the president, which also included a luncheon, was focused on topics like urban revitalization, workforce training, African-American unemployment and crime in Chicago. During the press briefing, West denied rumors that he's considering a 2020 presidential run, suggesting he'd only consider it after Trump's tenure.
"Let's stop worrying about the future, all we have is today," West said. "Trump is on his hero's journey right now. He might not have thought he'd have a crazy mother-f***r like me (supporting him)."
West has long drawn criticism from his fans and fellow artists for supporting Trump, an admiration that seems to stem partly from Trump's communication style, as West told a concert crowd in 2016:
"There's nonpolitical methods to speaking that I like, that I feel were very futuristic. And that style, and that method of communication, has proven that it can beat a politically correct way of communication."
In May, West caused some outrage when suggested "400 years" of African American slavery seemed like "a choice." He later apologized. Meanwhile, Trump has remained grateful for West's support.
"He can speak for me any time he wants, he's a smart cookie," said Trump, who seemed at times speechless between West's stream-of-consciousness remarks. "He gets it."
Everything is cheap and nobody has jobs. Welcome to the future. President of the Federal Reserve Bank of Dallas fills us in on how we got here.
The US economy has spawned a vicious cycle that few people are talking about, but it's one that affects us all. You, right now, are likely caught in that ugly loop. In fact, it's what may one day send you packing from your job. It's called technology-enabled disruption. And the worst part? (There's a worse part!?) You contributed to it in a big way, explains Robert S. Kaplan. Advancements in retail technology gave consumers the power to shop smarter and put pricing pressure on manufacturers. That pressure is "rippling back, through impacts on workers and their wages, and maybe encouraging businesses to increasingly replace workers with technology," says Kaplan. In a nutshell: every time a consumer finds a bargain, a robot gets a job.
But tech-enabled disruption isn't prominently on the public agenda. Currently a multitude of loud voices are blaming globalization for America's waning job market but, as Kaplan explains, it seems to be a case of misdiagnosis. It is crucial to identify the correct cause of the coming job market crash because if the problem is globalization, policy makers will take one set of actions (like withdrawing from trade deals). However, if it's technology-enabled disruption, that calls for an entirely different set of actions. The danger of this is most easily understood through US-Mexico trade, which Kaplan argues does not milk jobs from the US, but rather creates jobs, keeps US businesses competitive, and actually grows US GDP. It's time to re-think America's plan of action, and hopefully get the solution right the first time around. You can read Robert S. Kaplan's latest essay at the Federal Reserve Bank of Dallas.
If you want to know the state of equality in the US, statistics are a good place to start.
How many young Americans identify as 100% heterosexual? Where do LGBTQ people live? In what countries is same-sex activity punishable by prison or death? These are all things the stats can tell you, and Bennett Singer has spent the last few years collating the most recent research to paint a data portrait of LGBTQ life in the US. Creating the book was as eye-opening for Bennett as it will be for readers, from how many same-sex couples are raising children in Mississippi, to the stigma against bisexual people and the knock-on effects that has in health risks. The truth is in the numbers, and understanding what the lives of LGBTQ people are like is the path towards better policy decision and individual interactions. Bennett Singer's most recent book is co-authored with his husband, David Deschamps: LGBTQ Stats: Lesbian, Gay, Bisexual, Transgender, and Queer People by the Numbers.
Spain and the US have very similar compulsory school hours and homework requirements. There's a good argument for rallying against this trend.
Homework has been around since… well, since schools first existed, and I remember doing a ton of it myself as a kid. I also remember refusing to do my homework, sitting on the back steps, watching geese fly over, wanting to be out bird-hunting with Dad, Mom in the kitchen, yelling "Get in the house and do your homework!"

For families with precious fewer hours each day to spend time as a family, homework can be a drag. A big one. 

Before parents in Spain called for a "Homework Strike," The Spanish organization CEAPA (Confederación Española de Asociaciones de Padres y Madres del Alumnado) surveyed parents about homework, and 82% of those who responded believed that their children received too much of it; just over 50% of them believed it harmed family life.

If you consider the amount of compulsory hours students are required to be at school, the United States is right up there with Spain so it's likely there would be a similar frustration with homework in this country. And in fact, there is.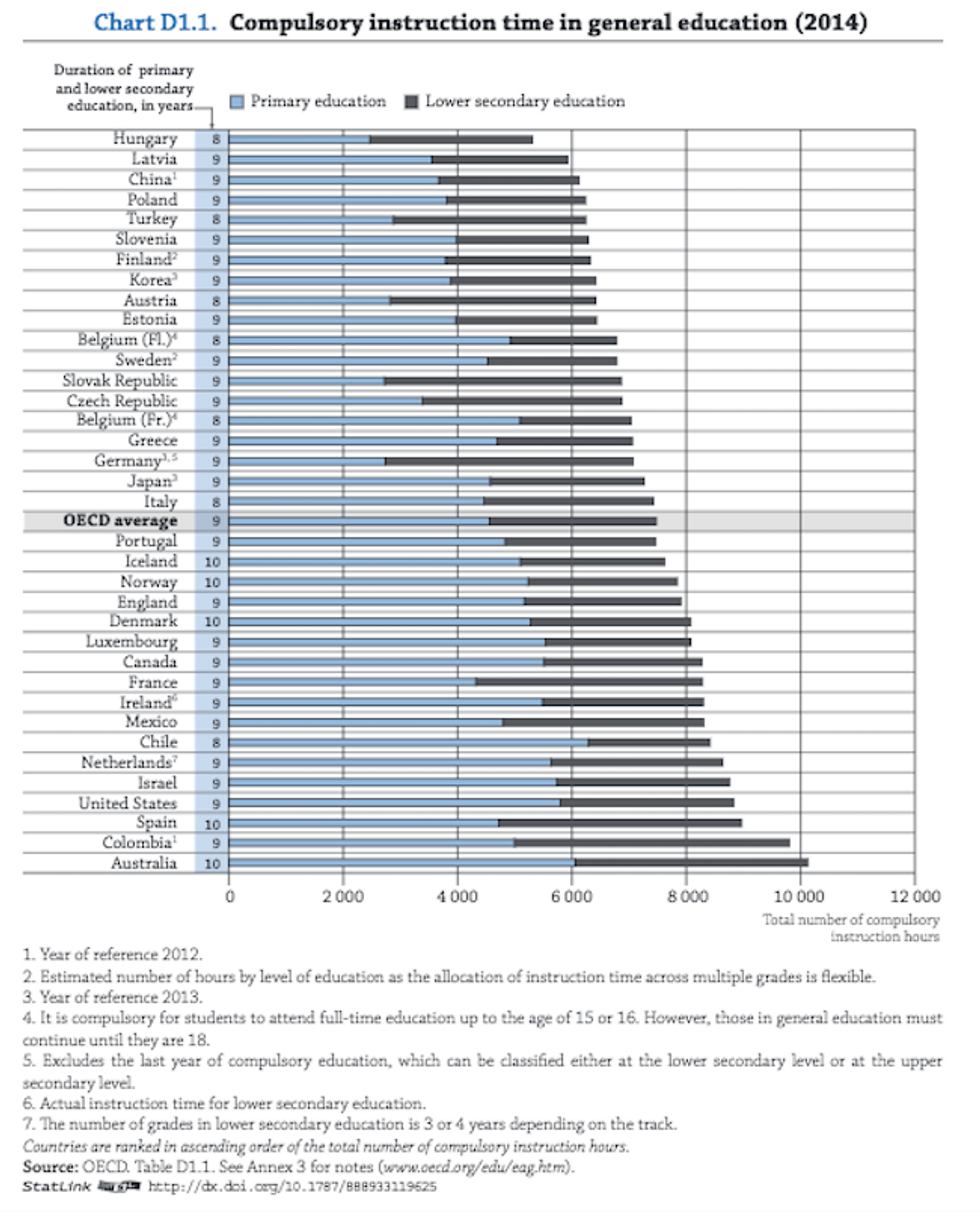 Chart from the Organization for Economic Cooperation and Development.
The amount of homework between Spain and the United States is also remarkably similar: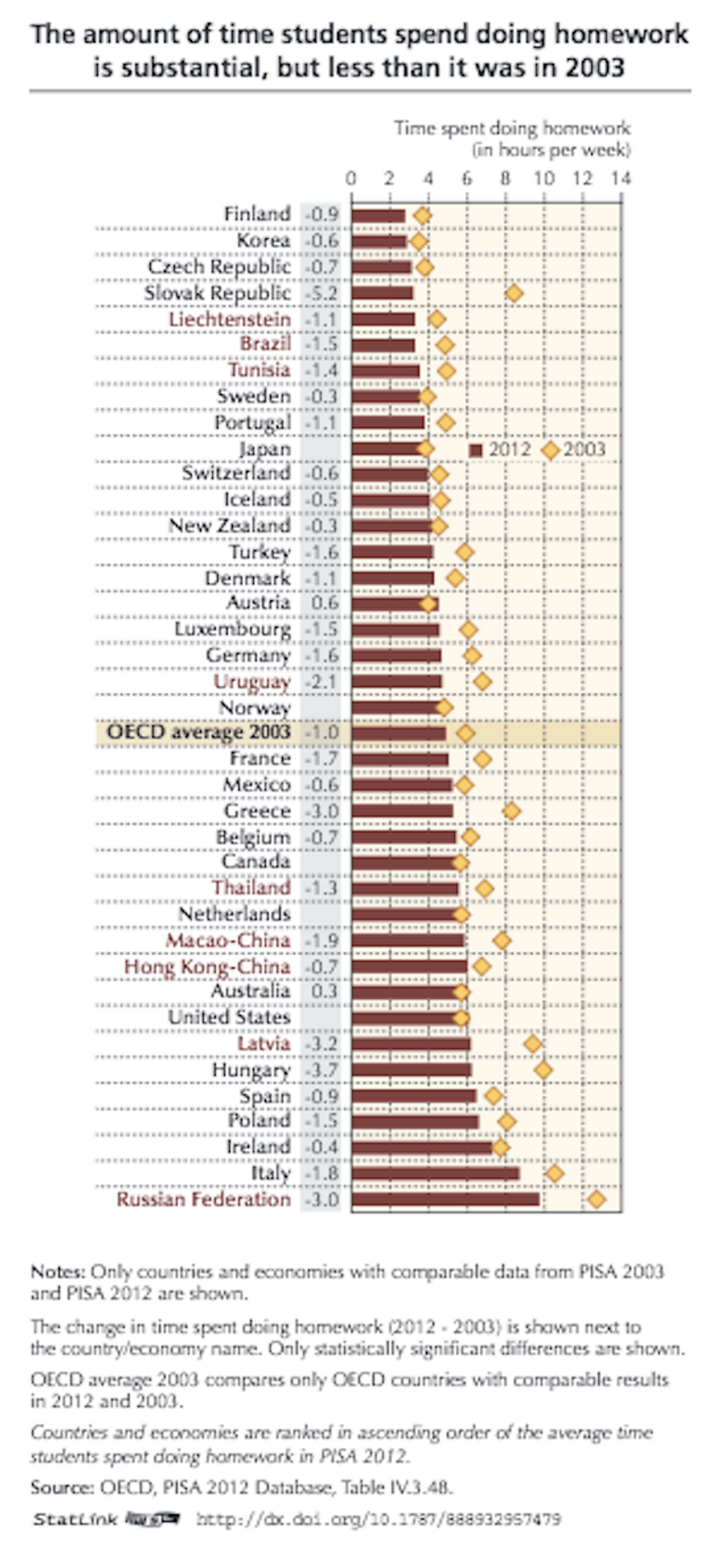 And in the rest of the United States, there's a growing pushback against homework — for younger kids up to the 7th grade, homework simply presents another power struggle opportunity, usually ends badly, and there's no evidence that it helps them. However, there's also evidence that kids' brains are tired at the end of a school day. Rest and play are critical in younger years.
As children get older, the value of homework increases. A very research-dense book that rather exhaustively compiled data on this, Visible Learning: A Synthesis of Over 800 Meta-Analyses Relating to Achievement, can be skimmed in this article, and it shows this trend. Until children reach secondary school, there's just not much evidence of a return.

In the United States, pressure from tax-base-deprived communities are forcing schools to have less staff and to give more and more work to teachers because of that phenomenon, which can cascade into teachers asking that children do more work at home.
I can see why it's tempting for teachers. In fact, socioeconomic factors do impact homework and its value.

What's your take on homework versus no?