A new study finds that talking to yourself in the third person may help deal with stress.
credit: Getty Images
If you are feeling stressed, try talking to yourself silently in the third person. That can help you control difficult emotions, says the first-of-its kind study by psychology researchers at Michigan State University (MSU) and the University of Michigan.
What they found is that talking to yourself in the third person during stressful moments may work better than giving yourself a first-person talk. Let's say your name is John and you are very upset. Asking "Why is John upset?" would cause less emotional reaction than "Why am I upset?" and allow you to start dealing with the underlying emotions.
Jason Moser, MSU associate professor of psychology, explained why this approach works:
"Essentially, we think referring to yourself in the third person leads people to think about themselves more similar to how they think about others, and you can see evidence for this in the brain," pointed out Moser. "That helps people gain a tiny bit of psychological distance from their experiences, which can often be useful for regulating emotions."
The study involved two experiments, with one requiring participants to react to neutral or disturbing images in both the first and third person. Their brain activity was monitored during that time by an electroencephalograph. When the subjects were shown disturbing photos like a man holding a gun to their heads, their emotional brain activity decreased quickly (within 1 second) if they they referred to themselves in the third person.
The researchers also found employing third-person speech is no more taxing on your brain than talking in first person. In comparison, other forms of emotional regulation, like mindfulness, require considerable mental effort, said Moser.
Another experiment had participants recounting painful experiences from their past, using first and third person language, while they were undergoing fMRI imaging. 
Similarly, when talking in third person, participants had less activity in the brain region used for reflecting on painful emotional situations. 
"What's really exciting here is that the brain data from these two complimentary experiments suggest that third-person self-talk may constitute a relatively effortless form of emotion regulation, " said University of Michigan psychology professor Ethan Kross. "If this ends up being true – we won't know until more research is done – there are lots of important implications these findings have for our basic understanding of how self-control works, and for how to help people control their emotions in daily life."
You can read the study here, published in Scientific Reports.
60% of pain patients find that tolerance buildup significantly impedes their treatment over time.
A bottle of prescription painkillers spilling out.
There is an epidemic going on today that you hear almost nothing about. Yet it effects around 50 million Americans, according to the National Institutes of Health (NIH). That's more than those diagnosed with diabetes and cancer combined. It's a chronic pain epidemic and it's everywhere. Such pain is not only devastating for the person and their family, it is also the leading cause of disability. A higher number of cases puts more of a burden on the healthcare system and hampers economic growth. So it isn't only the person and their closest kin who suffer, but society as a whole.
Unfortunately, therapies haven't changed much over a hundred years or more, as little is really known about the phenomenon of pain itself. There are really two main options in terms of therapy. The first is non-steroidal anti-inflammatory drugs (NSAIDs) such as aspirin, ibuprofen (Advil, Bayer), acetaminophen (Tylenol), and naproxen (Aleve). There are stronger prescription varieties of these as well.
The second option is opioid painkillers. Derived from opium, the most common types prescribed are morphine, OxyContin, Vicodin, Percocet, oxycodone, hydrocodone, and fentanyl. Of course there are many others. Though effective in the short-term, 60% of patients find that building up a tolerance significantly impedes treatment over time. Unfortunately, three to four percent of Americans receive morphine or one of its derivatives to manage severe or chronic pain, long-term.
In the last decade, an increase in the prescribing of opioids has followed the pain crisis's upward trend. When taken as prescribed, opioids are safe and effective. But as the body begins to build up a tolerance, pain tends to bleed through. Oftentimes, increasing dosage is not recommended past a certain point. Alternative therapies such as acupuncture, tai chi, yoga, and physical therapy are usually proposed alongside opioids. Even so, patients don't always find these options effective.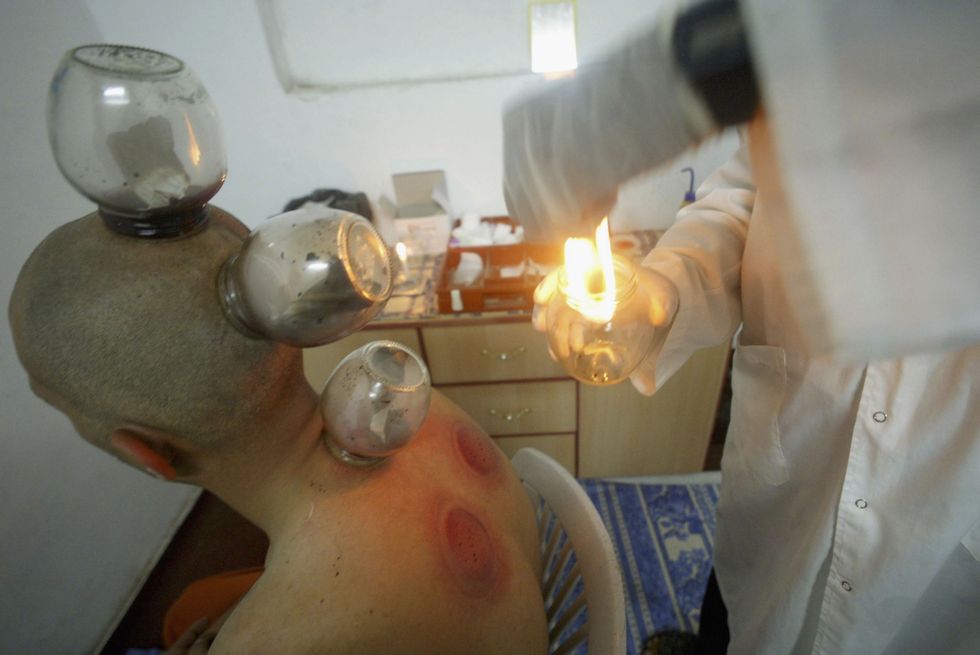 Cupping is the latest trend in alternative therapes. But many of these don't reduce pain significantly enough.
Medical marijuana advocates have suggested cannabis therapy alongside opioids. Some studies have found that it does not increase the risk of addiction or overdose, and in fact gives additional pain relief. In fact, one study out of the University of Michigan found a 64% reduction in opioid use, when medical marijuana was made available to pain patients. But for many, this option may not be viable.  
For those patients with bleed through pain, the motivation to take more than prescribed is great. Though they may find relief in the near term, the patient will soon find themselves increasing dosage once again when tolerance has increased, and so inching ever closer toward an overdose. It is through this process, and through teens and young adults swiping pills from medicine cabinets, that the prescription opioid epidemic has taken hold.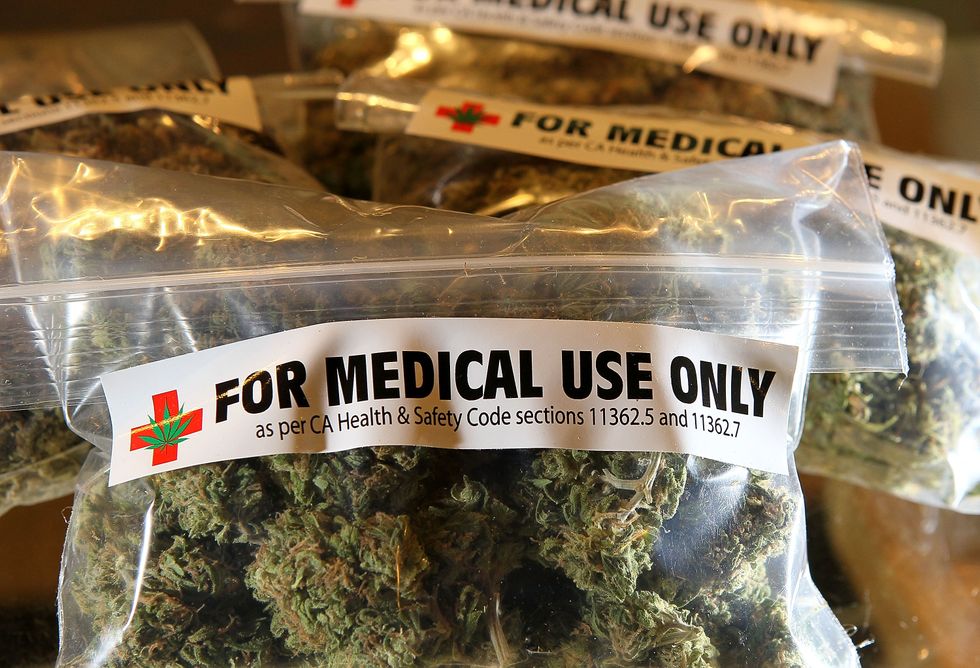 Medical marijuana may help. But it's not a viable option for all patients for a number of reasons.
2.1 million in the US were addicted to prescription painkillers in 2012, according to the NIH—the latest numbers on record. And overdose deaths have increased fourfold since 1999. It is also fueling a heroin epidemic, as the street drug is less expensive and more readily available.
Big pharma has responded by offering extended release opioids, in an attempt to give patients more relief and discourage them taking more than prescribed. Other drugs have abuse-deterrent features, such as pills one is unable to crush, and so cannot snort or use intravenously. Yet, many see this as a technological fix, putting a Band-Aid on an already out-of-control problem. Also, it does not address the issue of bleed through pain.
Besides being little understood, not enough research is conducted to learn more about chronic pain. Today, the race is on to find ways to overcome these problems, and deliver better pain relief to those who are suffering. One new study, published in the journal Neuropsychopharmacology, has located the brain mechanism that causes opioid tolerance. Researchers have even devised a way to overcome it.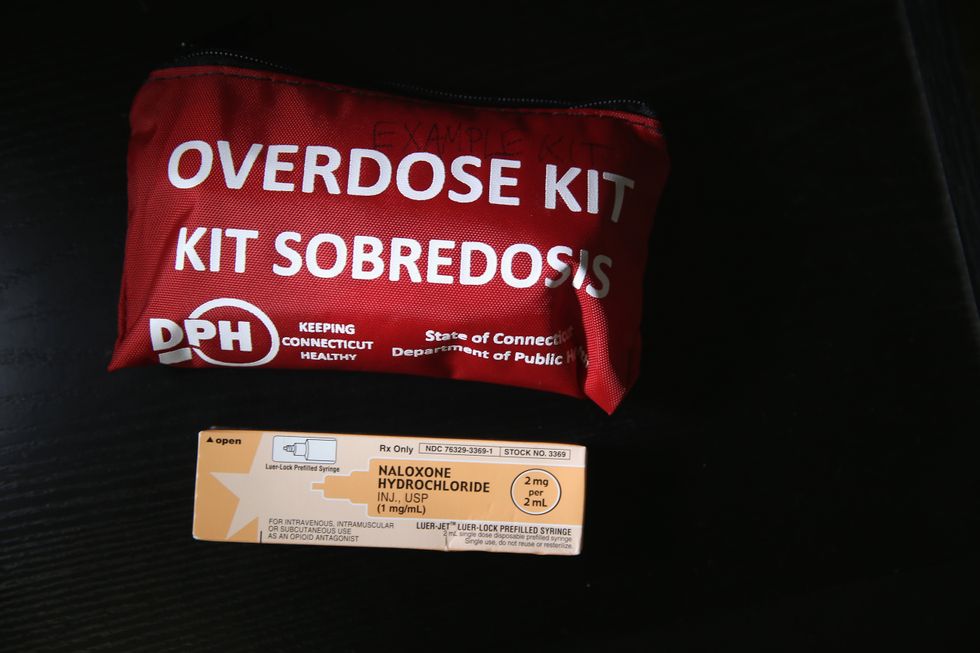 An opioid overdose kit. These are ubiquitous now across the country due to the opioid addiction epidemic.
Investigators from Emory and Georgia State Universities found, for the first time, how morphine tolerance comes about. This is an inflammatory response triggered when chemical messengers called cytokines are released inside the brain. By blocking cytokines, researchers say pain could be relieved consistently with morphine over time, at only half the dosage. These scientists were able to illustrate how the inflammatory response occurred in rats' brains, and that blocking cytokines could undermine tolerance.
The mechanism for tolerance buildup works like this. Over time, morphine interferes with homeostasis, or the body's ability to manage functions in a rhythmic and timely manner. Since it no longer recognizes pain, the body moves to rid itself of this foreign agent and reestablish balance within the system. To do that, it triggers the immune response, which causes inflammation—used to drive the agent out.
Another find, tolerance occurs quickly. One dose each day for three days was enough to cause the tolerance response to kick in. When rats were given a drug that blocked inflammation, tolerance to morphine plummeted. Researchers concluded the study by writing, "Our findings provide a novel pharmacological target for the prevention of opioid-induced immune signaling, tolerance, and addiction."
To learn more about the prescription painkiller epidemic click here: