Discover the peril and potential of an automated robotic world.
Photo credit: Hugo Amaral/SOPA Images/LightRocket via Getty Image
Journalist Andrés Oppenheimer, columnist and member of a Pulitzer Prize-winning team explores the cutting edge of automation.
From South Korean robot schools, Silicon valley futurist predictions and automated Japanese restaurants, this book shows us that the future of work is almost here.
Already replacing a growing number of workers while also creating new roles, the concept of employment is becoming even more dynamic.
Alarmed and somewhat intrigued by a University of Oxford study that predicted 47 percent of jobs would be replaced by robots or intelligent computers, journalist Andrés Oppenheimer set out to discover what the future of work held for the potential casualties and benefactors of this new era.
Robotics and other assorted automated processes are already radically changing the nature of what we consider work and employment. Unlike past eras of paradigmatic technological shifts, where entire workforces were able to quickly recover and evolve into new burgeoning fields — the coming age of automation isn't going to be as seamless of a transition.
In The Robots Are Coming! The Future of Jobs in the Age of Automation, Oppenheimer casts a wide net of inquiry into a broad and multidisciplinary search for the future of what's to come. The result of years of tenacious research, experiences and thrilling conversations, this book leaves no tech stone unturned.
Without devolving into a buzzword jargon fest, Oppenheimer adequately sketches out and name drops nearly every technology experts and pundits alike think will usher in the new age.
Whether it's machine learning, A.I., augmented and virtual realities or the need for a universal basic income — this book name checks the aforementioned tech and then assaults it from all fronts. Is it hype? Where are we in terms of implementation? What do the experts say and what do the detractors think? How will this affect the job market and notions of employment?
The Robots Are Coming!
What're they coming for? Everything.
Timeframes, statistics, and opinion tended to oscillate depending on who the author was talking to at the time. There were many instances cited that went against all common fears of automation displacing jobs. For example, in 2016 Amazon increased their transport robots from 30,000 to 45,000. Speculators at the time figured this would result in the loss of jobs. On the contrary, more than 100,000 new jobs were added in the next 18 months.
In our present time these types of employment increases are relatively common. But they're also equally matched with a host of jobs in all industries being lost to automation. And they're not just confined to low-level labor and service jobs. They're affecting all levels of work.
Head up to the high towers of Wall Street and you'll even see financial professionals replaced by robo-analysts using big data. These aren't displacing the lowest of the workforce, but knocking out big-time financial advisors that use to make an average of $350,000 to $500,000 a year.
Even duties in professions such as journalism and law aren't safe from being deferred to automation. Andrês remarked that in just the past few years the stunning speed of automated transcription services completely changed the way he conducted interviews. The book's interviews themselves were transcribed and largely translated by A.I. methods.
A growing force of bots are also writing a rising number of articles due to a technology called Heliograf. What would have taken hundreds of journalists covering local elections, was done with just one templating bot. In 2016 the Washington Post was able to cover over 500 local elections with this technology.
If one thing is perfectly clear, it's that automation and intelligent computers are leaving nothing behind and popping up in the least expected places. Understandably, this has got a lot of people worried.
Anders Sandberg from Oxford comically, but nonetheless genuinely, put it this way:
It's quite simple: if your job can be easily explained it can be automated, if it can't it wont.
The future of work is going to require a massive shift in skills, mindset and know-how. Soft skills, being able to work with a steady flow of interactive data and ability to make actionable insights from the data-driven world are just some of the traits of a future workforce.
For those that aren't going to make the cut, they'll need to shift their mindset on the psychological and cultural notion of work and employment in the first place. The many futurists, serious economists, and, at times, the author himself truly believe that a universal basic income needs to be implemented.
A new mindset for the future
In an interview with philosopher Nick Bostrom, there was a discussion about the importance and self-worth that so many people receive from their employment. This he believes is a new phenomenon and one of the major problems we'll have to face socially.
Bostrom mentions that at one point, the aristocratic classes of old were able to live worthy lives by engaging in pleasurable and fulfilling experiences. It's inferred from his conversation that something like this will need to take place in the mindset of a larger sect of the population. With the prospect of an entire futuristic world not needed for work, we seriously need to reconsider the human enterprise and the notions of self-worth tied to employment.
All futurist utopian ideals aside, the nature of schooling, vocational work and employment seem to be following an age-old trend – omnipotent progress always rears its head and usurps the status quo. Work will change with the times in absurdly unique ways in which even this book and any one else alive today will not be able to predict.
Oppenheimer mentions how jobs like iPhone developer, Cloud data analyst and so on emerged from our most recent inventions and innovations. Less than two decades ago these words would have been gibberish to anyone hearing them. The same will hold true for the jobs in the next few decades.
There are a number of things that no foreseeable robotic intelligence will ever be able to compete with. Forget fantasy notions of singularities and eschatological coming of days through superintelligence – these things are a different thing to worry about entirely. The reality of the situation is that new jobs are coming and a whole lot of jobs we've had for years are never going to return.
Dealing with the inability to reskill a large amount of the populace will be a major problem in the coming years.
The author sees himself as both techno optimist in the long-run, but a techno-pessimist in the short term.
If there's one final takeaway from this book it's that the threat or rather promise of automation is real and an inevitability. There's no use fighting against it. The only thing we can do is evolve alongside it.
It really depends on who you ask, as one European poll found out.
Data visual by Dalia Research
We've mentioned the idea of Universal Basic Income, or universal income guarantee, here before at Big Think. You might say that we enjoy mentioning it a lot. The idea goes back to the 1400s and has been taken up by many big thinkers throughout history, from Martin Luther and Martin Luther King to Thomas Moore and Milton Friedman.
But, what do the polls say? Do people actually want this, no matter what the experts argue?

Support for the idea in the US was high enough in the early 1970s to prompt George McGovern to include it on his presidential platform, and for President Nixon to support a similar measure that failed to pass in Congress. Tests of the effects of the program were made in rural Iowa and North Carolina at that time.
More recently, a poll showed 68% of Europeans support the idea of a basic income, and 31% of them want it as soon as possible. However, 48% of those who support the idea want to see a successful trial run first. Although, despite these numbers, a referendum to introduce the basic income to Switzerland was crushed in a 77-23 percent landslide.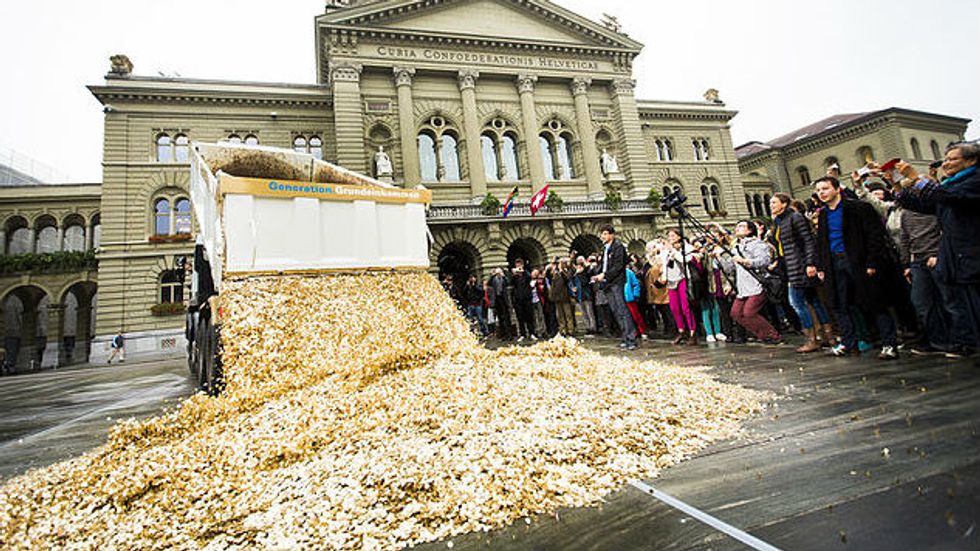 A rally in favor of the defeated Swiss referendum; there are eight million coins here, one for each Swiss citizen. 
Well, that seems a little odd, given all the good you often hear about it. Why might people support, or not support the idea?
The simplest reason for the supporting the idea, and the one that 52% of interviewed people cite, is increased financial security. The freedom from having to work to merely survive is a powerful idea. When Canada tested basic income in the 1970s, this effect was seen quite clearly. The number of hours worked by the population was reduced, but it was shown that this time was often devoted to child care and increased educational opportunities.
On the political right, basic income is supported as the element which makes hypothetical models of ideal markets practical. Milton Friedman argued that the labor market is rendered inefficient by our need to work to survive, and that a variant of basic income would allow the job market to function more effectively. Many conservative supporters of basic income support the idea of the drastic reduction the bureaucracy that a single, all inclusive, welfare check would entail.
On the left, the support is behind the promise of the end of poverty, caused by bad luck, discrimination, economic cycle, or automation alike. This rationale was endorsed by Martin Luther King Jr, a supporter of the basic income, who stated that: "I am now convinced that the simplest approach will prove to be the most effective – the solution to poverty is to abolish it directly by a now widely discussed measure: the guaranteed income."
A final area of support is found in the futurist community. Those who suppose that the development of technology can and will render most of the current economy obsolete. They support the notion of a basic income as the freedom to invest time in culture, science, and the like in an age when work is increasingly automated. This would then lead to the flourishing of the individual, now free to learn, grow, and self-improve.
But there are objections to handing out large sums of cash to everybody. No less a man than FDR was opposed to the idea of a dole over guaranteed employment as a means to fight poverty. Saying, "The lessons of history, confirmed by the evidence immediately before me, show conclusively that continued dependence upon relief induces a spiritual and moral disintegration fundamentally destructive to the national fibre. To dole out relief in this way is to administer a narcotic, a subtle destroyer of the human spirit. It is inimical to the dictates of sound policy. It is in violation of the traditions of America. Work must be found for able-bodied but destitute workers."
We also face the practical issue of implementation. While the benefits of removing nearly all of a national welfare system and replacing it by a single, simple, payout would be massive, estimates for the taxes required to pay for basic income show moderate required increases. They are in the 45 percent range in Ireland and the 40 percent range in the United States, if done as a flat tax. As people tend to not like higher taxes, this does present a practical problem for the implementation. The difficulty of removing an established bureaucracy must also be considered.
Lastly, there is the ironic fear that the basic income wouldn't go far enough. While current models of welfare are structured on need, (old-age pensions, medical care coverage, aid for buying food, etc.) basic income would have no such considerations. The German government considered this a reason to think that basic income would be less effective for the poorest members of society than the current model.

Attempts at implementation continue, with California planning to create a more limited program financed by taxes on carbon emissions. This program would be only a partial income guarantee, similar to the Alaska Permanent Fund. Finland's massive pilot program carries on as well.

Universal basic income is an issue that will define our time. Will we be the ones to abolish poverty directly and forever? Or will we be remembered as the cause of a great moral decay? Will we even enact the programs? All questions which must be answered in good time. Basic income stands as an intriguing idea of what we can do as a society, if the political will exists.