Data from LinkedIn suggests soft skills will be the most in-demand as the economy begins to rebuild and 2020 grads look for work.
Today's graduates are entering the worst job market since the Great Depression.
LinkedIn's annual "Grad's Guide to Getting Hired" report states that soft skills like leadership and communication will be the most in-demand.
Even before the coronavirus economy, experts extolled soft skills as critical for tomorrow's work force.
In Australia, the idea of a universal basic income has floated in and out of our political arena for years, but remains only that, an idea.
Job Seekers Search For Employment At Job Fair Held In Denver, December 2009 (Photo by John Moore/Getty Images)
In Australia, the idea of a universal basic income has floated in and out of our political arena for years, but remains only that, an idea.
The concept of a universal basic income has always been controversial. This notion - that the government should pay everyone a regular payment to meet their basic needs, despite their income - has been touted as a solution to inequality.
In the 1970s, the idea of a universal basic income looked as though it could become more.
In 1972, the inaugural Director of the Melbourne Institute, Applied Economic and Social Research, professor Ronald Henderson, chaired the Australian government's poverty inquiry. It was tasked by then Prime Minister Gough Whitlam, to investigate all aspects of poverty affecting Australians, including race, education, health and law.
Professor Henderson's work led to what is now widely referred to as the Henderson Poverty Line, which measures the extent of poverty in Australia in terms of the income of families and individuals relative to their essential living costs; and he advocated a guaranteed minimum income scheme for Australia, similar to a universal basic income .
More than 40 years after professor Henderson began his report of the Commonwealth Commission of Inquiry into Poverty with the line:
"Poverty is not just a personal attribute: it arises out of the organisation of society."
The suggestion of a guaranteed minimum income scheme
At the heart of the Henderson inquiry's final recommendations was a guaranteed minimum income scheme, in which payments to pensioners (at a high rate) and payments to all other income units (at a lower rate) would be balanced by a proportional tax on all private income. The report states:
We believe that these reforms are the best way of reconciling the conflicting ends of policy on income support… They recognise that disabilities which hinder the earning of a private income warrant favoured treatment, but also provide support for people without disabilities in this sense, and who may still easily become poor – particularly the large family. Again, support is provided in a way which does not discredit those who claim it… so that income support may be seen as a right rather than a favour.
Professor Henderson was strongly in favour of universality in social policy - as exists in Medicare today in Australia. And that's tangible in his idea of a universal minimum payment which would have ensured that incomes for individuals and families were in excess of the poverty line.
Instead of means testing - which he opposed as it creates a separate system for the disadvantaged that can be stigmatising - he wanted to use the tax system to withdraw income from higher earners, rather than means testing pensions and benefits.
But this didn't happen.
Instead, the Whitlam government was dismissed in 1975 – around six months after the inquiry delivered its final report, and the new government, headed up by Malcolm Fraser, hardly considered its recommendations.
Far from universality
At the time of professor Henderson's pivotal work, post-war Australia had pursued the creation of an industrial economy where male workers played the dominant role. For the most part, employment then meant permanent full-time jobs in industry regulated and protected against foreign competition.
But, since that time, the country has pursued a very different course.
The key challenge is how Australia can maintain its commitment to fair and equitable wealth generation and distribution, in a modern world.
The precarious nature of modern labour markets puts enormous pressures on families and households, making it important to create a system that works in the interests of the truly disadvantaged.
Professor Henderson distrusted a targeted social security system, and therefore recommended a basic income so that "income support may be seen as a right rather than a favour" for Australian citizens.
Since then, despite the example of universality in the key public institution of Medicare, to which all are entitled, the social security system has become more conditional, and arbitrary, with benefits now well below the poverty line.
There is growing evidence, for example, that social security payments for unemployed people, like Newstart, now barely meet the necessities of life – let alone cover expenses involved when people are looking for work.
In this country, we increasingly celebrate entrepreneurial self-reliance, but for disadvantaged people, the certainty of an adequate income is a fundamental foundation. It may not be sufficient, but it is necessary.

As professor Henderson said during a speech at a Remembrance Day rally in 1984 "we all have a right to a decent minimum income: to a fair share".
Brian Howe, Professorial Associate in the Centre for Public Policy, University of Melbourne
This article was originally published on The Conversation. Read the original article.
Job automation will need to strike a delicate balance — we want enough to make our lives more comfortable, but no more than that.\r\n
There are two schools of thought about job automation: one rejects the idea as robots "stealing" human jobs, while the other cannot wait to put its feet up and tuck into some Proust — finally, free time for all those 3,000-page beasts of literature! The reality, as usual, is somewhere in between. An increasing number of professions will become automated, but Bill Nye believes there will always be a place for human ingenuity. We started building complex machines centuries ago because there are things we would rather be doing — like building new machines, refining mathematics, continuing our education, or exploring the universe. There are some jobs it would be better for robots to have: industrial welding, driving trains, packing warehouse orders, admin — why not make our lives less strenuous? "We want to automate the world to the extent that is comfortable, but no more," Nye says. Job automation is scary in the way that large-scale change usually is, but Nye thinks it will be a positive inflection point for humanity, enriching our existence with more debate, art, invention, sport, and discovery. Bill Nye's most recent book is Unstoppable: Harnessing Science to Change the World.
What did Nikola Tesla or Bertrand Russell think of fewer working hours? Can a good life only come from work — and if so how much of it, and what kind?
Nikola Tesla
How long was your work day today? Eight hours? Seven hours? Nine? How long is your working week? If you live in the United States you probably answered somewhere near 40 hours. If you live in Europe you probably answered a little less than that. If you were to ask a dozen people what they thought was the right amount of time to work, you would be likely to find a dozen different answers.   
The question of the proper work-life balance has puzzled thinkers from Moses and Marx, to Ford and Friedman. How much work is enough? How much is excessive? Who should do it? Can we work on the Sabbath?
It is this question of work-life balance that The Greens party of Australia seeks to answer, with its recent discussion as to the feasibility of a four-day work week or a six-hour day. "We want to kick off a conversation about the future of work and start by questioning the entrenched political consensus that a good life can only come from more work," said the Leader of the Australian Greens, Richard Di Natale. "We rightly talk about the 16% of people who want to work more hours but we never hear about the more than one in four Australians who want to work less."

Alright, so what conversation does it wish to have? What are the facts?

While the effect of mandating a 40-ish hour week across the Western world over the last century didn't end up causing the disaster predicted by many in the leisure class, the effects of reducing working time further have not been studied well enough to make an absolute judgement on the matter. The data is simply too limited. 

However, in Sweden, data from a recently ended two-year trial of a six-hour work day showed employees of a nursing home were happier, healthier, more productive, and less stressed as a result of the reduced hours, and were better able to carry out their duties. The clients agreed on the later point. However, the reduction in hours required increased hiring to cover the missing time, resulting in higher costs. Further experiments are ongoing in other locations and fields.
So, one example showed employees being less stressed and working better when given reduced hours, at the price of higher costs overall to hire more people to work. Are there any deeper arguments than this?
More philosophic arguments for and against a reduced working week have been made many times before. Obviously, anyone who feels that diligence is a virtue in itself would be at least mildly suspicious of the idea of reducing the standard workweek by such a fraction. In counter to this particular suggestion, some Australian politicians have raised the question of how public services would be funded with everybody working less. A question The Greens must answer if it wants its discussion to last long.
On a psychological note, in the dystopian novel Brave New World, written by Aldous Huxley, the idea that humans need to work longer hours than is economically necessary is suggested by some of the characters, who point out that when the economy was made more efficient, workers went mad from the resulting free time.
Similar ideas, along with the specter of automation-driven unemployment, were presented in Kurt Vonnegut's Player Piano. In a slightly happier place, St. Thomas More's Utopia, residents enjoy a six-hour work day, with many people selecting to work longer on their own accord.
On the other hand, British philosopher Bertrand Russell posited that, "Leisure is essential to civilization… and with modern technique it would be possible to distribute leisure justly without injury to civilization." in his essay 'In Praise of Idleness', he argued for a four-hour workday along side scientific organization as a means to the end of both unemployment and overwork. Likewise, the great scientist and inventor Nikola Tesla saw the march of technology moving man towards a reduced work day rather than towards larger incomes.
The question of the proper number of working hours is one that has bothered economic and ethical thinkers for 2,000 years. The question of whether or not we can afford, or even should desire, to reduce the working week down further is one that is subject to debate and investigation. As automation continues to alter our economy, it is a debate that is more relevant than ever. 
"No government is prepared," The Economist reports. 
British Musicians. Ms. Dynamite. Getty Images.
The Trump campaign ran on bringing jobs back to American shores, although mechanization has been the biggest reason for manufacturing jobs' disappearance. Similar losses have led to populist movements in several other countries. But instead of a pro-job growth future, economists across the board predict further losses as AI, robotics, and other technologies continue to be ushered in. What is up for debate is how quickly this is likely to occur.
Now, an expert at the Wharton School of Business at the University of Pennsylvania is ringing the alarm bells. According to Art Bilger, venture capitalist and board member at the business school, all the developed nations on earth will see job loss rates of up to 47% within the next 25 years, according to a recent Oxford study. "No government is prepared," The Economist reports. These include blue and white collar jobs. So far, the loss has been restricted to the blue collar variety, particularly in manufacturing.
To combat "structural unemployment" and the terrible blow it is bound to deal the American people, Bilger has formed a nonprofit called Working Nation, whose mission it is to warn the public and to help make plans to safeguard them from this worrisome trend. Not only is the entire concept of employment about to change in a dramatic fashion, the trend is irreversible. The venture capitalist called on corporations, academia, government, and nonprofits to cooperate in modernizing our workforce.
To be clear, mechanization has always cost us jobs. The mechanical loom for instance put weavers out of business. But it's also created jobs. Mechanics had to keep the machines going, machinists had to make parts for them, and workers had to attend to them, and so on. A lot of times those in one profession could pivot to another. At the beginning of the 20th century for instance, automobiles were putting blacksmiths out of business. Who needed horseshoes anymore? But they soon became mechanics. And who was better suited?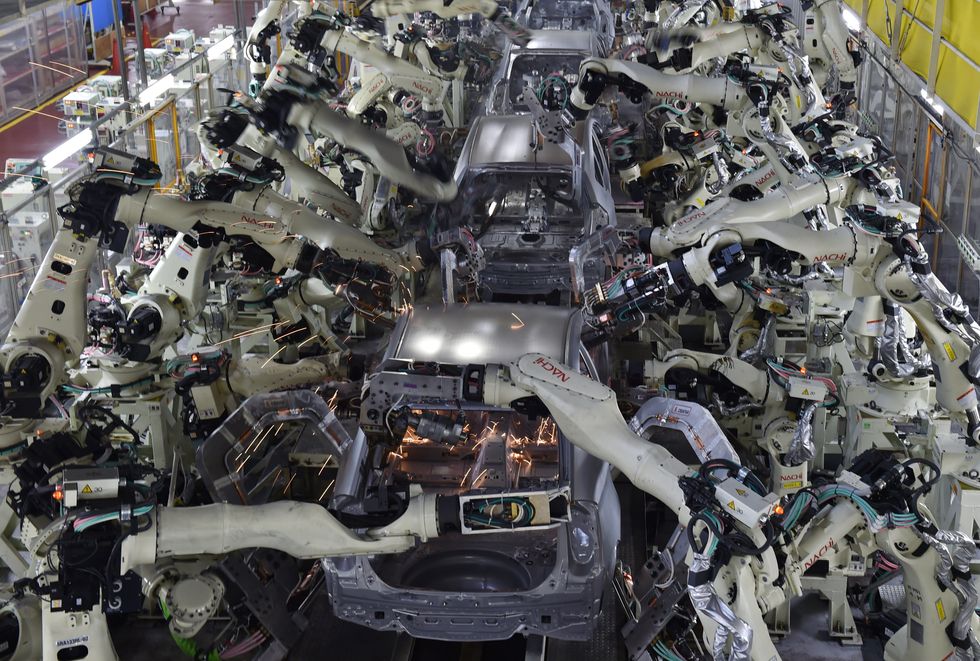 A Toyota plant, Japan. Manufacturing is almost fully automated today and so many other jobs are not far behind.
Not so with this new trend. Unemployment today is significant in most developed nations and it's only going to get worse. By 2034, just a few decades, mid-level jobs will be by and large obsolete. So far the benefits have only gone to the ultra-wealthy, the top 1%. This coming technological revolution is set to wipe out what looks to be the entire middle class. Not only will computers be able to perform tasks more cheaply than people, they'll be more efficient too.
Accountants, doctors, lawyers, teachers, bureaucrats, and financial analysts beware: your jobs are not safe. According to The Economist, computers will be able to analyze and compare reams of data to make financial decisions or medical ones. There will be less of a chance of fraud or misdiagnosis, and the process will be more efficient. Not only are these folks in trouble, such a trend is likely to freeze salaries for those who remain employed, while income gaps only increase in size. You can imagine what this will do to politics and social stability.
Mechanization and computerization cannot cease. You can't put the genie back in the bottle. And everyone must have it, eventually. The mindset is this: other countries would use such technology to gain a competitive advantage and therefore we must adopt it. Eventually, new tech startups and other business might absorb those who have been displaced. But the pace is sure to move far too slowly to avoid a major catastrophe.
According to Bilger, the problem has been going on for a long time. Take into account the longevity we are enjoying nowadays and the US's broken education system and the problem is compounded. One proposed solution is a universal basic income doled out by the government, a sort of baseline one would receive for survival. After that, re-education programs could help people find new pursuits. Others would want to start businesses or take part in creative enterprises. It could even be a time of the flowering of humanity, when instead of chasing the almighty dollar, people would able to pursue their true passions.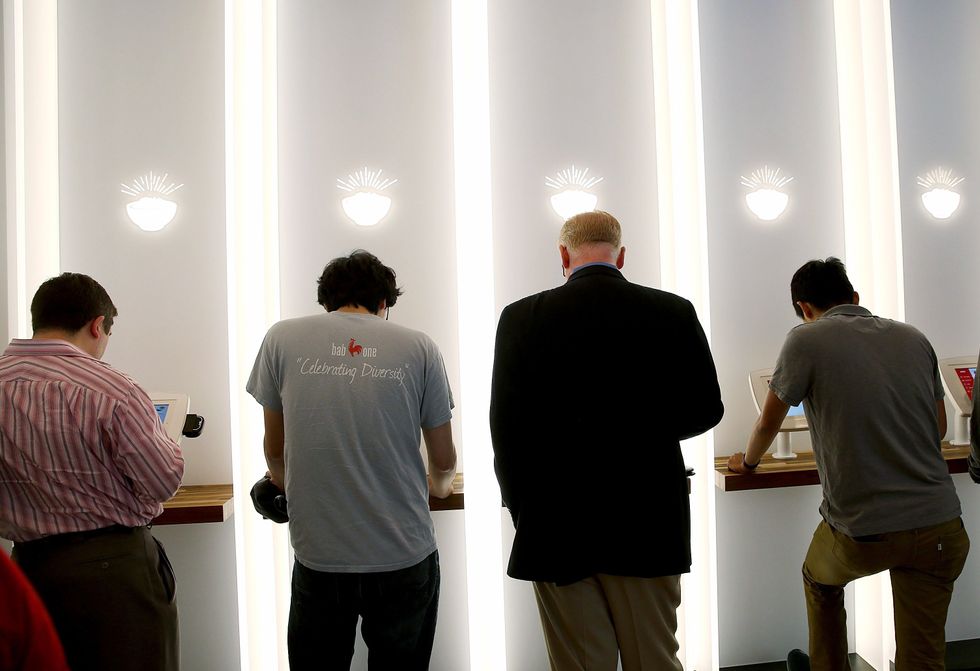 The first fully automated restaurant opens in San Francisco.
On a recent radio program, Bilger talked about retooling the education system in its entirety, including adding classes that are sure to transfer into the skills workers need for the jobs that will be there. He also discussed the need to retrain middle-aged workers so that they can participate in the economy, rather than be left behind. Bilger said that "projects are being developed for that." Though he admits that many middle-aged workers are resistant to reentering the classroom, Bilger says it's necessary. What's more, they are looking at ways of making the classroom experience more dynamic, such as using augmented reality for retraining purposes, as well as to reinvent K-12 education. But such plans are in the seminal stages.
Widespread internships and apprenticeships are also on the agenda. Today, the problem, as some contend, is not that there aren't enough jobs, but that there aren't enough skilled workers to fill the positions that are available. Bilger seems to think that this problem will only grow more substantial.
But would those who drive for a living, say long haul truckers and cab drivers, really find a place in the new economy with retraining, once self-driving vehicles become pervasive? No one really knows. Like any major shift in society, there are likely to be winners and losers. This pivot point contains the seeds for a pragmatic utopia, or complete social upheaval, but is likely to fall somewhere between.
Bilger ended the interview saying, "What would our society be like with 25%, 30% or 35% unemployment? … I don't know how you afford that, but even if you could afford it, there's still the question of, what do people do with themselves? Having a purpose in life is, I think, an important piece of the stability of a society."
To learn why employment should be a basic human right, click here: