The prevalence of Alzheimer's disease is expected to triple over the next three decades, to nearly 14 million in the United States alone.
Gerson Sobel, 93, of Rockville Center, New York swims his morning laps at the Freeport Recreation Center in New York. (Photo by Al Bello/Getty Images)
Last summer, a research group from the University of California, Los Angeles (UCLA) quietly published the results of a new approach in the treatment of Alzheimer's disease. What they found was striking. Although the size of the study was small, every participant demonstrated such marked improvement that almost all were found to be in the normal range on testing for memory and cognition by the study's end. Functionally, this amounts to a cure.
These are important findings, not only because Alzheimer's disease is projected to become ever more common as the population ages, but because current treatment options offer minimal improvement at best. Last July, a large clinical trial found little benefit in patients receiving a major new drug called LMTX. And after that, another hopeful drug designed to target amyloid protein, one of the hallmarks of Alzheimer's disease, failed its first large clinical trial as well.  Just two months ago, Merck announced the results of its trial of a drug called verubecestat, which is designed to inhibit formation of amyloid protein. It was found to be no better than placebo.  
The results from UCLA aren't due to an incredible new drug or medical breakthrough, though. Rather, the researchers used a protocol consisting of a variety of different lifestyle modifications to optimise metabolic parameters – such as inflammation and insulin resistance – that are associated with Alzheimer's disease. Participants were counselled to change their diet (a lot of veggies), exercise, develop techniques for stress management, and improve their sleep, among other interventions. The most common 'side effect' was weight loss.
The study is notable not only for its remarkable outcomes, but also for the alternative paradigm it represents in the treatment of a complex, chronic disease. We've spent billions of dollars in an effort to understand the molecular basis of Alzheimer's in the hope that it will lead to a cure, or at least to more effective therapies. And although we have greatly enlarged our knowledge of the disease, it has not yielded many successful treatments.
The situation is analogous in kind, if not quite degree, to the many other chronic diseases with which we now struggle, such as diabetes and cardiovascular disease. While we do have efficacious medications for these conditions, none work perfectly, and all have negative effects. Our understanding of the cellular processes at the root of these diseases is sophisticated, but technical mastery – the grail of a cure – has remained elusive.
Acknowledging these difficulties, the researchers at UCLA opted for a different approach. Beginning from the premise that Alzheimer's disease is a particular manifestation of a highly complex system in disarray, they sought to optimise the system by changing the inputs. Put another way, the scientists chose to set aside the molecular box which has proven so vexing, and to focus instead on the context of the box itself. Although we cannot say precisely how the intervention worked, on a cellular level, the important thing is that it did work.
The method isn't entirely novel. Researchers have already shown that multi-faceted, comprehensive lifestyle interventions can significantly improve outcomes in cardiovascular disease, diabetes and hypertension. But it's difficult for these approaches to gain traction for two reasons. First, these protocols are more challenging than simply taking a pill at bedtime. Patients need ongoing education, counselling and support to effect meaningful change. And second, the pharmaceutical mode of treatment is deeply embedded within our current medical system. Insurance companies are set up to pay for medication, not lifestyle change; and physicians are taught pharmacology, not nutrition.
Despite these difficulties, it's time to start taking these approaches much more seriously. The prevalence of Alzheimer's disease is expected to triple over the next three decades, to nearly 14 million in the United States alone. Diabetes and other chronic diseases are expected to follow a similar trajectory. Trying to confront this epidemic with medication alone will raise a new host of problems, from prohibitive cost to adverse effects, without addressing any underlying cause. We know that comprehensive lifestyle modification can work for many chronic diseases, in some cases as well as medication. It deserves more than passing mention at the end of an annual check-up – it's time to make it a cornerstone in the treatment not only of Alzheimer's disease, but of all chronic disease.

Clayton Dalton
--
This article was originally published at Aeon and has been republished under Creative Commons.
Where is your mind? Professor Daniel Siegel answers this question with a more revolutionary one: Where isn't your mind?
Back in 1988, Pixies asked the catchy question: "Where is my mind?". Now, nearly 30 years later, UCLA psychiatry professor Daniel Siegel has a revolutionary answer. We've come to accept that the brain is the instrument that plays the mind, but Siegel takes it one step further by positing that your mind isn't limited to the confines of your skull, or even the barrier of your skin anywhere in your body. Your mind is emergent – it's beyond your physiology, and it exists in many different places at once. Daniel Siegel's most recent book is Mind: A Journey to the Heart of Being Human.
Daniel Siegel's most recent book is Mind: A Journey to the Heart of Being Human.
Neuroscientists now think of the gut as a "second brain"; it independently controls your digestive processes and is in constant conversation with your main brain. What do they talk about? Depression, theorizes Dr Emeran Mayer.
We all feel things in our gut – intuitions that give us subtle physiological alerts, stress and anxiety that unsettle us, bad reactions to food, and conversely feelings of contentment from the right food, or flutters from an exciting experience. But according to Dr Emeran Mayer, what we feel is just a small fraction of what's going on in a region of our body that is still quite mysterious – even to the experts.
In his new book, The Mind-Gut Connection,, Dr Mayer writes: "Your gut has capabilities that surpass all our other organs and even rival your brain. It has its own nervous system, known in scientific literature as the enteric nervous system, or ENS, and [is] often referred to in the media as the "second brain.""
As Mayer describes, this second brain consists of about 100 million nerve cells sandwiched between layers of the gut running all the way from the esophagus to the end of the large intestine. This 'second brain' and our regular brain use the same neurotransmitters and are connected through neural, endocrine, and immune pathways, so it truly is an integrated intelligent system with information flowing in both directions.
What makes the second brain unique from other organs is that – in animals at least – when it's separated from the main brain it continues to pilot its complex activities on its own.
The system is extremely interesting to researchers because of this independent streak, and the effect that it may have on our mental health. After his many years of research, Mayer humbly says it's "highly plausible" that there is a connection between the gut and mental health conditions such as depression. Scientists from the University of North Carolina have found that gut bacteria produce neurotransmitters like serotonin, dopamine and GABA, all of which have associations with our mood. Often the medications people with depression take are designed to adjust the uptake of these neurotransmitters, a treatment scientists at the time designed thinking only of the brain, but it may now also have implications in the microbiome.
What makes it even more intriguing is that more than 95% of our body's serotonin is produced and stored in the gut in specialized enterochromaffin cells, says Dr Mayer, adding: "By far the largest store of the molecule that plays such a big role in modulating our mood and our wellbeing – also appetite, pain sensitivity – is stored in the gut."
In recent years, the microbiome has come to the fore of scientific research, hinting at the wide reach of its sway over the body and mind. There is still a long, long way to go in understanding direct causations, but when that happens, there is no doubt our comprehension of this second brain will affect our well-being and quality of life in a big way.
Dr Emeran Mayer's most recent book is The Mind-Gut Connection: How the Hidden Conversation Within Our Bodies Impacts Our Mood, Our Choices, and Our Overall Health
.
Researchers at UCLA have found Grim Reaper DNA in 5% of the population. But there is a bright side – lifestyle choices go a long way in overriding a shorter genetic life expectancy.
Veteran marathon runner Noel Bresland attempts to run a marathon on a treadmill inside a capsule of the famous London Eye in central London.
Those of you trying to ward off old age with macrobiotic diets and 5am running sessions? Chill. It might not be helping you. In fact, according to new research led by UCLA, you might very well die young anyway, thanks to your genes.
"You get people who are vegan, sleep 10 hours a day, have a low-stress job, and still end up dying young," Steve Horvath, a biostatistician who led the research, told The Guardian. "Some people [just] have a faster innate aging rate."
That faster innate aging rate is caused by "subtle chemical changes" in the blood, The Guardian reports. Your body may age more quickly than your chronological age indicates it should. The culprit, according to Horvath's previous research, are methyl compounds that attach or detach from our genome over time. Those compounds are one of the four primary ones that make up our DNA. While their change doesn't alter our underlying genomic pattern, it does age us. The Guardian explains that "methyl levels at 353 specific sites on the genome rise and fall according to a very specific pattern as we age – and that the pattern is consistent across the population. The latest study… showed that some people are propelled along life's biological tramlines much quicker than others – regardless of lifestyle."
The study involved 65 scientists in seven countries analyzing over 13,000 blood samples. UCLA explains what they did next: "Applying a variety of molecular methods, including an epigenetic clock developed by Horvath in 2013, the scientists measured the aging rates of each individual... By comparing chronological age to the blood's biological age, the scientists used the clock to predict each person's life expectancy."
How exactly can an epigenetic clock do that? According to Duke University Professor Randy Jirtle, it's because epigenetics are "computer programs established in our genes." He broke down the process for us here:
After applying that method to all those blood samples, Horvath and his team discovered that "5 percent of the population ages at a faster biological rate, resulting in a shorter life expectancy," he explained in a UCLA statement. "Accelerated aging increases these adults' risk of death by 50 percent at any age."
More research needs to be done in order to clearly identify those risk factors, but one might be gender. UCLA reports that "even by the age of five the different speeds of aging between genders was apparent and by the age of 40 a biological age gap of 1-2 years opens up." "Women always age a little bit more slowly than men," Horvath added. "It's not lifestyle it's this innate aging process that favours [sic] women."
All that said, there are more bright spots than concerns in this research. Horvath was quick to point out that, "for an individual, factors like blood pressure and smoking were more decisive" than genetics.
Another bright spot is that different parts of the body age faster than others. "Healthy breast tissue is about two to three years older than the rest of a woman's body," Horvath told UCLA back in 2013. "If a woman has breast cancer, the healthy tissue next to the tumor is an average of 12 years older than the rest of her body." That could explain why breast cancer is the most common cancer diagnosis in women. 
The biggest bright spot may simply be that our epigenetic clock isn't as persistent as Captain Hook's -- meaning, it's not constant. "It ticks much faster when we're born and growing from children into teenagers, then slows to a constant rate when we reach 20," Horvath explained. That means its effects won't sneak up on you; they'll accumulate over time, which gives you time to act on them.
Horvath has no plans to market his tests for general use, but we've still got a lot to learn from it. One thing we can be certain of is that exercising like fiends won't keep any of us young forever. The best we can do is live healthy lifestyles to enjoy the years we do have.
--
UCLA researchers successfully use a new technique to "wake up" a patient after coma.
A new ultrasound treatment by UCLA scientists was used to restart brain activity in a 25-year-old man recovering from a coma. Before the treatment, the man showed few signs of consciousness and understanding speech, able to perform very limited movements. Three days after the treatment, the man could fully understand language, communicated by nodding his head and even fist-bumped one of the doctors.
"The changes were remarkable," said Martin Monti, the study's lead author and a UCLA associate professor of psychology and neurosurgery. 
He elaborated on the technique which used a sonic stimulation device to excite neurons in the thalamus, the brain's central processing hub. It is the area with a typically diminished performance in post-coma patients.
"It's almost as if we were jump-starting the neurons back into function," Monti said. "Until now, the only way to achieve this was a risky surgical procedure known as deep brain stimulation, in which electrodes are implanted directly inside the thalamus. Our approach directly targets the thalamus but is noninvasive." 
The device used is the size of a coffee cup saucer. According to the UCLA press release, it "creates a small sphere of acoustic energy that can be aimed at different regions of the brain to excite brain tissue".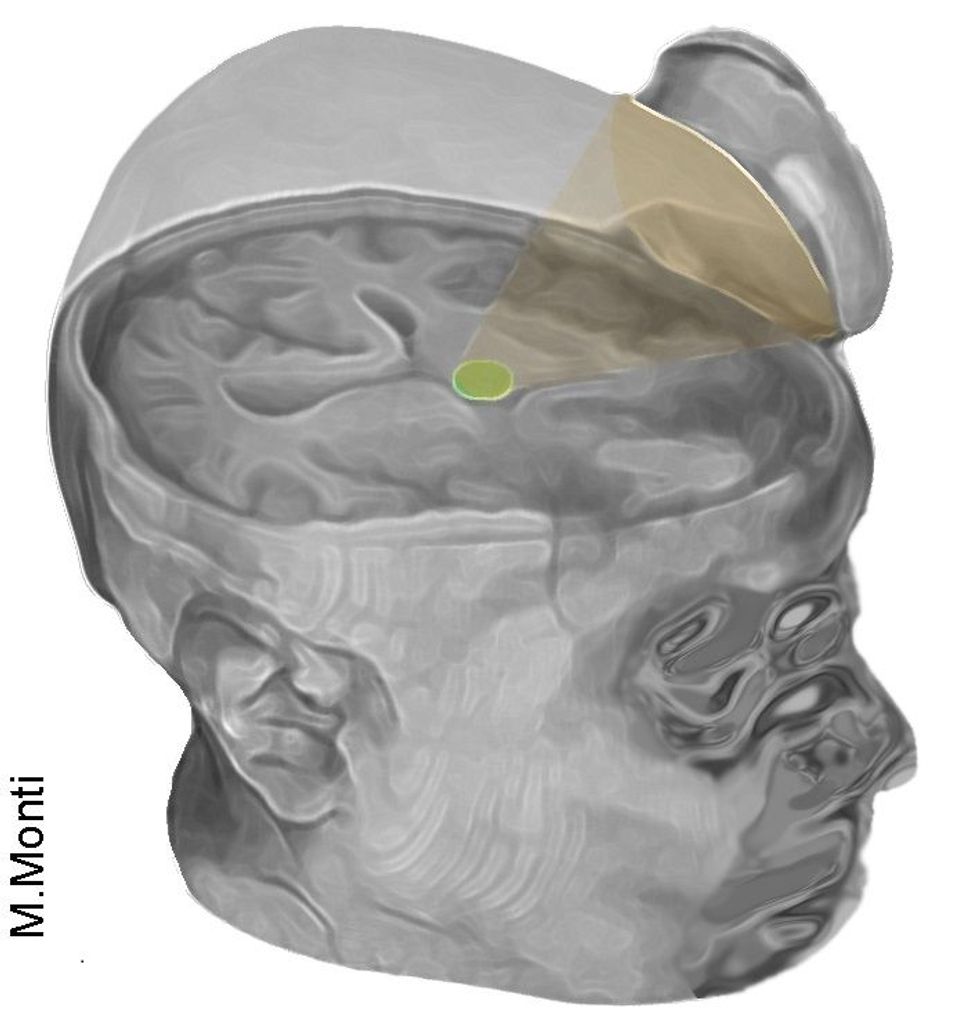 The researchers targeted the thalamus with low-intensity focused ultrasound pulsation. Credit: Monti/UCLA.
Both the device and the technique, called low-intensity focused ultrasound pulsation, was developed by another UCLA professor Alexander Bystritsky. He is the co-author of the study and founder of Brainsonix, a company that made the device.
The small amount of energy emitted by the device is safe for the patient.
Can this technique be used to help other patients recovering from comas? The researchers are taking a wait and see approach. More studies need to be done to see if they can get consistent results. UCLA researchers will be testing the procedure on several more people in the fall.
"It is possible that we were just very lucky and happened to have stimulated the patient just as he was spontaneously recovering," cautioned Monti.
Monti hopes that if the technology pans out, their research will lead to the creation of low-cost portable devices that can "wake up" the brain of vegetative or minimally conscious patients.
You can read the report on the treatment here, in Brain Stimulation.