A high-schooler's dig experience writes a new chapter in T-Rex history.
Image source: Artist's conception by Andrey Atuchin/
Virginia Tech
The bones he found in New Mexico remained unidentified for 20 years.
Suskityrannus hazelae turns out to be a diminutive predecessor to the "king lizard."
The tiny terror is the ultimate "citizen scientist" victory.
A fascination with dinosaurs typically starts young. If an adult needs a question answered, a little kid is often the best, most enthusiastic, and up-to-date resource. Going on a paleontology dig is certainly one of the cooler, fascinating ways for a teen to spend a summer.
It's even better when he or she gets the thrill of gently prying from the dirt something that's been never seen before, which is what happened in 1998 when a 16-year-old high-school junior named Sterling Nesbitt found the remains of an unknown creature at Zuni Basin dinosaur site, which straddles the New Mexico-Arizona border. A year earlier geologist Robert Denton had found a partial, tiny skull of the same mysterious theropod, but Nesbitt's find was a more complete specimen.
This month, that creature has finally been scientifically identified: It's a tiny tyrannosaurid — dubbed Suskityrannus hazelae — and its remains offer an unprecedented view of what the mighty T-Rex was like before it became the killing behemoth kids know and love. Indeed, according to the researchers, the dino is phylogenetically the "intermediate between the oldest, smallest tyrannosauroids and the gigantic, last-surviving tyrannosaurids."
Suskityrannus hazelae
A partial Suskityrannus skull is dwarfed by just the jawbone of a T-Rex. Image source: Virginia Tech News
When Nesbitt originally found the bones, they were among the remains of other prehistoric fish, turtles, lizards, crocodylians, and mammals. Because of this, for a time, the assumption was that he'd found a dromaeosaur (think Velociraptor). "Essentially, we didn't know we had a cousin of Tyrannosaurus rex for many years," Nesbitt says, regarding the new taxonomy.
While a typical Tyrannosaus rex crushed the scales at about nine tons, the Suskityrannus weighed in at a mere 45 and 90 lbs. It stood just three fee tall at the hip, and was about nine feet long. The specimen found by Nesbitt is believed to date back to the Cretaceous, about 92 million years ago, and is thought to have been at least three years old. Like its larger cousin, it was also a meat-eater, though it likely supped on much smaller prey than did T-Rex.
Nesbitt tells Virginia Tech News, "Suskityrannus gives us a glimpse into the evolution of tyrannosaurs just before they take over the planet." He adds, "It also belongs to a dinosaurian fauna that just precedes the iconic dinosaurian faunas in the latest Cretaceous that include some of the most famous dinosaurs, such as the Triceratops, predators like Tyrannosaurus rex, and duckbill dinosaurs like Edmotosaurus."
"Suskityrannus has a much more slender skull and foot than its later and larger cousins, the Tyrannosaurus rex," Nesbitt reports. A partial claw has been found, and though it's unclear how many fingers Suskityrannus had, yes, they're just as oddly small as those of T-Rex.
The animal's new name comes from the Zuni word for coyote, "Suski" — the Zuni Tribal Council granted permission to appropriate the term. The "hazelae" is a tribute to Hazel Wolfe, who discovered the Zuni Basin site in 1996, and whose support has been crucial to the ongoing Zuni Basin Paleontology Project.
Life-changer
Nesbitt at the 1998 dig. Until 2006, his discovery was housed at the Arizona Museum of Natural History. Image source: Hazel Wolfe / Virginia Tech News
What became of discoverers? Denton is now an engineering geologist at GeoConcepts Engineering, and Nesbitt is now a geoscientist at Virginia Tech.
"My discovery of a partial skeleton of Suskityrannus put me onto a scientific journey that has framed my career. I am now an assistant professor that gets to teach about Earth history," says Nesbitt.
Nesbitt eventually took possession of his find and carted it around with him as he moved between academic jobs until it was finally identified.
Your bones would "explode."
She wouldn't last a second.
Who can forget the nail-biting scene in Jurassic Park when an escaped T-Rex, in the middle of a thunderstorm, proceeds to turn over and tear apart a Range Rover with two children trapped inside? Movie magic and real science don't often intersect. So, is this what would really happen, or is Hollywood just ramping up the drama? And how strong was a T. rex's bite anyway? Scientists now know. And the truth is, this terrifying predator retains its reputation. The jaw strength of a T-Rex contained nearly 8,000lbs (3,629kg) of force.
Gregory M. Erickson is a paleobiologist from Florida State University, who began his bizarre journey by becoming vastly curious about how many pounds of pressure the jaws of a T-Rex might exert. He teamed up with Paul M. Gignac, a paleobiologist at Oklahoma State University. Their findings, published in the journal Scientific Reports, conclude that its gnashing jaws would tear through everything, even popping bones.
The exact figure they came up with was 7,800lbs (3,538kg) of force, more than double any living species on Earth. "That's like setting three small cars on top of the jaws of a T. rex," Erickson told NPR. "That's basically what was pushing down." More horrifying still, it chewed up and ate the bones of its prey. This act, known as extreme osteophagy, is practiced by few animals today. No living reptiles do it. It has been observed in just a few mammals, notably hyenas and wolves.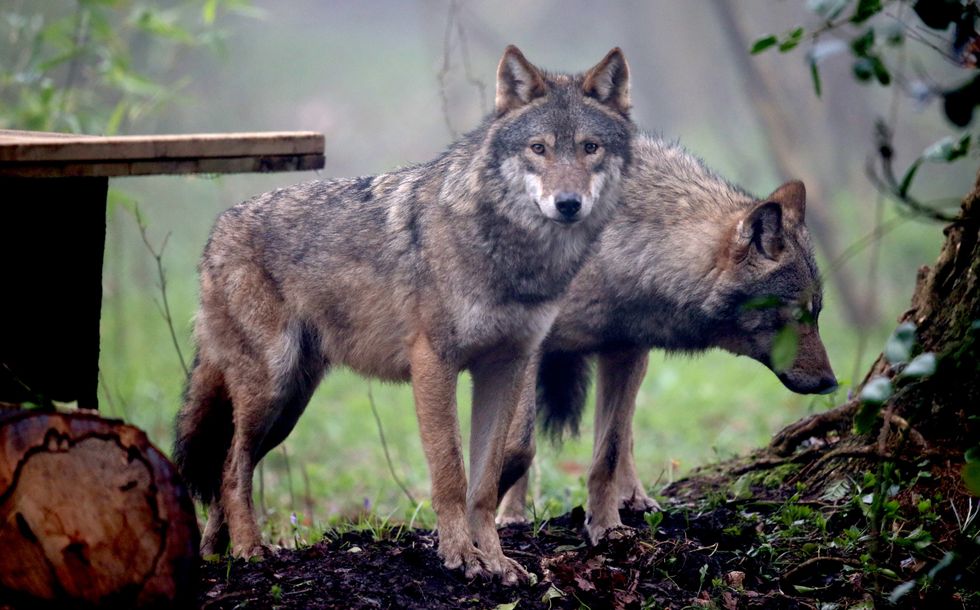 Wolves practice extreme osteophagy or the eating of bones. No modern reptiles do. Getty Images.
As if the towering monster's banana-sized teeth weren't enough! How do we know it ate bone? Triceratops fossils and others have been found with T. rex bite marks in them. Also, their droppings have been found containing minerals, which could only be derived from digested bones.
To work out what a T. rex was packing in terms of bite strength, Erickson and Gignac looked at modern crocodile bites and their musculature, and the bites of birds. Crocodiles are probably the T-Rex's closest living relatives, Erickson said. These aren't your mamby-pamby scientists, mind. They lassoed a 17-foot crocodile and got its bite strength, using something akin to a bathroom scale. Erickson told NPR, "I call it 'bull-riding' for scientists."
Once the information gathering process was complete, they ran the information through computer models to determine the amount of force a T. rex's bite would've delivered. Today, the Australian saltwater crocodile delivers the most powerful bite, 3,700lbs (1,678kg) of force. Though nowhere near the sheer brute strength of the T. rex, it's still not something you want to tango with. Meanwhile, we humans fire off a measly 200lbs (approx. 91kg) of force per bite.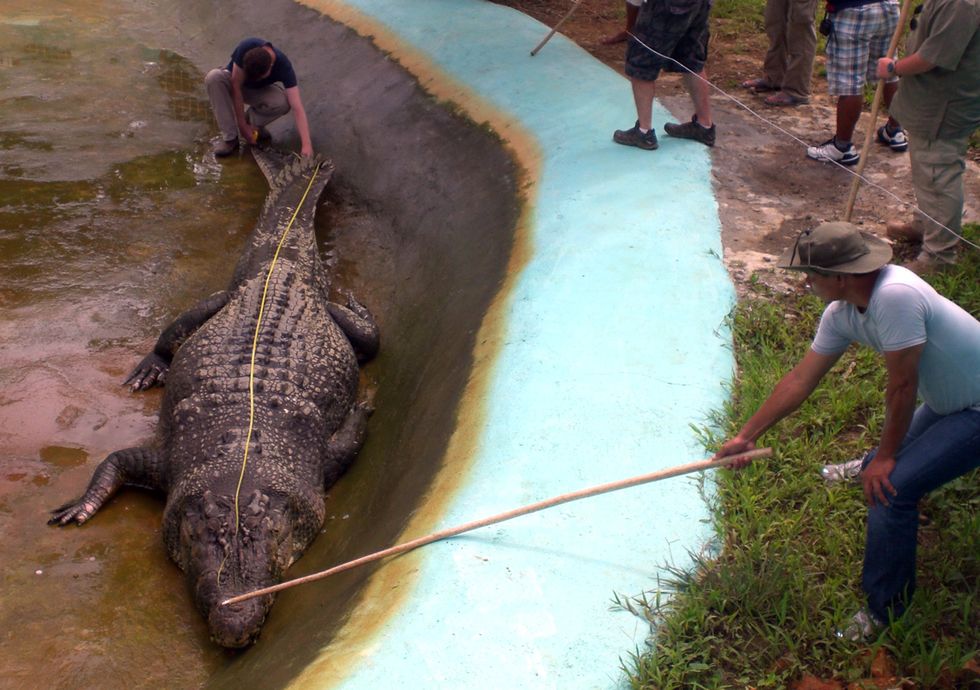 Researchers caught an Australian saltwater croc and tested its bite strength. Getty Images.
Erickson says jaw pressure doesn't tell the whole story. Tooth pressure actually plays a huge role in the effectiveness of a bite. The shape of the tooth and how well it delivers pressure to its point will tell whether it punctures hide or bone. Luckily for the T. rex, its serrated teeth were designed to do both with precision. A T. rex's tooth pressure clocked in at 431,000 lbs per square inch (303,000kg per square meter). "It basically could slice through just about anything in its realm," Erickson said.
The T. rex could gorge itself on triceratops and duck-billed dinosaurs alike, and the fact that it could metastasize and digest bone gave it an advantage over other predators. Though modern crocs and alligators swallow their food whole, the T. rex chewed its food.
Gignac says that their method of quantifying its bite strength should be accurate and another expert said that it sounds close to reality. Paleontologist Mark Norell, with the American Museum of Natural History, said it was the first such study to employ principles from engineering. He also told the New York Times, that a bite from a T. rex, "would cause bones to basically explode."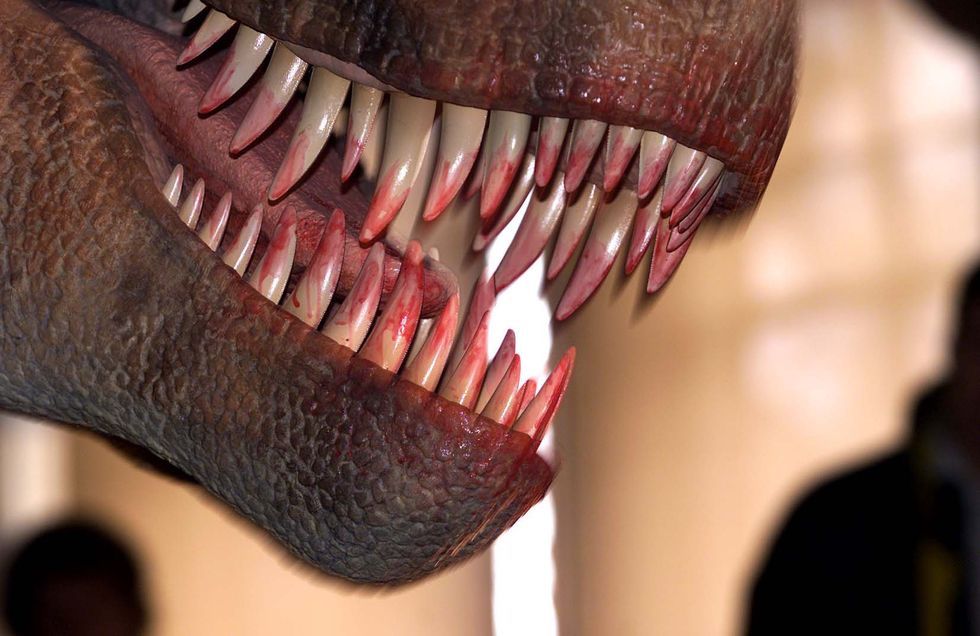 Tooth pressure means more for carnivores than bite force. T-Rex had it in spades. Getty Images.
According to Gignac, though impressive, the T. rex may not have delivered the most powerful bite in all of history. That title would've gone to the gigantic Newfoundland crocodile that lived alongside our ancient ancestors. They were 30-40 ft (12m) long. These crocs would have delivered a bite strength of 18,000lbs (8,165kg) of force. That's over twice what the T. rex delivered.
That aside, the T. rex was still one of the most fearsome predators ever. But unlike Jurassic Park, it might not have roared. In fact, it may have sounded more like a giant pigeon. In another study, published in the journal Evolution, researchers determined that instead of an earthshaking roar, dinosaurs more likely let out coos and hoots much like modern birds do.
By studying the evolution of birds and the patterns they suggest, researchers believe dinosaurs may have used a sound making process called closed-mouth vocalization, often practiced today among owls and doves. Here, sound is emitted through the skin in the neck and pushed out via an esophageal pouch. Dinosaurs may have relied upon closed-mouth vocalization since they were so large. It takes a large body for it to be effective.
So Hollywood sort of got it right, except one would be hooted and cooed at by a T. rex rather than roared at, which doesn't seem intimidating, at least compared to what's behind the thundering reptile's bite. Luckily, sound in the animal kingdom, at least among birds, is usually reserved for defending territory or attracting a mate. So a T. rex, if it got a hold of you, probably wouldn't have cooed as it chewed you up, devouring you to your very bones. Good to know.
Will we ever resurrect the T. rex like in Jurassic Park? See what Michio Kaku thinks: