The famed author and public intellectual has a bone to pick with the American legal system.
Evolutionary biologist and former Professor of the Public Understanding of Science at Oxford University Richard Dawkins has a bone to pick with the U.S. judicial system. Specifically, the phrase "beyond reasonable doubt". He argues that it doesn't mean what it says it means — that two different juries would come to two different verdicts (or perhaps the same verdict but in a different way). Therefore, the phrase loses its power. It's semantics, sure, but when people's lives hang in the balance, Richard argues that we should perhaps take a second look at the phrase. Richard Dawkins' new book is Science in the Soul: Selected Writings of a Passionate Rationalist.
Scientists successfully test an ingenious system for growing premature fetuses.
Lamb fetus in a BioBag. Credit: Children's Hospital of Philadelphia.
Scientists were successful in creating an artificial womb that grew premature lamb fetuses for four weeks. They hope to develop a similar system for human babies in the next three to five years.
Being born prematurely is the most common cause of death among babies, while even survivors are often plagued by various lifelong disabilities due to underdeveloped organs. About 10% of babies born every year in the U.S. are premature. Scientists hope their unique system of "BioBags," fluid-filled plastic bags that serve as artificial uteruses, can make a major difference in the survival and health of these babies.  
Compared to incubators, the advantage of the new system is that the bags are sealed, protecting fetuses from infections. The BioBags are filled with water and salts to approximate the amniotic fluid inside a uterus. The fetuses grow in a near-sterile, computer-controlled environment.
To replace placenta, which provides fetuses with oxygen and necessary nutrients, the scientists used special oxygenator devices connected to the umbilical cords of the lamb fetuses in the study. A novel technique allowed the heartbeats of the fetuses to pull in the oxygen they needed.
The study's leader Alan Flake of the Children's Hospital of Philadelphia in Pennsylvania said:
"We've developed a system that, as closely as possible, reproduces the environment of the womb and replace the function of the placenta."
Check out this video published by the Children's Hospital of Philadelphia to learn more about the study:
The experiment involved lambs that were 4 to 6 weeks away from completing their normal gestational period of 21 weeks, which is equivalent to 23 or 24 week pregnancy milestone in humans. The physiological similarity of lamb fetuses to human was the reason the lambs were chosen for the experiment.  The lamb fetuses were removed via C-section, placed in the bags and observed for four weeks. All of the lambs developed healthily and normally.
While others were euthanized and studied further, some of the lambs were removed from the bag and bottle-weaned. The oldest of those is now one.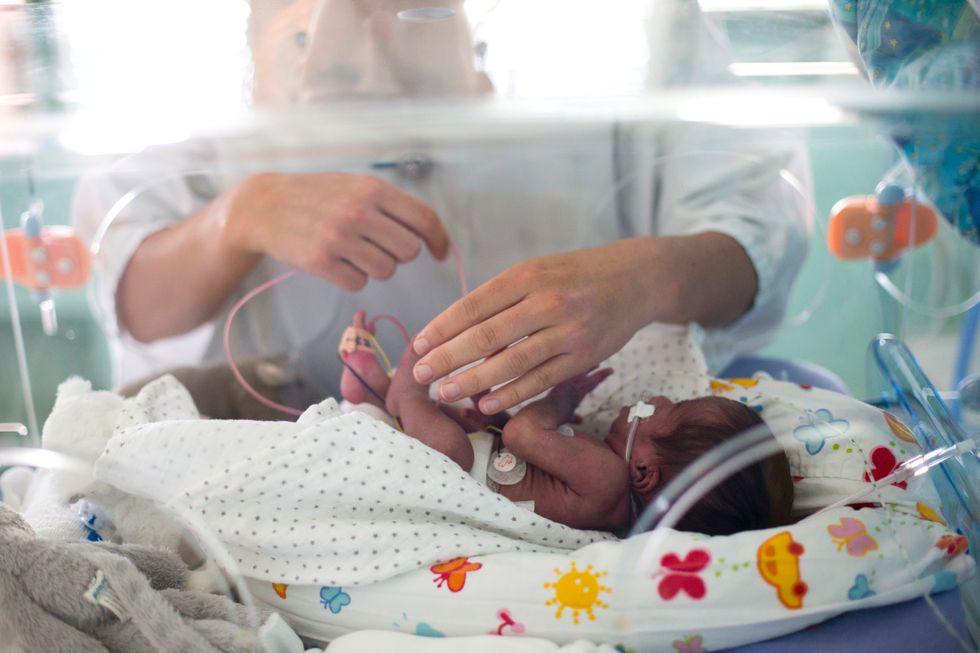 It took the scientists three years and four prototypes to devise the current device. They note that, if successful, their system could also produce economic benefits as the annual medical care cost of premature babies is currently at $43 billion.
Other scientists expressed cautious optimism about the findings, pointing out the need for further testing. The team making the artificial womb hopes to use it for babies born at about 24 weeks, when their chances of survival are better.
People like Thomas More, Abraham Lincoln, Franklin Roosevelt, and Bertrand Russell have already had many of the arguments we're having about basic income today.
Dr. Elise Klein wants to point out the conversations we're having around Universal Basic Income (UBI) aren't new. Great leaders and thinkers Thomas Paine, Abraham Lincoln, Franklin Roosevelt, and Tony Atkinson have already had many of the arguments surrounding UBI, today. Its history bears repeating.
The city of Cincinnati is trying to come up with ways to combat the problem of panhandling, which keeps people from going downtown. (Photo by Mike Simons/Getty Images)
Dr. Elise Klein wants to point out the conversations we're having around universal basic income (UBI) aren't new. Great leaders and thinkers Thomas More, Abraham Lincoln, Franklin Roosevelt, Bertrand Russell, and Tony Atkinson have already had many of the arguments currently surrounding UBI. Its history bears repeating.
In Klein's essay for the Green Institute, she walks through a 10-page outline of the many historical conversation surrounding UBI. It's meant to be read as a taster, encourage further reading. Klein, a lecturer of Development Studies at the University of Melbourne, walks us through a sampling, discussing UBI through the lens of three themes present in conservations surrounding it throughout history:
1. Freedom: Freedom to live the way one wants, freedom from starvation, and so on.
2. Justice: A more equal and just society, especially for those doing labor that is unpaid but valuable. It's a way to give back to everyone participating in our society.
3. Economic transformation: UBI is how we take our economy to the next level—it's the next step in our evolution.
It's important to note this idea has been argued by liberal thinkers, as well as conservative. Indeed, Y Combinator founder, Sam Altman once tweeted, "Important point: basic income is not socialism. Basic income provides a floor, and then people can get as rich as they want."
One of the earliest instances of a proposed UBI can be seen in Thomas More's Utopia, published in 1516. In it, UBI was proposed as a solution to stopping petty thievery, questioning the idea of punishment when the thief has no other choice but to steal.
"Instead of inflicting these horrible punishments, it would be far more to the point to provide everyone with some means of livelihood, so that nobody's under the frightful necessity of becoming, first a thief, and then a corpse."
What's interesting is that many people assume that giving money to the poor is a fruitless labor. "They'll just spend it on alcohol," we say. However, when we review the evidence, we see how far it is from the truth. Unconditional cash transfers do not increase the rate of purchase of tobacco or alcohol among the poor. In many cases, studies have found it actually reduces these purchases.
British Labor Party member George Cole referred to an unconditional income as a social dividend. He saw the individualized nature of success troubling when success is something born of a society. According to Cole, there's merit to the idea that wealth – the success of one – should be shared:
"Current productive power is, in effect, a joint result of current effort and of the social heritage of inventiveness and skill incorporated in the stage of advancement and education reached in the arts of production, and it has always appeared to me only right that all the citizens should share in the yield of this common heritage, and that only the balance of the product after this allocation should be distributed in the form of rewards for, and incentive to, current service in production."
Perhaps the most recent and most urgent argument pushing for UBI is that wage labor cannot and should not be a basis for membership within our society. There are many non-traditional jobs from motherhood to volunteer work, which contribute heavily to the success of our society. But what's most compelling is the idea that automation—robots—paired with waining job creation may leave many of us without wage work.
Throughout history there have been many pushes for adopting UBI. We are only just beginning to realize the real power this idea may have in providing a better future for everyone. Support is far from unanimous, but curiosity is alive: many countries are beginning to green-light trials, such as the Dutch city of Utricht, Finland, and Canada.