This new pill could make it easier for people to stick to the treatment.
Indian social activists and children release ribbons and balloons during an event to mark World AIDS Day in Kolkata on December 1, 2014. (Photo credit: DIBYANGSHU SARKAR/AFP/Getty Images)
Replacing daily pills with a weekly regimen could help patients stick to their dosing schedule.
Anne Trafton | MIT News Office
Researchers at MIT and Brigham and Women's Hospital have developed a capsule that can deliver a week's worth of HIV drugs in a single dose. This advance could make it much easier for patients to adhere to the strict schedule of dosing required for the drug cocktails used to fight the virus, the researchers say.
The new capsule is designed so that patients can take it just once a week, and the drug will release gradually throughout the week. This type of delivery system could not only improve patients' adherence to their treatment schedule but also be used by people at risk of HIV exposure to help prevent them from becoming infected, the researchers say.
"One of the main barriers to treating and preventing HIV is adherence," says Giovanni Traverso, a research affiliate at MIT's Koch Institute for Integrative Cancer Research and a gastroenterologist and biomedical engineer at Brigham and Women's Hospital. "The ability to make doses less frequent stands to improve adherence and make a significant impact at the patient level."
Traverso and Robert Langer, the David H. Koch Institute Professor at MIT, are the senior authors of the study, which appears in the Jan. 9 issue of Nature Communications. MIT postdoc Ameya Kirtane and visiting scholar Omar Abouzid are the lead authors of the paper.
Scientists from Lyndra, a company that was launched to develop this technology, also contributed to the study. Lyndra is now working toward performing a clinical trial using this delivery system.
"We are all very excited about how this new drug-delivery system can potentially help patients with HIV/AIDS, as well as many other diseases," Langer says.
"A pillbox in a capsule"
Although the overall mortality rate of HIV has dropped significantly since the introduction of antiretroviral therapies in the 1990s, there were 2.1 million new HIV infections and 1.2 million HIV-related deaths in 2015.
Several large clinical trials have evaluated whether antiretroviral drugs can prevent HIV infection in healthy populations. These trials have had mixed success, and one major obstacle to preventative treatment is the difficulty in getting people to take the necessary pills every day.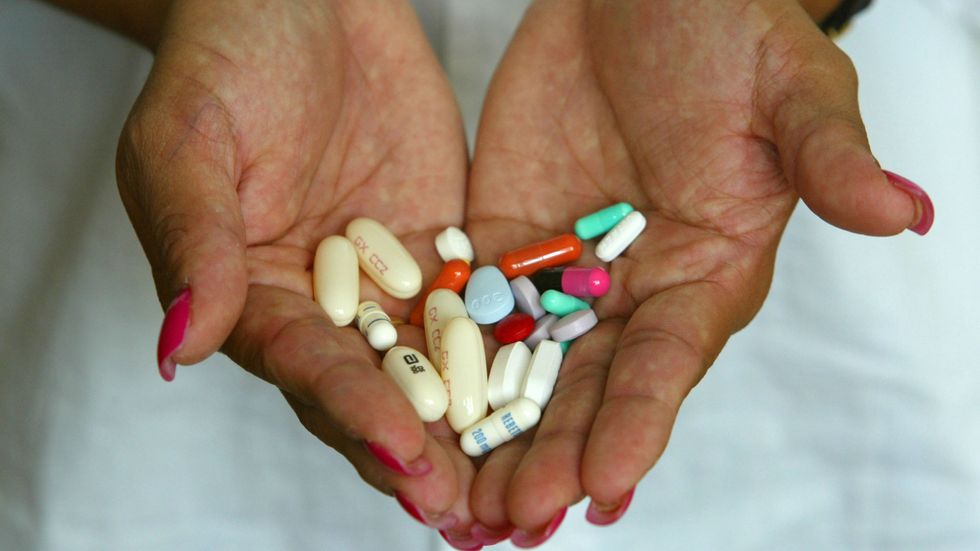 Alba Cerrato displays her cocktail of 14 different AIDS medications that she takes three times a day July 11, 2002 in Miami, Florida. Cerrato contracted the disease in 1994 from her boyfriend who passed away in 1999.
The MIT/BWH team believed that a drug delivery capsule they developed in 2016 might help to address this problem. Their capsule consists of a star-shaped structure with six arms that can be loaded with drugs, folded inward, and encased in a smooth coating. After the capsule is swallowed, the arms unfold and gradually release their cargo.
In a previous study, the researchers found that these capsules could remain in the stomach for up to two weeks, gradually releasing the malaria drug ivermectin. The researchers then set out to adapt the capsule to deliver HIV drugs.
In their original version, the entire star shape was made from one polymer that both provides structural support and carries the drug payload. This made it more difficult to design new capsules that would release drugs at varying rates, because any changes to the polymer composition might disrupt the capsule's structural integrity.
To overcome that, the researchers designed a new version in which the backbone of the star structure is still a strong polymer, but each of the six arms can be filled with a different drug-loaded polymer. This makes it easier to design a capsule that releases drugs at different rates.
"In a way, it's like putting a pillbox in a capsule. Now you have chambers for every day of the week on a single capsule," Traverso says.
Tests in pigs showed that the capsules were able to successfully lodge in the stomach and release three different HIV drugs over one week. The capsules are designed so that after all of the drug is released, the capsules disintegrate into smaller components that can pass through the digestive tract.
Daniel Kuritzkes, a professor of medicine at Harvard Medical School and the chief of infectious diseases at Brigham and Women's Hospital, says that with further safety studies and tests of different drug combinations, this approach could provide another tool to help doctors treat HIV infections and prevent new ones.
"It's a very interesting approach and certainly something that's worth further development, and potentially human trials to see how workable this is," says Kuritzkes, who was not involved in the research.
Preventing infection
Working with the Institute for Disease Modeling in Bellevue, Washington, the researchers tried to predict how much impact a weekly drug could have on preventing HIV infections. They calculated that going from a daily dose to a weekly dose could improve the efficacy of HIV preventative treatment by approximately 20 percent. When this figure was incorporated into a computer model of HIV transmission in South Africa, the model showed that 200,000 to 800,000 new infections could be prevented over the next 20 years.
"A longer-acting, less invasive oral formulation could be one important part of our future arsenal to stop the HIV/AIDS pandemic," says Anthony Fauci, director of the National Institute of Allergy and Infectious Disease, which partly funded the research.
"Substantial progress has been made to advance antiretroviral therapies, enabling a person living with HIV to achieve a nearly normal lifespan and reducing the risk of acquiring HIV. However, lack of adherence to once-daily therapeutics for infected individuals and pre-exposure prophylaxis (PrEP) for uninfected at-risk people remain a key challenge. New and improved tools for HIV treatment and prevention, along with wider implementation of novel and existing approaches, are needed to end the HIV pandemic as we know it. Studies such as this help us move closer to achieving this goal," Fauci says.
The MIT/BWH team is now working on adapting this technology to other diseases that could benefit from weekly drug dosing. Because of the way that the researchers designed the polymer arms of the capsule, it is fairly easy to swap different drugs in and out, they say.
"To put other drugs onto the system is significantly easier because the core system remains the same," Kirtane says. "All we need to do is change how slowly or how quickly it will be released."
The researchers are also working on capsules that could stay in the body for much longer periods of time.
The research was also funded by the Bill and Melinda Gates Foundation, Bill and Melinda Gates through the Global Good Fund, the National Institutes of Health, and the Division of Gastroenterology at Brigham and Women's Hospital.
--
Reprinted with permission of MIT News
A new study finds LSD — a Schedule I drug with "no medical value" — to be therapeutically beneficial. 
A woman stands in the rain at a protest, her gaze unmarked by fear. Photo Eitan Abramovich/AFP/Getty Images
LSD reached America thanks to schizophrenia.
Though Albert Hoffman mistakenly synthesized the potent psychedelic in 1938 in Switzerland, it wasn't until Viennese doctor Otto Kauders told a group of mental health professionals about the substance's ability to drive one "temporarily crazy" in 1949 that researchers began listening.
German refugee Max Rinkel immediately ordered a shipment from Hoffman's company.
Why all drugs should be legalized
Interestingly, psychiatrist Robert Hyde decided to conduct his normal hospital rounds after ingesting the first American dose. He grew irritated, believing to have received a bunk dose. Problem is, Hyde was normally a pleasant man. He might not have achieved a schizophrenic state (his dose was rather low), but the LSD certainly had an emotional effect.
The government jumped aboard. The CIA's covert Project MKUltra was instituted in hopes of manipulating Russian spies to spill secrets. Officially sanctioned in 1953 (though trials began earlier), for two decades the US government secretly dosed a range of unsuspecting mental health patients, prostitutes, drug addicts, and prisoners in attempts of discovering LSD's abilities.
Sam Harris: Can psychedelics help you expand your mind?
Possession of LSD became illegal in 1968; the last sanctioned FDA study on its effects took place 12 years later. Being categorized as a Schedule 1 drug (no medical value), few researchers were willing to touch it. But a recent uptick in studies have found that LSD is not medically useless. It is being tested in treatment programs for alcoholics and drug abusers. Microdosing has become a certified fad. And a recent study published in Nature found LSD might help you regulate your emotions.
Twenty healthy participants with no or minimal (one time only) experience with psychedelics ingested either 100μg LSD or a placebo. They were then shown fearful or neutral faces while undergoing brain scans. Three brain regions were focused on: the amygdala, the seat of emotional processing, along with the fusiform gyrus and medial frontal gyrus, both areas that are responsive to fearful faces.
The researchers' hypothesis proved correct: LSD reduced amygdala activity. Those who took the substance were less emotionally volatile in response to fearful faces. To test against the possibility that the psychedelic effects distorted faces, researchers cite a similar response in subjects receiving 200μg LSD to fearful faces, who experienced no alteration in the recognition of neutral, happy, or angry faces.
This leads researchers to believe that LSD might help people suffering from anxiety disorder and depression. By "reducing perception of negative emotions and social cognitive deficits," LSD could soon find widespread usage in the psychiatrist's arsenal of remedies. Of course dose and mental history are important factors, but so far the results are positive.
In 1956, psychedelic advocate Aldous Huxley wrote in his essay, Heaven and Hell:
The psychopharmacist cannot add to the faculties of the brain—but he can, at best, eliminate obstructions and blockages which impede their proper use. He cannot aggrandise us—but he can, within limits, normalise us; he cannot put additional circuits into the brain, but he can, again within limits, improve the co-ordination between existing ones, attenuate conflicts, prevent the blowing of fuses, and ensure a steady power supply. That is all the help we can ask for—but if we were able to obtain it, the benefits to mankind would be incalculable.
Huxley was prescient in many ways. While Orwell's 1984 became a bestseller this year thanks to political turmoil in America, some have argued that Brave New World is a better fit of our current predicament. Though brain scanners were not available during Huxley's time he appears to have understood the nuance of LSD's effects quite well. As research shows, LSD helps us better coordinate our lives by helping us deal with our emotions in a less fearful, more thoughtful manner.
There is a new era of PTSD science just around the corner.
US Army soldiers carry a wounded comrade injured in an Improvised Explosive Device (IED) blast during a patrol near Baraki Barak base in Logar Province, Afghanistan in 2012. (Photo Munir Uz Zaman/AFP/Getty Images)
With each passing day, the world provides us with grim reminders of a growing public health crisis. Society used to brush it off as a "case of the nerves", before labeling it as "shell shock", but today we know it as post-traumatic stress disorder (PTSD).
As with various other other mental health disorders, after decades of intense study we've greatly expanded our collective understanding of PTSD. We now know that PTSD is a psychiatric condition generated by an individual's exposure to traumatic events, one which manifests itself through a plethora of anxiety-related symptoms.
While our societal and clinical knowledge of PTSD has increased exponentially, our ability to diagnose and treat the disorder hasn't necessarily kept the same pace. Yet a recent study conducted by British and Swiss researchers has yielded an unlikely potential treatment for PTSD, a common antibiotic called doxycycline.
In the study, researchers gave 76 healthy adult subjects either doxycycline or a placebo, then sat them in front of a computer screen that randomly flashed two colors, red and blue. The appearance of one color was associated with a 50% risk of receiving a painful electric shock. After 160 flashes, the study's subjects grew to identify one color with the painful shocks. One week later, the experiment was conducted again with the same subjects, this time without either the doxycycline or placebo. The researchers found that the subjects given doxycycline exhibited a 60% lower fear response than those given the placebo.
Professor Dominik Bach, one of the study's lead researchers, commented: "Learning to fear threats is an important ability … helping us to avoid dangers. (But) over-prediction of threat can cause tremendous suffering and distress in anxiety disorders such as PTSD." He stated that doxycycline is able to block matrix enzymes, proteins that the brain uses to form memories, which explains why the antibiotic may prove to be an effective treatment in the fight against a disorder caused by an overactive fear memory.
"When we talk about reducing fear memory, we are not talking about deleting the memory of what actually happened," explains Bach. "The participants may not forget that they received a shock when the screen was red, but they 'forget' to be instinctively scared when they next see a red screen."

This is an exceptional forward leap in the theoretical treatment of PTSD. However, this complicated disorder remains firmly gripped by stigma, making its diagnosis particularly problematic.
The U.S. Department of Veterans Affairs estimates that between 7–8% of the adult U.S. population will experience PTSD at some point in their lives, yet there are certain career sectors that possess a demonstrably increased incidence of PTSD among their practitioners. For example, data from the National Center for PTSD suggests that 11–20% of Operation Iraqi Freedom and Operation Enduring Freedom veterans will suffer from PTSD in a given year. Additionally, a recent report issued by the International Association of Fire Fighters states that 20% of firefighters and paramedics have PTSD.
While soldiers and first responders are but two—albeit sizeable—slices of society, they accurately demonstrate the extent to which stigma negatively affects the successful diagnosis of PTSD. Both are not only gritty professions whose members are routinely subjected to repeated psychological trauma, but are industries in which stoicism in the face of carnage has been effectively institutionalized.
In a recent episode of PBS NewsHour, retired Green Beret, Sgt. 1st Class Michael Rodriguez highlighted both the inherent barriers to PTSD diagnosis and the acute need for new diagnostic technologies. He stated, "At that time, I didn't think I had it. Bought into the stigma. But if there was a tangible test, I think it would make it easier on the patients, but — because it will validate it. You know, like if someone has leukemia, no one ever says, you don't have leukemia."
It's here that modern science might be able to provide a modicum of relief. Dr. Sam McLean, an emergency medicine physician and anesthesiologist at the University of North Carolina at Chapel Hill, is working to identify PTSD's biological markers through the examination of blood samples in the hopes of developing a lab-based test for diagnosing the disorder. McLean explained the rationale for his research stating, "after a traumatic event, the brain communicates with the body via the blood".
Experts agree that we're likely still years away from ushering these diagnostic methodologies and treatments out of research facilities and into clinics. However, it's incredibly heartening to know that we've not only brought the deadly epidemic of PTSD out of the proverbial shadows, but are aggressively pursuing advances poised to subdue it.  
sebastian-junger-on-ptsd-and-drone-warfare
We know there's a gut-brain connection, but just how deep does it go? Could we treat depression just by adopting a particular diet?
Scientists have recently become aware there's a connection between our gut and our brain. But just how deep does this connection go? Could we, say, treat depression just by adopting a Mediterranean diet? A new study suggests, yes.
Doctors have been prescribing diets to their patients as a preventative measure against heart disease, cancer, diabetes, and now depression joins that list. "We now have real evidence to back up what's good common sense: that eating well doesn't just benefit your body, but it also benefits your brain," says Columbia professor Drew Ramsey, who wrote, Eat Complete.
Ramsey represents a growing group of mental health experts who practice nutritional psychiatry. The idea of a gut-brain connection is one that has been gaining ground in scientific studies and some have started putting these ideas into practice. There's evidence to suggest certain foods influence the bacteria in our gut, which in turn influence mental health.
It's also important to note about 95 percent of your body's serotonin is made in your gastrointestinal tract. Scientists are just beginning to discover this secret life of microbes and how much they influence other aspects of our overall health and wellbeing. But we can influence our microbiome with what we eat. 
The brain is also directly affected by diet. "Tryptophan is the amino acid that we use to make serotonin and dopamine," Ramsey told us when he came to Big Think. "These are very, very important mood-regulating and learning-regulating neurotransmitters, or chemicals in the brain. And so the idea is to give people a core set of foods. You know, again, with every bite you're getting all the nutrients that your brain needs."
Researchers from Australia's Deakin University led a controlled clinical trial which gives promising results towards suggesting "dietary improvement guided by a clinical dietician may provide an efficacious treatment strategy for the management of this highly prevalent mental disorder." The researchers recruited several hundred patients with moderate to severe depression, 67 of whom participated in a 12-week parallel group trial. All participants had poor dietary quality when they entered the trail, meaning they ate empty carbs and nutrient-sparse foods, like pizza, pasta and baked goods – what Ramsey terms the "beige diet" or the "12-year-old boy diet".
Ramsey explains the trial result that is exciting for the future of mental health treatment:
"The augmentation effect was quite robust for an adjunctive treatment. In the treatment group, about 32% of patients achieved remission, compared with 8% in the control group. In terms of risk-benefit profiles, a dietary intervention is emerging as a very safe and effective way for us to engage our patients."
The promising meal plan has been coined the Modi-Medi Diet – or modified mediterranean diet –and consists of legumes, leafy greens, colorful vegetables, a variety of quality seafood, quality lean red meat, fruits, olive oil, and nuts. Ramsey emphasizes that the quality of food, in particular of meat and seafood, is important – which is often an area of concern for people trying to make a positive diet change: organic food is expensive. During the trial, the Australian researchers actually found that eating the right foods for optimal brain health is cheaper. "The average Australian spends $138 a week on food. Those who were taking part in the study spent just $112," says Ramsey. What is it about these foods that boost brain function and mental health? They contain nutrients the brain needs, specifically omega-3 fats, zinc, magnesium, iron, and vitamin B12, which are "highly correlated with a lower risk for depression and dementia."
It's important to note, the field of nutritional psychiatry is still new, so you should not use this diet as a substitute for consulting a therapist if you feel depressed.
British doctors eliminate the disease in two infants with incurable cancer by utilizing a medical first gene-editing techniques.
A group of British doctors successfully eliminated cancer in two infants with leukemia by using genetically modified immune cells from a donor. The accomplishment opens a new age of cancer therapy treatment.
This medical first was carried out by doctors from London's Ormond Street hospital on two children aged 11 and 16 months, who were not responding to other forms of therapy. Scientists manipulated the donor T cells to be able to kill the cells of leukemia, with chemotherapy following the new experimental approach. Now one of them has been cancer-free for a year and another for 18 months.
The difference in the treatment was that the engineered T-cells (known as CAR-T) were from another person, while usual T-cell therapy involves removing immune cells from the patient, modifying them and giving them back to the patient. What's remarkable about this approach is that the cells could be collected from donors, treated and stored before they are needed, thus making it possible for the patient to receive them immediacy upon diagnosis. They would not have to wait for their own T cells to be modified. Additionally, blood from one donor could supply hundreds of treatments, reducing costs and efficiency. 
"We estimate the cost to manufacture a dose would be about $4,000," told Julianne Smith, vice president of CAR-T development for Cellectis, supplier of universal cells, in an interview with Technology Review. "That's compared to a cost of around $50,000 to alter a patient's cells and return them." 
The novel treatment is not yet available to the general public but CAR-T cell therapy is currently in phase II clinical trials in the U.S. There is also the question if the infants are actually cured, because doctors usually wait a few years before declaring someone completely cancer-free.
Some critics have pointed out that because chemotherapy was also used as part of the treatment, it's not entirely clear if the modified T-cells were the main cause of the improvements. But the doctors point to the long-lasting effects of their treatment and are enthusiastic about its potential in future treatments.
You can read the details of the cases here, published in the journal Science Translation Medicine.
Cover photo: One-year-old Layla Richards was treated by the new therapy and is now cancer-free. Credit: Great Ormond Street Hospital