Studies show that participants who had more travel experience were more likely to cheat on tests, and believe in moral relativity.
Christ the Redeemer statue in Rio de Janeiro [Photo: Mario Tama]
Travel experience is valued in globalized society. "Loves to travel" is tacked onto countless dating profiles. Companies like Samsung send employees on vacations abroad for little reason other than to soak up culture. And more than ever, students are opting to study abroad before joining the workforce – up from 2 million in 2000 to almost 5 million in 2014.
Conventional wisdom holds that travel makes us well-rounded people. But what actually are the psychological effects of travel? 
New research suggests there's a dark side lurking underneath the well-established benefits of foreign experiences.
Past studies show that travel can increase cognitive flexibility, defined as the ability to shift thoughts and adapt behavior in response to changing situational demands. The reasons may seem intuitive. Traveling within a foreign culture exposes people to strange situations that can shatter their ideas of normality, and render once-reliable behavioral patterns useless. In order to navigate foreign cultures, travelers need to be mentally flexible. They need to modify their old conceptions of reality to integrate new values, norms, and behaviors. And they need to be ready to utilize this new information as the always-changing environment demands.
New research, however, suggests the psychological benefits of travel come at a cost. An article published in the January issue of the Journal of Personality and Psychology titled "The Dark Side of Going Abroad: Broad Foreign Experiences Increase Immoral Behavior" showed that people with more travel experiences were more likely to cheat on tests presented by researchers, behavior they defined as "morally unacceptable to the larger community." The idea is that because travel requires people to break mental rules, it might also encourage them to break moral rules.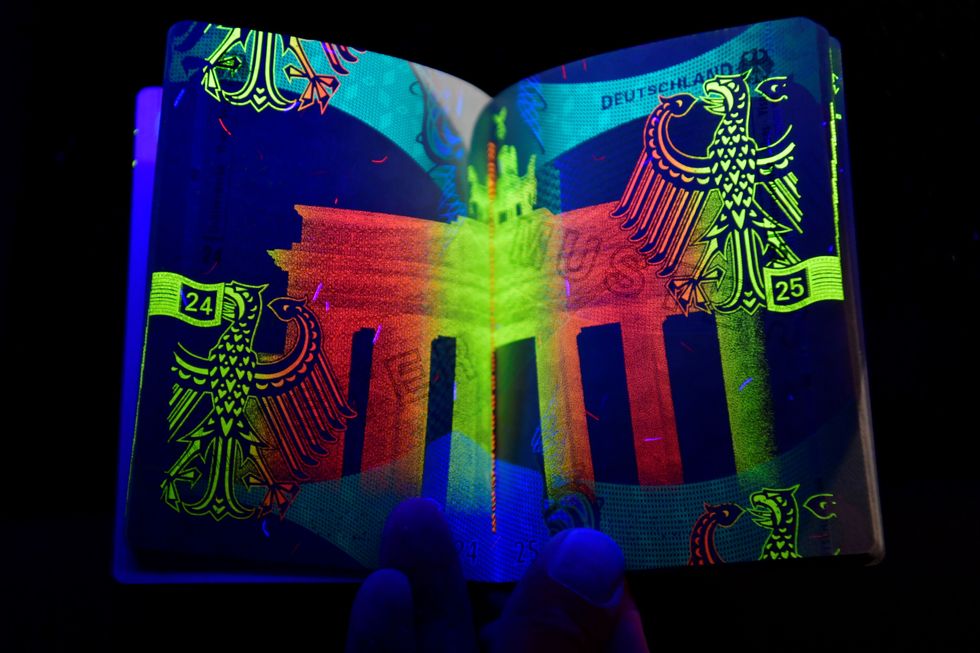 (Photo: JOHN MACDOUGALL/AFP/Getty Images)
The article focuses on "broad" foreign experiences, which are experiences in multiple different countries. Broad foreign experiences expose people to many different – and possibly conflicting – moral codes, leading them to view morality as relative. 
"The more sets of moral codes individuals are exposed to, the more likely they are to develop the generalized, meta-ethical view of moral relativism."
The article notes that empirical studies have linked moral relativism to immoral behavior.
"In one experiment, Rai and Holyoak (2013) found that participants who read a relativist definition of morality were more likely to cheat in a subsequent task than participants who read an absolutist definition of morality. As individuals are exposed to foreign cultures, they may come to appreciate that different cultures uphold different standards on the same moral issues, and consequently, to construe moral rules and principles as culturally relative rather than absolute."
One important distinction the study authors emphasized was that only breadth of foreign experience, not depth of foreign experience, increased immoral behavior. In other words, travel to multiple countries was predictive of immoral behavior – not long-term travel in one country.
To differentiate the effects of broad versus deep travel, researchers conducted eight studies of various methodology. In one study, international students were told they could win an iPad by completing an online anagram test. They were given nine minutes to solve nine anagrams. Participants self-reported when they solved anagrams by marking "solved" or "unsolved", and they were told their chances of winning would go up by 10% with each anagram solved. But unknown to participants, the fourth anagram was unsolvable. The results showed that students who had been abroad for six months were more 15 percent more likely to cheat.
Notably, social class and age didn't appear to influence results in this study and others.
"The relationship between broad foreign experiences and immoral behavior was robust across a variety of cultural populations (anglophone, francophone), life stages (high school students, university students, MBA students, middle-aged adults), and seven different measures of immorality."
Although breadth of foreign experiences seems to reliably predict immoral behavior, the authors said more research is needed on how the depth of foreign experiences affects morality. 
"If all that liberals can do in response is continue to lie about the causes of terrorism and lock arms with Islamists, we have some very rough times ahead," writes Sam Harris.
Sam Harris espouses liberal politics, yet he's received his share of criticism from the left for his views on Islam. He has long warned of the dangers of embracing the Muslim religion without caveats. While he's sometimes labeled Islamophobic, his concerns are not without merit. 
In Harris's reply to Trump's executive order on immigrants, the neuroscientist and philosopher argues the so-called Muslim ban is terrible policy. It is unethical to refugees and green card holders and will do little to staunch the slow bleed of terrorist activity; in fact, it might hasten it.
Yet Harris is duly concerned with the left's reaction to the ban, which he writes is "contaminated by identity politics and liberal delusion." He continues:
The Left seems determined to empower the Right by continuing to lie about the problem of Islamism. As David Frum recently wrote, "When liberals insist that only fascists will defend borders, then voters will hire fascists to do the job liberals won't do." I have been saying as much for more than a decade—and am vilified by my fellow liberals whenever I do.
An inability to think critically about complex subjects knows no party. The majority of Muslims will live peacefully and never incite violence while remaining opposed to terrorist organizations. Most religions confine punishment and retribution to personal faith. If they follow what they deem to be a righteous path, that is enough.
Yet outliers exist across the board. The very first fracture in Islam at the time of Muhammad's death has kept the religion battling ever since, with the Judeo-Christian lineage as much as internally. Today many more Muslims are victims of terrorism than Westerners. In America you're much more likely to die at the hands of a texting driver. Since that's a predominantly sanctioned (or at least under-policed) activity it does not strike fear in our hearts the way a terrorist hidden in the shadows does.
To Trump's advantage, he called out Islamic terrorism by name — something President Obama and Hillary Clinton largely avoided. In their focus on the more progressive and unifying aspects of Islam they consistently missed opportunities to address the real problem. Trump observed that opportunity and exploited it, and continues to exploit it now that he's in power.
This is dangerous not only in regards to immigrants and social tension, but in what it hides as well. Cautionary tales abound. As I warned last June, Hungarian Prime Minister Viktor Orbán's ascension to power eerily mimics Trump's own. In 1998 Orbán was the youngest PM ever voted into power in Hungary. He lost the following election, vowing to return, which he did in 2010. He plans on remaining there indefinitely.
Formerly liberal, Orbán noticed populist sentiments beyond Budapest. He lead an anti-Communist charge in the eighties, but by the time of his re-election he started using that party's tactics. When his Fidesz party won two-thirds of parliamentary seats in 2010, Orbán cut the number of seats in half and gerrymandered the entire country all at once. In the next election his support dwindled from 53 percent to 44 percent. Thanks to redistricting he, along with every official in his party, remained in power.
Orbán punishes journalists and media institutions critical of him while rewarding those that sing his praises. He's arrested opposition party members and fired judges he doesn't care for. Most inspiring to his fans, he constructed a 110-mile long, thirteen-foot high fence on the Serbian border to keep Syrian refugees from entering the country.
The parallels are striking, especially as Orbán and Putin recently met to share their disdain for American sanctions on Russia. With Rex Tillerson in place as Secretary of State those sanctions are threatened. Terrorism is a convenient carrot to dangle in front of everyone's eyes, as real a problem as it is.
Nationalism always makes for a convenient myth when distractions are needed—the dream of racial and ethnic purity that once existed, even if only in the social imagination. Naomi Klein understood this when writing in The Shock Doctrine:
The ideologies that long for that impossible clean slate, which can be reached only through some kind of cataclysm, are the dangerous ones.
Liberals, as Harris argues, are guilty of clean-slate fetishism when lashing out at any criticism of Islam. David Frum offers similar criticism:
Trump's executive order has unleashed chaos, harmed lawful U.S. residents, and alienated potential friends in the Islamic world. Yet without the dreamy liberal refusal to recognize the reality of nationhood, the meaning of citizenship, and the differences between cultures, Trump would never have gained the power to issue that order.
As Orbán is proving, nationalism pays dividends. The swamp might not be drained, but the melting pot certainly is. If you don't note which ingredients are being added you'll never know what the outcome will be. This is what Harris has been warning of for years: blind allegiance to an illusion comes with its own perils.
--
Derek's next book, Whole Motion: Training Your Brain and Body For Optimal Health, will be published on 7/4/17 by Carrel/Skyhorse Publishing. He is based in Los Angeles. Stay in touch on Facebook and Twitter.
A ban on fast food would save multitudes more than the travel ban ever could.
New York City beefed up security after the 2015 Paris attacks.
My heart sank over the weekend when I heard the travel ban go into effect, barring people from seven predominantly Muslim countries, initially including green card holders. My wife is one. I wasn't paying attention when I switched on the radio, which is why when the reporter said those three words, green card holders, they ripped through my heart like a knife. It was a visceral response. She's from Flanders, the Dutch-speaking province of Belgium, which wasn't included in the moratorium. The report soon informed me that we were okay. But it got me thinking.
A lot has been said about the impact to the economy, to science (a good number of scientists in the US are foreign born), how the ban will break up families, and increase the ranks of ISIS and other jihadi terrorist groups. Protests broke out across the nation and several judges blocked the travel ban in key cities, while a slew of organizations filed suit. Several State Department personnel even circulated a memo condemning the order.  
Criticism flew in from conservative and liberal politicians in Congress, as well as many foreign heads of state. There were assuredly those who praised the move as well. The media however, pointed out inconsistencies including that Egypt, Lebanon, Saudi Arabia, and the UAE were not included, which were where the 9/11 terrorists came from.
Bloomberg News reported that these very countries are ones President Trump has business interests in. Pakistan wasn't added to the list, even though this is where Osama bin Laden was found, and where Al Qaeda and Taliban fighters have been holed up. They are under pressure from the Pakistani army and Western forces. Plus, their power and influence has died down in recent years.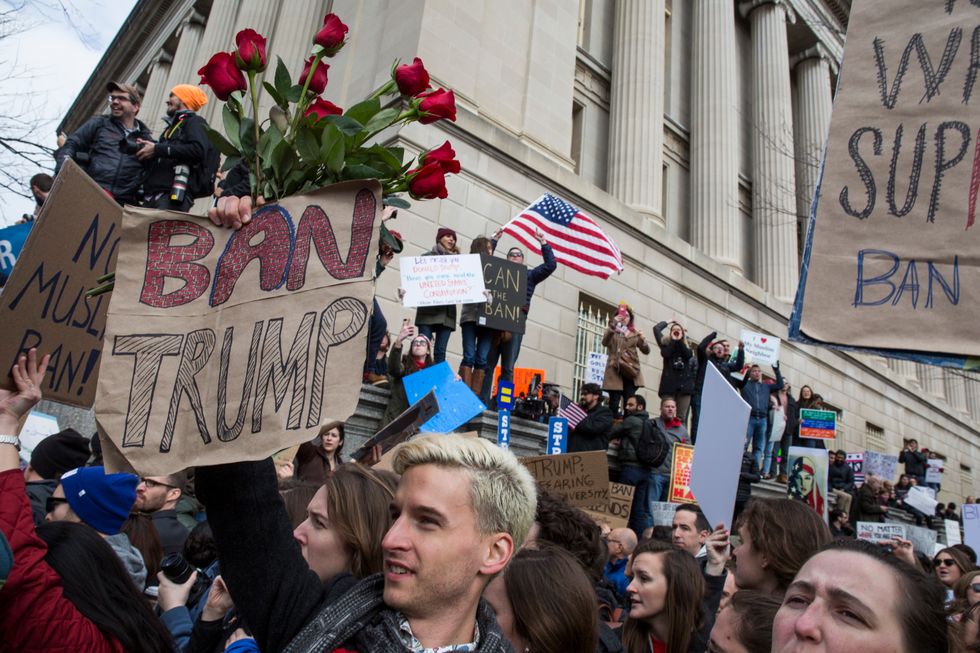 Protests broke out at airports and several other locations across the US after the travel ban was announced.
So how big is the threat really and how effective will the ban be? Years of watching 9/11 footage, that of the Boston Marathon bombings, and other atrocities, from every angle, has solidified jihadi terrorism as the number-one fear of a segment of the populace. But according to research by the New American Foundation, only 94 Americans were killed in such acts between 2005 and 2015, while 301,797 succumbed to gun violence. In fact, the biggest killers in the US aren't terrorists but heart disease, cancer, car crashes, and gunshot wounds.
610,000 die each year on average from heart disease alone. A ban on fast food would save multitudes more than the travel ban ever could. 37,000 die in car crashes and almost 13,000 from gun violence. Meanwhile, the chances of being killed by an immigrant are one in 3.6 million, by a refugee terrorist one in 3.64 billion, and by an illegal immigrant one in 10.9 billion –all exponentially low.
Media saturation of such acts has altered our perception of the actual risk, giving those rare but poignant events more weight to secure viewership, but skewing our perception of reality. Perhaps now, the pendulum has swung back to center. Though one in two Americans, roughly, back the ban, a recent Reuters/Ipsos poll shows that only one-third feel safer because of it. 26% said they felt less safe.
However unlikely such an attack is, Trump's travel ban could make America more vulnerable to such an attack, though in a statistical sense, albeit marginally so. One reason is that the majority of the attacks in Europe in recent years (and many in America) were by nationals inspired by ISIS. Such a ban may send some ISIS sympathizers over the edge. But that isn't the only reason.
After the Brussel's bombings last year, I learned that more foreign fighters who joined ISIS to fight in Syria came from Belgium than any other Western country. A whole generation of disaffected Muslim youth live there and in other parts of Europe. They are marginalized, discriminated against, and have few opportunities to better their lives. They are mostly second and third generation. As naturalized citizens, they would not be subject to the ban.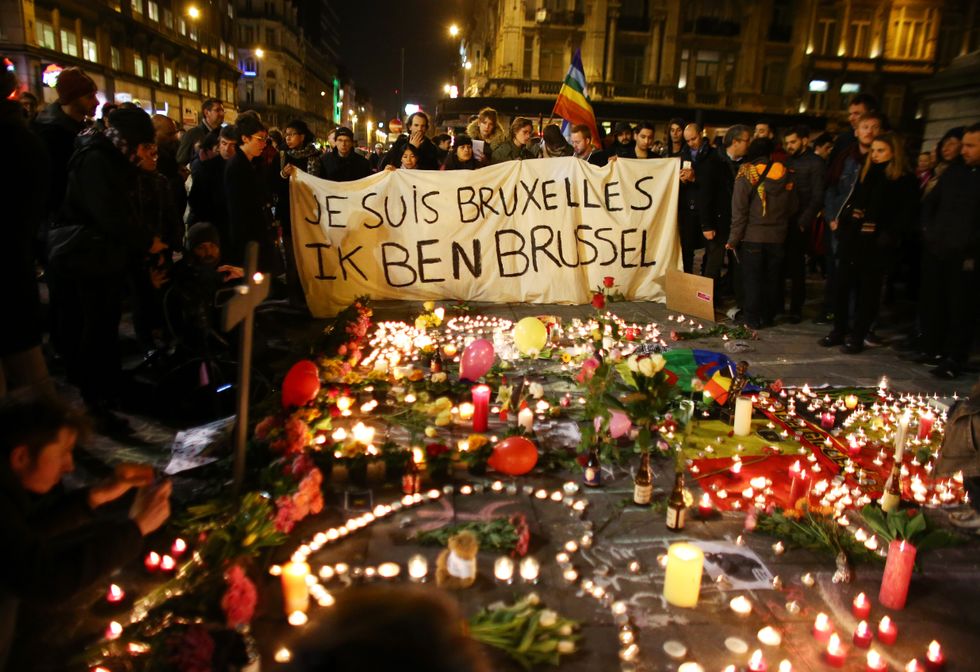 The Brussels attacks of 2016 revealed that integration difficulties in Europe may make some there vulnerable to radicalization.
I interviewed my wife's good friend Tom last year after the Brussels event, who is a teacher at what is known as a "concentration school." Though the majority of students from these areas are respectful, upstanding citizens, he'd had three students thus far run off and join ISIS, by the time the Brussel's attacks occurred. Integration there is very difficult. Immigrant communities have a 50% youth unemployment rate. In Belgium, they are mostly of Moroccan and Turkish descent, not countries covered in the ban.
These second- and third-generation youth and young adults feel at home neither in their adopted homeland nor where their parents emigrated from. Yet, an ISIS-inspired, radicalized young man from one of these areas would not be subject to the travel ban, as long as he could get past screenings and hadn't posted such beliefs online. Meanwhile, a middle-aged PhD student with pacifist tendencies from Iraq would be subject to it.  
Another important point, Westy Egmont, director of the Immigrant Integration Lab at Boston College, told Reuters that the number of immigrants coming from these seven countries are relatively small. But it isn't only about numbers. Hundreds of asylum seekers, students, employees, scientists, parents, business people, and many others are being inconvenienced at best, if not having their lives totally upended. Some have lost everything. Others may find their lives in jeopardy, and all over a ban that won't work, that is bringing international and domestic condemnation, and is liable to make things worse. 
So how do we stop ISIS-inspired attacks? To find out, click here:
David Miliband has said that the hardest way into the US is to enter as a refugee. Is he correct?
Protestors rally during a demonstration against the Muslim immigration ban at John F. Kennedy International Airport on January 28, 2017 in New York City. (Photo by Stephanie Keith/Getty Images)
David Miliband, former MP in the UK and current head of International Rescue Committee, caused a stir this weekend when he declared on television that "the toughest way to get into the US is as a refugee". Citing this as his key objection to the Trump administration's recent policy changes.
But is this a fact?
First, the process that he refers to is a long and arduous one. We break it down for you here.
To enter the United States as a refugee one must first be classified as a refugee; as designated by the UN, a US embassy, or certain NGOs. You must then be referred for possible resettlement in the USA.
You must then have an extensive interview with the State Department.
Then, undertake a series of 2-3 background checks in a row.
Here begins three rounds of fingerprinting and photo-taking. In order to facilitate cross-referencing with FBI and Homeland Security databases.
A possible extra review goes here, if the refugee in question is from an extra-unpleasant place, like Syria.
At this point an extensive face-to-face interview with a Homeland Security officer occurs.
The approval of the Department of Homeland Security must be granted for anything further to take place.
Medical checks and contagious disease screening.
Cultural orientation class.
Resettlement discussion and explanation of that process.
Another series of background checks across several US government agencies, as the process has taken place of a span of time that relevant data may have changed since step 3.
Final security check upon arrival in the USA.
Begin applying for a Green Card. The list of things needed to do that is too long for us to include here.
This series of actions can take "12 to 18 months on average", not including steps 1 and 13, which can take years on their own.
While the difficulties of the American immigration system have been commented on before, both humorously and in all seriousness, this element of it is clearly as difficult, as thoroughly dedicated to knowing everything about you, and as dedicated to caution as any other part of the system.
For comparison, a person wishing to study in the United States can expect an F-1 visa to take less than 120 days, and has to undergo a much less intensive vetting process. Citizens of some nations don't even require visas to get into the US at all.
So, was David Miliband correct with his statement? As a general finding, yes. Before you can enter the United States as a refugee you must undergo extensive background checks and a process long enough to make even the most patient of people go mad. As Big Think has shown before, the odds of a refugee causing you harm are low to say the least.
This is, in large part, because of the already extensive screening and vetting process that refugees have to pass through before they can enter the United States at all. The statement of Mr. Miliband is the fact.
--