And is anyone protecting children's data?
The market for smart toys is rapidly expanding and could grow to $18 billion by 2023.
Smart toys can help with learning but pose risks if they are not designed to protect children's data and safety.
Many companies are developing smart toys ethically and responsibly, with makers of AI-powered smart toys encouraged to apply to the Smart Toy Awards.
Imagine a child born this year who will be surrounded by technology at every phase of her childhood. When she is three years old, Sophie's parents buy her a smart doll that uses facial recognition and artificial intelligence (AI) to watch, listen to, and learn from her.
Like many children, Sophie will come to love this toy. And like previous generations of children with a favorite doll or teddy bear, she will carry it around with her, talk with it, and sleep with it beside her for many years.
If the smart doll is designed responsibly, this toy could be her best friend; if not, it will be a surveillance tool that records her every move and word spoken in its presence by her, her friends, and even her parents.
Smart toys use AI to learn about the child user and personalize the play or learning experience for them. They can learn a child's favourite colour, song, and learn to recognize that child and other familiar people in that child's life. While this may sound futuristic, there are many smart toys that already provide these capabilities. The market for these toys is rapidly expanding and will grow to $18 billion by 2023.
To address this urgent use of AI, the World Economic Forum recently launched the Smart Toy Awards to recognize ethically and responsibly designed AI-powered toys that create an innovative and healthy play experience for children.
Smart toys provide enormous promise for children. They can customize learning based on data they gather about children; they can teach computer programming skills to children; and they can help children with disabilities develop cognitive, motor, and social skills.
But at the same time, smart toys provide large potential risks if they are not designed to protect children's data, safety, and cybersecurity.
A cautionary tale
The example of Sophie's smart doll is not far-fetched. In 2017, My Friend Cayla – an early smart toy that used facial and voice recognition – was declared an illegal surveillance tool in many countries.
If the Cayla doll was connected to a phone, data was sent to the manufacturer and a third-party company for processing and storage. And anyone with the My Friend Cayla app on their phone within 30 feet of a toy could access the toy and listen to the child user.
Germany issued a "kill order" for the doll and required parents to destroy it "with a hammer." Today, the only surviving Cayla dolls in Germany reside in the Spy Museum in Berlin.
The risks posed by smart toys
Sophie applies to college when she is 18 years old. If her smart doll had collected data on her from the age of 3 to 9, the company who built the toy could know her better than her parents. Without adequate data protections, the company could also sell this data to the colleges to which she is applying or other third parties.
After college, Sophie applies to a job. If the employer bought data gathered on Sophie as a child, they could learn about her strengths and weaknesses. What if Sophie bullied her younger sister, yelled at her parents, or refused to do her homework as a child? All these actions conducted in the privacy of the family's home could be known by the company and sold to third parties who could use this information to discriminate against Sophie. The family's life is no longer private.
Today, data is gold but gathering data on children is inherently problematic. As a company gathers data about children through Sophie's doll, they may have a responsibility to act or intervene. Imagine that Sophie tells her doll about suicidal thoughts and self-harm. Should the company be required to alert the parents and call 911?
The more data that a smart toy gathers the more complex scenarios smart toy companies will likely face. Every company designing a smart toy with the capabilities to gather this information must consider these worst-case scenarios as they develop toys to protect the safety of the child user and those around them.
Developing responsible and ethical smart toys
Despite these significant risks, ethical and responsible smart toys are being developed. The Smart Toy Awards have developed four key governance criteria for companies developing AI-powered toys: data privacy and cybersecurity; accessibility and transparency; age appropriateness; and healthy play.
Sophie's smart doll illustrates the importance of strong data privacy and clearly communicating to adults buying the toy what the smart doll does and how it operates. This must be communicated in the Terms of Service in language understandable by non-technologically literate audiences. At minimum, Smart Toys should meet COPPA requirements in the US and GDPR in the EU.
Parents and guardians should understand with whom children's data is being shared and for what purpose. Companies should empower parents, guardians, and children to make their own decisions about how children's data is being used. And companies should not sell children's data to third parties.
Data privacy is a foundation for ethical and responsible smart toys, but they must also be designed to be accessible, transparent, age appropriate, and promote healthy play and children's mental health.
The future of childhood
Sophie's doll doesn't necessarily pose concern for her and her parents, and data collected on her won't hinder her future if the data is carefully protected. In the EU, GDPR provides the right to be forgotten, and a similar policy could allow children like Sophie to request that all data collected on them as children by their smart toys be deleted when they turn 18 years old, so they would have a fresh start as they begin adulthood.
Sophie and all children should have a fair shot at childhood, education, careers, and life. The data collected on them as children should not be used to discriminate against them in the future.
Smart toys like Sophie's doll can play a pivotal role in childhoods, catalyzing creativity and critical thinking skills. Many companies are developing smart toys with careful consideration for ethics and responsibility. We urge companies to adopt our governance criteria as they're designing and developing smart toys.
Childhood is a sacred time and parents will do everything they can to protect their children's experiences. This won't be possible unless stakeholders work together across the private, public, and nonprofit sectors to develop ethical, responsible, and innovative smart toys that protect and foster the essence of childhood.
Reprinted with permission of the World Economic Forum. Read the original article.
Would you ever have sex with a robot?
In 2016, "Harmony", the world's first AI sex robot was designed by a tech firm called Realbotix.
According to 2020 survey data, more than one in five Americans (22 percent) say they would consider having sex with a robot. This is an increase from a survey conducted in 2017.
Robots (and robotic tech) already play a vital role in speeding up manufacturing, packaging, and processing across various industries.
From homemade dildos to Harmony, the AI sex robot
"...amid an economic crisis, with restaurants and retailers closing their doors and larger companies laying off and furloughing employees, the sex tech industry is booming."

A Bustle article published in April 2020, weeks after COVID-19 was declared a pandemic, explored the drastic boost in the sex tech industry. According to the research, Dame Products (a popular sex toy retailer) experienced a 30 percent increase in sales between the months of February to April, and popular sexual wellness brand Unbound reported selling twice as many toys as normal in this period.
While the new coronavirus was crashing the economy in other ways, the sex tech industry was one of the few that actually saw improvements, likely due to people all over the world being advised, encouraged, and in some instances forced to stay at home.
Something similar happened in 2008, during the recession: the sex toy industry was one of the only industries at the time that didn't gravely suffer.
The evolution of sex tech from stone dildos to artificial intelligence.
The history of sex toys is quite interesting. A 28,000-year-old siltstone dildo was uncovered in Germany in 2005. Luxury bronze dildos have also been found in China that are at least 2,000 years old.
Aside from various materials being shaped into dildos, there has always been an interest in how to advance sex technology, even before it involved actual technology at all.
The 1700s: Steam-powered vibrators (such as the Manipulator).
The 1800s—1900s: The invention of the first electric vibrator (the Pulsoson) and "beauty tools" being used for sexual satisfaction (such as the Polar Cub massager)
The 1920s—1940s: The introduction of hand-held massagers (the Andis Vibrator) and compact devices (such as the Oster Stim-U-Lax)
The 1940s—1960s: Japan introduced the "Cadillac of Vibrators" (The Hitachi Magic Wand), which eventually made it's way to America.
1965: The invention of silicone, which most modern sex toys are made of.
The 1980s—1990s: The invention of the rabbit-style vibrator, made more popular with one of the first showings of a sex toy on television ("Sex and the City").
The 2000s: Visual porn website Pornhub launched and sex toys became increasingly popular. Erotic literature also became more common and popular, with "50 Shades of Grey" and others like it.
The 2010s and beyond: Sex toys and technology start to blend, and the world's first internet-controlled sex toy was launched in 2010 by Lovense.
In 2016, "Harmony", the world's first AI sex robot was designed by a tech firm called Realbotix.
From television shows to real-life applications, artificial intelligence (AI) is becoming more and more popular in all areas of human life.
Credit: Willyam Bradberry on Shutterstock
In 2020, more than one in five Americans (22 percent) say they would consider having sex with a robot. YouGov conducted a study in February 2020 that compared results from a similar study from 2017.

According to the results, 6 percent more people in 2020 are comfortable with the idea of having sex with a robot than in 2017.
YouGov points out that the increase in consideration is particularly significant among American adults between the ages of 18-34 years old. Additionally, how people feel about having sex with a robot has also changed. In 2020, 27 percent of Americans said they would consider it cheating if they had a partner who had sex with a robot during the relationship, compared to the 32 percent reported in 2017.
"If you had a partner who had sex with a robot, would you consider it cheating?"
The results from this interesting study also reveal that many people (42 percent) believe having sex with a robot is safer than having sex with a human stranger.
Robots (and robotic tech) already play a vital role in speeding up manufacturing, packaging, and processing across various industries. From television shows to real-life applications, artificial intelligence is becoming more and more popular in all areas of human life.
According to YouGov, "a Bloomberg report outlining Amazon's plans for an Alexa-powered robot that follows and helps you around the home may redefine how these machines service humans in the near future."
Twenty years ago, Nintendo asked America to try to catch 'em all. We still haven't (legitimately) captured a Mew.
Photo by Adrian Pingstone/Wikimedia Commons
On Sept. 28, 1998, Pokémon Red and Blue came to the United States and asked children to catch 151 adorably abstract creatures.
Today, Pokémon is the highest-grossing media franchise in the world, defeating the likes of Mickey Mouse, Star Wars, and Anpanman (trust us, it's a thing).
In anticipation of another 20 years, we look back at fives ways Pokémon has influenced the United States.
On Sept. 28, 1998, Nintendo released Pokémon in the United States and dared us to try to catch 'em all. We eagerly accepted the challenge. The first Pokémon games, Red and Blue, netted Nintendo $70 million stateside in their first six months. Worldwide the first generation of Pokémon games, including Yellow and Green, sold more than 45 million copies combined.
Then came the franchise blitz: Pokémon plushies, Pokémon clothes, Pokémon trading cards, Pokémon cereal, Pokémon TV shows, Pokémon bouncy balls, Pokémon pedometers, Pokémon airplanes, Pokémon Monopoly, Pokémon bedsheets. Pokémania was in full force. But like all fads, this one was destined to die out eventually. Right?
Guess not. Twenty years later, the games have sold more than 300 million units, the TV show airs in 124 countries and regions, and about 550 companies license the rights. As of March 2017, the Pokémon market size is worth more than ¥6 trillion (roughly $53 billion).
To celebrate the 20th anniversary of the Pokémon invasion, let's look back at five ways these Japanese pocket monsters influenced the United States.
Designed by two MIT professors, this build-it-yourself kit teaches kids to "think with their hands" in an effort to bolster STEM skills early on.
Gender disparity in the STEM fields (science, technology, engineering and mathematics) continues to be a serious problem. The reasons are complex—from lack of children's stories that feature women scientists, lack of female role models and STEM toys for girls, to persisting biases and stereotypes in schools and universities, and lack of mentorship and flexibility at the workplace. According to the 2016 Science and Engineering Indicators report of the National Science Foundation, women account for only 25 percent of the employment base in the computer and mathematical sciences field and 15 percent of the engineering workforce.
To light the engineering spark in young girls, MIT professors Maria Yang and Tony Hu have co-founded Brainy Yak Labs, a company with the mission to get kids excited about STEM through creative play. Their first product (which just finished a successful Kickstarter campaign) is a dance party lamp kit called Jubilite, which kids get to build and decorate themselves.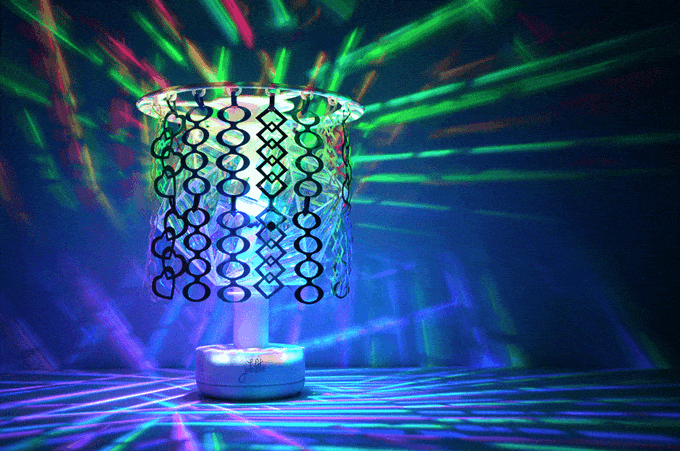 While there are plenty of robot kits, drones, and programmable cars out there, nearly all of them are targeted to boys. A toy or a project needs to capture a child's attention first, before he or she can learn from it. That is why the MIT duo has decided to start with arts and crafts which is something that many girls and boys love.
In the process of building the lamp, children learn how to use tools to assemble the plastic housing, secure the PCBs (printed circuit boards), and insert the switches. While connecting the electronic modules together, they learn about each component and its function. The instruction booklet also teaches important vocabulary like microcontroller, PCB, RGB, LED, as well as the principles behind electronics and mixing colors with light. After assembling the lamp, kids get to make it their own by decorating it with stickers, markers and sequins.
Having tested the lamp with hundreds of children, Yang says that both girls and boys love it. Kids are excited about creating a beautiful object they can use and they express pride at accomplishing a task that might seem a bit challenging at first. Girls, in particular, share that building the lamp makes them feel confident, like they "can do anything."
Robin Avant, assistant professor of biology and molecular biology at Housatonic Community College is an advocate of combining art classes with STEM studies, part of a growing movement advocating STEAM—science, technology, engineering, art and math. In an interview for Westfair Online she says:
"Look at engineering and architecture—all blueprints and models that are used in these careers are made from art. Instead of leaving art out, an ideal individual student would be well-grounded and well-rounded in all disciplines. They would see there are connections and that they are not separate disciplines."
The Jubilite lamp kit does a great job of combining art and science, nurturing creativity, logical thought, and confidence in the coming generation of innovators.