A classic experiment gets an update that contradicts key assumptions of quantum mechanics.
Physicists revise the Schrödinger's cat thought experiment.
The new version leads to contradictions in quantum theory.
Scientists are stumped by the implications.
Quantum mechanics has produced its share of weird ideas, not least of which is what's probably the world's most famous thought experiment devised by physicist Erwin Schrödinger in 1935. It described the uncertain fate of a cat trapped in a box with a deadly substance. Now the experiment got an update from two physicists, leading to conclusions that threaten to undermine the foundations of the whole field.
By replacing the cat in the box with multiple physicists doing experiments, the duo of Daniela Frauchiger and Renato Renner of the Swiss Federal Institute of Technology (ETH) in Zurich has caused heated debates among physicists for the past two years.
Schrödinger's original idea proposed that if you put a cat in a box, along with a possibly decaying radioactive substance which would release a killer acid, the cat could be both alive and dead until that box was opened, fixating its state. Schrödinger devised this scenario to point to inconsistencies in the so-called Copenhagen interpretation of quantum mechanics, created by Niels Bohr and Werner Heisenberg in the 1920s.
The interpretation states that a quantum particle can exist in all possible states until an observer forces what's called "the wave function collapse", making the particle choose one probable state. Unfortunately, as Schrödinger showed, this theory may work on the quantum level but when applied to larger objects like cats, it becomes somewhat ridiculous and impossible—the cat cannot be both alive and dead.
Still, the Copenhagen interpretation has persisted, in part due to saying that while quantum objects may exist in uncertain states, experimental observation can give certain results. It is that certainty which the new thought experiment has attacked.
Diagram for the Schrödinger's cat thought experiment, showing the radioactive substance and the hammer that will potentially be dropped to spill the acid, thereby killing the cat.
Credit:
Dhatfield
/Wikimedia Commons.
The conceptual experiment by the scientists from Zurich involves putting two physicist cats into boxes. One cat would toss a coin and using its knowledge of quantum physics send a message to the other cat. That second cat, in its turn, would also employ quantum theory but to detect the message from the other cat and guess the coin toss. If two outside observers were to open these boxes, they would some times be able to guess with certainty how the coin landed but on occasion their conclusions would not agree.

"One says, 'I'm sure it's tails,' and the other one says, 'I'm sure it's heads,'" described that eventuality Renato Renner.
That's like implying reality can split in two on occasion.
This paradox has stumped other scientists as well. "I think this is a whole new level of weirdness," said Matthew Leifer, a theoretical physicist at Chapman University in Orange, California to Nature magazine.
There is a potential way this experiment can actually be carried out, but it would involve quantum computers that are not in existence yet.
The scientists originally published their argument online in 2016. Check out their final paper "Quantum theory cannot consistently describe the use of itself" from September 2018 in Nature magazine.
Do we really believe everything we say? Are you always trying to establish the truth when you argue? This thought experiment will help answer these questions.
Photo by Oscar Keys on Unsplash
Most of us have views on politics, current events, religion, society, morality and sport, and we spend a lot of time expressing these views, whether in conversation or on social media. We argue for our positions, and get annoyed if they are challenged. Why do we do this? The obvious answer is that we believe the views we express (ie, we think they are true), and we want to get others to believe them too, because they are true. We want the truth to prevail. That's how it seems. But do we really believe everything we say? Are you always trying to establish the truth when you argue, or might there be other motives at work?
These questions might seem strange, offensive even. Am I suggesting that you are insincere or hypocritical in your views? No – at least I'm not suggesting that you are consciously so. But you might be unconsciously influenced by concerns other than truth. Nowadays, most psychologists agree that rapid, unconscious mental processes (sometimes called 'System 1' processes) play a huge role in guiding our behaviour. These processes are not thought of as Freudian ones, involving repressed memories and desires, but as ordinary, everyday judgments, motives and feelings that operate without conscious awareness, like a mental autopilot.
It seems plausible that such processes guide much of our speech. After all, we rarely give conscious thought to our reasons for saying what we do; the words just come to our lips. But if the motives behind our words are unconscious, then we must infer them from our behaviour, and might be mistaken about what they are. Again, this isn't a revolutionary idea; for centuries, dramatists and novelists have depicted people deceived about their own motives. (For more on the nature and limits of self-knowledge, see my earlier Aeon article.)
It's easy to think of motives that might prompt us to express a view we don't really believe. We might want it to be true, and feel reassurance when we argue for it (think of the parents who insist that their missing child is still alive, despite the lack of evidence). We might associate it with people we admire, and assert it so as to be like them (think of how people are influenced by the views of celebrities). We might think that it will get us attention, and make us seem interesting (think of teenagers who adopt provocative views). We might profess it to fit in and gain social acceptance (think of a university student from a conservative background). Or we might feel that we have a duty to defend it because of our commitment to some creed or ideology (we sometimes call this attitude faith – belief in the religious sense).
Such motives might also be reinforced by other factors. As a society, we tend to admire people who know their own minds and stick to their principles. So, once we have expressed a view, for whatever reason, we might feel (again, unconsciously) that we are now committed to it, and should stick with it as a matter of integrity. At the same time, we might develop an emotional attachment to the view, a bit like an attachment to a sports team. It is now our view, the one we have publicly endorsed, and we want it to win out over its rivals just because it is ours. In this way, we might come to have a strong personal commitment to a claim, even if we don't really believe it.
I am not suggesting that we are never guided by concerns for truth and knowledge (what philosophers call epistemic concerns), but I suspect that these sorts of emotional and social factors play a much larger role than we like to think. How else can we explain the vehemence with which people defend their views, and the hurt they feel when their views are challenged?
Is it bad if we sometimes say things we don't believe? It might seem not. The aims I've mentioned – seeking social acceptance, for example, or cultivating a self-image – are not necessarily bad ones, and since they are unconscious it is arguable that we shouldn't be held responsible for them anyway. There are dangers, however. For in order to achieve these aims we must convince our audience that we genuinely believe what we say. If they thought we were saying something merely in order to create an impression on them, then we wouldn't succeed in creating that impression. And when our aim is to make some impression on ourselves – like the parents who insist that their child is still alive – we must convince ourselves that we believe it too. As a consequence, we might need to back up our words with deeds, acting as if we believe what we say. If there were a glaring disparity between what we said and did, our insincerity would be obvious. In this way, unconscious desires for acceptance, approval and reassurance can lead us to make choices on the basis of claims for which we have no good evidence, with obvious risks of frustration and failure.
Is there, then, any way of telling whether you really believe a claim? It might seem that conscious reflection would settle it. If you consciously entertain the claim, do you think it is true? Even this process might be unreliable, however. Many theorists hold that conscious thinking is simply talking to oneself in inner speech, in which case it can be guided by unconscious motives, just like outer speech. And, as I mentioned, unconscious desires can prompt us to deceive ourselves, telling ourselves that a claim is true even though we don't really believe it.
Despite this, a thought experiment might help us detect what we genuinely believe to be true. In real life, there might be few contexts where truth really is our dominant concern: maintaining a comforting view or upholding a cherished ideology or self-image might almost always be more important to us than truth. But suppose you were being questioned by the Truth Demon – a super-powerful being who knows the truth on every topic, and will punish you horribly if you give a wrong answer or fail to answer at all. If you continue to assert a claim when the Truth Demon asks you if it is true, then you do really believe it, really think it is true. But if you give a different answer when under threat of torture by the all-knowing demon, then you don't really believe the claim. This gives us a practical test for belief: imagine the situation just described as vividly as you can, and see what you would say about any of your views. But do be careful not to give too much conscious thought to the matter in case you start telling yourself what you want to hear.

Keith Frankish
--
This article was originally published at Aeon and has been republished under Creative Commons.
Albert Einstein's famous thought experiments led to groundbreaking ideas.
Albert Einstein during a lecture in Vienna in 1921. Photo by F. Schmutzer.
Albert Einstein is widely considered one of the smartest people who ever lived, significantly impacting our understanding of the world around us. His General Theory of Relativity has redefined what we know about space and time and is one of the pillars of modern physics. What's also remarkable about Einstein's achievements is that they relied largely on his mental powers and the intricacy of his imagination. He was able to discern and relate very complex scientific concepts to everyday situations. His thought experiments, that he called Gedankenexperiments in German, used conceptual and not actual experiments to come up with groundbreaking theories.
CHASING A BEAM OF LIGHT
One of Einstein's most famous thought experiments took place in 1895, when he was just 16. The idea came to him when he ran away from a school he hated in Germany and enrolled in an avant-garde Swiss school in the town of Aarau that was rooted in the educational philosophy of Johann Heinrich Pestalozzi, which encouraged visualizing concepts. 
Einstein called this thought experiment the "germ of the special relativity theory." What he imagined is this scenario - you are in a vacuum, pursuing a beam of light at the speed of light - basically going as fast as light. In that situation, Einstein thought, that light should appear stationary or frozen, since both you and the light would be going at the same speed. But this was not possible in direct observation or under Maxwell's equations, the fundamental mathematics that described what was known at the time about the workings of electromagnetism and light. The equations said that nothing could stand still in the situation Einstein envisioned and would have to move at the speed of light - 186,000 miles per second.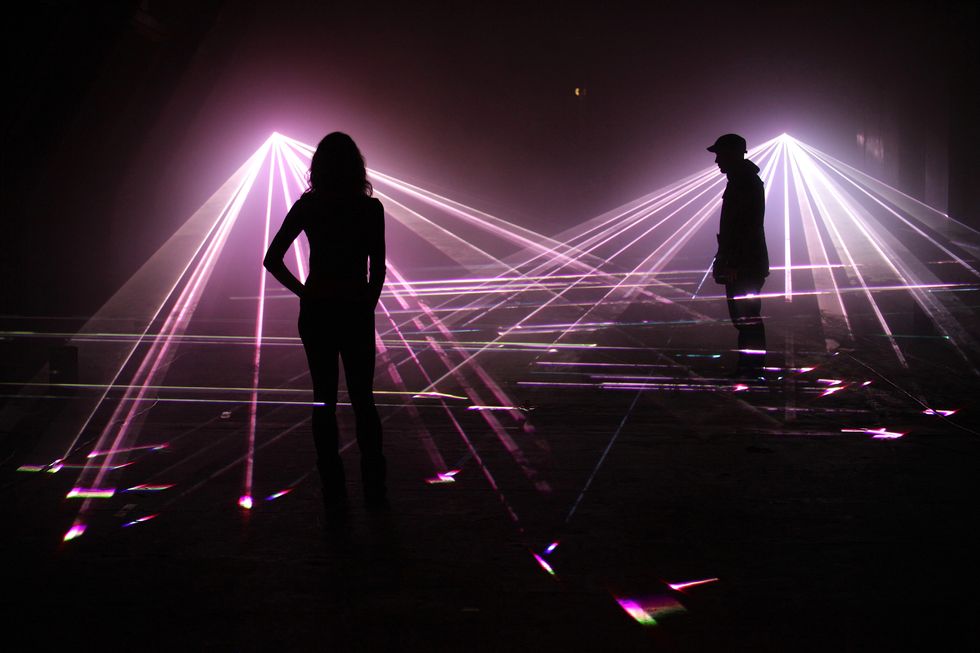 Artists pose in a laser projection entitled 'Speed of Light' at the Bargehouse on March 30, 2010 in London, England. (Photo by Peter Macdiarmid/Getty Images)
Here's how Einstein expanded on this in his Autobiographical Notes:
"If I pursue a beam of light with the velocity c (velocity of light in a vacuum), I should observe such a beam of light as an electromagnetic field at rest though spatially oscillating. There seems to be no such thing, however, neither on the basis of experience nor according to Maxwell's equations. From the very beginning it appeared to me intuitively clear that, judged from the standpoint of such an observer, everything would have to happen according to the same laws as for an observer who, relative to the earth, was at rest. For how should the first observer know or be able to determine, that he is in a state of fast uniform motion? One sees in this paradox the germ of the special relativity theory is already contained."
The tension between what he conceived of in his mind and the equations bothered Einstein for close to a decade and led to further advancements in his thinking.
LIGHTNING STRIKING A MOVING TRAIN
A 1905 thought experiment laid another cornerstone in Einstein's special theory of relativity. What if you were standing on a train, he thought, and your friend was at the same time standing outside the train on an embankment, just watching it go by. If at that moment, lightning struck both ends of the train, it would look to your friend that it struck both of them at the same time.
But as you are standing on the train, the lighting that the train is moving towards would be closer to you. So you would see that one first. It is, in other words, possible for one observer to see two events happening at once and for another to see them happening at different times. 
"Events that are simultaneous with reference to the embankment are not simultaneous with respect to the train," wrote Einstein. 
The contradiction between how time moves differently for people in relative motion, contributed to Einstein's realization that time and space are relative.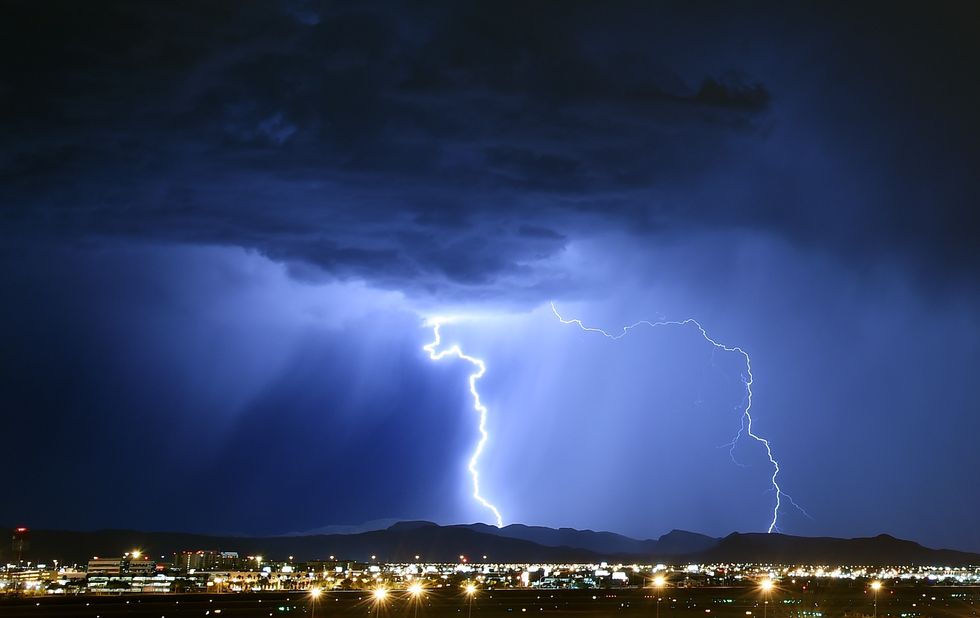 Lightning strikes during a thunderstorm on July 6, 2015 in Las Vegas, Nevada. (Photo by Ethan Miller/Getty Images)
MAN IN FALLING ELEVATOR
Another thought experiment led to the development of Einstein's General Theory of Relativity by showing that gravity can affect time and space. Here's how he described it happened:
"I was sitting in a chair in the patent office at Bern when all of a sudden a thought occurred to me," he remembered. "If a person falls freely, he will not feel his own weight." He later called it "the happiest thought in my life."
A 1907 thought experiment expanded on this idea. If a person was inside an elevator-like "chamber" with no windows, it would not be possible for that person to know whether he or she was falling or pulled upward at an accelerated rate. Gravity and acceleration would produce similar effects and must have the same cause, proposed Einstein. 
"The effects we ascribe to gravity and the effects we ascribe to acceleration are both produced by one and the same structure," wrote Einstein.
One consequence of this idea is that gravity should be able to bend a beam of light - a theory confirmed by a 1919 observation by the British astronomer Arthur Eddington. He measured how a star's light was bend by the sun's gravitational field.
THE CLOCK PARADOX AND THE TWIN PARADOX
In 1905, Einstein thought - what if you had two clocks that were brought together and synchronized. Then one of them was moved away and later brought back. The traveling clock would now lag behind the clock that went nowhere, exhibiting evidence of time dilation - a key concept of the theory of relativity.
"If at the points A and B of K there are clocks at rest which, considered from the system at rest, are running synchronously, and if the clock at A is moved with the velocity v along the line connecting B, then upon arrival of this clock at B the two clocks no longer synchronize but the clock that moved from A to B lags behind the other which has remained at B," wrote Einstein. 
This idea was expanded upon to human observers in 1911 in a follow-up thought experiment by the French physicist Paul Langevin. He imagined two twin brothers - one traveling to space while his twin stays on Earth. Upon return, the spacefaring brother finds that the one who stayed behind actually aged quite a bit more than he did.
Einstein solved the clocks paradox by considering acceleration and deceleration effects and the impact of gravity as causes of the for the loss of synchronicity in the clocks. The same explanation stands for the differences in the aging of the twins. 
Time dilation has been abundantly demonstrated in atomic clocks, when one of them was sent on a space trip or by comparing clocks on the space shuttle that ran slower than reference clocks on Earth.
How can you utilize Einstein's approach to thinking in your own life? For one - allow yourself time for introspection and meditation. It's equally important to be open to insight wherever or whenever it might come. Many of Einstein's key ideas occurred to him while he was working in a boring job at the patent office. The elegance and the scientific impact of the scenarios he proposed also show the importance of imagination not just in creative pursuits but in endeavors requiring the utmost rationality. By precisely yet inventively formulating the questions within the situations he conjured up, the man who once said "imagination is more important than knowledge" laid the groundwork for the emergence of brilliant solutions, even if it would come as a result of confronting paradoxes.