Many people were upset when NPR tweeted out the Declaration of Independence.
On July 4th of this year, NPR tweeted out the Declaration of Independence, taking its on-air tradition of 29 years into the Twitterverse. But the public radio's line by line recounting of one of the country's most famous documents on the nation's birthday did not go over well. Many Trump supporters were outraged, thinking that NPR is tweeting some insidious revolutionary tweets to undermine the President. They didn't quite get the content and intent of NPR's civic exercise. 
Some were incensed and wanted to defund NPR, something Trump already tried to do in his budget: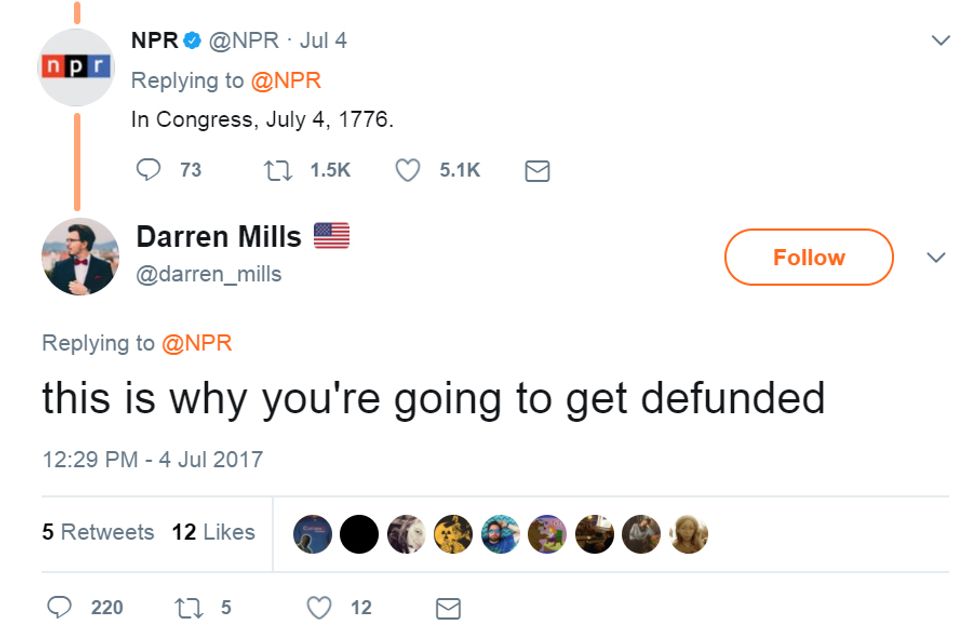 Others were just thinking the 113 tweets by NPR and the ensuing notifications were either an evidence of hacking or that the venerable radio institution has become quite spammy.
The reactions got worse when the tweets relayed how displeased the colonists were with the King George III of Great Britain. Statements like "a Prince whose character is thus marked by every act which may define a Tyrant, is unfit to be the ruler of a free people" really stood out to people, some of whom assumed NPR was calling for a revolution.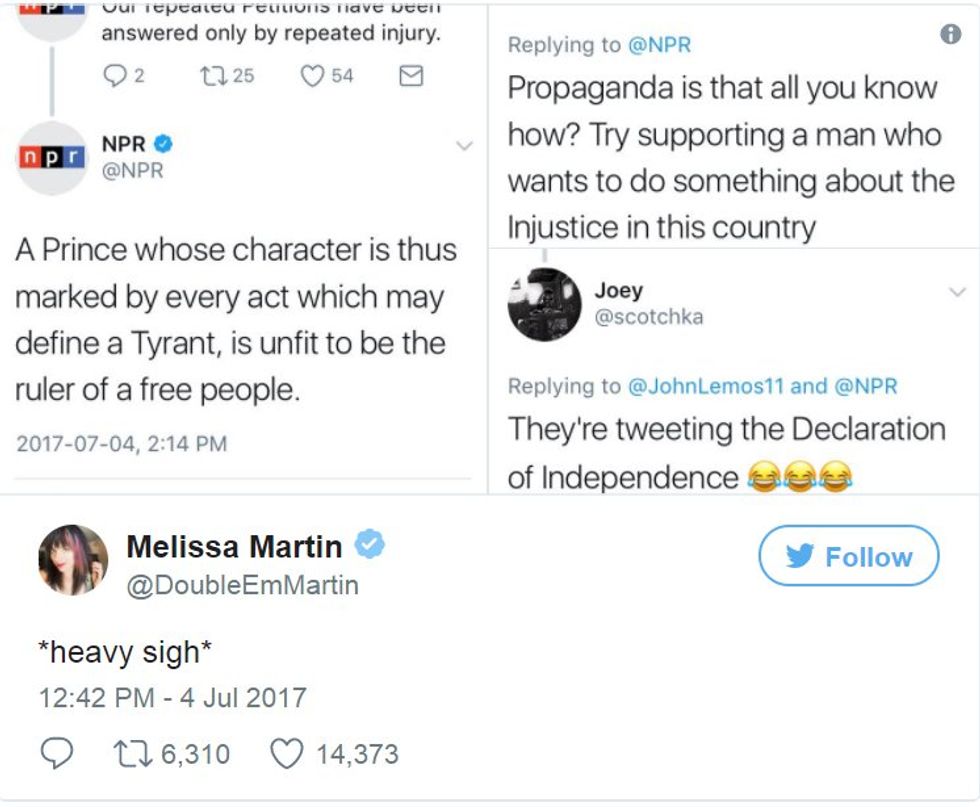 From NPR's standpoint, they were not trying to cause any controversy or make partisan political statements. The tradition of reading the Declaration of Independence on the air goes back almost 30 years and involved two dozen of the radio's staff. They wanted to extend the practice to Twitter in order to reach a new audience. 
"This year we mirrored that tradition on Twitter as a way to extend to social media what we do on the air," wrote NRP spokeswoman Isabel Lara in an email statement to the Washington Post. "The tweets were shared by thousands of people and generated a lively conversation."
Some people eventually figured out what NPR was up to and deleted their upset tweets. But while the online outrage was short-lived, it points to the revolutionary nature of the Declaration of Independence, drafted by Thomas Jefferson, and the ideas behind it. They are still able to provoke people 241 years later. 
First, the founders of America proclaimed that "all men are created equal" - a notion we are still fighting to make universally understood and accepted.  Furthermore, they said, people have "unalienable Rights" which include "Life, Liberty and the pursuit of Happiness" - a concept quite extraordinary if you consider these words were spoken in response to rule by a monarch in a time when nations built on such values did not exist. 
These rights, expanded upon and further enshrined in the Bill of Rights, define humanity in a way that's bigger than any government, which the declaration says must derive its "just powers from the consent of the governed". After thousands of years of human history that spoke to the contrary, a society has finally reached the point where any individual was guaranteed equal access to freedom and economic self-determination.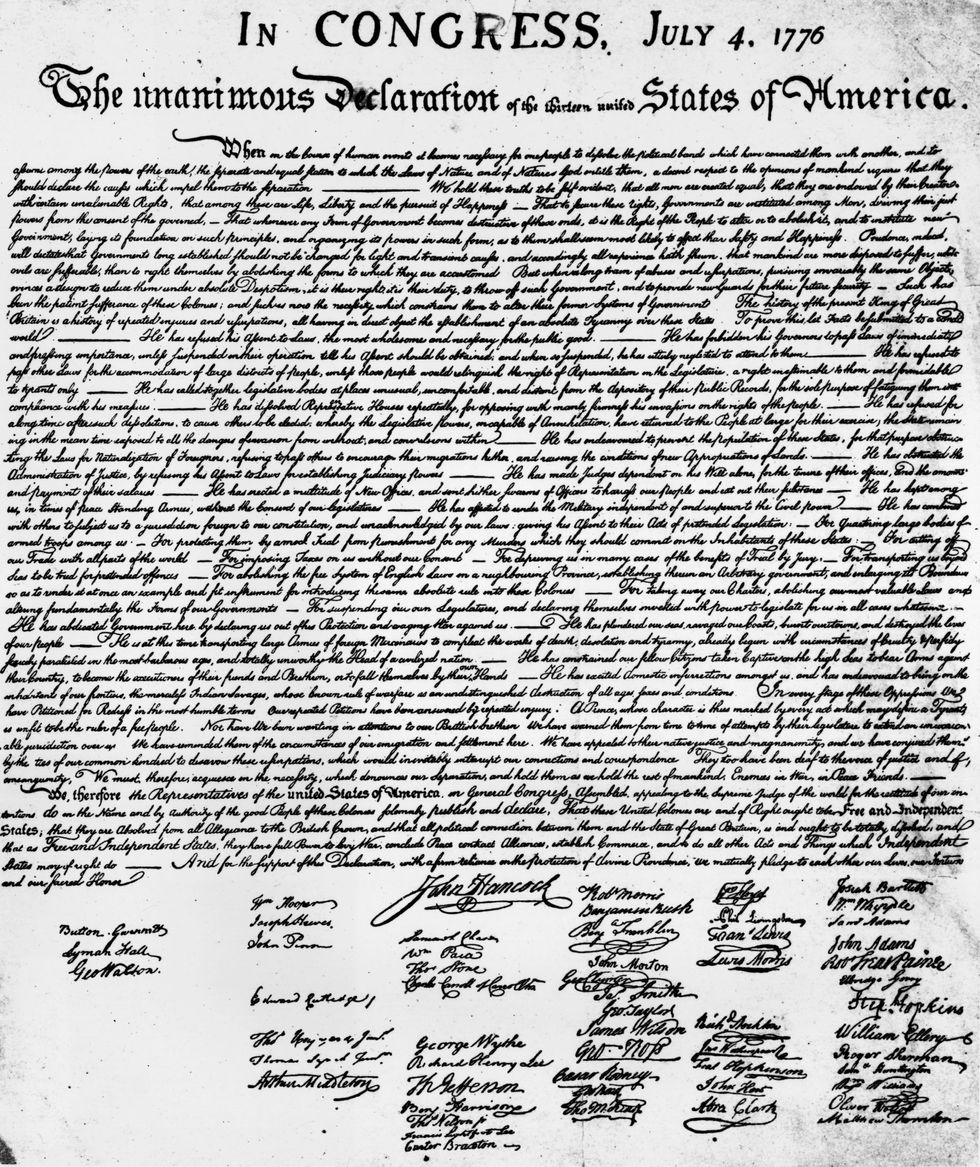 The Declaration is a real testament to rebellion, going on to proclaim assertively that the people have a right to "abolish" any government that doesn't respect the rights of its citizens through its "abuses and usurpations". 
Interestingly, one of the abuses the Declaration spends quite a bit of time on is immigration, calling out the King for "obstructing the Laws for Naturalization of Foreigners" while also preventing new immigrants from coming in by "refusing to pass others to encourage their migrations hither". The founders were very conscious of the role of immigration in the country's formation and future. 
As they enumerated the king's offenses of unfair taxation and laws, which he policed with a standing army, the Declaration's writers took a stand and proclaimed "Free and Independent States", which were now "absolved from all Allegiance to the British Crown" - an act to which they pledged "our Lives, our Fortunes and our sacred Honor."  
Considering the social media flareup over NPR's tweets, it's important for us to remember that this country was founded in a revolt against an unjust government. Speaking truth to power is part of the country's DNA. Perhaps that's the most offensive thing of all - so many have forgotten that lesson and clearly have a shallow knowledge of history, trying to enshrine a certain version of America that harkens back to their version of orthodoxy - the "founding fathers". America, like any country, should always be allowed to evolve and become what all of its citizens (not just some) find beneficial and worthy of its ideals.  
Certainly, stability is one of the engines of America's growth and power in the world, and hopefully the time for bloody revolutions has passed in human history. But the election of Donald Trump notwithstanding, Americans seem to have little real passion left for challenging the status quo. According to statistics from the Brookings Institution, in the 2016 election cycle, 97% of the incumbents in the House of Representatives, 93% of the senators and 80% of governors were re-elected. Nurturing revolutionary ideas and holding its government truly accountable if it doesn't work is something Americans may no longer be all that passionate about. Being upset at the words of the Declaration of Independence is a testament to this ultimate enshrinement of the status quo.
Wake up and smell the independence. Thomas Jefferson urged 18th century Americans to think of themselves not as colonial Englishmen, but as a new culture. To that end, he used architecture to serve as a visual reminder of America's proud new direction.
1979. U.S. Capitol dome, Washington, D.C.
The United States was a brand-new country in the 18th century. A country that had just fought for independence and won it. Across the ocean in Europe, that same century was the Age of Enlightenment, the Age of Reason. Liberty, progress, tolerance, fraternity, and constitution reigned with a thick French accent.
Benjamin Franklin arrived in Paris as America's first ambassador in December 1776. In Europe, everything from art and religion to science and mathematics was questioned. The architecture was no exception. When Franklin arrived, Paris was not the "city of light" of later years but a city of poverty, with narrow, crooked streets, and open sewers running down the middle. At the palace of Versailles, King Louis XVI and his queen, Marie Antoinette, presided over a world of luxury. When Franklin went home in 1785, America's new ambassador to France arrived. His name was Thomas Jefferson, and he would later be the one translating Enlightenment ideas into new American architecture.
Jefferson knew very well that in language, religion, and in temperament, American colonists were not much different to the English. However, the founding fathers envisioned a country with a unique path, a new culture that would be entirely its own. Jefferson aimed to make people think of themselves as Americans, not as colonial Englishmen. He advocated for a new measuring system, a new currency, a new State and a different shape of things to come. Significantly, he made the new American architecture his artistic declaration of independence.
Rococo buildings dominated Europe at his time, but since childhood, Jefferson was inspired by symmetry, clean lines, and the mathematical precision of Greek and Roman buildings. Jefferson was under the influence of Andrea Palladio, Julien David Le Roy, Roland Fréart, and Antoine Desgodetz. Because of Jefferson's aesthetic taste, classical structures of antiquity became a basis for new kind of American architecture that we now call "Jeffersonian architecture". It is embodied in the design of Jefferson's homes, Monticello and Poplar Forest; the University of Virginia, which he founded; and designs he created for the homes of his friends and political allies.
Over a dozen private homes bearing his personal stamp still stand today. Even after Jefferson's style went out of vogue it continued to have an influence on building designs on the East Coast until the mid-20th century.
The photographic collection 'Age of Reason of American Architecture' was created by Picryl, the largest public domain media search engine. See more images of Jeffersonian architecture at Picryl.  
1991. The Jefferson Memorial and members of the the 1ST Helicopter Squadron.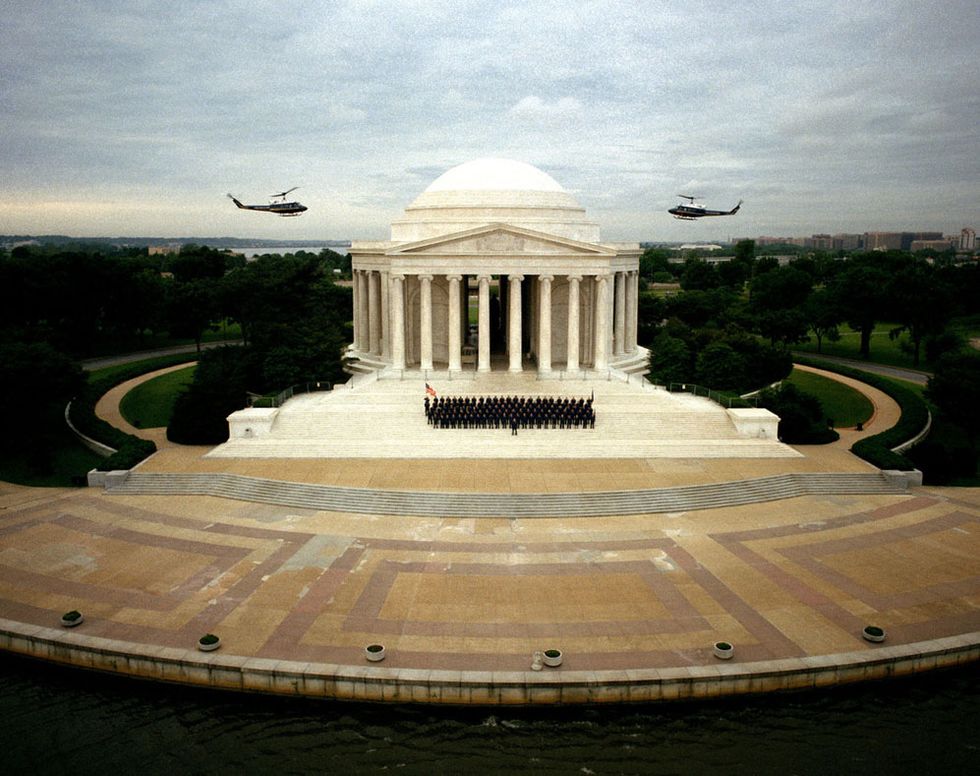 1979. Aerial view from above the U.S. Capitol, looking west along the National Mall, Washington, D.C.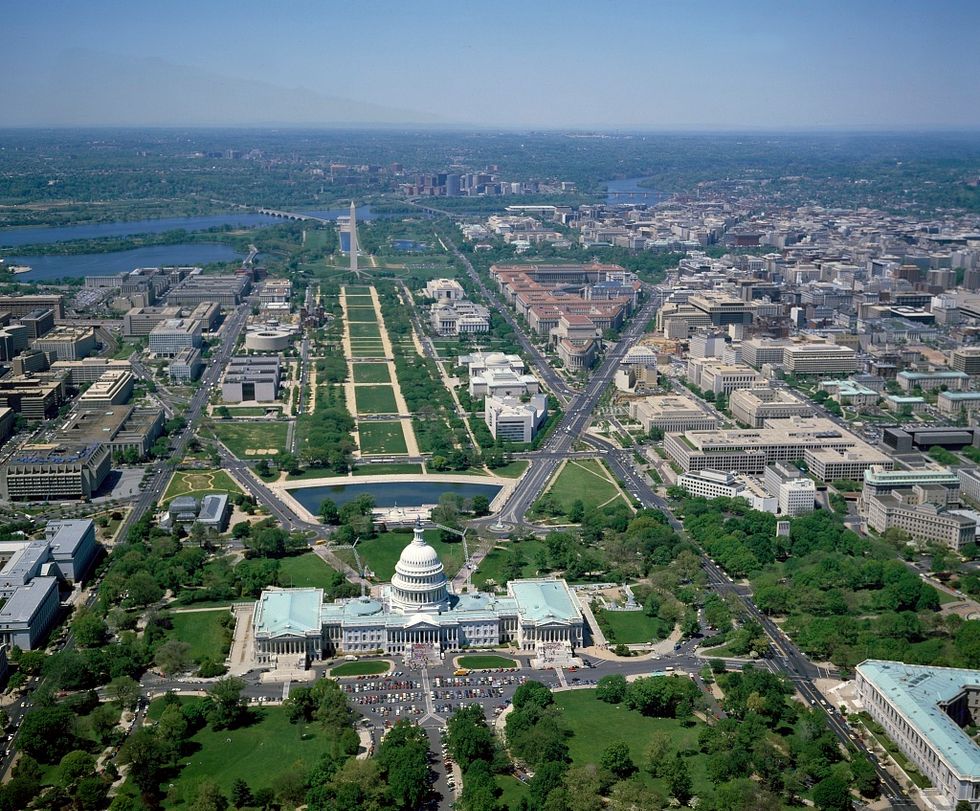 1916. Saint Louis Gateway Arch (originally Jefferson National Expansion Memorial), Saint Louis, Missouri.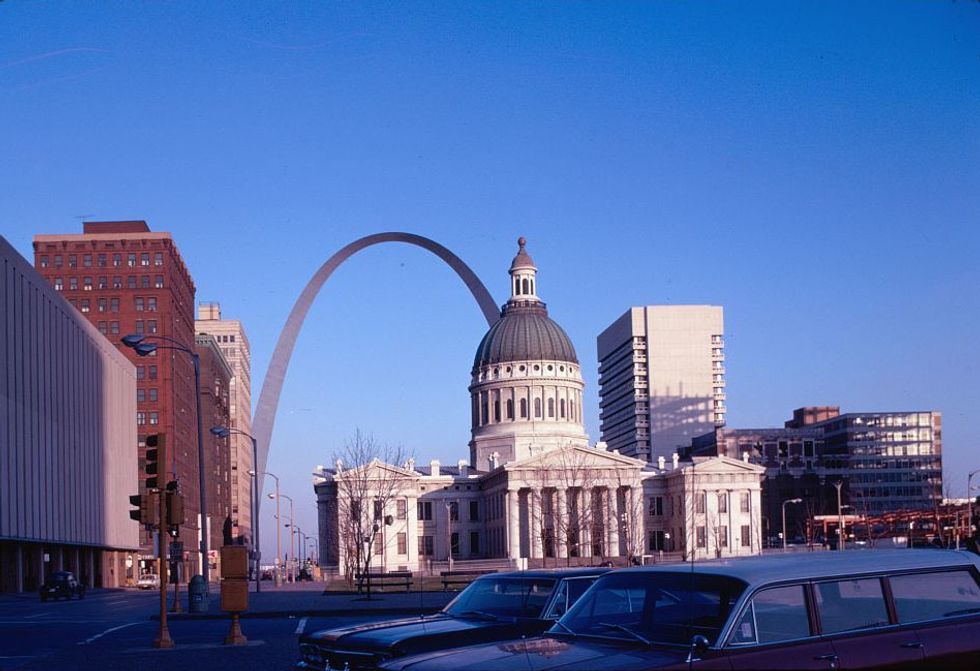 2006. View of approaches from the west façade of the Jefferson Building. Library of Congress Thomas Jefferson Building, Washington, D.C.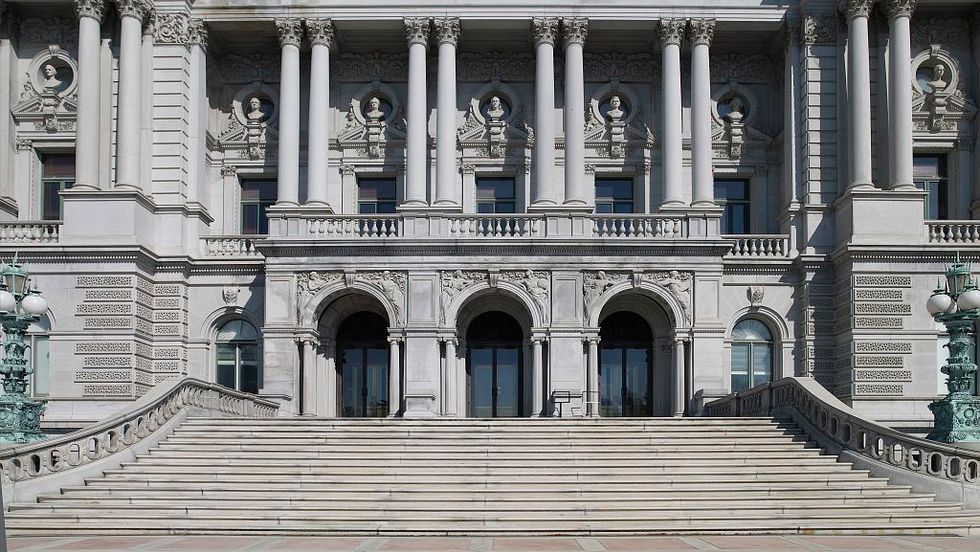 Northwest Corridor, First Floor. Mural depicting the muse Melpomene (Tragedy), by Edward Simmons. Library of Congress Thomas Jefferson Building, Washington, D.C.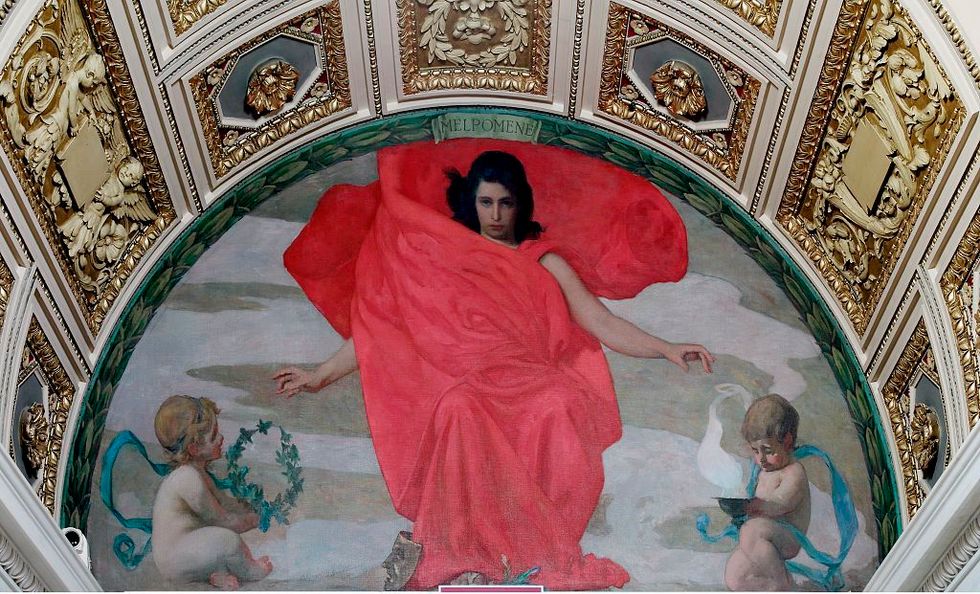 2006. Great Hall in Thomas Jefferson building, Washington, D.C. Detail of cherubs representing the literary genres on the Grand staircase by Philip Martiny.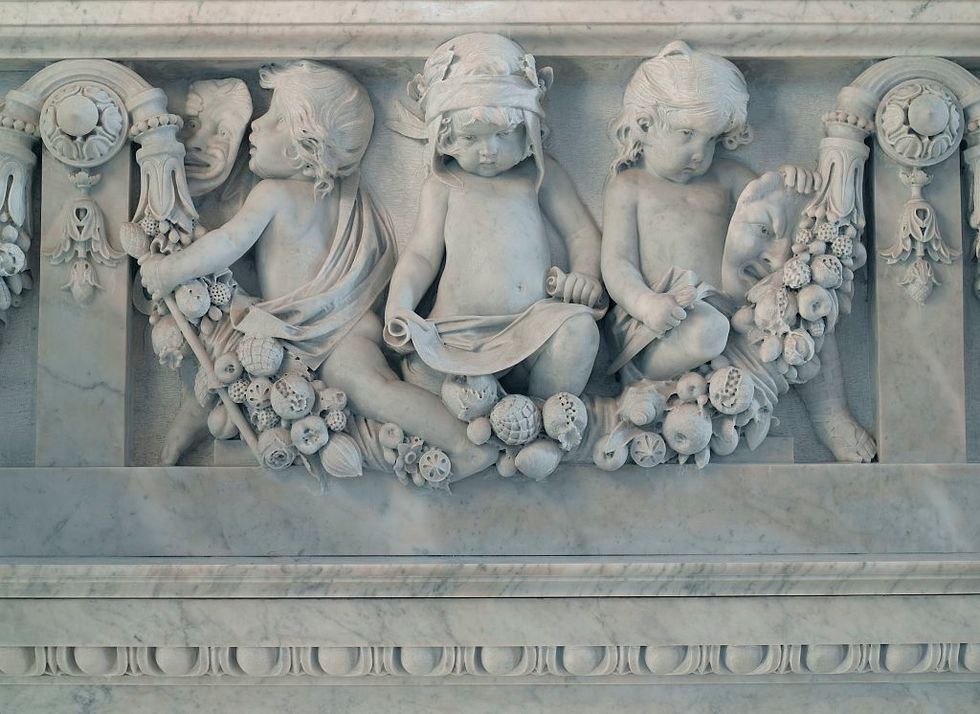 1979. Hallway, U.S. Capitol, Washington, D.C.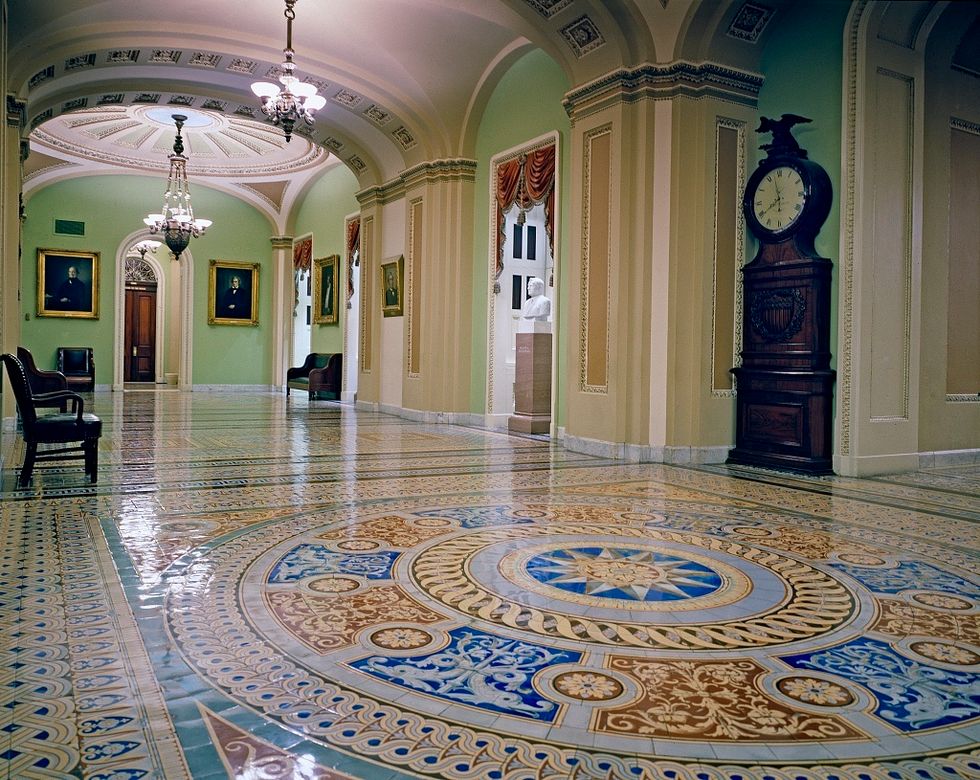 1979. Cove inside the Library of Congress Thomas Jefferson Building, Washington, D.C.