Does the thought of death make you anxious? A new study suggests that the fear of mortality isn't really about the afterlife at all.
Pope Francis and Richard Dawkins, both positively cheery in the face of death.
Socrates warned against fearing death. He thought it irrational—the fear of death causes you to believe you're wiser than you actually are. "No body knows death; no body can tell, but it may be the greatest benefit of mankind; and yet men are afraid of it, as if they knew certainly that it were the greatest of evils," he concluded. His real aim may have been the religious who expressed faith in an afterlife with utmost certainty, a trend still going strong today. 
No mere mortal knows what occurs after death, yet that hasn't stopped many from speculating. Though Socrates expressed unkind words toward the religious, turns out those who strongly believe in religion fear death less than the less religiously inclined—until you get to atheism, that is. A new study published in Religion, Brain & Behavior discovered a U-shaped curve toward contemplating death, with the most religious and atheists enjoying the least fear of mortality.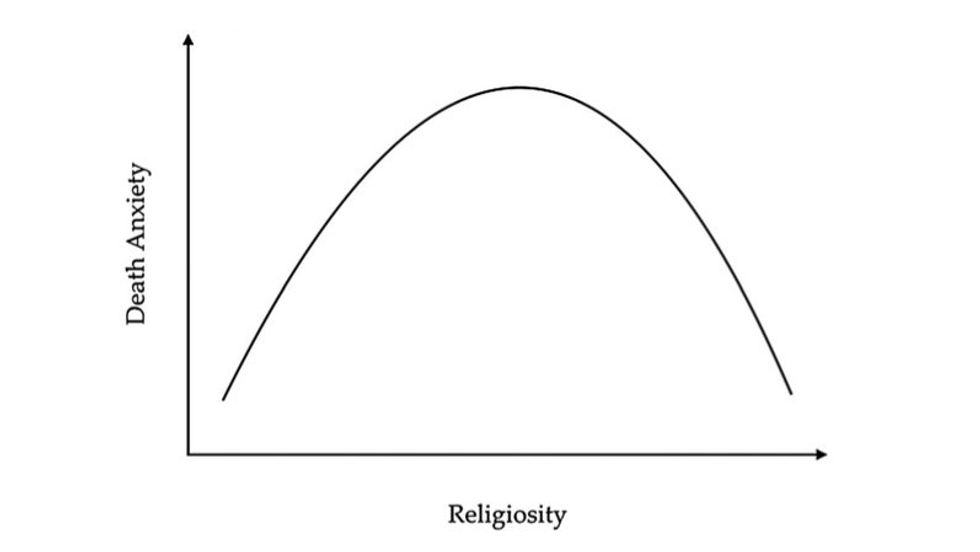 Figure 1: Predicted inverted U-shaped curve. Both religious and atheistic worldviews may serve to mitigate death anxiety.  
A team led by Coventry University research fellow Dr. Jonathan Jong scoured a hundred data articles over a half-century period representing over 26,000 people to uncover who feared death most, and least. At heart, this study is more about fear than death, as Jong makes clear in his proposed relationship between religion and fear:
First, that fear motivates religious belief, and second, that religious belief mitigates fear. 
Jong and team cite Ernest Becker, whose 1973 book, The Denial of Death, was awarded a Pulitzer the following year—ironically, two months after the author died from cancer. Becker postulates that civilization is actually a defense system against mortality, with our numerous rituals invented to offer an illusion of permanence. Perhaps what humans crave, he wonders, is a guarantee of eternity, a craving filled by dualism, the belief that a separate essence exists beyond flesh and fascia.
Becker understood that we desire a glimpse of eternity, some sort of contract that persists when blood stops flowing. Instead of confronting the illusion that drives societies forward, we create even more elaborate ruses:
Modern man is drinking and drugging himself out of awareness, or he spends his time shopping, which is the same thing. As awareness calls for types of heroic dedication that his culture no longer provides for him, society contrives to help him forget. 
Enter botox. Enter resveratrol. Enter the afterlife. Jong points out that Becker calls religion "the 'best' illusion under which to live," and that all preceding illusions are "functional facsimiles" to a belief in forever after. 
Yet our forever afters are suspect considering how varied they are. In some circles it's good form to poke fun at the idea of being promised dozens of virgins upon entering the afterworld, a notion scoffed at in a country where the predominant number of people think a beatific paradise built of gold will soon be theirs.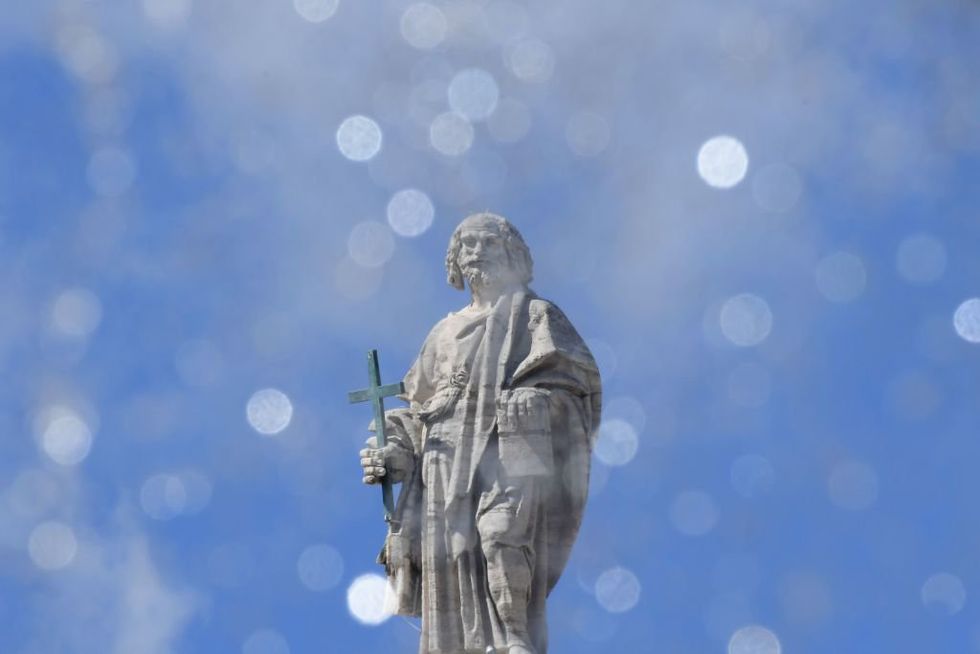 Joseph Campbell famously expressed that he didn't believe people are looking for a meaning to life but rather an "experience of being alive." We miss that point when focusing too far ahead. Jong and team found that complete cessation is the real issue: that once life ends there is, well, nothing at all. "I" stop existing—an approach actively encouraged in systems like certain forms of Buddhist meditation. While the fear of actual death—painfully, slowly—is apparent, the existential crisis encountered at the prospect of nothingness appears to cause the most anxiety. 
An active acceptance to death appears to be healthy. In Elementary Forms of Religious Life, French sociologist Emile Durkheim writes that collective mourning helps alleviate the trauma of losing a loved one and bonds the community together. Such an acceptance of death might help explain why atheists fear it less than the religiously uncertain: when you do not fear transience, life is no longer so frightening — or serious. This is a longstanding link between Buddhism and atheism, which is why those two systems are not dissimilar in certain regards. 
To be more discerning, Jong differentiates between extrinsic and intrinsic religiosity. Those displaying extrinsic religiosity partake in rituals more as a buffer between their lives and potential oblivion rather than as a matter of deep faith, which is expressed by the intrinsically religious. Unfortunately existential anxiety is not alleviated when only going through the motions. Much the same can be said for agnosticism. 
Which, ironically, leaves the edges of religious thought as the least fearful. While Socrates might disagree with the approach, certainty appears to help the extremely faithful and those who don't think much about faith at all. While the distance between these two approaches is vast, there's no denying the power of confidence. 
Jong and team acknowledge shortcomings in their research. It was mostly focused on America, with contributions coming from the Middle East and East Asia. Nearly half the work researched showed no link between religiosity and death. As our relationship to death is usually more cultural than personal (though it might not feel that way) a broader study could shed more insight on the best approach to contemplating death. "More cross-cultural data are required before we can make general claims about the relationship between death anxiety and religion," says Jong. 
Blaise Pascal famously wagered that it's better to believe than not believe, just in case. This is an extrinsic argument. Perhaps a better wager would be to enjoy every moment as it happens, which is more aligned with Buddhism. Sure, there might be something to clean up after all is said and done, but since all we are truly certain of is the present, a less fearful approach to the short time we have here together might be in all of our best interests.
--
Derek's next book, Whole Motion: Training Your Brain and Body For Optimal Health, will be published on 7/4/17 by Carrel/Skyhorse Publishing. He is based in Los Angeles. Stay in touch on Facebook and Twitter.
There is a new wellness trend emerging in South Korea – experiencing your own funeral. While at first this sounds twisted, in truth this ritual utilizes what other cultures have long known.
Participants think about their lives as they lie down in a coffin during a 'Death Experience/Fake Funeral' session held by Happy Dying on August 1, 2016 in Andong, South Korea. Fifty adults who work at the Andong Science College in South Korea participate
The quest for everlasting life is an old ambition. One of the most ancient surviving mythologies, the Epic of Gilgamesh, revolves around an egotistical king's journey to the plant that grants eternity. A deathless life is only subtext—the real story is the transformation of selfishness to humility—but it shows that for millennia humans have hoped to escape death, no matter how futile an endeavor it is.
Not much has changed as futurists count down to when biological aging proves no match for coding. The Silicon Valley set pops resveratrol like candy, washing them down with buckets of Soylent. Life, they speculate, is only a riddle to be answered, not an inevitable march toward darkness. Descartes wasn't in error; he was simply too early. The ghost in the machine is really an algorithm.
The refusal to decline is big business. Plastic surgeons become minor celebrities as they help the wealthy and conceited rage against nature's cruel machinery. Yet no amount of tucking and lifting slows the demise of organs. All it really does is make of the human a sad animal too proud to admit the realities of aging.
Ironically, the emotions behind injections and surgeries—envy, depression, anxiety—aid the process of aging. It's like drowning: the harder you fight, the quicker you'll succumb. It's much better to relax into the panic, which brings us to South Korea.
The Hyowon Healing Center is financially backed by a funeral service company to help people confront death. While at first this sounds like a twisted business scheme, in truth these counselors are utilizing what other cultures have long known: to prepare for death helps you appreciate and enjoy life.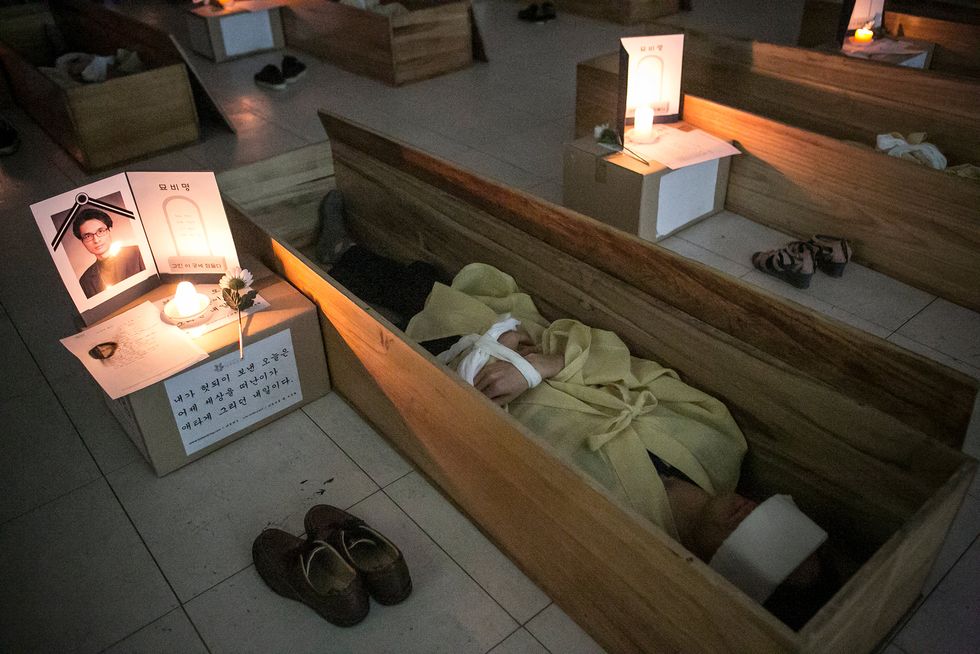 Participants wearing linen shrouds meditate and reflect on their lives as they lie down in a coffin during a 'Death Experience/Fake Funeral' session. (Photo by Jean Chung/Getty Images)
Seneca believed death to be the true gift of God; unlike life, it cannot be taken away. Socrates attributed our fear of death to selfishness: we think we know what's going to happen when we actually do not, therefore to consider it evil is mistaken. The Buddha thought clinging to life is as dangerous as any other form of ignorance—to cling is to slowly and ungracefully lose your grip.
Tibetan Buddhists created an elaborate ritual for traveling through the bardo, a supposed liminal state between life and rebirth. Regardless of one's feelings on reincarnation—some Buddhists accept it, others reject it—the Bardo Thödol is recognized as creating a preparatory mindset for death to help one live well. The Mexican 'Day of the Dead' celebrations have a similar intention: honoring those who have passed to help us live. A little tequila doesn't hurt, as it turns out.
In South Korea this ritual involves journaling about your approaching death, donning burial shrouds, then lying in a coffin in complete darkness for ten minutes. The free program has been attended by 15,000 citizens in four years. Attendees have claimed a variety of motivations, from a deepening of self-awareness to alleviating suicidal impulses. A director of the program says:
Most participants say they feel strangely refreshed afterward, gaining a new perspective on the things that matter in life, like family.
Over the last century life expectancy rates have quickly ticked upwards, creating a unique issue for societies the world over: how to care for the elderly. A boom in palliative care, age-restricted communities, and the use of psychedelics are all means we've invented to ease the dying process—really, ways of living the fullest lives while still kicking.
In the Pulitzer-winning The Denial of Death, Ernest Becker believes it takes a heroic contribution to own up to the nature of life and death. Rituals are one place to engage in the speculative arc of life. To avoid this process, he writes, man is "drinking and drugging himself out of awareness, or he spends his time shopping, which is the same thing."
Innumerable distractions to mortality plague our anxious minds. As the cosmetic, capitalistic branch of science persists in developing technologies for supposedly youth-inducing modifications, humans continue to believe they can stave off death's inevitable call—perhaps the most useless ritual of futility imaginable. By contrast, South Koreans engaging in this coffin ceremony are displaying the heroic courage Becker invokes: acknowledge the way of all flesh now so that the time you spend until then is rich, fruitful, and honest with the terms.
--
Derek Beres is working on his new book, Whole Motion: Training Your Brain and Body For Optimal Health (Carrel/Skyhorse, Spring 2017). He is based in Los Angeles. Stay in touch on Facebook and Twitter.
Dreams might be a whole lot sexier than we thought – but not because of their narrative content. Neurologist Patrick McNamara's theory links the biological changes in our brains during sleep to human's inherent desire to procreate.
A scene from Eternal Sunshine of the Spotless Mind (Image: Focus Features)
Carl Jung battled his one-time friend and mentor, Sigmund Freud, on a number of topics, though perhaps none as perniciously as dreaming. An entire cottage industry of depth psychology and journaling workshops grew out of Jung's theories of individuation—integrating the conscious and unconscious. To Jung, dreams—the primal material of the unconscious—unlocked humanity's archetypal code, revealing more than they concealed, in direct contradiction to Freud's ideas.
Freud was rather simplistic in comparison: dreams are about sex.
Not that sex is simplistic, nor is tunneling the depths of one's undiscovered psyche. Jung's intensive survey of mandalas and writings on mythological landscapes fueled generations of thinkers enamored with the idea of a subconscious primordial glue binding together humanity with the cosmos through this secret language of dreams.
By contrast Freud, though hugely influential therapeutically, has always been in and out of vogue, usually simultaneously. Ernest Becker posthumously won a Pulitzer for his 1973 book, The Denial of Death, which was essentially his shadowboxing with Freudian theory. He could not come to terms with the simplicity of Freud's death wishes:
It was becoming difficult to maintain the casuistry of the dream theory that all dreams, even anxiety dreams, are fulfillments of wishes.
While later Becker ceded to Freud some of his discontent, wish fulfillment and anxiety are unapologetically bound up with the propagation of our species. Of course, the mechanism by which this occurs is sex, an act conflated and celebrated by our ingenious imagination. Could such a simple and complex act really inform our nightly picture show? Patrick McNamara says yes.
The associate professor of neurology and psychiatry at Boston University School of Medicine has spent decades decoding the hidden language of dreams, first influenced by his brother's psychedelic poster of Freudian ideology in the sixties. By the time McNamara was working in the medical field a decade later Freud was so out of fashion as to be laughable, but the researcher in him never surrendered.
Fast forward to fMRI, the noninvasive breakthrough in wrapping our heads around what is inside our heads. McNamara spent hours studying dream reports by a wide range of men and women, noting peculiar patterns: in both genders strategies for partnership and procreation kept emerging. More tellingly, during the morning hours when REM sleep dominates, a cocktail of sex-related hormones—prolactin, oxytocin, testosterone—is served up in our midbrains, where circuits for pleasure and sex reside.
McNamara took it a level deeper. He split groups into those in relationships and those without—half the participants didn't have to hunt for sex, the others did:
The anxious, preoccupied group was far more likely to recall dreams than the securely attached; they took less time to enter REM sleep and had many more dreams featuring aggression against competitors. But both the anxious and the securely attached recalled more dreams than avoidant participants. That is precisely the pattern one would predict if dream sleep were directly related to long-term sexual strategies.
A follow-up study with electroencephalogram (EEG) technology on college students confirmed these results, adding yet another nuanced layer: when in non-REM sleep (NREM), the dreamer was aggressive in only 29 percent of dreams, compared to 58 percent during REM sleep, the time believed to unite sexuality and inner cinema. Friendly interactions—sans sexual aggression—flipped that script, with 71 percent of NREM dreamers and 42 percent of REM sleepers reporting peace and love—agape, not eros.
All this research left McNamara to ponder one more peculiarity. REM sleep is marked by both a paralysis or inhibition of muscles and a suspension of the body's thermoregulatory reflexes—the heat of passion is a bit cold at this time. The autonomic nervous system, responsible for our fight-flight-freeze reactions, is also unstable which, as he explains, is the reason more heart attacks occur during these hours.
Discovering reasons for evolutionary behavior requires reverse engineering, what philosopher Daniel Dennett describes as moving from how come to what for. Dennett encounters confusion between the two when debating religionists with a vested interest in theological narratives; the distance between them is critical in understanding evolutionary behavior. While Jungians get caught up in the mythology of dreaming, McNamara's Freudian updates satisfy an even more incredible tale. As Dennett writes in his forthcoming book: 
A mystery solved is even more ravishing than the ignorant fantasies it replaces.
Like Dennett, McNamara turns to Darwin for insight. Why, for example, would nature endow peacocks with colorful plumage that adds no physical advantage in battle, or in the case of reindeer's unwieldy antlers, are biologically expensive? McNamara speculates:
Darwin pointed out that many features of sexually reproducing species can boost reproduction rather than survival in the environment per se. The peacock's tail advertised its fitness to peahens, and so they tended to mate with the male who had the most extravagant tail in the group … Similarly, the reindeer's antlers were used as weapons in the fight against other males of the same species for access to females. The more elaborate the antlers, the more forbidding the buck.
Like weightlifters puffing their chests, showmanship trumps defense. Or rather, showmanship is the first line of defense. Applying this to dreams, McNamara suggests that a drop in body heat promotes sleeping in close quarters with others, increasing opportunities for procreation. It also makes sense that during a period in which aggressive behavior is being played out in the theater of dreams you would not want to attack the person you're cuddling with; hence, physical paralysis during mental stimulation.
As Dennett suggests of evolutionary adaptations, these are profound responses to complex behaviors, which does nothing to detract from the wondrous mythology of dreaming. Jung might not have been wrong in suggesting that archetypal keys are uncovered during night flights, but at the foundation biology wins out. In this case, Freud just might emerge victorious.

Here's Michio Kaku explaining why Freud still has credibilty in this field: 
--
Derek Beres is working on his new book, Whole Motion: Training Your Brain and Body For Optimal Health (Carrel/Skyhorse, Spring 2017). He is based in Los Angeles. Stay in touch on Facebook and Twitter.