Never made a turkey before? Don't worry, science can help.
This year, many people will be making a Thanksgiving dinner for the first time. It's often harder than it looks.
Luckily, an online calculator website has one just for thawing turkey, and can explain why you need to wait so long.
The website has other calculators as well, for needs you didn't know you had.
This year, with the Center for Disease Control advising Americans to stay home for Thanksgiving, many people will be faced with the prospect of preparing dinner for a smaller table or cooking a traditional Thanksgiving meal by themselves for the first time. The latter of these two issues can seem particularly daunting.
The art of preparing a turkey can seem incredibly arcane to those who haven't done it before—foul it up enough and you'll give yourself salmonella.
Luckily, science is here to help. A quick review of thermodynamics provided by the Turkey Thawing Calculator at Omni Calculator will show you not only how to thaw your turkey correctly but how math and science are all around us.
How to thaw a turkey using science!
The Omni Calculator website is home to calculators that can determine many things, including how long you can be in the sun safely, to the odds of your town having a white Christmas. It now has a dedicated tool for finding how long it will take you to prep your turkey in time for a socially distanced holiday. The Turkey Thawing Calculator was created by Jagiellonian University cognitive science graduate Maria Kluziak with the help of Wojciech Sas, a Ph.D. candidate in molecular magnetism and nanostructures at the Institute of Nuclear Physics in Poland.
The fundamental problem is that you need to add heat to the frozen bird to unfreeze it without also encouraging the growth of bacteria. To do this, you have to put the turkey somewhere where it will heat up slowly and evenly. There is a trick, though; this can take a long time because of the amount of energy involved. Exactly how long you need to spend on it can be hard to determine if you've never done it before.
This is where practical, day-to-day science comes in. The processes of heating something are well-studied areas of thermodynamics which we use every day.

As Kluziak tells Big Think:
"If you look closely, you'll notice how we're all surrounded by numbers. Yet most of the time people choose to go with their intuition while making day-to-day decisions. We, as scientists and experts in our own fields, are trying to build a world where people make better, more informed decisions backed by concrete science - Using physics to chill drinks, math to find out how much pizza to get, and even calculating how much groceries are enough to survive a quarantine. It works."
So, how do I thaw a turkey?
Credit: Omni Calculator
By slowly exposing the turkey to cool air or water, it heats up to a point where the bird is above freezing but not so warm that bacteria will start multiplying. Two of the safe ways to do this stand above all others; you can thaw it in the refrigerator or the sink.

Using a refrigerator can take days; the calculator creators suggest a day for every four pounds of bird. Doing it with cold water in the sink is faster, needing only two hours per pound, but requires that you drain and refill the sink with new, cold water every thirty minutes. The ideal temperature during thawing shouldn't exceed 39°F/4°C.
"In our thawing model, we use a scientific approach, which is based on the use of heat transfer equations," the scientists write. "Since these types of problems are, in general, very complicated, we use some approximations, which allow us to estimate the thawing time with reasonable accuracy. As a result, you can see how the average temperature of the turkey changes in time."
You can learn more about the equations and get tips on using the calculator here. You can also learn why you shouldn't use a hairdryer or a tub full of hot water to do the job.

One of the best parts of science is that its findings are often universally applicable. If you understand why something works in one case, you can use it everywhere else. Kluziak reminds us why this might be great for cooking:

"The rules that govern the process of thawing are roughly the same for every kind of food, what's different are the numbers that determine the more specific things like thawing time. The general ideas remain the same regardless of the food, and I would say they are pure common sense. For example, if you're defrosting food, don't do it at room temperature to avoid bacteria - this is true every time!"
Whoever said you'd never use the science you learned in high school at home didn't understand how often we use physics—this calculator remind us that it is everywhere. So fear not, ye first-time turkey chefs! Science can help you have your main course and eat it too.
Is everyone's favorite Thanksgiving centerpiece really to blame for the post-dinner doldrums?
(Photo from Flickr)
Americans kill around 45 million turkeys every year in preparation for the Thanksgiving meal, only to blame our favorite centerpiece for the following food comas.
Rumor has it our after-dinner sleepiness results from the tryptophan found in turkey.
However, it is the meal's overall nutritional imbalance, not just the tryptophan, that make us want to leave the dishes for tomorrow. Or maybe the next day.
The turkey is one of the closest living relatives to avian dinosaurs, but recent evolutionary turns has taken it from peak predator to meek entrée. Americans kill about 45 to 46 million turkeys in preparation for Thanksgiving, and to really rub it in, our nation's leader pardons one every year as a lark.
But ignominy doesn't stop there. Through selective breeding, we've dramatically increased the size of turkeys, particularly in the breast for more of that coveted white meat. This has led to all sorts of health issues, including skeletal problems, cardiac morbidity, and reduced immune response. Thanks to those robust breasts, domestic turkeys can't mate anymore and rely on us for artificial insemination.
If that wasn't bad enough, every year after we've feasted on millions of these birds, we then blame them for making us miserably tired. We've even developed a term for it: the turkey coma, the "inevitable and unavoidable nap that occurs about 45 minutes after gorging one's self on a Thanksgiving Day turkey," as one Urban Dictionary user defined it.
But are turkeys really to blame for the turkey coma? And if so, how do they manage this posthumous revenge?
Tryptophan-tasitc meal
Jerry and George use a turkey's tryptophan to make Celia fall asleep in the episode "The Merv Griffin Show."

(Photo from NBCUniversal)
As any Seinfeld fan can tell you, that stuff in turkey that makes you sleepy is tryptophan. Specifically, L-tryptophan, an essential amino acid that our livers synthesize into niacin. Niacin, in turn, helps create the neurotransmitter serotonin.
Our brains and bodies use serotonin for many functions. It plays a role in appetite, emotional stability, motor skills, and cognitive processes, but it's most famous for regulating our body's sleep-wake cycles. This common knowledge serves as the basis for the belief that turkey makes you sleepy.
Thing is, a lot of foods contain tryptophan. Nuts, soy, eggs, milk, salmon, chicken, spinach, yogurt, and chocolate are all dietary sources of tryptophan, with many of them containing more tryptophan than our favorite holiday fowl.
According to My Food Data, turkey has 404 milligrams of tryptophan per 100 gram serving. But in the same serving size, pumpkin and squash seeds have 576 milligrams, soybeans have 575, and reduced fat mozzarella has 571. None of these is associated with drowsiness, and nuts are a go-to for an afternoon pick-me-up snack.
Either turkey is being unfairly maligned or something else is weighing down our eyelids after a Thanksgiving meal.
Caloric cat nap
While Seinfeld may have exaggerated the effects of tryptophan, the show did get one thing right. If you want to put your girlfriend to sleep so you can play with her antique toy collection, a calorie-laden meal of turkey, heavy gravy, and a whole box of red wine will do the trick.
Americans consume a lot of calories during a Thanksgiving meal. This isn't news but the numbers, once laid bare, can still be guilt-inducing. The Calorie Control Council estimates that the average Thanksgiving meal weighs in at 3,150 calories, but it's worth noting that their estimate uses sweet tea as a beverage benchmark and not beer, wine, or cocktails.
Dietitian Tanya Zuckerbrot told Fox News that a turkey day dinner ranges between 3,000 and 4,500 calories. Like the Calorie Control Council, her estimate does not include alcoholic drinks, but she also skipped on appetizers.
Obviously, these numbers vary depending on the food available and serving sizes. But any estimate will have one thing in common: a single meal sporting well over the USDA recommended daily caloric intake for all demographics outside of Olympian athletes.
Putting the sleep turkey myth to rest
Two male turkeys named Peas and Carrots sent by the National Turkey Federation (NTF) to the White House are seen before the upcoming annual turkey-pardoning ceremony on November 19, 2018 in Washington, DC.
(Photo by Chen Mengtong/China News Service/VCG via Getty Images)
And this is why the term "food coma" is much more apt — or, if you want to get clinical, "postprandial somnolence."
"We've known for many years that meals with an imbalance of nutrients — that are rich in either fats or carbohydrates — are associated with feeling sleepy," writes Angus Steward, senior lecturer of nutrition and dietetics at Edith Cowan University. "But this is not the case when nutrients are balanced or the meal is rich in protein."
When we start our Thanksgiving meal, our stomachs begin producing a hormone called gastrin. Gastrin kickstarts the digestive process, which reroutes blood to our stomachs to carry away the newly formed nutrients.
Part of the drowsiness is due to the volume of food you consume. It simply takes longer to digest, requiring your body to take it easy while it diverts blood from other bodily functions. But as Steward explains, it isn't just volume at work here. It's also what we eat.
Thanksgiving meals are heavy in fats and carbohydrates. Carbs release glucose into the bloodstream quickly, causing a spike in insulin production. Insulin helps the body absorb the glucose, but in doing so, it makes it easier for tryptophan to pass the blood-brain barrier. Once tryptophan is in the brain, it begins conversion to serotonin to tell your body it's time to sleep.
With your body and mind at rest, your body can get to work absorbing the massive meal.
That's the bad news if you still have a daunting pile of dishes to clean Thanksgiving evening. The good news, as the National Sleep Foundation points out, is that you can use your newfound understanding as a little bio-hack. Eating small bedtime snack that contains both carbs and tryptophan, such as peanut butter on toast, can help you ease into a restful night's sleep.
Ending the blame game
So, the myth is partially right; turkey does have a role to play. It and many other Thanksgiving favorites provide you with ample tryptophan. When combined with an overall high-calorie meal and enough stuffing to carb-load for a marathon, the result is a mid-afternoon snooze.
But the turkey is hardly the sole cause of anyone's sleepiness. If anything, we only have ourselves to blame and can stop blaming it for those decisions. And even if turkey did make us sleepy, let's face it: it has far more grievances against us than we do against it.
A recent study sheds light on why we get "food coma" and what foods to avoid.
Holidays are often celebrations of gluttony, with 4th of July, Thanksgiving and Christmas feasts leading the way. To help make sense of the daze, apathy, and strange bodily sensations that befall us after such eating marathons, scientists offer an explanation of our collective "food coma". 
A popular myth has been that the sleepiness felt after eating turkey is caused by the amino acid tryptophan, but that's not the case as turkey has no more tryptophan than chicken or beef. Nuts have more.
A recent study on fruit flies provided some insight. Researchers focused on the fly Drosophila melanogaster and discovered that, just like us, they slept longer after large meals. And there were some foods much better at putting them to sleep than others.
Why did they use flies? The study's senior author, Professor William Ja from the Department of Metabolism and Aging at Scripps Florida, explained it this way: 
"Studies on the 'food coma' effect in humans have been hit or miss," he said. "Sleep is really hard to study in people since very few can sleep 'normally' when they're being watched."  
While the flies differ in sleeping patterns from humans, observing them provided valuable insight that can be applied to us.  
"In Drosophila, there is a well-documented interaction between sleep and metabolism, whereby flies suppress sleep or increase their activity when starved," said Professor Ja. "However, the acute effects of food consumption on sleep have not yet been tested, largely because there was no system available to do so."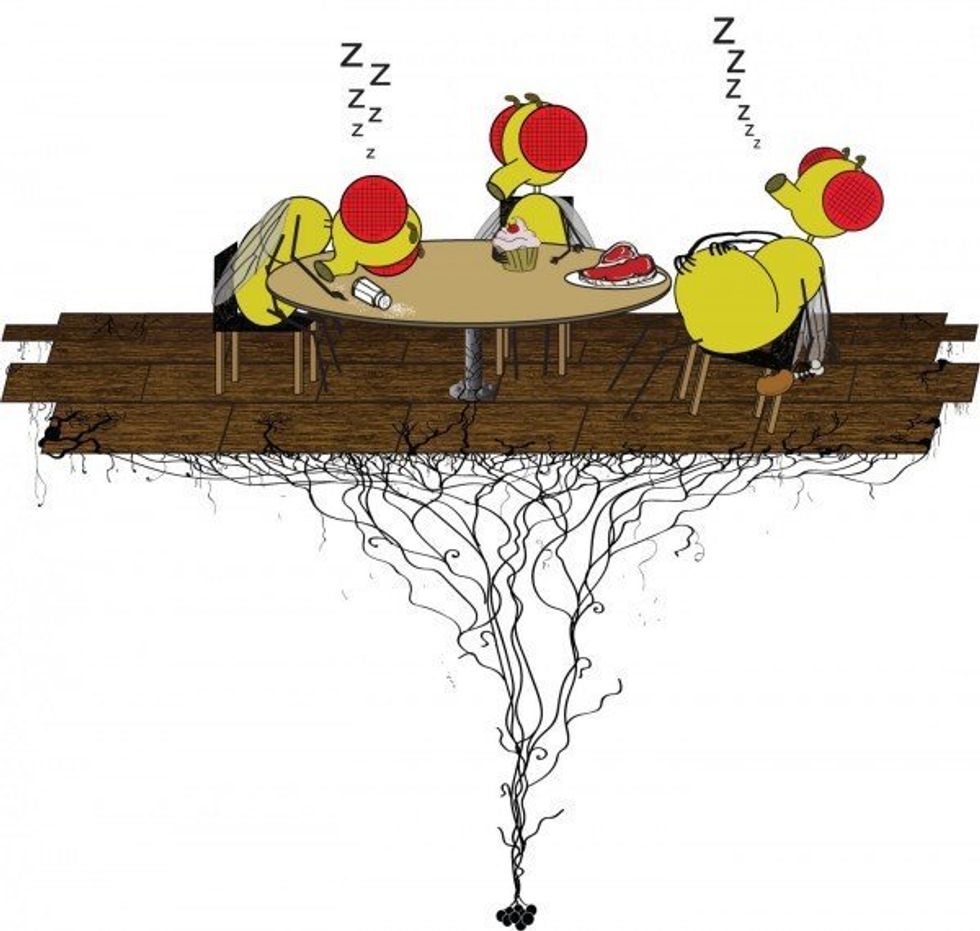 Credit: Keith Murphy
The researchers developed a special system called Activity Recording CAFE (ARC) for visual tracking of the food consumption and motion of the flies. The flies the researchers used slept about 20 to 40 minutes longer after taking in sizable food portions rich in protein or salt. Meals high in sugar did not have this effect.
If you want to avoid the "food coma" that comes with the holidays, you might want to rethink your menu.
"We next sought to identify a neuronal mechanism by which feeding drives post-meal sleep," said the study's first author Keith Murphy. "By using genetic tools to turn neurons on and off in the fly brain, we were surprised to find a number of circuits that play a role in controlling this behavior."
What they found is that there are particular brain circuits that regulate the desire for naps after eating, which varies in intensity throughout the day. The body's internal clock (or circadian rhythm) likes to play a role in when we would be at our sleepiest. The flies, for instance, were less susceptible to food coma in the evening than in the morning.
What's next for the researchers?
"The ARC provides a starting point for future studies aimed at uncovering the exact genes and circuits that enable meal size, protein and salt to drive sleep," explained Ja. "As sleep is a vulnerable state for animals in nature, it will be interesting to discover why post-meal naps are necessary."
Cover photo:
Brian Subich (L) digs into a turkey carcas as he and Eric Lingston (R) compete in the Thanksgiving Invitational Turkey-Eating Championship, 22 November 2006, at Artie's Delicatessen in New York. Pat Bertoletti of Chicago won by eating 4.8 pounds (2.177 kg) of turkey in 12 minutes. AFP PHOTO/Stan HONDA (Photo credit: STAN HONDA/AFP/Getty Images)