The popular concept of introversion often differs from how psychologists define the term, but a new model seeks to clarify exactly what being an introvert means.
Why does it seem trendy to be — or at least call yourself — an introvert? 
The label "introvert" hasn't always been fashionable. It used to carry mostly negative connotations in the West, where traits associated with introversion — quiet, reserved, reflective — aren't exactly as championed. Some have even considered introversion a behavioral defect.
But in recent years, articles about introversion have become ubiquitous, especially in the BuzzFeed listicles: 37 Jokes That'll Make Introverts Think "Yep, That's Me" or 21 Pictures You'll Only Understand If You're Introverted. There have been best-selling books on the subject, like Susan Cain's 2012 Quiet: The Power of Introverts in a World That Can't Stop Talking. And, of course, numerous TED Talks.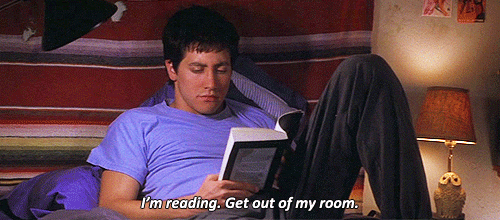 Extraversion doesn't get the same praise. I can't recall reading an article or having a conversation in which someone felt the need to champion or defend extraversion, or drop the fact that they're a bit of an extravert in that humble-brag way that self-identifying introverts do. 
So, why the hype? Could it be the result of people trying to excuse unhealthy behavior, possibly aided by a misunderstanding of introversion?
"What troubles me, however, is the blurring of lines between introversion and other personality traits," writes Sugandha for the Huffington Post. "... we have also been OKing, perhaps indeliberately (or perhaps not), the dark side of introversion—often and almost always made up of one or all of quirks such as a compulsive and unjustified hate of other people, an intolerance for difference of opinion, elitism, thanklessness rooted in narcissism, unfriendliness, or worse, an "ugh I hate the world" attitude that isn't exactly healthy."
It's hard to say exactly why introversion is having a "cultural moment." But what's clear is that many people have an incomplete understanding of the term.
"When you survey a person on the street, asking them to define introversion, what comes up as the prototypical characteristics ... are things like thoughtful or introspective," said Jonathan Cheek, a psychology professor at Wellesley College.
Neither of these terms, however, are found in the scientific literature, where conceptualizations of introversion have differed over the past century. 
So what exactly is introversion?
Carl Jung popularized the terms "introversion" and "extraversion" (spelled with an "a" by Jung) in his 1921 paper 'Psychological Types'. The main idea behind his definition was that introverts focus their "energy" inward, while extraverts focus it outward:
"Extraversion is characterized by interest in the external object, responsiveness, and a ready acceptance of external happenings, a desire to influence and be influenced by events, a need to join in… the capacity to endure bustle and noise of every kind, and actually find them enjoyable, constant attention to the surrounding world, the cultivation of friends and acquaintances… The psychic life of this type of person is enacted, as it were, outside himself, in the environment."
Another way of thinking about the two terms is how a subject relates to an object in the world, as Jung wrote: 
"Whereas the extraverted type refers preeminently to that which reaches him from the object, the introvert principally relies upon that which the outer impression constellates in the subject."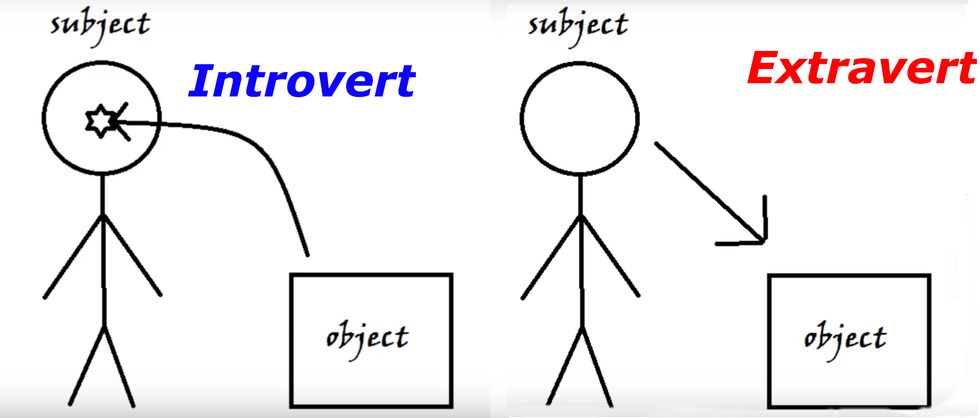 In other words: extraverts focus on information from objects, and introverts focus on the effects within themselves caused by the information from objects. (In this definition, objects can be people, places, events, things or ideas.)

Psychologists have expanded Jung's concept of introversion and extraversion over the past century, but it eventually became the foundation of many of tests used to measure personality — notably the Myers-Briggs Type Indicator and the Big Five personality traits.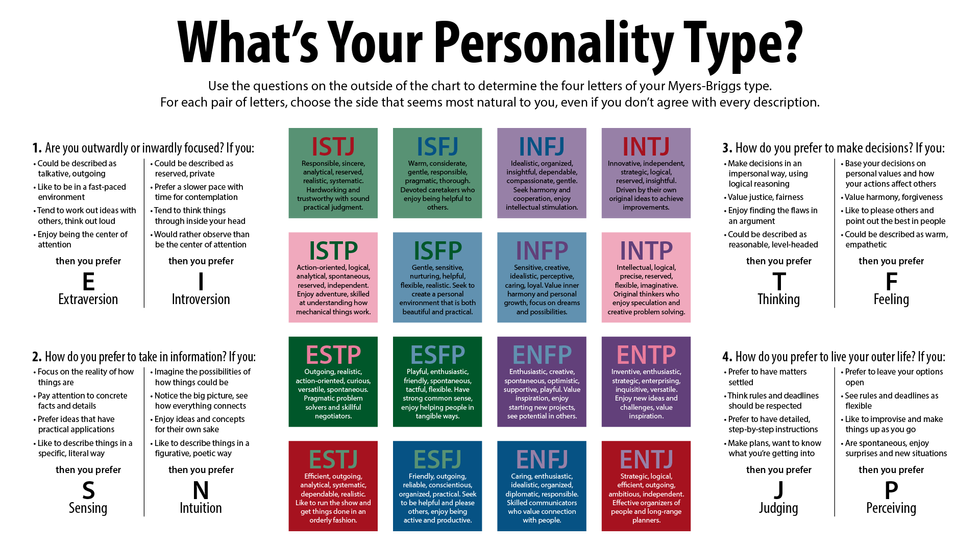 Now, finding out if you're an introvert or not depends on which book you read, as Scott Barry Kaufman of Scientific American points out in this list of popular definitions of the term:
What's consistent across these definitions of introversion is Carl Jung's basic idea: that introverts tend to focus their energy inward.
Still, some psychologists argue that introversion is too broad a term, and that scales like the Big Five personality traits impose a possibly incomplete or skewed definition of introversion upon people. That's why Jennifer Odessa Grimes and Cheek developed a more comprehensive model of introversion in their paper Four Meanings of Introversion: Social, Thinking, Anxious and Restrained.
Dubbed STAR, the model contains four dimensions of introversion. People can display traits in one dimension, or a combination of all four. Here's a brief description of each:
Social: These introverts aren't socially anxious, they rather just "prefer to stay home with a book or a computer, or to stick to small gatherings with close friends, as opposed to attending large parties with many strangers," Cheek says.
Thinking: More daydreamy than neurotic, this type is "capable of getting lost in an internal fantasy world," Cheek says.
Anxious: Social interaction makes this type self-conscious and anxious, and they'll seek out solitude to avoid it.
Restrained: These introverts might appear slow to move, but that's just because they prefer to think before they act — they're reserved.
The STAR model is more about expanding the definition of introversion than it is correcting popular misconceptions.
"Many people do not feel identified or understood just by the label introversion as it's used in the culture or by psychologists. It doesn't do the job — it helps a little bit, but it just doesn't get you very far," Cheek says. "It turns out to be more of a beginning."
--
Grimes, Cheek, Julie Norem and Courtney Brown created an introversion test based on the STAR model, originally published in Scientific American. You can take it below:
To find out where you stand on each of the four meanings of introversion, answer the following questions by deciding to what extent each item is characteristic of your feelings and behavior. Fill in the blank next to each item by choosing a number from the following scale:
1 = very uncharacteristic or untrue, strongly disagree
2 = uncharacteristic
3 = neutral
4 = characteristic
5 = very characteristic or true, strongly agree
Social Introversion
____ 1. I like to share special occasions with just one person or a few close friends, rather than have big celebrations.
____ 2. I think it would be satisfying if I could have very close friendships with many people.
____ 3. I try to structure my day so that I always have some time to myself.
____ 4. I like to vacation in places where there are a lot of people around and a lot of activities going on.
____ 5. After spending a few hours surrounded by a lot of people, I am usually eager to get away by myself.
____ 6. I do not have a strong need to be around other people.
____ 7. Just being around others and finding out about them is one of the most interesting things I can think of doing.
____ 8. I usually prefer to do things alone.
____ 9. Other people tend to misunderstand me—forming a mistaken impression of what kind of person I am because I don't say much about myself.
____ 10. I feel drained after social situations, even when I enjoyed myself.
Thinking Introversion
____ 1. I enjoy analyzing my own thoughts and ideas about myself.
____ 2. I have a rich, complex inner life.
____ 3. I frequently think about what kind of person I am.
____ 4. When I am reading an interesting story or novel or when I am watching a good movie, I imagine how I would feel if the events in the story were happening to me.
____ 5. I seldom think about myself.
____ 6. I generally pay attention to my inner feelings.
____ 7. I value my personal self-evaluation, that is, the private opinion I have of myself.
____ 8. I sometimes step back (in my mind) in order to examine myself from a distance.
____ 9. I daydream and fantasize, with some regularity, about things that might happen to me.
____ 10. I am inclined to be introspective, that is, to analyze myself.
Anxious Introversion
____ 1. When I enter a room I often become self-conscious and feel that the eyes of others are upon me.
____ 2. My thoughts are often focused on episodes of my life that I wish I'd stop thinking about.
____ 3. My nervous system sometimes feels so frazzled that I just have to get off by myself.
____ 4. I am confident about my social skills.
____ 5. Defeat or disappointment usually shame or anger me, but I try not to show it.
____ 6. It does not take me long to overcome my shyness in new situations.
____ 7. I feel relaxed even in unfamiliar social situations.
____ 8. Even when I am in a group of friends, I often feel very alone and uneasy.
____ 9. My secret thoughts, feelings, and actions would horrify some of my friends.
____ 10. I feel painfully self-conscious when I am around strangers.
Restrained Introversion
____ 1. I like to be off and running as soon as I wake up in the morning.
____ 2. I'll try anything once.
____ 3. For relaxation I like to slow down and take things easy.
____ 4. I like to wear myself out with exertion.
____ 5. I often say the first thing that comes into my head.
____ 6. I generally seek new and exciting experiences and sensations.
____ 7. I like to keep busy all the time.
____ 8. I often act on the spur of the moment.
____ 9. I sometimes do "crazy" things just to be different.
____ 10. I often feel sluggish.
How'd you do?
To find out your score for each of the four kinds of introversion, RECODE the following Reverse-Worded items: (1=5) (2=4) (4=2) (5=1):
Social Introversion items: 2, 4, & 7
Thinking Introversion item: 5
Anxious Introversion items: 4, 6, & 7
Restrained Introversion items: 1, 2, 4, 5, 6, 7, 8, & 9
Next, add together all the numbers to come up with a total score.
Here's a guide of how you scored compared to others in the general population:
Social Introversion -- below 24 low, around 30 average, above 36 high​
Thinking Introversion -- below 28 low, around 34 average, above 40 high
Anxious Introversion -- below 23 low, around 30 average, above 37 high
Restrained Introversion -- below 25 low, around 31 average, above 37 high
Canada puts its money where its mouth is and prepares for a 'no strings attached' basic income trial that it hopes will break the cycle of poverty.
Photo by Spencer Platt/Getty Images
Ontario is poised to become a testing ground for basic income in 2017 as part of a pilot program. Hugh Segal is the special advisor to the Canadian province and a former senator. He believes a supplemental income of $1,320 a month could provide a viable path to poverty abatement—effectively replacing welfare programs and a system he described as "seriously demeaning" in a paper discussing this basic income pilot project.
Segal suggests this pilot project would provide real evidence to whether basic income is the solution to poverty many governments have been seeking. It would answer many of the burning questions and concerns regarding such a system:
Can basic income policies provide a more efficient, less intrusive, and less stigmatizing way of delivering income support for those now living in poverty?
Can those policies also encourage work, relieve financial and time poverty, and reduce economic marginalization?
Can a basic income reduce cost pressures in other areas of government spending, such as healthcare?
Can a basic income strengthen the incentive to work, by responsibly helping those who are working but still living below the poverty line?
In the United States, welfare programs are the staple of big government—a Republican nightmare. Paul Ryan has indicated he wants to phase-out these entitlement programs, however, he's also concerned about solving the poverty issue in America. If Ontario's proposed three-year project provides compelling evidence that basic income could do both, we may have a bi-partisan solution.
Segal is a conservative. In his view, welfare programs help alleviate some of the symptoms of poverty, but provide no long-term program to get people out.
"Testing a basic income is a humane and useful way to measure how so many of the costs of poverty (in terms of productivity, health, policing, and other community costs, to name only a few) might be diminished, while poverty itself is reduced and work is encouraged," Segal says in the report.
A guaranteed income would provide a floor no one would fall beneath and citizens would receive it regardless of employment status. Conservatives like it because it provides an elegant solution that could replace the welfare state and the left love it because it provides a greater social architecture.
However, many question how giving people free money could fix many of our socio-economic issues. But we won't know if we don't try—if we don't do the research to find a solution, which is what Segal suggests.
"There cannot be, nor should there be, any guarantees about what results a pilot might generate," Segal writes. "The objective behind this endeavor should be to generate an evidence-base for policy development, without bias or pre-determined conclusion."
This test of basic income won't be the first. Researchers and governments across the globe have started implementing similar tests to see what happens when you give people no-strings-attached cash. Finland, the Dutch city of Utricht, and Kenya all have plans to create programs to test this system. Segal believes a program in Ontario could add to this growing body of research.
"This Ontario initiative takes place at a time when other jurisdictions, in Canada and abroad, are working in different ways toward a Basic Income approach to better reduce poverty," he wrote. "The opportunity to learn from and engage with these other initiatives should not be overlooked, nor should approaches being tested elsewhere be necessarily re-tested here."
A study in Manitoba, Canada done back in the 1970s provides us with an idea of what a community receiving basic income would look like. Many believe people would stop working, and become lazy. They would be half right, some people did stop working in Manitoba. But when you look at the data a little closer, we begin to see how poverty starts at an early age and how basic income could help them get out.
Allow me to explain: People in the town received a set income of $9,000 a year (by today's standards) from the government. Evelyn Forget, an economist and professor at the University of Manitoba, who looked over the data from the study says there was a 9% reduction in working hours among two main groups of citizens.
Here's the kicker: New mothers were using their additional income to extend their maternity leaves and spend more time with their infants, and teenage boys were using that income to stay in school.
"When we interviewed people, we discovered that prior to the experiment, a lot of people from low-income families, a lot of boys in particular, were under a fair amount of family pressure to become self-supporting when they turned 16 and leave school. When Mincome came along, those families decided that they could afford to keep their sons in high school just a little bit longer," Forget told PRI in an interview.
Poverty affects all of us in some way (at some point 3 in 5 Americans experience it personally in their lifetime). All of us pay for its upkeep through taxes and can see how it wears down the institutions within our local communities. Basic income could be the solution. We have some data; we need more in order to make the proper call.
Ontario's experiment will show what would happen if people between the age of 18 to 65, living below the poverty line, received a monthly income of $1,320 ($1,820 if they are disabled). Would they be better able to save and find work?
"There's no magic bullet," said Jennefer Laidley of the Income Security Advocacy Centre. "So it's key that government is now exploring various solutions — reforming existing social assistance programs, improving the quality of work, and considering basic income."
NASA tests the engine for the most powerful rocket ever built, designed for deep-space missions.
NASA carried out a third successful test of the RS-25 rocket engine, which will be part of its giant new Space Launch System (SLS) deep-space rocket. The test was conducted at the Stennis Space Center in Mississippi and lasted 7.5 minutes, with no issues arising. 
Space shuttle astronaut Rick Mastracchio expressed excitement over the new space vehicle at the press conference: 
"SLS is going to be the most powerful rocket ever built when it's done several years from now. It's going to have to throw up all this hardware into low Earth orbit so we can then take it to the Moon and beyond, all the way to Mars."
The RS-25 rocket engines, built by Aerojet Rocketdyne, have powered 135 low-Earth orbit space shuttle missions over 30 years. But the engines are being tweaked to reach higher performance levels required by the SLS. 
The SLS will be outfitted with four such engines and supercharged by two five-segment boosters. 
Check out this video of the test:
Besides seeing how the engines perform when fired at higher levels, according to NASA, the tests are also collecting data on the work of a new engine controller unit or "brain" for the engine, which is responsible for controlling internal engine functions and enabling "proper communication between the SLS and the engine."
Three more tests are upcoming in the next months, while the SLS will have an unmanned test flight with the Orion spacecraft in September 2018. The Orion crew capsule is designed to carry four astronauts. 
Steve Wofford, manager of the SLS Liquid Engines Office at NASA's Marshall Space Flight Center in Alabama, elaborated on the tests in an interview with Universe Today:
"We continue this test series in the fall. Which is a continuing part of our certification series to fly these engines on NASA's SLS vehicle. Today's test was mostly about wringing out the new control system. We have a new engine controller on this engine. And we have to certify that new controller for flight."
The SLS will be higher than the Statue of Liberty and will be able to carry more than twice the payload of any of NASA former space shuttles.
Providing more details about the boosters, NASA explained that they are designed to work with the main engines for the first 2 minutes of flight, providing more than 75% of the thrust necessary to break from Earth's gravitational pull. Oh and they will be about 17 stories high each, will be burning through 5 tonnes of propellant per second to create 3.6 million pounds of thrust. Talk about massive.
You want to meet the rocket? Here's a helpful presentation from NASA: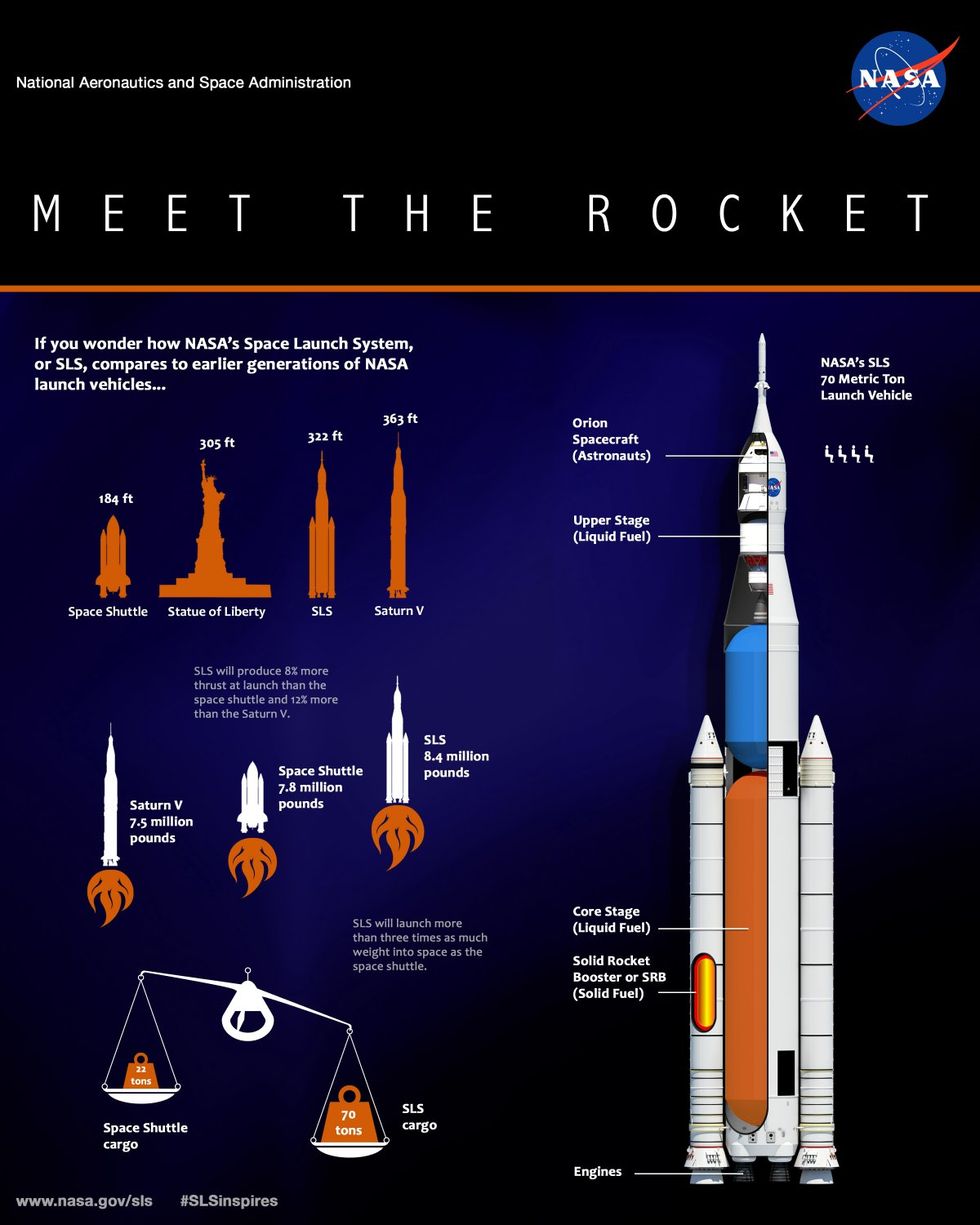 And here's more about the RS-25 engine: