In this new study, mindfulness-based intervention in schools did not move the needle on teen anxiety, depression, or body image problems.
Photo: Thomas Leuthard / Flickr
Mindfulness is big business. The buzzword dominates health blogs worldwide; the benefits of meditation, particularly in the mindfulness tradition, are championed broadly, often without question. But not everyone is convinced of its charms. While there are certainly many well-studied applications of mindfulness, it might not be the silver bullet—as a gateway to world peace; as a cognitive cure-all—it is sometimes marketed as. 
The first question we have to ask: Where is the bullet aimed? Context matters. Take this new study published in Behavior Research and Therapy. The research team, led by Catherine Johnson in the School of Psychology at Australia's Flinders University, wanted to know if mindfulness could help early adolescents reduce anxiety and depression, alleviate concerns about their weight, and improve their sense of wellbeing and everyday mindfulness. The team writes, 
Mindfulness presents as a promising transdiagnostic approach for mental health disorders, given its potential to counteract a number of shared risk factors for anxiety, depression and eating disorders. Robust evidence exists in adults for the benefits of mindfulness-based interventions (MBIs) across this group of pathologies. More recently, MBIs have been enthusiastically embraced in schools and are widely disseminated, but there are insufficient methodologically robust studies to make definitive conclusions about efficacy.
For this study 378 teens (average age: 13) from four Australian schools took part in weekly mindfulness training sessions (or not), ranging from 40 to 60 minutes in length. Just over half of the students practiced evening sessions with their parents and watched Youtube training clips. The control group did not partake in this training. The mindfulness group was also aided by teachers and course curriculum to keep their minds trained on the goal. 
The biggest hurdle in understanding this practice is defining the term. Mindfulness has become so much a part of mainstream culture as to be cliche—as I've previously written, can a distraction technology like Google really preach the mindful gospel? Most likely not. Thus you have a misunderstanding of the goals of the practice. 
For our purposes, let's pull from experts. In their new book, Altered Traits, two pioneering American meditation leaders, Daniel Goleman and Richard J Davidson, treat mindfulness as "an alert but nonreactive stance in attention." 
A mindfulness discipline entails observing everything in your environment—thoughts, physical sensations, sounds—without reacting to any of them. This requires an ability, one which develops over time with practice, to not immediately construct a story to the stimulation around you, including stimulation arising from your own thoughts. Imagine watching passerby on the street: you see them come, they walk by, they go. Once gone you attend to the next sensation. 
This isn't how our brains normally operate. We're constantly swayed by stimulation; we create narratives from incomplete evidence. All is not lost, as this cognitive feature allows for the invention of our incredibly rich mythological traditions. Our imagination is the root of religious storytelling as well as the reason marketing works: we're pulled into the story the product supposedly represents. Most of our days are spent quietly imagining life, carving into our mental space future desires and fears.
Mindfulness is a discipline of observation without reaction. It's not a passive endeavor, mind you: traditions that practice it develop their own moral correlates. But it is designed for self-knowledge as well as liberation from the innumerable prisons our thoughts construct. This is why context matters: if you're meditating to achieve liberation, you'll approach mindfulness in a particular way, with specific goals. 
The way Johnson and team approached it was different. They were investigating body image, anxiety, depression, and "wellbeing," another ambiguous, subjective term. In every case her research did not find that mindfulness was helpful for young teens. 
Which is important data. The researchers note a number of potential factors: the kids haven't had enough life experiences; they might not have spent the right amount of time practicing; compliance rates for home practice were not closely monitored; the optimal age to begin such a program might be later—or earlier. All of these factors will likely be taken into consideration moving forward and, indeed, more research should be conducted. 
We just need to apply realistic goals for our meditation practice. Self-knowledge and body image problems are not necessarily part of the same neurological networks. As Goleman and Davidson write, meditation should not be considered one thing but rather a series of different practices with varying effects of brain networks. Only one type of mindfulness was practiced in this study. It might not have been the right one for the intended results. 
Which is why Altered Traits is such a valuable book, and why research like this study is also consequential: mindfulness is not a one-size-fits-all therapy conducive for a variety of psychological ailments. We're still at the beginning of the exciting field of scientific research in meditation. Being realistic about what mindfulness is and is not useful for is critical as we collectively learn the best means for examining the optimal functioning of our our minds. 
--
Derek is the author of Whole Motion: Training Your Brain and Body For Optimal Health. Based in Los Angeles, he is working on a new book about spiritual consumerism. Stay in touch on Facebook and Twitter.
There are four main stages. Each has its own particular set of advancements and challenges. 
Don't you wish you could predict your child's behavior with 100 percent accuracy? Any realistic parent knows it's an impossible daydream, but an appealing one nonetheless. Kids will always surprise you. There are so many factors that go into behavior, not to mention the fact that internal and external forces can sometimes make kids act out of character.
What you can do is come to understand the stages of their neurological development and what it means for their learning and behavior. Turns out, those parents who get a good grip on how we develop neurologically, are better able to guide their children toward positive outcomes. Here's a rundown of the stages of neurological development and what they mean for parenting.
The first is the sensorimotor stage. This takes places between birth and two-years. A child at this stage is getting used to experiencing the environment through their senses. Through trial and error and from experiences with objects and sensations, they begin to master the world around them. Around age one, the child learns object permanence, the concept that an object continues to exist, even when it's left the field of vision.
According to Sarah Lytle, PhD., from the Institute for Learning & Brain Sciences at the University of Washington in Seattle, what many parents don't fully realize is that babies are also developing socially and emotionally. As such, they usually look to their parent for support. If you've ever engaged with a baby you didn't know, you'll notice the child usually turns to their parent to gauge how to respond. This act is called social referencing or social cognition. Be sure to be supportive when the child does this. This allows for more confidence and independence.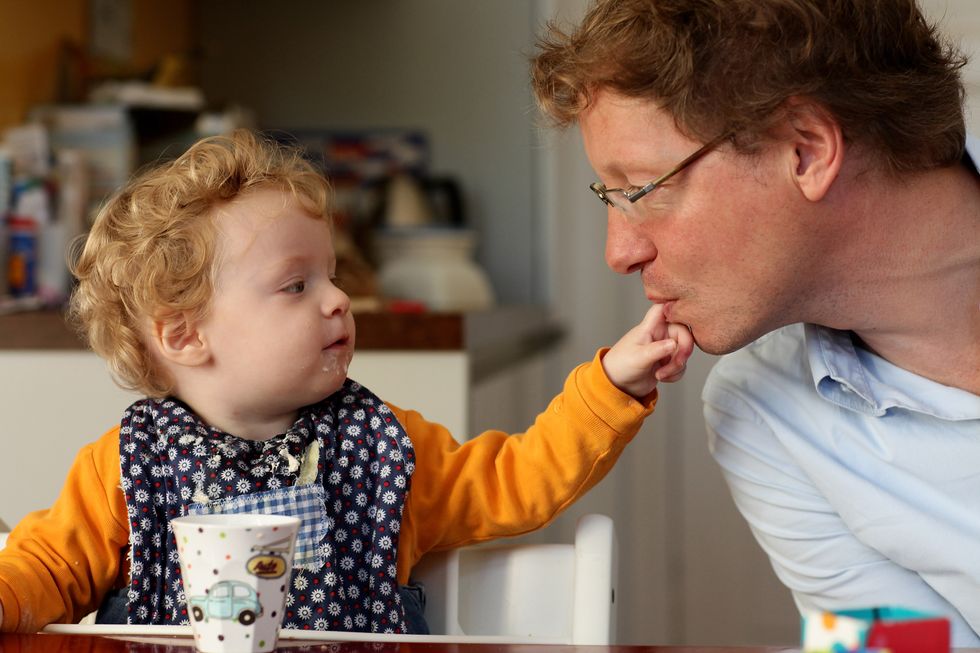 Young children understand the world through interaction with their senses. Getty Images.
A child's first word is uttered around six months of age. To help a baby develop language skills further, remember that they follow your gaze. Emphasize with your eyes by moving them slowly when introducing a new word. According to Dr. Lytle, it's okay to use a baby-talk tone. We're actually genetically programmed to talk that way. But make sure you use words correctly, in full, and in complete, grammatically correct sentences.
From age two to six or seven, a child enters the preoperational stage. Here, language skills ramp up. The child can start to think in terms of symbols, develop a numerical understanding, and begin to grasp the distinction between past and future. Children at this age do well with concrete situations. Abstract concepts, however, are difficult to grasp.
It's at age two that humans become amazed by the idea that others don't see the world quite like they do. As the parents of two-year olds are all too well aware of, this self-centered viewpoint makes it difficult for the child to share and care about others. Although a 2016 poll showed that most parents think two-year olds can control their emotions, psychologists say quite the contrary. Having a toy that they love on hand to distract them when they pull a temper tantrum is probably the best strategy.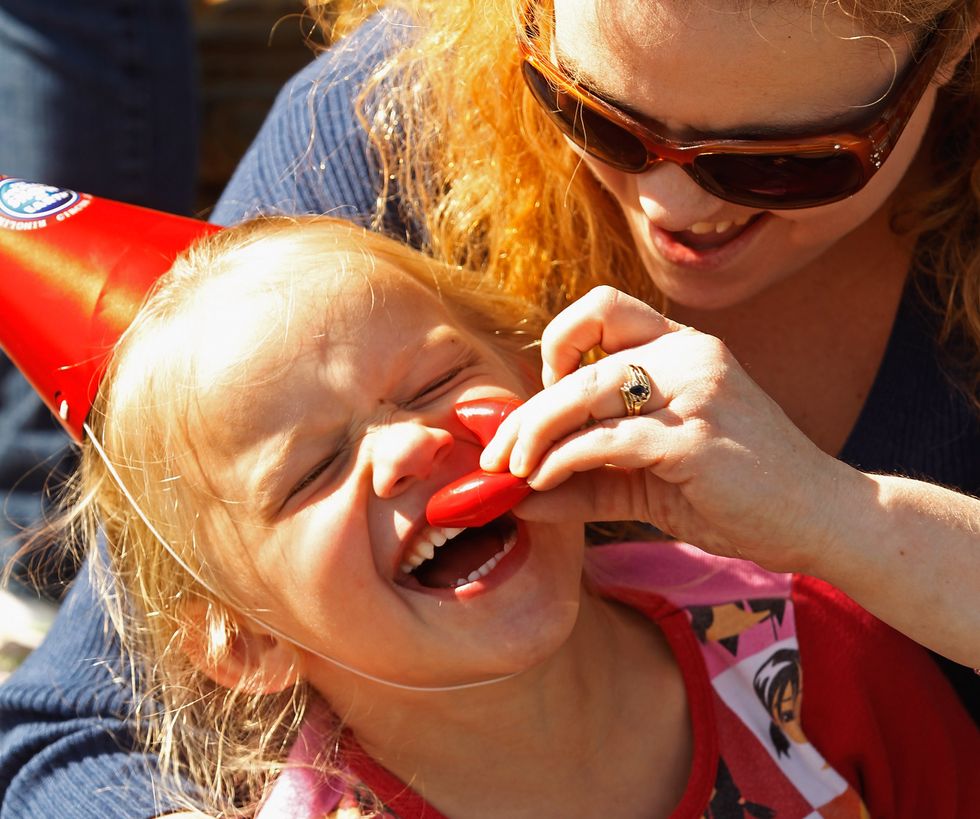 Two year-olds can't control their emotions very well. Luckily, they're distracted easily. Getty Images.
To help build empathy, parents can work at developing a child's theory of mind. This is coming to understand the perspective of others. Note this doesn't develop until the child is three or four. One famous example is the "Sally-Anne test."
Here, a child is told that Sally has a basket and Anne a box. Sally puts an object in her basket, then goes for a walk. Anne takes the object and puts it in her box. The child is asked, "Once Sally returns, where will she look for the object?" If the child understands Sally's point of view, they will say, "In the basket." Another tactic it to read them stories where they have to put themselves in a character's shoes.
From age six or seven to 11 or 12, a child enters the concrete operations stage. Seven is supposed to be the age of reason. Here, he or she can grasp abstract concepts, understand sequences of events, and empathize with others whose experiences are different from their own. Children at this stage can learn abstract mathematical concepts, but they aren't good at breaking down complex problems which require systematic reasoning. Lytle suggests keeping in mind a child's emotional development at this stage. Parents often don't realize how affected their children are by marital spats or a parent suffering something like a bout of depression.
From age 12 throughout the teen years, the child enters the formal operations stage, where he or she develops greater capacities for hypothetical thinking, abstract reasoning, and deductive reasoning. Generally, people have a good grasp of these by age 15. Moral issues like social justice and abstract ideas, such as probabilities, can be understood. Although for parents, few stages can be quite as challenging.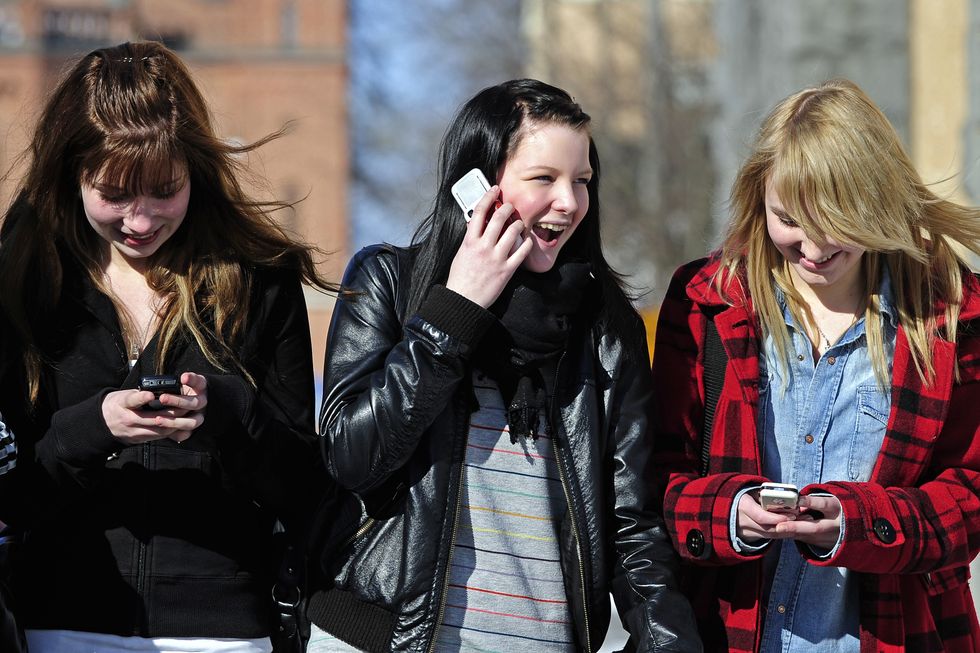 Dealing with teens is challenging because of how their brains work. Getty Images.
Teens are often moody and hypersensitive. This is usually chalked up to hormones, but it's also because their midbrain is highly active in this stage. The brain develops from back to front.
The midbrain is responsible for memory, emotion, and sexuality. It may surprise you to know that the rational part of the brain, the prefrontal cortex, isn't fully developed until around age 25. This is responsible for things like decision-making, planning, impulse control, and risk avoidance.
Teens are more likely to evaluate situations with their amygdala or emotional center. This is why they tend to get overwhelmed by their emotions, but might have a hard time expressing them. It also explains their intermittent bend toward risky behavior. Make sure to talk to them often about drugs and alcohol, the risks of unprotected sex, and so on, and give them vocabulary they can use to avoid social pressures. When a teen does make a mistake, instead of scolding or lecturing, use it as a teachable moment. Walk them through it logically. Find out in their own words what they should have done differently. This can help them develop decision-making skills.
Also, work on giving them frontal lobe tasks or doing it with them. Give them opportunities to practice problem-solving, make judgment calls, or to plan things out. Do it together or debrief once they've completed the task. Sure, raising kids is far from easy, but knowing a little neuroscience can make a real difference.
Do children develop a moral compass earlier than we think? See what one expert thinks here:
A new study from Johns Hopkins University supports making birth control pills available without a prescription.
Teenagers attend a party in a nightclub during Australian 'schoolies' celebrations following the end of the year 12 exams on November 25, 2013 in Kuta, Indonesia. (Photo by Agung Parameswara/Getty Images)
A new study from John Hopkins University supports the case that women should be able to get birth control pills without having to get a prescription from a doctor. Researchers found that oral contraceptives can be safely sold over the counter to women of all ages.
A team of experts in pediatric, adolescent and women's health reviewed years of data to come to their conclusion that the pill, already the most popular form of hormonal birth control in the U.S., should be available with even fewer restrictions. They called the need to get a prescription "a barrier to contraceptive initiation and continuation for women, in particular adolescents."
The study also pointed to the need to make it easier for teens to get contraceptives.
"Decades of research show that a majority of adolescents initiate sex before the age of 18 and that earlier use of contraception reduces the risk of teen pregnancy. Our review strongly suggests that giving teens easier access to various contraceptives will not lead to more sex but would result in fewer unwanted pregnancies," said Professor and doctor Krishna Upadhya, the paper's lead author.
In fact, the team thinks it might be easier for teens to be in a routine of taking contraceptives when the situation is removed from emotional and sexual pressures. Basically - on a cooler head.  
"Oral contraceptives are popular, safe and effective methods of pregnancy prevention for women and teens. Our review emphasizes that any future over-the-counter pill has the potential to benefit teens, and there is no scientific rationale to restrict access based on age," emphasized Upadhya.
The issue of whether women should have easier access to "the pill" is politicized and cause of  medical debate. Some doctors believe that the pill can only be taken with medical supervision due to its potential health hazards. Religious groups are also against more access to contraceptives. 
Others, like the American College of Obstetricians and Gynecologists, officially endorse the idea. Changing the law on a federal level has proved elusive so proponents of allowing over-the-counter sale of contraceptives have focused on states. Measures that let people to see pharmacists instead of doctors to get contraceptives passed in Oregon and California.   
You can read the study here, in the Journal of Adolescent Health.
A new study links reward-seeking to learning in teen brains.
Teens are not known to always make the best choices. They are ruled by the insecurities and passions of adolescence. They generally do not plan much for the future, instead living in the moment. But their behaviors, which may often be upsetting to their parents, might have a serious biological purpose, according to scientists. Opting for quick rewards and excitements, while taking unnecessary risks, might be a way for their brains to learn.
A new study published in the journal "Neuron" utilized an fMRI scanner to examine the brain activity of a group of 41 teens and 31 adults. Their focus was on the striatum, a part of the brain shown to be very active in teens seeking rewards or pleasures, as well as learning from such experiences. They also studied the activity in the hippocampus, the brain structure associated with memory. 
The researchers had their subjects play a guessing game, which rewarded players for correct answers. Teens who wanted rewards beat the game faster than adults. Interestingly, striatum activity was similar in both adults and teens during the game. What was different is the role of the hippocampus in the teens. 
"In neuroscience, we tend to think that if healthy brains act in a certain way, there should be a reason for it," explains Juliet Davidow, lead author of the study and postdoctoral researcher at Harvard University  in the Affective Neuroscience and Development Lab.
The role of the hippocampus was further evidenced by another test, where subjects performed a memory test to recall random flashing pictures that flashed on their screens during the game. 
If the picture was linked to getting the right answer, teens were more likely to remember it than adults, showing that their episodic memory was engaged during reward-seeking.
"If you're someone who focuses on learning and memory, like we do in my lab, then you don't think of reward-seeking as necessarily a bad thing. You think of rewards as something that shapes — and can have a really important role in shaping — learning," said Daphna Shohamy, a cognitive neuroscientist from Columbia University, who was also involved in the study.
Next for the scientists is figuring out whether the hippocampus and striatum work together in other age groups.
An expansive new study makes clear the extent of the problem and the importance of parents in avoiding teen drug use.
If you remember your days as a teen or have a teen in your life, you are probably aware of the role drugs play at that age. In fact, there's a good chance your teen is using illegal drugs.
A new 3-part investigation by addiction educator ProjectNow offers some remarkable statistics on the drug use by American teens. The survey conducted by the University of Michigan centered on the practices and attitudes towards drugs by about 40,000 students in 8th, 10th and 12th grades.
If you're wondering whether drug use is a widespread issue, the survey confirms that about 50% of 12th graders have used illicit drugs at some point in their lives. This number has held somewhat steady for the past 5 years, but is higher than it was, for example, in 1992 when it was at 40%.
You can see the yearly statistics of the drug usage here: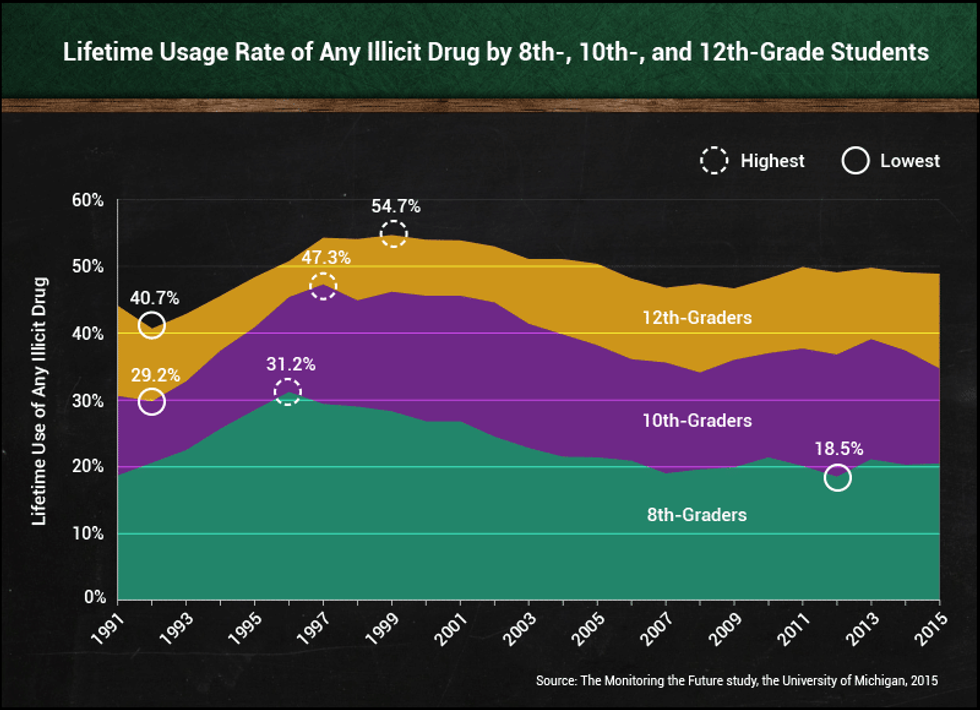 What kind of drugs are the kids using?
Alcohol is the drug of choice, with 39.9% of the teens in 8th thru 12th grades using it in the past year. It's not actually an illegal drug, but alcohol is certainly illegal for the underage kids who appear to have little trouble in getting it. What does 39.9% really mean? As of 2014, this would have come out to about 2.33 million kids between 12 and 17 years old.
Marijuana is the next most popular at 23.7%. Drugs like ecstasy, LSD, cocaine and heroin are used marginally, but an estimated 117,000 young cocaine users should sound alarming. 
Check out the past-year usage chart here: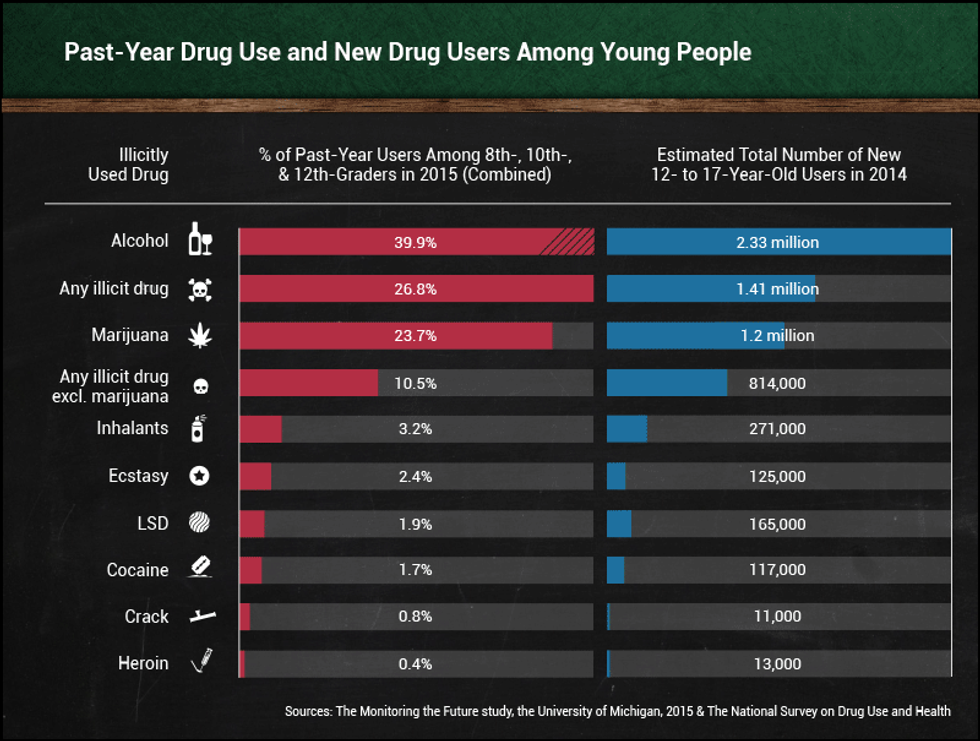 The relative popularity of the drugs being used is reflected in the attitudes of the kids towards how dangerous they are. Heroin is perceived to be dangerous by close to 85% of 10th graders and is one of the least used drugs. You can see in the chart below how the perception of cigarettes changed over time, with over 70% of the teens thinking it's dangerous, topping LSD and ecstasy in this category. Conversely, the view on marijuana experienced a drop in the other direction. 20% fewer teens think it's risky than did just 15 years ago. It's considered the least dangerous drug, even beating out alcohol. 
Here's the risk-assessment chart: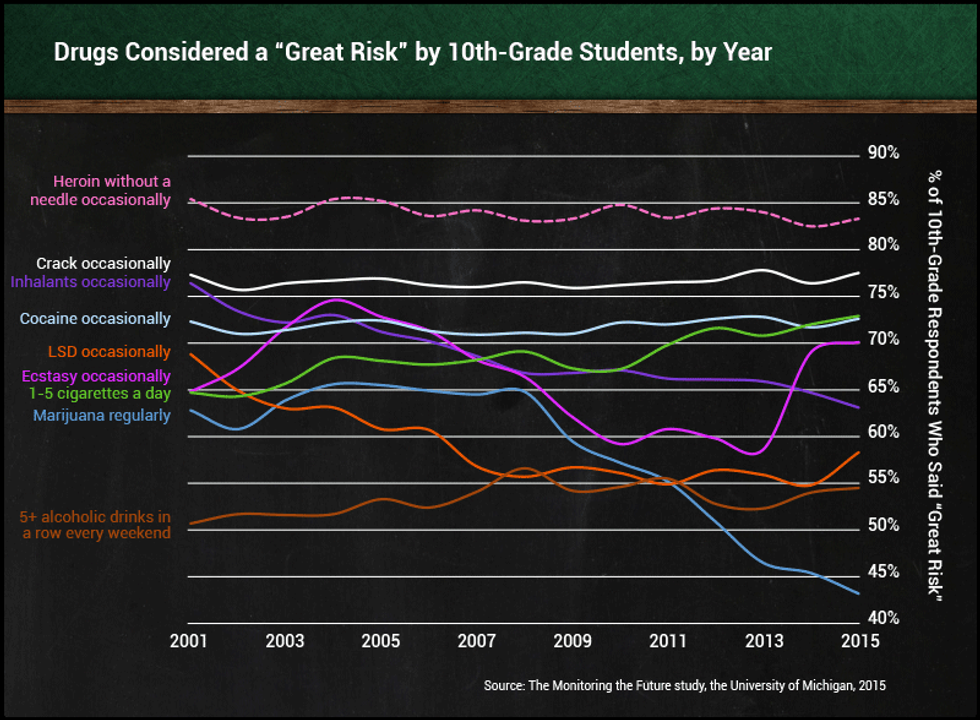 What conclusions can we draw from this fascinating information?
One further piece of the survey considers the possible reasons for the drug use by teens. It focuses on their home life and finds that the lowest drug usage is by kids who live with both their mother and father. Interestingly, kids living with only their father had higher drug usage rates than those living with only their mother. Those living without any parents had higher rates across the board, with the most significant difference being in heroine usage - that number shot up 6 times!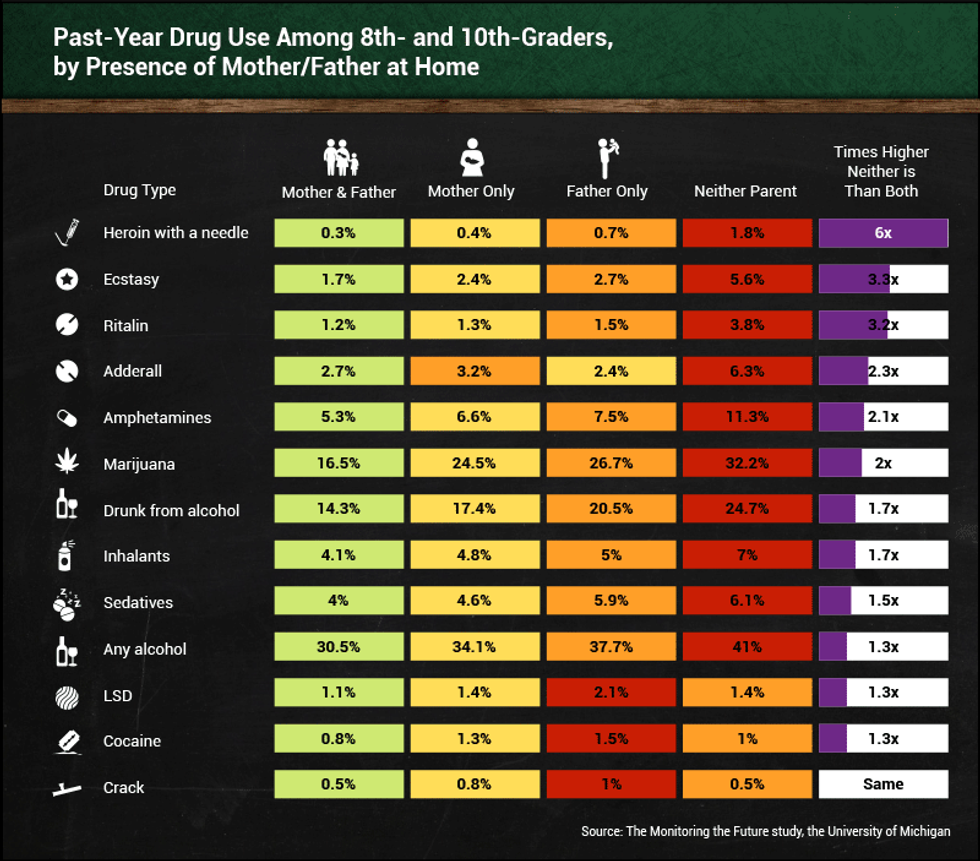 Certainly, such statistics point clearly to the importance of parental presence in the lives of their kids.
In a further focus on the role parents can play, another part of the survey demonstrates how well disciplining your children works. If you don't allow them to go out on school nights, make sure they do their homework and chores, and don't let them watch too much tv, your kids are much less likely to get drunk.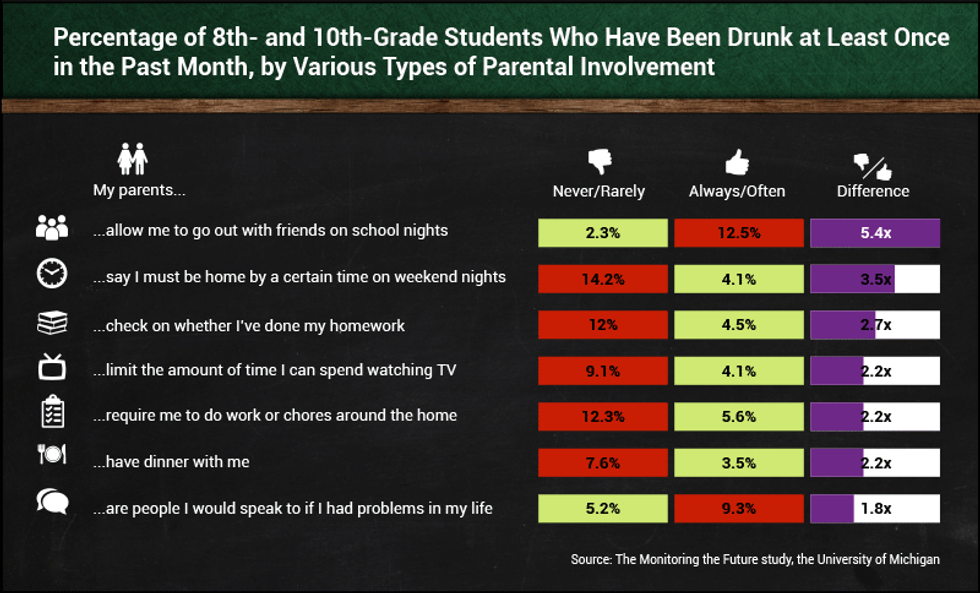 And if you think none of this matters much as "kids will be kids," we should consider the impact this behavior has on the academic performance of students. Teens who smoked cigarettes or marijuana and got drunk were much less likely to receive an A than those who didn't. In fact, cigarette smokers fared the worst, being 5 times less likely to get an A than their abstaining counterparts.
Of course, as we see, a number of factors team up to affect a kid who uses various types of drugs. Drug usage may be a symptom of larger issues as much as a problem in an of itself. But as 8th through 12th grades comprise such an important portion of an adolescent's path towards becoming a functioning adult, we must consider how adversely the future of the drug-using kids can be affected.
You can see here a clear correlation between drug usage and various "deviant" behaviors: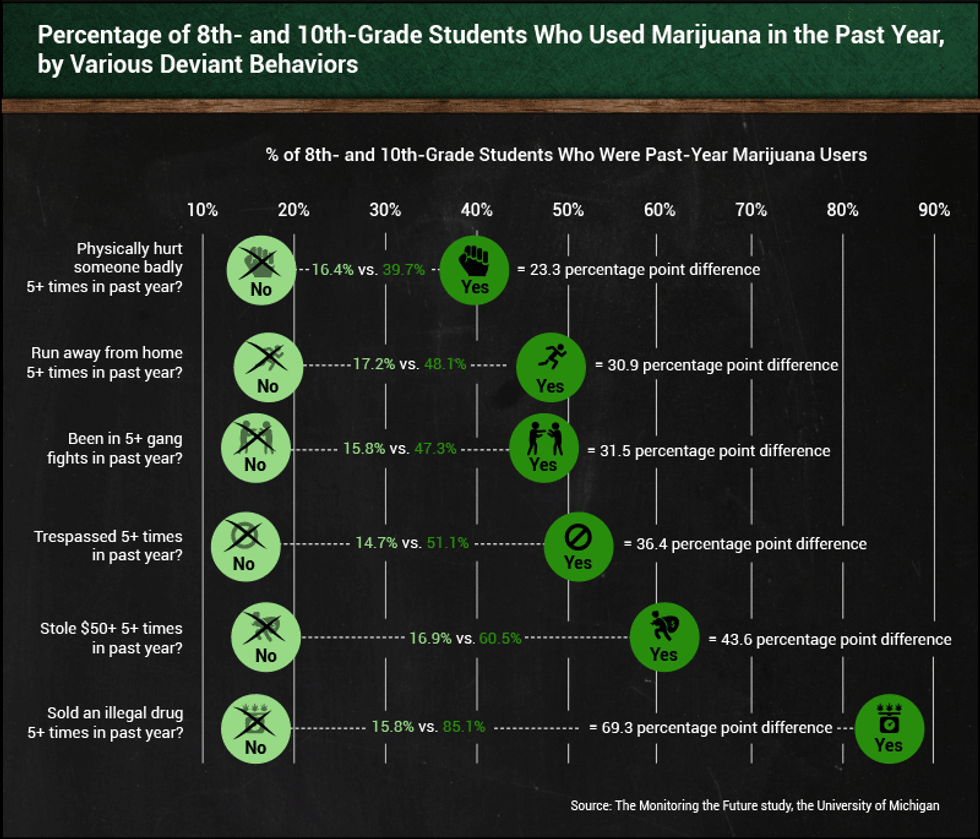 A much larger percentage of teen weed smokers got into fights, ran away from home and stole. Again, did they do so because of the drugs or were the drugs simply masking larger issues (perhaps related to their home lives)? While it's important to find out this answer, it's very visible how related is drug use to anti-social behavior.
--