With the approval of a childhood epilepsy medication the federal government can no longer claim marijuana has no medical benefit.
Demonstrators Protest DEA Raids On Marijuana ClinicsWEST HOLLYWOOD, CA - JANUARY 18: Protesters demonstrate the day after Drug Enforcement Administration (DEA) raids shut down 11 medical marijuana clinics around Los Angeles County on January 18, 2007 in West Hollywood, California. (Photo by David McNew/Getty Images)
For the first time in nearly a half-century, the federal government has approved a medication with a cannabis compound.
CBD is all the rage in health food stores, but credible research is needed to know what therapeutic applications hold up.
DEA officer says this could signal a "sea change" in the legalization of cannabis-related products.
If you're confused about the legality of marijuana, you're not alone. While states have been in perpetual battle with the federal government since California legalized the medical usage of cannabis in 1996, things have been especially heated lately with more studies proving the clinical efficacy of the cannbidiols (CBD) contained in the marijuana plant.
It doesn't help that every coffee shop and health food store is taking advantage of this trend by selling eight-dollar bottles of cold brew coffee with CBD. Mass marketization was inevitable, certainly, but the pace with which CBD hit the shelves is astounding. The fact that it's being touted to cure every possible ailment imaginable does not help us figure out what CBS is actually useful for.
The cannabis plant has approximately 113 cannabinoids, of which CBD is one—it was first isolated in 1940. CBD interacts with our body's exogenous cannabinoid receptors and neurotransmitters. Since our body comes equipped with its own endocannabinoid system, responsible for pain, mood, memory, and, yes, appetite, we likely have a very long history with this plant. The munchies are real.
Among the many proposed therapeutic uses for CBD is treating two rare forms of childhood epilepsy. Clinical studies in this domain have been so successful that, for the first time ever, the DEA has stepped in to allow prescriptions of Epidiolex. CBD will not get you high—that's THC—but for the first time since marijuana was officially outlawed in 1970 the federal government is green lighting one its compounds.
Marijuana advocates have long known its classification as a Schedule 1 substance is more political than physiological. The DEA's drug scheduling chart includes five categories:
Schedule 1: no accepted medical use; high potential for abuse. Drugs include marijuana, heroin, LSD, ecstasy, and peyote
Schedule 2: high potential for abuse and dangerous. Drugs include Vicodin, OxyContin, fentanyl, Adderall, and Ritalin
Schedule 3: moderate to low potential for abuse. Drugs include codeine, ketamine, anabolic steroids, and testosterone
Schedule 4: low potential for abuse or dependence. Drugs include Xanax, Ativan, Valium, Tramadol, and Darvon
Schedule 5: the lowest potential for abuse. Drugs include cough syrup, Lyrica, Parepectolin, and Lomotil
VENICE, CA - JUNE 09: A general view of the MedMen Abbot Kinney store ribbon cutting ceremony on June 9, 2018 in Venice, California. (Photo by Rich Polk/Getty Images for MedMen Enterprises)
Since the Nixon era, cannabis consumers have had to rely on anecdotal evidence. (As a cancer survivor, I'll chime in that edibles were way more effective at quelling post-chemo stomach pains and returning my appetite, one of the many claimed applications.) Recent research shows a wide range of therapeutic applications, including helping opioid addicts manage pain, helping everyone deal with chronic pain, deal with stress (at low doses), ease pain associated with multiple sclerosis, and may even, somewhat counterintuitively, help combat the obesity epidemic.
As with all such studies, more research is needed. Advocates should welcome this. If it turns out that compounds in the cannabis plant do not really help opioid addicts manage pain, we shouldn't use it as a calling card for legalization (although this one is holding up). Now that at least one medication is FDA-approved, however, the DEA should immediately remove marijuana from its Schedule 1 listing. Those two facts cannot co-exist without obvious contradiction.
The mainstreaming of clinical research is also necessary to reduce cost. Right now, Epidiolex will run you $32,500 annually. Parents of children suffering from seizures don't deserve that kind of pain on top of what they already have to deal with, especially not in a medication with as common an ingredient as CBD.
And we might see that day soon. Barbara Carreno, the DEA's PR officer, recently said a "sea change" is possible within the entire CBD industry. As the cash rolls in, this is likely to be the case: CBD is expected to be worth $2 billion annually by 2022. It might not get you high, but most importantly, it will be available when you actually need it.
--
Dyslexia makes letters float, rotate, and flip on a page. It turns M's into W's, q's into p's, and so on. Changing the font-face might be able to help keep the letters in place on the page.
Child asleep holding book (Wikimedia)
The debate between which is better, eBooks or page turners, has been going on for a few years. The paper books smell better, the aesthetic growing as the pages turn yellow and the ink smudges from where the stories made the reader cry.
The latest bonus in the electronic books versus printed debate is the ability to change fonts. Dyslexic-designed fonts are said to allow for more people to read with ease. There are a few options. OpenDyslexic, Dyslexie, Dyslexia Unscrambled, are just a few.
Dyslexia Unscrambled is a Google Chrome app with more than 1,000 users, and a 4.5 star rating. Dyslexie and OpenDyslexic are more well known. These fonts are designed to keep the letters from floating over a page or screen, by 'weighing them down' in their place. The letters are formed thicker in certain places and thinner in others that make it easier to read, make letters like p, q, d, and b easier to tell apart.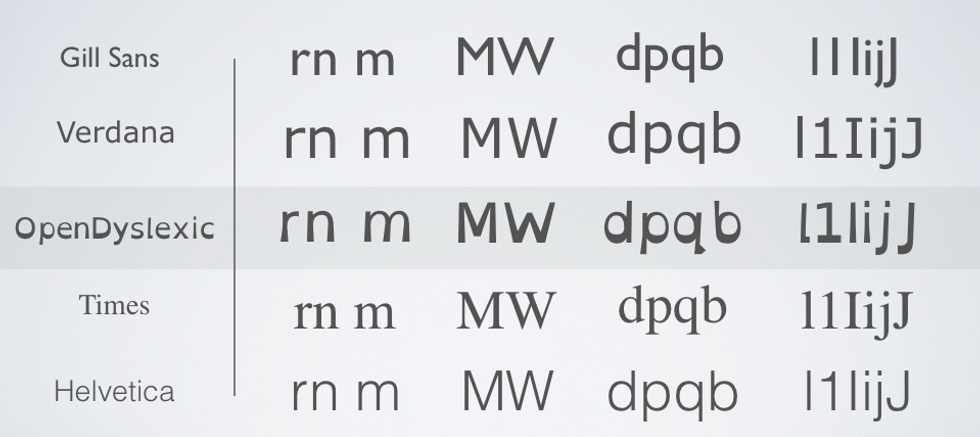 Currently there are no formal studies that state success with the fonts. However, many people cheer on the endeavors to help those with dyslexia have an easier time reading. Dyslexie was featured in Istanbul Design Biennial in November, 2014, and creator Christian Boer's work was featured on several news outlets like NBC. Boer was a graphic design student, and has posted a lot of information about how he designed each letter. Boer has presented his typeface and how it could help in a TedTalk, describing how the slight changes in 'gravity' helps the reader along. OpenDyslexic's creator Abelardo Gonzalez is upfront with the lack of research and solid results that dyslexic-fonts have. In his FAQ, he even references the question of if the typeface would work for 'everyone.'
"No, and I wouldn't imagine it would. It works for a significantly large amount to warrant continued work on OpenDyslexic. Some people like Comic Sans, Gill Dyslexic, or Verdana more. OpenDyslexic is another option that can be used if it helps you."
But what OpenDyslexia does is continue updating. The page links a reader to all the research that has been done, and Gonzalez promises to update the fonts with this research. PNAS.org released a study stating that "large letter spaces" helps with dyslexia, and currently OpenDyslexia does have the same spacing practice.
Currently, Dyslexie has over fifteen thousand likes on Facebook; coupling that with the newer OpenDyslexia, these fonts have reached and helped many people in their endeavor to read. It seems that while some don't see an improvement, many do and that is what keeps these creators going. The users of the apps have a fair amount of praise for them, so they must be doing something right. 
Watch Diamond Dallas talk about his dyslexia: