It's unlikely that there's anything on the planet that is worth the cost of shipping it back
In the second season of National Geographic Channel's MARS (premiering tonight, 11/12/18,) privatized miners on the red planet clash with a colony of international scientists
Privatized mining on both Mars and the Moon is likely to occur in the next century
The cost of returning mined materials from Space to the Earth will probably be too high to create a self-sustaining industry, but the resources may have other uses at their origin points
Want to go to Mars? It will cost you. In 2016, SpaceX founder Elon Musk estimated that manned missions to the planet may cost approximately $10 billion per person. As with any expensive endeavor, it is inevitable that sufficient returns on investment will be needed in order to sustain human presence on Mars. So, what's underneath all that red dust?
Mining Technology reported in 2017 that "there are areas [on Mars], especially large igneous provinces, volcanoes and impact craters that hold significant potential for nickel, copper, iron, titanium, platinum group elements and more."
Were a SpaceX-like company to establish a commercial mining presence on the planet, digging up these materials will be sure to provoke a fraught debate over environmental preservation in space, Martian land rights, and the slew of microbial unknowns which Martian soil may bring.
In National Geographic Channel's genre-bending narrative-docuseries, MARS, (the second season premieres tonight, November 12th, 9 pm ET / 8 pm CT) this dynamic is explored as astronauts from an international scientific coalition go head-to-head with industrial miners looking to exploit the planet's resources.
Given the rate of consumption of minerals on Earth, there is plenty of reason to believe that there will be demand for such an operation.
"Almost all of the easily mined gold, silver, copper, tin, zinc, antimony, and phosphorus we can mine on Earth may be gone within one hundred years" writes Stephen Petranek, author of How We'll Live on Mars, which Nat Geo's MARS is based on. That grim scenario will require either a massive rethinking of how we consume metals on earth, or supplementation from another source.
Elon Musk, founder of SpaceX, told Petranek that even if all of Earth's metals were exhausted, it is unlikely that Martian materials could become an economically feasible supplement due to the high cost of fuel required to return the materials to Earth. "Anything transported with atoms would have to be incredibly valuable on a weight basis."
Actually, we've already done some of this kind of resource extraction. During NASA's Apollo missions to the Moon, astronauts used simple steel tools to collect about 842 pounds of moon rocks over six missions. Due to the high cost of those missions, the Moon rocks are now highly valuable on Earth.
Moon rock on display at US Space and Rocket Center, Huntsville, AL (Big Think/Matt Carlstrom)
In 1973, NASA valuated moon rocks at $50,800 per gram –– or over $300,000 today when adjusted for inflation. That figure doesn't reflect the value of the natural resources within the rock, but rather the cost of their extraction.
Assuming that Martian mining would be done with the purpose of bringing materials back to Earth, the cost of any materials mined from Mars would need to include both the cost of the extraction and the value of the materials themselves. Factoring in the price of fuel and the difficulties of returning a Martian lander to Earth, this figure may be entirely cost prohibitive.
What seems more likely, says Musk, is for the Martian resources to stay on the Red Planet to be used for construction and manufacturing within manned colonies, or to be used to support further mining missions of the mineral-rich asteroid belt between Mars and Jupiter.
At the very least, mining on Mars has already produced great entertainment value on Earth: tune into Season 2 of MARS on National Geographic Channel.
It illustrates the dangers of rip currents.
Photo: Rosalind Beckton
A Saturday evening outing on a Panama City Beach took a grave turn when Roberta Ursrey noticed that her two young boys, 8 and 11, were boogie boarding much farther away when she last saw them. And then they started to scream and cry that they were stuck. A rip current was holding them and others hostage in about 15 feet of swirling water. Among them also were an elderly Chinese couple and a woman who first came out to help the boys and also became trapped.

Ursrey was warned against going out to help her sons, but she, her husband and her nephew swam out, trying to save them. Unfortunately, they too got caught by the treacherous rip current. Ursrey's 67-year-old mother, who also rushed out to the rescue, suffered a massive heart attack during the horrid experience, nearly dying.
I honestly thought I was going to lose my family that day," Ursrey said in an interview with Northwest Florida Daily News. "It was like, 'Oh God, this is how I'm going.'
But, thankfully, that's not what happened. Jessica and Derek Simmons came out to have a last-minute dinner on the beach and noticed a commotion. People were pointing to what Jessica first thought what was a shark. When she realized what was really happening, Jessica, who is a strong swimmer, grabbed a boogie board and rushed out to help.
These people are not drowning today," Simmons recalled saying to herself. "It's not happening. We're going to get them out."
In the meantime, her husband and a few others started to organize a human chain. It soon grew to over 80 people, stretching more than a 100 yards out to the swimmers in the rip current. Simmons paddled past the chain, first coming across Roberta Ursrey, who was in a terrible state after drinking too much water.
"When I got there, there was 2 small children, a mother, a grandmother, a older son and a Chinese couple telling me they was so tired, that they just couldn't do it anymore. They tell me to save the kids first, so I gave the little boy a boogie board and told the mom to hang on to it," wrote Jessica Simmons on Facebook.
All the caught swimmers were getting very tired, so Simmons, her husband and a few others started to tow them to the human chain, which then pulled them all the way back to shore.
Ursrey blacked out as she was being pulled to safety, while her mother had a heart attack, still in the water. She told the rescuers to "just let her go" and save themselves.
"That's when the chain got the biggest," Ursrey said to the Washington Post. "They linked up wrists, legs, arms. If they were there, they were helping."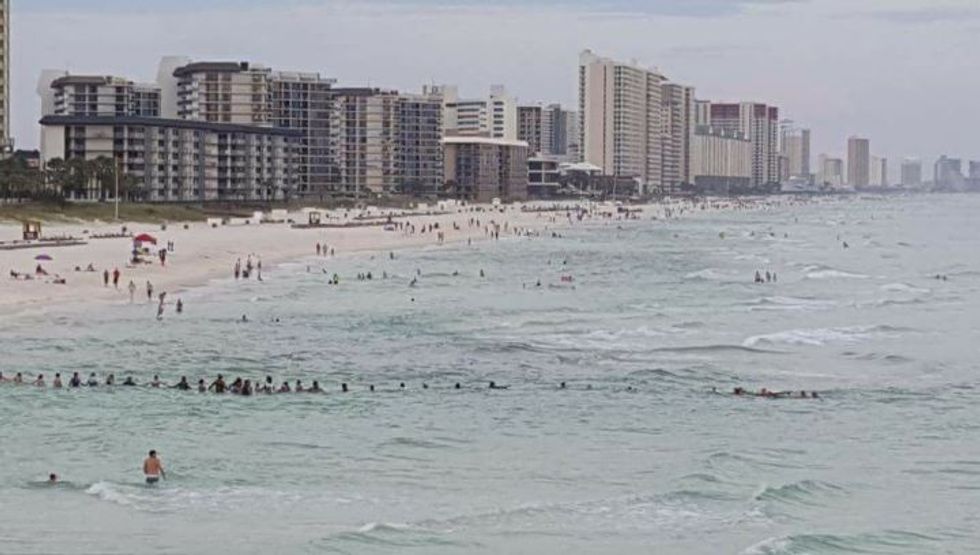 Credit: News Herald/Roberta Ursrey
It took almost an hour, but everyone was saved. The beach broke in applause as the last stranded swimmers came back on the shore.
Ursrey's mother is still in the hospital after coding in the ambulance. Ursrey expressed how she felt towards the people who helped them:
"I am so grateful," Ursrey said. "These people were God's angels that were in the right place at the right time. I owe my life and my family's life to them. Without them, we wouldn't be here."
This story of basic humanity and selflessness in helping others in distress is sure to resonate in these times of divisiveness and rancor. As many on social media have already expressed, this near-tragedy was prevented by a growing group of strangers who happened to be on the beach at that time. Didn't matter if they were Republicans or Democrats. No racial, religious or national divisions. Even people who couldn't swim themselves stood up to their necks in the water, trusting their fellow men to hold on to them, while trying to save others.
"To see people from different races and genders come into action to help TOTAL strangers is absolutely amazing to see!! People who didn't even know each other went HAND IN HAND IN A LINE, into the water to try and reach them. Pause and just IMAGINE that," wrote Jessica Simmons in her Facebook post.
Getting some early flack are members of law enforcement who were apparently present at the scene but chose to wait for a rescue boat. Simmons noted her disappointment that they didn't help in the human chain either.
Despite that, the emotional story has a happy end and demonstrates the need for beachgoers to know more about rip currents.
Rip currents are strong, narrow currents within a surf zone that move quickly away from shore. They can extend out up to a 100 yards and reach speeds of up to 5 mph. It's like a river running out to sea, cutting through the breaking water. Clearly that is a dangerous situation to find yourself in and people often panic, making decisions that exacerbate the problem. Such currents kill up to a 100 Americans every year, while nearly 50,000 get rescued by lifeguards.
They often occur after a storm, being strongest at low tides, but can happen at any times. The most powerful current can pull at 8 feet per second — the pace of a world-record Olympic freestyler.
Scientists have made many advancements in the past decade in studying rip currents, relying on new technology like GPS-equipped drifters that can be tossed in the surf. These drifters can track rip current movement and speed with precision.
Check out this video on rip current science, including the telling footage by scientists from the UNC Coastal Studies Institute, who used fluorescein dye to track the currents in a surf zone:
If you are trapped in a rip current, it is generally recommended to not counter the current by attempting to swim straight back to shore. This increases the risk of drowning due to fatigue. Instead, the National Ocean Service recommends swimming parallel to the shore and then, once you're out of the trap, start going back ashore at an angle.
Controversial new research by rip current expert Jamie MacMahan also says that struggling against the current may be counterproductive. He argues that a swimmer doesn't really know which way the current is flowing, taking a 50/50 chance to be swimming against the current if choosing the wrong direction. He recommends just floating, saying that in a few minutes, the swimmer will generally float back to shore. This advice has some detractors, however, who find the approach akin to giving up and potentially being more deadly.
Here's a video from Australian scientists on how to survive beach rip currents:
A chorus of new science is showing that evolution has orchestrated life to leave no room for solos. A grander view of life is revealing higher-level, need-centric relational logic patterns (as in David Haskell's The Songs of Trees).
Illustration by Julia Suits, The New Yorker cartoonist & author of The Extraordinary Catalog of Peculiar Inventions
1. "The fundamental unit of biology is... not the 'self' but the network," says David Haskell in his mind-quaking book The Songs of Trees. He's right. That other basic unit of biology, the selfish gene, gets too much glory. All life needs relationships.
2. Trees show that life's seeming individuality is "a temporary manifestation of relationship." A tree "is not an individual made of plant cells, but a community of cells" from many species, "fungus, bacteria, protist, alga, nematode, and plant."
3. Many ocean-going microbes have evolved so that "their DNA cannot meet basic needs… The smallest viable genetic unit… is… the networked community" (separation means death).  
4. Such relationship dependence is not rare, it's the rule: "Microbe-free plants... would quickly die." And microbe-lacking animals don't thrive.
5. These life-enabling collectives are called holobionts. "Every natural animal and plant is a holobiont consisting of the host and diverse symbiotic microbes and viruses."  
6. Genome gaps, and holobionts, show that evolution has discovered the joys (and woes) of specialization and division of labor — and its resulting interdependence (life teems with unseen teamwork).  
7. That a "smallest viable genetic unit" often isn't all contained in a single genome complicates the idea of evolutionary fitness. We've long known about beyond-your-body genetic interests in "inclusive fitness": Kinship alters "selfish gene" calculus (loosely, it's worth risking your life "to save two brothers or eight cousins").
8. But holobionts and Haskell's networks suggest further kinds of inclusive (or collective) fitness, based on degree of dependence (not kinship). Somehow the logic of genes must embody and enact relational fitness (or collective survival knowhow) to handle extra-genomic relationships essential to survival (see extended "survival vehicles").
9. At these higher or networked levels of life organization, collections of relationships sink or swim together (see bacterial social contracts in "Survival of the Friendliest").
10. These networked communities exhibit intelligence and behavioral responses at individual and collective levels (at nodes, and in relationships, and systemically). Nodes that damage their networks, harm themselves (see needism).
11. Haskell says "to claim that forests think is not an anthropomorphism" (they collectively take in, process, and react to environmental information).
12. Gene-centric views have struck too selfish a note, and other perspectives can reveal richer patterns. For example, a gene's-eye view casts bodies as short-lived ways for ("immortal") genes to replicate. But Haskell's networks of relationships also outlast bodies. And the logic of extra-genomic relationships constrains the "immortality" of genes (see unnamed natural laws that constrain evolution).
13. Haskell's grander view of life helps reveal new need-centric relational logic patterns (see extending Turing to the logic of "universal survivors").
14. Every "self" is a society. No lone life can last long. Evolution has orchestrated life to be relational. And don't forget Orgel's 2nd rule: Evolution is cleverer than you.
PS Even physics is getting relational.
-- 
Illustration by Julia Suits, The New Yorker cartoonist & author of The Extraordinary Catalog of Peculiar Inventions
The state of nature isn't a "war of all against all." Even no-brainer bacteria "know" that sometimes the game is "Survival of the Friendliest"
Illustration by Julia Suits, The New Yorker cartoonist & author of The Extraordinary Catalog of Peculiar Inventions
1. Life's games are not all "red in tooth and claw" fights. And you need no brain to see that a "war of all against all" might not be the best way. Even single-celled bacteria "know" that.
2. In "Survival of the Friendliest" Kelly Clancy describes the evolutionary logic of relationships beyond rivalry (e.g, "friendships" deep enough to defend common interests, sometimes a "snuggle for survival"). 
3. For instance, ~98% of bacterial species don't thrive outside mixed-species colonies.
4. "Bacteria are not self-sufficient: They've co-evolved to depend on each other." They've discovered division of labor, specialization, and cooperation.
5. That specialization is a game-changer. You now need co-workers. If they don't thrive, you don't. You're in a collective extended "survival vehicle" relationship.
6. In a kind of no-brainer biochemical "social contract," bacterial colonies, like human communities, have to handle the "common good" (suppressing cheating, free-riding, the "tragedy of the commons," etc).
7. For instance, "helper" species that "provide a common good… may come to be shielded from competition by the species that rely on them, as happens with corals" (not protecting common goods can lower your fitness).
8. Such interdependent survival logic pervades biology (e.g., all "selfish genes," all trees, all animals).
9. Humans are also deeply "self-deficient" (likely the most common-goods-needing and other-dependent species ever). We dominate because we're the best cooperators (Yuval Harari).
10. This is a case of what Daniel Dennett calls "free-floating rationales": logic patterns that are inherent in situations but aren't contained in (or "known" to) the elements or players involved (they're free-floating, distributed, relational, systemic).
11. Evolution is itself a free-floating logic pattern (for discovering other, ever more effective logic patterns, and enacting "competence without comprehension"). And it "knows" (has mindlessly discovered) that cooperation can improve productivity (if team-threatening cheating is suppressed).
12. Evolution's logic is like geometry's: in both relevant patterns and results arise from the intrinsic logic of the elements involved. In geometry, it's lines, planes, etc. In evolution it's kinetic functions like survival, varying replication, and adaptation.
13. Evolution creates code-like "algorithms in motion" (Vikram Chandra). Logic that changes the world.  
14. Unnamed natural laws (free-floating patterns) likely constrain evolution (imposing kinetic logic limits like: negative telos, Turing-inspired universal survivor, cooperation-preserving Golden Punishment Rule, and needism).
daniel-dennett-memes-101
-- 
Illustration by Julia Suits, The New Yorker cartoonist & author of The Extraordinary Catalog of Peculiar Inventions
A new study reports that 32,000 lives could be saved annually if every doctor in the U.S. was female. What can this teach medical institutions about best practices?
A doctor treats a patient at the resuscitation unit at the Argenteuil hospital in the suburbs of Paris. (Photo credit Fred Dufour/AFP/Getty Images)
A recent study published by the Journal of the American Medical Association (JAMA) investigated a rather simple question: Are patient outcomes affected by the gender of your doctor? The answer appears to be yes, though you wouldn't understand the tenuous nature of this response by the headlines. More surprising than the researchers' discovery has been the media response.
First, the study. A team led by Yusuke Tsugawa looked at four years of Medicare fee-for-service beneficiaries treated by general internists for a condition that resulted in a hospital visit: a total of 1,583,028 patients for mortality, 1,540,797 for readmission. This represents a random 20 percent sample of total Medicare patient visits during the period from January 1, 2011, to December 31, 2014.
The result? Patients treated by female doctors experienced a lower mortality rate, 11.07 percent versus 11.49 percent, which researchers state is statistically significant at 95 percent confidence interval. Readmissions were also significant at 95 percent, 15.02 versus 15.57 percent.
A few potential reasons cited:
Literature has shown that female physicians may be more likely to adhere to clinical guidelines, provide preventive care more often, use more patient-centered communication, perform as well or better on standardized examinations, and provide more psychosocial counseling to their patients than do their male peers.
This study has significant value in how patients are treated moving forward. Will it increase dialogue between genders about best practices in hospitals? Will specific mechanisms that explain these differences be researched? Are patients going to start requesting female doctors more often? As with all research, it will lead to more research. If lower mortality and readmission are the goals these follow-up questions are necessary.
The Verge jumped on the study a bit differently, with the blaring title, "Patients treated by female doctors less likely to die than patients treated by men, new study shows." After linking to the research in the first paragraph, the second is a diatribe against gender pay gap and the myth of domestic responsibilities—both important issues, but irrelevant to the topic at hand.
The author goes so far to state the importance of "comparing apples to apples" instead of "apples and oranges," which is exactly what she does a few paragraphs before. This study was focused on patient outcomes, not longstanding economic issues in the medical field.
Over at The Atlantic the headline reads, "Evidence of the Superiority of Female Doctors." The author does not wait for the second paragraph to discuss the pay gap—it's the very first sentence. In fact, this entire article is a platform for equal wages among medical professionals.
What's interesting is neither article questions the statistical significance of the JAMA study. Ninety-five percent confidence interval is treated as gold standard by most researchers, but a more relevant marker would be at the 99 percent interval. Are the results above statistically significant at this more accurate standard?
There's no denying that there appears to be a difference; according to the researchers, 32,000 lives could be saved if every doctor is female. While it's hard to quantify disease in such a way—other factors, such as post-operative care, quality of personal relationships, even the patient's view from their hospital window or if the facility is equipped with a garden—are all factors.
This is an impossible number to factor in an improbable situation. So we have to work with what is in front of us. Gender pay gap is an important topic in all professions. But taking what is potentially important information for the people that matter most—patients—and co-opting it to make another point takes away from what should be discussed: best practices. 
--
Derek's next book, Whole Motion: Training Your Brain and Body For Optimal Health, will be published on 7/4/17 by Carrel/Skyhorse Publishing. He is based in Los Angeles. Stay in touch on Facebook and Twitter.