Research on ghost sightings reveal underlying manifestations that affect us in weird ways.
Once, in middle school, a gang of boys and I were lured to a spot behind the Dunkin' Donuts in our town. We went after dark, to a place where a kid from school witnessed a paranormal experience. Once there, we saw nothing. We chided our classmate until suddenly, a column of white light appeared out of nowhere. We scattered.
It sustained itself for a few minutes. Then suddenly, it cut off. A few moments later, just as mysteriously, it went on again. We stayed there quietly studying it, scared out of our minds. Until someone in our group finally pointed out a streetlight overhead. The bulb was getting old. That was the last time I believed in ghosts.
Do you? If so, you're in good company. 45% of Americans do. In one poll, 28% of them admitted they'd had contact with one, personally. Senior research fellow at the Committee for Skeptical Inquiry Joe Nickell is the world's sole, full-time, scientific paranormal investigator. After five decades of research, he hasn't turned up a shred of evidence that points to the existence of ghosts. Magicians Harry Houdini and James Randi arrived at a similar place.
It's not for lack of trying. In a video for Vox, Nickell says he's employed blood pattern analysis, linguistic analysis, aspects of psychology, and more. It isn't just him. Not one haunting or ghost sighting has ever rendered any evidence.
One of the problems is, it's hard to grab raw data. All we usually have is a personal account. And these vary widely. One person will interact with an actual human figure, while another will observe mere objects flying across the room. There are a few grainy, blurs in some photos. But it's hard to extrapolate from that.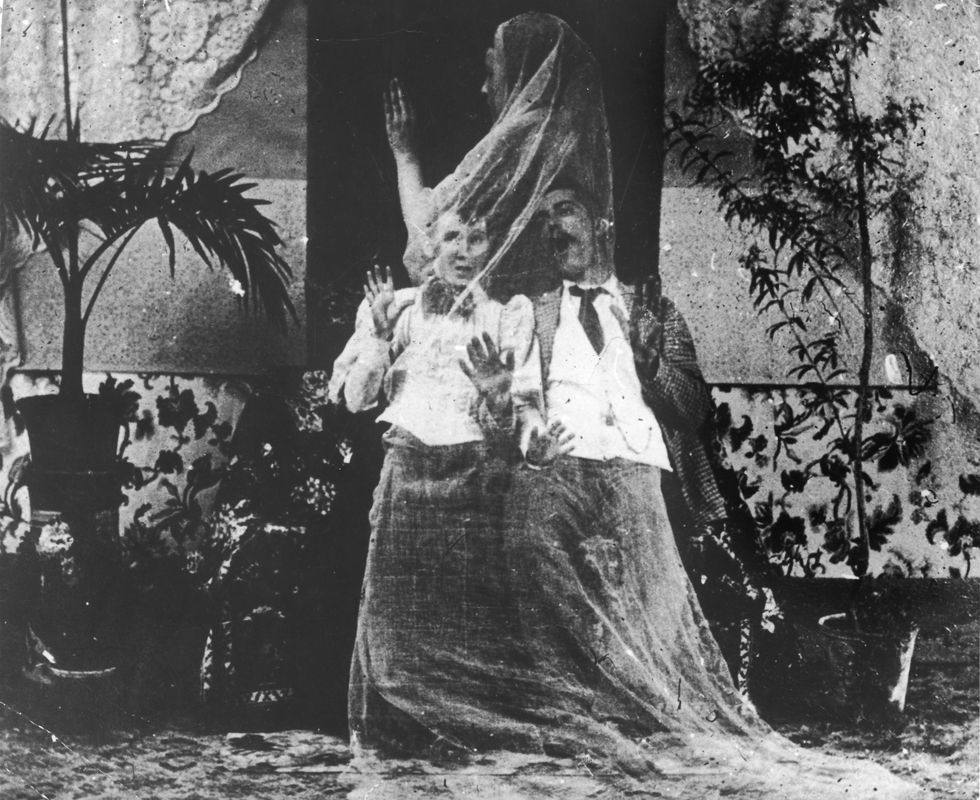 Photographic evidence such as this isn't enough to go on. Getty Images.
Though electromagnetic field (EMF) meters have been made popular by movies like Ghostbusters and TV shows such as Paranormal Lockdown and Ghost Hunters, there's no scientific proof of any link between supernatural phenomenon and the magnetic field. Despite a general lack of evidence, such experiences feel poignant and real.
In a recent TED talk, Carrie Poppy explains her brush with the paranormal, how it made her feel, and later on, what she came to realize about it. She's the co-host of the popular podcast Oh No Ross and Carrie, which explores and demystifies spiritual, religious, and paranormal topics, among others, through a scientific lens.
At the time her ghost sighting occurred, she was alone in her house. Suddenly, she felt a presence. Poppy felt like she was being watched. The feeling grew and grew and as it did, a pressure began to build inside her chest. The feeling increased slowly over the course of a week and rose to a fever pitch. She started to hear whispering sounds and became convinced that her house was haunted. Poppy tried to do a cleansing by burning a sage stick and other things. But no matter what she tried, the pressure on her chest got worse. It was also growing painful.
Finally, she took to the internet and arrived on a ghost forum for skeptics. She told them what she was experiencing and one of them said she had the symptoms for carbon monoxide poisoning. These include pressure on the chest and auditory hallucinations. The utility worker who rectified the problem, told her that if she hadn't of gotten it fixed when she did, she wouldn't have been alive the next morning.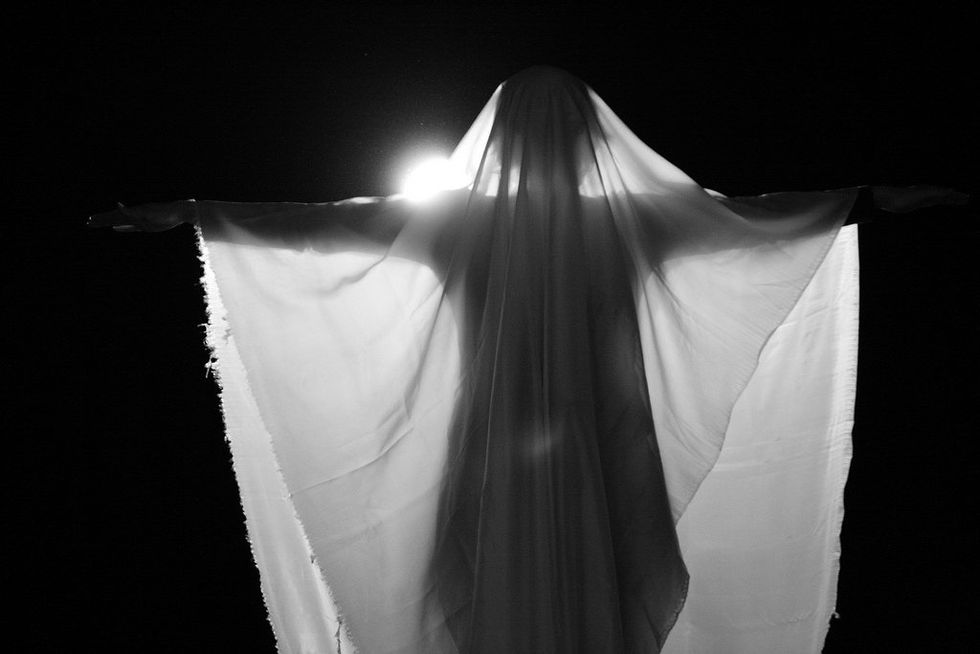 There are many scientific explanations for ghost sightings. Ghost. By: Jordi Carrasco. Flickr.
The process by which one experiences something that isn't there is called misperceived self-representation. So what else might induce this, besides carbon monoxide poisoning, brain damage, or an episode related to mental illness? Well, several things actually. There is a condition called sleep paralysis for one, also known as waking dreams.
This affects around 8% of the population. It usually occurs in the twilight hours of the morning, when one is between a waking and dreaming state. You can't move your body and sometimes experience visual hallucinations. Grief also tends to increase the chances of a ghostly encounter. Psychologists say it might be a way for the mind to process and deal with loss. Usually, the person they see is a comforting figure who appears serene.
Another ghost-inducing phenomenon is called infrasound. This is a vibration that occurs below our normal range of hearing. That's below 20 hertz (Hz). Certain machinery (like engines), whales, and extreme weather can all cause infrasound.
Some studies suggest that it can result in symptoms including feelings of depression, the chills, and the sneaking suspicion that someone is watching you. According to Hayden Planetarium director and astrophysicist Neil deGrasse Tyson, infrasound at 18 Hz vibrates at such a rate that the eye can pick it up, which might cause visual hallucinations.
So if you or someone you know claims to have seen a ghost, believe them. But also, look for what evidence or phenomenon might be behind the sighting. You could end up finding a faulty lightbulb was the culprit all along.
To learn about the science behind ghost sightings, click here: 
Altered states of consciousness are documented across cultures, from shamans to Silicon Valley coders. As different as these experiences seem, there are four neurological features they all have in common.
Transcendent experiences that were once attributed to gods, angels, muses, or even possession, are now being demystified by neuroscience. Jamie Wheal, Director of Programs at the Flow Genome Project, explains that each culture has unique rituals and narratives when it comes to non-ordinary experiences of consciousness or 'altered states', whether that's mediation, flow state, psychedelic experiences, or others. A farmer in India, a peasant in Mexico, and a coder in Silicon Valley will all have vastly different ways of approaching altered states, and will give vastly different descriptions once they come out the other side – perhaps they saw a vision of Ganesh the elephant God, received a message from the Virgin of Guadalupe, or produced a brilliant line of code while in a Matrix-like binary blur. However, those experiences are more alike than we think. Jamie Wheal and Steven Kotler devised a functional framework so they could compare non-ordinary experiences across cultures. Here, Wheal explains that they identified four common elements of altered states of consciousness, which they coined as STER: selflessness, timelessness, effortlessness and richness. Jamie Wheal and Steven Kotler's book is Stealing Fire: How Silicon Valley, the Navy SEALs, and Maverick Scientists Are Revolutionizing the Way We Live and Work.
Jamie Wheal and Steven Kotler's book is Stealing Fire: How Silicon Valley, the Navy SEALs, and Maverick Scientists Are Revolutionizing the Way We Live and Work.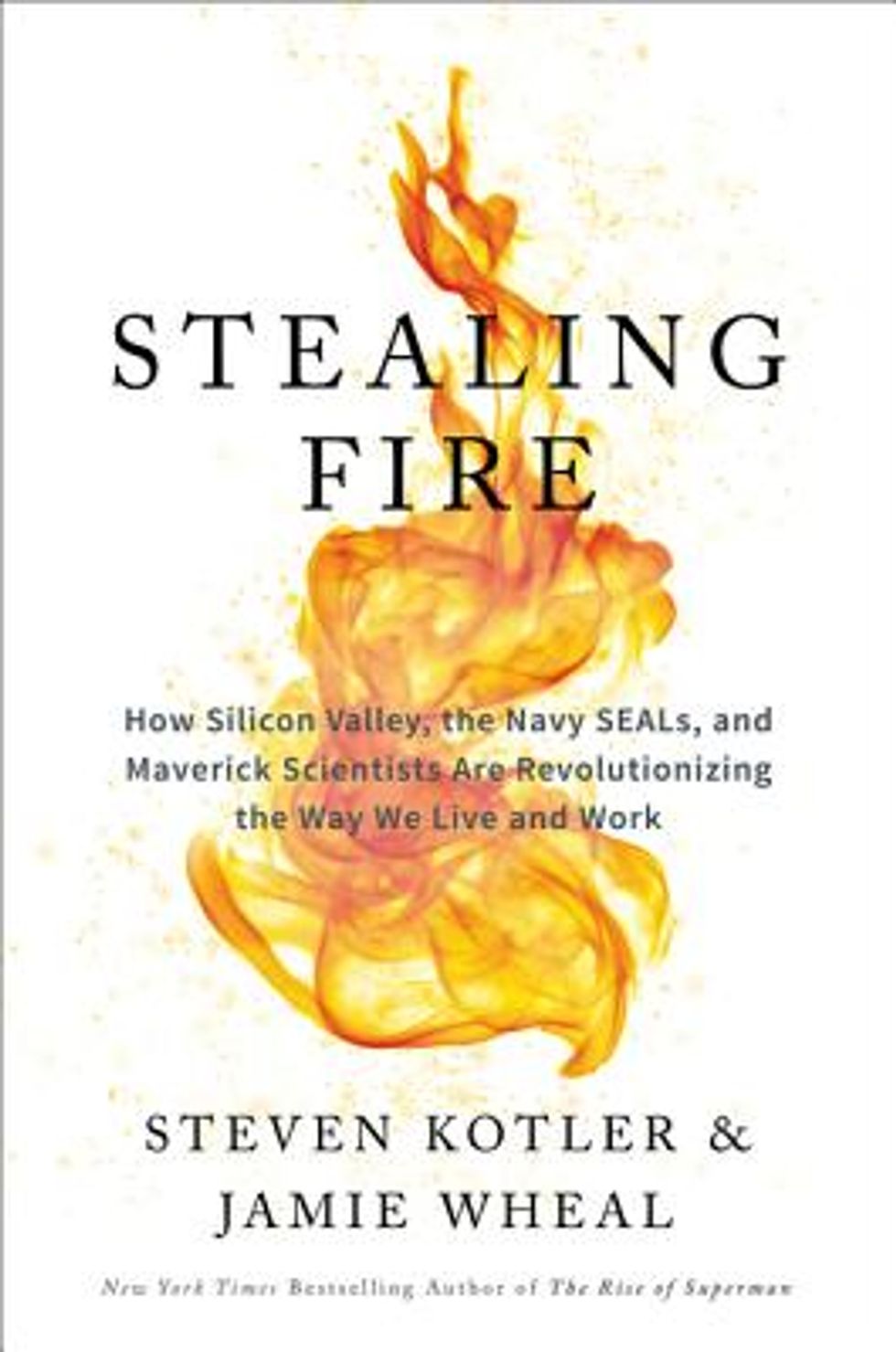 There are many scientific explanations for ghost sightings. This is the first ever to involve CERN. 
CERN.
40% of Americans believe in ghosts. For them, a remark by a famous leading scientist, regarding the large hadron collider (LHC), at CERN, may provide consternation. On the border of Switzerland and France, 300 ft. below the picturesque suburbs of Geneva, lies a vast, underground facility, five miles across and seventeen miles in circumference. This is one of science's greatest achievements.
Using super-conducting magnets, scientists pit protons against one another in a subatomic game of chicken, smashing them together at nearly the speed of light, and thus creating tiny versions of the Big Bang. Scientists record what new particles result from the collision.
The LHC has yielded some amazing discoveries, including insights into particle decay, and the discovery of the Higgs boson or "God particle," which lends everything mass. The particle was hinted at. But its discovery, which garnered the Nobel Prize, fills a unique hole and allows scientists to further close the gap between relativity and quantum mechanics.
Not only is CERN a success story in terms of science, but also in international cooperation. In an age of resurgent nationalism, 10,000 scientists from 100 different countries work together there in peace and harmony. Of course, those believing in the same overarching system can get along regardless of origin, while the relationship between the religiously minded and the scientifically prone seems to be on the outs once again.
Religion and science haven't exactly gotten along over the centuries. And controversies between the two have flared up from time to time. Yet, it seems confidence in science and its principles, at least in the US, has been relatively constant from the middle of the 20th century, up until the last couple of decades or so.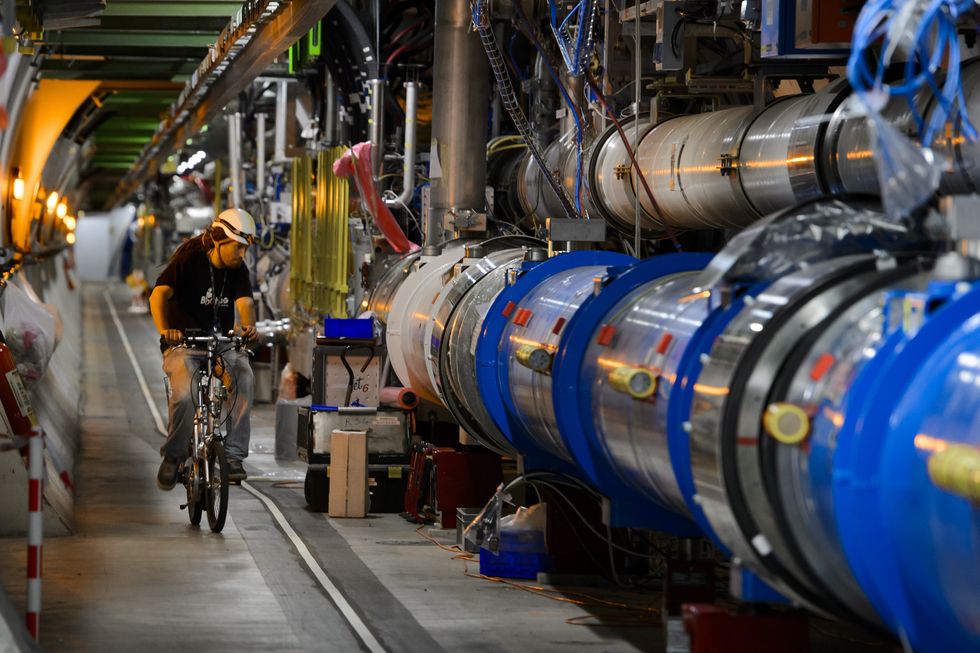 Photons need a long space in order to reach the kinds of speed necessary to create a mini-Big Bang.
Today, science is once again under scrutiny by segments of the population. Evolution, climate change, and even vaccines have been skewered by skeptics. CERN isn't safe. A ridiculous hoax on the internet appeared in August, alleging that CERN scientists took part in a satanic human sacrifice.
This shift is so pronounced, that the new dean of Harvard Medical School, George Q. Daley, warned in a recent Washington Post interview, that we are moving into a pre-Enlightenment era, where ideology molds reality rather than facts. This announcement about ghosts and CERN may act as a driving wedge, forcing these two camps even further apart.
So who said what? University of Manchester particle physicist and media personality, Brian Cox, may have sparked off a controversy. He said, during BBC Radio Four's, The Infinite Monkey Cage program, "I want to make a statement: We are not here to debate the existence of ghosts because they don't exist."
He went on to explain:
If we want some sort of pattern that carries information about our living cells to persist then we must specify precisely what medium carries that pattern and how it interacts with the matter particles out of which our bodies are made. We must, in other words, invent an extension to the Standard Model of Particle Physics that has escaped detection at the Large Hadron Collider. That's almost inconceivable at the energy scales typical of the particle interactions in our bodies.
Astrophysicist and media personality Neil deGrasse Tyson, who was also a guest on the show, clarified by saying, "If I understand what you just declared, you just asserted that CERN, the European Center for Nuclear Research, disproved the existence of ghosts."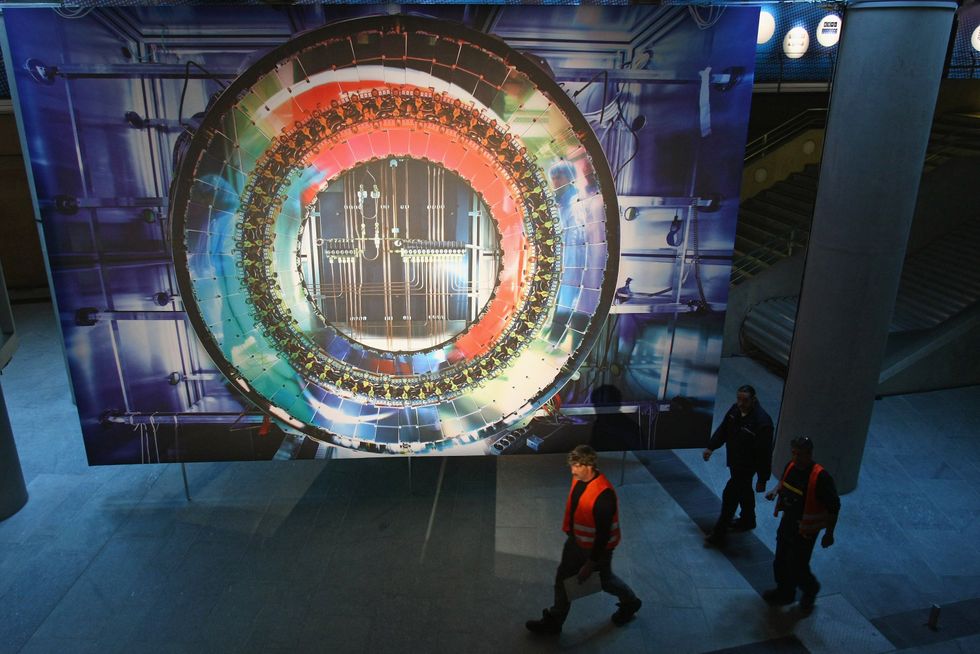 Rumors about CERN abound online, including fears that experiments there may accidentally open a gate to hell.
Cox said yes. If ghosts were real, he posits, they would have a certain frequency or particle associated with them, corresponding with the human or body, with which it was once attached. If that was the case, we would be able to detect them. After all this time and with all our advanced instruments, we haven't picked up anything close.
Cox went on, "I would say if there's some kind of substance that's driving our bodies, making my arms move and legs move, then it must interact with the particles out of which our bodies are made. And seeing as we've made high precision measurements of the ways that particles interact, then my assertion is there can be no such thing as an energy source that's driving our bodies." So, according to Cox, there's no ghost in the machine or our body, as well.
Other physicists say, Cox is being a tad presumptuous. After all, the search for supersymmetric particles is still on, as well as for axions, the assumed particles that make up dark matter. Bob Jacobsen is a professor of physics at the University of California, Berkeley. He's worked on projects trying to detect dark matter. Jacobsen told Gizmodo, "We still don't know whether axions exist. How do you know ghosts aren't made out of axions?"
There have been other explanations for ghost sightings that true believers may not like, including magnetic fields, exposure to toxic mold, infrasound—tones so low we can't hear them, carbon monoxide poisoning, and much more. Whether or not this announcement by Dr. Cox causes an uproar is yet to be seen.
To learn more ways science has debunked the existence of ghosts, click here:
People who believe in God or the supernatural don't quite understand the physical world, claims a new study from researchers at the University of Helsinki.
Priests attend a special mass for Pope John Paul II in St Peter's Square on April 3, 2005, in Vatican City. (Photo by Peter Macdiarmid/Getty Images)
People who believe in God or the supernatural don't quite understand the physical world, claims a new study from researchers at the University of Helsinki. 
The Finnish scientists also concluded that not only did they not understand nature and the biological world clearly, religious people tended to anthropomorphize, ascribing human qualities like feelings to inanimate objects such as rocks, wind and the like. They would agree with statements like "stones sense the cold".
"The more the participants believed in religious or other paranormal phenomena, the lower their intuitive physics skills, mechanical and mental rotation abilities, school grades in mathematics and physics, and knowledge about physical and biological phenomena were… and the more they regarded inanimate targets as mental phenomena," wrote the study's co-authors Marjaana Lindeman and Annika Svedholm-Häkkinen.
By "mental", they meant having human-like thoughts and spirit.
Not having a solid understanding of the world around them resulted in the people believing in demons and the supernatural, in a kind of confusion seen in "ancient people and small children".
The scientists also compared traits of religious belief with traits of autism, as both have difficulties differentiating between the mental and the physical.
The study, published in Applied Cognitive Psychology, involved 258 Finnish people, who completed a series of questionnaires and online tests, answering whether they agreed with such statements as "there exists an all-powerful, all-knowing, loving God" and if they believed in such things as telepathy or being able to predict the future.
Additionally, the researchers found that women were more likely to believe in God and the paranormal. They also based their actions more on instinct than analytical thinking. 
The Finnish scientists see the significance of their work in pointing out that:
"Intuition-based, unfounded theories in astronomy, evolution, matter, mechanics, and other domains persist several decades beyond the acquisition of a mutually exclusive scientific theory, and they affect individuals' ability to act as informed citizens to make reasoned judgments in a world that is increasingly governed by technology and scientific knowledge."
Previous studies also concluded that religious people were, in general, less analytical and might have lower IQs, but also tended to be happier and more generous than non-believers. Atheists, for their part, were compared to psychopaths in a different study.
Atheists are undoubtedly religious people's worst and most vocal critics, but for a fresh take, Rob Bell argues that believers shouldn't be too riled up, but rather appreciative – because atheism actually improves religion:
Whatever you do, don't look behind you – because the answer isn't there, says psychologist Alison Gopnik. The real ghosts are glitches in your brain, and in a way, that's even scarier.
According to a 2009 Pew Research survey, 18% of adults in the U.S. say they've seen a ghost or at least felt its presence. An even greater number (29%) say they have felt in touch with someone who has died.
Humans have felt presences for at least as long as we have recorded history and, naturally, where there is mystery there are scientists poking and prodding to get to the bottom of it.
So how does this supernatural phenomenon hold up under scientific scrutiny? Developmental psychologist Alison Gopnik tells us a spine-chilling story this Halloween, where a bunch of scientists from University Hospital of Geneva ran a neurological study to examine the popular claim of spirit-world sensations. Through a very interesting method, what they found was that patients with a particular kind of damage to their frontoparietal cortex where especially likely to have this ghost sensation, and that our brain can dupe us into feeling things that really aren't there – we may literally feel a touch on our back due to a brain glitch.
That's not so scary, right? That's kind of comforting. Well, Gopnik's 'boo!' moment in this tale comes in the form of a pensive and introspective twist: the frontoparietal cortex is the same brain region that lets us sense our own bodies, and be aware of our own kinesthetic motions. If it can be duped, how do we know that it's always reliable? How sure are you that your hand is holding a mobile phone, that your thumb is scrolling on the screen, and that you're tucking it away in your pocket? It feels real, your frontoparietal cortex tells you that's very real, but this experiment suggests it could very well be an illusion. How confident are you that your sense of your own body is real? It's something we haven't got to the bottom of yet.
Alison Gopnik's most recent book is The Gardener and the Carpenter: What the New Science of Child Development Tells Us about the Relationship Between Parents and Children.