Eight-eyed arachnids can tell when an object's movement is not quite right.
Credit:
oleg
/ Adobe Stock
The ability to distinguish lifelike and non-lifelike movements is an important survival skill.
Harvard scientists discovered that at least one invertebrate can do this.
Scientists tested jumping spiders as they watched an animation and scuttled about on a floating treadmill.
The ability to discern living beings from inanimate objects is a useful skill. Lifelike movement is an important clue here: living things have a distinct way of moving that inanimate objects do not.
We know that this ability to distinguish the living from the non-living is common among vertebrates, but now a new study from Harvard scientists demonstrates that at least one invertebrate can do it, too. It's the jumping spider, the one with two big eyes and three little ones on either side.
The jumping spider's ability to readily identify living objects based on movement raises a larger question: is this a trait that's widespread among animals? The peculiar method the researchers used for their arachnid subjects may be of use in finding out.
Follow the dots
From previous human experiments, it was known that if a group of dots is animated to resemble the movement of human joints, we perceive that they represent a moving human. If the dots are still or move in a weird way, we simply perceive them as dots.
For this study with jumping spiders, the authors implemented a similar technique. Using a bunch of dots on a display screen, the researchers created ten animations. from these dots. (In most cases, the authors used dots, though they sometimes used other shapes, including a spider silhouette.) Some of the animations resembled spiders scurrying across the screen; others dots moved in a random manner.
Spider-like movementCredit: De Agrò, et al / PLOS BIOLOGY
Who knowsCredit: De Agrò, et al / PLOS BIOLOGY
To get the spiders to look at the animations, the researchers devised a sphere-based treadmill. Each spider was placed on a small platform atop a polystyrene ball floating on a cushion of air. The spider, resting on its cephalothorax, could "walk" in any direction as it responded to an animation. Really, though, it was staying put and actually just experiencing the illusion of movement as it moved the floating ball with its feet.

The researchers tested their dots on 60 jumping spiders of the species Menemerus semilimbatus, which were selected because of their unusual visual system. Their two large central eyes are understood to be the most capable, but they lack a wide field of vision. That's where the secondary eyes that wrap around the head come in. When these secondary eyes spot something interesting, the spiders direct their two large eyes toward it for a closer look.
This is exactly what happened when the spiders were shown an animation that moved in an unfamiliar, non-lifelike way. They appeared concerned. They swung their two large eyes toward these incomprehensible objects, apparently in an effort to make sense of them. This was especially true when they were shown animations exhibiting totally random, nonsensical movement.
However, for animations that moved like a living creature, the spiders remained still.
As the study's lead author, Massimi De Agrò, recalled, "The secondary eyes are looking at this point-light display of biological motion and it can already understand it, whereas the other random motion is weird and they don't understand what's there."
De Agrò says that their unique treadmill should allow the researchers to test whether insects, mollusks, and other invertebrates also have the ability to recognize "living" dot patterns.
Just what every arachnophobe needed to hear.
Luciano Marra
from São Paulo, Brasil - Aranha de Teia (Nephila clavipes), CC BY-SA 2.0
A new study suggests some spiders might lace their webs with neurotoxins similar to the ones in their venom.
The toxins were shown to be effective at paralyzing insects injected with them.
Previous studies showed that other spiders lace their webs with chemicals that repel large insects.
Everybody knows how spiders catch bugs to eat. They weave a sticky web and wait for something to land in it. These webs are remarkably tough, elastic, and have been the focus of engineers hoping to replicate their properties for years. It all seems rather straightforward, as trap setting goes.
But in a twist that will send a chill down the spine of arachnophobes, a new study suggests that some spiderwebs assure their prey won't get away by adding neurotoxins to their webs.
Just what we needed to know before walking into another spider web
The study, published in the Journal of Proteome Research, was carried out by Biochemical Ecologist Mario Palma of the University of São Paulo State, their Ph.D. student, Franciele Esteves, and their colleagues. They focused on the webs of the striking T. clavipes, also known as the Banana Spider.
These spiders are orb weavers, known for their complex and often large webs. They can have up to seven glands that produce silk for various purposes, including catching prey, shielding themselves, protecting their eggs, mating rituals, and making webbing to walk on.
The researchers examined the spiders' various web producing glands. This revealed a spectrum of neurotoxin-like proteins not dissimilar to those found in the spider's venom present on the silk. On the web, these proteins are suspended in oily, fatty acids.

Following up on this discovery, they tested the proteins' effectiveness on insects. Most of those test subjects were paralyzed less than a minute after exposure, and a few died. These experiences relied on the injection of the proteins rather than on absorption but did demonstrate their capacity. Further tests showed that the fatty acids the proteins reside in could allow them to enter the body of prey insects.
Previous studies demonstrated that some spiders can add certain chemicals to their webs to repel larger insects which could cause the spider trouble. So, the idea that some spiders are adding another chemical to the mix, this time to cause paralysis, isn't too far-fetched.
However, some scientists aren't so sure about all this. They call for further study into the mechanism of action to demonstrate that these proteins cause paralysis and rule out potential other applications.
So, those of you who like animal facts can take pride in knowing that spider webs sometimes have poison in them to stun their prey. Those of you who are terrified of spiders can fear the same information. Either way, walking into a spider web just got even less pleasant.
A Swiss scientist identifies the top predator in the world in a new study.
A spider in the English countryside. Credit: Getty Images.
Who are the world's top predators? It's not humans, killer whales or tigers. The creatures that kill and consume the most amount of prey per year are lowly spiders. Such is the conclusion of illuminating research by a Swiss spider scientist.
There are an estimated 25 million tons of spiders in the world, which hunt and eat between 400 to 800 million tons of prey every year. Most of the prey would be insects, with some occasional frogs, lizards, fish and even bats. By comparison, in that same year humans would consume about 400 million tons of meat and fish, according to the Food and Agriculture Organization of the United Nations (FAO). Whales would chow down on about 280-500 million tons of seafood in the same time span.
If the 3200 or so tigers in the world eat up to 25 pounds of prey per day, it can be estimated that they eat about 13 thousand tons of prey annually. Tigers are also no match for spiders.
The lead author of the study, Dr. Martin Nyffeler from the University of Basel, has been studying spiders for 40 years and was inspired to make this calculation by "The World of Spiders," a 1958 arachnology book which proposed that if you combine the weight of all insects killed each year by British spiders, the amount would be greater than the total weight of all the humans in Britain.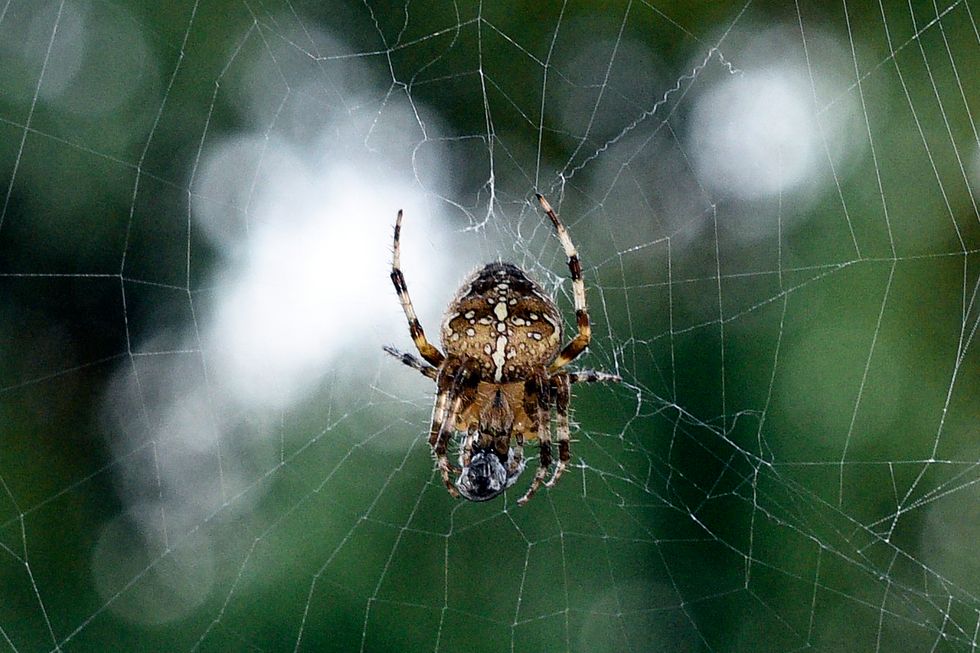 A European garden spider (Araneus diadematus) wraps its prey, a mosquito, in silk on September 13, 2016 in Lille, France. (Photo credit: DENIS CHARLET/AFP/Getty Images)
Spiders, in case you are wondering, are not insects. They are arachnids, creatures that have two body parts, eight legs, simple eyes, and no wings or antennae. Insects, on the other hand, have three body parts, six legs, compound eyes and most often two pairs of wings.
The new study really highlights how much 45,000 species of spiders in existence contribute ecologically.
"Our calculations let us quantify for the first time on a global scale that spiders are major natural enemies of insects. In concert with other insectivorous animals such as ants and birds, they help to reduce the population densities of insects significantly," says Dr. Nyffeler. "Spiders thus make an essential contribution to maintaining the ecological balance of nature."
And in case none of this convinces you and you still think spiders are kind of creepy, consider that on average they have a population density of 131 individual spiders per square meter on earth, but in "favorable" conditions it can be up to 1,000 individuals per square meter. They are mostly everywhere.