An hour away from Area 51 in the Nevada desert, this solar power plant "banks" energy in a way that could be replicated across the world.
An hour away from Area 51 in the Nevada desert, a beacon shines inexhaustibly day after day. And while its proximity to the famous classified zone makes some travelers believe they have seen something alien, the artifact is far from being extraterrestrial.
The beacon is part of a revolutionary solar generating and storage technology that may finally make solar power an undeniable competitor to coal and nuclear. With the first utility-scale facility already operating in Crescent Dunes, Nevada (and several more under development around the world), we are hopefully seeing the beginning of a new era in energy production. 
The technology is called concentrated solar power (CSP) and uses a system of mirrors to concentrate solar energy and turn it into thermal by heating up a medium. The Crescent Dunes Power Plant, developed by the company SolarReserve, uses salts to capture and store the energy from the sun. The result is solar power available 24 hours a day, that can meet utility demands just like conventional fossil fuels, except without any emissions or hazardous waste.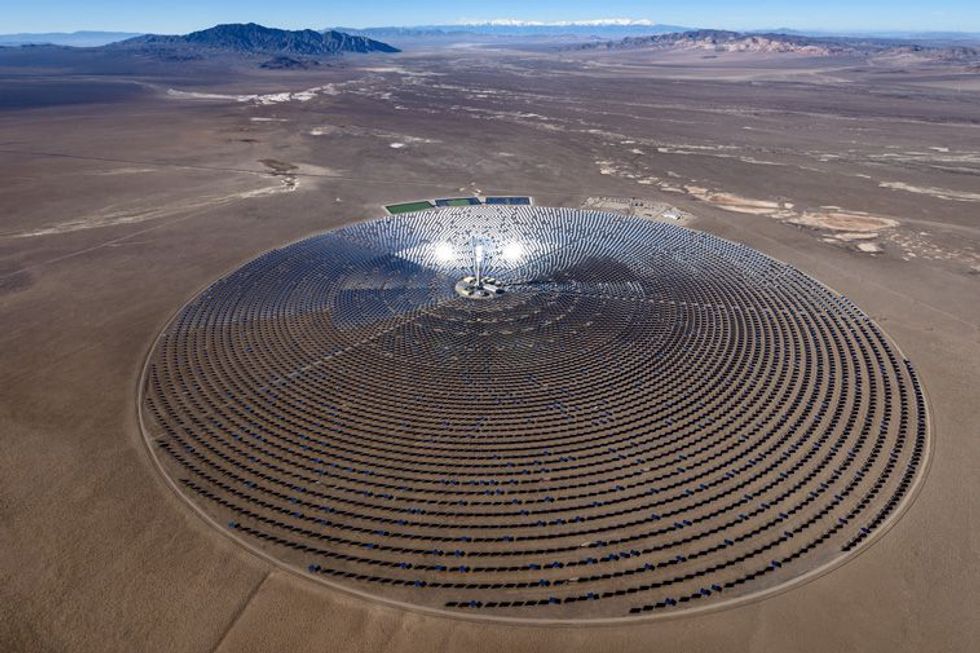 While a CSP facility may look like a photovoltaic farm, the only similarity is that both technologies use sunlight as fuel.
At Crescent Dunes the sun's energy is concentrates via 10,347 tracking mirrors called heliostats to a precise point on top of a central receiver tower. Highly accurate GPS measurements and algorithms enable the movement of the mirrors throughout the day and the positioning of the beam on the receiver.
Cold salt, stored in a tank next to the tower, is pumped up to collect the generated heat which can reach up to a 1000 degrees Fahrenheit. The molten salt is then pumped down into a hot salt tank which acts like a battery, preserving the heat for up to 16 hours. Unlike batteries, however, molten salt lasts for 40 years or more, without any degradation or need for replacement and it also costs less.
The molten salt in the tank can then be used to generate steam to drive a turbine and create electricity. This part of the cycle is identical to the process used in traditional coal or nuclear power plants, except it is 100 percent renewable and 100 percent clean.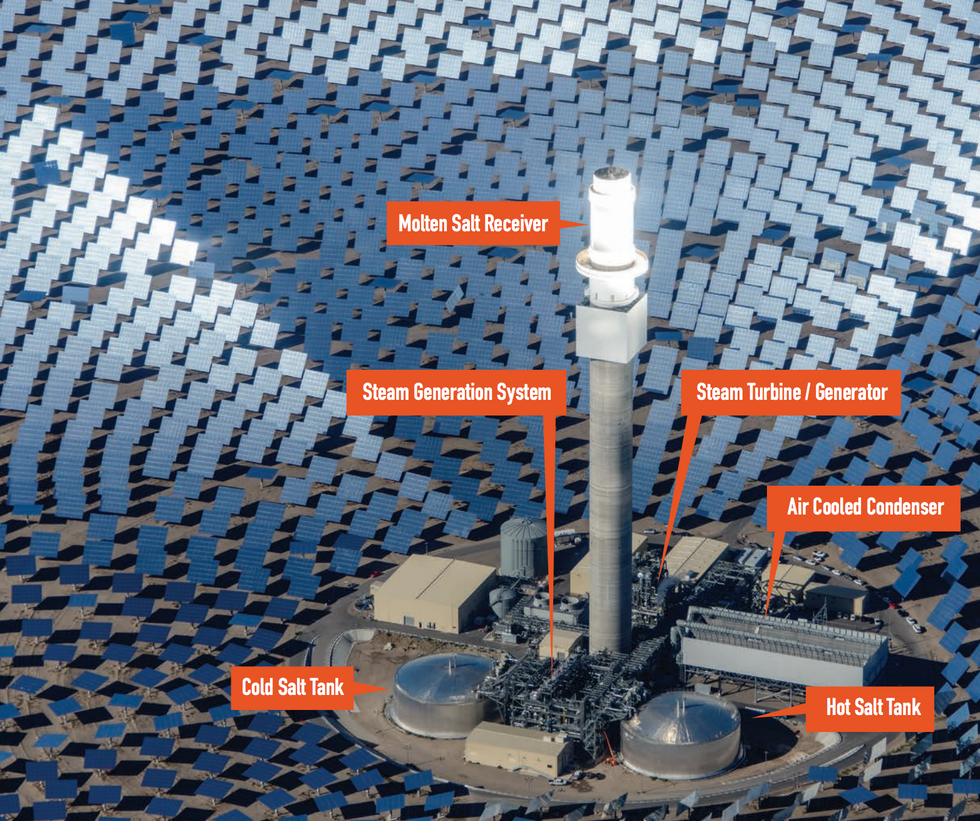 Credit: SolarReserve
The Crescent Dunes plant produces more than 500,000 megawatt-hours of electricity per year, twice the generation of an equivalent sized photovoltaics (PV) plant. Storage allows the facility to produce more than twice as much net annual output (kilowatt hours) than an equivalent sized photovoltaic (PV) solar project. Its 1.1 gigawatt-hour storage capability alone is about equal to all the world's utility scale batteries combined. 
100% of the generated energy is purchased by NV Energy under a 25-year contract, and used for distribution to its customers during peak demand periods. The solar plant can power 75,000 homes, day and night.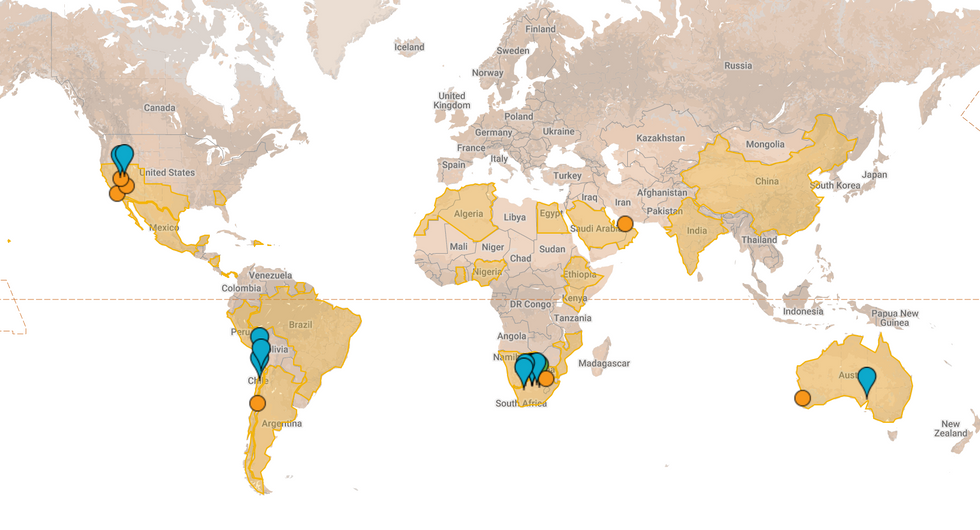 Now, falling prices of CSP are making prospects for the technology look promising. The new plants SolarReserve is building in Australia and Chile are expected to sell power at 6 and 5 cents per kilowatt-hour respectively - prices comparable to those from photovoltaics. Construction costs have also been cut in half, from almost $1 billion for the Crescent Dunes plant.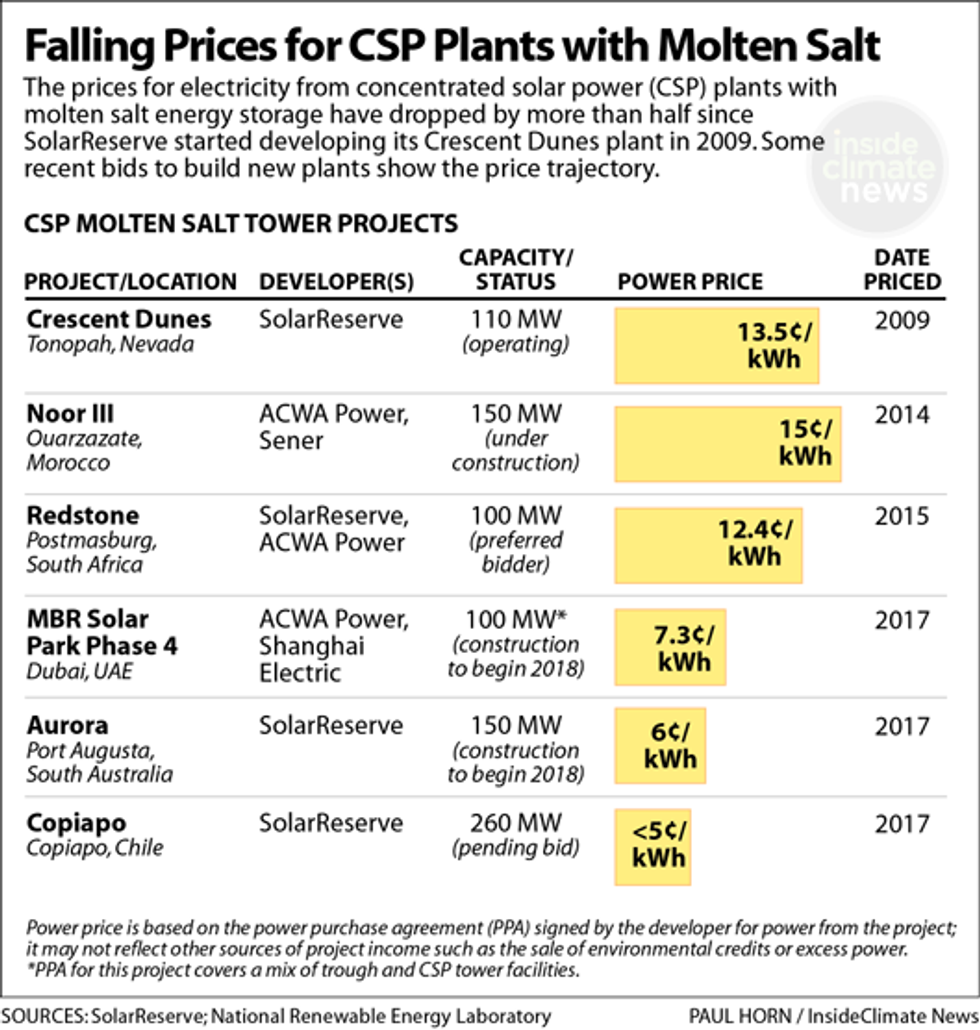 Mark Mehos, program manager for CSP research at the National Renewable Energy Laboratory in Colorado said for Inside Climate News:
"We really need to see installations, on the ground, that match those bids and that operate reliably."
The construction and performance of the new CSP plants currently in the pipeline will be the deciding factor for the future of the technology. But Mehos is optimistic, "It seems inescapable, doesn't it?"
Scientists at GW School of Engineering and Applied Science develop a prototype solar panel that captures nearly double the amount of energy from light.
(CLIVE VARLEY)
A lot of people are excited about solar energy, and with good reason: It's clean, renewable, and as manufacturing capabilities ramp up, an increasingly realistic way to power our world. On April 30th, 2017, Germany met 85% of its power needs from renewable energy sources including solar panels. Still, solar cells currently capture only about 25% of the available solar energy. Now a team from GW School of Engineering and Applied Science has produced a remarkably designed solar cell that collects nearly half of it. It's been believed that the upper limit for the efficiency of conventional solar cells is about 30%, so this could be a big deal.
Scientists at GW School of Engineering and Applied Science have designed a multi-layered, stacked cell that operates as a sort of "solar sieve." Each layer grabs a portion of the light spectrum as sunlight passes through on its way to the next layer down.
As lead author of the just-published research Matthew Lumb explains, "Around 99 percent of the power contained in direct sunlight reaching the surface of Earth falls between wavelengths of 250nm (Editor's note: nm = nanometers) and 2500nm, but conventional materials for high-efficiency multi-junction solar cells cannot capture this entire spectral range. Our new device is able to unlock the energy stored in the long-wavelength photons, which are lost in conventional solar cells, and therefore provides a pathway to realizing the ultimate multi-junction solar cell."
The GW team's solar cell works with concentrator photovoltaic panels that focus sunlight onto micro-scale solar cells of about one millimeter square. Being so small opens up the possibilities for using them in sophisticated structures that can eventually be manufactured at a reasonable cost.
Aside from its stacking aspect, the GW solar cell incorporates a couple of other innovative touches.
What allows a GW panel to collect longer wavelengths is a material more commonly used with infrared lasers and photodetectors called gallium antimonide (GaSb). Cells made of this complement standard high-efficiency solar cells grown on conventional substrates.
The manner in which the GW solar cell is constructed is also a bit different. Its layers are stacked with extreme precision using a method called "transfer printing" that allows tiny three-dimensional structures to be assembled.
The GW solar cell is a one-off built to demonstrate the potential for far greater efficiency in solar energy collection. The technology it introduces is currently too expensive for cost-effective manufacture. But solar cells that are twice as effective at capturing energy from the sun? Sign us up for that.
NASA announces the details of its mission to the sun, set to launch in 2018.
Credits: Johns Hopkins University Applied Physics Laboratory
NASA announced the details of an "unprecedented" mission, which launches in 2018. Its spacecraft, in humanity's first visit to a star, will get the closest we ever got to the sun. 
The probe, designed to survive at extreme temperatures and radiation levels, is named after living astrophysicist Eugene Parker, whose work contributed significantly to our knowledge of the sun, developing the theory of solar wind. NASA sees the probe as not only "historic" but promising to "revolutionize our understanding of the sun." It will get within 3.9 million miles to the sun's surface, more than seven times closer than our previous spacecraft. The hope is that it will help us prevent damaging space weather events, like solar storms.
The Parker probe will zip along at the speed of up to 430,000 miles per hour, covering 90 million miles and eventually traveling through the sun's atmosphere into its corona. It will be built to withstand heat of 2,500 degrees Fahrenheit, providing us with invaluable information about the sun's workings. The materials used in the probe simply didn't exist before, according to the scientists.
"Parker Solar Probe is going to answer questions about solar physics that we've puzzled over for more than six decades," said the project scientist Nicola Fox of Johns Hopkins University. "It's a spacecraft loaded with technological breakthroughs that will solve many of the largest mysteries about our star, including finding out why the sun's corona is so much hotter than its surface."
The Parker Solar Probe is currently set to launch in a 20-day window opening on July 31, 2018. 
You can check out NASA's press conference to detail the mission here:
Elon Musk has a plan and part of that plan came together when it acquired SolarCity for $2.6 billion.
Elon Musk has a plan and part of that plan came together when it acquired SolarCity for $2.6 billion in November 2016. This deal will ultimately allow Tesla to sell all-electric goods under one, unified brand.
"The transaction is a necessary step toward Tesla's goal of becoming a sustainable energy company," Institutional Shareholder Services Inc., an influential shareholder proxy service, stated in a vote of confidence for Musk's controversial plan.
The Tesla name has become synonymous with sleek all-electric cars (and inventor Nikola Tesla), but Tesla hasn't been just a car company for over a year, ever since Musk stepped on stage to announce Tesla's Powerwall home battery. Since then the company has continued to unveil home-energy products – most recently a re-imagined set of solar tiles for rooftops.
We all know Musk is out to save the human race. This acquisition creates a virtuous cycle. Tesla showrooms will not only become a place where you can look for a new car, but where you can purchase home batteries and solar panels — a one-stop shop for all your home energy needs.
The acquisition makes even more sense when you consider Musk's Master Plan, which he wrote back in 2006:
So, in short, the master plan is:


Build sports car
Use that money to build an affordable car
Use that money to build an even more affordable car
While doing above, also provide zero emission electric power generation options
Don't tell anyone.
Musk has since updated it in July 2016 under the title Master Plan, Part Deux:
Create stunning solar roofs with seamlessly integrated battery storage
Expand the electric vehicle product line to address all major segments
Develop a self-driving capability that is 10X safer than manual via massive fleet learning
Enable your car to make money for you when you aren't using it
It's likely Tesla won't see the benefits from this acquisition for a while. This move is not a get-rich-quick investment, its part of a long-term vision Musk has already planned.
One day after the acquisition of SolarCity, Tesla tweeted that Ta'ū, an island in American Samoa, is running on nearly 100% solar energy thanks to 5,300+ solar panels and 60 Tesla Powerpacks. Before solar, Ta'ū used 109,500 gallons of imported diesel annually, which cost it $8 million every year and made it reliant on other countries to run its generators.