Many great minds have plenty of bad things to say about democracy, but what about the people who think it is great?
Pericles, the great Athenian leader, speaks of the greatness of liberty to the people of Athens.
Socrates had several issues with democracy, most of them stemming from events that took place during his lifetime in Athens. Some of the decisions made by the Athenian democracy were rather insane and made by a body politic that had no business trying to determine foreign policy. Socrates is depicted in Plato's Republic as favoring a totalitarian regime managed by iron-fisted philosopher kings, in which all citizens are raised to fit a particular role, the state regulates bedtime stories, and harmony between individual and society reigns supreme. 
His objections to democracy are countered in the works of John Stuart Mill, whose love of democracy is as great as Socrates' hatred of it.
John Stuart Mill was an English philosopher in the 19th century who is best known for his work on utilitarianism, though his writings span an incredible range of topics. His ideas on democracy, liberty, and the benefits of both are laid out in two of his works; On Liberty, and Considerations on Representative Government.
What does he have to tell us?
While Mill agrees that the unwashed masses should not have absolute power, in Considerations on Representative Government he argues for a giving the votes of the educated more weight than anybody else's; he counters Socrates' idea of the philosopher king with an observation on what happens to the citizens of a "good" despotism. Seeing the society they would rule as being:
"One man of superhuman mental activity managing the entire affairs of a mentally passive people. Their passivity is implied in the very idea of absolute power. The nation as a whole, and every individual composing it, are without any potential voice in their own destiny. They exercise no will in respect to their collective interests. All is decided for them by a will not their own, which it is legally a crime for them to disobey. What sort of human beings can be formed under such a regimen? What development can either their thinking or their active faculties attain under it?"
The population living in a despotic society would be reduced to unthinking drones who need only enough mental capacity to get their daily chores done. Only a democracy can produce citizens capable of enough cognitive power to maintain a democracy, argues Mill, by requiring them to use that mental ability. He notes with envy that while the typical English voter only had to be prepared to vote and serve on a jury, the typical Athenian had to be ready to serve in nearly any office that existed. Mill sees this as a mostly good thing, as it requires the Athenian to be more fully developed as a person in order to fill those roles.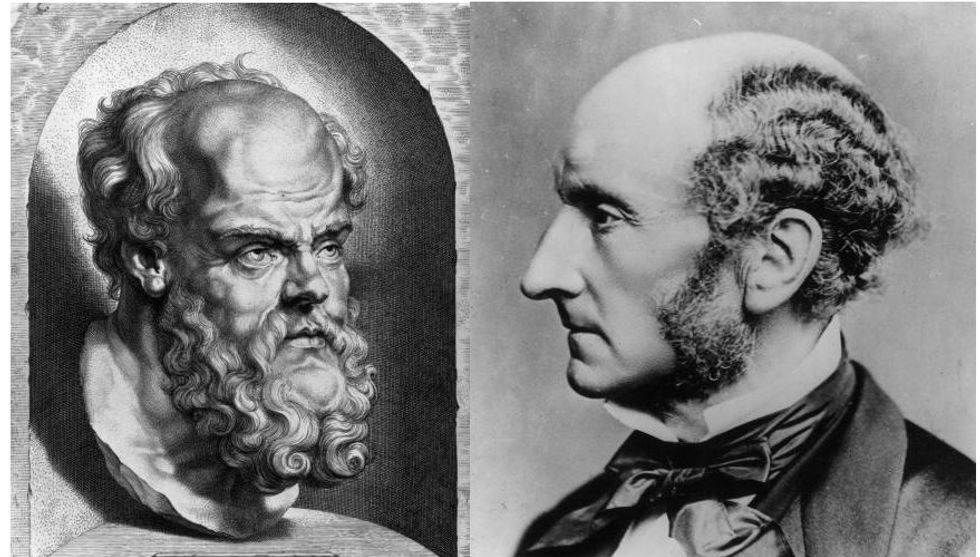 Could a Socrates have been produced in Sparta? Mill thinks not, despite Socrates' praise for the Spartan government. 
Democracy is great and all, but why is freedom good?
In On Liberty, Mill argues that we all need the freedom to choose our lifestyles. This is vital, as without this liberty people will be stifled and unable to explore new ideas, make discoveries, and fully develop as people. In a society where we must all follow the same religion, value the same things, and enjoy the same hobbies, individualism can never flourish. Mill sees this as a horrible situation, explaining that:
"It is only the cultivation of individuality which produces, or can produce, well developed human beings." and "In proportion to the development of his individuality, each person becomes more valuable to himself, and therefore capable of being more valuable to others."*
In Considerations on Representative Government, he notes that the best defense of liberty is an active population working inside of a democratic system. Mill allows us to connect the dots. Only a democratic government can safeguard freedom, and only a free society can hope to promote the development of the individual. The development of the individual is both good by itself and as a means to other ends. We, therefore, need democracy to help individualism and self-development to flourish and the world to progress.
But democracy can lead to such dangerous outcomes! Look to Athens and their mob!
Mill understands that people might make bad choices when they vote. However, he points out that the United Kingdom and the United States of the 19th century were doing rather well compared to the authoritarian states of Eastern Europe and Asia. He also reminded us that Athens, even with occasional lapses in judgment, produced much greater men than did any of the other Greek city-states. Liberty gives positive results, so it seems.
So, was Socrates just wrong about everything?
It is important to remember, however, that Mill was a progressive. He saw the march of history as moving ever forward and the ideal society as one that understood this progress was possible and promoted it. The ancient Greeks were interested in harmony, and in the Republic Plato built a utopia that would remain harmonious for the longest time possible. They even went so far as to define justice as harmony between parts of the whole, both for people and cities. The goals of Mill and Socrates differ considerably, and this must be remembered when comparing their worldviews.
Socrates offers us some excellent critiques of democracy. The problem of properly educating the voters, the threats of demagoguery, and the insistence that the people with direct power should be enlightened are all valuable insights. However, Mill shows us how democracy, flawed as it may be, offers us the best opportunity for growth as individuals and as a society. If, of course, we are willing to do what it takes to make democracy work.
*Mill was a utilitarian. He firmly believed that democracy and freedom lead to better outcomes and more happiness than tyranny. A common objection to utilitarian endorsements to democracy is that if it could be proven that oppression leads to better results, we would be morally obligated to institute that instead. Mill does dodge this problem, somewhat, by placing a high value on individualism. A high enough value, perhaps, to always make the math come down on the side of liberty. If this solves the problem or not is another issue. 
Finding New Year's resolutions isn't always easy. To help you out, we've gotten ideas from some of the greatest thinkers of all time.
Can't think of a resolution?
Finding New Year's resolutions isn't always easy. To help you out, we've gotten ideas from some of the greatest thinkers of all time.
1. Go for a walk every day.
"Above all, do not lose your desire to walk. Everyday, I walk myself into a state of well-being & walk away from every illness. I have walked myself into my best thoughts, and I know of no thought so burdensome that one cannot walk away from it. But by sitting still, & the more one sits still, the closer one comes to feeling ill. Thus if one just keeps on walking, everything will be all right."
― Søren Kierkegaard
Kierkegaard, whose angst would cripple even the most dramatic teenager, often found refuge from the anxiety of existence in walks. Failing that, he tried to explain the difficulty of his life in his writings. He had a lot to say about angst, anxiety, God, death, and coming to terms with freedom.
2. Embrace yourself—and others—as a complete ecosystem.
"I have laboured carefully, not to mock, lament, or execrate human actions, but to understand them; and, to this end, I have looked upon passions, such as love, hatred, anger, envy, ambition, pity, and the other perturbations of the mind, not in the light of vices of human nature, but as properties, just as pertinent to it, as are heat, cold, storm, thunder, and the like to the nature of the atmosphere, which phenomena, though inconvenient, are yet necessary, and have fixed causes, by means of which we endeavor to understand their nature, and the mind has just as much pleasure in viewing them aright, as in knowing such things as flatter the senses."
— Spinoza (edited)
Spinoza, whose philosophy is fascinating, saw the universe as deterministic. Every action, therefore, had an immediate cause that could be discovered. If you can find out what made a person angry, violent, pitiful, or depressed, it becomes easier to understand their actions and simpler to forgive their faults. Coming to terms with the idea that everyone has lots to deal with, things that might make them unpleasant for a while, can make us all a little more understanding.
3. Try to live like water.
The best, like water, benefit all and do not compete.
They dwell in lowly spots that everyone else scorns.
Putting others before themselves, they find themselves in the foremost place and come very near to the Tao.
In their dwelling, they love the earth; in their heart, they love what is deep.
In personal relationships, they love kindness.
In their words, they love truth. In the world, they love peace.
In personal affairs, they love what is right. In action, they love choosing the right time.
It is because they do not compete with others that they are beyond the reproach of the world.
-Laozi
The Tao, also known as the Way, is often compared to water. Generous, soft and flowing, pure, regenerating, and often cyclical; to be like water is to embrace the Way. Water's weaknesses, the fact it is soft and gentle, make it more powerful; it can flow anywhere and even wear down stone. A better example of the harmony of opposites is hard to find.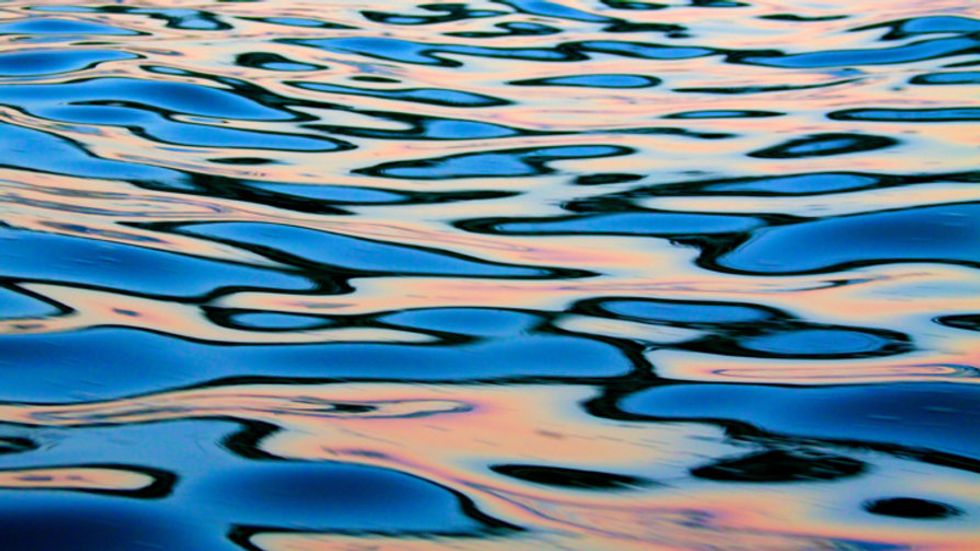 Pictured: Life goals?

4. Examine your life and beliefs regularly.
"The unexamined life is not worth living."
-Socrates
The gadfly of Athens made it his job to examine every belief, no matter how widely held, and determine if it was true or not. Often, he would ask people to define a virtue, such as courage, only to find that the people who valued it most had no idea what it was. It is only by examining our lives that we can hope to improve them.
5. Read a new book each month.
"The Brahmins had no cattle, no gold, no wealth. They had study as their wealth and grain."
-Buddha
The Brahmins were the teachers and holy men of ancient India, and continue as a caste to this day. In theory, they were the highest social class. Rather than focus on money and worldly affairs, they valued learning and knowledge. The Buddha reminds us that these respected men were men of the mind and encouraged us to follow their example.
6. Spend more time with your friends.
The best friend is he that, when he wishes a person's good, wishes it for that person's own sake."
- Aristotle

Aristotle thought friendship was vital to living a good life, but not just any friends would do. He had a three-part system for understanding friendship. The most genuine friendships, the ones that everyone should strive for, are the ones where two people value each other as people and not as a means to an end.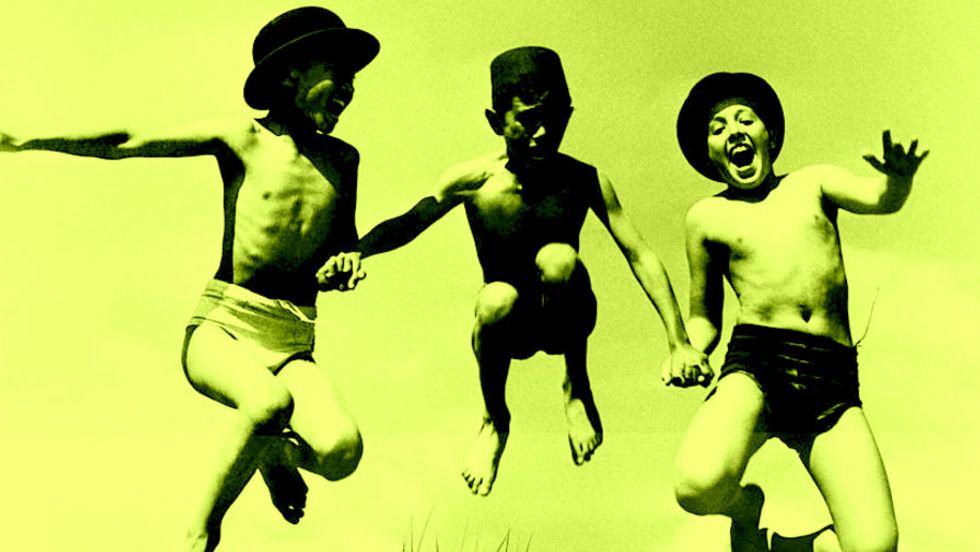 7. Be less of the person you are expected to be, and more of the person you want to be.
"Become who you are!"
-Nietzsche
Nietzsche, who has other excellent one-line ideas, was the king of individuality. There was nothing worse for Nietzsche than for a person to join the herd of people who just followed along. While he was a determinist, he still argued that we should embrace our lives and whatever comes at us.
8. Strive for excellence every day.
"We are what we repeatedly do. Excellence, then, is not an act, but a habit"
-Aristotle
Aristotle viewed virtues as skills, ones that we would strive to perfect over our lifetimes. To be virtuous was to embody an excellence in a particular area such as courage, temperance, or friendship. Doing it once or twice wasn't enough, you had to make a habit of it to truly embody the virtue.
9. Embrace change.
"One cannot step twice in the same river twice,"

-Heraclitus
Heraclitus was a pre-Socratic Greek philosopher who argued that everything was always changing. Not only does this mean that the river changes, but you do as well. Rather than trying to latch onto things that cannot last, we should embrace the notion that everything will soon pass.
10. Take charge of your life.
"Change your life today. Don't gamble on the future, act now, without delay."
-Simone de Beauvoir
Existentialism shows us how we are all responsible for what we are and will become. Waiting for your life to change is an option, but one that denies your ability to shape yourself into what you desire to be. Seize the day!
You are going to die. So am I. These are facts.
Photo: Eduardo Mineo via Flickr
You are going to die. So am I. These are facts.

The question of how to deal with the reality of death is one as old as mankind. Billions of people, living and dead, have put their hopes on an afterlife. The promise of Heaven, Valhalla, Elysium, reincarnation, or even a decent hell makes death but an inconvenience.
For atheists, however, there is no such benefit to death. It is merely the end of the one and only existence that can be confirmed. Death can take on an extra aura of fear without the benefit of an afterlife. The realization of death's finality can be unsettling for the non-believer, and is one reason why the religious feel confronted by atheists.

Luckily, many great minds in history had thoughts on how to face death without the comfort of an afterlife.
Many philosophers who did believe in the divine, such as Epicurus, did not believe in an afterlife. While the end of existence troubled them, the idea of being dead did not. Mark Twain, the deistic author of Adventures of Huckleberry Finn, wrote in his autobiography that:
"Annihilation has no terrors for me, because I have already tried it before I was born — a hundred million years — and I have suffered more in an hour, in this life, than I remember to have suffered in the whole hundred million years put together."

That is to say, in death you stop existing so you can't be bothered by it. There is no longer a "you" to be bothered.
Epicurus shared that sentiment, saying, "Death is nothing to us; for that which is dissolved, is without sensation, and that which lacks sensation is nothing to us." Epicurean philosophy focused on life, rather than death, and practitioners strove to not fear it.

Socrates weighed in too. In Plato's The Apology, Socrates supposes that he will either live on after death and debate the great heroes of Greek History, or cease to exist. He agrees with Epicurus that ceasing to exist can't be painful, as he would no longer exist to feel pain. The lack of debate in this scenario probably did disappoint him though.
This kind of skepticism about the chances of an afterlife can be healthy, as Michael Shermer explains in his recent Big Think interview.
Okay, so non-existence might not be unpleasant, but I really don't want to stop existing in the first place!

Well, most people don't like the idea of eternal oblivion. However, if it is the case then we had best figure out how to face it. The science on the matter is pretty definite too; the current neuroscientific view is that brain death causes the annihilation of consciousness and nothingness forevermore. So, we might be out of luck.

For the existentialists, particularly Martin Heidegger, acceptance of death was a key part of living. In the face of death each choice in life becomes an important one. They took the end of existence as a motivation to value existence all the more. The existentialists push you to accept your inevitable demise, remember it, and use it as a reason to embrace life. Such a positive view on oblivion is hard to find elsewhere.

Philosopher Luc Bovens offers us a more modern view on how to approach death secularly in his Big Think interview.
What about the cosmos? The idea that the universe still cares after I die sounds enjoyable, can I have that if I give up the afterlife?
The same science that supports the idea that death is the final end can give us comforting words too.
American physicist, comedian, and author Aaron Freeman wrote Eulogy from a Physicist describing how death can be viewed from a scientific worldview. A eulogizing physicist would remind a mourning family that:
"No energy gets created in the universe, and none is destroyed. You want your mother to know that all your energy, every vibration, every Btu of heat, every wave of every particle that was her beloved child remains with her in this world."

Even if we are not immortal, many of our component elements are. Even if we die, parts of us never will, those parts can affect every part of the universe long after we are dead and gone. That is the comfort science can offer.
Death is unpleasant to think about. Our search for ways to make it easier to handle or even avoid it entirely goes back as far as human history. With the death of God, and the increasing number of atheists around the world, trying to help people deal with the idea of death may be a bigger task than ever. As Ernest Becker wrote in The Denial of Death: "To live fully is to live with an awareness of the rumble of terror that underlies everything."
For those who don't believe in an afterlife, viewing death without smoke and mirrors can be a great comfort. Reflecting on how people have faced oblivion in the past can help us all face it in the future, whenever it comes — and come it will.
While we often criticize the humanities for not providing an education that leads directly to employment, one philosopher argues they have an even more important role to play in our societies.
Yet another history major who can't find a job? (Norman Rockwell, The Freedom of Speech)
We've discussed before that Socrates, one of the greatest things to come out of Athens, hated Athenian democracy. While he had many reasons to do so, one of the primary ones was that the typical Athenian had no idea what they were discussing, and were prone to using emotion over reason when making important political decisions. They lacked both the skills for critical thinking and viewing the world outside their own perspective to be proper democratic citizens.

But, as philosopher Martha Nussbaum argues, we can avoid those problems by placing a high value on an education in the humanities. A high value which today is often difficult to find.
In her book Not for Profit, Why Democracy Needs the Humanities, Nussbaum lays out the case that a job oriented education, one focused on preparing students for work, is far from enough to assure that the students will also be able to function as democratic citizens in a pluralistic, modern, and globalized, society.

While she doesn't deny the need for technical education; she argues that a purely job oriented education, or even one which is highly focused on a narrow field of study, does not promote the development of critical thinking skills, the ability to consider differing viewpoints, an understanding of people vastly different from themselves, or strong methods for finding truth for themselves that people need as citizens.
These skills, she argues, are best found in the arts and humanities as promoted by a liberal arts education at all levels. While the United States is doing well at the university level of teaching these things, she contests that we are often unwilling or unable to do so at the grade school or high school level. If we do not assure students have access to the arts and humanities, she posits, we are likely to fall victim to demagoguery and lose the benefits of a modern democratic society.

Well, what's wrong with our current method of teaching the humanities? Why write a whole book on this?

A major issue in modern American education she discusses is the increasing use of standardized fill in the bubble tests, and the tendency of teachers to "teach to the test". It isn't impossible to teach the humanities in a way that can be easily tested, the treatment of philosophy as a test subject for the A and O level exams in the United Kingdom has shown that much, but Nussbaum shows us how a multiple-choice test is unlikely to encourage any skills other than the regurgitation of information. They aren't even that good at what they claim to do anyway.

With the national focus increasingly given to education for employment and competitiveness those parts of education which seem unlikely to lead to employment are the most simple to justify cuts to. Nussbaum laments this, and notes that at her own university advertising geared towards new students focuses nearly exclusively on those programs seen as practical and leading to employment. She dubs the combination of funding cuts and lack of attention a "crisis of massive proportions" which is still underway.

Suppose we just got rid of the humanities. Can't we be a free people without them?
The myriad examples of tyrants attacking the arts and humanities suggests we might be wise to hold on to them. She cites, among other events, the prohibition of teaching the Korean language in public schools and the crackdown on Confucian education in general during Korea's occupation by Imperial Japan. All a key part of the plan to reduce the Korean people to servants of Japanese imperialism, a role which had no need for a non-technical education.
Nussbaum later argues that the most cartoonish and often horrifying mistakes made by the Athenian democracy, which caused thinkers like Socrates, Plato, and Aristotle to reject democracy, could have been easily avoided if the population had any of the skills an education in the humanities provides.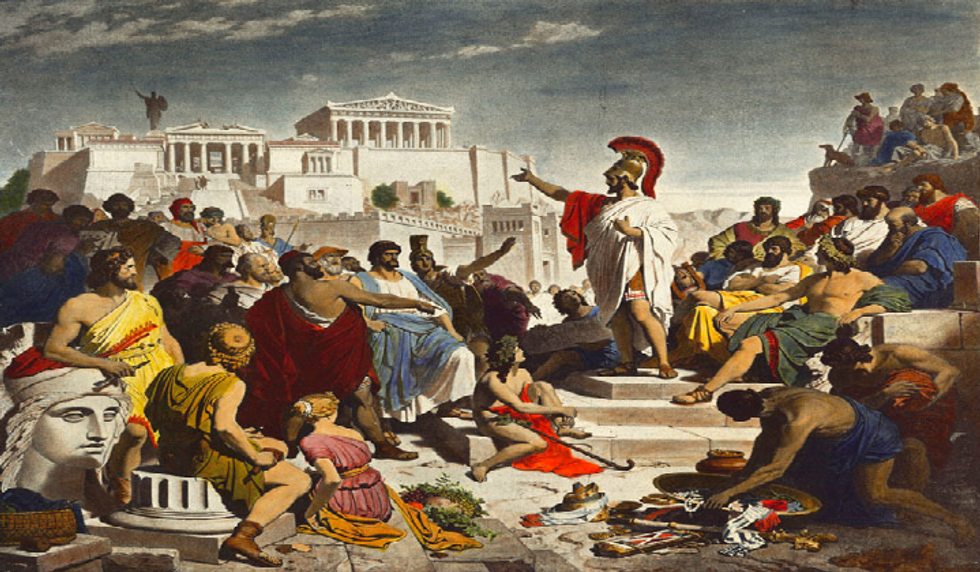 The Funeral Oration of Pericles, an example of the Athenians being led by a populist working in their interest. Often, they were only led astray.

Is she alone in these ideas? Does anybody else argue that a democracy requires these skills?

Socrates, as depicted in The Republic, favored an intensive education for the philosopher kings he saw as the ideal rulers of his utopia. While his proposed curriculum is not the liberal arts education Americans know today, it is one that promotes the search for truth with the use of reason and logic and assures that the leaders of the city state will know not only how to lead, but how to approach the problems they may face as leaders. While he didn't wish for the majority to lead a nation, it is clear he understood that those who do lead must have certain intellectual skills. In a democracy, these leaders are the people.

Aldous Huxley, philosopher, author of Brave New World, and noted psychonaut, made a similar observation in Brave New World, Revisited. Where he noted with terror that the world was moving towards his dystopia much faster than he had predicted and proposed education for democracy as a key tool to prevent this. He later elaborated on his proposed curriculum for a free people in his utopian work Island.

Okay, what does our situation look like now?
We presently have a better education system than the people of Athens; who ended their formal education in adolescence and denied it to women and non-citizens. Often inspired by Socrates and his pedagogy, today's students can find a humanistic education in the American, Scottish, and (increasingly) Korean education systems dedicated to making them fully rounded individuals and citizens.
While Nussbaum warns us to be on the lookout to attacks on and financial cutbacks to the liberal arts model of education, we have reason to be optimistic as well. She mentions many excellent programs in American schools, such as Future Problem Solvers, as examples of democratic education done correctly and in a way that assures continued support.  

The study of the humanities can have many practical uses. It can even be used to find employment, no matter what the nay-sayers might tell you. More importantly, they have an intrinsic value in allowing us to fully develop as individuals. In today's climate, they also take on the role of helping us make democracy possible. Without a proper education in the humanities, where we learn how to understand people we may never meet, how to evaluate arguments and charged rhetoric, and imagine differing scenarios from those we see every day, we may be doomed to the fate of many a failed democracy before us.  

But, if we utilize the fantastic tools we have access to, rise to the challenge of giving everyone the education they need, and emphasize all vital subject matter-even if it seems impractical, Nussbaum argues that we have much reason for optimism and the chance for the continued success of democracy all over the world.
If you would like to improve your humanities background, several Ivy League schools offer free classes you can take online. A selection can be found here and here. 
Knowing who you are can stop you from becoming who you want to be.
A man looks at the Love Forever room during a preview of the Yayoi Kusama's Infinity Mirrors exhibit at the Hirshhorn Museum in Washington, DC. (Photo credit: BRENDAN SMIALOWSKI/AFP/Getty Images)
There is a phrase you are as likely to find in a serious philosophy text as you are in the wackiest self-help book: 'Know thyself!' The phrase has serious philosophical pedigree: by Socrates' time, it was more or less received wisdom (apparently chiselled into the forecourt of the Temple of Apollo at Delphi) though a form of the phrase reaches back to Ancient Egypt. And ever since, the majority of philosophers have had something to say about it. 
But 'Know thyself!' also has self-help appeal. Is your aim to accept yourself? Well, you need to know thyself for that first. Or is it to make good decisions – decisions that are right for you? Again, this would be difficult unless you knew thyself. The problem is that none of this is based on a realistic picture of the self and of how we make decisions. This whole 'knowing thyself' business is not as simple as it seems. In fact, it might be a serious philosophical muddle – not to say bad advice.
Let's take an everyday example. You go to the local cafe and order an espresso. Why? Just a momentary whim? Trying something new? Maybe you know that the owner is Italian and she would judge you if you ordered a cappuccino after 11am? Or are you just an espresso kind of person?
I suspect that the last of these options best reflects your choices. You do much of what you do because you think it meshes with the kind of person you think you are. You order eggs Benedict because you're an eggs Benedict kind of person. It's part of who you are. And this goes for many of our daily choices. You go to the philosophy section of the bookshop and the fair-trade section at the grocer's shop because you are a philosopher who cares about global justice, and that's what philosophers who care about global justice do.
We all have fairly stable ideas about what kind of people we are. And that's all for the best – we don't have to think too hard when ordering coffee every morning. These ideas about what kind of people we are might also be accompanied by ideas about what kind of people we are not – I'm not going to shop at Costco, I'm not that kind of person. (This way of thinking about yourself could easily slide into moralising your preferences, but let's not open that can of worms here.)
There is, however, a deep problem with this mental set-up: people change. There are tumultuous periods when we change drastically – in times of romantic love, say, or divorce, or having children. Often we are aware of these changes. After you've had kids, you probably notice that you've suddenly become a morning person.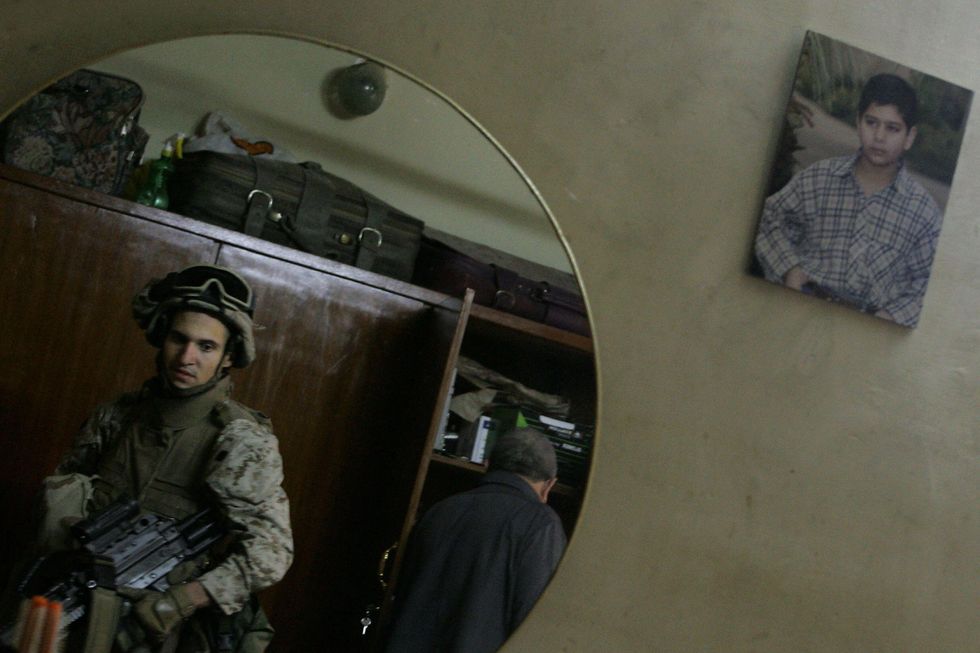 Brazilian-born US marine Lance Corporal. (Photo credit: MAURICIO LIMA/AFP/Getty Images)
But most changes happen gradually and under the radar. A few mechanisms of these changes are well understood, such as the 'mere exposure effect': the more you are exposed to something, the more you tend to like it. Another, more troubling one, is that the more your desire for something is frustrated, the more you tend to dislike it. These changes happen gradually, often without us noticing anything.
The problem is this: if we change while our self-image remains the same, then there will be a deep abyss between who we are and who we think we are. And this leads to conflict.
To make things worse, we are exceptionally good at dismissing even the possibility that we might change. Psychologists have given this phenomenon a fancy name: 'The End of History Illusion'. We all think that who we are now is the finished product: we will be the same in five, 10, 20 years. But, as these psychologists found, this is completely delusional – our preferences and values will be very different already in the not-so-distant future.
Why is this such a big issue? It might be okay when it comes to ordering the espresso. Maybe you now slightly prefer cappuccino, but you think of yourself as an espresso kind of person, so you keep ordering espresso. So you're enjoying your morning drink a little bit less – not such a big deal.
But what is true of espresso is true of other preferences and values in life. Maybe you used to genuinely enjoy doing philosophy, but you no longer do. But as being a philosopher is such a stable feature of your self-image, you keep doing it. There is a huge difference between what you like and what you do. What you do is dictated not by what you like, but by what kind of person you think you are.
The real harm of this situation is not only that you spend much of your time doing something that you don't particularly like (and often positively dislike). Instead, it is that the human mind does not like blatant contradictions of this kind. It does its best to hide this contradiction: a phenomenon known as cognitive dissonance.
Hiding a gaping contradiction between what we like and what we do takes significant mental effort and this leaves little energy to do anything else. And if you have little mental energy left, it is so much more difficult to switch off the TV or to resist spending half an hour looking at Facebook or Instagram.
'Know thyself!', right? If we take the importance of change in our lives seriously, this just isn't an option. You might be able to know what you think of yourself in this moment. But what you think of yourself is very different from who you are and what you actually like. And in a couple of days or weeks, all of this might change anyway.
Knowing thyself is an obstacle to acknowledging and making peace with constantly changing values. If you know thyself to be such-and-such a kind of person, this limits your freedom considerably. You might have been the one who chose to be an espresso person or a donating-to-charity person but, once these features are built into your self-image, you have very little say in what direction your life is going. Any change would be either censored or lead to cognitive dissonance. As André Gide wrote in Autumn Leaves (1950): 'A caterpillar who seeks to know himself would never become a butterfly.'

Bence Nanay 
--
This article was originally published at Aeon and has been republished under Creative Commons.