Before you reach for another glass of warm milk, read this.
It has happened to most of us: being hit with a slew of worries, stresses, and knowledge of what we have to do tomorrow just when we want to go to bed. The resultant strain is made worse when we realize that each moment spent thinking is one less to sleep in. The problem is familiar to the one-third of Americans who report difficulty falling asleep more than one night a week. As sleep deprivation can be the cause of a myriad of health problems, the search for a good night's sleep is one that takes on tremendous importance.
One study has a surprising solution to this common problem.
Participants aged from 18 to 30 attended a sleep lab and were asked to complete one of two tasks before going to bed. Either they were asked to spend five minutes writing a comprehensive to-do list of all the things they needed to do tomorrow and over the next few days, or spend the same time writing a list of all of the things that they accomplished that day. 
The participants carried out the task then went to bed. Measurements were taken on how long it took them to get to sleep. Those in the "to-do list" group took an average of 15 minutes to fall asleep, while those in the "accomplishments list" group took an average of 25.
It was also seen that the more detailed and complete of a "to-do" list that a subject made, the faster they fell asleep. This observation drove the researchers to propose that there was some sort of "offloading" phenomenon; the action of detailing what needed to be done was able to put the mind to rest. The opposite effect was noted in the "accomplishments" group, however. The more detailed a list they made, the longer it took them to fall asleep.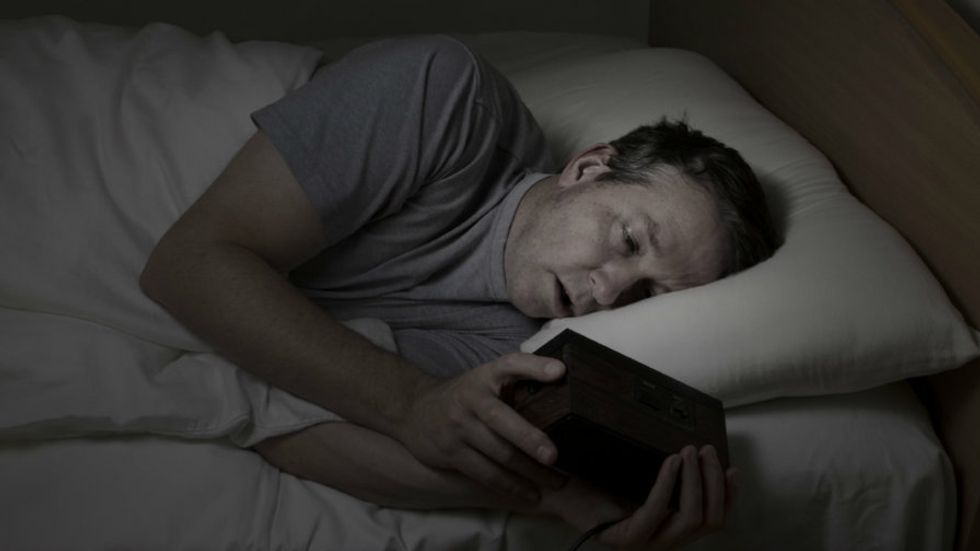 If you are reading this on a smartphone before bed, you might have the same problem. 
So, should I start making to-do lists before I go to bed?
It must be said the study was rather limited. It was done with a mere 57 participants, and none of the participants reported having chronic sleep problems. No baseline level for how long it typically took them to fall asleep was ever established, so it remains possible that writing a list made it harder for them to fall asleep. It can be said, however, that of the two methods the higher potential for helping people fall asleep lies with making a to-do list.
Difficulties when trying to fall asleep are some of the most common issues in the world. For these insomniacs, relief might be found in a simple five-minute routine. While more research is needed to determine if and why writing tomorrow's to-do list helps people fall asleep faster, I for one am going to start making my to-do lists the night before.
Scientists didn't know why the sleep deprived experienced cognitive lapses, until now.
Few things are worse for your health than long-term sleep deprivation. The sleep deprived have a higher risk of quite a number of conditions including heart disease, hypertension, type 2 diabetes, obesity, and depression. Lack of sleep also has a deleterious effect on the brain, particularly on memory and cognition.
Besides harried work schedules and our obsessions with our smart phones, sleep disorders are prevalent, with 50-70 million American adults experiencing one. Sleep apnea and insomnia are two of the most common examples. The issue has gotten so serious that the CDC has dubbed insufficient sleep a public health problem. 1 in 3 adults don't get enough sleep, a CDC report last year found.
On a societal level, sleep deprivation accounts for lost productivity, medical errors, and car and industrial accidents. One study showed that medical students doing their residency, which sometimes includes as long as 30-hour shifts, are more prone to mistakes. What scientists didn't know was why the sleep deprived suffered cognitive lapses, like forgetfulness or slower response time. That is until now.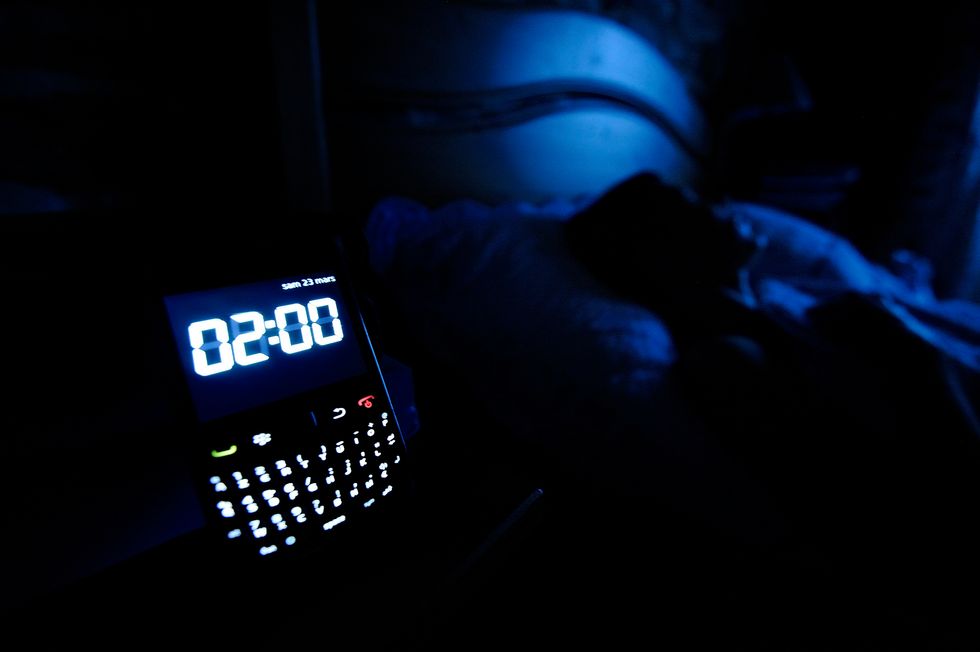 1 in 3 US adults don't get enough sleep, which affects their health and cognition. Credit: Getty Images.
Dr. Itzhak Fried is a neurosurgeon at UCLA and Tel Aviv University. Along with colleagues, he recently discovered the neural underpinnings of sleep deprivation. The team also showed how such deficiencies lead to cognitive lapses. The authors describe their findings in a new paper published in the journal Nature Medicine. Dr. Fried and his team found that neurons literally can't function properly when we lack sleep. "This leads to cognitive lapses in how we perceive and react to the world around us," he said.
The study began with 12 patients who all suffer intractable epilepsy. Each patient was undergoing depth electrode monitoring. This is where a small hole is drilled into the skull and an electrode is placed inside. This is to determine where the seizures are emanating from, with the hope of correcting the issue through surgery.
Sleep deprivation can trigger a seizure. To shorten their stay in the hospital, the patients stayed up all night to evoke one. Researchers asked them several times over the course of the night to identify a number of images as fast as they could. These were six images of celebrities, famous landmarks, and animals. The implanted electrodes meanwhile recorded the combined firing of 1,500 neurons, which includes the brain activity of all 12 volunteers. Specific attention was given to the temporal lobe, responsible for memory and processing sensory information, including visual perception.
This exercise was performed on 24 separate occasions. As the night wore on and patients got drowsier, their ability to name the pictures quickly slowed, as did their neural activity. The neurons fired weakly and transmissions to other parts of the brain moved more slowly. As a result, participant response-time lagged.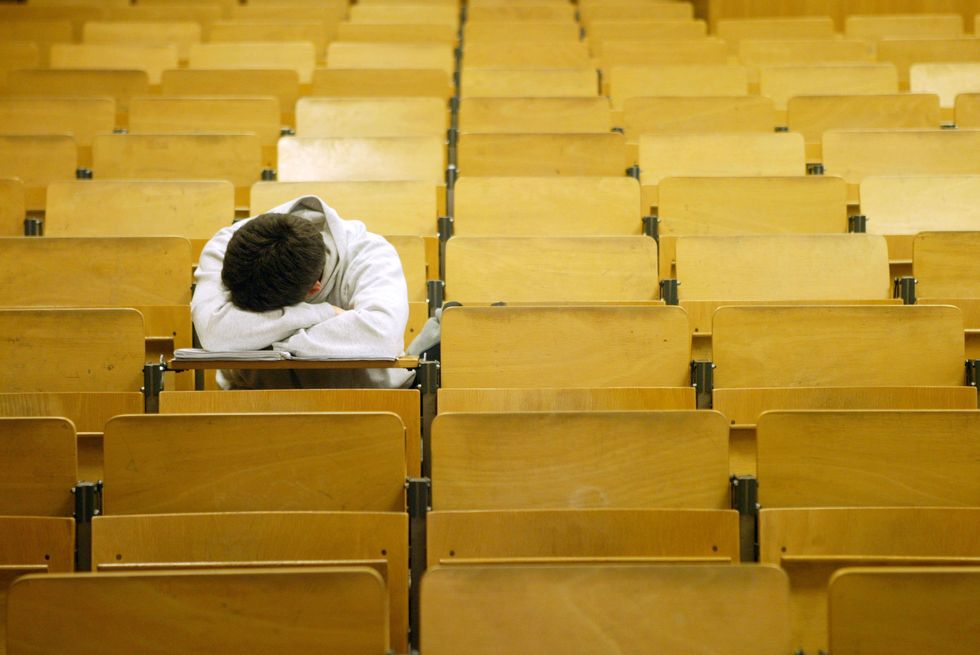 Sleep deprivation literally slows down your brain activity. Credit: Getty Images.
"Slow, sleep-like waves disrupted the patients' brain activity and performance of tasks," Fried said in a press release. "This phenomenon suggests that select regions of the patients' brains were dozing, causing mental lapses, while the rest of the brain was awake and running as usual." Fried likened sleep deprivation to being drunk. "Yet no legal or medical standards exist for identifying overtired drivers on the road the same way we target drunk drivers," he said.
When the brain is sleep deprived, information isn't encoded by neurons as it should be, which is why our reaction time is slowed. It's like when a sleepy driver misses the fact that a person has stepped into the road. "The very act of seeing the pedestrian slows down in the driver's overtired brain," Fried said. "It takes longer for his brain to register what he's perceiving." The next phase is to come to understand the mechanism completely. For instance, why do neurons slow down due to sleep deprivation and why is their firing weaker?
To learn more about this experiment, click here:
A recent study shows that NBA players performed worse in games where they had spent the previous night staying up late and Tweeting.
Photo: Getty Images – Kevin Durant goes up for a dunk
A recent study, published in the online supplement of the journal Sleep, shows that NBA players performed worse in games when they had Tweeted between 11 p.m. and 7 a.m the previous night.
Compared to games in which they hadn't been Tweeting the night before, players:
scored an average of 1 point less
experienced a 1.7 percent decrease in shot accuracy
recorded fewer shots, blocks, passes and rebounds
played for 2 minutes less
For the study, researchers looked at the Twitter use and performance statistics of 112 NBA players over seven seasons from 2009 to 2016. Sleep deprivation, researchers claim, was responsible for the substandard performance:
"Using late-night tweeting activity as a proxy for being up late, we interpret these data to show that basketball skills are impaired after getting less sleep," said lead researchers Jason J. Jones, PhD, Assistant Professor of Sociology at Stony Brook University in New York. "While experimental studies have shown the impact of sleep deprivation on performance, this study uses big data to provide interpretable results on real-world performance of basketball players."
Researchers suggest the results apply beyond the sports world.
"Our results demonstrate a broader phenomenon: To perform at your personal best, you should get a full night of sleep," said study co-author Lauren Hale, PhD, Professor of Family, Population and Preventive Medicine at Stony Brook University.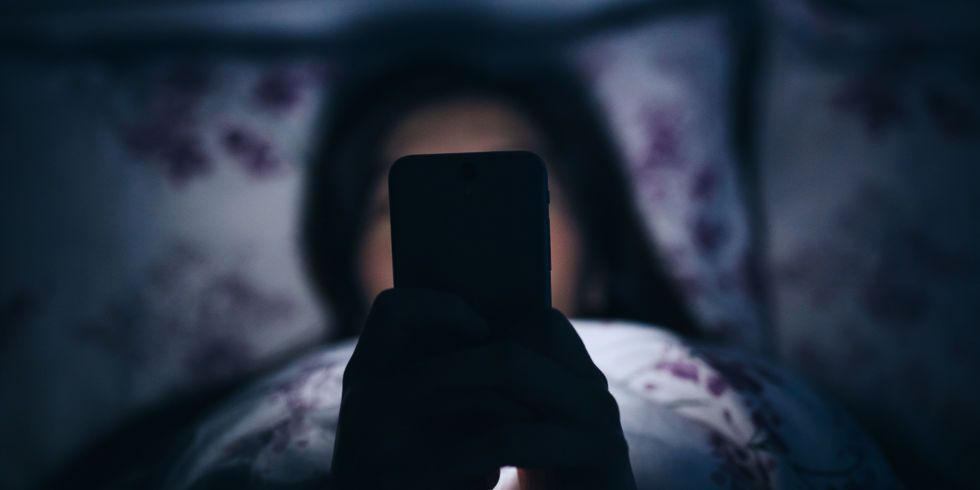 The findings add to the growing body of research on the relationship between technology use, sleep and performance. 
In May 2017, Australian researchers published a longitudinal study that analyzed the sleep patterns and phone use of 1,001 high school students over the course of three years. The results showed that poor sleep quality as a result of using phones at night was linked to higher levels of depressive moods, lack of coping ability and low self-esteem. 
Lead researcher Lynette Vernon noted two main components of phone use—besides, well, using the phone itself—that can disrupt sleep:
Emotional content: Texts, calls and social media often contain content that is emotionally and cognitively arousing, which could cause people to feel more alert and sleep less.
Blue light: Study after study has shown that the light emitted from phone screens suppresses the production melatonin, the hormone that makes us sleepy. It appears that this light "tricks" our retinal ganglion cells—receptors in our eyes that can sense light—into thinking it's daytime. This disrupts our circadian rhythm, which increases the risk of heart attacks

, 

obesity and type-2 diabetes

, and 

various cancers

.
Getting better sleep
It's commonly suggested that you can get a better night's sleep and keep your circadian rhythm in check by putting your phone down roughly an hour before bed. But it turns out that might not be necessary: A study from 2016 showed that exposure to bright light during the day seemed to mitigate the disruptive effects of blue light at night. 
Nikola Tesla, Franz Kafka, and Winston Churchill all practiced polyphasic sleep.
Sleeping woman.
According to the National Institutes of Health, we spend about 26 years of our life asleep, one-third of the total. The latest research states that between 6.4 and 7.5 hours of sleep per night is ideal for most people. But some need more and others less. A contingent out there, mostly women, do surprisingly well on just six hours.
There is even some data to suggest that a slim minority, around three percent of the population, thrive on just three hours sleep per night, with no ill effects. Of course, most people need much more.
Americans are getting far less sleep today than in the past. Cutting out needful rest could damage your health, long-term— as a recent study showed, sleep is essential to clearing the brain of toxins that build up over the course of the day. It also helps in memory formation and allows other organs to repair themselves. Our professional lives and our natural cycles don't always mesh. Often, they are at odds.
What if you are insanely busy, like ten times the norm? Say you are going to medical school, earning your PhD, or are trying to get a business off the ground. There may not be enough hours in the day for what you have to do.
One thing you can do is rearrange your sleep cycle to give yourself more time. Paleoanthropologists espouse that our ancestors probably didn't sleep for seven hours at a clip, as it would make them easy prey. Instead, they probably slept at different periods throughout the day and night, and you can too.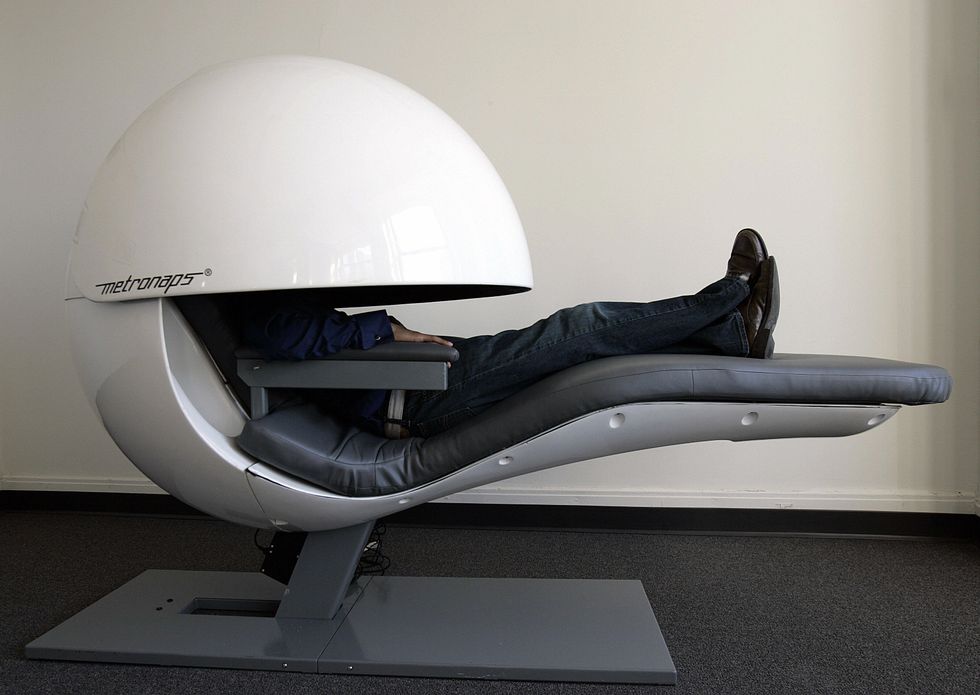 Though we find many modern ways to do it, napping could have played a central role in our ancestor's lives.
What we consider a "normal" sleep cycle is called monophasic. This is sleeping for one long period throughout the night. In some Southern European and Latin American countries, the style is biphasic. They sleep five to six hours per night, with a 60-90 minute siesta during midday. There is a historical precedent too: before the advent of artificial light, most people slept in two chunks each night of four hours each, with an hour of wakefulness in-between. Then there is polyphasic sleep. This is sleeping for different periods and amounts of time throughout the day.
Certain paragons of history slept this way including Leonardo Da Vinci, Nikola Tesla, Franz Kafka, Winston Churchill, and Thomas Edison, among others. The idea gained popularity in the 1970s and 80s among the scientific community. Buckminster Fuller, a famous American inventor, architect, and philosopher of the 1900s, championed this kind of slumber. He branded his version Dymaxion sleep.
Here, you take a half hour nap every six hours and sleep a total of just two hours per night. Swiss artist Francesco Jost practiced it for 49 days straight once, while observed by Italian neurologist Claudio Stampi. At first, Jost had trouble adjusting. But soon after, he was able to make it work with few side effects. He did have trouble waking at times, however. But the artist gained five more hours each day.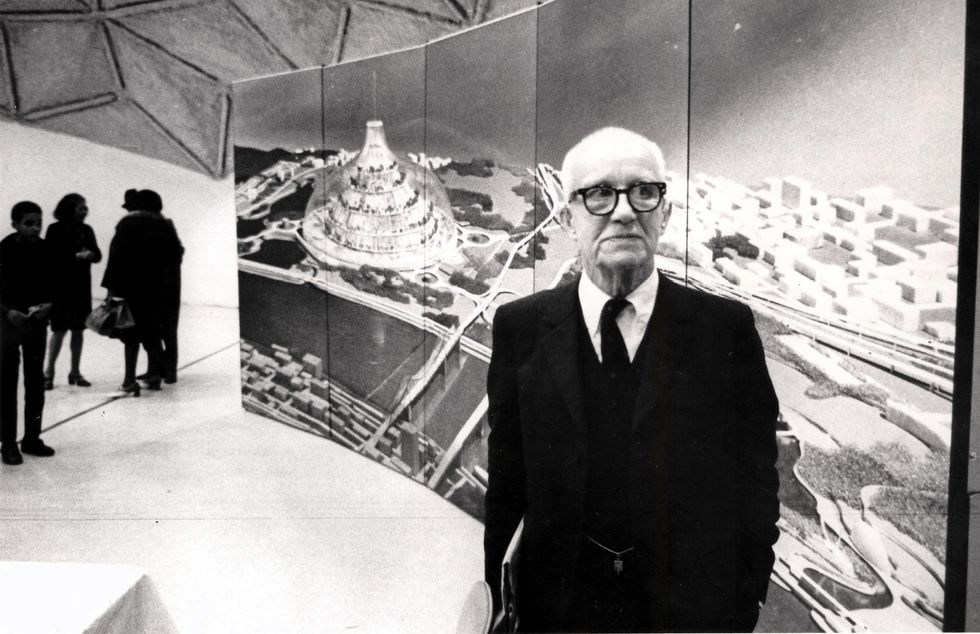 R. Buckminster Fuller, with his design of a domed city in the background.
Do a quick search of polyphasic sleep and you find that many people around the world are experimenting with it. There are different ways of doing it. Some try the Uberman schedule. Here, one takes six 30 minute naps throughout the day at 2pm., 6pm., 10pm, 2am, 6am, and 10am. That's three hours of sleep total. Another way to do it is the Everyman Schedule. Here, a three hour chunk of sleep takes place between 1 A.M. and 4 A.M. Then, three 20 minute naps occur throughout the day at 9am, 2pm, and 9pm. That's around 4.5 hours of sleep daily.
So what's the science behind this radical system? Unfortunately, no long-term research has been conducted, yet. One 2007 study, published in the Journal of Sleep Research, found that most animals sleep on a polyphasic schedule, rather getting their sleep all at once. This also begs the question, how much sleep does the human brain need to function properly? The answer is unknown.  
Sleep is broken into three cycles. There is light sleep, deep sleep, and rapid eye movement (REM) sleep. The last one is considered the most important and restful of phases. We don't stay in any one phase for long. Instead, we cycle through these constantly throughout the night. So with polyphasic sleep, the idea is to experience these three phases in shorter amounts of time, and wake up rested.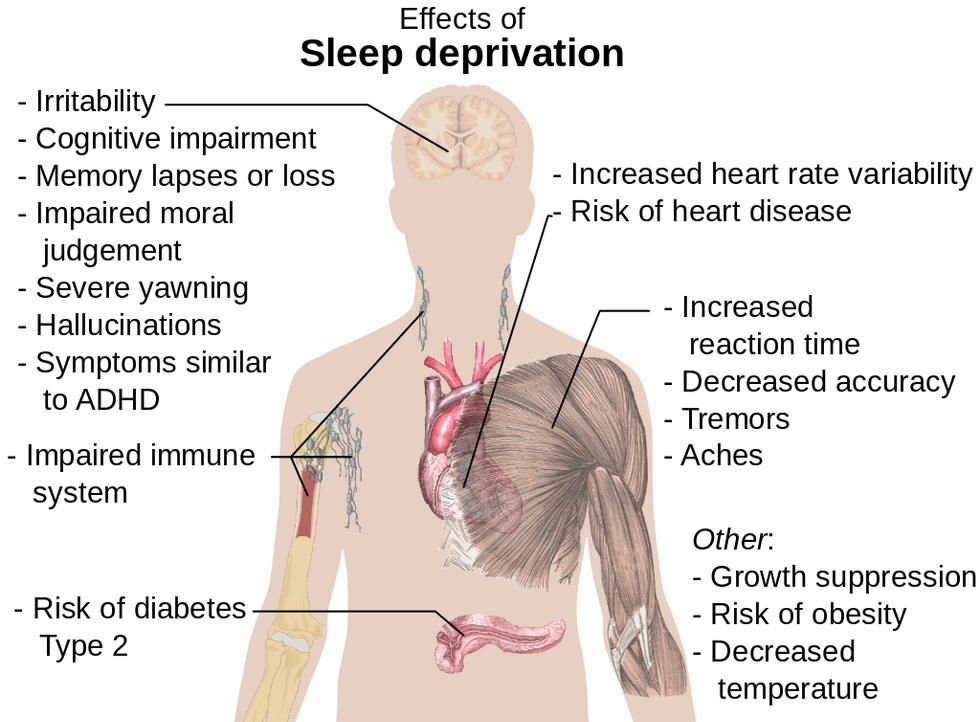 Image by Häggström, Mikael. "Medical gallery of Mikael Häggström 2014". Wikiversity Journal of Medicine 1 (2). DOI:10.15347/wjm/2014.008. ISSN 20018762.
We don't know the exact purpose of these phases. Sleep is still something of a mystery. Without a good understanding, it's difficult to quantify the impact a polyphasic schedule has. One question is whether such a schedule allows for enough REM sleep. Polyphasic practitioners say they are able to enter the REM phase quickly, more so than with a monophasic style. Jost for example, claimed he could enter REM sleep immediately. This quick entry into the REM state is known as "repartitioning." The deprivation of sleep may help the body enter REM quickly, as an adaptation.
So what are the downsides of this altered sleep cycle? Boredom and a limited social life. For those who want to go out drinking with friends, stay up late watching movies, or spend time with the kids, the drastic schedule change can cause problems. It has to be rigidly kept to work. Another concern, some studies have shown that those who sleep under five or six hours per night may have a higher risk of cardiovascular disease and lower immune system functioning.
Some argue that sleep theories just don't account for human diversity in needs. For instance, some insomniacs have praised a polyphasic style for helping them regain the ability to sleep. At issue is the lack of data. But of course, anyone who is considering seriously taking part in such a style should consult a physician and keep in touch with him or her regularly, throughout the process.
How people sleep and how much they need varies widely. This may or may not have a genetic component. More research on sleep may help us to determine what our brain and body needs, and how we can adjust our sleep patterns to get the most out of our day, without sacrificing our health. 
To hear more about a polyphasic sleep style click here: