It's the first time the U.S. has fallen off the top 10 list since Bloomberg began its index.
Photo: innovationcompany.co.uk
South Korea again took first place in the Bloomberg Innovation Index, while the U.S. dropped out of the top 10 for the first time since the gauge began.
Bloomberg has been publishing its innovation index for six years, scoring countries across seven equally weighted categories:
Research and development intensity
Manufacturing value-added
Productivity
High-tech density
Tertiary efficiency
Researcher concentration
Patent activity
The U.S. dropped to 11th place this year, in part due to losses in the education-efficiency category, which measures the share of new science and engineering graduates in the labor force. And while American productivity increased, the U.S. was also docked points in value-added manufacturing, defined as the balance between inputs in the manufacturing process and the value of what results.
"I see no evidence to suggest that this trend will not continue," said Robert D. Atkinson, president of the Information Technology & Innovation Foundation in Washington, D.C., to Bloomberg. "Other nations have responded with smart, well-funded innovation policies like better R&D tax incentives, more government funding for research, more funding for technology commercialization initiatives."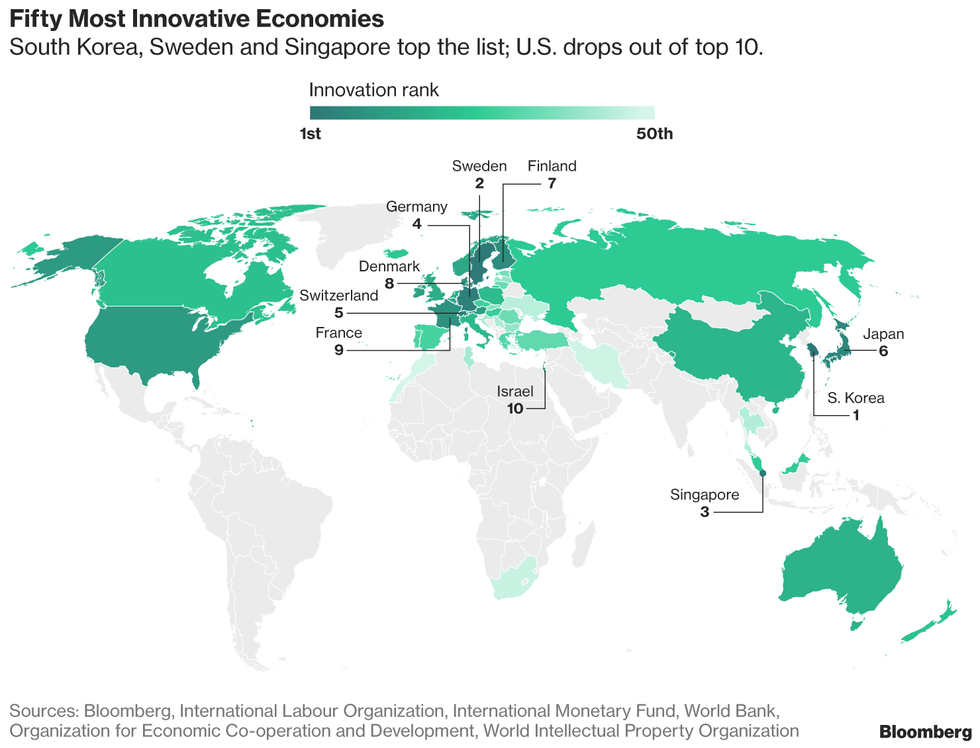 While the U.S. dropped rank, South Korea maintained its first-place slot on Bloomberg's innovation index for the fifth year in a row. What accounts for the East Asia nation's dominance?
For one, it's necessary to understand just how radical the country's economic transformation has been since the Korean War.
In the 1960s, South Korea was an agricultural-based society and one of poorest nations in the world. But thanks in part to national emphasis on increasing low-cost manufacturing exports, the evolution of Korean conglomerates like Samsung, and heavy investing into research and development, South Korea is now a global leader in innovation and the world's 11th largest economy.
"Korea has had to make its own path in a region where it competes with China's low labor costs, and Japan's high-tech, capital-intensive industries. Spending more on R&D than any other economy not only reflects a domestic consumer base with a high demand for new technological developments, but also the government's objective to build a creative economy," Kyle Ferrier, Director of Academic Affairs and Research at the Korea Economic Institute of America (KEI), told the German broadcaster DW.
Other notable changes from the previous year include Singapore jumping from sixth to third place, Sweden retaining its second-place slot, and Japan rising one spot to sixth. Check out other past-year changes below: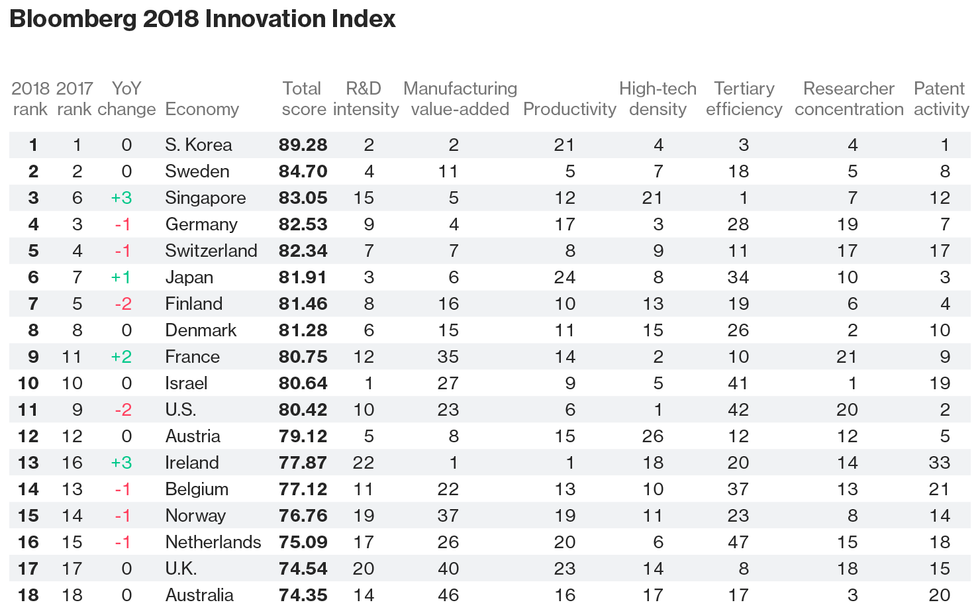 Social citizenship is both a feeling of belonging and a definable set of commitments and obligations associated with living in a place; it is not second-class national citizenship.
Josephine Corral of Tacoma, Washington, puts her head through a large green card replica during a May Day march May 1, 2008 in Seattle, Washington. (Credit: Stephen Brashear/Getty Images)
In 1975, the English author John Berger wrote about the political implications of immigration, at a time when one in seven workers in the factories of Germany and Britain was a male migrant —what Berger called the 'seventh man'. Today, every seventh person in the world is a migrant.
Migrants are likely to settle in cities. In the United States, 20 cities (accounting for 36 per cent of the total US population in 2014) were home to 65 per cent of the nation's authorised immigrants and 61 per cent of unauthorised immigrants. In Singapore, migrant workers account for 20 per cent of the city-state's population. (Migrants continue to be a significant rural population. In the US, three-quarters of farm workers are foreign-born.)
Scholarship on migration tends to focus normative arguments on the national level, where policy concerning borders and immigration is made. Some prominent political philosophers – including David Miller at Nuffield College, Oxford, and Joseph Carens at the University of Toronto – also outline an account of 'social membership' in receiving societies. This process unfolds over five to 10 years of work, everyday life and the development of attachments. As Carens writes in 'Who Should Get In?' (2003), after a period of years, any migrant crosses a 'threshold' and is no longer a stranger. This human experience of socialization holds true for low-wage and unauthorized migrants, so a receiving society should acknowledge that migrants themselves, not only their economic contributions, are part of that society.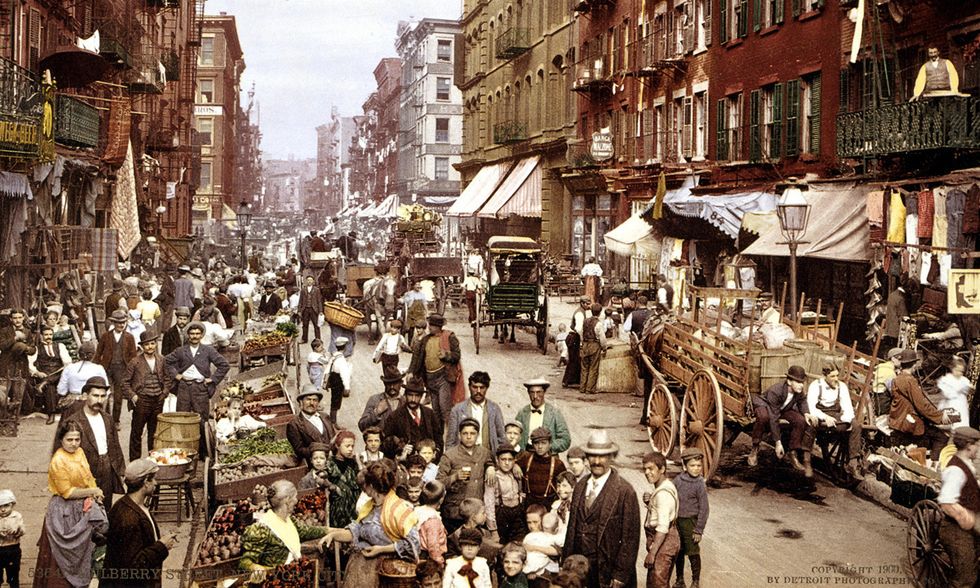 Mulberry Street, Little Italy, New York, c1900. Courtesy Wikipedia
Carens and Miller apply this argument to the moral claims of settled migrants at risk of deportation because they are unauthorised or because the terms of their presence are tightly limited by work contracts. In the US, for example, most of the estimated 11.3 million people who crossed a border without authorisation or are living outside the terms of their original visas have constituted a settled population for the past decade, with families that include an estimated 4 million children who are US citizens by birthright. In The Ethics of Immigration (2013), Carens writes that the prospect of deporting young immigrants from the place where they had lived most of their lives was especially troubling: it is 'morally wrong to force someone to leave the place where she was raised, where she received her social formation, and where she has her most important human connections'. Miller and Carens concur with the Princeton political theorist Michael Walzer's view of open-ended guest-worker programmes as ethically problematic. The fiction that such work is temporary and such workers remain foreign obscures the reality that these migrants are also part of the societies in which they live and work, often for many years, and where they deserve protection and opportunities for advancement.
Not all migrants will have access to a process leading to national citizenship or permanent legal residence status, whether this is because they are unauthorised, or their immigration status is unclear, or they are living in a nation that limits or discourages immigration while allowing foreign workers on renewable work permits. If we agree that migration is part of the identity of a society in which low-wage migrants live and work, whether or not this is acknowledged by non-migrants or by higher-status migrants, what would it mean to build on the idea of social membership and consider migrants as social citizens of the place in which they have settled? And what realistic work can the idea of social citizenship do in terms of improving conditions for migrants and supporting policy development?
Social citizenship is both a feeling of belonging and a definable set of commitments and obligations associated with living in a place; it is not second-class national citizenship. The place where one's life is lived might have been chosen in a way that the nation of one's birth was not; for a Londoner or a New Yorker, local citizenship can be a stronger identity than national citizenship. Migrants live in cities with a history of welcoming immigrants, in cities that lack this history, and also in cities where national policy discourages immigration. Considering how to ensure that social citizenship extends to migrants so that they get to belong, to contribute, and to be protected is a way to frame ethical and practical questions facing urban policymakers.
Considering migrants as social citizens of the cities in which they settle is related to but not the same as the idea of the city as a 'sanctuary' for migrants. Throughout the US, local officials have designated 'sanctuary cities' for undocumented immigrants subject to deportation under policies announced by the federal government in February 2017. This contemporary interpretation of an ancient concept refers to a policy of limited local cooperation with federal immigration officials, often associated with other policies supporting a city's migrant population. Canadian officials use the term 'sanctuary city' similarly, to refer to local protections and potentially also to limited cooperation with border-control authorities. In Europe, the term 'city of sanctuary' tends to refer to efforts supporting local refugees and coordinated advocacy for refugee admission and rights. These local actions protecting migrants are consistent with a practical concept of social citizenship in which civic history and values, and interests such as being a welcoming, diverse or growing city, correspond to the interests of migrants. However, the idea of 'sanctuary' suggests crisis: an urgent need for a safe place to hide. To become social citizens, migrants need more from cities than sanctuary.
Local policies that frame social citizenship in terms that apply to settled migrants should go beyond affirming migrants' legal rights and helping them to use these rights, although this is certainly part of a practical framework. Social citizenship, as a concept that should apply to migrants and non-migrants alike, on the basis of being settled into a society, can build on international human rights law, but can be useful in jurisdictions where human rights is not the usual reference point for considering how migrants belong to, contribute to, and are protected by a society.
What can a city expect or demand of migrants as social citizens? Mindful that the process of social integration usually takes more than one generation, it would not be fair to expect or demand that migrants integrate into a new society on an unrealistic timetable. Most migrants are adults, and opportunities to belong, to contribute, and to be protected should be available to them, as well as to the next generation. Migrants cannot be expected to take actions that could imperil them or their families. For example, while constitutionally protected civil rights in the US extend to undocumented immigrants, using these rights (by identifying themselves publicly, for example) can bring immigrants to the attention of federal authorities, a reality or fear that might constrain their ability to participate in civic life.
In his novel Exit West (2017), Mohsin Hamid offers a near-future fictional version of a political philosopher's 'earned amnesty' proposal. Under the 'time tax', newer migrants to London pay a decreasing 'portion of income and toil' toward social welfare programmes for longstanding residents, and have sweat-equity opportunities to achieve home ownership by working on infrastructure construction projects (the 'London Halo'). Today, the nonfictional citizens of Berlin are debating how to curb escalating rents so that the city remains open to lower-wage residents, including internal and transnational migrants. A robust concept of social citizenship that includes migrants who have begun the process of belonging to a city, and those who should be acknowledged as already belonging, will provide a necessary framework for understanding contemporary urban life in destination cities.

--
This article was originally published at Aeon and has been republished under Creative Commons.
It's the cheapest Michelin-Star dish in the world; a plate of soya sauce chicken from this Singaporean street hawker will set you back $1.80. But the secret recipe is for sale, and it's a little steeper.
Singaporean chef Chan Hon Meng poses in front of his Hong Kong Soya Sauce Chicken Rice and Noodle stall in Singapore. (Photo credit ROSLAN RAHMAN/AFP/Getty Images)
Christoph Waltz. Morgan Freeman. Rodney Dangerfield. Betty White. All people whose careers ended up in the stratosphere — but got little to no recognition until they were 50.
Chan Hon Meng, 51, of Singapore is the latest addition to that list.
Mr. Chan has been cooking soya sauce chicken since 1989, and this past July, his stall was awarded a Michelin star in the inaugural edition of the Singapore Michelin Guide.
Since then, Liao Fan Hong Kong Soya Sauce Chicken Rice & Noodle has seen a 300% increase in customers, selling up to 160 chickens a day. Mr. Chan claims 90% of his customers are now tourists seeking out the famed "cheapest Michelin-starred dish in the world."
And the hits keep coming: the hawker now claims he's in talks with five companies to sell his recipe, including international food and beverage conglomerates and a major hotel chain.
His starting price is $2 million, and he insists on continuing as a partner. His business goals are modest, though: he only expects to become the second-biggest chicken chain in the world, behind KFC.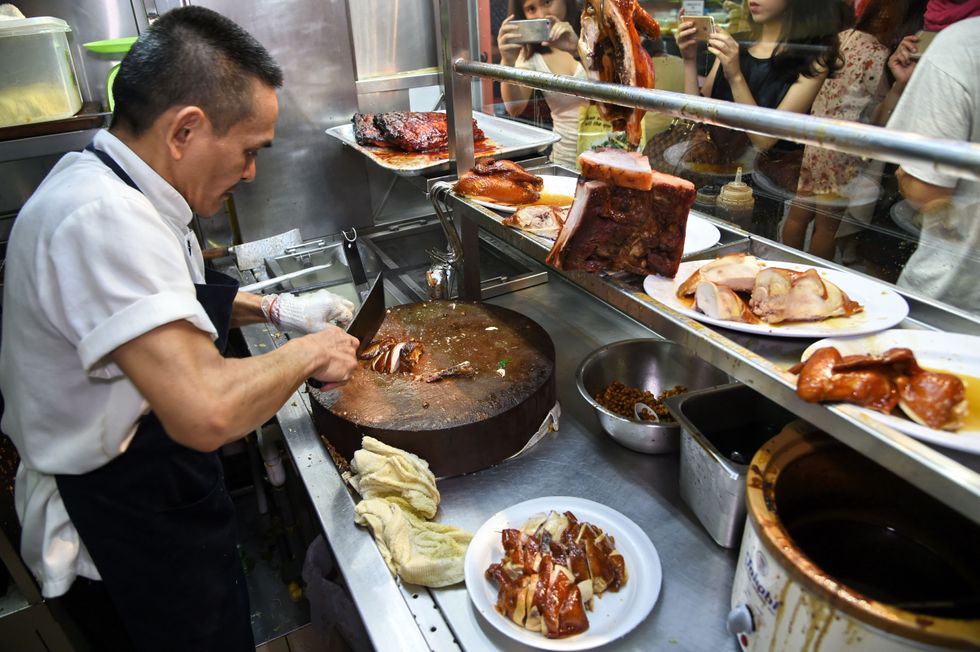 Singaporean hawker Chan Hon Meng chopping braised chicken at his Hong Kong Soya Sauce Chicken Rice and Noodle stall in Singapore. Chan is one of two street hawkers awarded one star by the culinary bible Michelin.
Of course, Mr. Chan's stall isn't the first small-scale recipe to blow up.
New York's iconic Shake Shack started as a hot dog cart in Madison Square Park before famed restaurateur Danny Meyer pitched it as an actual shack. Sixteen years later, the franchise is serving better burgers than In N' Out in over ten countries on three continents..
The granddaddy of modern hot sauces, Tabasco, started when Edmund McIlhenny decided he wanted his own hot sauce. His recipe is now shipped internationally from Avery Island, Louisiana.
Angie Cowger of Custard Stand Chili got her start by selling her grandfather's chili above a car wash in West Virginia. She and her husband, Dee, now own two Custard Stand restaurants, have franchised out four more, and count 200 Walmarts, 140 Kroger stores and 15 Sam's Clubs among their distributors.
The Bush Brothers started a tomato cannery, but it wasn't until two generations later when Condon Bush mass-produced his mother's baked beans recipe that the company finally took off.
The Mary's Gone Crackers brand of gluten-free crackers is now in 10,000 stores with over 8 million boxes sold, and all because celiac founder Mary Waldner wasn't able to eat the pre-dinner bread offered at restaurants.
Eleven-year-old Mikaila Ulmer wanted to help fight the bee population crisis, so she started selling her great-grandmother's lemonade recipe, which uses honey as a sweetener, instead of sugar. One Shark Tank appearance, 55 Whole Foods stores, and $11 million later, Mikaila is a successful, pre-teen beverage tycoon.
And of course, no conversation about chicken moguls with runaway success is complete without mentioning Harland David Sanders, whose special blend of herbs and spices eventually built the poultry empire Chan Hon Meng himself looks up to.
There are many paths to many kinds of success, it seems, but key to all of them is patience and an earnest desire to create something authentic.