Philosophers aren't known for their love lives, but a few have managed to be tragic romantics anyway.
Philosophers aren't particularly renowned for having successful love lives, but some have become hopeless romantics — and others misanthropes. Here we have 10 philosophers who have written on or been heavily influenced by love in both their work and their personal lives.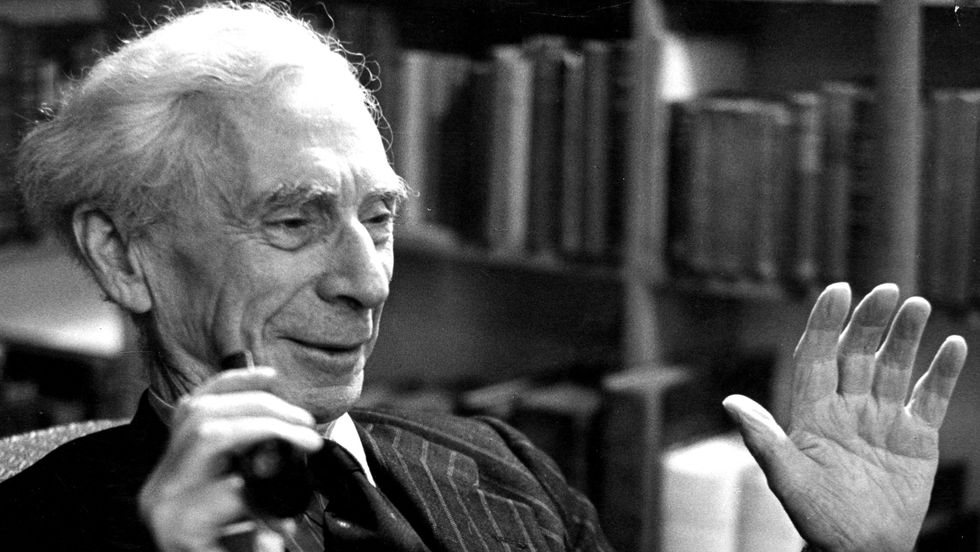 The third Earl Russell was an analytic philosopher whose ideas on modern love, such as his support for gay rights, were so scandalous that when he explained them in his book Marriage and Morals (1929) he found himself unemployable. He was married four times and carried on numerous affairs during his separation from his first wife. He found marriage to be an excellent institution, but one that should not be bound by Victorian norms. He continued to advocate for gay rights, free love, and new ways of thinking until his death.
"To fear love is to fear life, and those who fear life are already three parts dead." — Marriage and Morals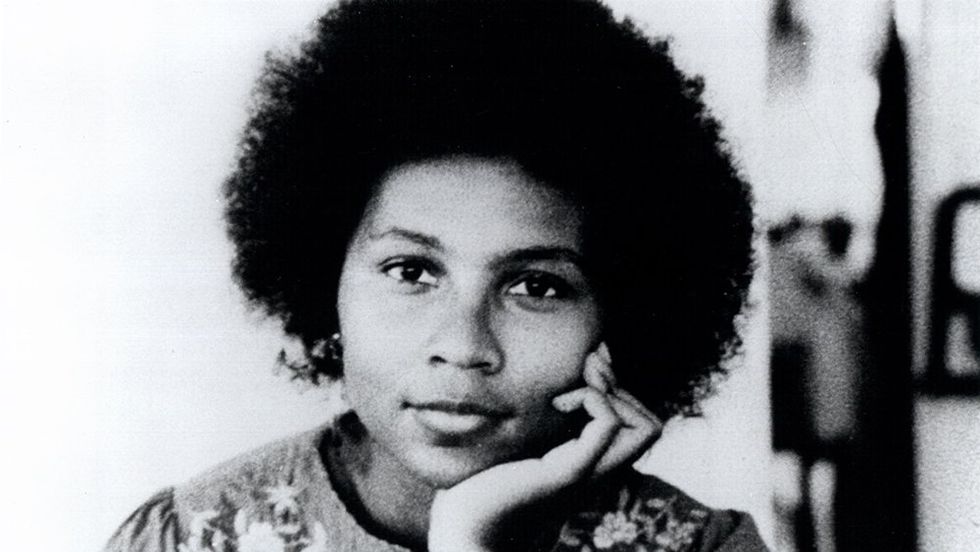 An American author and feminist philosopher, hooks realized after breaking up with a few boyfriends that there was no proper text on love that she could have given them to help save those relationships. Like any good writer, she then set out to write it.

In All About Love: New Visions (2000) , she argues that our modern definition of love is too watered down by overuse of the word. Working from the idea that love is a verb, she then suggests ways to improve our modern concept of love and prevent what hinders it. She notes with a fervor that power discrepancies and the differences in how men and women are expected to approach love are a particular problem.

"The fear of being alone, or of being unloved, had caused women of all races to passively accept sexism and sexist oppression." — Ain't I a Woman? (1981)
Alfred Jules Ayer was a British logical positivist who held the Wykeham Professorship in Logic at Oxford University. He was married four times to three different women. Heartbroken by the death of his third wife he remarried his second wife, Alberta Wells, again a year before his death. He also had several affairs and at least one daughter out of wedlock.
Despite his affairs, he maintained standards for romantic conduct. At age 77, he saw then heavyweight champion Mike Tyson harassing a woman at a party he confronted the much younger boxer and allowed the woman to slip away.
Even logical positivists are capable of love.— as quoted in Profiles by Kenneth Tynan, 1989 edition.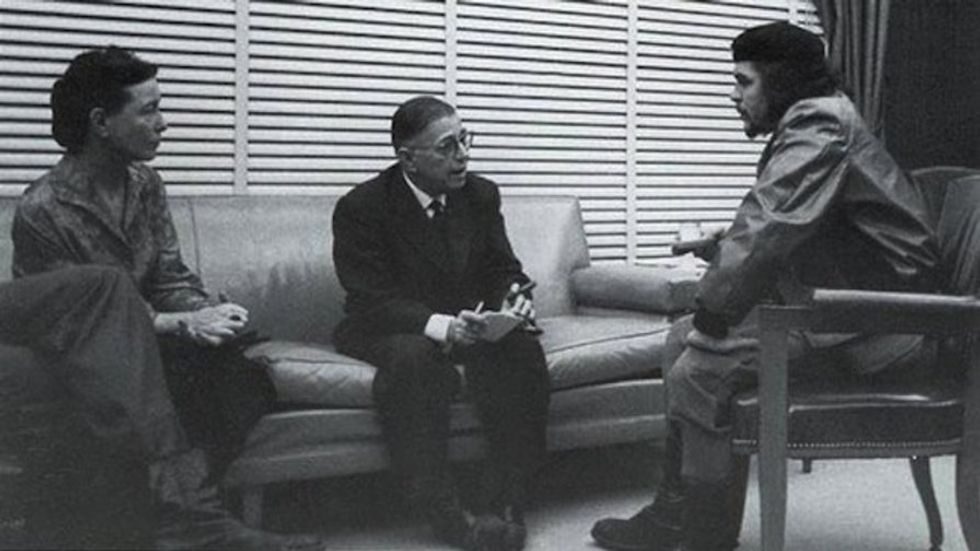 Sartre was a French existentialist and the life partner of Simone de Beauvoir. In line with their modern lives and her second wave feminism, they had an open relationship which waxed and waned over 50 years. He, rather infamously, carried on affairs with proteges who were much younger than him. Despite never marrying, his love for Simone was evident, and he remarked at the end of his life on how wonderful it was to have known her for so long.
"You know, it's quite a job starting to love somebody. You have to have energy, generosity, blindness. There is even a moment, in the very beginning, when you have to jump across a precipice: if you think about it you don't do it." — Nausea (1938)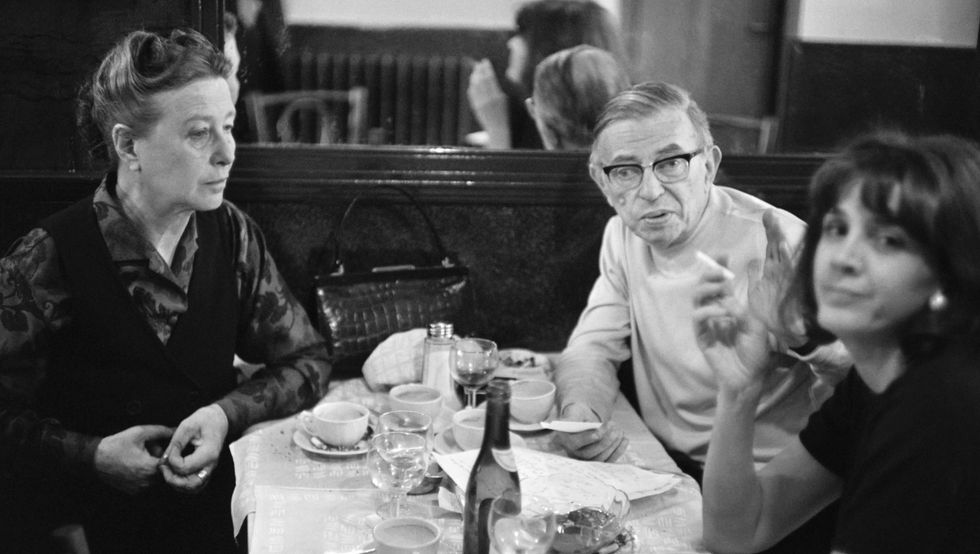 The longtime partner of Jean-Paul Sartre, Simone de Beauvoir was a romantic in her own right. She carried out nearly as many affairs as he did, and offered a feminist critique of the idea that what she was doing was in any way unacceptable. She did lose her teaching license for seducing her students, however. She found many aspects of love, romance, and marriage to be demeaning to women, and carried out her life in such a way as to correct the problem.
She is interned with Jean-Paul Sartre, wearing a ring given to her by her lover Nelson Algren.

"It was said that I refused to grant any value to the maternal instinct and to love. This was not so. I simply asked that women should experience them truthfully and freely, whereas they often use them as excuses and take refuge in them, only to find themselves imprisoned in that refuge when those emotions have dried up in their hearts. I was accused of preaching sexual promiscuity; but at no point did I ever advise anyone to sleep with just anyone at just any time." — Force of Circumstances Vol. III (1963)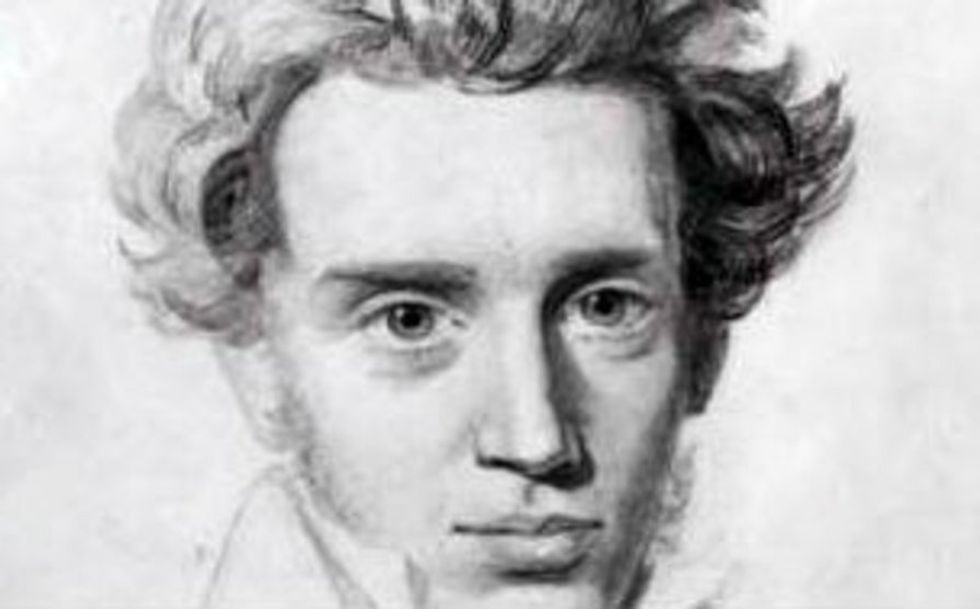 Perhaps the most tragic romantic on this list. Kierkegaard fell madly in love with a young woman named Regine Olsen, who was also madly in love with him. He proposed marriage, but broke it off a month later, returning his engagement ring to her by mail. They were both devastated by his actions; she threatened suicide over it and he cried himself to sleep over his decision.

It is hypothesized that he feared he could not be a husband, writer, and Christian to the extent he wanted to be all at the same time. Knowing this, he chose to be the latter two. This anxiety over the lives we cannot live was a major part of this thinking. The romance would influence his writings for the rest of his life and, as he must have, he regretted it always.
"If you marry, you will regret it; if you do not marry, you will also regret it; if you marry or do not marry, you will regret both..." — Either/Or (1843)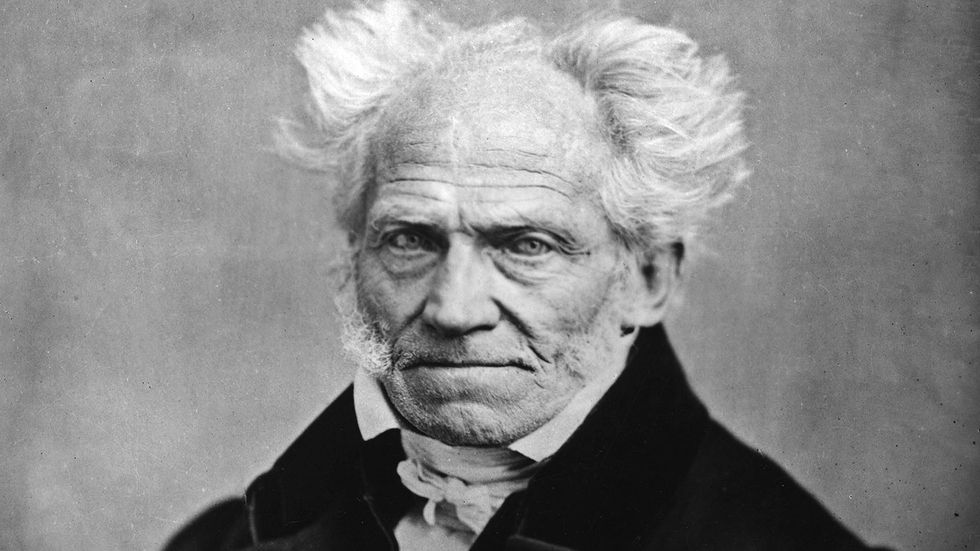 Happy Hallowee--I mean, Valentine's Day.
Despite his praise for the life of asceticism, Schopenhauer tried his hardest to have a decent social and love life. While his connections allowed for some success in the former case, he was rather luckless in the later. He viewed love itself positively, seeing it as one of the key motivations for human activity. His writings on the "will to life" foreshadowed Freudian notions of the id. Despite this attitude towards love, he still found a way to be pessimistic about it. He argued that most people would pick horrible spouses, have too many children, and end up miserable anyway.
"The final aim of all love intrigues, be they comic or tragic, is really of more importance than all other ends in human life." — Schopenhauer
An Indian guru who attracted no small amount of controversy during his life. Contrary to most gurus who favor celibacy, Rajneesh favored a more liberal attitude towards sexuality as part of a path to overcoming sexual desire. He pointed out, as did Bertrand Russell before him, that sexual repression will only create a society obsessed with sex. Once a person is past that desire, they can truly focus on devolving universal love.

"Nobody can teach you love. Love you have to find yourself, within your being, by raising your consciousness to higher levels. And when love comes, there is no question of responsibility. You do things because you enjoy doing them for the person you love." — Sat-chit-anand (1988)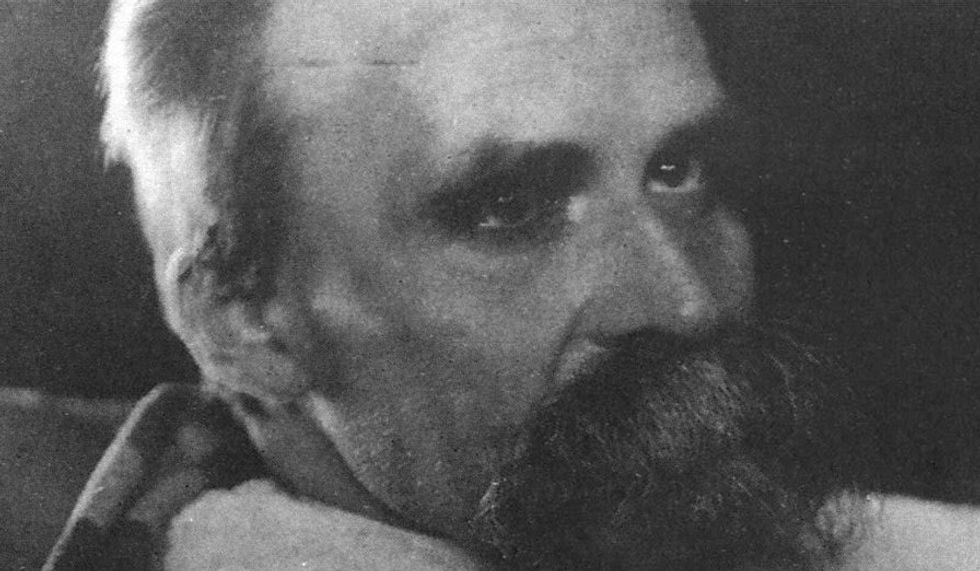 Friedrich Nietzsche is a philosopher we have spoken of many times before. However, his unsuccessful love life has escaped our observation before now. He proposed thrice to the same woman, Lou Salome. Her rejections crushed him, and other than the occasional expression of affection for Wagner's wife he ended his romantic pursuits after Lou Salome refused him. He later pointed out, however, that the only significant philosopher who was married was Socrates; as powerful rebuttal of marriage for the intellectual as he could give.
Nietzsche lived alone for most of his sane life, did think marriage was a decent idea for most people but questioned their way of going about it. In Human, All too Human (1878) he proposed that serial marriage would be beneficial for men. His (alarmingly sexist) stances on women seem to suggest he favored marriage and domestic life for them.
"It is not a lack of love, but a lack of friendship that makes unhappy marriages." —Beyond Good and Evil (1886)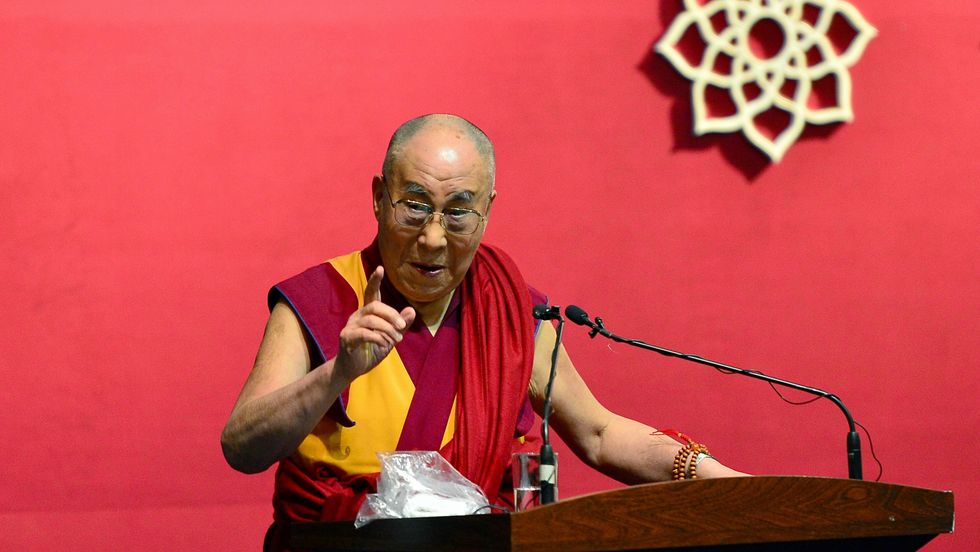 While remaining a celibate monk, the Dalai Lama has lots to say about love. Although he sings the praises of avoiding sex and marriage, he does understand the attraction to the institution and uses the problems it has to help us understand his position. For him, the greatest use of love is to love the world and everyone in it, no matter how many difficulties life tosses at you. Despite the hardships of his life, he still strives to love everyone and encourages us to expand the circle of who we love.

"Love and compassion are necessities, not — Lhamo Dondrub, 14th Dalai Lama
Finding New Year's resolutions isn't always easy. To help you out, we've gotten ideas from some of the greatest thinkers of all time.
Can't think of a resolution?
Finding New Year's resolutions isn't always easy. To help you out, we've gotten ideas from some of the greatest thinkers of all time.
1. Go for a walk every day.
"Above all, do not lose your desire to walk. Everyday, I walk myself into a state of well-being & walk away from every illness. I have walked myself into my best thoughts, and I know of no thought so burdensome that one cannot walk away from it. But by sitting still, & the more one sits still, the closer one comes to feeling ill. Thus if one just keeps on walking, everything will be all right."
― Søren Kierkegaard
Kierkegaard, whose angst would cripple even the most dramatic teenager, often found refuge from the anxiety of existence in walks. Failing that, he tried to explain the difficulty of his life in his writings. He had a lot to say about angst, anxiety, God, death, and coming to terms with freedom.
2. Embrace yourself—and others—as a complete ecosystem.
"I have laboured carefully, not to mock, lament, or execrate human actions, but to understand them; and, to this end, I have looked upon passions, such as love, hatred, anger, envy, ambition, pity, and the other perturbations of the mind, not in the light of vices of human nature, but as properties, just as pertinent to it, as are heat, cold, storm, thunder, and the like to the nature of the atmosphere, which phenomena, though inconvenient, are yet necessary, and have fixed causes, by means of which we endeavor to understand their nature, and the mind has just as much pleasure in viewing them aright, as in knowing such things as flatter the senses."
— Spinoza (edited)
Spinoza, whose philosophy is fascinating, saw the universe as deterministic. Every action, therefore, had an immediate cause that could be discovered. If you can find out what made a person angry, violent, pitiful, or depressed, it becomes easier to understand their actions and simpler to forgive their faults. Coming to terms with the idea that everyone has lots to deal with, things that might make them unpleasant for a while, can make us all a little more understanding.
3. Try to live like water.
The best, like water, benefit all and do not compete.
They dwell in lowly spots that everyone else scorns.
Putting others before themselves, they find themselves in the foremost place and come very near to the Tao.
In their dwelling, they love the earth; in their heart, they love what is deep.
In personal relationships, they love kindness.
In their words, they love truth. In the world, they love peace.
In personal affairs, they love what is right. In action, they love choosing the right time.
It is because they do not compete with others that they are beyond the reproach of the world.
-Laozi
The Tao, also known as the Way, is often compared to water. Generous, soft and flowing, pure, regenerating, and often cyclical; to be like water is to embrace the Way. Water's weaknesses, the fact it is soft and gentle, make it more powerful; it can flow anywhere and even wear down stone. A better example of the harmony of opposites is hard to find.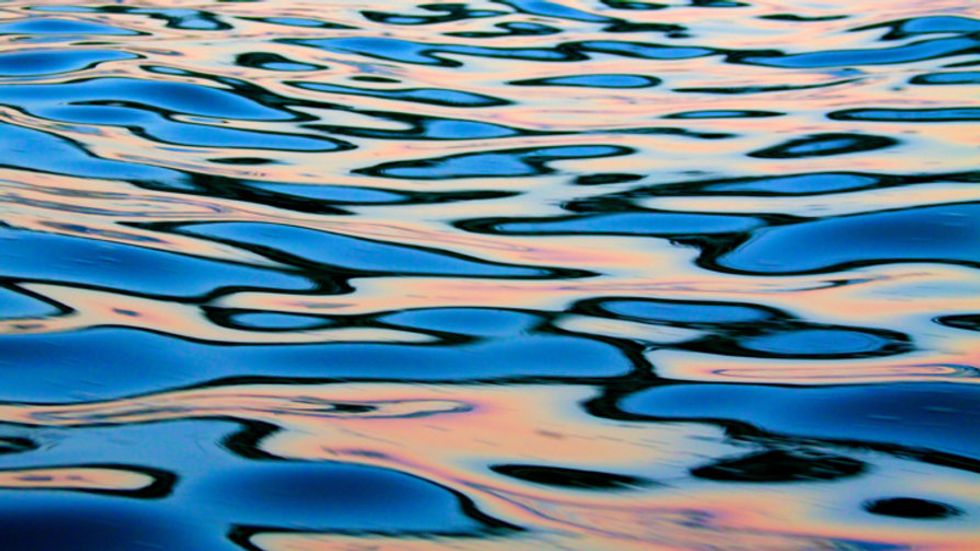 Pictured: Life goals?

4. Examine your life and beliefs regularly.
"The unexamined life is not worth living."
-Socrates
The gadfly of Athens made it his job to examine every belief, no matter how widely held, and determine if it was true or not. Often, he would ask people to define a virtue, such as courage, only to find that the people who valued it most had no idea what it was. It is only by examining our lives that we can hope to improve them.
5. Read a new book each month.
"The Brahmins had no cattle, no gold, no wealth. They had study as their wealth and grain."
-Buddha
The Brahmins were the teachers and holy men of ancient India, and continue as a caste to this day. In theory, they were the highest social class. Rather than focus on money and worldly affairs, they valued learning and knowledge. The Buddha reminds us that these respected men were men of the mind and encouraged us to follow their example.
6. Spend more time with your friends.
The best friend is he that, when he wishes a person's good, wishes it for that person's own sake."
- Aristotle

Aristotle thought friendship was vital to living a good life, but not just any friends would do. He had a three-part system for understanding friendship. The most genuine friendships, the ones that everyone should strive for, are the ones where two people value each other as people and not as a means to an end.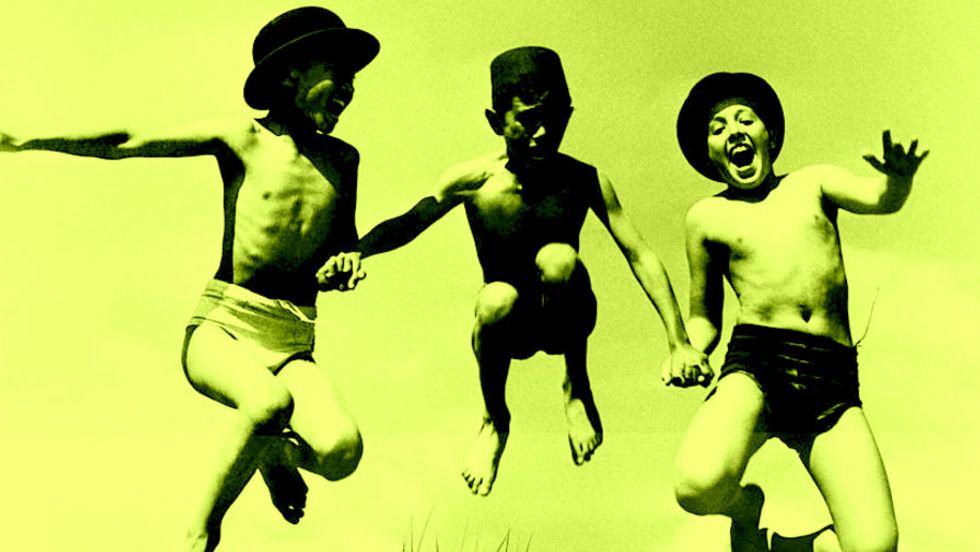 7. Be less of the person you are expected to be, and more of the person you want to be.
"Become who you are!"
-Nietzsche
Nietzsche, who has other excellent one-line ideas, was the king of individuality. There was nothing worse for Nietzsche than for a person to join the herd of people who just followed along. While he was a determinist, he still argued that we should embrace our lives and whatever comes at us.
8. Strive for excellence every day.
"We are what we repeatedly do. Excellence, then, is not an act, but a habit"
-Aristotle
Aristotle viewed virtues as skills, ones that we would strive to perfect over our lifetimes. To be virtuous was to embody an excellence in a particular area such as courage, temperance, or friendship. Doing it once or twice wasn't enough, you had to make a habit of it to truly embody the virtue.
9. Embrace change.
"One cannot step twice in the same river twice,"

-Heraclitus
Heraclitus was a pre-Socratic Greek philosopher who argued that everything was always changing. Not only does this mean that the river changes, but you do as well. Rather than trying to latch onto things that cannot last, we should embrace the notion that everything will soon pass.
10. Take charge of your life.
"Change your life today. Don't gamble on the future, act now, without delay."
-Simone de Beauvoir
Existentialism shows us how we are all responsible for what we are and will become. Waiting for your life to change is an option, but one that denies your ability to shape yourself into what you desire to be. Seize the day!
You might think philosophy is a boy's club. We are here to correct that misconception.
While a great idea can come from anybody anywhere, sometimes a different perspective is needed for progress to be made. In that mindset, today we have ten of the greatest female philosophers of all time.
 1.      Simone de Beauvoir (1908-1986)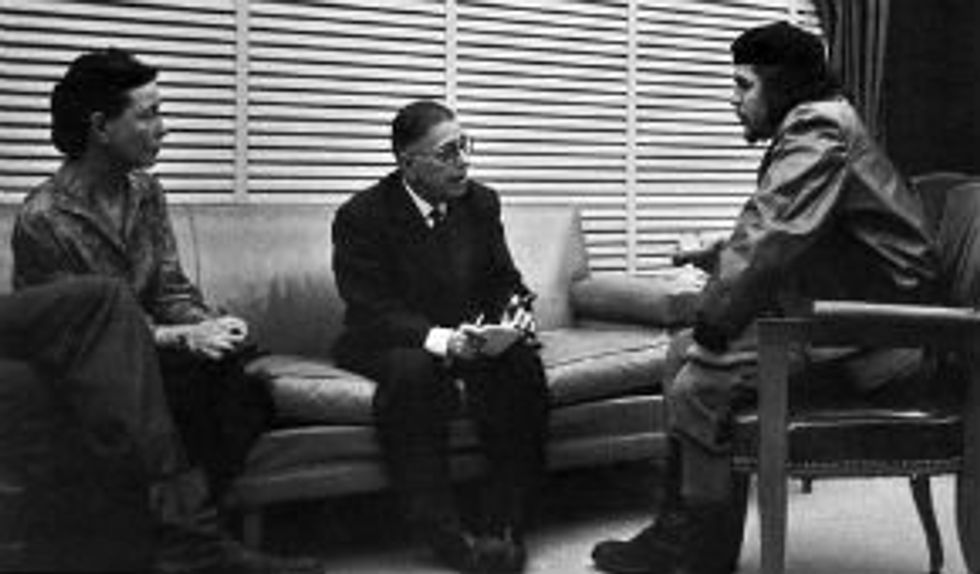 As a French existentialist, Marxist, and founding mother of second-wave feminism, there are few philosophers who can hold a candle to Beauvoir, though she never thought of herself as being one. She wrote dozens of books, including The Second Sex and The Ethics of Ambiguity, and is noted for having a very accessible writing style. Her work is often focused on the pragmatic matters of existentialism, as opposed to that of her life partner, Jean-Paul Sartre. She was very active in French politics, as a social critic, protester, and member of the French resistance.
"The curse which lies upon marriage is that too often the individuals are joined in their weakness rather than in their strength, each asking from the other instead of finding pleasure in giving."
 2.      Hypatia of Alexandria (Born c. 350–370, died 415 AD)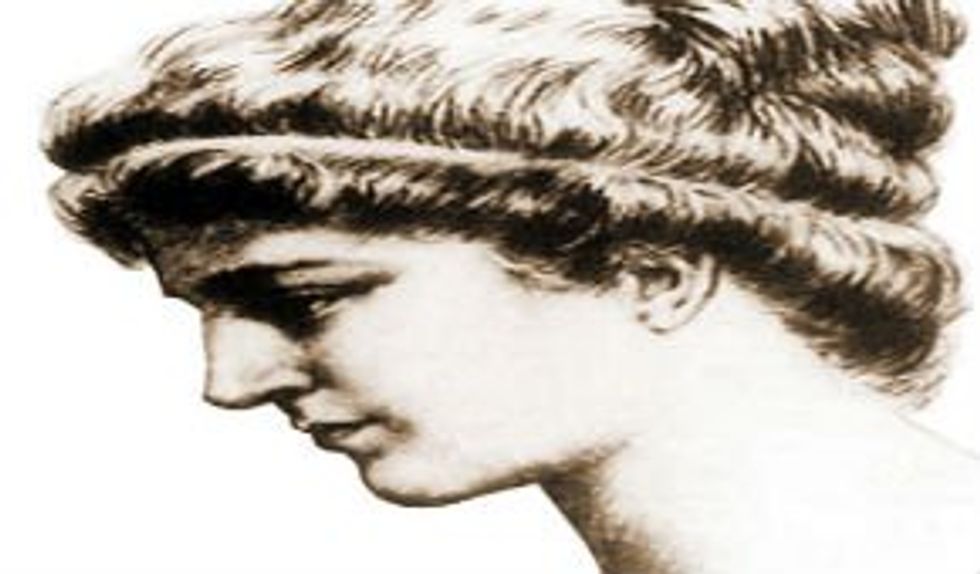 A Greek philosopher and scientist, she was regarded by many of her contemporaries as the greatest philosopher of the age. Her fame was such that prospective students traveled great distances to hear her speak. While it remains uncertain as to the scope of her writings, a common problem for ancient authors, it is agreed that she at least co-wrote several surviving works with her father, including extensive commentaries on Greek science and philosophy. She was killed by a Christian mob as part of larger riots in the city, though there is some evidence to suggest that she was assassinated over controversial astronomical work.
"There was a woman at Alexandria named Hypatia, daughter of the philosopher Theon, who made such attainments in literature and science, as to far surpass all the philosophers of her own time." – from Socrates of Constantinople 
 3.      Hannah Arendt (1906-1975)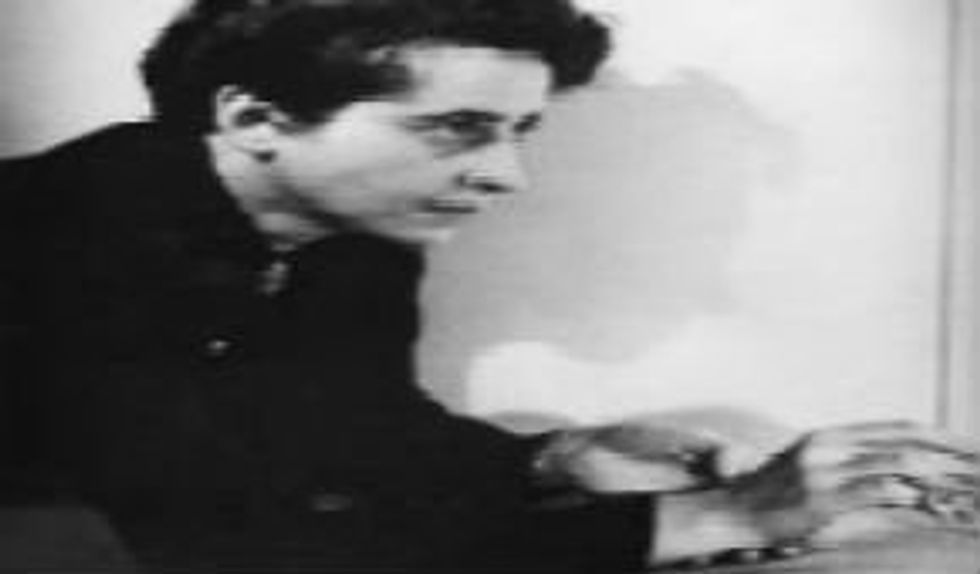 Another great philosopher who didn't consider herself one. The German born Arendt, who escaped Vichy France for New York, wrote extensively on totalitarianism during her life. Her magnum opus, The Origins of Totalitarianism, analyzes and explains how such governments come to power. Likewise, her book Eichmann in Jerusalem, considers how the most average of men can be made evil in the right conditions. She also wrote on other political subjects, such as the American and French revolutions, and offered a critique of the idea of human rights.
"Under conditions of tyranny it is far easier to act than to think."

 
 4.      Philippa Foot (1920-2010)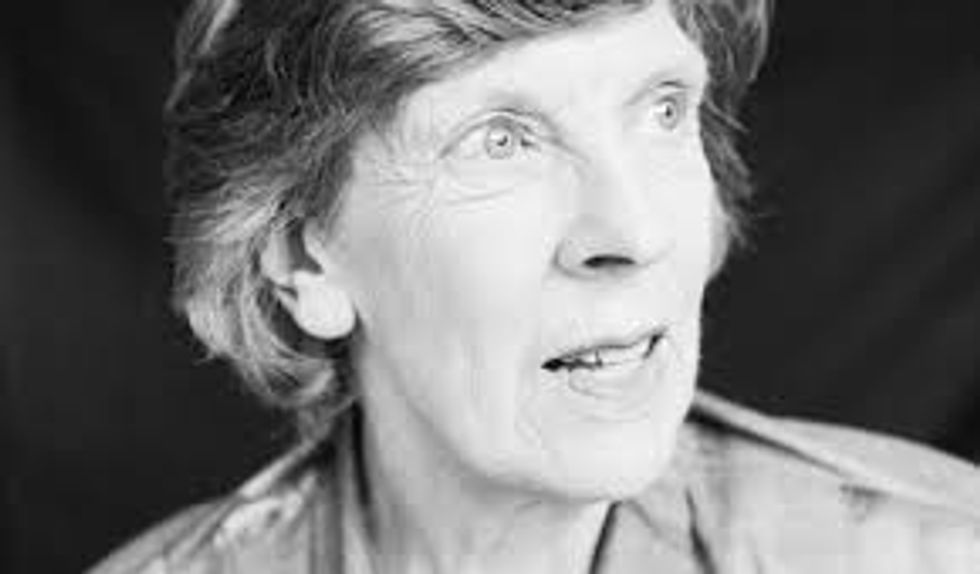 An English philosopher working out of Oxford and UCLA, she is often credited with sparking a revival in Aristotelian thought. Her work in ethics is extensive and well known: she wrote the trolley problem. Over her lifetime she worked with many philosophers (including our next entry), and heavily influenced many living philosophers. A collection of her essays, Virtues and Vices, is a key document for the recently revitalized interest in virtue ethics.
"You ask a philosopher a question and after he or she has talked for a bit, you don't understand your question anymore." 
 5.      G.E.M Anscombe (1919-2001)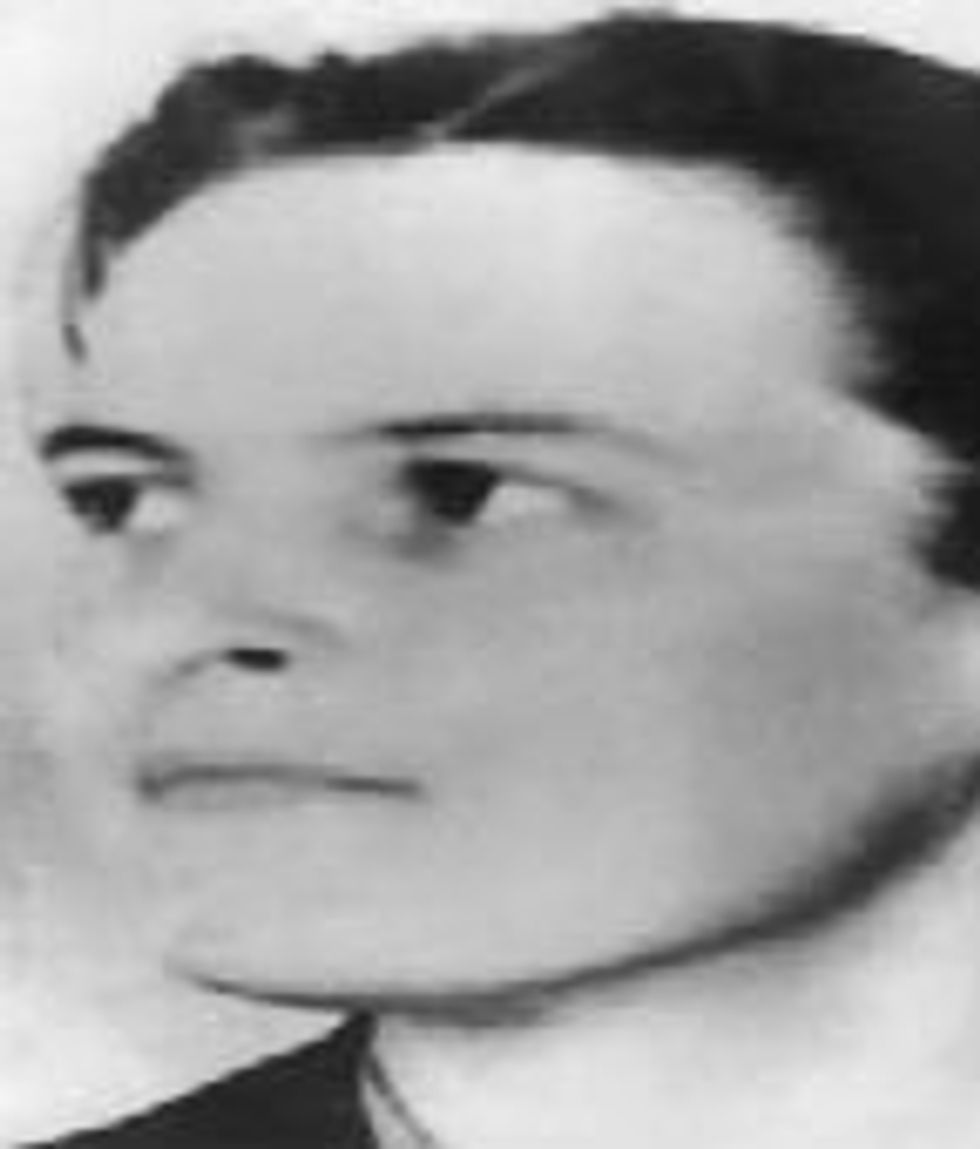 A British philosopher working out of Oxford who wrote about everything she could lay her hands on, including logic, ethics, meta-ethics, the mind, language, and war crimes. Her greatest work was Intention, a series of papers showing how what we intend to happen has a great effect on our ethical standing. Her groundbreaking work Modern Moral Philosophy, has influenced modern ethical work extensively; it was here that she invented the word consequentialism. She also debated many famous thinkers, including Phillipa Foot. She was also a notable firebrand, protesting both Harry Truman and local abortion clinics.
"Those who try to make room for sex as mere casual enjoyment pay the penalty: they become shallow."
 6.      Mary Wollstonecraft (1759-1797)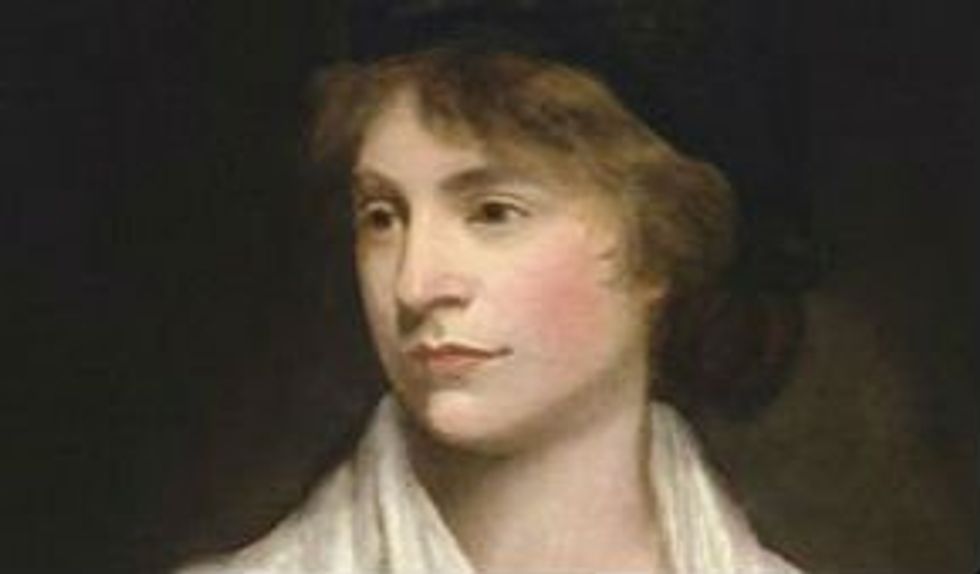 An English philosopher and popular writer, she was the author of A Vindication of the Rights of Men, a defense of the French Revolution against Burke; and A Vindication of the Rights of Woman, an answer to those who argued against the education of women. She was, in some ways, the first feminist philosopher. She also wrote several novels, travel guides and a children's book. She died from complications of childbirth at age 38. That birth gave us her daughter, who was also a noted writer: Mary Shelly, author of Frankenstein.
"Virtue can only flourish amongst equals."
 7.      Anne Dufourmantelle (1964-2017)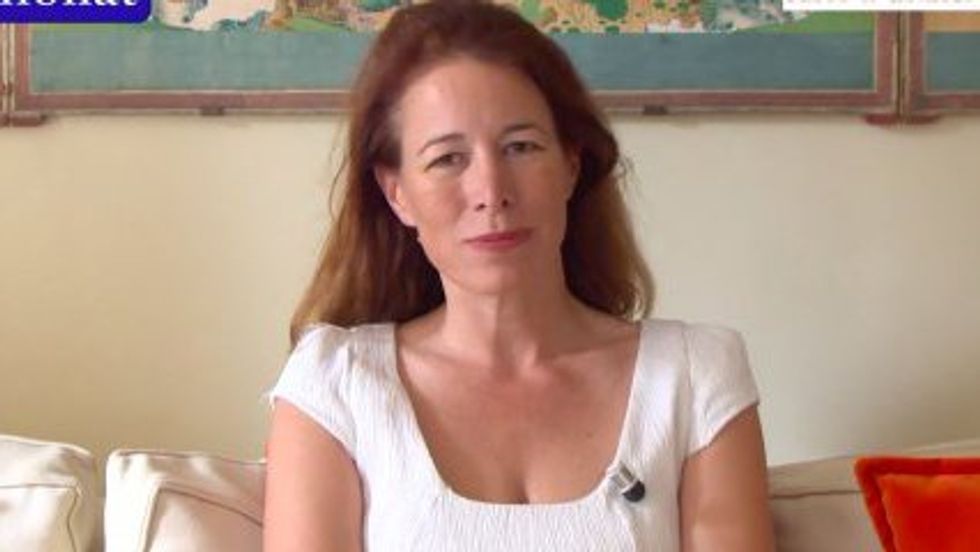 Image: Librairie Mollat
A French philosopher and psychoanalyst, her philosophy was based on risk taking. Particularly, the notion that to truly experience life we must take risks, often considerable ones. She discussed the notion of "security" which frowns on risk while also leaving a void in our existence. She was the author of 30 books, has many interesting lectures, and died as she lived.
"When there is really a danger to be faced, there is a very strong incentive to devotion, to surpassing oneself." 
 8.      Harriet Taylor Mill (1807-1858)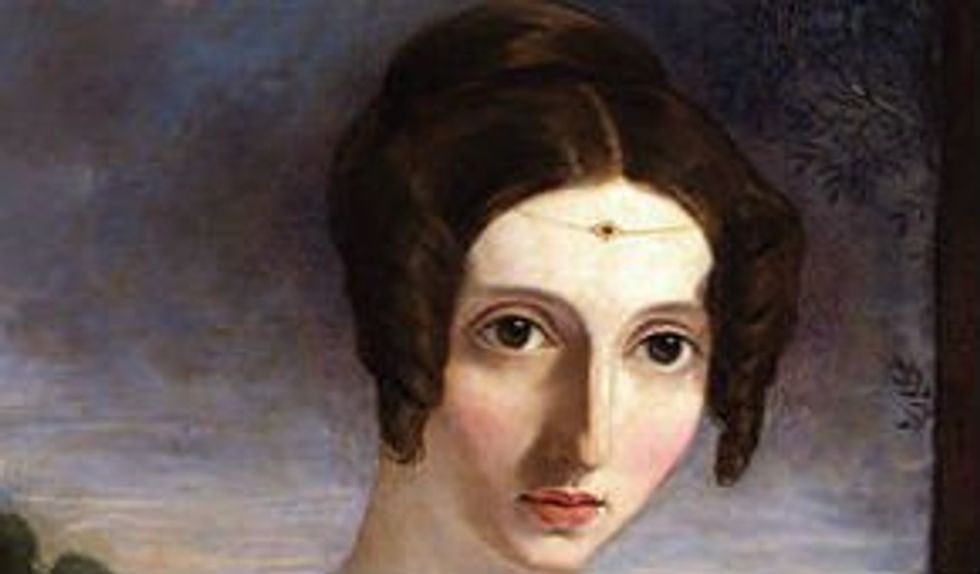 Wife of John Stuart Mill, Harriet Mill was a philosopher in her own right. Despite publishing few works during her lifetime, her influence on her husband's work is undeniable. Her essay The Enfranchisement of Women is a precursor to Mill's later work The Subjection of Women and makes many of the same points. John Stuart Mill's masterpiece On Liberty is dedicated to her, and by his admission partly written by her.
"All my published writings were as much my wife's work as mine; her share in them constantly increasing as years advanced." — J.S. Mill
 9.       Kathryn Gines (Born 1978)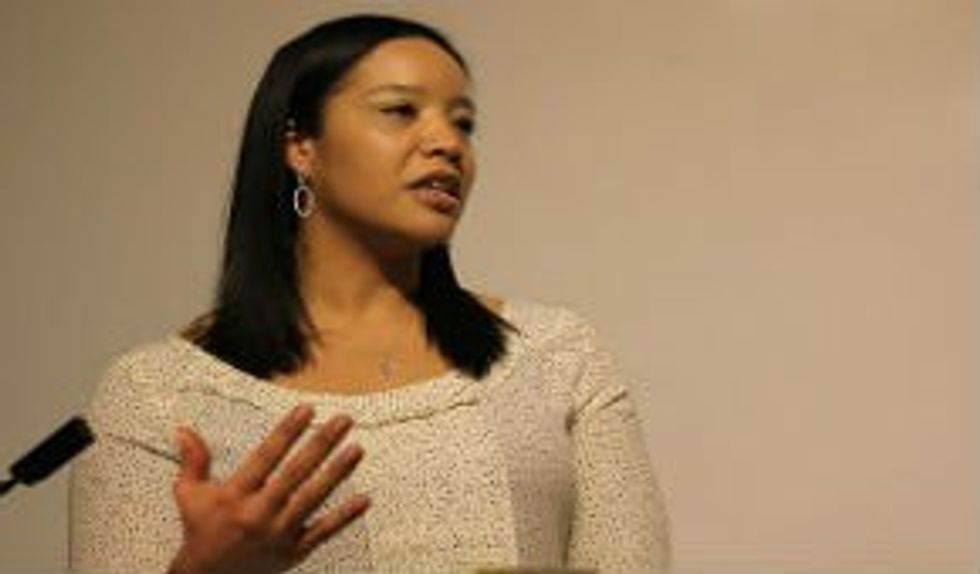 A Philosopher working out of Pennsylvania State University, Gines has written a book on Hannah Arendt's philosophy. A continental philosopher, she has written extensively on Africana philosophy, black feminism, and phenomenology. A collection of her work can be found here.
10.   Carol Gilligan (Born 1936)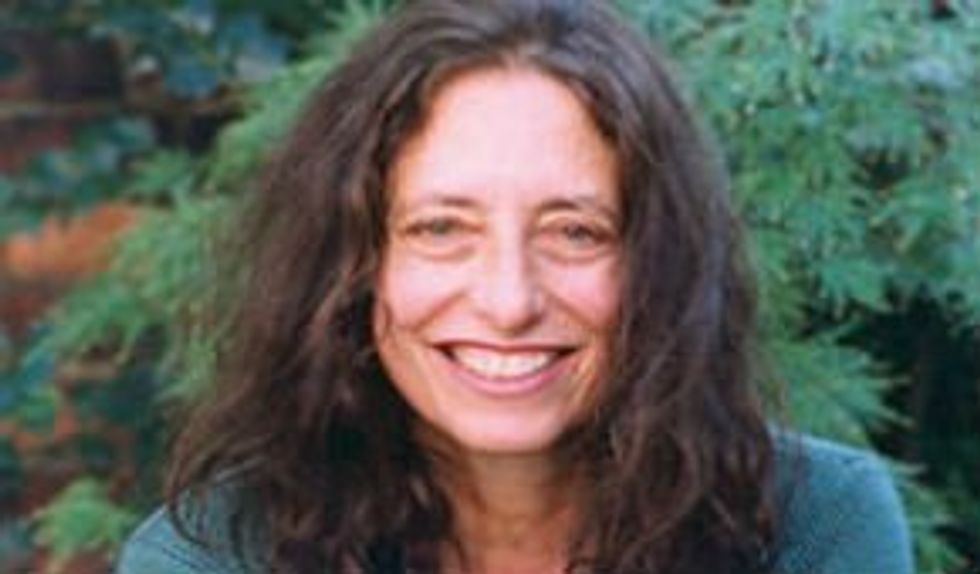 The founder of the school of care ethics, Gilligan's work In a Different Voice has been called "The little book that started a revolution." Her work questions the value of universal standards of morality, such as fairness or duty, seeing them as impersonal and distant from our problems. She instead proposes that we consider relationships and our interdependence in moral actions.  
"I've found that if I say what I'm really thinking and feeling, people are more likely to say what they really think and feel. The conversation becomes a real conversation."


Romantic advice from some of humanity's biggest thinkers. 
Still from Baz Luhrmann's 1996 film "Romeo + Juliet"
Romantic relationships are difficult to get right no matter how hard we try. Thankfully, philosophers and other big thinkers have weighed in and offered advice. Here's who you should trust with relationship advice — and who you should run from.