Virtual reality is more than a trick. It's a solution to big problems.

According to projections shared by the UN, Earth's population is expected to reach 9.7 billion in 2050. By the year 2100, that number could increase to 11 billion. Virtual reality will be necessary to reduce the waste of such a large population in industries like transport, retail, and manufacturing.
As an existing technology, there is a lot that virtual reality can do: rich and immersive environments, heightened storytelling, emotionally resonant experiences, and increased productivity in retail. But it's only in its infancy.
As the world's population continues to grow, the technology will need to evolve to facilitate a larger network of users, and developers will have to think harder about the technological potential and the ethical, neurological, and emotional side effects.
These new status behaviours are what one expert calls 'inconspicuous consumption'.
Vittorio Zunino Celotto/Getty Images for Tiffany
In 1899, the economist Thorstein Veblen observed that silver spoons and corsets were markers of elite social position.
In Veblen's now famous treatise The Theory of the Leisure Class, he coined the phrase 'conspicuous consumption' to denote the way that material objects were paraded as indicators of social position and status. More than 100 years later, conspicuous consumption is still part of the contemporary capitalist landscape, and yet today, luxury goods are significantly more accessible than in Veblen's time. This deluge of accessible luxury is a function of the mass-production economy of the 20th century, the outsourcing of production to China, and the cultivation of emerging markets where labour and materials are cheap. At the same time, we've seen the arrival of a middle-class consumer market that demands more material goods at cheaper price points.
However, the democratisation of consumer goods has made them far less useful as a means of displaying status. In the face of rising social inequality, both the rich and the middle classes own fancy TVs and nice handbags. They both lease SUVs, take airplanes, and go on cruises. On the surface, the ostensible consumer objects favoured by these two groups no longer reside in two completely different universes.
Given that everyone can now buy designer handbags and new cars, the rich have taken to using much more tacit signifiers of their social position. Yes, oligarchs and the superrich still show off their wealth with yachts and Bentleys and gated mansions. But the dramatic changes in elite spending are driven by a well-to-do, educated elite, or what I call the 'aspirational class'. This new elite cements its status through prizing knowledge and building cultural capital, not to mention the spending habits that go with it – preferring to spend on services, education and human-capital investments over purely material goods. These new status behaviours are what I call 'inconspicuous consumption'. None of the consumer choices that the term covers are inherently obvious or ostensibly material but they are, without question, exclusionary.
The rise of the aspirational class and its consumer habits is perhaps most salient in the United States. The US Consumer Expenditure Survey data reveals that, since 2007, the country's top 1 per cent (people earning upwards of $300,000 per year) are spending significantly less on material goods, while middle-income groups (earning approximately $70,000 per year) are spending the same, and their trend is upward. Eschewing an overt materialism, the rich are investing significantly more in education, retirement and health – all of which are immaterial, yet cost many times more than any handbag a middle-income consumer might buy. The top 1 per cent now devote the greatest share of their expenditures to inconspicuous consumption, with education forming a significant portion of this spend (accounting for almost 6 per cent of top 1 per cent household expenditures, compared with just over 1 per cent of middle-income spending). In fact, top 1 per cent spending on education has increased 3.5 times since 1996, while middle-income spending on education has remained flat over the same time period.
The vast chasm between middle-income and top 1 per cent spending on education in the US is particularly concerning because, unlike material goods, education has become more and more expensive in recent decades. Thus, there is a greater need to devote financial resources to education to be able to afford it at all. According to Consumer Expenditure Survey data from 2003-2013, the price of college tuition increased 80 per cent, while the cost of women's apparel increased by just 6 per cent over the same period. Middle-class lack of investment in education doesn't suggest a lack of prioritising as much as it reveals that, for those in the 40th-60th quintiles, education is so cost-prohibitive it's almost not worth trying to save for.
While much inconspicuous consumption is extremely expensive, it shows itself through less expensive but equally pronounced signalling – from reading The Economist to buying pasture-raised eggs. Inconspicuous consumption in other words, has become a shorthand through which the new elite signal their cultural capital to one another. In lockstep with the invoice for private preschool comes the knowledge that one should pack the lunchbox with quinoa crackers and organic fruit. One might think these culinary practices are a commonplace example of modern-day motherhood, but one only needs to step outside the upper-middle-class bubbles of the coastal cities of the US to observe very different lunch-bag norms, consisting of processed snacks and practically no fruit. Similarly, while time in Los Angeles, San Francisco and New York City might make one think that every American mother breastfeeds her child for a year, national statistics report that only 27 per cent of mothers fulfil this American Academy of Pediatrics goal (in Alabama, that figure hovers at 11 per cent).
Knowing these seemingly inexpensive social norms is itself a rite of passage into today's aspirational class. And that rite is far from costless: The Economist subscription might set one back only $100, but the awareness to subscribe and be seen with it tucked in one's bag is likely the iterative result of spending time in elite social milieus and expensive educational institutions that prize this publication and discuss its contents.
Perhaps most importantly, the new investment in inconspicuous consumption reproduces privilege in a way that previous conspicuous consumption could not. Knowing which New Yorker articles to reference or what small talk to engage in at the local farmers' market enables and displays the acquisition of cultural capital, thereby providing entry into social networks that, in turn, help to pave the way to elite jobs, key social and professional contacts, and private schools. In short, inconspicuous consumption confers social mobility.
More profoundly, investment in education, healthcare and retirement has a notable impact on consumers' quality of life, and also on the future life chances of the next generation. Today's inconspicuous consumption is a far more pernicious form of status spending than the conspicuous consumption of Veblen's time. Inconspicuous consumption – whether breastfeeding or education – is a means to a better quality of life and improved social mobility for one's own children, whereas conspicuous consumption is merely an end in itself – simply ostentation. For today's aspirational class, inconspicuous consumption choices secure and preserve social status, even if they do not necessarily display it.
The Sum of Small Things: A Theory of the Aspirational Class by Elizabeth Currid-Halkett is out now through Princeton University Press.
Elizabeth Currid-Halkett
This article was originally published at Aeon and has been republished under Creative Commons. Read the original article.
The best and worst of yesterday has created the economy of today.
Adam Davidson, co-founder of NPR's Planet Money, can trace a line through time from homemade clothing and baked goods to today's passion economy. Davidson argues that a combination of the nineteenth and twentieth centuries are how we got to where we are.
We shifted from an intimate and localized economy of goods and services, to an economy of scale, and finally to what Davidson refers to as "intimacy at scale."
There are, of course, positive attributes to this hybrid economic system, but it also comes with some of the flaws of its predecessors.
Jeff Bezos, the founder of Amazon.com, explains his plan for success.
Jeff Bezos had a clear vision for Amazon.com from the start.
He was inspired by a statistic he learned while working at a hedge fund: In the '90s, web usage was growing at 2,300% a year.
Bezos explains why books, in particular, make for a perfect item to sell on the internet.
"What's really incredible about this is that this is day one. This is the very beginning. This is the Kitty Hawk stage of electronic commerce."
– Jeff Bezos
A number of the billionaires of today made their money by having the foresight while the web was still in its infancy. None were more successful than Jeff Bezos, the founder of Amazon.com and now the richest man in the world (at least until his divorce goes through).
In a 1997 interview, the year when he first became a millionaire by raising $54 million from Amazon's IPO, Bezos relates the story of how he came up with the idea for the online juggernaut. He was in New York City in 1994, working for a qualitative hedge fund, when he came across the "startling" statistic that "web usage was growing at 2,300 percent a year." This inspired him to look for a business plan that would "make sense in the context of that growth."
After making a list of 20 different products to sell online, he picked books as the best one to orient the business around. Why books? Because unlike other products, there are "more items in the book category than any other category by far."
"Attention is the scare commodity of the late 20th century," says Bezos.
How Jeff Bezos calculated success
He compared books to music, the number two best item for the web. Bezos pointed out that at any given time there were 200,000 CDs "active" worldwide (let's not forget this was 1997). But at that same time, there were 3 million books "active in the book space" in different languages, with more than 1.5 million in English alone.
The genius of recognizing the unique potential of an online bookstore that Bezos says "couldn't exist any other way" was complemented by his vision in how to actually make such a store work. His company only kept an inventory of a couple of thousand bestselling books while having access to 400,000 others from an electronic network of wholesale distributors. These "almost in time" titles would be available within a day. Amazon also made a deal with another 20,000 publishers to have access to 1.1 million titles, which would take a couple of weeks to get. They also thought of how to connect to a million out-of-print titles by connecting with appropriate dealers.
Digital thinking in the print age
The Amazon founder also explained how his company would continue to capture people's attention amid the glut of information. His secret? Doing something "new and innovative", creating an online business the likes of which did not exist, that "actually has real value for the customer." Doing that creates marketing opportunities from newspapers and generates "huge" positive word of mouth that helps grow the business. In the first year, all growth for Amazon was fueled by word of mouth and media exposure, not ads. In fact, as far as ads, in 1997 he expressed a preference for online ads versus traditional paper ones since the digital ones were much easier to track and quantify. He called it a marketing "Nirvana".
"What's really incredible about this is that this is day one. This is the very beginning. This is the Kitty Hawk stage of electronic commerce," said Bezos.
In the end of the interview, Bezos also made a prediction for a millennium from now, saying that we're going to find out that "people will look back and say the late 20th century was a great time to be alive on this planet."
Check out the full interview here.
Amazon's blockbuster purchase of Whole Foods will lead to big changes in how we shop.
The Amazon Fulfilment Centre prepares for Black Friday on November 25, 2015 in Hemel Hempstead, England. (Photo by Jeff Spicer/Getty Images)
When Amazon bought the upscale grocery chain Whole Foods for $13.7 billion, it immediately set off speculation about the changing nature of shopping. Already the behemoth of online retailers, Amazon will now dramatically expand its physical presence, courtesy the 460 Whole Foods stores worldwide.
Amazon currently has a grocery delivery service called Amazon Fresh, available in about 20 cities in the U.S., but it struggled to make enough headway in becoming America's grocer. Michael Pachter, managing director at Wedbush Securities, says this purchase will bring Amazon into many more American homes in an unprecedented way. Whole Foods has a reputation for high quality products and one of its stores is a short distance away from most people.
"I think the most important aspect of the purchase is that it gives Amazon 440 refrigerated distribution centers in the U.S. and probably puts their distribution presence within 10 miles of 80% of the population and within 90% of the wealthy population," he wrote in an email to CNBC.
How does Walmart, the world's largest retailer, see its future in light of Amazon's moves? It has been making efforts to grow its online presence, buying the online apparel vendor Bonobos for $310 million and offering free, two-day shipping on millions of items. This in contrast to Amazon requiring a paid annual membership in Prime, which offers a similar shipping service. Walmart also has the advantage of appealing to lower-income consumers and having stores within 10 miles of 90% of most American homes.
Walmart is also expanding its online grocery business by offering curbside pickups for online orders and opening trial drive-up pickup kiosks. In another idea, it's testing whether it can use store staff to make deliveries in some markets.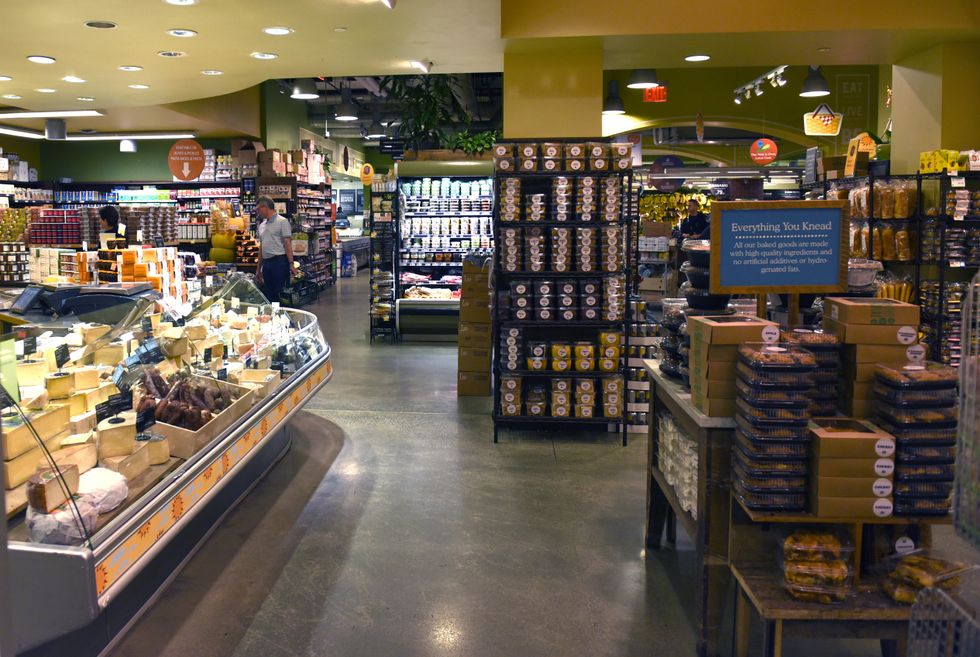 Amazon's purchase of Whole Foods ups the stakes in this battle of giant retailers by giving Amazon not just the physical spaces, but also the knowledge on how to run them. In fact, Farhad Manjoo from the New York Times thinks that one big reason for Amazon to buy Whole Foods is to figure out how to sell groceries online in a seamless way, something no one else has mastered. For Amazon, Whole Foods is a "sustainably sourced guinea pig," as Manjoo calls it.  
It's also important to note that even if the deal goes through, the Amazon and Whole Foods combo will represent about 3.5% of grocery spending in the U.S. So it's not yet as groundbreaking as it sounds. But with the incredible growth of Amazon under Jeff Bezos, now the second richest man in the world, it's hard not to imagine that this purchase will result in an industry disruption in the near term.
If you want to read about some of Amazon's most futuristic tech solutions to your shopping woes, check out this article on its giant airship warehouses. In the meantime, it's likely the retailer will bring its strong reliance on automation to streamline the operations at Whole Foods. Yes, we are talking more robots. Amazon has also been testing customer-tracking technology at some of its current physical stores. Expect changes to your shopping routine.